A simple rustic Italian beef stew recipe loaded with aromatics and vegetables like tomatoes, carrots and mushrooms. This only takes 15 minutes to prep, and I let the crock pot do all the heavy lifting. The result? Fork tender perfection!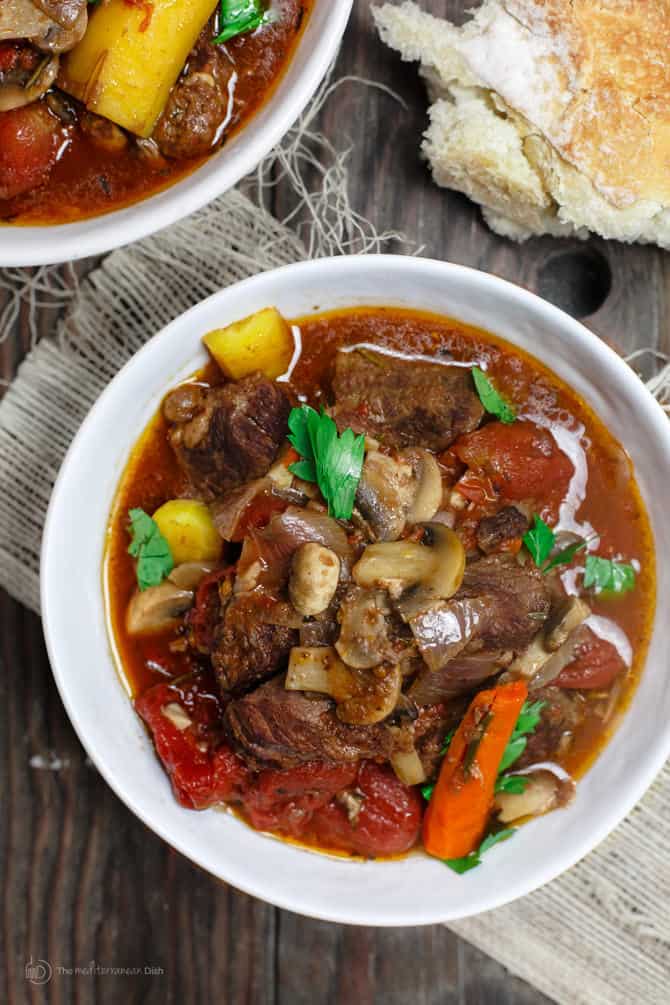 The prospect of a bowl of slowly-stewed beef, Italian style, always has me excited!  Especially on cruelly cold days, Italian beef stew is high on the list of dishes I make without a second thought. So is the case with this cauliflower and chickpea stew, and this carrot ginger soup, by the way.
There are countless of recipes for Italian beef stew. And to me, adding your own twist is what makes it extra special.
This crock pot Italian beef stew is a very basic recipe. Beef chuck roast, deeply browned and then slow-cooked in a red wine broth with loads of carrots, mushrooms and aromatics.
I serve my Italian beef stew simply with a piece of rustic Italian bread, or even homemade challah. And I do occasionally rebel and ladle my Italian beef stew over a heaping portion of Lebanese rice.
It goes without saying that you should not waste your money on an expensive cut of beef for this stew.  I like beef chuck roast. As it cooks slowly, the meat's connective tissue breaks down to tender perfection.  If you check your stew and find that the meat is chewy, it simply means that it needs some more time to cook.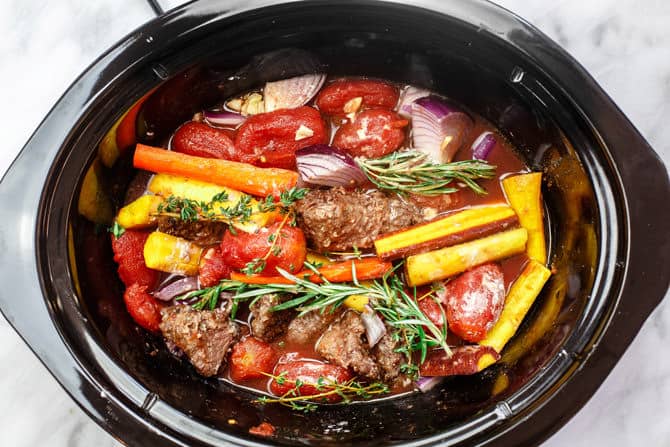 Print
Crock Pot Italian Beef Stew
---
Author:

Prep Time:

15 mins

Cook Time:

5 hours

Total Time:

5 hours 15 minutes

Yield:

4-6

Category:

Entree

Cuisine:

Italian American
Ingredients
3/4 cup all-purpose flour
2 tbsp garlic powder
Salt and freshly ground pepper
1 1/2 lb beef chuck roast, fat-trimmed, and cut into roughly 1 1/2 inch cubes
Olive oil
1 large red onion, cut into large pieces
6 garlic cloves, chopped
4-5 large rainbow carrots (about 12 oz), cut into large pieces
1 cup red wine
2 cups vegetable broth
28 oz can whole peeled tomato
4-5 springs fresh thyme
2 springs fresh rosemary
16 oz white or cremini mushrooms, cleaned and sliced
---
Instructions
Mix the flour and garlic powder together.
Pat the meat dry and season with salt and pepper. Dredge the meat into the flour mixture to coat.
In a large cast-irons skillet, heat 2 tbsp olive oil. Brown the meat deeply for about 3-4 minutes on each side; crust should form. Remove from heat.
Now, place the browned meat in the bottom of a large crock pot. Add the remaining ingredients except the mushrooms. Stir with a wooden spoon.
Cover the crock pot and cook on high for 4 1/2 hours. Add the sliced mushrooms. Cover and cook for another 30 minutes or so.
Enjoy with your favorite Italian bread or even homemade challah!
Recommended for this recipe: Cast Iron Skillet; Large Crock Pot