Stifado, pronounced stiff-ah-do, is a hearty Greek beef stew seasoned with warming spices, red wine, and loads of pearl onions. This stew, which is typically served as a Sunday family dinner on colder fall and winter days, is one of the many traditional Greek comfort food recipes. It's flavorful, satisfying, and mouth-wateringly delicious!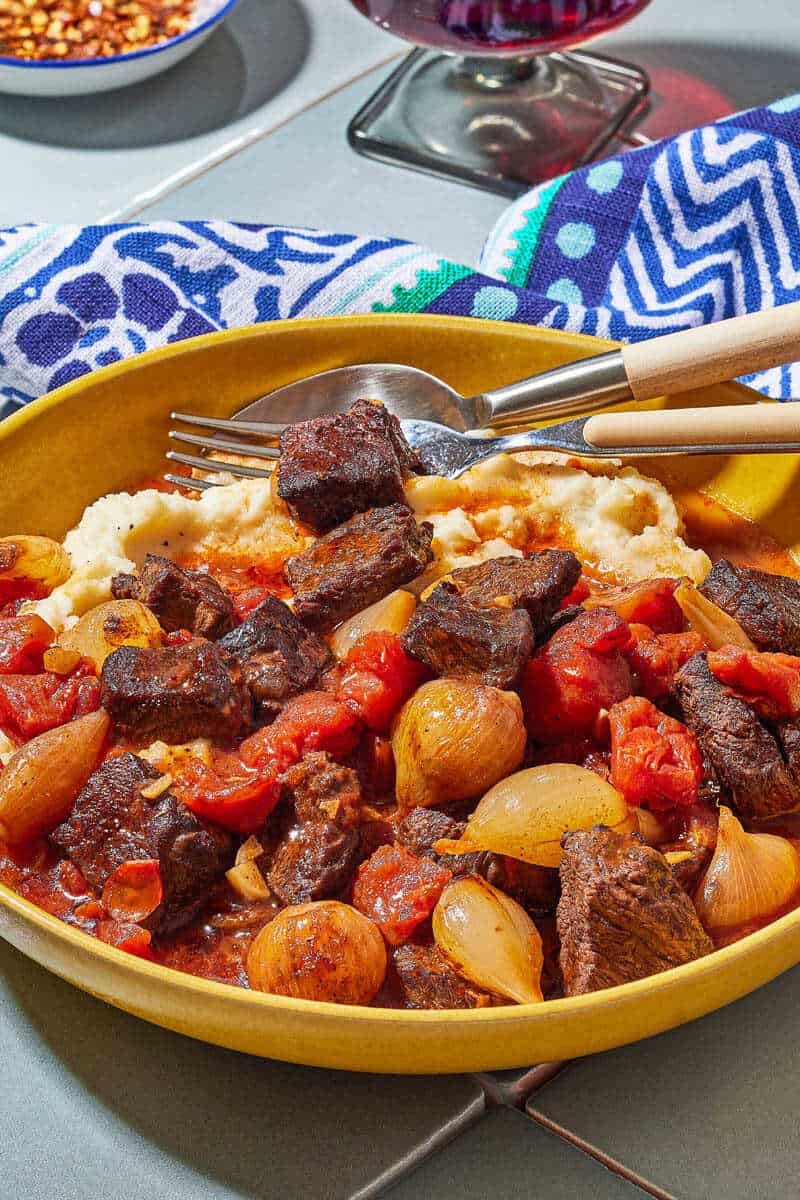 Stifado is one of those classic cold-weather dishes that was once cooked in a home's wood-burning oven. Today, you can find the rich, red-wine, and pearl onion-laden stew simmering on a stovetop in households throughout Greece.
The meat is cooked slowly in an aromatic red wine and tomato sauce, a combination so rich and comforting that we use it for everything from braised lamb shanks to mushroom ragu. This traditional Greek recipe also adds warming spices like cinnamon, clove, and allspice, and lots of pearl onions for an extra aromatic, savory flavor with just a hint of sweetness.
A big pot of stifado simmering on your stove will undoubtedly make your house smell wonderful. More than that, it's sure to get the whole family gathered around the table waiting for this real treat of a meal.
Table of Contents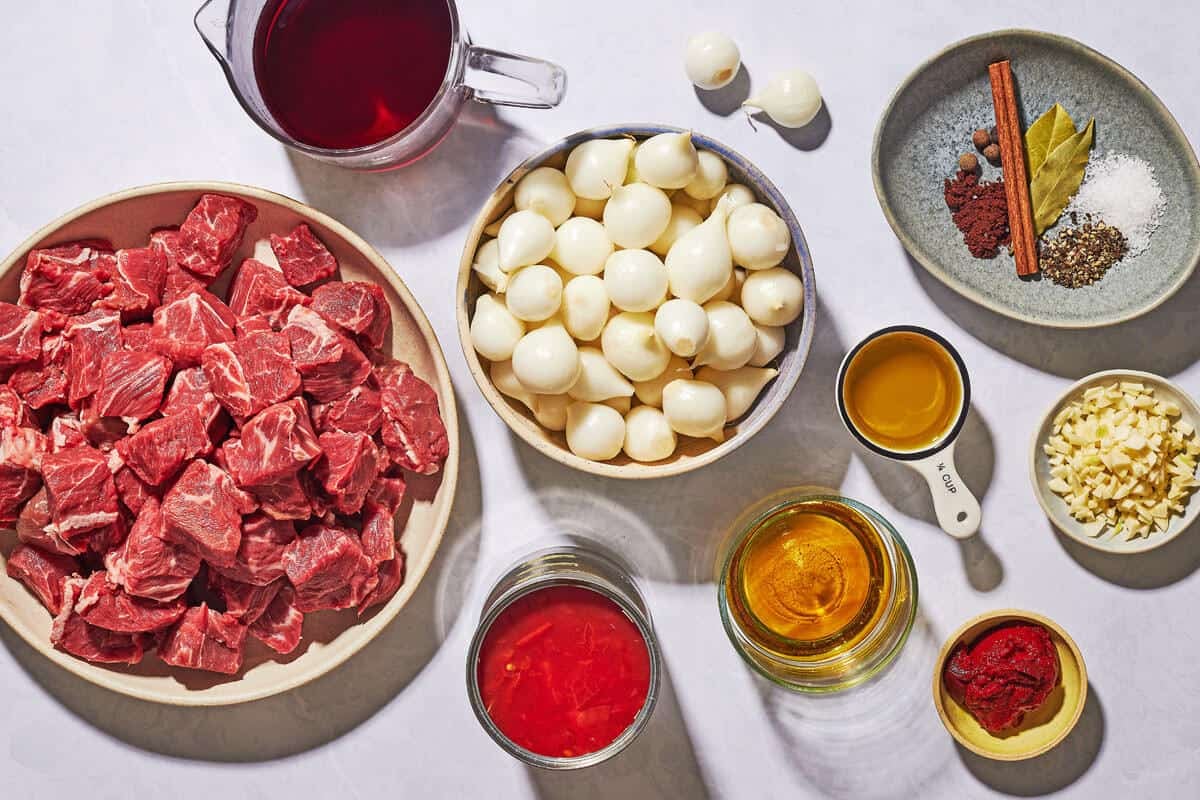 Ingredients for Stifado Beef Stew
Stifado is unique when it comes to Mediterranean braises, with warming spices taking the place of fresh herbs which are more typically used. Here's what you'll need:
Meat: Avoid "stew meat" because it's often different cuts of meat which will then likely not cook at the same time. Instead, buy beef chuck roast or boneless short ribs. You can either cut into pieces yourself or ask the butcher to trim and cut it for you.
Garlic: Adds a sweet and savory flavor.
Onions: The onions which are traditionally used for this recipe are white pearl onions. They are the size of marbles or slightly bigger. Their taste is milder and sweeter than the common yellow onions and they are great additions to stews, soups, pot pies, gratins, braises, and roasted meats.
Olive oil: Greek olive oil will give the most authentic flavor, but any high quality extra virgin olive oil you have works well.
Red wine: Choose a full-bodied wine, ideally one you will also be able to enjoy along with the meal!
Cognac or Brandy: Add a wonderful depth of flavor to the dish. If you prefer to omit it, however, replace it with 3 tablespoons of red wine vinegar.
Tomato paste: Always sauté tomato paste in olive oil to caramelize and deepen the flavor.
Tomatoes: Use a can of good quality tomatoes that you can then break up with the back of the spoon. Or use super ripe, fresh tomatoes if you have them on hand.
Spices: Warming aromatic spices of bay leaf, cinnamon, cloves, and allspice really "make" the dish. Salt and pepper enhance the flavor.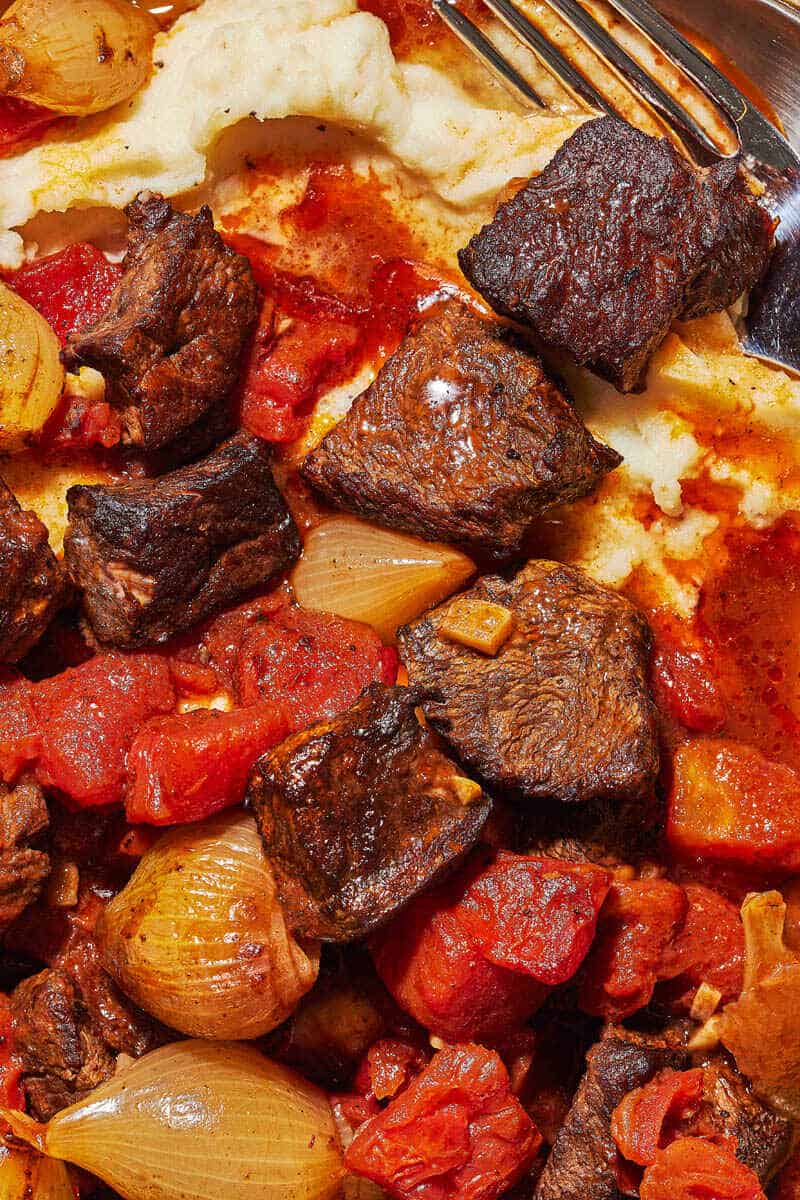 How to Make Stifado Beef Stew in Six Easy Steps
Though this classic beef stew boasts incredible depth of flavor, it's surprisingly easy to accomplish. In fact, you can commit these six easy steps to memory in no time. You'll soon find yourself like a typical Greek home cook making it with no reference needed! Here's how to make stifado:
In a Dutch oven or other heavy-bottom pot, sear the meat in olive oil. Work in batches to avoid overcrowding the pot. (If you add all the meat to the pot at once it will not have the space to brown nicely and seal in the juices.)
Caramelize the onions. Once the meat is nicely browned, remove it from the pot and add the pearl onions. They will absorb the flavors from the meat and the moisture they will release will help deglaze the pan.
Add the aromatics. Add the warming spices, salt, pepper, and tomato paste. Warming spices and tomato paste need to come in contact with heat to intensify their flavor.
Return the meat to the pot. Stir well to coat the meat with the spices
Deglaze the pot with the wine and the cognac. Cook the wine and cognac briefly; stirring occasionally to allow most of the alcohol to evaporate. Then add the canned tomatoes to the pot.
Simmer. : Cover the pot and simmer. Allow for all ingredients to mingle and allow for deep flavors to develop. Do not rush the cooking—you want a light simmer, not a boil.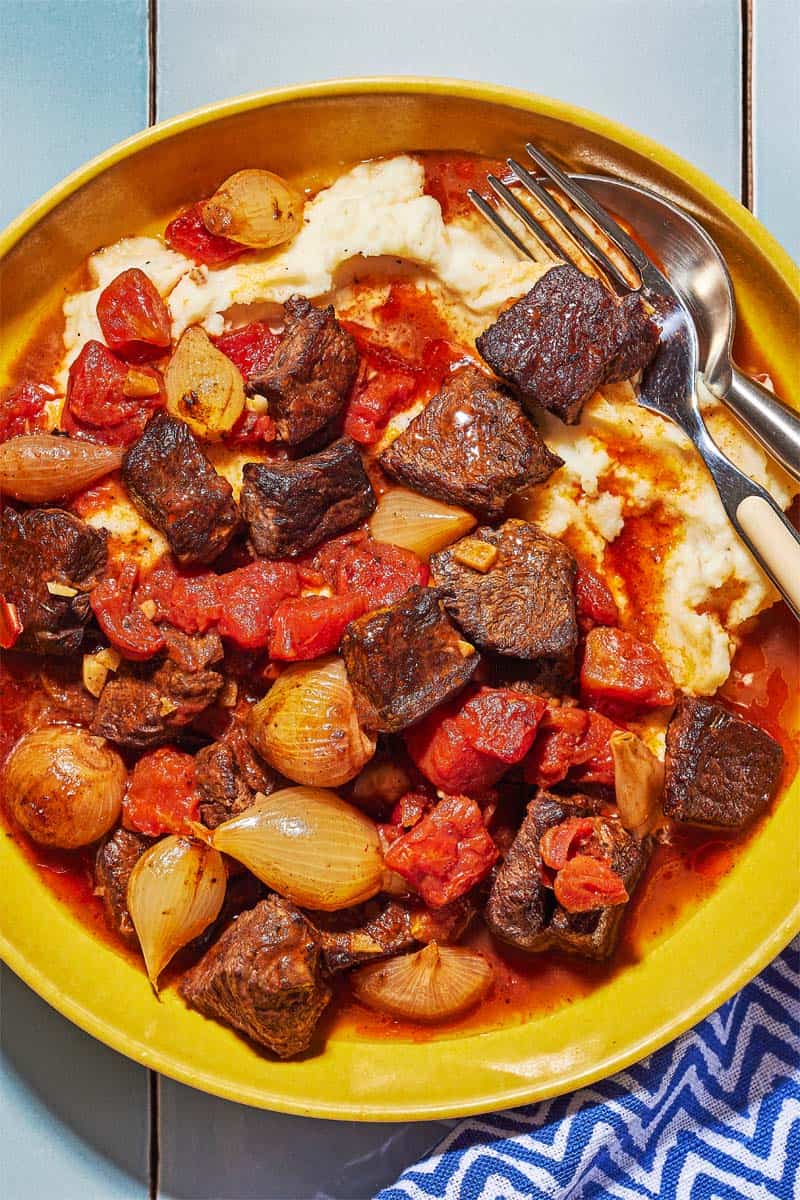 What are Pearl Onions? Fresh Versus Frozen
Pearl onions are simply small onions, usually just larger than a marble. They can be white-skinned or red-skinned and they're sold either fresh or frozen at your local supermarket.
Peeling pearl onions can be tedious. Luckily, frozen pearl onions come pre-peeled (which is so convenient!).

How to Peel Pearl Onions
Though frozen pearl onions will save you time, you can use fresh onions if you'd like. Luckily, there is a neat trick to peel them quickly and effectively:
Get ready. Bring a pot of water to a boil. Set up a large bowl with ice water.
Soak the onions. Place the fresh pearl onions in a large heat safe bowl and pour boiling water over them. Let them stand for about two minutes.
Shock the onions. Drain the hot liquid and drop the onions immediately into the bowl of ice water.
Remove the peel. Cut the root end of each onion and then pinch it slightly. The skin will come right off!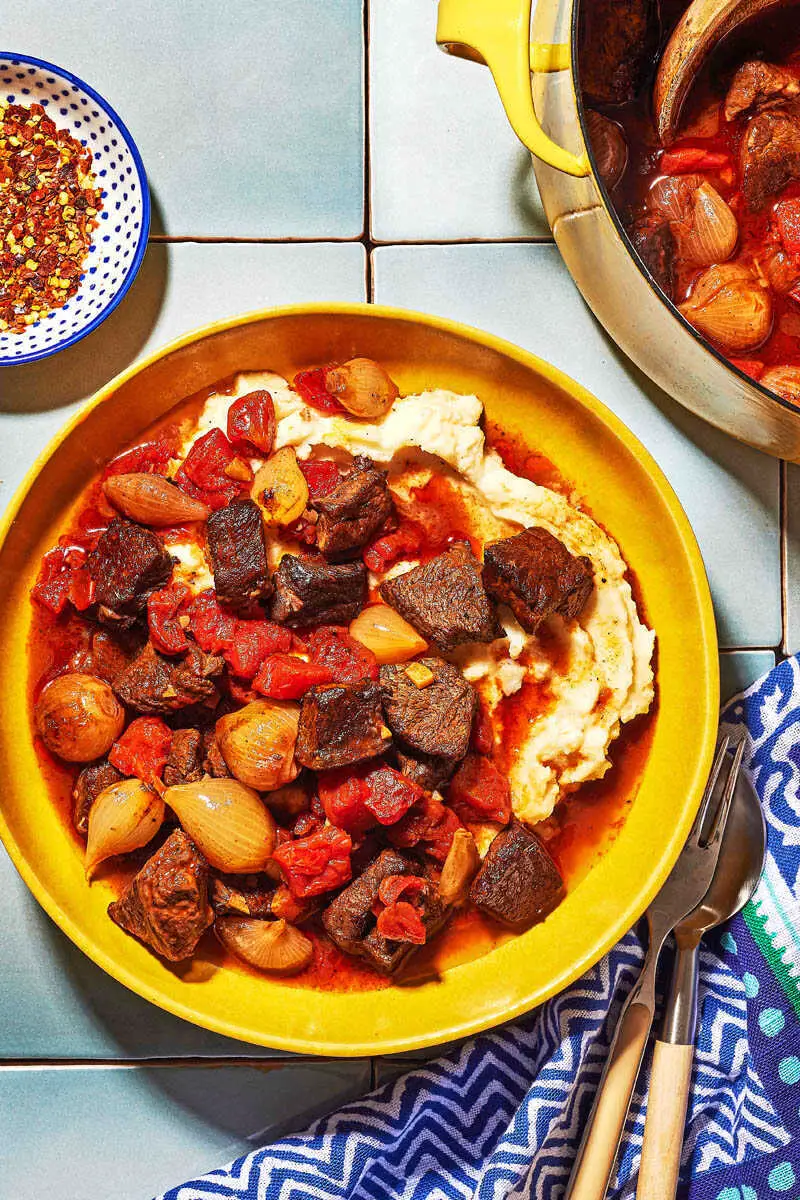 Stifado Variations and Substitutions
You can tweak this beef stew recipe according to your tastes and what you have on hand. Here are some ideas to make this recipe your own:
Other meat options: The modern meat choice for this dish in Greece is veal, which really makes it melt in your mouth. The oldest and most traditional version of this dish, however, is rabbit (and no tomatoes were added at all). Later, beef slowly started to replace it when rabbit meat was not as readily available. Nowadays, stifado can also be made with poultry.
Other onion options. The signature characteristic of this dish is the large amount of pearl onions. The quantity of onions is close to the weight of the meat! Traditional pearl onions (which are also the ones you can use for pickling) have a subtle sweetness. If you cannot source them, you can use peeled shallots instead. Even leeks, cut into 1-inch rings, make a good substitute.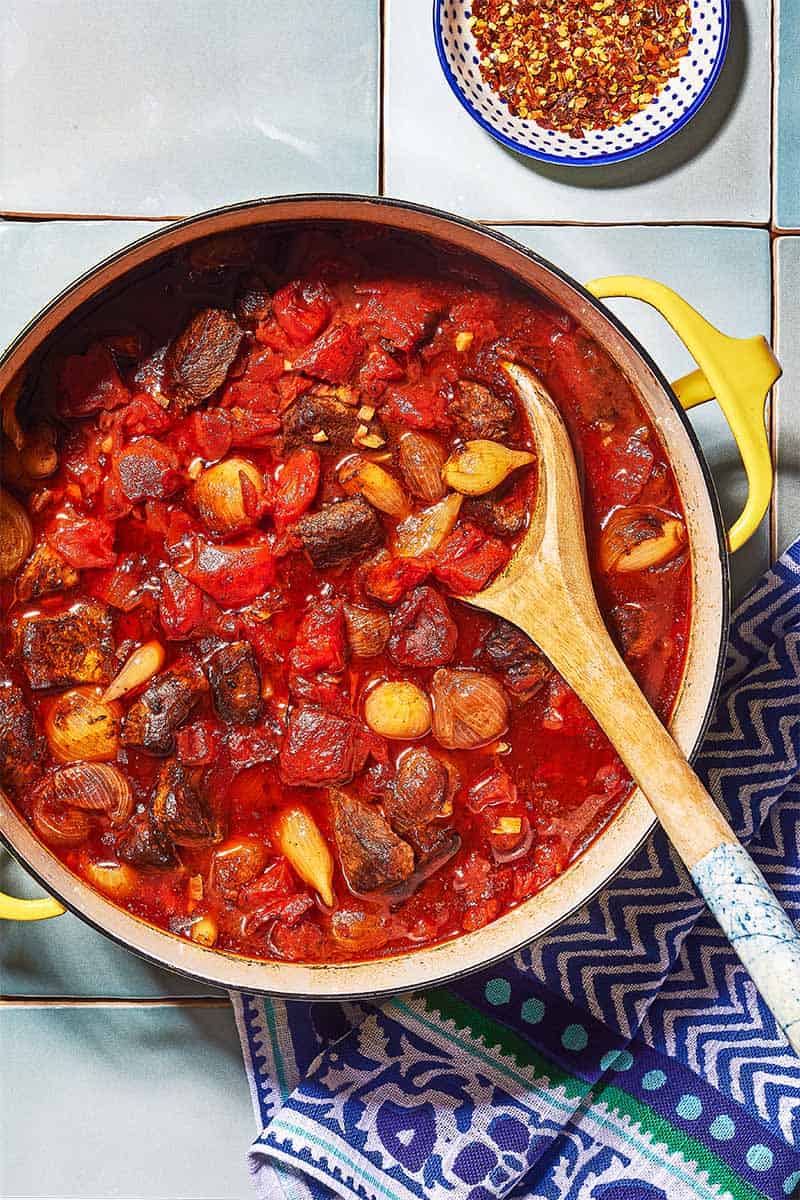 Can I Use a Slow Cooker?
Stifado is generally made on the stovetop, but you can use a slow cooker. To make this in a slow cooker, set it to high and plan on letting it cook for about 5-7 hours. Wait to add the onions in the final two hours, of cooking, so they don't fall apart.

Can I Make This Greek Beef Stew Ahead of Time?
Stifado is a dish that tastes even better the next day when all flavors have had the time to meld and develop. Once the dish is ready, allow it to cool, then refrigerate it until the next day. Warm it up gently and enjoy it with the side dish of your choice.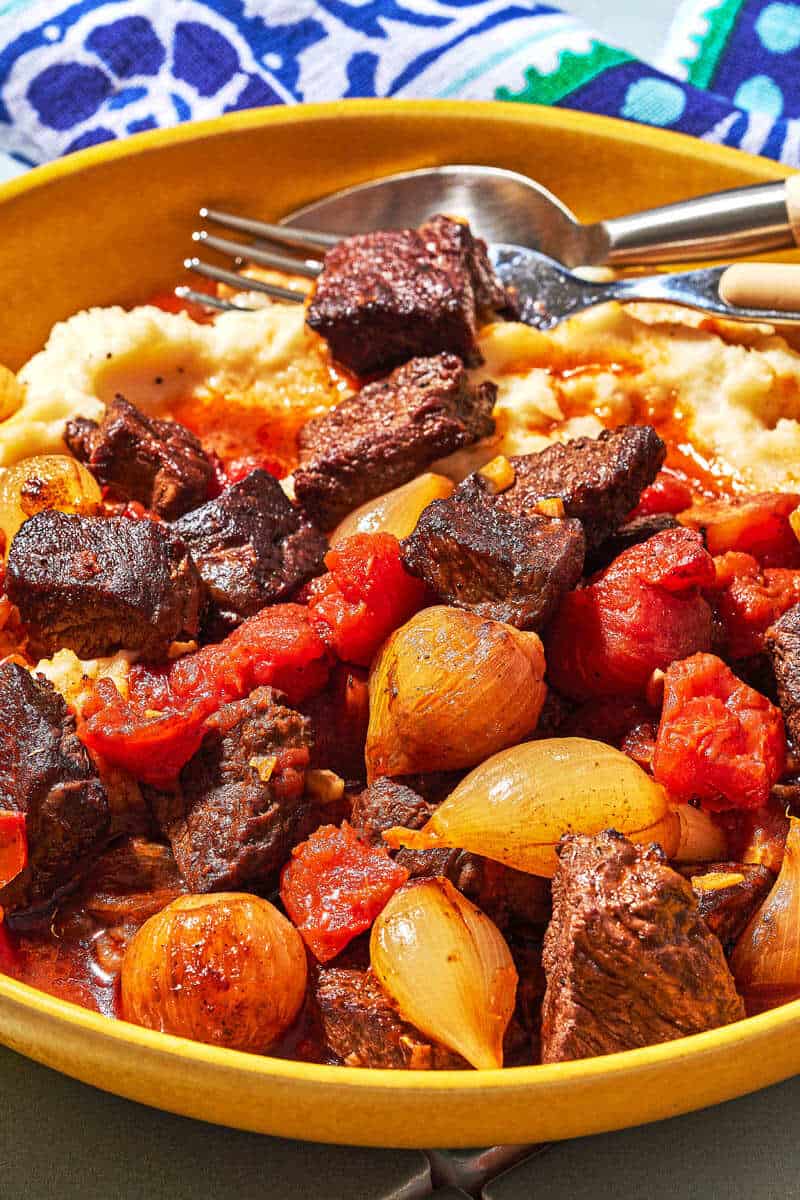 What to Serve with Stifado Beef Stew
The classic combination for stifado is orzo, which is served plain or simmered in a light tomato sauce. You can also serve it over thick Greek egg noodles (hilopites), fluffy rice, mashed potatoes, or even Greek oven fries. No matter how to serve it, make sure you always have some nice crusty bread on the side because those juices are hard to resist.
If you try to pair the meal with a nice red wine, this will make the enjoyment even better! As a rule of thumb, we try to use the same wine for cooking as the one we will serve. If you can source a good, full bodied Greek wine, go for it!
You'll Also Like: Hearty Soup & Stew Recipes
Browse all Mediterranean Recipes.
Visit Our Shop.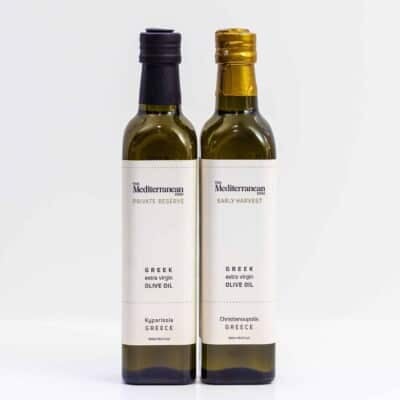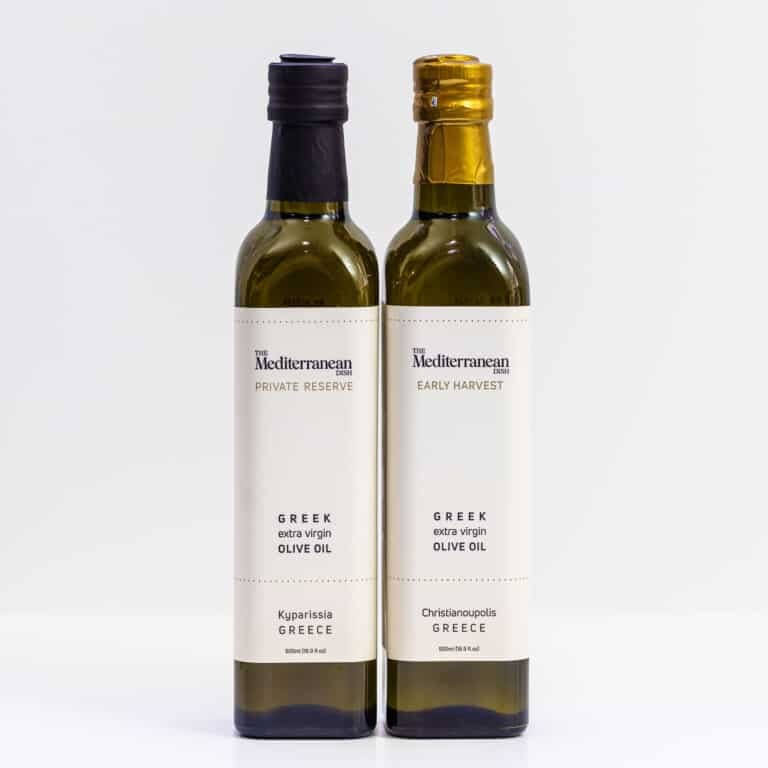 Stifado (Greek Beef Stew)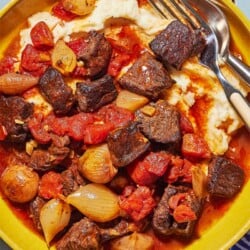 A hearty red wine beef stew with warming spices that is typically served as a Sunday family dinner on colder fall and winter days. This is one of the many traditional Greek comfort foods that is flavorful, satisfying, and mouth-wateringly delicious! Serve with mashed potatoes, orzo or good, crusty bread.
Ingredients
2

pounds

chuck roast,

trimmed and cut into 1 ½-inch pieces

¾

teaspoon

kosher salt

½

teaspoon

freshly ground pepper

¼

cup

extra virgin olive oil

1 ½

pounds

whole pearl onions,

peeled (frozen are fine—they do not need to be defrosted)

5

garlic cloves,

coarsely chopped

1

tablespoons

tomato paste

2

bay leaves

1

cinnamon stick

¼

teaspoon

ground clove

4

allspice berries

or ¼ teaspoon ground allspice

1

cup

full-bodied red wine

¼

cup

Cognac or Brandy

1

(14 ounce) can of good quality whole or diced tomatoes
Instructions
Brown the beef in batches. Pat the meat dry, spread it on a tray, and season it well with salt and pepper. In a Dutch oven or heavy-bottom non-reactive pot, heat the olive oil over high heat. When the oil begins to shimmer, add the meat in a single layer and sauté, turning until lightly browned on all sides, about 1 to 2 minutes per side. You will need to do this in batches so as not to overcrowd the pot (which would prevent it from getting a nice sear and seal in the juices). Use a slotted spoon to transfer the browned pieces to a large mixing bowl. Cover and set aside.

Sauté the pearl onions. Turn the heat to medium and add the peeled pearl onions (if you are using frozen, you do not need to defrost them first). Stir to coat with the oil, adding a dash more oil if needed. Cook until they are softened but not caramelized, about 10 minutes. Add the chopped garlic, stir, and cook for another minute.

Season the onions and garlic. With a wooden spoon, stir in the tomato paste, bay leaves, cinnamon, ground clove, and allspice berries. Allow this mixture to caramelize for one minute, then return the meat and its accumulated juices to the pot and stir to coat with the spices.

Deglaze the pan. Pour the red wine and cognac, into the pot scraping the bottom with a wooden spoon to release any fond (browned bits). Let it simmer for 5 minutes to allow some of the alcohol to evaporate and to deglaze the pan.

Simmer. Add the canned tomatoes and enough warm water to cover the meat. Reduce the heat to a medium or medium-low — you just want a slow simmer —and cover the pot. Cook until the meat is tender and the sauce is slightly thickened. This takes about 1 hour 40 minutes to 2 hours, depending on the size of the meat pieces. Halfway through cooking, open the lid, give it a stir, and check to make sure there is still enough water. If you need to add a little more hot water.

Finish and serve. When the meat is nice and tender, taste it and adjust the seasoning. Remove the bay leaves, cinnamon stick, and allspice berries. Allow the dish to sit, uncovered, for 15 minutes. Serve the stifado warm, over orzo pasta, rice, mashed potatoes, or, Greek French fries.
Notes
Frozen pearl onions are a convenient way to save time peeling. If you'd like to use fresh, see the "How to Peel Pearl Onions" section above for tips.

If you can't source pearl onions, substitute with peeled shallots or 1-inch leek pieces.

Visit

our shop

to browse quality Mediterranean ingredients including

olive oils

,

honey

,

jams

, and

spices

.
Nutrition
Calories:
474.1
kcal
Carbohydrates:
16.4
g
Protein:
31.1
g
Fat:
26.6
g
Saturated Fat:
8.9
g
Polyunsaturated Fat:
2.4
g
Monounsaturated Fat:
15.4
g
Trans Fat:
1
g
Cholesterol:
104.3
mg
Sodium:
539.4
mg
Potassium:
891
mg
Fiber:
3.2
g
Sugar:
7.1
g
Vitamin A:
148.9
IU
Vitamin C:
16.2
mg
Calcium:
89.8
mg
Iron:
4.5
mg