Lamb is a celebrated meat throughout the Mediterranean.  Today, we're doing lamb the Moroccan way! Braising and slow-cooker instructions are included.
I AM HONORED TO PARTNER WITH THE AMERICAN LAMB BOARD TO BRING YOU THIS POST!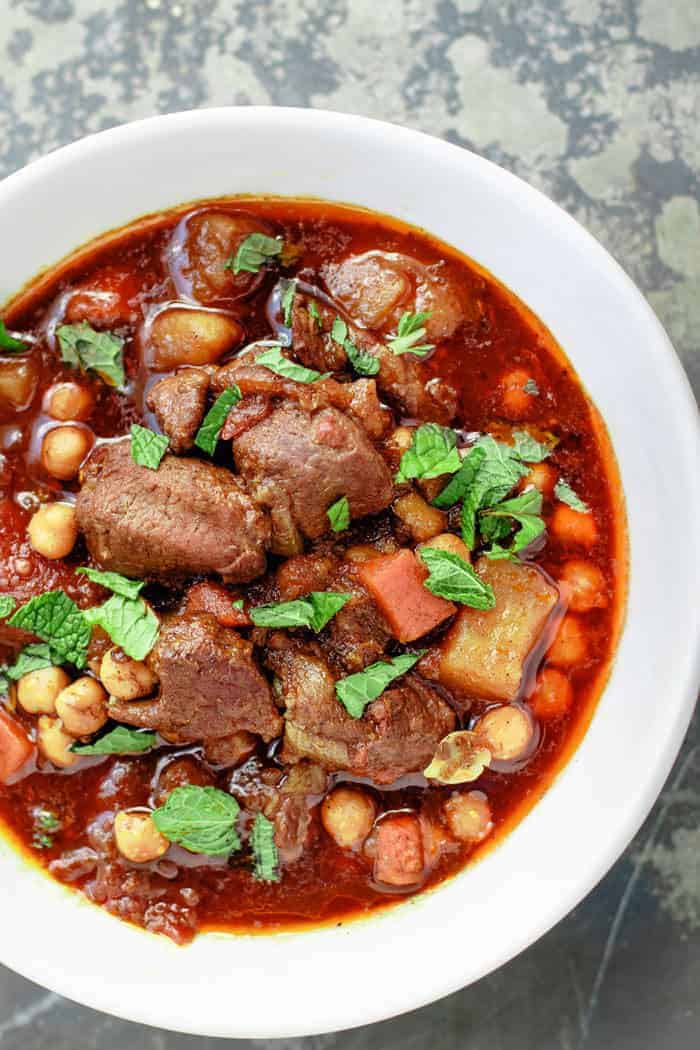 This Moroccan lamb stew is one of those comforting, stress-free meals that are meant to be enjoyed with close friends and family–with oodles of fresh pita bread for swooping that delicious sauce, of course!
Lamb's unique flavor pairs nicely with intense Moroccan spices and accompaniments like ras el henout, cinnamon, and allspice. Carrots and dried apricots add a balanced sweetness. And to complete this one-pot wonder, I threw in potatoes and chickpeas.
Yes, it is every bit as satisfying as it looks!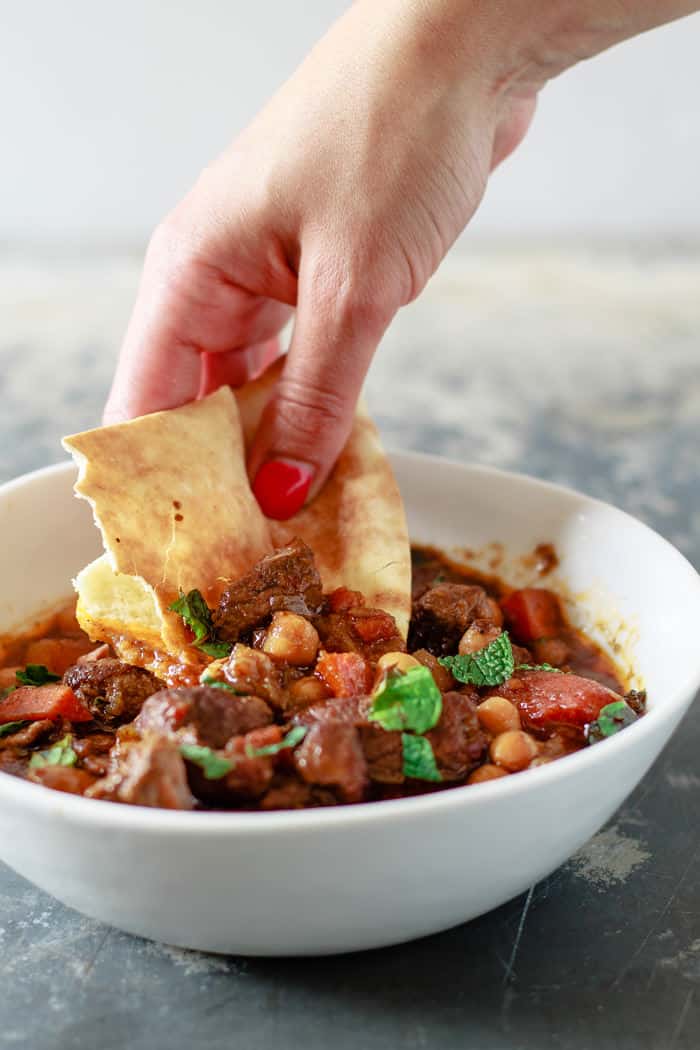 Whenever possible, I choose American-raised lamb. I have learned that American lamb cuts are meatier and sweeter in flavor than imported lamb. And because American lamb travels up to 10,000 fewer miles and about 30 days less than imported lamb, it is a lot fresher!
Boneless leg of lamb or lamb shoulder are great choices for this Moroccan lamb stew. Both are relatively cheaper cuts; and coming from the more exercised part of the lamb, they are prime candidates for braising.
Why Braising Works Here
As the spiced lamb and vegetables cook in the tomato sauce, the moist heat gently breaks the meat's connective tissue, while all the flavors are released into the cooking liquid. The result, my friends, is nothing short of finger-liking-good! A tender, succulent lamb stew in a sauce full of body and flavor.
A crockpot or slow cooker works in this recipe as well (see recipe notes).
What to Serve with this Moroccan Lamb Stew
Honestly, fresh pita bread; challah bread; or any bread of your choice is all you need next to this pot of comfort! Or if you prefer, Lebanese rice or plain couscous provide a nice bed for the saucy stew. For starters, I often serve a bright salad like fattoush and these Moroccan carrots.
Print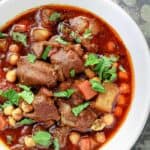 Easy Moroccan Lamb Stew Recipe
---
Author:

Prep Time:

15 mins

Cook Time:

2 hours 15 mins

Total Time:

2 hours 30 minutes

Yield:

6
Ingredients
Olive oil
1 large yellow onion, chopped
3 carrots, cubed
6 Yukon gold potatoes (or any small potatoes), peeled, cubed
2.5 lb boneless leg of American lamb, fat trimmed, cut into cubes (Or American lamb shoulder, bones removed, fat-trimmed)
3 large garlic cloves, roughly chopped
½ cup dried apricots
1 cinnamon stick
1 bay leaf
1 ½ tsp ground allspice
1 tsp ras el hanout (Moroccan spice blend)
½ tsp ground ginger
6 canned plum tomatoes, cut in halves
2 ½ cups low-sodium beef broth
1 15-oz can chickpeas
---
Instructions
In a large Dutch oven or heavy oven-safe pot, heat 2 tbsp olive oil.
In the heated oil, sauté the onions, carrots, and potatoes for 4 minutes or so. Add the garlic and season with salt and pepper. Remove from the pot and set aside briefly.
In the same pot, add more oil if needed, and deeply brown the lamb on all sides. Season with salt and pepper.
Turn heat to medium-high and return the sautéed vegetables to the pot. Add the dried apricots, cinnamon stick, bay leaf and spices and stir to coat.
Add the plum tomatoes and broth and bring everything to a boil for 5 minutes or so.
Cover the pot and place in the 350 degrees F heated-oven for 1 ½ hours (check partway through to add water or broth if needed). Now stir in the chickpeas, cover and return to the oven for another 30 minutes.
Remove from the oven and serve hot with your choice of Lebanese rice, couscous, pita bread or your favorite rustic bread.
A simple Mediterranean salad like Fattoush makes a great starter for this hearty meal. Enjoy!
Notes
Slow-Cooker Instructions
If you prefer, after step #5 is completed, transfer the lamb stew to a large slow cooker insert. Cover and cook on high for 3 to 4 hours, or on low for 5 to 6 hours.
More Recipes to Try:
Mediterranean Grilled Lamb Leg with Mint Pesto
Mediterranean-Style Roast Leg of Lamb
Grilled Lamb Chops with Mint Quinoa
American Lamb is a flavorful, nutrient-rich food and an excellent source of Vitamin B12, niacin, zinc and selenium. See lamb nutrition facts.  And here is more on how lamb is raised in the United States. Buy local and support local shepherds! Be sure to participate in the giveaway below. 
This post may include affiliate links