Simple, unique, and flavorful is what this Moroccan carrot salad is all about! Tender cooked carrots are tossed with fresh herbs and warm Moroccan spices like cumin and harissa blend, then dressed in lemon juice, extra virgin olive oil. The final touch, a sprinkle of toasted sesame seeds! Perfect as a simple vegan starter or a side next to tasty entrees like this Moroccan chicken; Grilled Kofta; or even pan-seared salmon!
A few tips make all the difference for creating this healthy carrot salad with a Moroccan twist, so be sure to read on!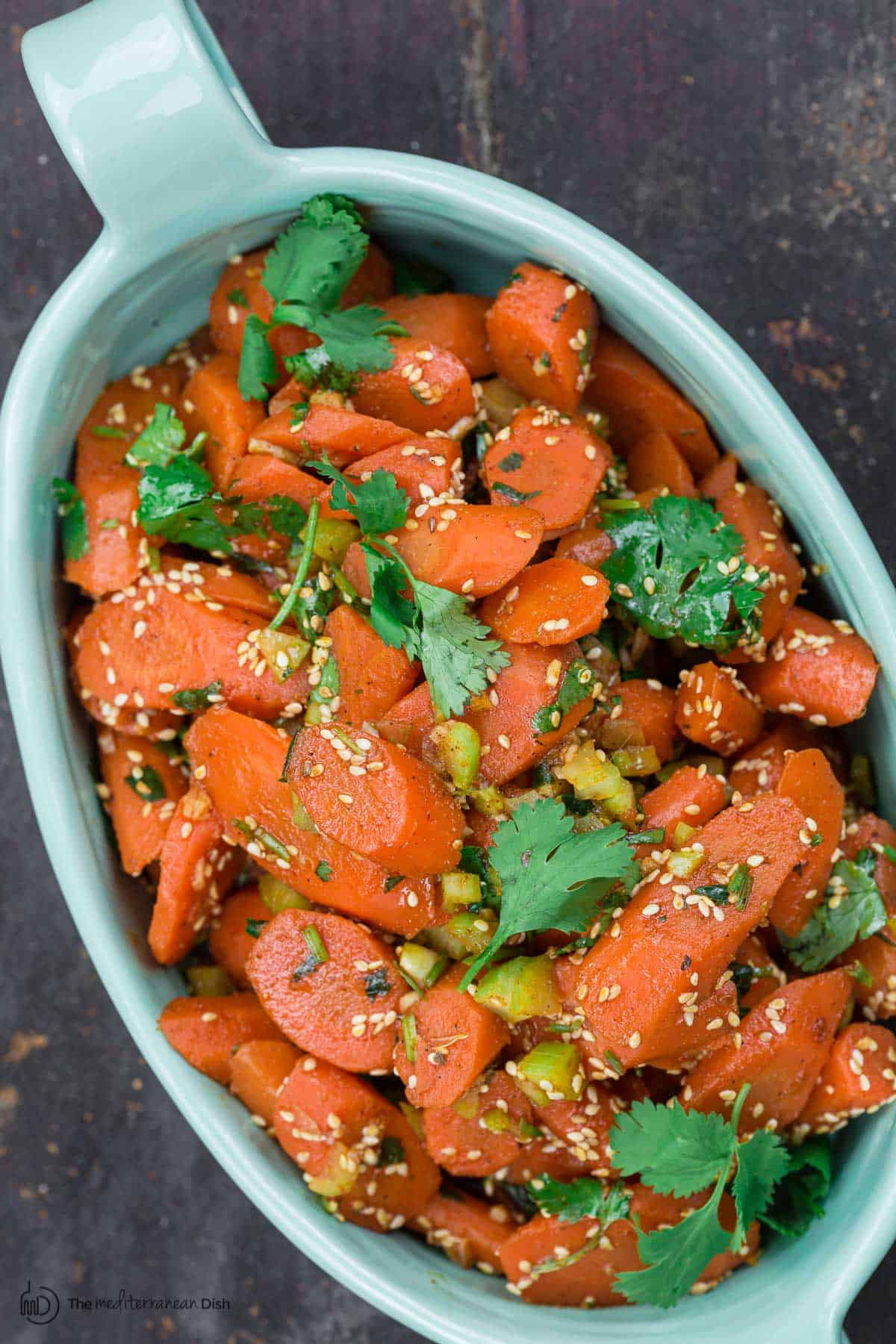 Moroccan carrot salad, known as Salatat Al Jazar, is a popular little dish throughout North Africa and the Middle East. That's why you'll find many versions of it–from hot (with Chile peppers), to sweet (with rosewater, sugar, and cinnamon.)
Everyone makes it a bit different, but this happens to be my absolute favorite version of Moroccan carrot salad.
This is a very simple recipe, but also one that's exciting and packed with great flavor. This recipe takes a basic (often kind of boring) veggie and turns it into a brilliant side dish that will impress family and friends, plus it comes together in a flash!
Here, carrots are poached until tender, then are simply tossed with chopped celery, fresh cilantro, and warm spices like cumin, harissa spice blend, and paprika.
Most carrot salads out there will call for a mayonnaise based dressing, not the case here. A simple dressing of fresh lemon juice and extra virgin olive oil brings this Moroccan salad together. And to finish, a sprinkle of toasted sesame seeds.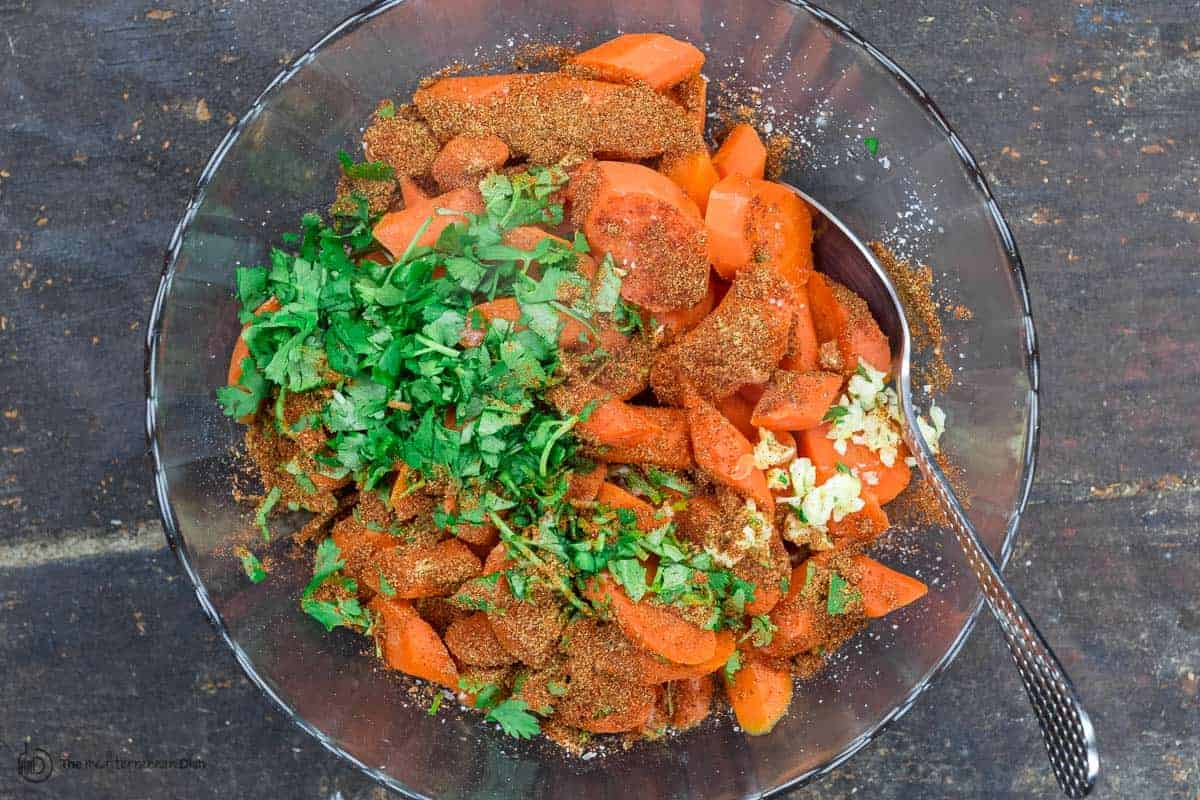 BEST Moroccan Carrot Salad
This Moroccan carrot salad is all about simplicity and minimal budget-friendly ingredients. Carrots are easy to find all year long, are always fresh, and low in price!
In this carrot salad recipe, cut carrots are boiled quickly until they are just tender. While they are boiling, you can prepare the spices and the rest of the ingredients so they're ready right away.
Warm carrots absorb all the great flavors from spices, garlic, fresh cilantro and a little lemon juice and olive oil. That's really all there is to this easy mouth-watering carrot salad. And the longer you let this salad sit and marinate, the better the flavor! It is kind of like soups and stews - they always seem to taste better the next day after sitting in the fridge for the night.
I'll walk you through the ingredient list...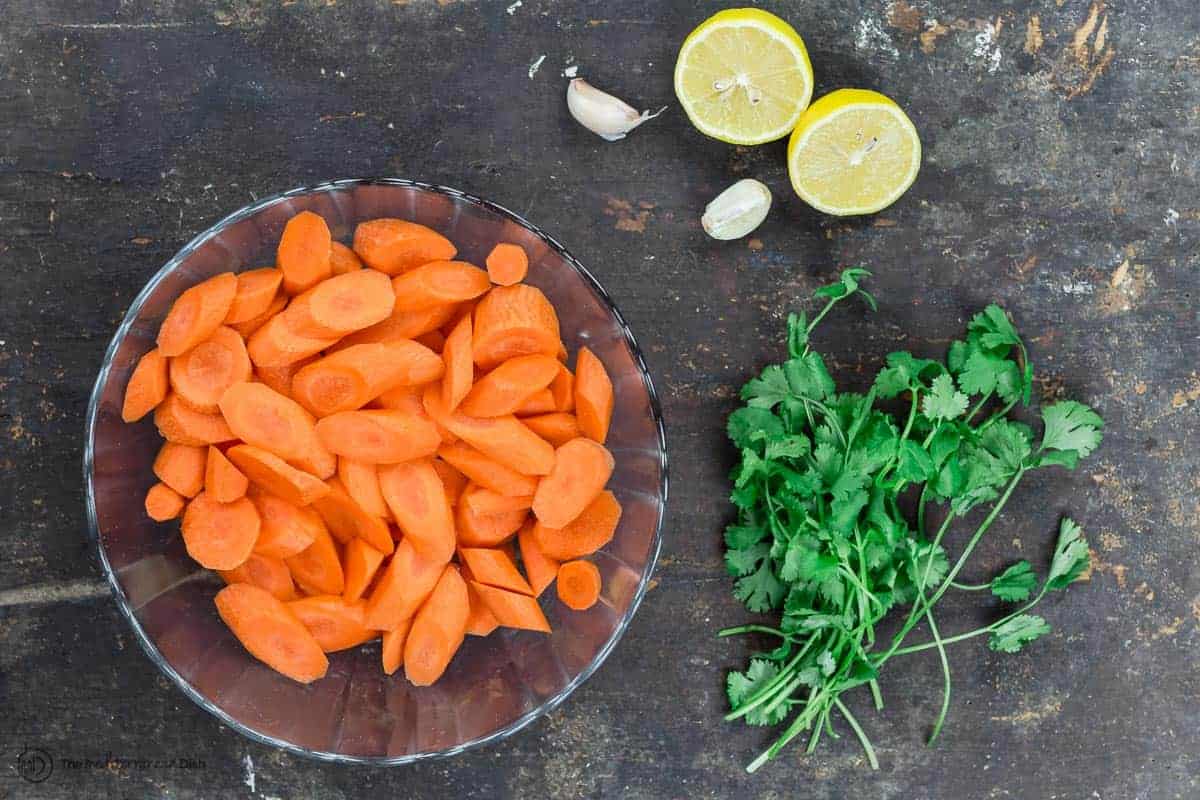 Ingredients for this Healthy Carrot Salad, Moroccan-Style
Carrots – Carrots are the star of this salad! The key is to cut the carrots as uniform in size as you possibly can, that way, they cook quickly and evenly. Carrots get even sweeter when they are cooked and become perfectly tender and a bit less earthy in flavor.They are the perfect carrier to warm Moroccan spices and other flavor makers in this salad.
Celery – Although optional, and admittedly not traditional, I like the addition of chopped celery because it gives a great fresh crunch against the sweet and tender cooked carrots. But if you don't like celery, feel free to skip out on this ingredient.
Spices & Flavor Makers- The A blend of warm harrissa spice blend along with cumin, sweet paprika, coriander gives this salad that special Moroccan flare. If you're not familiar with our all-natural harissa spice blend, it's a super versatile North African blend of three types of chili along with sumac, caraway, fennel, cumin, coriander, garlic and peppermint! It's unique and adds great depth to almost any dish, but really makes this carrot salad shine! (Find Harissa Spice Blend here.)
Next on the flavor makers list is fresh garlic--which, in my opinion, makes everything better! And a handful of fresh cilantro for a pop of green. If you are unable to eat cilantro, as many can't, you can use parsley or fresh mint in its place.
I like adding a little bit of toasted sesame seeds both for a little nutty flavor and some texture. Totally optional, but I think it does make a difference.
Dressing –Keeping it all simple and easy, the dressing here is made of fresh lemon juice and quality extra virgin olive oil, which coats the salad well, melding the flavors beautifully together. My choice for extra virgin olive oil is Early Harvest Greek EVOO (a rich and peppery finishing oil.)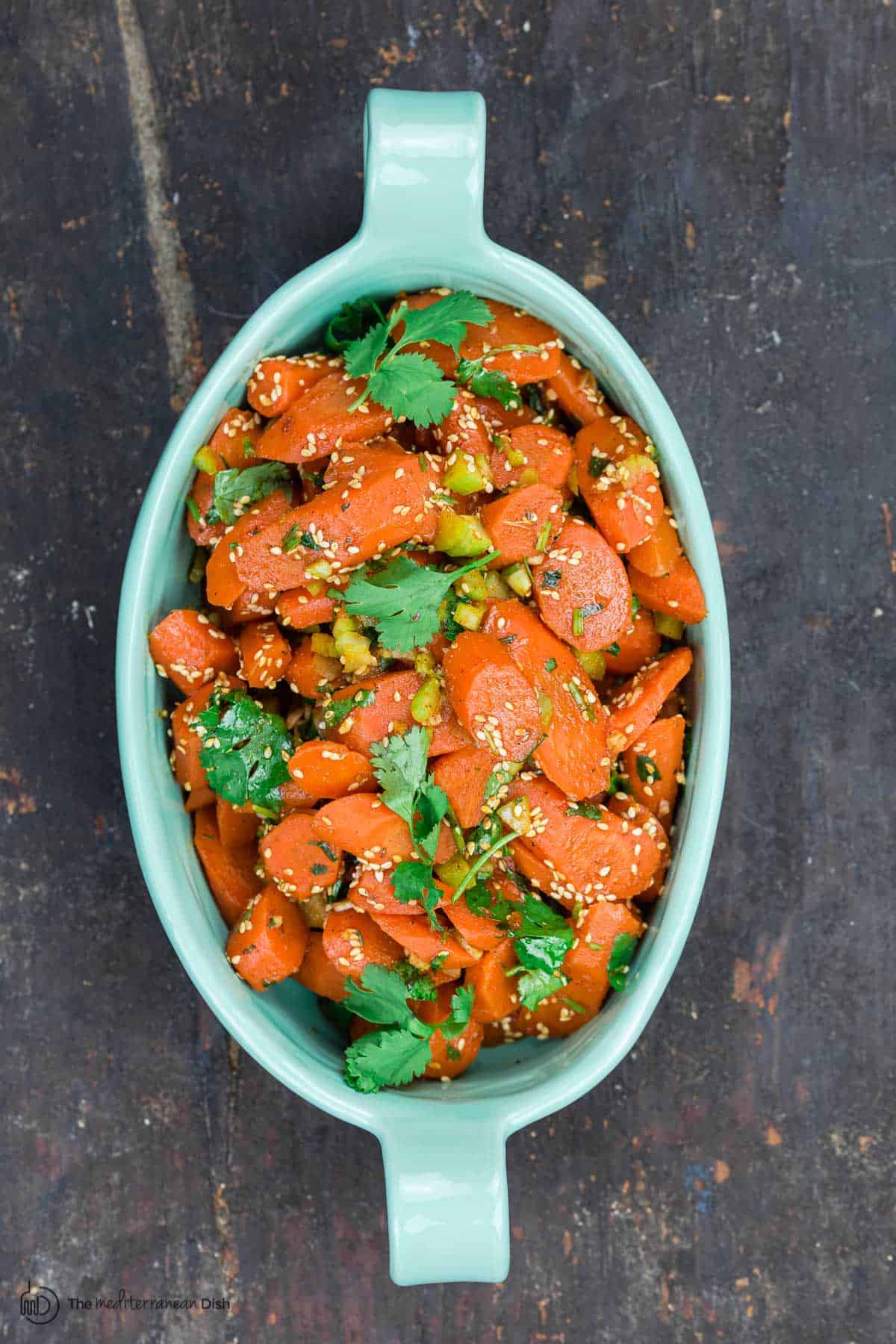 Tips for Best Moroccan Carrot Salad
Even though this may be the easiest recipe I've ever made, there are a few tips to ensure you get the best carrot salad...perfectly tender and balanced with great flavor.
1- Cut the carrots evenly – when you boil the carrots you want them to all cook well at the same time. If all of your carrot slices are different sizes and thickness, you'll wind up with some cooked, some crunchy, and some overly mushy. When slicing the carrots, go slowly and make sure they are as uniform as possible.
2- Give the carrots a good drain – after the carrots are cooked, make sure you drain them from the cooking water well. You don't want a watery carrot salad! You can let them sit in the colander in the sink for a few minutes and give them a few tosses to release any excess water.
3- Dress the carrots while they are warm – flavoring the carrots while warm allows them to better and more quickly absorb all the beautiful Moroccan flavors from the spices, fresh herbs and bright dressing.
4- Let the carrot marinate for a bit before serving – in order to get the strongest flavor for your carrot salad, after they are tossed in the dressing, set aside even for a few minutes and let them soak up the flavors. You can even pop the carrot salad into the fridge for a few hours or overnight, it's even better the next day.
5- Serve Carrot Salad at Room Temperature-- personally, I prefer this salad served at room temperature, although it's fine to serve it warm or chilled. At room temperature, you can truly appreciate the texture and flavor for the sweet carrots dressed the Moroccan way.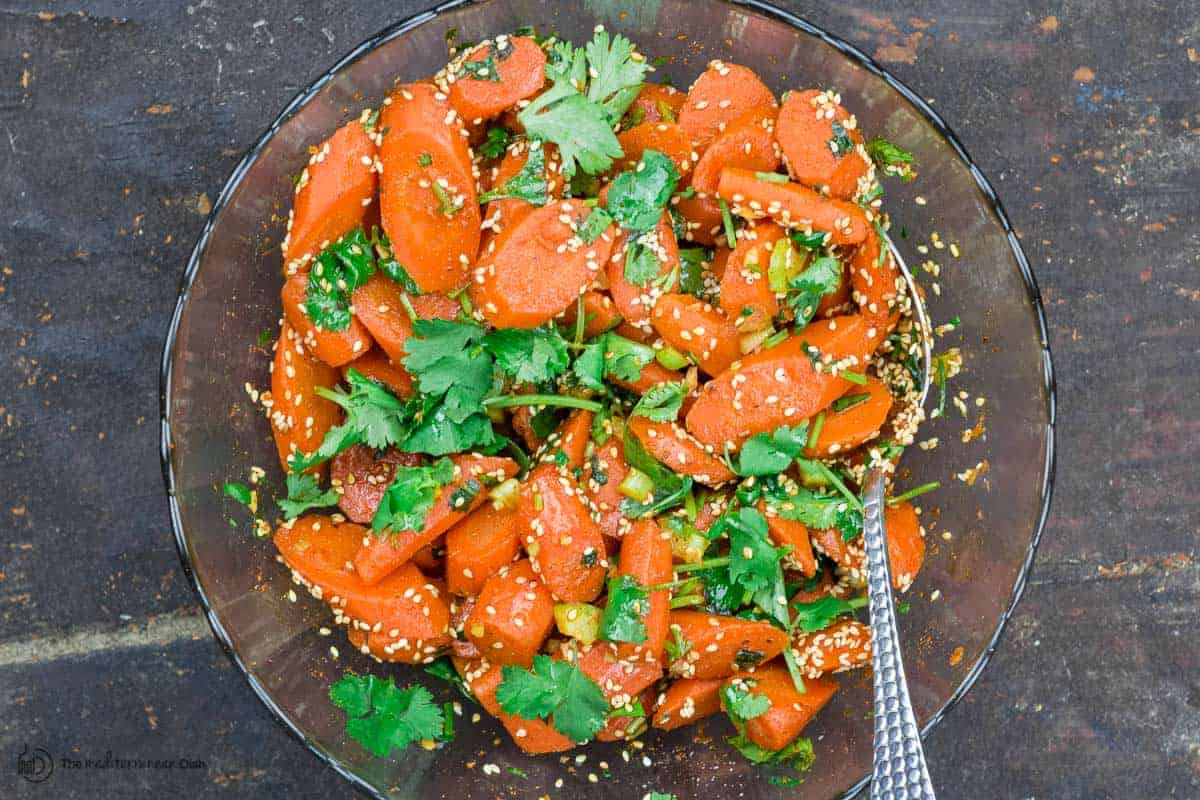 How Long Does Carrot Salad Last in the Fridge?
When stored in the fridge in an airtight container, this tasty healthy carrot salad will last for a good 3-4 days! Take it out of the fridge a bit before you serve,
What to Serve Along this Healthy Carrot Salad?
When we recently visited a local Moroccan restaurant, this carrot salad was served as a starter along with mini Moroccan meatballs and other mezze.
I mentioned a couple of entree options earlier (Moroccan chicken & pan seared salmon). You can also serve t his carrot salad next to Moroccan fish, za'atar chicken, or salmon kabobs. Plenty of ideas, right?!
Looking for Mediterranean diet friendly recipes? See our collection of Mediterranean diet recipes here.
Join my e-mail list HERE to receive new recipes and my weekly dinner plan!
VISIT OUR ONLINE SHOP FOR QUALITY OLIVE OILS, ALL-NATURAL SPICES AND MORE
Print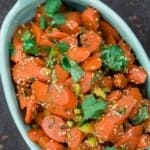 Moroccan-Style Carrot Salad
---
Description
Simple, unique, and flavorful is what this Moroccan carrot salad is all about! Tender cooked carrots are tossed with fresh herbs and warm Moroccan spices like cumin and harissa, then dressed in lemon juice, extra virgin olive oil. The final touch, a sprinkle of toasted sesame seeds!
---
water
Kosher salt

2

lb carrots, peeled and cut into medallions

1

celery stalk, chopped

¾ tsp

harissa spice

½ tsp

ground cumin

½ tsp

ground coriander

½ tsp

sweet paprika

1

to

2

garlic cloves, minced

1

celery stick finely chopped

½ cup

chopped fresh cilantro (mint or parsley would work as well)

1

to

2

tablespoon fresh lemon juice

3 tbsp

Extra virgin olive oil (I used Early Harvest Greek extra virgin olive oil)

3 tbsp

toasted sesame seeds, optional
---
Instructions
Bring a large pot of salted water to a boil. Add carrots and cook for about 20 minutes until nice and tender. Drain.
Transfer the cooked carrots immediately to a large mixing bowl. And while nice and warm, season with a dash kosher salt, and the spices (harissa spice, cumin, coriander and paprika.) Add minced garlic, celery, cilantro, lemon juice and extra virgin olive oil.
If you like, add a sprinkle of toasted sesame seeds. Give the carrot salad a good toss to combine. Set the carrot salad aside for a bit before serving (it's best served at room temperature.)
Notes
Cook's Tip: Seasoning and dressing the carrots while warm yields best flavor.
Make Ahead Tip: You can make this salad in advance. Let it cool completely, then place in a tight-lid glass container in the fridge. Take it out of the fridge a few minutes before serving to bring it closer to room temperature.
What to Serve This Carrot Salad with? This salad is great as a starter or a side next to things like Moroccan chicken, Kofta Kebabs, Moroccan Fish, or Za'atar Chicken (more ideas up in the post.)
Visit Our Online Shop to browse all-natural spices including harissa, cumin, coriander and paprika! You will also find our selection of Greek extra virgin olive oil, including Early Harvest EVOO.
Prep Time:

10 mins

Cook Time:

20 mins

Category:

Salad

Method:

Tossed

Cuisine:

Moroccan
Keywords: Moroccan Carrot Salad, Healthy Carrot Salad, Carrot Salad Recipe
*This post first appeared on The Mediterranean Dish in 2017 and has been recently updated with new information and media for readers' benefit. Enjoy!