Today we get to talk about one of my favorite topics: Mezze. Mezze takes the party platter to a whole new level of delicious. And it's not hard to put together the perfect Mediterranean mezze platter with dips like hummus or baba ganoush, along with fresh veggies and other Mediterranean favorites. Be sure to see my complete guide below and watch the video for how to build the perfect Mediterranean mezze platter!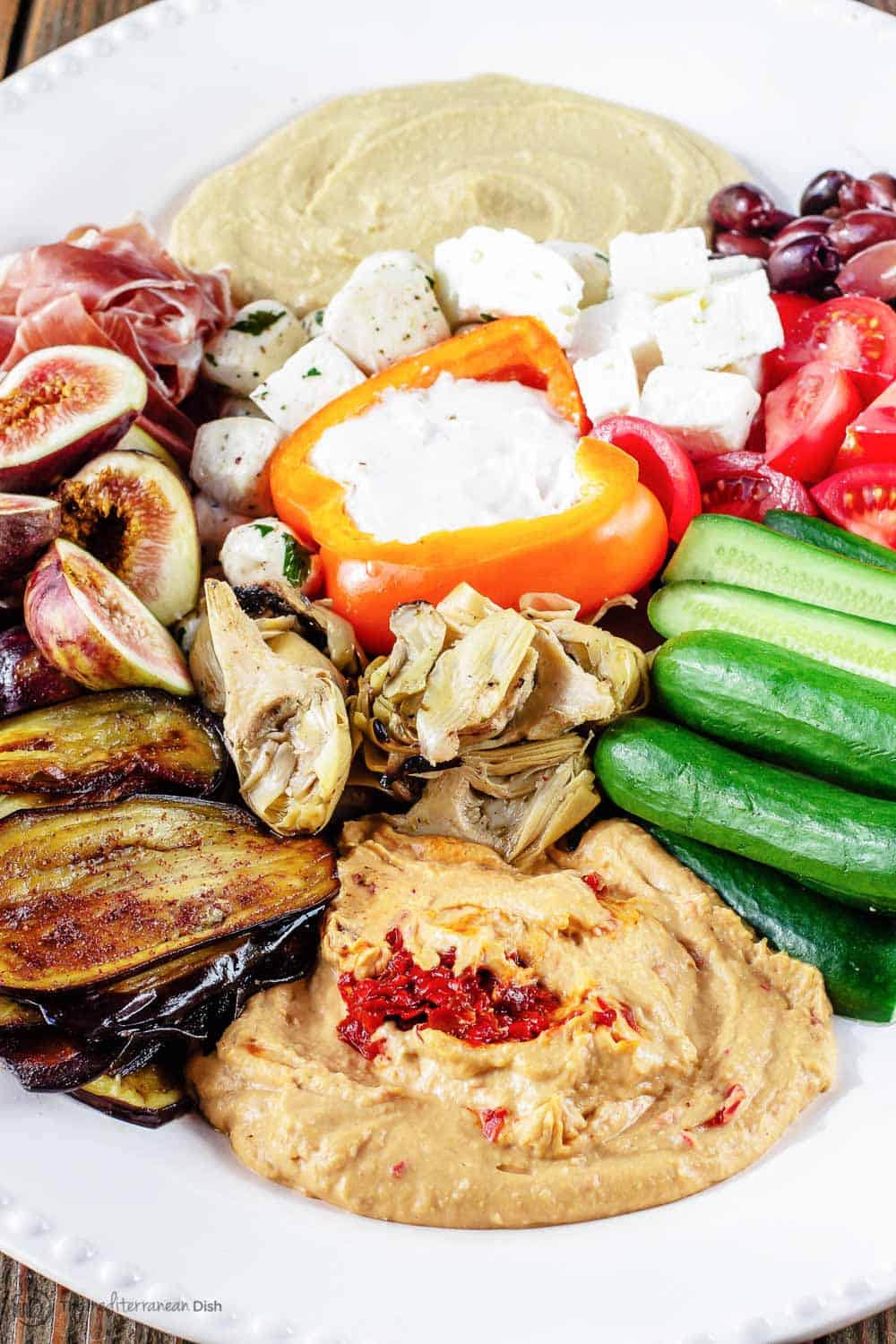 Where I come from, a gathering is not complete without mezze!
If you're not familiar, mezze is basically small plates for sharing; often thought of as appetizers. But, if you've been to Greece, Turkey, Lebanon or parts of the eastern Mediterranean, you probably know that mezze can be the entire meal.
To me, mezze is the most disarming, unpretentious, and intimate meal. It is designed for long visits, lots of laughter, and the deepest of conversations with friends and loved ones.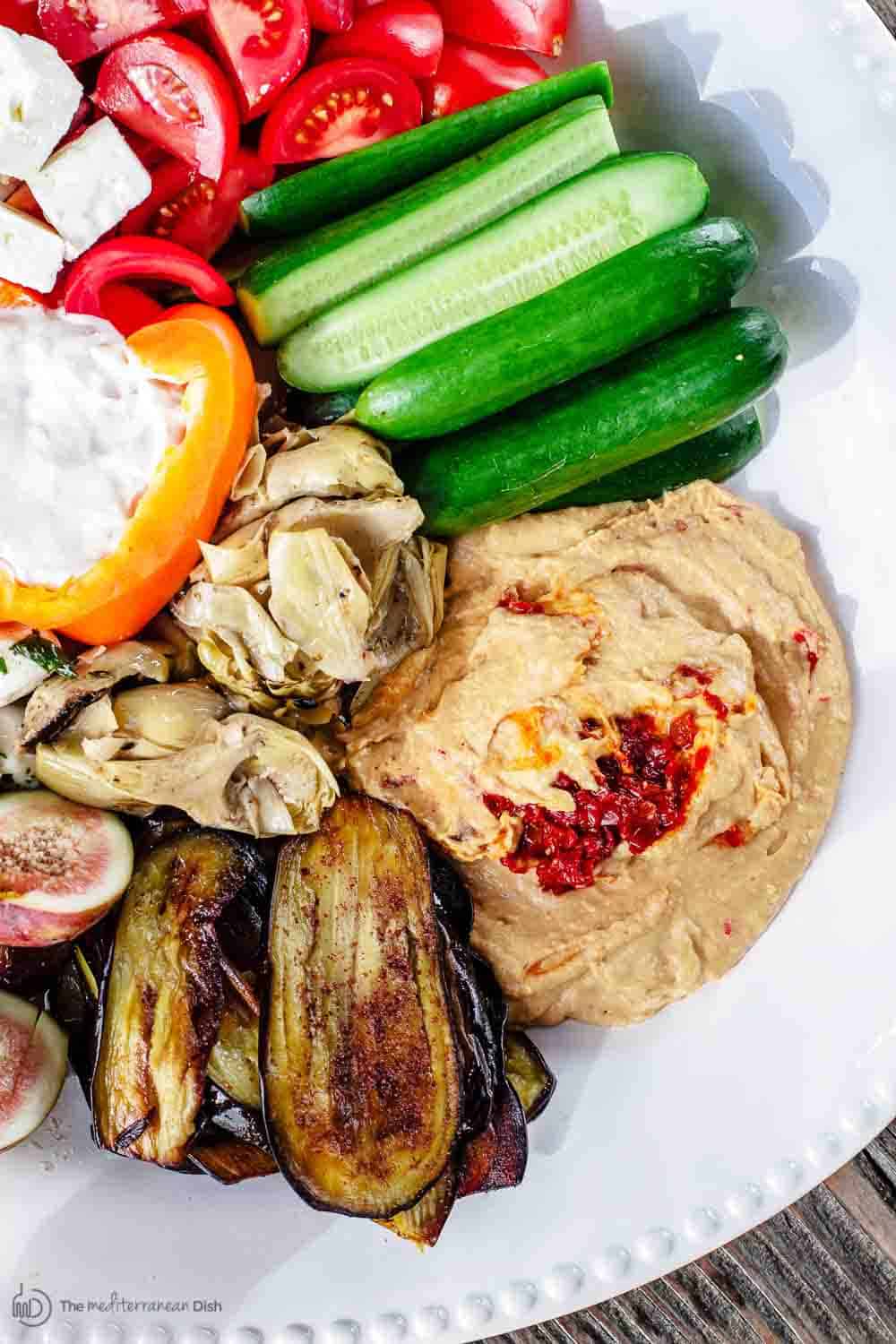 How to Build The Perfect Mediterranean Mezze Platter
Putting together the perfect Mezze platter is not complicated at all. Here is a simple guide for you:
1) Remember mezze is for sharing. Think, intimate and plentiful. Find the largest platter you have to display your mezze. Of course you can serve mezze in separate small dishes, and I do that often. But I also enjoy a beautiful mezze platter display. One mezze platter works particularly well for smaller parties of 10 or fewer guests. And you can always make two or more platters if you are having a larger party.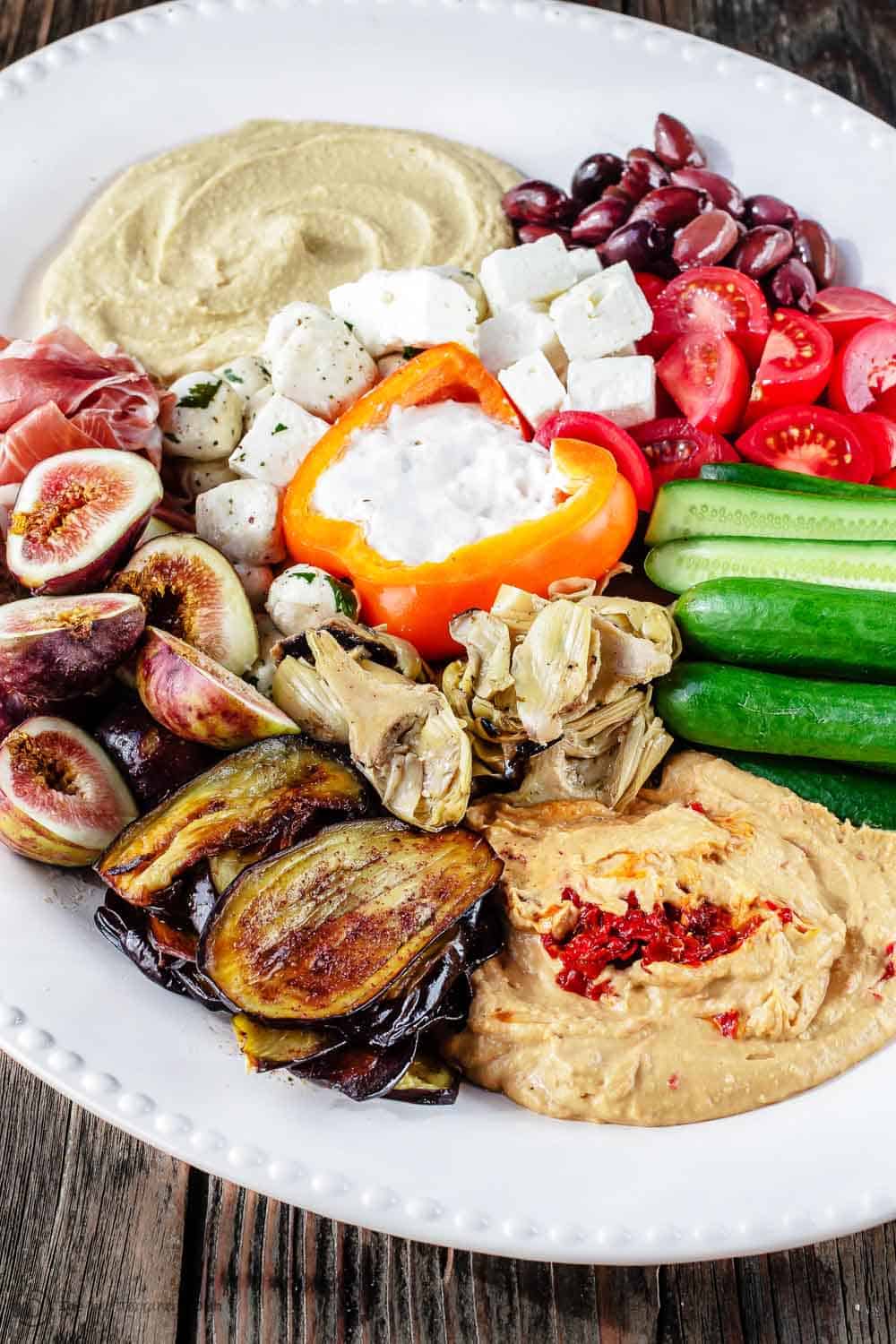 2) Vegetables are king! True Mediterranean mezze includes plenty of colorful veggies.
If you have time, make a Mediterranean salad like tabouli, which can be a beautiful centerpiece to your platter. This time, I kept things simple by choosing to slice up some fresh tomatoes and Persian cucumbers (which are great with dips and spreads).
Add roasted vegetables! I enjoy roasted eggplant, weather with the addition of tahini and pomegranates like this one, or plain with a pinch of Sumac! Other options like roasted tomatoes or baked zucchini would work too!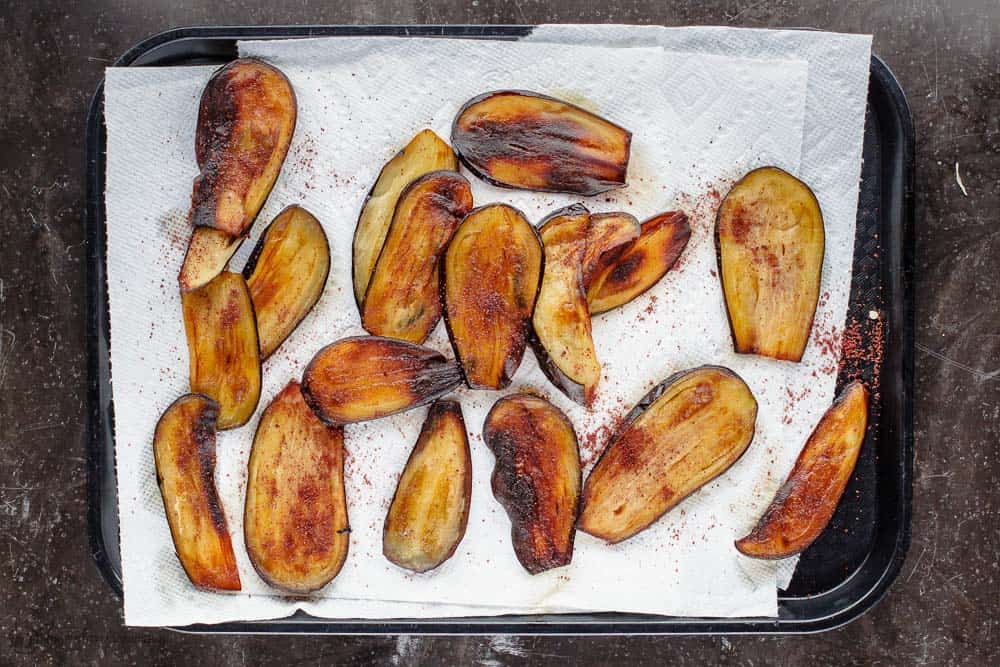 3) Creamy spreads take center stage!
In the eastern Mediterranean, you will find that mezze always includes dips and spreads along with warm pita bread. Top of the list is, of course, hummus!
If you have the time, you can make a classic creamy hummus or this roasted red pepper hummus ahead of time. In a pinch, I've also quality store-bought hummus like organic hummus from Sabra, for example.
Consider adding tzatziki or labneh (yogurt cheese). Again, if you don't have the time, you can use quality store-bought tzatziki, and you may find labneh at specialty stores or your local Middle Eastern store.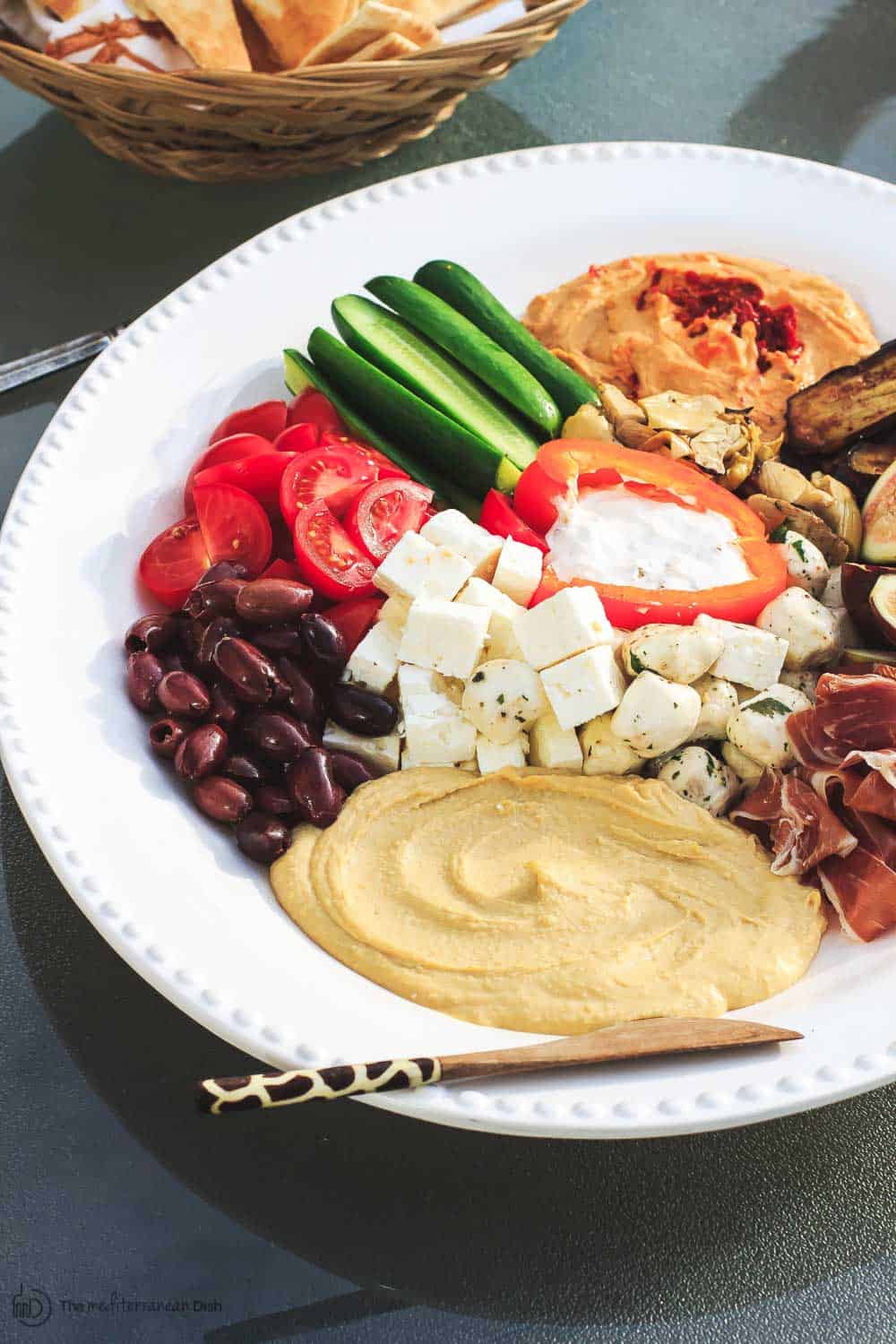 5) Add olives and briny pickles! I like to add things like quick pickled cucumbers, Greek kalmata olives, marinated artichokes, or pickled mushrooms. Check out your local store's olive bar for inspirations.
6) Other Mediterranean favorites: cheese (feta and baby mozzarella are my go-to here); meats like Prosciutto or salami; and figs or grapes for a little something sweet to cleanse the palette.
7) Breads. Of course warm pita is always a good choice to go with your mezze platter. But you can add crostini and crackers as well.
I hope you'll use this as a loose guideline for building your mezze platter. Remember, there really is no right or wrong way to mezze. The one rule: Share!
Watch The Video to see how I put together my Mediterranean Mezze Platter:
Other Recipes to Try
Ultimate Mediterranean Brunch Board
Mediterranean Grilled Shrimp with Roasted Garlic Cilantro Sauce
Batata Harra: Middle Eastern Spicy Potato Salad
Print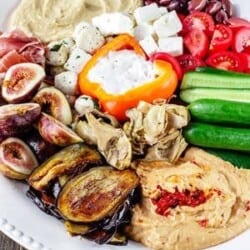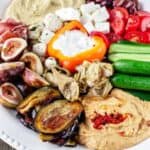 Mezze: How to Build the perfect Mediterranean Party Platter
---
Description
An easy and healthy Mediterranean mezze platter is a sure and healthy way to please a crowd!
---
2

baby eggplants, sliced lengthwise (½" or so in width)
Salt
Olive oil
Traditional Creamy Hummus or 10-oz tub quality store-bought alternative
Homemade Roasted Red Pepper Hummus or 10-oz tub quality store-bought alternative

½

bell pepper, any color, cored
Homemade Greek Tzatziki or quality store-bought tzatziki

6

Campari tomatoes, quartered

6

Persian (baby) cucumbers, sliced into spears
Pitted Kalamata olives

1

15-oz can good quality marinated artichoke hearts

6 oz

Greek feta cheese, cubed (not crumbled)

6 oz

baby mozzarella cheese balls

3 oz

prosciutto di parma

6

California fresh figs, halved (substituent: seedless grapes)

1 tsp

sumac
Pita bread or your choice of rustic European bread for serving
---
Instructions
Place the eggplant slices on some paper towels and sprinkle with salt. Let the eggplants "sweat out" any bitterness for 20 minutes or so. Pat dry.
Preheat the oven to 400 degrees F. Place the eggplant slices on a lightly oiled baking pan, drizzle generously with olive oil. Roast for 20 minutes.
Meanwhile, assemble the remaining ingredients on a large serving platters. Begin with the two hummus spreads on opposite sides. Place Tzatziki sauce in the cored bell pepper right at the center of the platter. Assemble the remaining ingredients on the platter to your liking. When the eggplant is roasted to a nice medium-brown, remove it from the oven and sprinkle with 1 teaspoon of sumac. Add the roasted eggplant to the platter.
You can cover and refrigerate this mezze party platter; take it out a few minutes before your guests arrive. Enjoy with warm pita and crostini or your choice of crackers!
Prep Time:

20 mins

Category:

Appetizer

Cuisine:

Mediterranean
Keywords: Mezze platter, party platter, middle eastern appetizer