Today we get to talk about one of my favorite topics, Mezze. And, how to build the perfect Mediterranean party platter.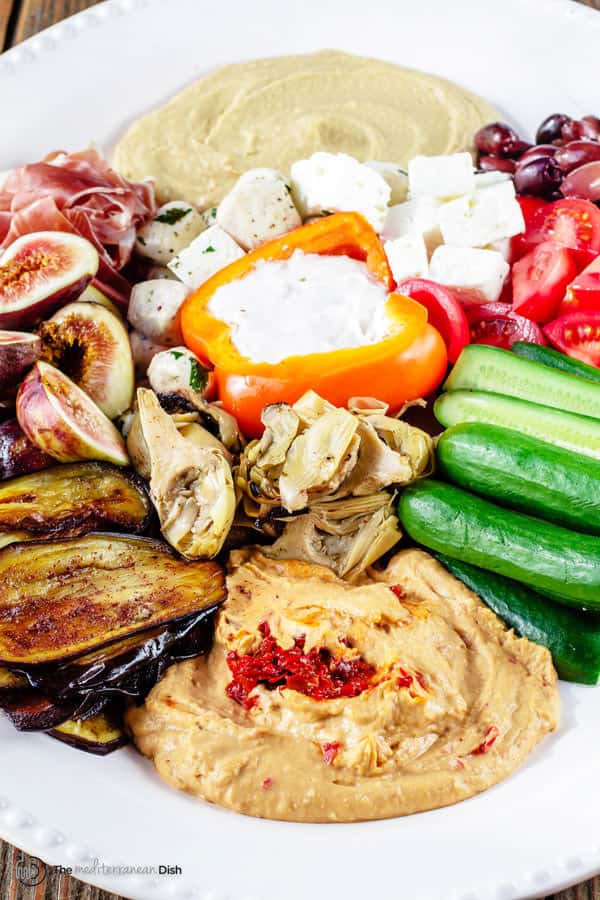 How do I plan the perfect party? What is the secret to stress-free entertaining? What easy foods do I serve my party guests? 
All are good questions that I have been asked many times, either because I am a food blogger or perhaps because I have traveled and planned lots of events in my past life; but more importantly, because I love to entertain at home.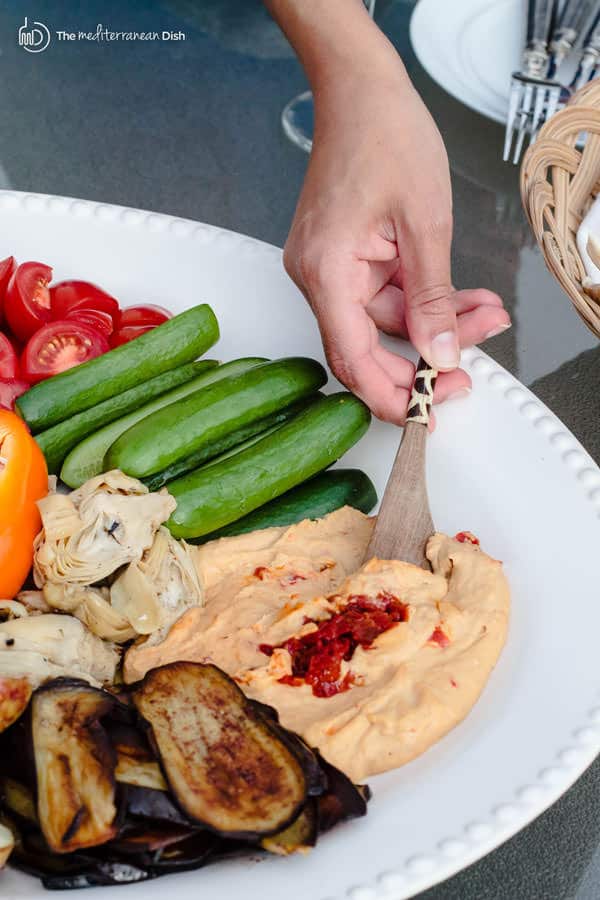 I won't be able to answer each of the questions fully today, but I happen to think that mezze (or meze) is the answer to a lot of anxiety around hosting a successful party.
The definition of mezze according to people of the Mediterranean is basically this: small plates for sharing.  Some, including myself, might think of mezze dishes as appetizers, tapas or antipasti. But, if you've been to Greece, Turkey, Lebanon or parts of the eastern Mediterranean, you probably know that mezze is far more than appetizers; it is often a meal in its own right.
The idea behind mezze is to share with friends a healthful, unpretentious and leisurely meal; be it while you wait for the main course or not.
Once I learned how to put together a mezze platter (i.e. the perfect Mediterranean party platter), hosting parties became far easier for me. And I found myself willing to invite friends, on a whim, like I did last weekend.
[Pause]…Some of you may need a little assurance here. This is  NOT the obligatory, tired party platter that you find yourself partaking of out of desperation. I hope the pictures provided some proof already.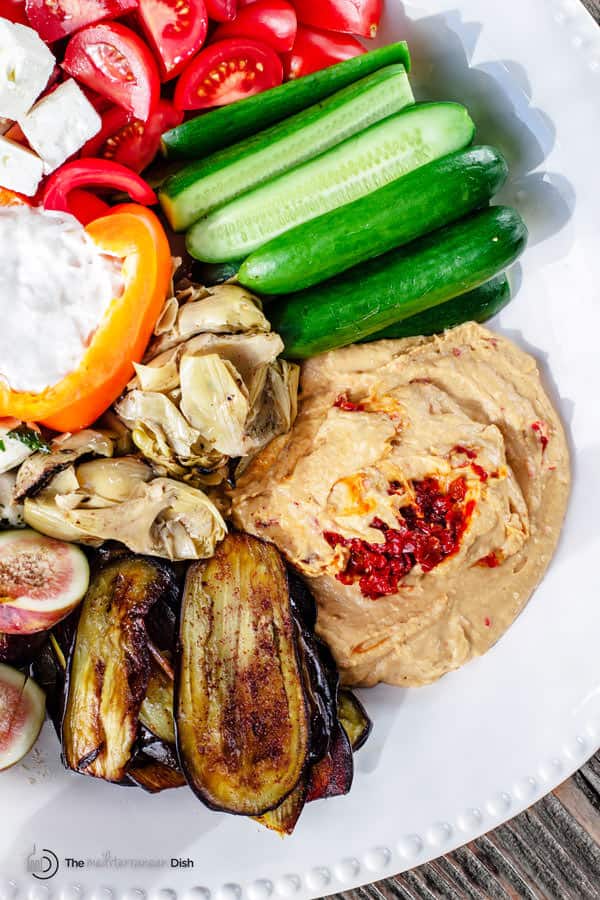 Still, much of this Mediterranean party platter is store-bought! In fact, the only thing I really prepared was the roasted eggplant.
The heaping platter of Mediterranean mezze favorites creates an instant relaxed atmosphere, and just like that, the perfect party begins! It never fails! While guests gather around the platter, I typically continue my work. And whether, we all wait on the grill or whatever is in the oven,  no one really cares. The Mediterranean party platter is a feast in itself!
Best part…super easy to prepare!
How do you put together the perfect mezze platter or Mediterranean party platter? 
1) Mezze is for sharing, so think plenty and intimate. Find the largest tray or platter you have. Of course you can serve mezze in separate small dishes, and I have done that before. But I prefer the plentiful display on one large platter; it is casual and more inviting.  It works particularly well for parties of 10 or fewer guests. And you can always make two or more platters if you are having a larger party.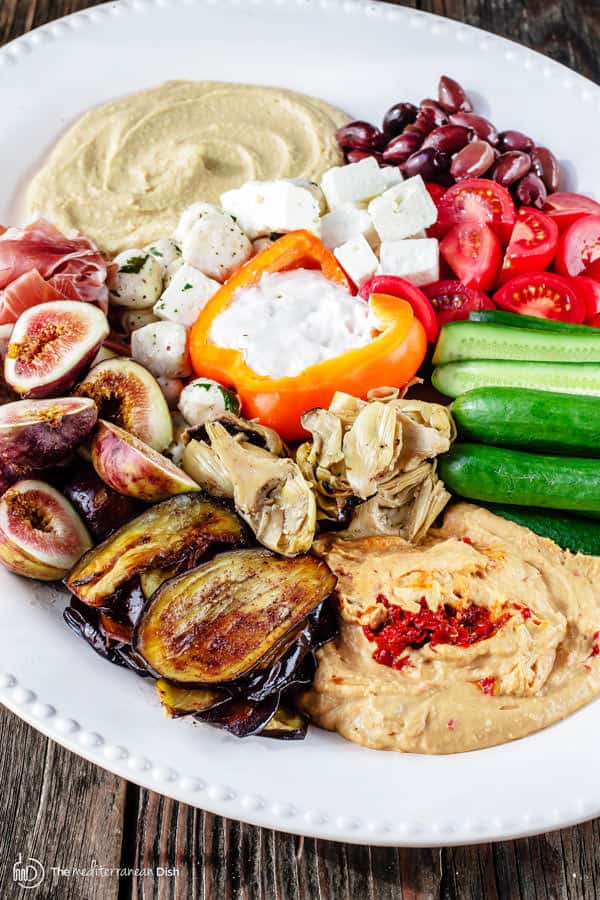 2) Begin with the vegetables. True Mediterranean mezze includes plenty of vegetables. If you have time, make a Mediterranean salad like tabouli; but I kept things simple by choosing to slice up some Campari tomatoes and Persian cucumbers (which are great with dips and spreads). Roasted eggplant was another easy choice for me. 20 minutes in the oven produced perfectly golden roasted eggplant slices; finished with a small sprinkle of tangy sumac. Roasted asparagus or bell peppers would be great as well!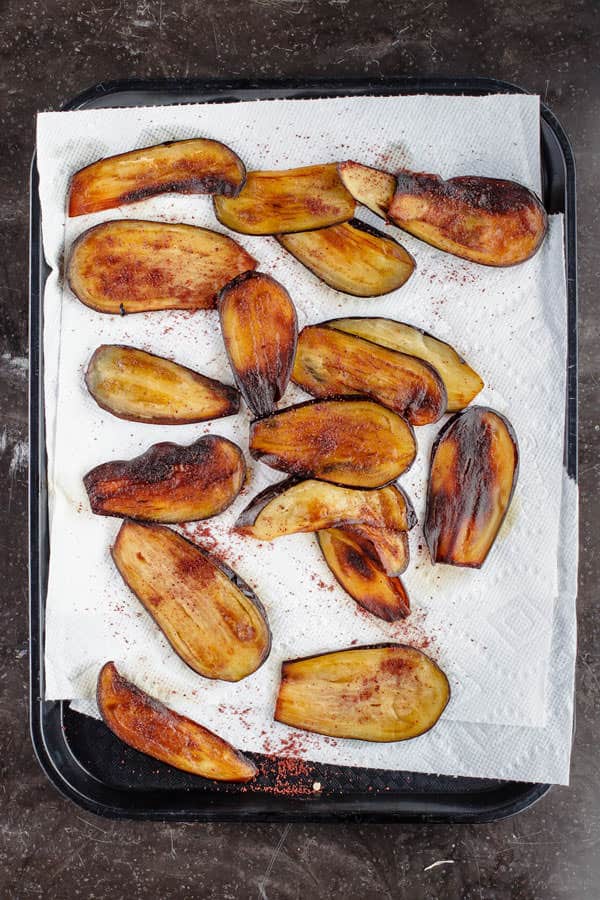 3) Spreads. In the eastern Mediterranean, you will find that mezze always includes some dips and spreads along with pita bread. Top of the list is, of course, Hummus!
I shared with you in my earlier hummus recipe post, how people of the Holy Land region, for example, would often plan their day with a stop at a favorite hummus joint. And as a guest in a Mediterranean home, you should expect a spread of mezze with at least a couple of hummus options.
I did not have time to make hummus from scratch, so I chose two kinds of hummus from Sabra: classic hummus and roasted red pepper hummus. Sabra makes hummus from fresh chickpeas and Mediterranean sesame tahini, which I truly appreciate. If you can take some heat, be sure to try Sabra supremely spicy hummus!
And in the center of my platter, as you see, is Sabra diced onion Greek yogurt dip. Let me just say, what a perfect way to enjoy those vegetables!
3) Other essentials to complete the party platter are olives, marinated artichokes, prosciutto and figs. I also added Greek feta and baby mozzarella balls because it is simply not a party without cheese, right? Why did I add figs? They are a natural choice for a palette cleanser on a Mediterranean party platter. But  grapes are another fine option.
4) Next to the platter, be sure to serve some pita bread or slice up some rustic Italian or French bread. Traditionally with mezze, people of the Mediterranean serve beverages like arak or Ouzo, an anise flavored alcoholic beverage. Or perhaps a type of brandy like the Greek Tsikoudia.  I think a dry white wine or light beer work just as well; at least for me and my friends.
Last weekend, we had the chance to catch up with our great friends and neighbors; it was one of those spur-of-the-moment super relaxed parties.  Other than my mezze party platter, not much else was needed. We sat outdoors for hours, taking in the sunshine and enjoying our healthy snacks with a little wine.
And, we discovered how easy it was to include our kiddos in this adult-ish gathering! They loved their very own Sabra hummus snacks, by the way!
I hope this gave you some ideas for your next party! See more already prepared Mediterranean dips and spreads!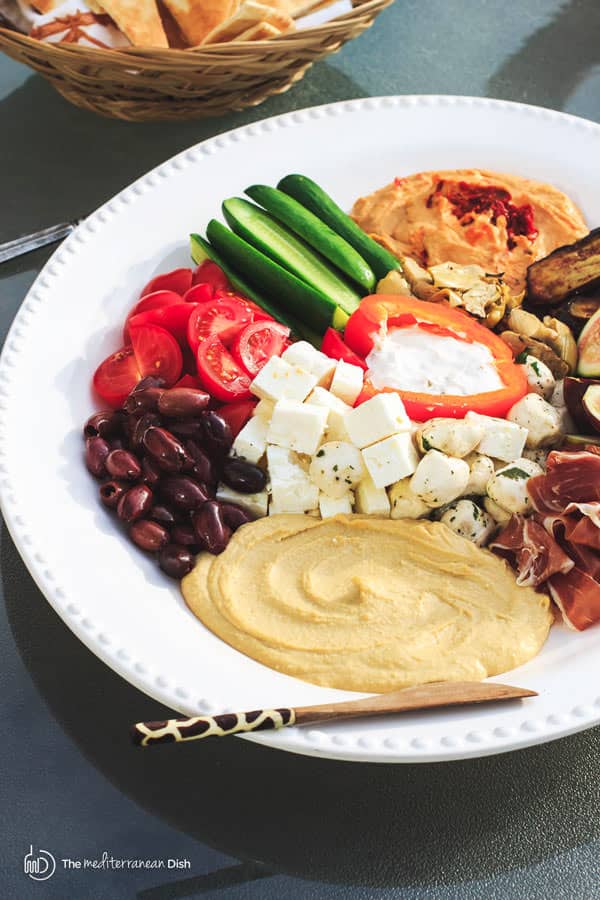 Print
Mezze: How to Build the perfect Mediterranean Party Platter
An easy and healthy Mediterranean party platter that will please a crowd.
Author:

The Mediterranean Dish

Prep Time:

20 mins

Total Time:

20 mins

Yield:

6-8
Ingredients
2 baby eggplants, sliced lengthwise (1/2″ or so in width)
Salt
Olive oil
1 10-oz tub Sabra Classic Hummus
1 10-oz tub Sabra Roasted Red Pepper Hummus
1/2 bell pepper, any color, cored
1 10-oz tub Sabra Greek Yogurt Dip
6 Campari tomatoes, quartered
6 Persian (baby) cucumbers, sliced into spears
Pitted Kalamata olives
1 15-oz can good quality marinated artichoke hearts
6 oz Greek feta cheese, cubed (not crumbled)
6 oz baby mozzarella cheese balls
3 oz prosciutto di parma
6 California fresh figs, halved (substituent: seedless grapes)
1 tsp sumac
Pita bread or your choice of rustic European bread for serving
Instructions
A few minutes before you assemble the platter, place the eggplant slices on some paper towels and sprinkle with salt. Let the eggplants "sweat out" any bitterness. Pat dry.
Preheat the oven to 400 degrees F. Place the eggplant slices on a lightly oiled baking pan, drizzle generously with olive oil. Roast for 20 minutes.
Meanwhile, assemble the remaining ingredients on a large serving platters. Begin with the two hummus spreads on opposite sides. Place the Greek yogurt dip in the cored bell pepper right at the center of the platter. Assemble the remaining ingredients on the platter to your liking. When the eggplant is roasted to a nice medium-brown, remove it from the oven and sprinkle with 1 tsp of sumac. Add the roasted eggplant to the platter.
You can cover and refrigerate this mezze party platter; take it out a few minutes before your guests arrive. Enjoy with your bread of choice!
My sincere thanks to Sabra for sponsoring this post. All opinions are my own. Thank you for supporting this blog and the brands I love.
Related links you might like:
How to make creamy traditional hummus