This easy grilled shrimp recipe is a show-stopper, and it's all thanks to my secret roasted garlic sauce with loads of Mediterranean flavors. Get my tips for how to grill shrimp so that it's juicy and perfectly tender + more sauce options to try next!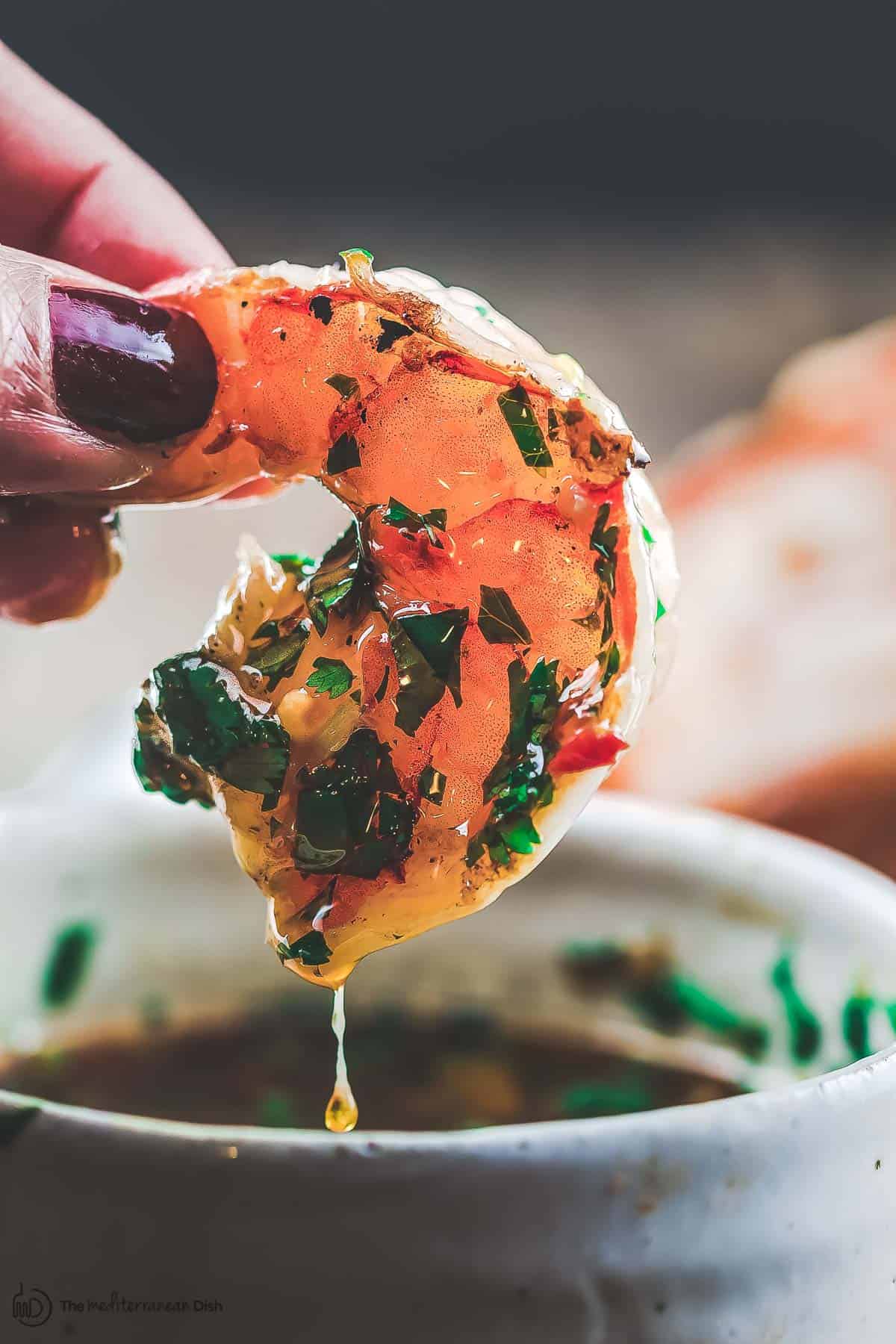 Saucy shrimp on the grill!
Where I come from, garlic and citrus are two essential ingredients when it comes to flavoring fish. This goes for anything from simple baked cod to steamed clams, or a Greek-style branzino finished with a heavy pour of ladolemono dressing.
Shrimp is no exception. It loves a good dunk in a delicious garlic and lemon sauce (shrimp scampi is already a big fan favorite)! And in today's grilled shrimp recipe, we play up the same winning flavor combo but a bit differently.
Shrimp on the grill takes no more than 5 minutes to cook. But in this recipe, as soon as you take it off the grill, you'll toss it in a delicious sauce made with one whole head roasted garlic, citrus, a little chili paste (or harissa), and cilantro or herb of your choice. I have to say, the sauce is out of this world!
Yes, you do use a whole head of garlic here, but don't worry! Once roasted, we're left with soft, creamy, almost sweet roasted garlic. The flavor is quite tamed and pleasant.
This grilled shrimp recipe is the perfect appetizer served with or atop crusty bread (bruschetta-style) to make good use of the delicious sauce! But you can also turn it into a quick dinner with your favorite pasta or grain and some grilled zucchini on the side.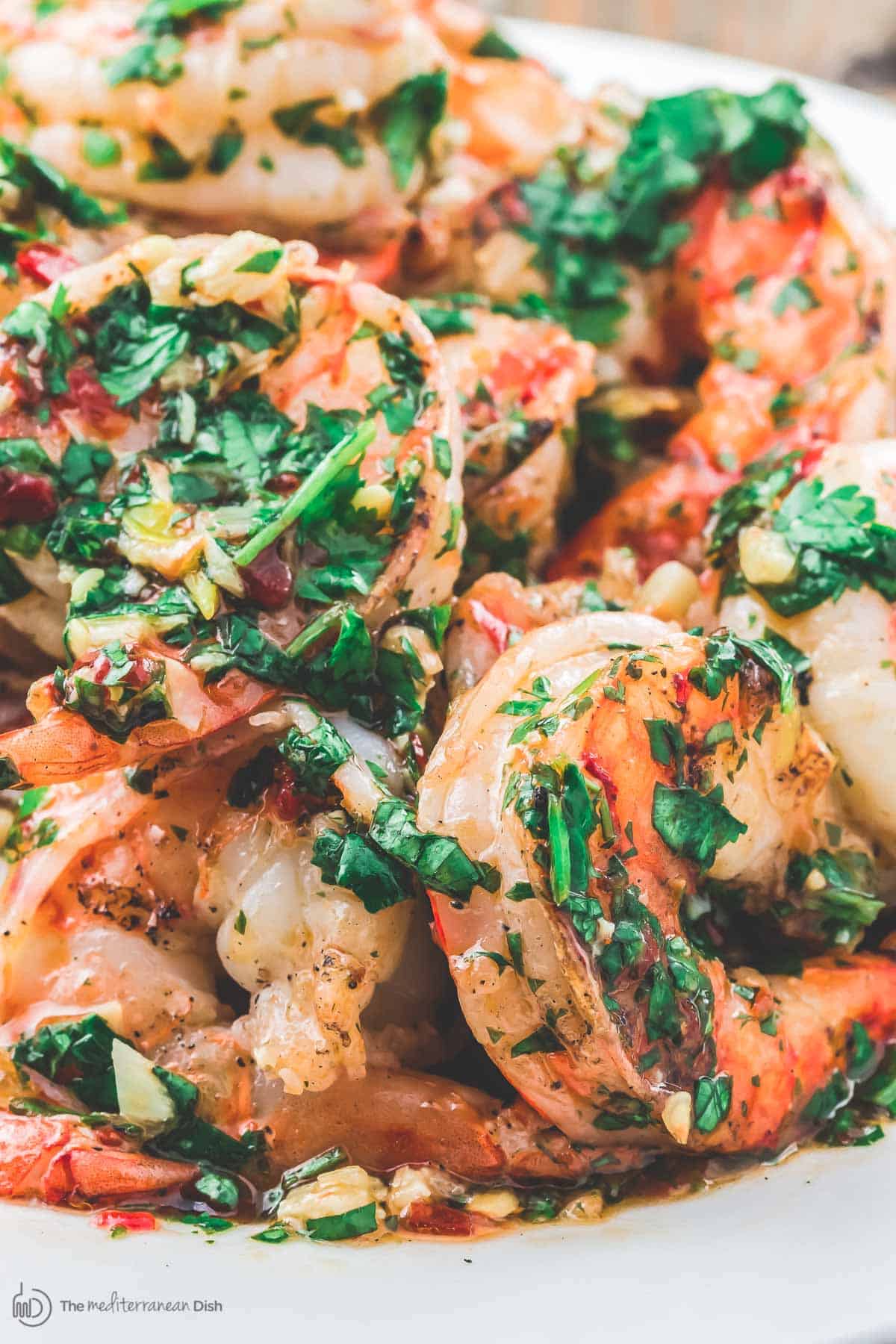 Best shrimp for grilling
For the best grilled shrimp, use prawns or large shrimp – the largest you can find. Wild-caught jumbo shrimp (about 16 to 20 shrimp per pound) are a good option for this recipe; they will remain plump and juicy when grilled.
You can use small shrimp for grilling, but the size makes them more challenging to work with on the grill, plus they are more likely to dry out quickly as they cook.
How long to grill shrimp?
Shrimp generally takes about 1 to 2 minutes per side to cook (or 4 to 5 minutes in total). Even the largest of shrimp will cook incredibly fast, and you'll want to watch it carefully so that it remains tender and juicy (no one likes rubbery shrimp). Once you cook it on one side, you'll know it's ready to turn over when the flesh turns from translucent to pink and opaque. Immediately turn the shrimp and wait for the other side to change color as well. Once it does, remove the shrimp from the heat. This should only take 4 to 5 minutes total, depending on how large the shrimp are.
Sauce for grilled shrimp
You really can't go wrong when you pair garlic and citrus with seafood. But for this sauce, I go a step further, adding loads of cilantro and a small amount of white wine and chili paste. We end up with a sauce that has an incredible depth of flavor, with very little work. Here's what you need for the roasted garlic cilantro sauce:
Garlic - You need 1 entire head of garlic with the top trimmed off. Don't be alarmed – we roast the garlic, turning it soft, smoky, and slightly sweet.
Fresh cilantro leaves - 1 cup goes into the sauce. Not a fan of cilantro? Use 15 or so thinly sliced mint or basil leaves instead.
Lime juice - The juice of 1 lime is the acidic component in this recipe, brightening the other flavors while also working to tame any "fishiness" lingering in the shrimp.
Dry white wine - You just need 1 tablespoon, and it will intensify the other flavors in the sauce. Don't worry – the sauce will not taste boozy at all. But if you do not cook with alcohol, simply leave out the wine!
Extra virgin olive oil - A robust olive oil like our Hojiblanca Spanish EVOO would be a good option here.
Chili paste - Chili paste adds a nice kick to the garlic sauce, but it does not taste overly spicy. You can adjust the amount used to suit your taste. And I'll say, harissa paste is a great option here.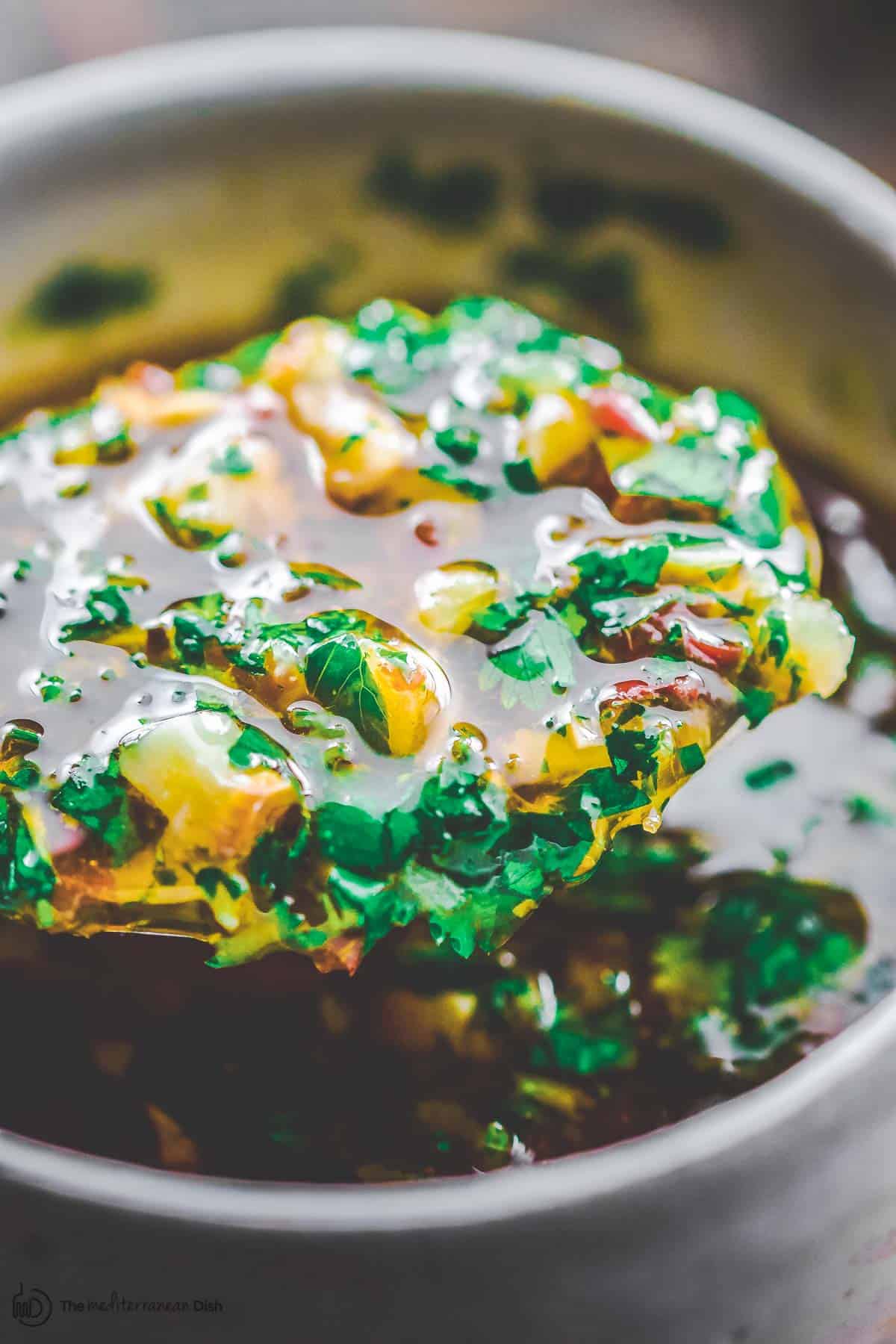 More sauce options
The beauty of this grilled shrimp recipe is that it can actually go with any sauce you like! If you feel like trying a different sauce, try tossing the grilled shrimp in some homemade pesto or chermoula for something herby. If you want a more citrusy sauce, this ladolemono dressing is the perfect choice!
How to grill shrimp
Whether you cook your shrimp on an outdoor grill or an indoor griddle (or even a cast iron skillet), your grilled shrimp should be just pink and juicy with a little bit of char. And as mentioned, it will take very little time for your shrimp to cook (anywhere from 3 to 5 minutes in total). Here is how to grill shrimp perfectly.
Heat the grill to high. Carefully oil the grates. If using an indoor griddle or cast iron grill, you can heat it to medium-high or high heat, watching carefully.
Season the shrimp. Pat the shrimp dry and season simply with kosher salt and black pepper, then be sure to coat with a good drizzle of extra virgin olive oil.
Grill for 1 to 2 minutes on each side. Arrange the shrimp on the heated surface and allow it to cook for a minute or two, watching for the shrimp to turn just pink, then quickly flip over and cook on the other side until just pink and slightly charred (a total of 3 to 5 minutes, depending on how large your shrimp are)
Toss the grilled shrimp in the garlic sauce and serve. Immediately remove the shrimp from the heat and toss with the prepared roasted garlic sauce. Transfer to a serving bowl or platter to serve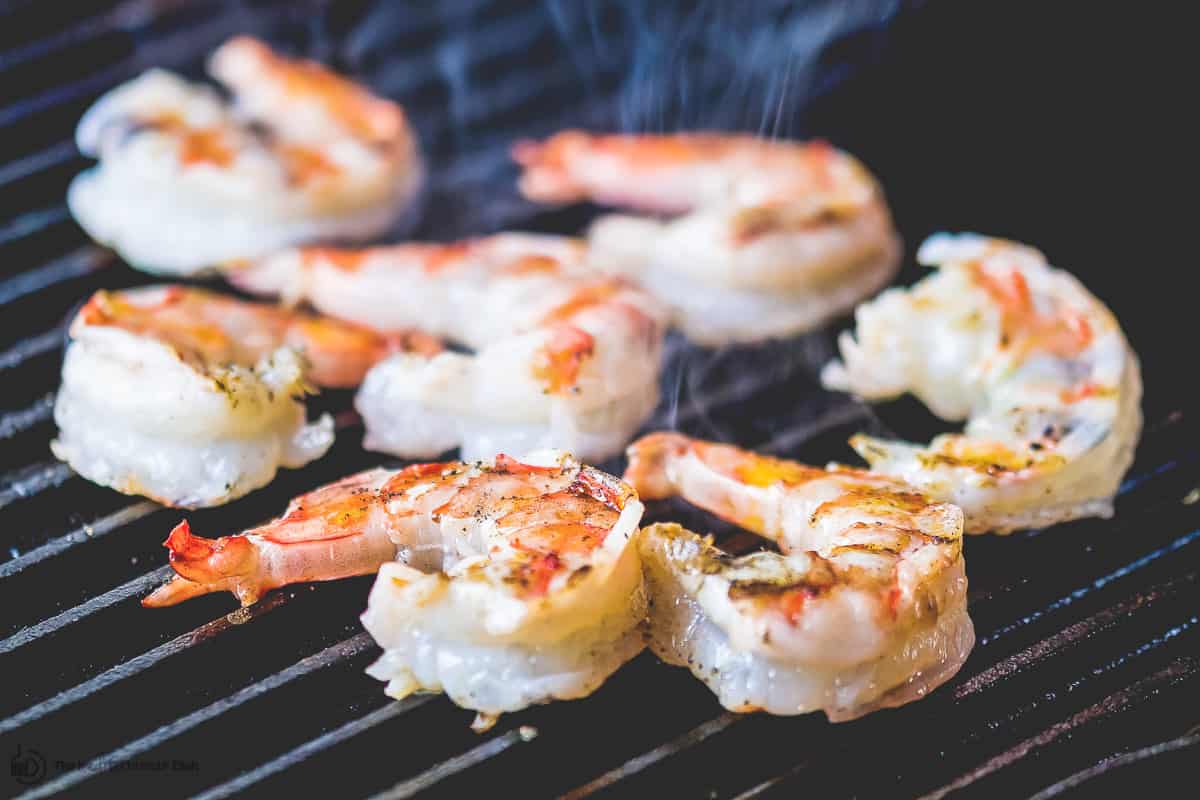 Can I use frozen shrimp?
Most fish and seafood you buy at the fish counter was likely frozen and thawed out. And with advanced flash-freezing technology these days, a frozen bag of wild-caught shrimp may be better and taste more "fresh" than what you'll find at the fish counter. So it's fine to use frozen shrimp in this recipe. Just be sure to thaw it out properly first.
How to thaw frozen shrimp?
To thaw shrimp, put the frozen bag of shrimp into a bowl and leave it in the fridge overnight. If you don't have time for that, empty the frozen shrimp into a bowl in your sink and let a trickle of cold water run into the bowl. Stir every 5 or so minutes to break up any ice. The shrimp should be thawed in about 10 to 15 minutes. Be sure to pat it dry thoroughly before cooking.
For more great tips about working with shrimp don't miss our Guide to Buying and Cooking Shrimp.
What to serve with this easy shrimp recipe
This flavor-packed grilled shrimp recipe makes a mean appetizer for a crowd, and it's not a bad idea to add some crusty garlic bread. To shrimp with pasta for dinner, double the sauce and toss with your favorite freshly cooked pasta. You can also serve it over Greek lemon rice or your favorite grain. Or, you can skip the starch and serve this easy shrimp recipe with something green like grilled zucchini or lemon broccoli.
More shrimp recipes to try
Visit Our Shop
Grilled Shrimp with Roasted Garlic Herb Sauce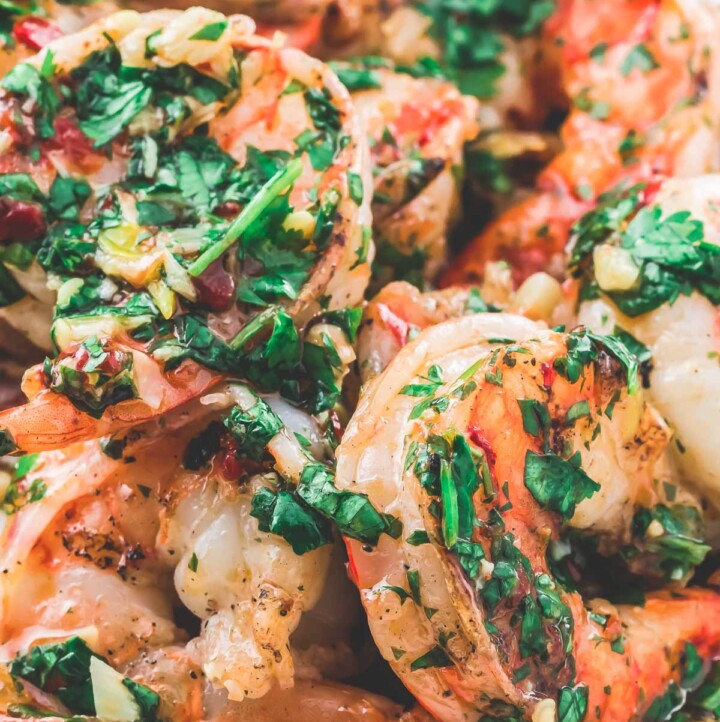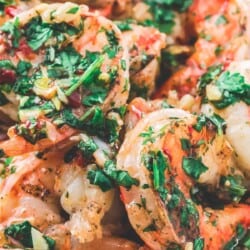 All-star grilled shrimp recipe, tossed in the best roasted garlic and herb sauce! Makes the perfect shrimp appetizer or with pasta for dinner. The sauce makes all the difference here, and if you can't use cilantro, try fresh basil or mint.
Ingredients
1.5

lb

uncooked large shrimp,

peeled and deveined

kosher salt and black pepper
For the Sauce:
1

small head garlic.

top trimmed off

1

cup

chopped fresh cilantro leaves,

or basil if you can't use cilantro

1

lime,

juice of

1

tablespoon

dry white wine

3 to 4

tablespoon

Extra virgin olive oil

2

tablespoon

chili paste, or harissa paste
Instructions
Preheat your oven to 400 degrees F.

Roast the garlic: Trim the top off the garlic head to expose a bit of the cloves, but keep the garlic cloves intact. Drizzle generously with olive oil and wrap in foil. Roast the garlic in the heated oven for about 10 minutes or until slightly tender and fragrant. When ready, remove from the oven. Let cool briefly. then peel and crush or chop the roasted garlic as finely as possible. (See cook's tip #1)

Prepare the sauce: In a small bowl, combine the roasted garlic with the remaining sauce ingredients of fresh cilantro (or basil if you can't have cilantro), lime juice, white wine, extra virgin olive oil and chili paste (harissa is also an excellent option here). Whisk together and set aside.

Grill the shrimp: Heat an outdoor grill or an indoor griddle or cast iron skillet over high heat. Pat shrimp dry and season with salt and pepper, drizzle a little extra virgin olive oil and toss. Arrange shrimp on heated surface and cook for about 2 on one side or until the shrimp turns just pink, then flip over and cook until the shrimp turns just pink, maybe another 1 to 2 minutes (even the largest shrimp will be ready within about 5 minutes, so be careful not to overcook it).

Toss the shrimp with the sauce and serve! Immediately toss the grilled shrimp in the delicious roasted garlic sauce.
Notes
To work-ahead, you can roast the garlic ahead of time and keep it in the fridge. See this tutorial for how to roast garlic. You can also use store-bought roasted garlic in this recipe, if you must.
Double the sauce to serve with pasta. This recipe will serve 4 to 6 for dinner. I highly recommend that you double the amount of sauce and toss the shrimp into your favorite pasta for dinner.
As an appetizer, this shrimp will serve up to 10. There are two ways to serve it as an appetizer. Toss the shrimp in the sauce and arrange on a platter, or you can serve the cooked shrimp plain and add the roasted garlic cilantro sauce next to it for dipping. Of course, it's never a bad idea to add some crusty garlic bread.
Leftovers & storage: Store leftover shrimp in a tight-lid container and refrigerate for 2 days or so. Heating the shrimp again will likely result in rubbery, overcooked shrimp, so it's best to eat leftover cooked shrimp cold or at room temperature.
Visit our Shop to browse quality Mediterranean ingredients including olive oils, spices, harissa chili paste, and more!
Nutrition
Calories:
154.7
kcal
Carbohydrates:
4.1
g
Protein:
15.7
g
Fat:
8.2
g
Saturated Fat:
1.1
g
Monounsaturated Fat:
5.2
g
Trans Fat:
0.01
g
Cholesterol:
142.9
mg
Sodium:
741.6
mg
Potassium:
177
mg
Fiber:
0.4
g
Sugar:
0.7
g
Vitamin A:
400.3
IU
Vitamin C:
5
mg
Calcium:
69
mg
Iron:
0.5
mg
*This post first appeared on The Mediterranean Dish in 2015 and has been recently updated with new information and media for readers' benefit.