This lemon olive oil dressing called ladolemono is so much more than a Greek salad dressing! This simple, bright, and tangy dressing will be your go-to for dressing salads, but you can also use it as a marinade, or as a sauce to finish anything from fish, to chicken and even grilled vegetables.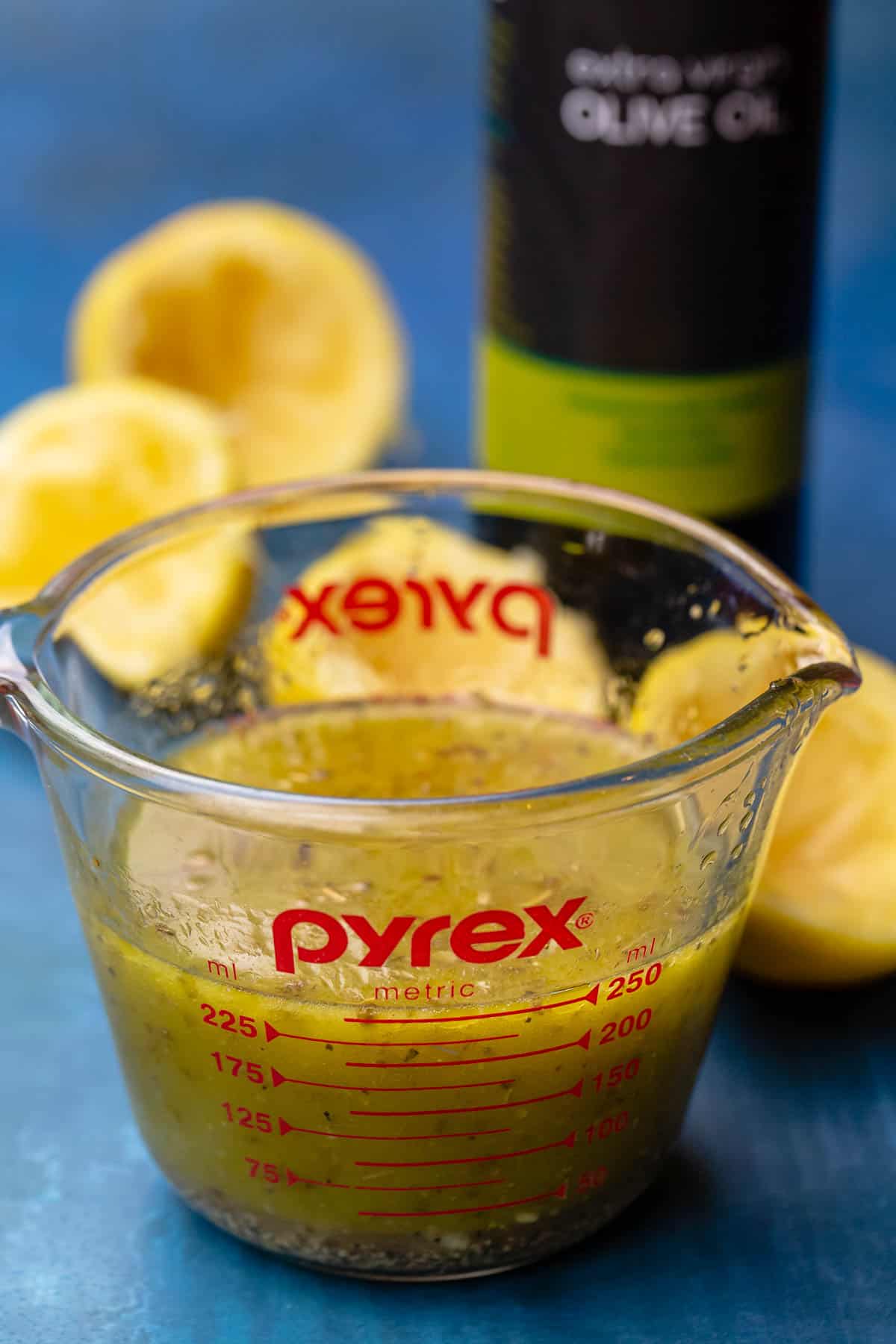 When I think of Greek food or the most popular Greek recipes everyone loves like Greek chicken or Greek roasted potatoes, I can't help but think of one of the fundamental flavor profiles and that is the combination of lemon juice and olive oil.
And if you ever wanted to add a touch of Greek to your favorite foods, a great place to start is by learning how to make this bright Greek salad dressing, or rather, this multipurpose lemon vinaigrette called Ladolemono!
This homemade Greek dressing recipe is one of the easiest to make, and it is much better than your average store-bought dressing. Like my easy, bright green basil vinaigrette, which comes together with barely any effort, ladolemono takes mere seconds to whip up.
Ladolemono
This basic homemade Greek dressing or sauce is made up of a few key ingredients: lemon juice and olive oil, with garlic and dried oregano, whisked together until emulsified. The basic ratio to make ladolemono is 1:3--one part lemon juice to three part excellent extra virgin olive oil. But, you can add a little bit more for flavor--I like to use a pinch of dry oregano and minced garlic. There are many uses for ladolemono as a dressing or a marinade, and I love using to finish lovely fish dishes like this whole roasted branzino recipe.
What is Greek salad dressing made of?
This dressing is made of:
Fresh lemon juice. I used juice of 2 large lemons or ¼ cup of lemon juice.
Dry oregano. This is optional, but if you like a little more flavor, use about 2 teaspoons of dry oregano.
Fresh garlic. 1 garlic clove, minced, should do it. And this is also another optional ingredient to add a little punch.
Kosher salt and black pepper. This is to your liking, but I ended up using about ¾ teaspoon of each
Extra virgin olive oil. Use a quality extra virgin olive oil as the flavor will really shine through in this dressing. Take a look at my favorite olive oils, you'll find a good selection of quality oils with high polyphenols and low acidity levels, some with a pleasant, light and fruity finish and others more intense with a peppery finish. I've tried this lemon vinaigrette with different olive oils and really enjoyed it.
How to make Greek dressing from scratch?
Combine lemon juice with garlic and spices
In a bowl or measuring cup, combine ¼ cup fresh lemon juice with 1 to 2 teaspoons of dry oregano, minced garlic clove, and a good dash of kosher salt and black pepper. Whisk to combine



Add olive oil while whisking vigorously to emulsify
While whisking, slowly drizzle the extra virgin olive oil and continue to whisk vigorously. The ladolemono dressing will emulsify and become viscous
How to use this ladolemono Greek dressing?
Like I said earlier, you can use this dressing or lemon vinaigrette in a variety of ways:
As a salad dressing. This is the obvious use here, and you can't go wrong with that. I just used it on my favorite grilled chicken salad.
You can use it on almost any green salads or maybe even Mediterranean orzo salad or Italian pasta salad in place of the typical dressing used.
I mentioned earlier that the dressing for a traditional Greek salad is typically a splash of good olive oil and red wine vinegar. And often times, bottles of both condiments are set on the table so you can use as much oil and vinegar and you like. That said, if you want to use a couple of tablespoons of this lemon and olive oil dressing instead over your Greek salad you absolutely can!

As a sauce. You can drizzle ladolemono over grilled fish, chicken, or even grilled vegetables. I don't mind a little over my quick pan-seared salmon or trout, for example.

As a marinade. Earlier, I shared a yogurt based chicken marinade, and this lemon dressing can work very similarly. In fact, it's the marinade I use for Greek sheet-pan chicken! When using a lemon-based marinade for chicken though, I typically allow no more than 2 hours of marinating in the fridge.
Make ahead & Storage
Make sure to store this homemade Greek salad dressing in the fridge in a tight-lid mason jar for up to 2 weeks (I try to use mine within 1 week). As it sits in the fridge, the olive oil and lemon will separate, which is expected. Just give the dressing a gentle shake or whisk before using.
Other Greek recipes to try:
Hungry for more? Browse our Greek recipes collection, Salad recipes collection, or Top Mediterranean diet recipes.
Browse all Mediterranean recipes. Don't forget to visit our online shop!
Ladolemono Greek Salad Dressing Recipe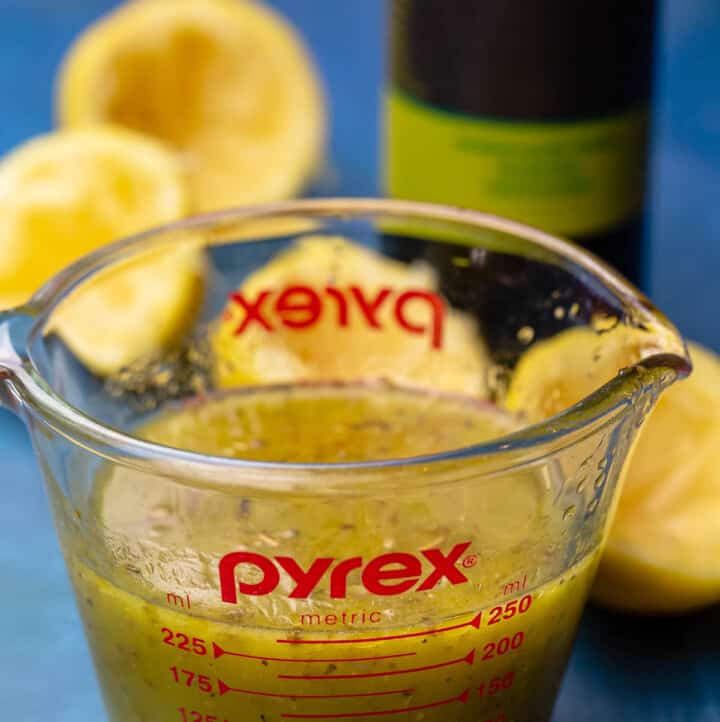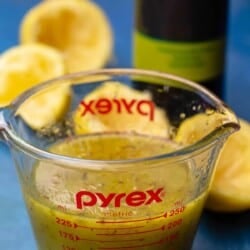 You'll love this versatile Greek lemon and olive oil dressing. You can use it as a Greek salad dressing on your favorite salad, as a marinade for chicken or fish, or as a bright finishing sauce to drizzle on things from grilled vegetables to kabobs and more!
Ingredients
¼

cup

fresh lemon juice,

juice of 2 large lemons

1 to 2

teaspoons

dried oregano

1

large garlic clove

minced

¾

teaspoon

kosher salt

¾

teaspoon

black pepper

¾

cup

extra virgin olive oil
Instructions
Put the lemon juice, oregano, garlic, salt and pepper in a bowl. Whisk to combine.

While you are whisking vigorously, slowly drizzle in the extra virgin olive oil.
Notes
Storage: Store your ladolemono Greek dressing in a tight-lid glass jar in the fridge for up to 2 weeks (I try to use mine within 1 week). The oil will separate from the lemon as it sits in the fridge, give it a gentle shake before using on your salads, grilled meats, fish etc.
Visit our online shop to browse quality Mediterranean ingredients including extra virgin olive oils and spices.
Nutrition
Calories:
91.4
kcal
Carbohydrates:
0.5
g
Protein:
0.1
g
Saturated Fat:
1.4
g
Sodium:
109.4
mg
Potassium:
9.1
mg
Fiber:
0.2
g
Sugar:
0.1
g
Vitamin A:
5.5
IU
Vitamin C:
1.8
mg
Calcium:
5.4
mg
Iron:
0.2
mg