This easy basil vinaigrette recipe is from my new cookbook, The Mediterranean Dish: 120 Bold and Healthy Recipes You'll Make on Repeat. It works as a salad dressing or as a sauce, which means you can put it on almost anything. Basically, its everything you love about pesto in a vinaigrette! Drizzle it over chicken or grilled fish, toss it with your favorite salad or spoon it into your soup for an extra burst of flavor!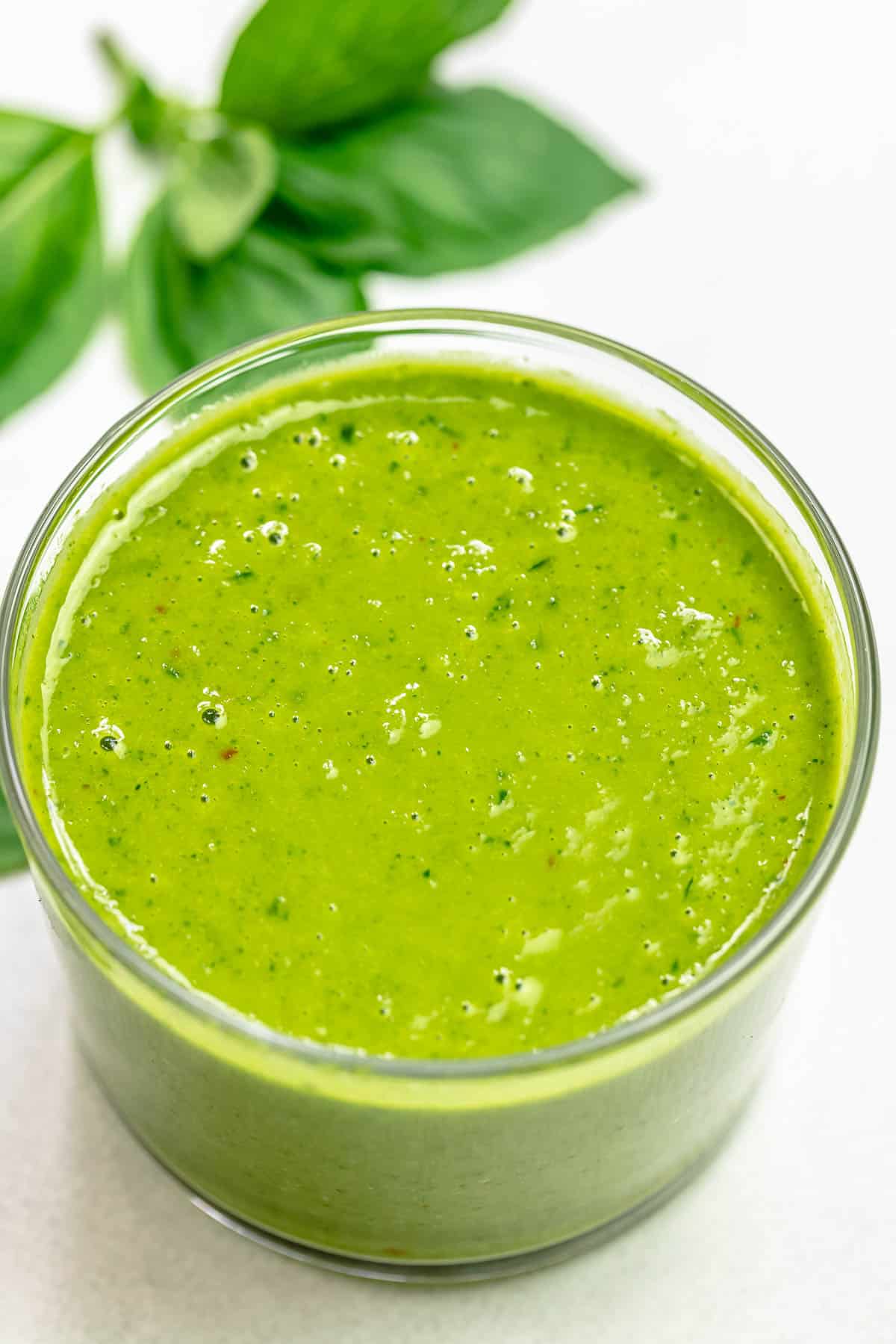 Basil vinaigrette ups the flavor ante in a big way — think of it as pesto's bolder, zestier vegan cousin!
My cookbook is filled with quick and easy recipes, and this one is no exception! I pair sweet basil and a peppery extra virgin olive oil with shallots, garlic, and a hint of red pepper flakes for a pesto-inspired vinaigrette that adds a little something extra to any dish it touches!
Fresh limes and white wine vinegar give it just the right amount of acidity to balance out the fresh-from-the-garden herbal notes. Like our balsamic vinaigrette and apple cider vinaigrette, you can think of this pesto vinaigrette recipe as your flavor-boosting secret weapon. Plus, it comes together in minutes and keeps in the fridge for up to 4 days.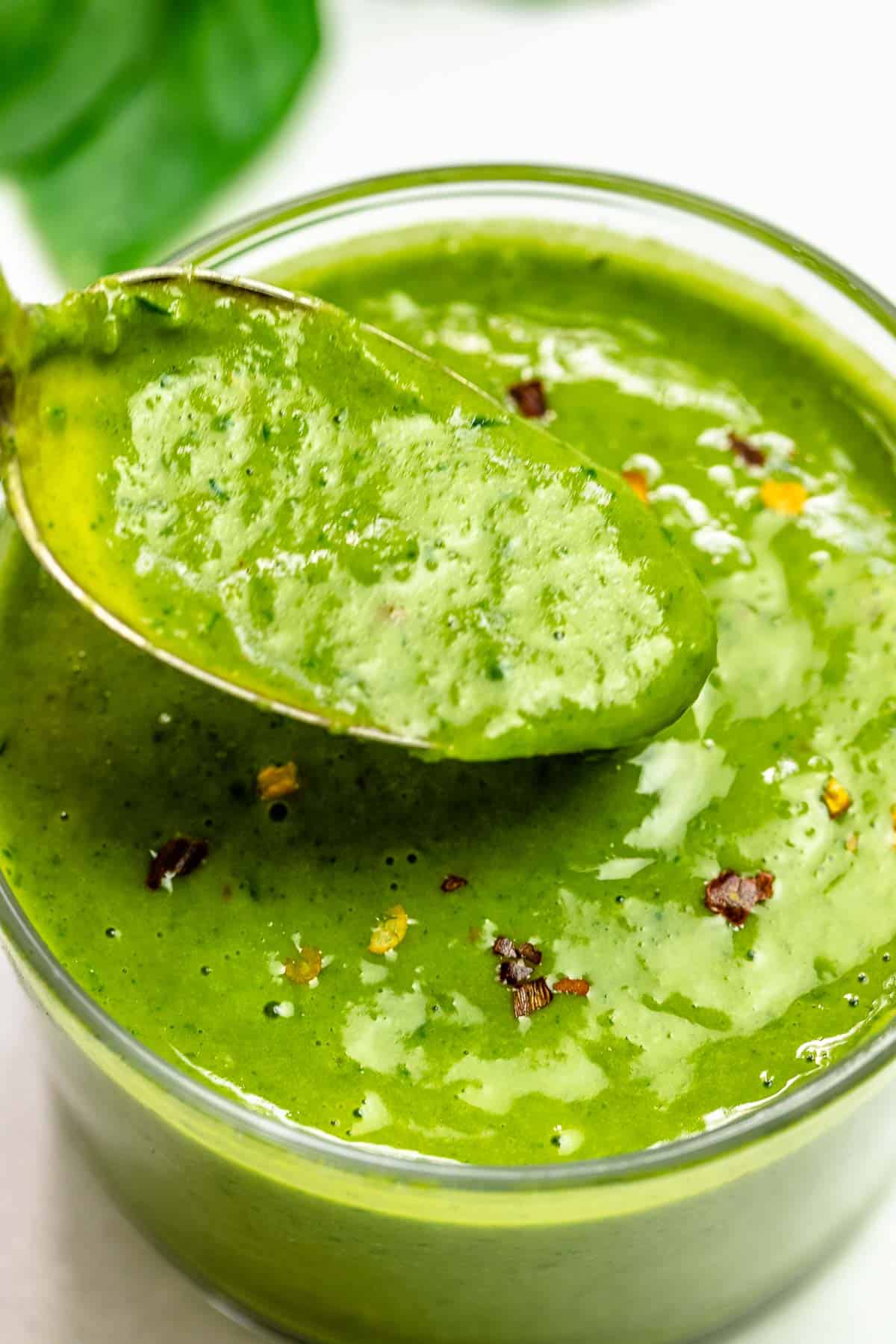 Ingredients for basil vinaigrette
A few pantry staples and some fresh herbs from the garden is all it takes to whip up basil vinaigrette. Here's what you'll need to make it:
Fresh basil leaves - You'll need 2 cups packed sweet basil leaves (about about 1 ⅛ ounces)
Shallot - Shallot adds a hint of sweetness and a delicate sharpness.
Garlic - One clove provides just enough of a spicy kick.
Fresh lime juice and white wine vinegar - They add acidity to this basil vinaigrette, which brightens the flavors and makes each ingredient shine. Lime juice also helps keep the basil bright green instead of army green (more on this below).
Extra virgin olive oil - A robust EVOO like our Early Harvest Greek extra virgin olive oil is a good option here, with its pungent, peppery notes.
Red pepper flakes - If you want a milder option, use Aleppo pepper flakes instead.
How to keep pesto vinaigrette bright green!
Pro tip: Blanch the basil. One of the main complaints I hear about basil, whether in homemade pesto or other sauces, is that it quickly turns from bright green to a dingy, army green color when it is blended.
This happens because of oxidation, and an easy workaround will give you vibrant green basil salad dressing every time: Blanch the basil first. Blanching kills off the decomposing enzymes that turn basil that green-brown color. And it takes mere seconds to do! Here's how to blanch basil:
Prepare a pot of boiling water and a bowl filled with ice and water.
Place the basil leaves into the boiling water for 5 to 10 seconds, then quickly transfer it to the ice bath with a slotted spoon or a pair of tongs.
Before you use the blanched basil, wring it out thoroughly in some paper towels so the leaves aren't soggy.
Another quick tip to stop basil leaves turning brown is to add citrus. Lemons, limes, etc., contain citric acid and ascorbic acid, both of which help to prevent oxidation. In this basil vinaigrette recipe, I use lime juice as my citrus element, but you could also use lemon if that's what you have on hand.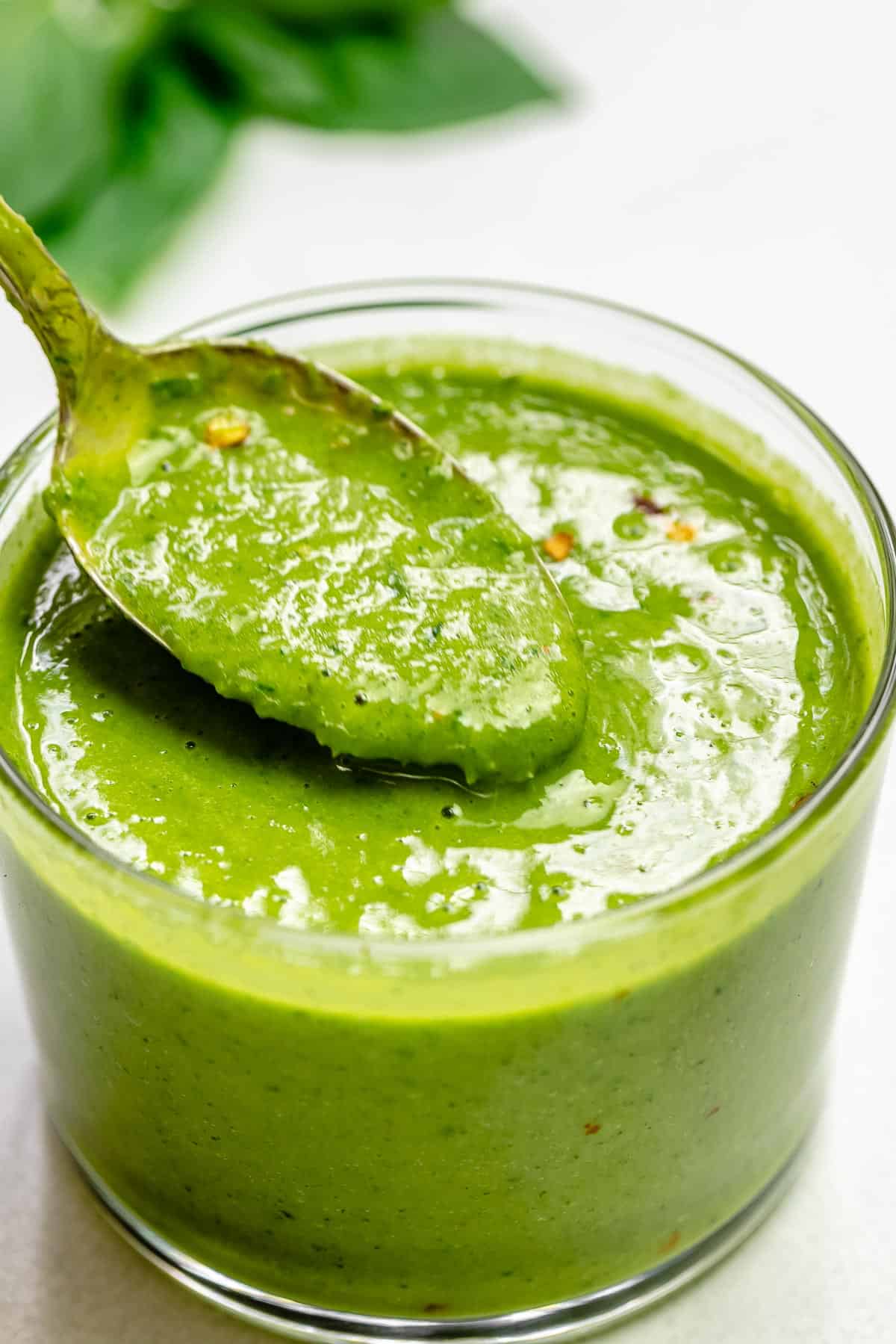 How to make basil vinaigrette
Once you blanch the basil, this salad dressing comes together in a matter of seconds in a food processor or blender!
Start by fitting a small food processor with the multipurpose blade.
To the bowl, add the blanched basil, a roughly chopped medium shallot, 1 large peeled clove of garlic, about 2 tablespoons lime juice (the juice of 1 lime), 2 tablespoons white wine vinegar, ½ cup EVOO, and ½ teaspoon red pepper flakes.
Blend until smooth and well combined. Season with kosher salt to taste and store in a tightly closed Mason jar in the refrigerator.
How to use pesto vinaigrette
The great thing about basil salad dressing is that it is wonderfully versatile. It is an easy way to elevate a fruit and vegetable salads. Drizzle it over: roasted asparagus salad, cucumber salad, green bean salad, or watermelon salad. I especially enjoy it in grain or pasta salads, like this couscous salad or farro salad, because they can absorb the dressing's big flavor easily.
This basil and white wine vinaigrette can also be used as a zippy sauce, perfect to dress up some flaky grilled salmon, a whole baked fish, and lemon garlic drumsticks. I even sometimes pour a little over warm roasted vegetables and boiled potatoes.
Use it to dress up your favorite snack or appetizer and try it on bruschetta, fried tomatoes to immediately add color and complexity.

For another easy-to-make vinaigrette you will love, be sure to check out my apple cider vinaigrette recipe.
Storage tips
Store this sweet basil vinaigrette in a tightly closed Mason jar in the refrigerator. It will keep for up to 4 days. Give it a good shake before you use it again.
To save this vinaigrette for a burst of sunshine in the winter, you could also freeze it in ice cube trays. To thaw, simply pop a few cubes into a Mason jar and place it in the refrigerator. It will separate once thawed, but shake it up and it will be good to go!
More sauce recipes to use fresh herbs
Browse all Mediterranean recipes.

Visit Our Shop.
BEST Basil Vinaigrette Recipe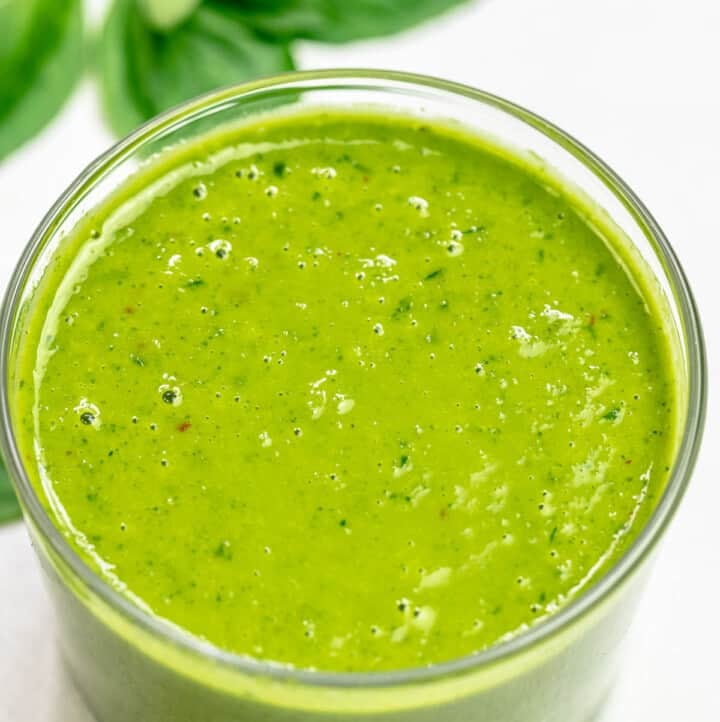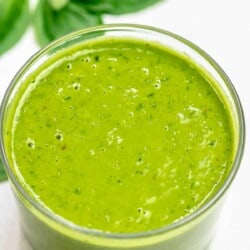 I love this versatile vinaigrette in all sorts of salads, baked chicken, or even fish. It is so easy to make, and tastes sort of like basil pesto in a vinaigrette -- so zesty and fresh! And if you quickly blanch the basil before whizzing it up in a food processor, you'll help it keep its vibrant green color! This recipe makes ¾ to 1 cup of basil vinaigrette.
Ingredients
2

cups

packed fresh basil leaves,

(about 1 ⅛ ounces)

1

medium shallot,

roughly chopped

1

large garlic clove

Juice of 1 lime,

about 2 tablespoons

2

tablespoons

white wine vinegar

½

cup

extra-virgin olive oil

½

teaspoon

red pepper flakes

Kosher salt
Instructions
Fill a medium bowl with ice cubes and water and set it next to the stove.

Fill a small saucepan about three-fourths full of water. Bring the water to boil over medium-high heat. Add the basil and cook for 10 seconds. Using a slotted spoon, immediately transfer the basil to the bowl of ice water and let cool for 5 minutes. Using the slotted spoon, remove the basil from the ice water, wrap the wilted basil in a paper towel, and squeeze to wring out as much water as possible.

Place the blanched basil, the shallot, garlic, lime juice, vinegar, olive oil, and red pepper flakes in the bowl of a small food processor fitted with the multipurpose blade. Blend until well combined and smooth. Season to taste with salt and refrigerate in a tightly closed mason jar for up to 4 days.
Nutrition
Calories:
62.3
kcal
Carbohydrates:
0.4
g
Protein:
0.2
g
Fat:
6.8
g
Saturated Fat:
0.9
g
Polyunsaturated Fat:
0.7
g
Monounsaturated Fat:
4.9
g
Sodium:
1.6
mg
Potassium:
16.8
mg
Fiber:
0.1
g
Sugar:
0.1
g
Vitamin A:
176.9
IU
Vitamin C:
0.7
mg
Calcium:
6.6
mg
Iron:
0.2
mg