Fried tomatoes, gently cooked in extra virgin olive oil and flavored with garlic, chili pepper bits, and a sprinkle of fresh mint. This vegan and gluten free tomato recipe is great as mezze or side with your favorite bread to sop up the delicious juices!
Today's recipe is from The Arabesque Table: Contemporary Recipes from the Arab World by Reem Kassis.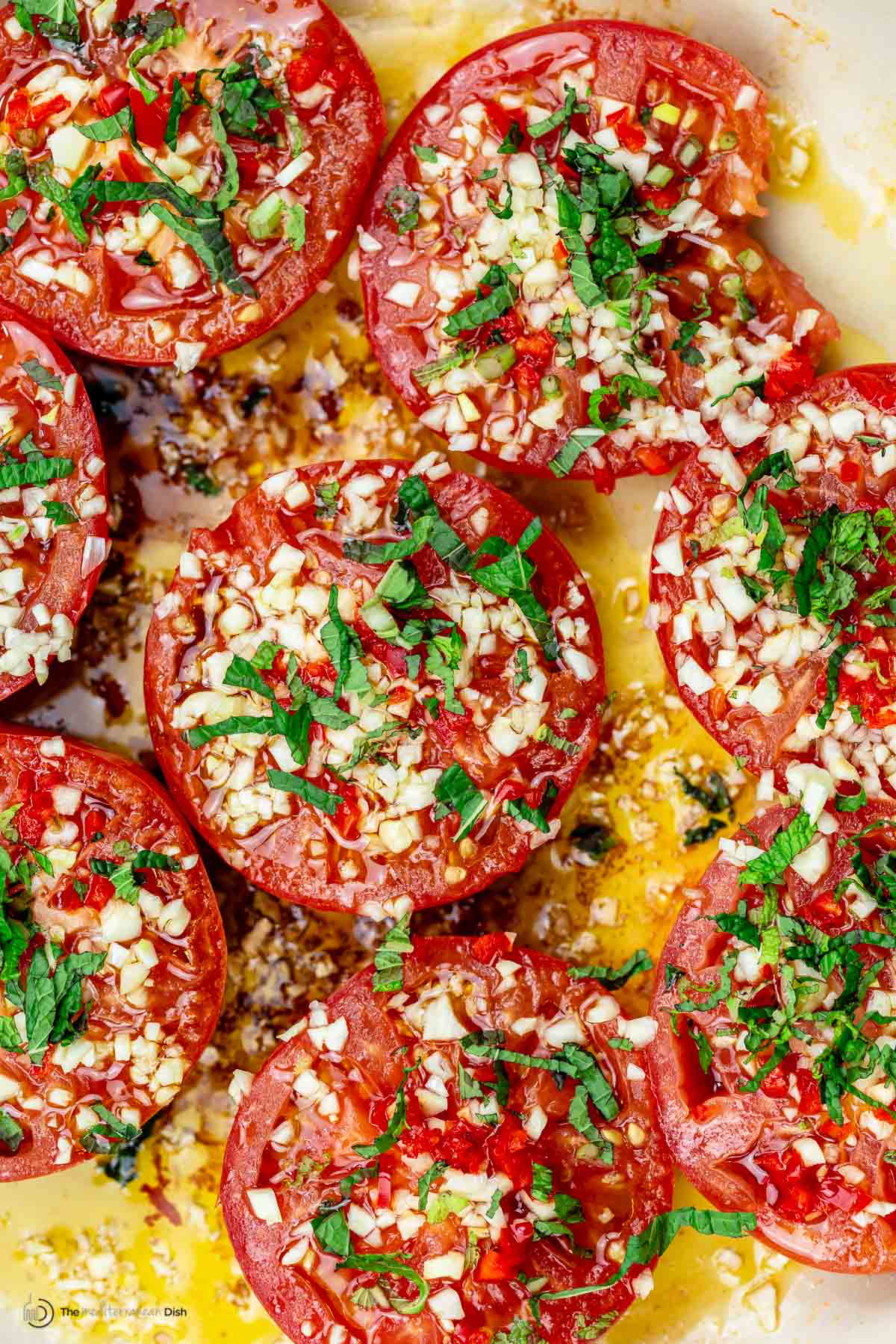 Living in Atlanta, I know and love the iconic fried green tomatoes of the South--firm, slightly tangy, and covered in a crispy bread crumb topping. They are a delicious time-honored southern treat, and definitely worth a try!
But today, I'm sharing about a different fried tomato recipe that is closer to home for me: fried red tomatoes! Here, tomato halves gently cooked in olive oil and flavored with loads of garlic, chili pepper bits, and a sprinkle of fresh mint.
This recipe is from Reem Kassis' latest book The Arabesque Table. I've had a copy of this book, featuring contemporary recipes from the Arab world, since early April and I have not been able to put it down! Not only is it a collection of delicious and approachable recipes anyone can make, but it encompasses the cuisine of the entire Arabic diaspora, from the first recorded recipe to the present. And through meticulous research and authentic storytelling, Reem has connected the dots across continents, cultures, and generations.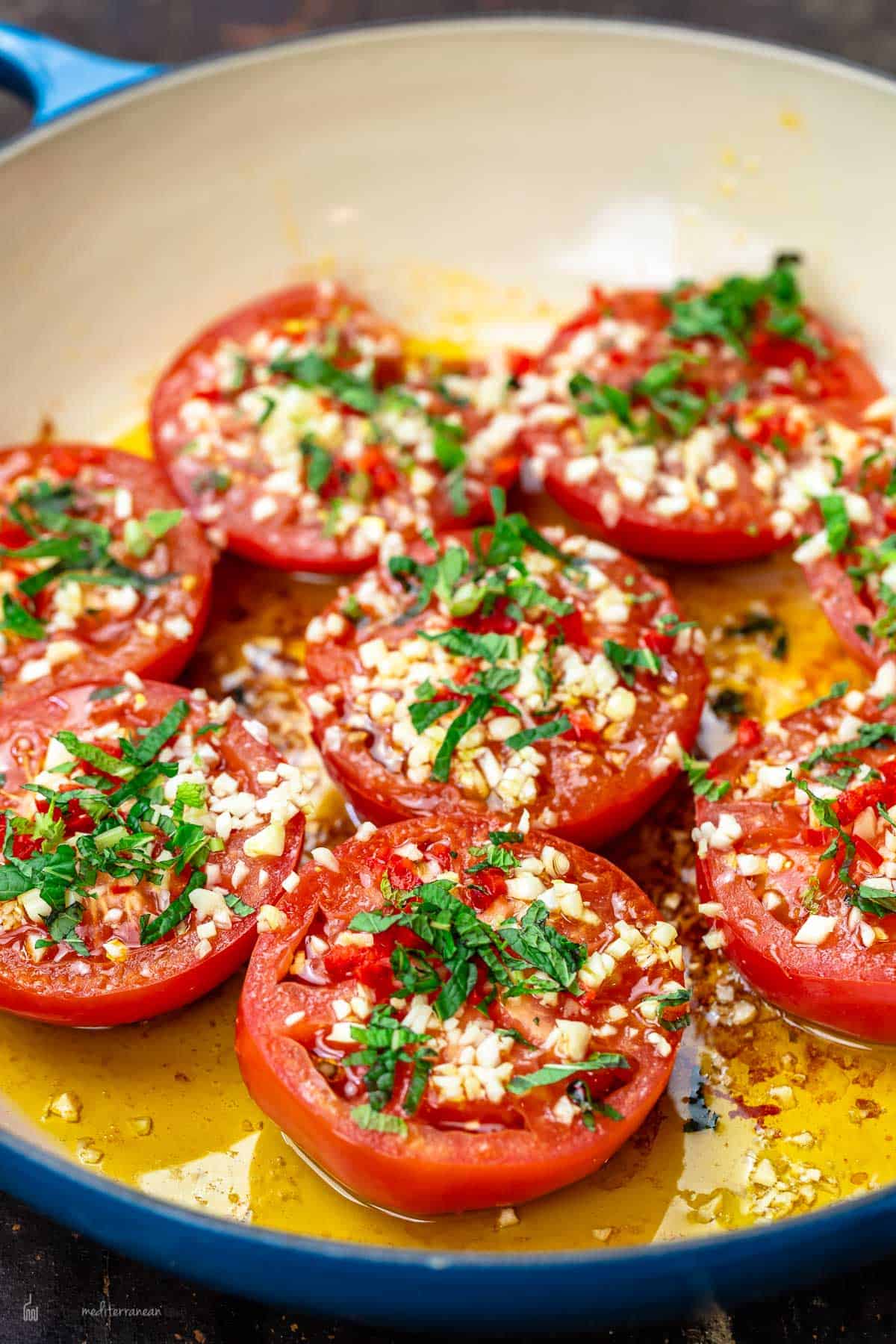 Fried red tomatoes
This is one of the simplest tomato recipes you'll come across, but it boasts some bold flavors! There is no dredging or breading at all, making this recipe gluten free and vegan...and easy (less dishes to clean is always a plus).
To make this recipe, large fleshy red tomatoes are sliced in half through the equator, then gently pan fried in good extra virgin olive oi until tender.
And as the tomatoes cook, they will soften, oozing out some delicious juices that are infused with flavor from three simple ingredients: Garlic (lots of it), hot chilies (Reem recommends green chilies, but I had red so that is what I used).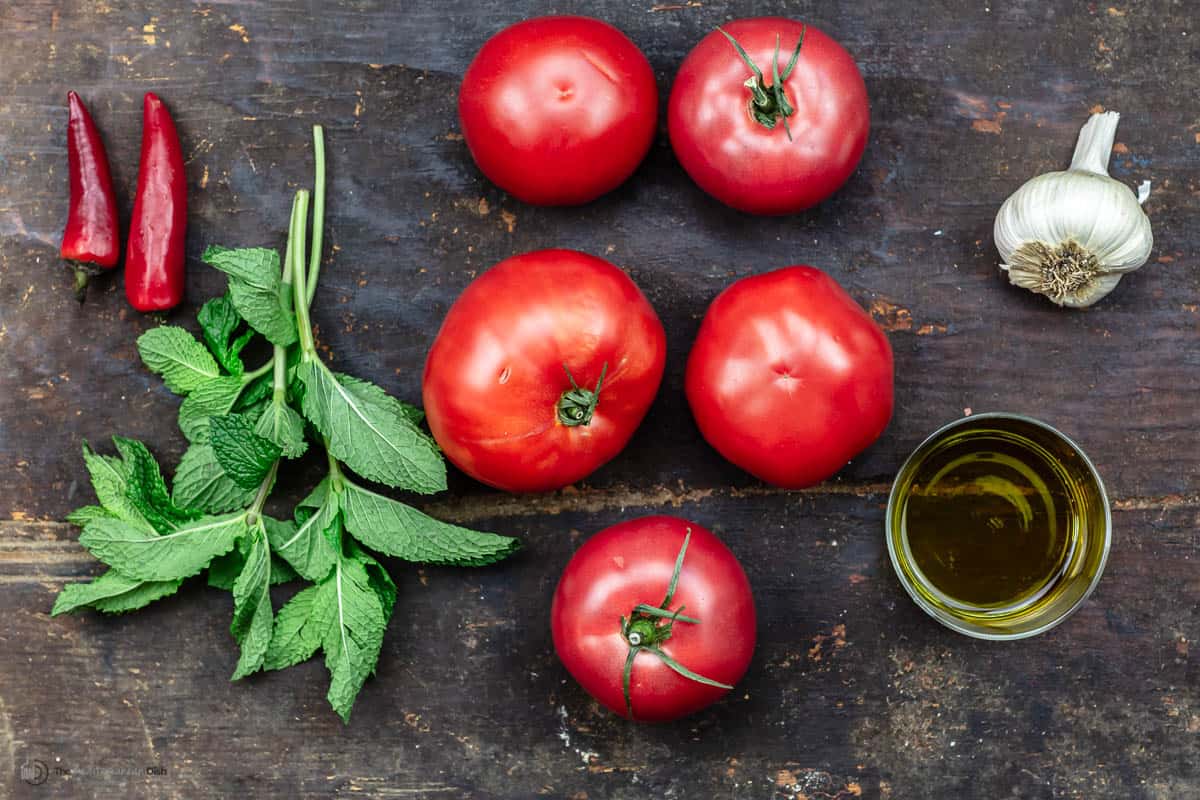 What kind of tomatoes are best for frying?
Most people use large green tomatoes for frying. In this recipe, readily available large red tomatoes will work better. Large heirloom tomatoes of different colors are also great for frying using this same recipe, they will give you the most impressive presentation!
How to select tomatoes?
Whatever large tomatoes you decide to use, look for:
Smooth skin without blemishes
Tomatoes that are heavier for their size, this means they are on the juicy side
Firm enough but have some give when squeezed gently. But don't worry, if you have some tomatoes that are a little more on the ripe side they will still work in this particular recipe
To Serve
For the perfect appetizer, serve these fried tomatoes with your favorite bread (I used pita). If you like, make these tomatoes the center of a Middle Eastern mezze table with other small plates like hummus, batata harra (spicy potatoes), kibbeh, or even za'atar manakish.
You can also serve them as a vegetarian side dish next to your favorite fish, grilled chicken, or lamb chops.
To store leftover fried tomatoes
I've made this recipe a few times now, and we never have leftovers. But if you do, you can lightly mash the cooked tomatoes with a fork or blitz in the blender and use in recipes that call for tomato sauce. Frozen leftovers will last for 2 months.
You may also like
Browse all Mediterranean recipes. Visit Our Shop to browse quality Mediterranean ingredients.
Garlic Fried Tomatoes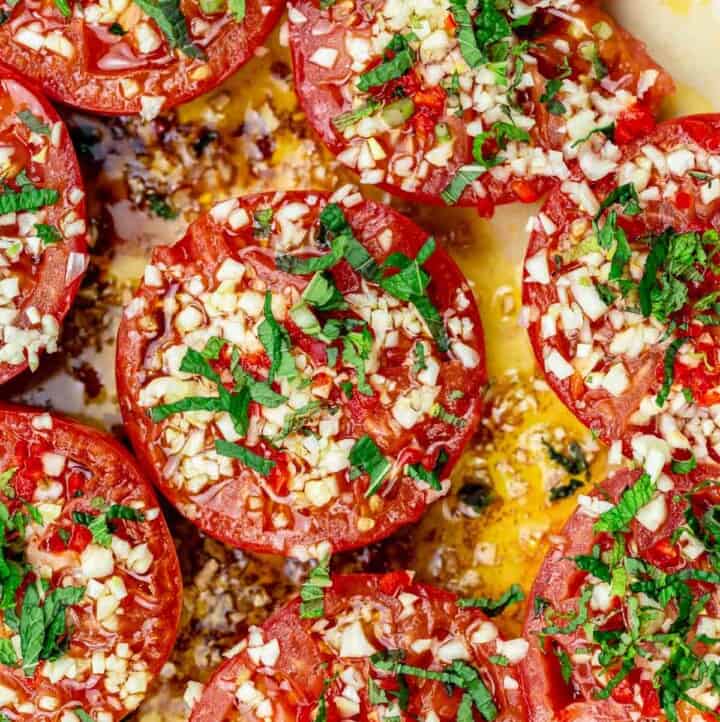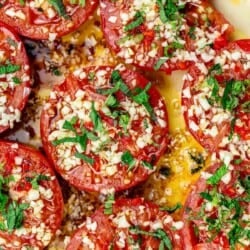 Simple olive oil fried tomatoes with fresh garlic and mint. Serve these warm or at room temperature with your favorite bread (or pita) to mop up the delicious juices.
Ingredients
4 to 6

large vine ripe tomatoes,

about 2 ½ lb

¼

cup

extra virgin olive oil

10

garlic cloves,

finely chopped (not crushed). See note*

2 to 3

fresh green chilies,

finely chopped (I used red chilies as that is what I had on hand)

½

teaspoon

salt

Small bunch of fresh mint leaves,

finely chopped, or 2 teaspoons dried mint
Instructions
Using a sharp knife, slice each tomato horizontally in half (through the equator).

Arrange the tomato halves cut-side down in a frying pan large enough to fit the pieces snugly. Pour the olive oil over the tomatoes and set the pan over medium heat for about 5 minutes.

Flip the tomatoes over and scatter half the garlic and chilies on the tomatoes and the other half in the oil (in the pan). Sprinkle with the salt, cover the pan, reduce the heat, and cook until the tomatoes have started to soften but still retain their shape, about 15 minutes. Check on the tomatoes several times while cooking and, tilting the pan, spoon some of the oil mixture over the tomatoes, cover the pan and cook for another minute or two.

When almost done, sprinkle the mint over the tomatoes, cover the, and cook for another minute or two.

Remove from the heat and serve immediately with fresh bread to mop up the delicious juices.
Notes
Serve these fried tomatoes with a loaf of your favorite bread or homemade pita.
If 10 garlic cloves seems too much for your taste, you can start with half the amount.
Leftovers: leftovers can be lightly mashed with a fork or blitzed in a blender and used as a tomato sauce base for any recipe calling for it. Frozen leftovers will keep for 2 months.
Visit Our Shop to browse quality Mediterranean ingredients including olive oils and spices.
This recipe is from The Arabesque Table by Reem Kassis with permission from the author and publisher.
Nutrition
Calories:
152.7
kcal
Carbohydrates:
7.3
g
Protein:
1.6
g
Fat:
13.8
g
Saturated Fat:
1.9
g
Sodium:
298.4
mg
Potassium:
321.8
mg
Fiber:
1.6
g
Sugar:
3.3
g
Vitamin A:
1025.3
IU
Vitamin C:
19.2
mg
Calcium:
26.2
mg
Iron:
0.5
mg