This recipe is all you need to make the BEST Tomato Gazpacho Recipe! Spanish chilled tomato and vegetable soup that is fresh, light, and packed with flavor. Make it ahead and chill in the fridge.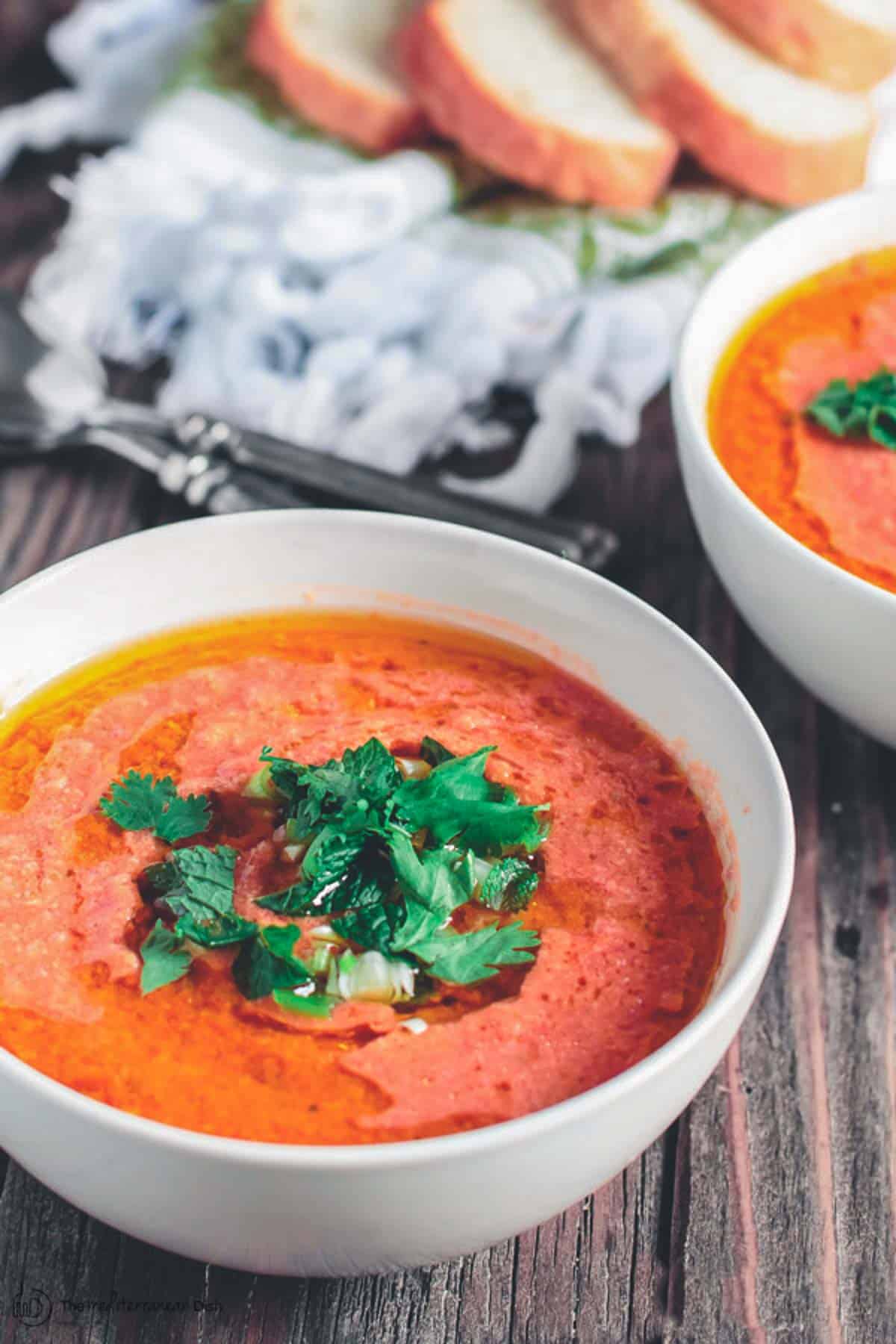 The first time I tried gazpacho soup was at a fancy baby shower that took place at a small Spanish restaurant. It was served in shot glasses as a non-alcoholic apéritif. I took my first sip of this chilled tomato soup and was immediately hooked!
If you have some ripe tomatoes to use up, why not try a batch of no-cook tomato sauce or this gazpacho soup recipe? It's the perfect little summer meal in 10 minutes tops!
What is Gazpacho?
Gazpacho, pronouced Gas-pa-tcho, is a flavor-packed chilled tomato soup from the southern Spanish region of Andalusia. I learned from Clifford Wright that gazpacho actually originated as poor man's food consumed by laborers in the vineyards and olive plantations. It consisted mainly of stale "residue" or leftover bread, water, and olive oil all pounded in a wooden bowl. As available, leftover fragments of vegetables were added and pounded through with the liquid. Not so fancy, but absolutely delicious!
Gazpacho is super popular throughout Spain and Portugal, and there are millions of gazpacho variations out there, most known to us here in the States is tomato gazpacho.
As far as gazpacho ingredients, let's just agree right now that no two tomato gazpacho recipes are the same (we even love to mix things up with a watermelon gazpacho from time to time!). But, most will have these essential ingredients: tomatoes, onion, green pepper, cucumber, olive oil, vinegar (sherry vinegar is more authentic to Andalusia, where gazpacho originated), bread (soaked in water), and garlic.
In this recipe, I like to finish my gazpacho sup with a good drizzle of extra virgin olive oil and a garnish of fresh mint and cilantro. Serve with crusty bread from the store, or go the extra mile with Spanish Tuna Empanadillas.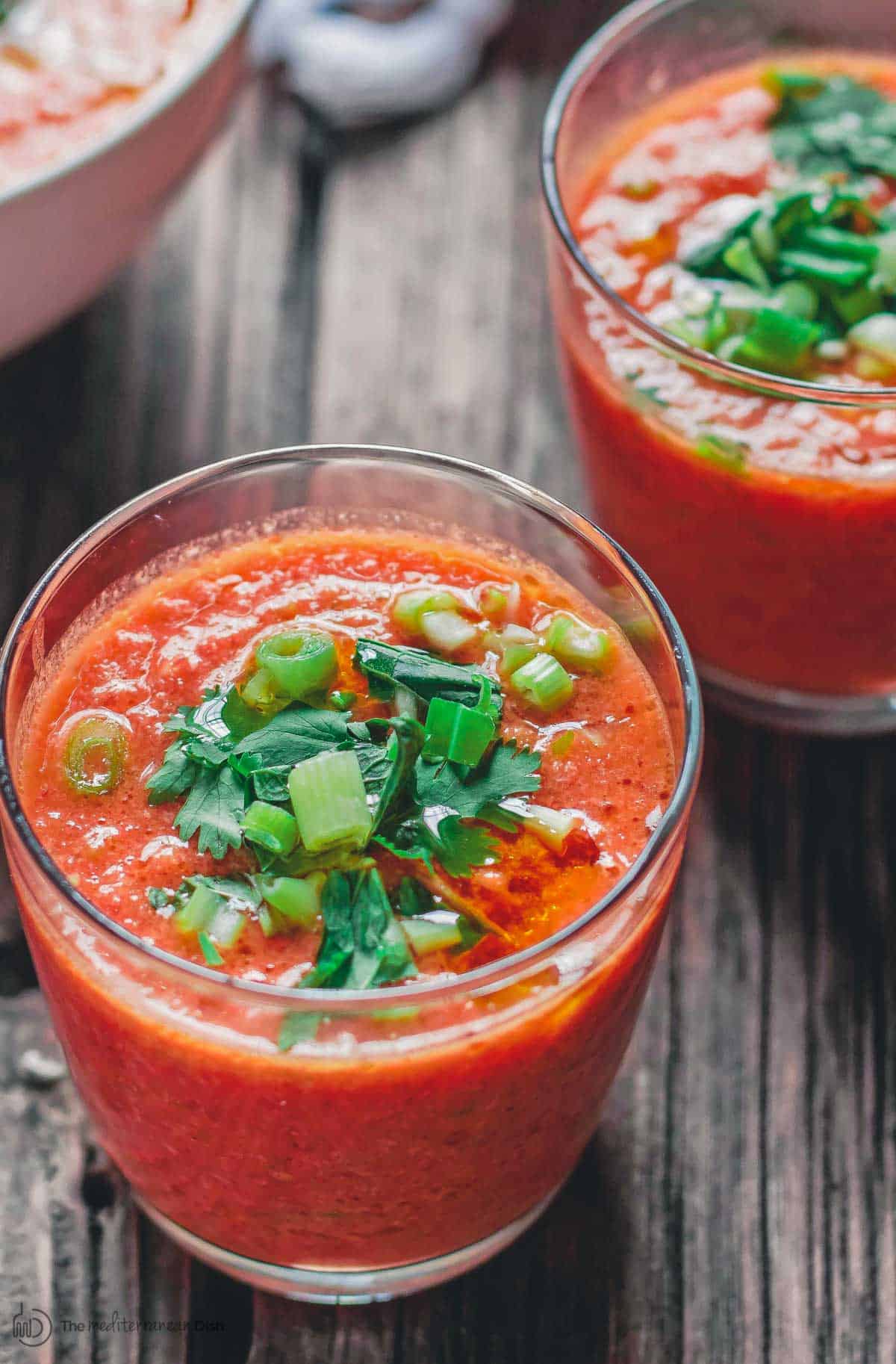 Gazpacho ingredients
This chilled tomato soup is the perfect way to use seasonal produce, here is what you'll need to make it:
Tomatoes. About 2 pounds of ripe tomatoes
Cucumber. I like to use English cucumber which is seedless and somewhat sweeter. You can also use Persian or Kirby cucumbers, which are what is typically used in Spain.
Green bell pepper
Onion. I used green onion, both whites and green parts, roughly chopped. Some of the onion is great to use for garnish
Celery. Celery is not traditionally used in this soup, so it is optional, but I do think it adds good flavor. 1 celery rib is all you need here.
2 garlic cloves
Bread. Use stale white bread and trim the crust off. The bread is typically soaked in water until ver soft, then squeezed well to dispose of excess water. If you want a low-carb gazpacho soup, you can omit the bread.
Sherry vinegar. vinagre de Jerez is what is typically used to make gazpacho in Spain, but if you can't find it, you can use a red wine vinegar to your taste.
Seasoning. You can certainly stick only to salt, pepper, and ground cumin, which is a popular ingredient used more in the south of Spain. If you like a little spice, add a pinch of cayenne pepper
Herbs for garnish. I like to use a little mint and cilantro, again this is a personal preference.
What kind of tomatoes to use?
We already agreed that no two gazpacho recipes are the same. In my research, I've found that Roma tomatoes are more commonly used for this chilled tomato soup, but you can use whichever tomatoes you prefer as long as they are ripe. In fact, you can use a combination of different tomatoes (cherry, heriloom, vine ripe), which will add interest to your soup.
A few tips for gazpacho soup:
Use the best tomatoes and ingredients you can find! Tomatoes are the star here, so be sure to select perfectly ripe tomatoes. Good tomatoes will be fragrant and should be plump and heavy for their size, and the skins should be smooth without blemishes. Select English cucumbers with smooth skin, and examine the herbs well--the herb leaves should be bright green with no blemishes. And lastly, use the best extra virgin olive oil you can find (here are the olive oils I use regularly).
Use stale or day-old white bread. You do need to use bread that is at least one day old here. If possible, choose quality artisan white bread that you like, it does make a difference in how the gazpacho soup tastes.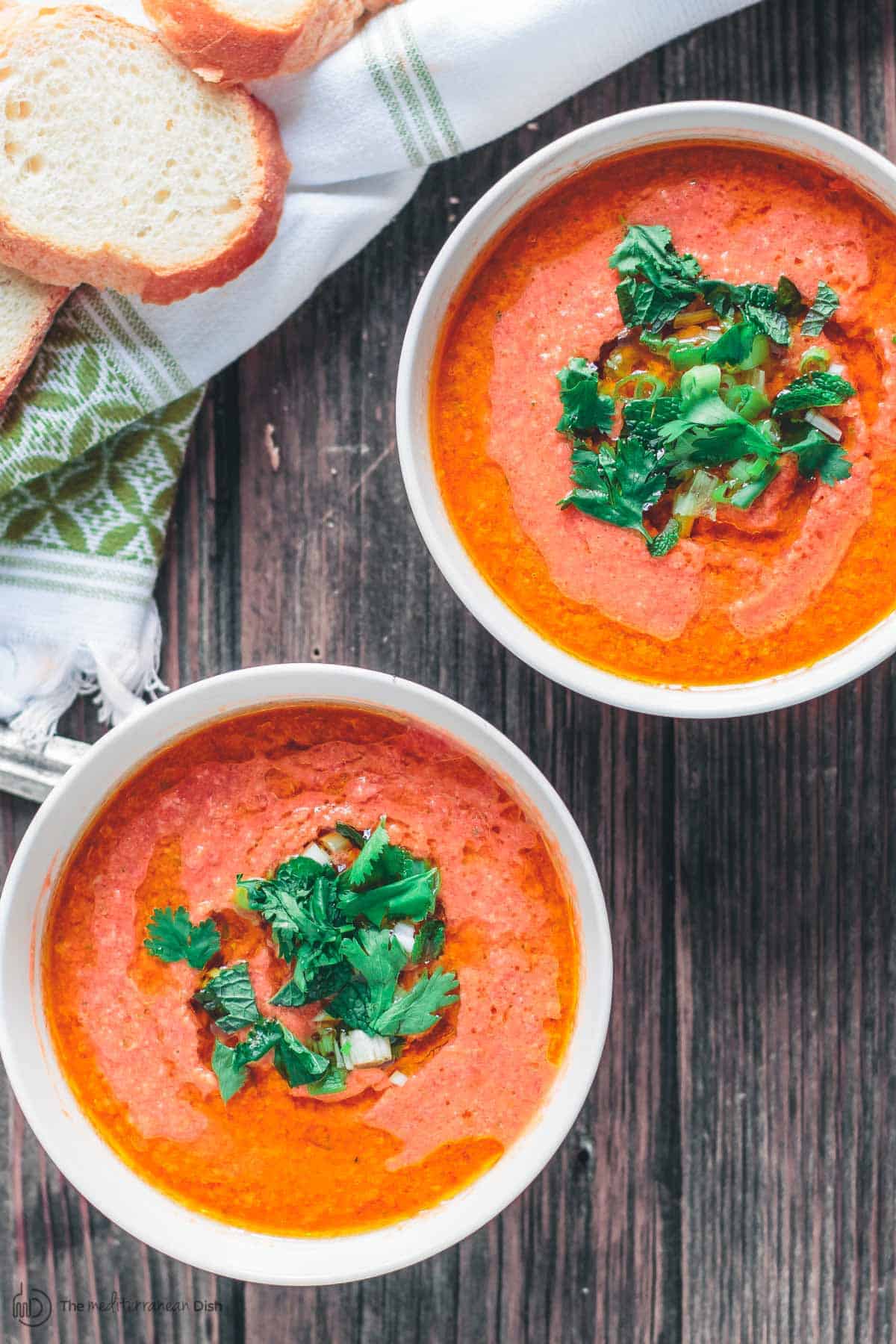 How to make gazpacho from scratch?
Homemade gazpacho soup takes a few simple steps:
Blanch and peel the tomatoes. Simply put the tomatoes in a pot of boiling water and boil for about 40 seconds or so, then take them out with a slotted spoon and let them sit to cool for a minute. When they are cool enough to handle (but not fully cooled), you can easily peel the skin off.



Puree. Put the tomatoes and the veggies along with the bread (that's been soaked until tender and squeezed dry) and seasoning in a food processor or blender and puree until your desired texture (some of us like a very smooth and creamy gazpacho, while others like some texture). Taste and adjust seasoning.


Chill. Transfer the gazpacho to a large glass container or mason jar (or several smaller jars) and tightly close. Chill in the fridge for a couple hours or overnight


What to serve with gazpacho?
For the perfect summer lunch of light supper, serve tomato gazpacho soup in bowls, topped with a drizzle of extra virgin olive oil and a few fresh herbs. You serve it with a hearty salad such as this Mediterranean bean salad or balela. You don't need bread, since that is already included in the salad. Or you can pour it in small glasses as an appertif or appetizer to serve a larger number of people.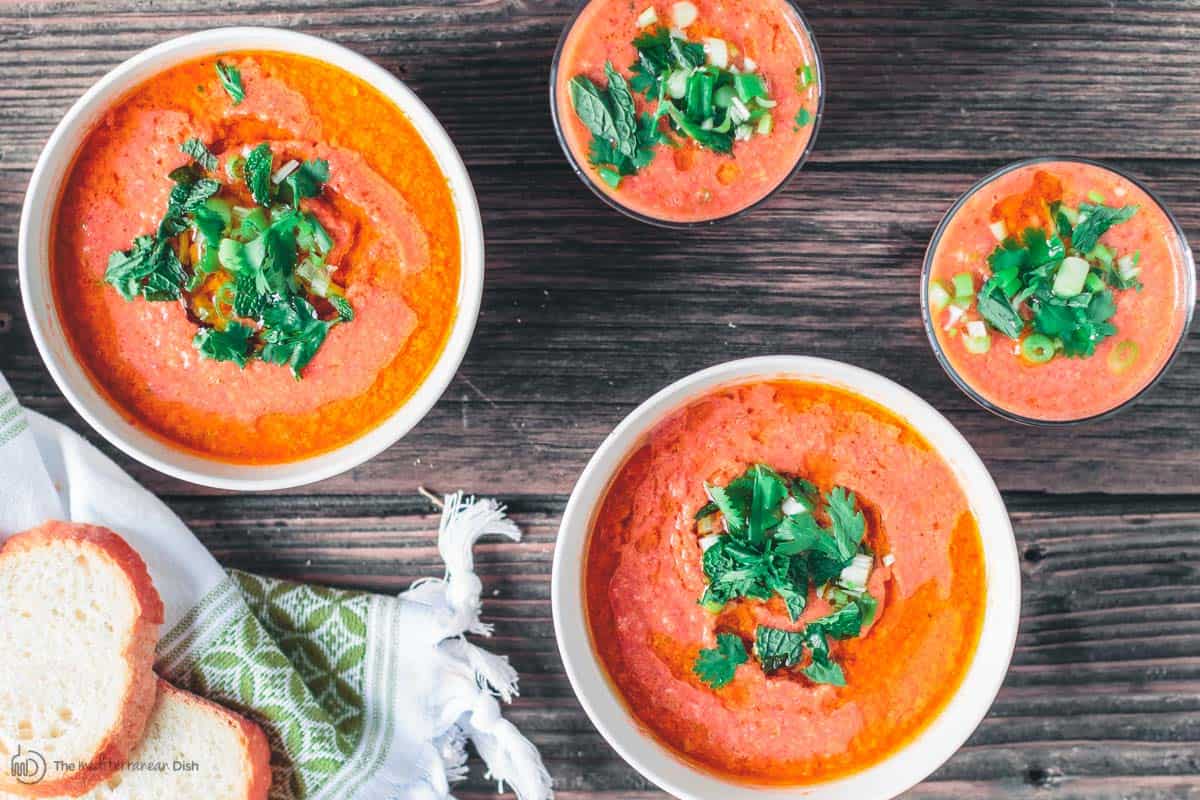 If you're wondering about the color, gazpacho should be more orange than a deeper red, that's because of the use of bread and other ingredients here.
Can you freeze it?
Yes! You can freeze gazpacho soup for a good 6 months. Be sure to puree the soup very well so it is smooth before transferring to freezer-safe jars or containers.
More Recipes to Try
Browse all Mediterranean recipes.
Gazpacho Recipe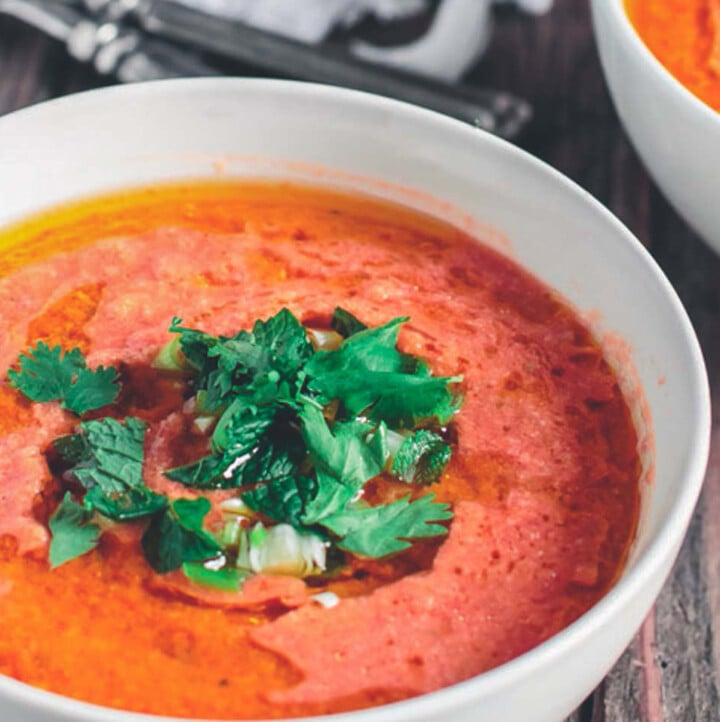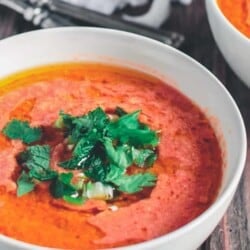 Easy gazpacho recipe with fresh ripe tomatoes and vegetables, garlic, vinegar and extra virgin olive oil. A pinch of cumin and a garnish of fresh herbs amp up the flavor! Serve it in bowls for lunch or in small glasses as an aperitif.
Ingredients
4 to 5

slices

stale artisan bread,

crust removed

Water

5

large ripe tomatoes,

about 2 pounds

½

English cucumber,

peeled, chopped

1

celery stalk,

chopped

1

green pepper,

cored, seeded, roughly chopped

2

green onions,

trimmed, roughly chopped, more for garnish

2

garlic cloves,

peeled, roughly chopped

2

tablespoon

sherry vinegar

Salt and pepper

½

teaspoon

cumin

½

teaspoon

cayenne pepper,

optional if you like spicy

Pinch

sugar

Small handful fresh mint leaves,

torn or chopped

Small handful fresh cilantro leaves,

torn or chopped
Instructions
Place the bread slices in a bowl with ½ cup of water. Let the bread soak while you work on the tomatoes. Squeeze the bread to ring out any water

Place the tomatoes in a large pot of boiling water for 40 seconds or so. With a slotted spoon, remove the tomatoes from the boiling water and let them cool for about a minute or so. When they are cool enough to handle, gently peel the skins off.

In a large food processor or blender, place the tomatoes with the cucumbers, celery, bell peppers, green onions and garlic. Top with the soaked bread. Pour ½ cup extra virgin olive oil and the sherry vinegar. Run the processor for a few seconds then add the salt, pepper, cumin, cayenne pepper (optional) and a pinch of sugar; blend.

Test the gazpacho and if it's too thick, add a little water and blend again until you reach the desired texture.

Transfer to a glass container or large canning jars. Cover tightly and chill in refrigerator.

When ready to serve, give the gazpacho a quick stir then transfer to serving bowls or small glasses. Top with olive oil and a garnish of fresh mint, cilantro and chopped green onions, if you like.
Notes
For best results: Refrigerate gazpacho for a couple of hours or overnight for a more developed flavor.
Serving Tip: This recipe will serve 4 or so for lunch or light supper (with a hearty salad like Balela). To serve as an appetizer or aperitif, you can pour gazpacho into small chilled glasses for 6 to 10 people (or you can serve more folks by using shot glasses).
Leftovers and Storage: Keep leftover gazpacho refrigerated in tight-lid glass containers or glass canning jars. It should keep well for 3 days or so.
Visit Our Shop to browse quality Mediterranean ingredients including olive oils and spices.
Recipe is adapted from Jamie Oliver's Food Escapes.
Nutrition
Calories:
75.2
kcal
Carbohydrates:
14.8
g
Protein:
2.9
g
Fat:
0.9
g
Saturated Fat:
0.2
g
Trans Fat:
0.1
g
Sodium:
89.6
mg
Potassium:
356.9
mg
Fiber:
2.3
g
Sugar:
4.6
g
Vitamin A:
1065.1
IU
Vitamin C:
31.9
mg
Calcium:
66.4
mg
Iron:
1.2
mg
*This post was recently updated with new information and media for readers' benefit.