Easy three bean salad recipe packed with Mediterranean flavors from fresh herbs, capers, and a zesty Dijon garlic vinaigrette. If you thought beans were boring, you just might change your mind!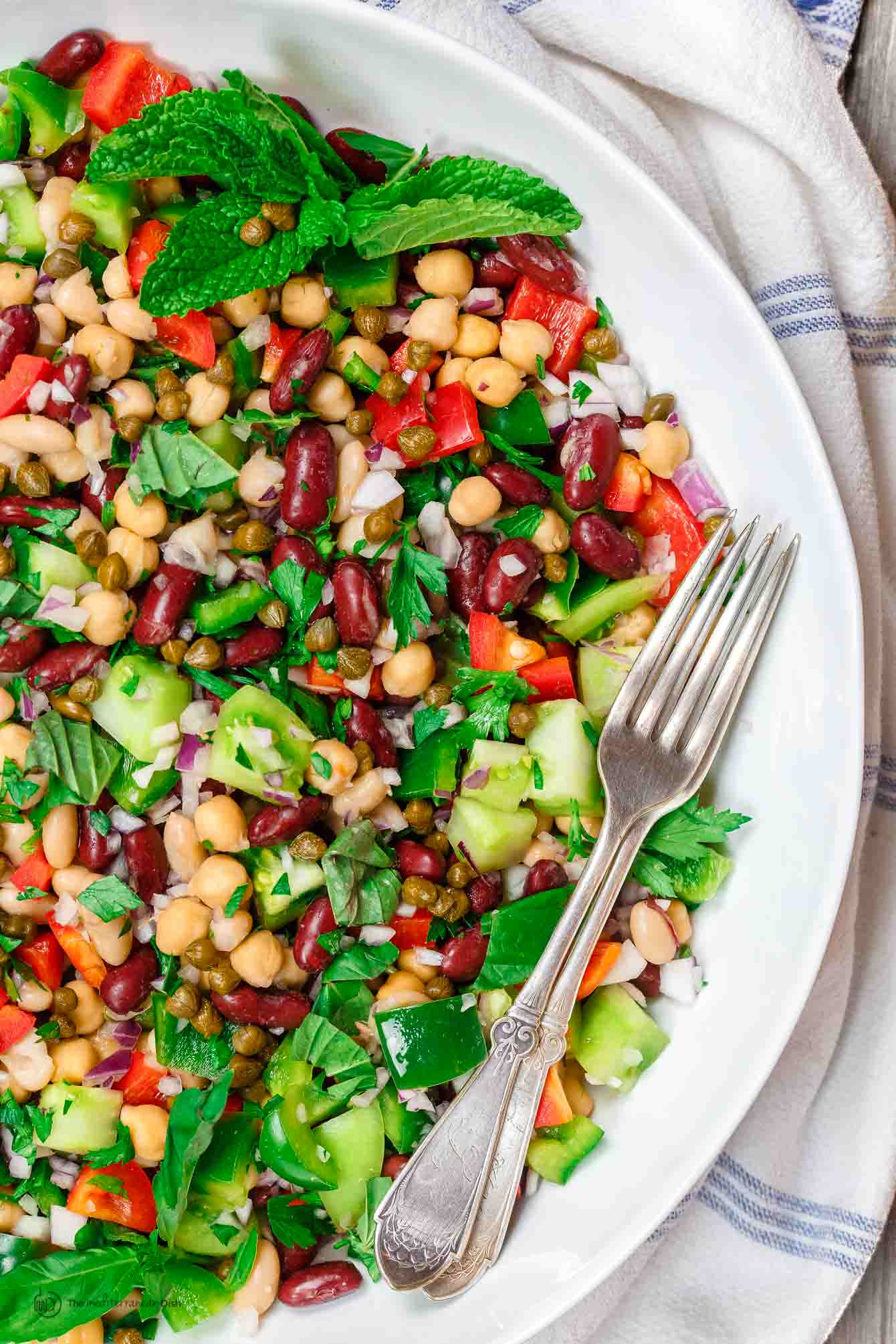 A staple of the Mediterranean pantry, beans are a healthy, versatile and super affordable ingredient. They are rich in antioxidants, fiber, B vitamins, iron…plus, they're a hearty great alternative to high-fat proteins.
Sadly, many of my friends live with the idea that beans–legumes in general– require a lot of work and are just plain boring. This three bean salad is so "unboring," I might even claim that it's a sexy way to use up some humble beans.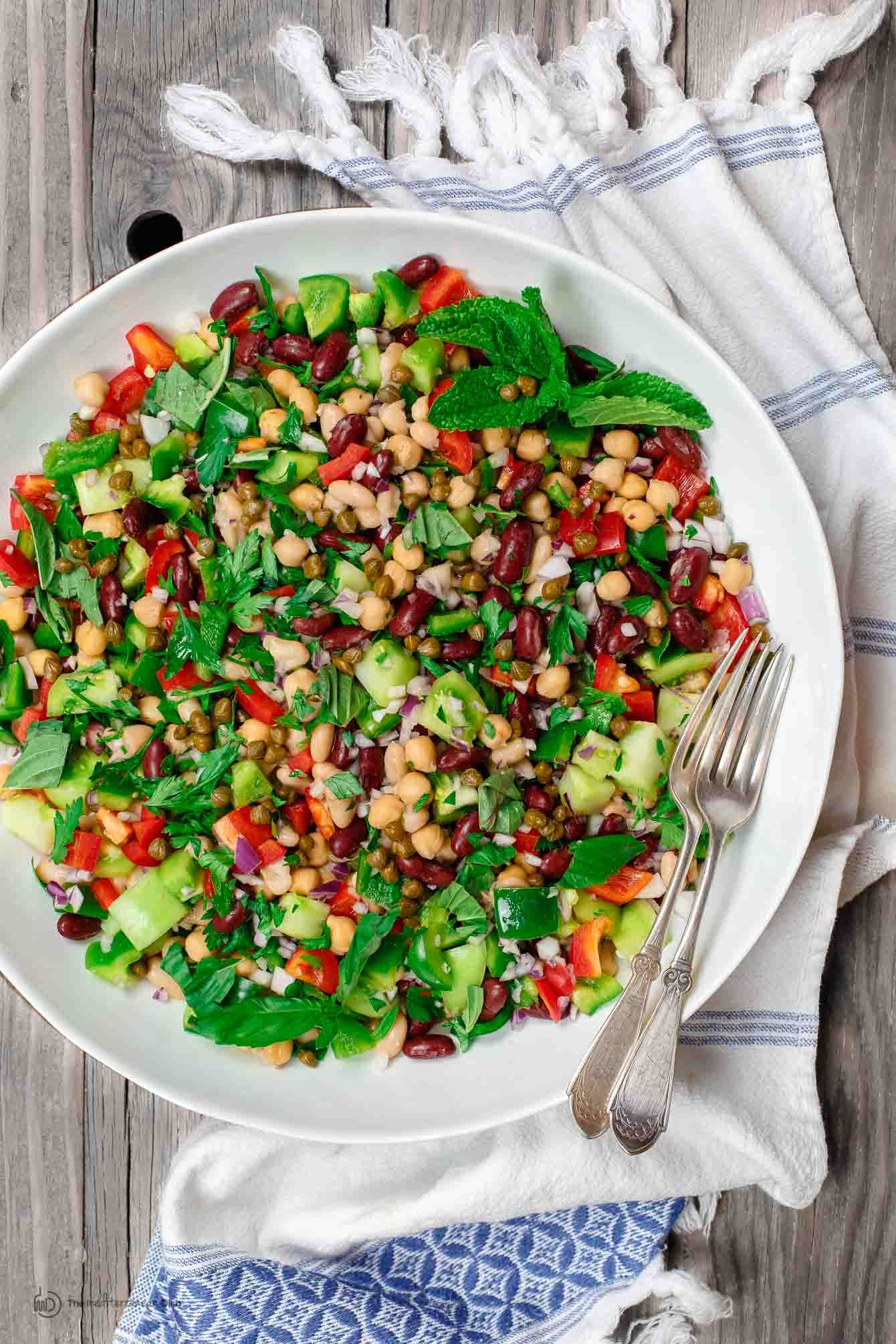 Why this three bean salad works
I ditched the work involved with soaking and boiling beans–there is a place for that, just not when you have no interest in making an elaborate meal.  Canned beans work just as well in this three bean salad recipe. I chose kidney, cannellini, and garbanzo beans (chickpeas).
To build the bean salad into a huge, "sexy" bowl of goodness, you need to add crunch. That's where colorful bell peppers, cucumbers, and red onions come in. Capers, fresh herbs, and a Mediterranean garlic Dijon vinaigrette, seal the deal for me.
Nope, I did not add feta. Despite popular opinion, not every Mediterranean salad requires the addition of crumbled feta. But it does require excellent extra virgin olive oil. I highly recommend our Early Harvest Extra Virgin olive oil. 
On especially warm nights, I can count on this three bean salad as a great side to grilled chicken or a quick salmon dinner.
Print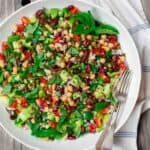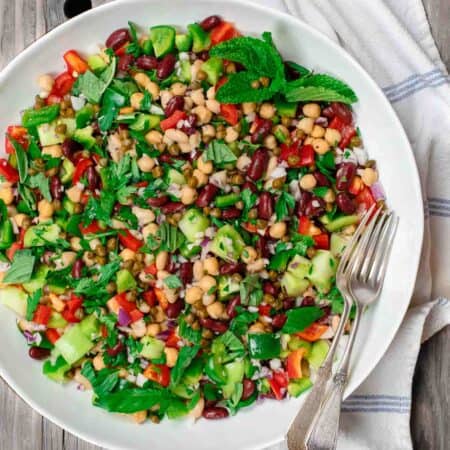 Mediterranean Three Bean Salad
---
Author:

Prep Time:

15 mins

Total Time:

15 mins

Yield:

6
Ingredients
1 15-oz can kidney beans
1 15-oz can cannellini beans
1 15-oz can garbanzo beans (chickpeas)
1 green bell pepper, cored and chopped
1 red bell pepper, cored and chopped
1/2 English cucumber, diced
1 cup chopped red onions
1 1/2 tbsp capers
1 cup chopped fresh parsley
10-15 fresh mint leaves, torn or gently chopped
10-15 fresh basil leaves, torn or gently chopped
Garlic Dijon Vinaigrette
1-2 garlic cloves, minced
1/2 tbsp Dijon mustard
2 tbsp lemon juice
1 tbsp sugar
1/4 cup Early Harvest extra virgin olive oil
Salt and black pepper
---
Instructions
In a large mixing bowl, combine the beans, chopped peppers, onions, capers and fresh herbs. Mix using a wooden spoon.
In a small bowl, add the vinaigrette ingredients. Whisk vigorously to combine.
Add the vinaigrette to the salad bowl. Toss to coat.
For best results, cover and refrigerate for a bit before serving so that beans soak up the vinaigrette flavors. Give the salad another quick toss before serving
Notes
If you prefer, hold the mint and basil until you are ready to serve the salad. This will keep them from wilting into the salad, although the flavors won't be as intense.
Recommended for this Recipe Our Early Harvest extra virgin olive oil.
More Recipes to Try
Three Bean Soup with Tomato Pesto