This guide is all you need to learn to how to cook chickpeas on the stovetop, or in your crock pot or pressure cooker! I am answering all your questions from how to soak chickpeas, how to cook them, and how to put them to good use in some easy and delicious chickpea recipes!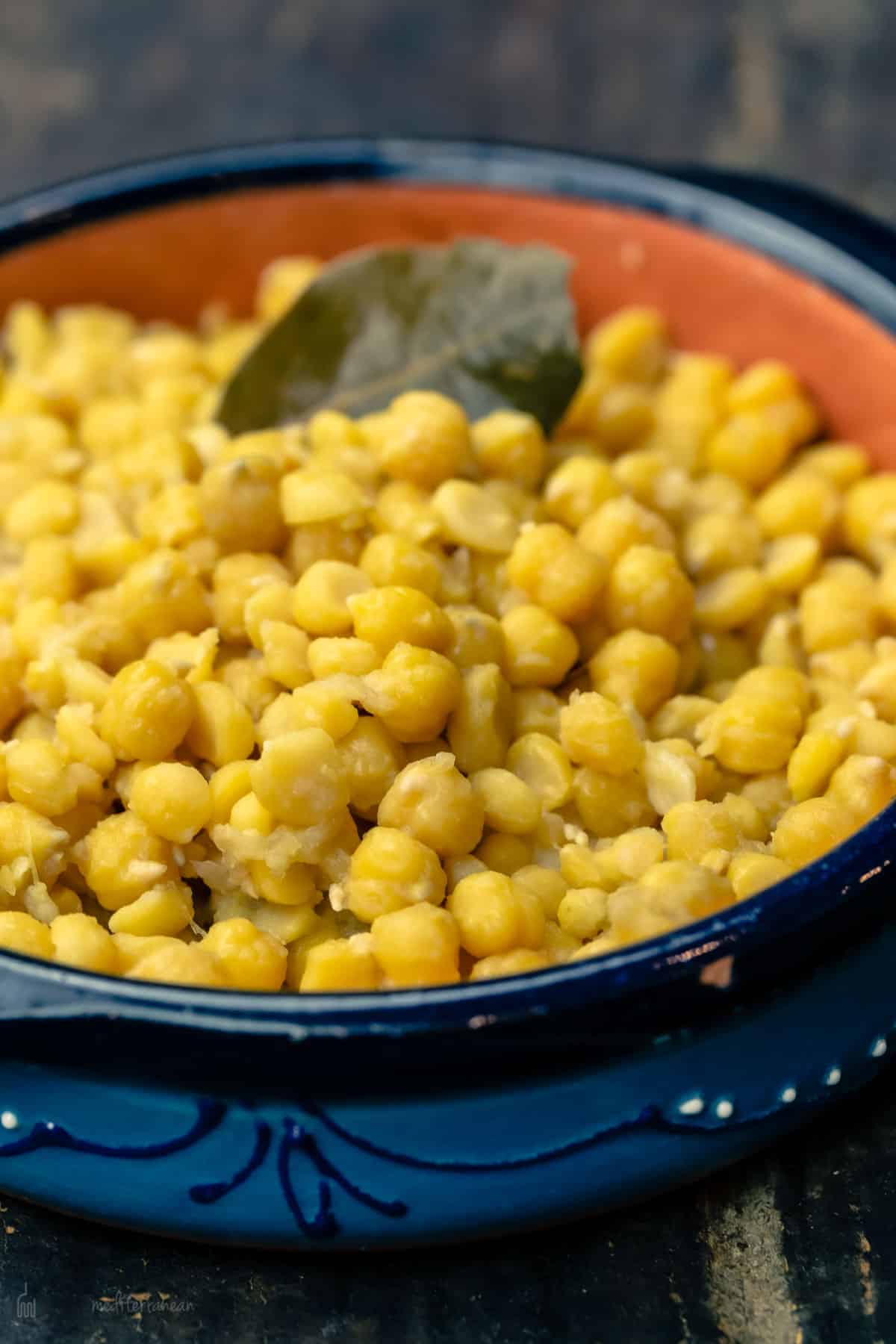 Chickpeas!
There are a few ingredients I always have on hand in my pantry, top of the list is chickpeas!
Legumes, and particularly, chickpeas are a staple of Mediterranean cooking. These protein-packed legumes have a mild, nutty flavor and are the star ingredient in dishes like humus and falafel. But we use them in many more ways--bean soup, tagine, tossed in orzo, in salads, or even to make an irresistibly crunchy snack!
Heck, chickpeas can be the entire meal! I've been known to smash them up with a bit of garlic, lemon juice, some spices, and a big lug of good extra virgin olive oil. Just pass the pita to sop up all the goodness!
Canned chickpeas are convenient, and I do use them regularly. In my vegetarian smashed chickpea toast recipe, for example, canned chickpeas give me a quick dinner in 10 minutes or less! They're also so versatile: I often add them as a healthy protein to make simple salads, like Mediterranean Cucumber Tomato Salad more filling. So why should one learn how to cook dried chickpeas?
A bag of dried chickpeas is cheaper, for sure. But I also found that cooking them from scratch produces the best, tender chickpeas with a creamy mouthfeel that the canned variety just can not compete with. Cooking them myself also gives me the opportunity to control the sodium and play with flavors however I like. Most of the time, I keep the seasoning simple because I like to store cooked chickpeas to use in different ways, and I don't want the flavors to clash.
I'm excited to share with you my complete guide on how to cook chickpeas, answering all your questions, and sharing a few fun recipes you can try!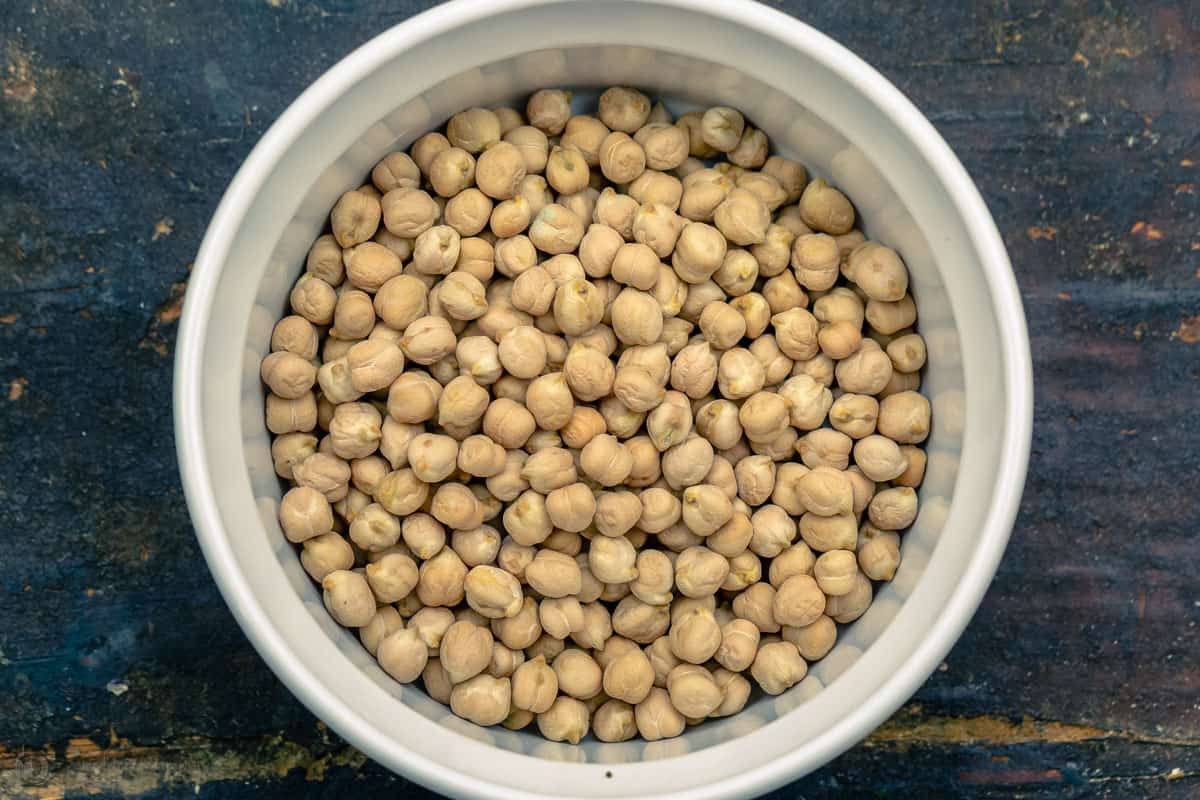 Measurements: Converting dried chickpeas to cooked chickpeas
If you haven't cooked with dried beans or garbanzo before, you might be asking how much to use. Generally speaking, 1 cup of dried beans will yield 3 cups of cooked beans. In this recipe, I use 1 pound of dry chickpeas (about 2 cups), which yields almost 6 cups of cooked chickpeas. But here is a quick conversion table to keep handy:
1 pound of dried beans = About 2 cups dried beans
1 pound of dried beans = About 6 cups of cooked beans
1 part dry beans = 3 parts cooked beans
1 cup dried beans = 3 cups of cooked beans
⅓ cup dried beans = 1 cup of cooked beans
How to soak chickpeas?
You might wonder, do I have to soak chickpeas before cooking? Like other beans, chickpeas benefit from soaking in water, especially if you are planning to boil them on the stovetop. However, if you plan to cook them in the slow cooker or instant pot, you do not need to soak them, although you can if you have the time. Soaking the chickpeas will help soften them and also make them more digestible. There are two ways to soak dried chickpeas, and either method you use, the chickpeas should soften and increase in volume. Here are the two methods I use:
Long soaking method. This is easy to do but takes a little bit of planning. Place the chickpeas in a large bowl and cover them with water by a good few inches then leave them overnight (8 to 24 hours).

Quick soaking method. This takes only 1 hour before cooking. Put the chickpeas in a large pot and cover them with plenty of water, bring to a boil and cook for 2 minutes. Turn the heat off, then cover and let the chickpeas soak for 1 hour or until softened.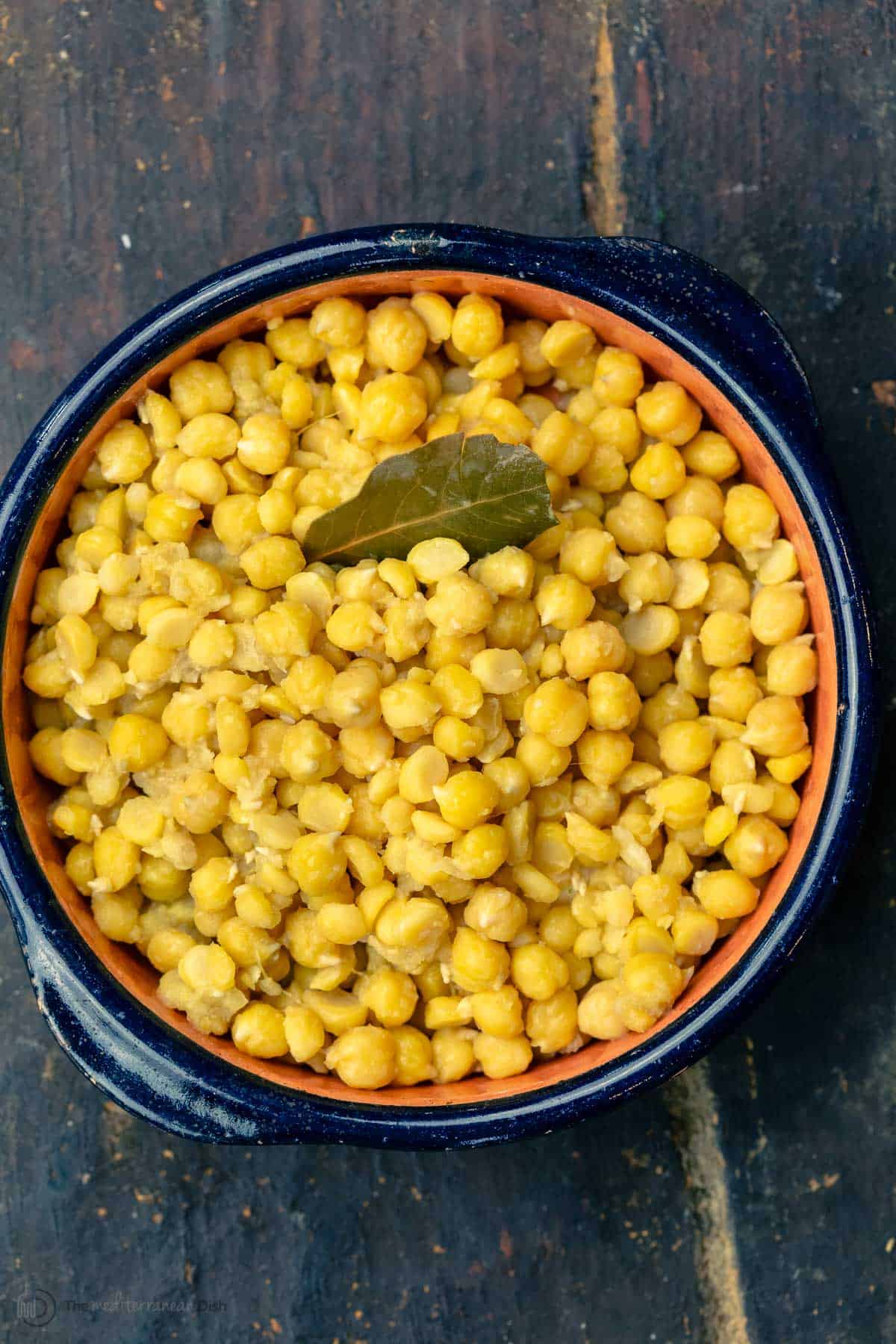 How long to cook chickpeas?
The amount of time it will take to cook dried chickpeas will depend on their size, how fresh they are (beans can be stored for month or years), and the cooking method. You can tell if they are ready when they are tender to the bite. And as I said, the cooking time will also depend on how you choose to cook them:
Stovetop: boiled chickpeas cooked on the stovetop will take anywhere from 30 minutes up to 2 hours.
In the slow cooker: cook for 4 hours on high heat or 6 to 8 hours on low heat.
In your pressure cooker or Instant Pot: they will take about 1 hour.
How to cook dried chickpeas?
As with any beans, chickpeas are easy to cook on the stovetop, in your slow cooker or the instant pot. With all methods, I do start with 1 pound of chickpeas (about 2 cups of dried chickpeas), and from there the water amount may change slightly. You can season to your liking, I just used kosher salt, a couple of bay leaves and 2 lightly smashed garlic cloves. Here is a quick look at how to do that (the print-friendly recipe is just below):
Stovetop Method
This is my preferred method. With this method, you do need to soak and drain the chickpeas first (see soaking instructions). From there, cook the chickpeas with a bit of baking soda over medium-high heat stirring for 3 minutes. This is what makes all the difference in softening the chickpeas and it also helps them shed their skin easily during the cooking process (great for hummus). Add 7 cups of water and season. You'll boil briefly, then turn the heat down and let the chickpeas cook until tender (this can take anywhere from 30 minutes to 2 hours).



Slow Cooker Method
You do not need to soak the beans with this method, but you can if you have the time. Put the chickpeas, 7 cups of water, and seasoning of your choice in a 2 ½-quart slow cooker. Cover and cook on high for 4 hours or on low for 6 to 8 hours or until tender.



Instant Pot Method
With this method, again soaking is optional. Put the chickpeas, 6 cups of water, and seasoning in the instant pot. Close tightly. Cook using High Pressure for about 50 minutes, then let the steam release naturally for 10 minutes before you vent the remaining pressure (please be sure to read. your pressure cooker manual for safety and precautions).
Can I freeze cooked chickpeas?
Yes! Cooked chickpeas can be stored in the fridge, without extra liquid for a good 3 to 4 days. But you can store them in the freezer for months. Just be sure to dry the chickpeas well and put them in freezer safe bags. Store them flat in your freezer for later use.
Chickpea recipes to try!
There is no shortage of tasty chickpea recipes here on the blog, but I selected a few here to get you started:
More from the Mediterranean pantry
Other Mediterranean essentials to learn about:
Visit Our Shop to browse quality Mediterranean products
How to Cook Chickpeas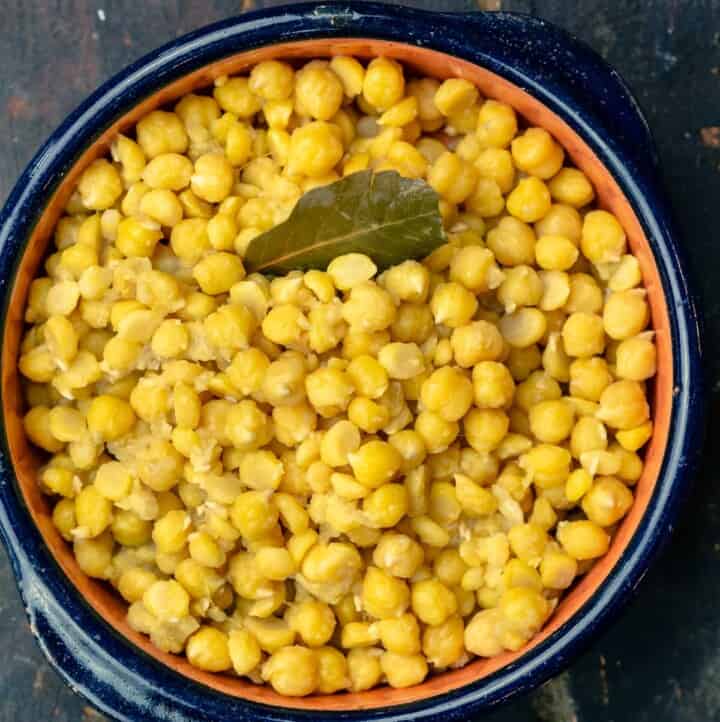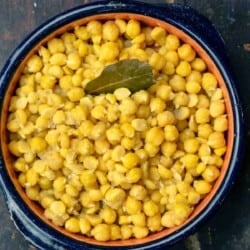 Here is your guide for how to cook chickpeas perfectly to use in everything from simple salads, soups and stews, sides, or even for a delicious roasted chickpea snack!
Ingredients
1

pound

dry chickpeas,

approximately 2 cups dry chickpeas

½ to 1

teaspoon

baking soda,

depending on the cooking mehtod

water

Kosher salt

1 to 2

bay leaves

2

garlic cloves,

lightly smashed
Instructions
Prepare the chickpeas for cooking. Simply look through the beans and discard any rocks or anything that does not look like a chickpea.
Stovetop Method
Soak the chickpeas. You can either soak them overnight or try the quick soaking method. To soak overnight, put the chickpeas in a large bowl and add plenty of water to cover the chickpeas by a good 3 inches. Set aside for 24 hours. For the quick soak method, put the chickpeas in a pot and add 6 cups of water. Bring to a boil and cook for 2 minute. Turn the heat off, cover and let the chickpeas soak for 1 hour. Drain.

In a large cooking pot, put the chickpeas and 1 teaspoon of baking soda. Cook over medium-high heat, tossing constantly for about 3 to 4 minutes. Add 7 cups of water to cover the beans by several inches. Season with a big pinch of kosher salt (about 1 teaspoon or more if you like). Add the bay leaf and garlic. Bring to a boil, then turn the heat down and simmer, skimming off any foam or skins that float to the top. Chickpeas will cook anywhere from 40 minutes to 1 ½ hour or until tender (cooking time will vary depending on the type and freshness of the chickpeas).
Slow Cooker Method
In a 2 ½-quart slow cooker, put the chickpeas, ½ teaspoon baking soda, 7 cups water, a big pinch of kosher salt, bay leaf, and garlic. Cover and cook on high heat for 4 hours, or low heat for 6 to 8 hours, or until tender.
Pressure Cooker Method
Add the chickpeas and 6 cups of water to the pressure cooker. Seal the lid shut. Select High Pressure and cook for 50 minutes. Allow the pressure cooker to naturally release for 10 minutes, then vent the remaining pressure and when the release valve drops, safely open the lid. (Be sure to review the pressure cooker manual before use and follow all safety precautions).
Notes
Yield: This recipe will yield approximately 5 to 6 cups of cooked chickpeas. Serving size is estimated to be ½ cup.
Seasoning chickpeas: You can add any number of flavors to season your chickpeas. You can add a pinch of two of cumin or another spice of your choice. If you like to add a little bit of sweetness, cut up a carrot or two and add them in the pot to cook with the chickpeas.
Storage: Put the cooked chickpeas, without additional liquid, in a shallow airtight container and refrigerate for 3 to 4 days. You can also freeze them for later use. First, pat the chickpeas dry and put them in ziptop bags (it helps to spread them in a single layer and freeze them laying flat). They will last 6 months or longer in the freezer.
What to do with chickpeas? You can use chickpeas in making hummus, throw them in soups, stews, salads, or serve them as a simple side. You can also roast chickpeas for a crunchy snack. Check out these chickpea recipes for some tasty ideas.
Visit our shop to browse quality Mediterranean ingredients including extra virgin olive oils and spice.
Nutrition
Calories:
138.4
kcal
Carbohydrates:
23.1
g
Protein:
10.1
g
Fat:
2.3
g
Saturated Fat:
0.2
g
Sodium:
54.8
mg
Potassium:
332.8
mg
Fiber:
6.6
g
Vitamin A:
25.9
IU
Vitamin C:
1.7
mg
Calcium:
40.7
mg
Iron:
2.4
mg