This smashed chickpea toast recipe turns a humble can of chickpeas into a protein-packed vegetarian meal in 10 minutes or less. It works for breakfast, lunch, or dinner. Keep it vegan or add sliced boiled eggs on top for extra protein.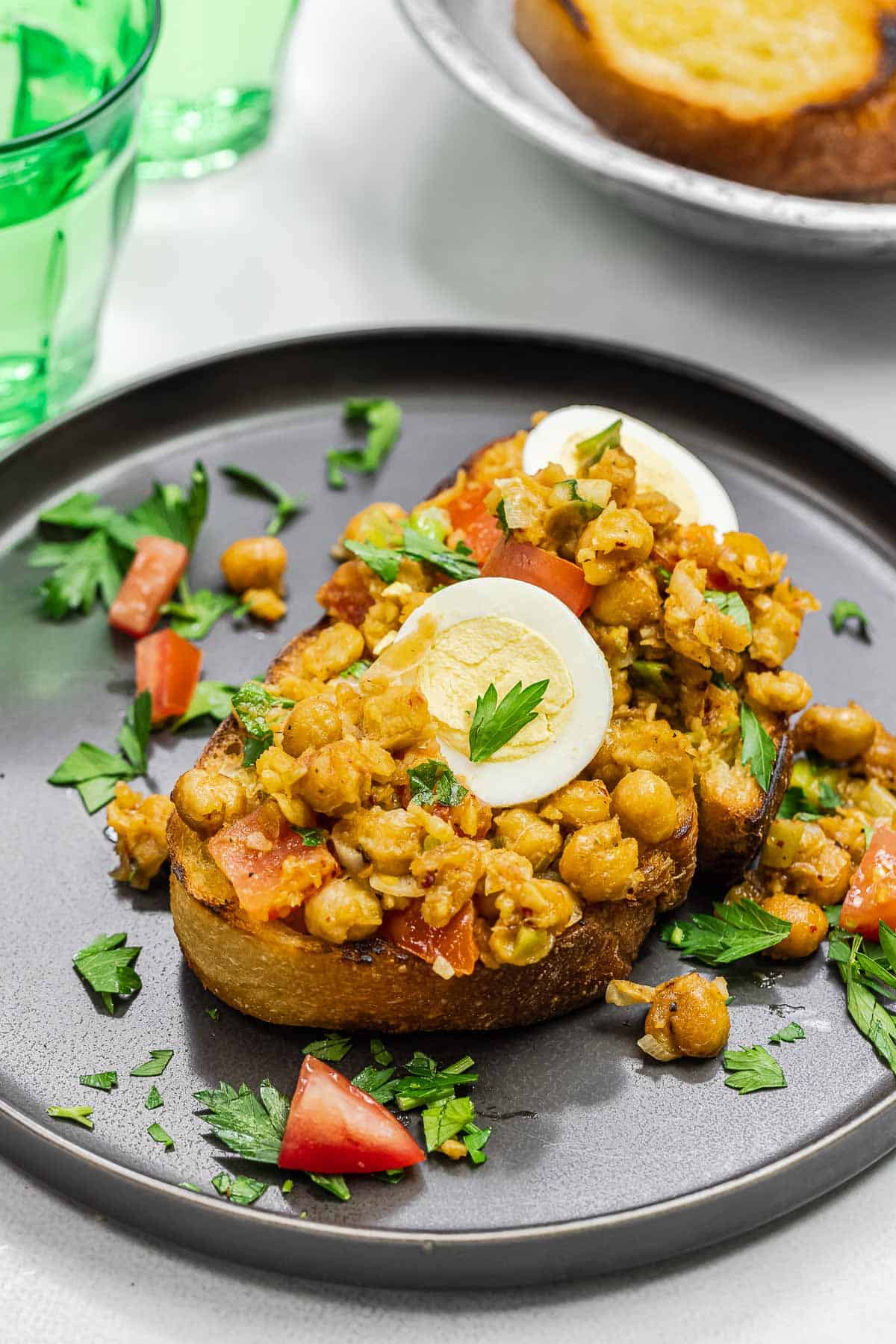 Spiced chickpeas on toast!
If someone dared me to make a satisfying meal out of pantry and fridge scraps, chickpea toast would be it. This vegetarian smashed chickpea toast is a classic Mediterranean diet meal that turns a humble can of chickpeas into dinner.
Packed with flavor and plant-based protein, chickpeas on toast makes a satisfying meatless meal in under 10 minutes – ideal for busy weeknights or if you're looking for an easy high-protein breakfast.
This quick and easy chickpea toast can be as basic or as dressed up as you want it to be. I use five basic ingredients – good crusty bread, chickpeas, extra virgin olive oil (of course), tomato, and scallions. And I season them up with a couple of my favorite spices, cumin and Aleppo-style pepper, but other spices would also be good here (I give you more ideas below).
Keep this chickpea recipe vegan or top it with a sliced egg. Nothing more is needed, but if you like, add a simple arugula salad or tomato and cucumber salad to the side.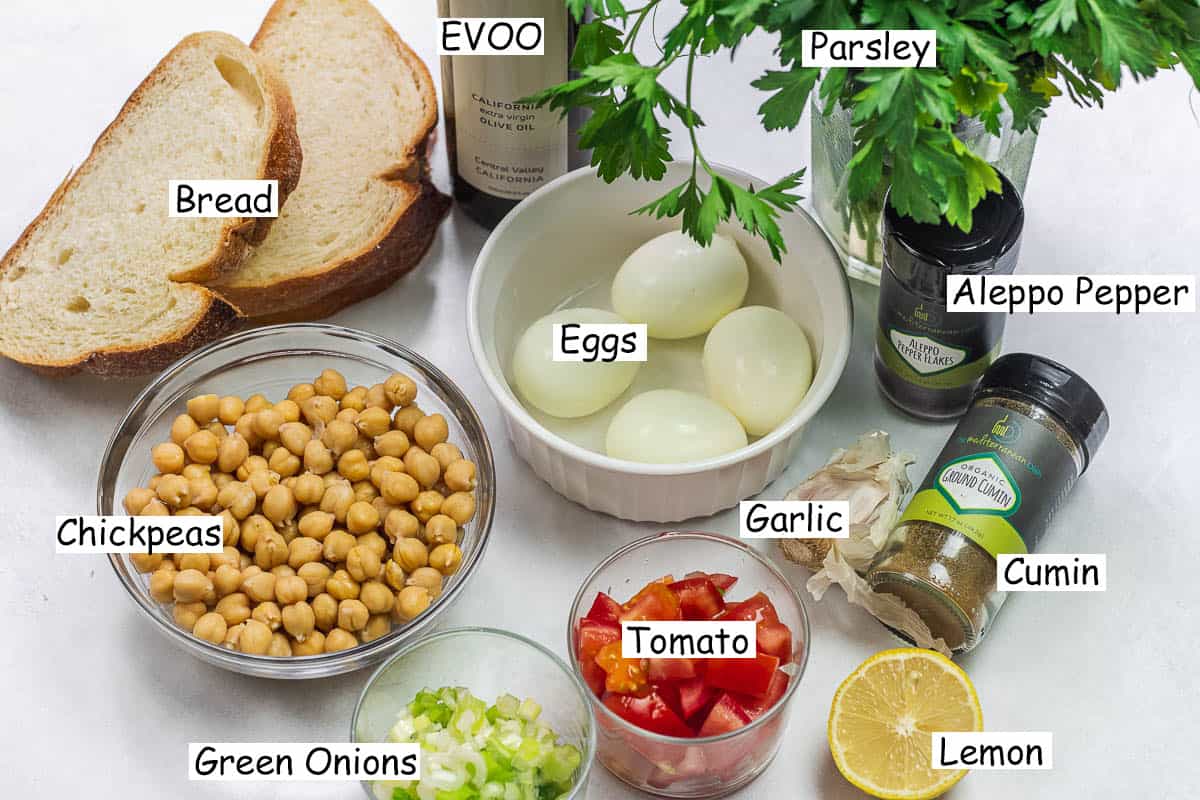 Ingredients for chickpea toast
This is the ultimate "Hmm, what do I have lying around?" meal, with simple ingredients and big flavor! Here's what you'll need for this chickpea recipe:
Bread: I like hearty Tuscan country bread here, but feel free to use your favorite bread. Plain white sandwich bread, wholewheat bread, sourdough…really, use whatever you like! After all, toasted bread is merely the vehicle for the delicious chickpea topping.
Extra virgin olive oil: Instead of buttering the sliced bread, I drizzle a little olive oil onto both sides then toast each piece to a lovely golden color on the stove. Our Arbequina California EVOO is a good choice here because it has a very mild taste, and will not impact the other flavors in this chickpea recipe.
Chickpeas: I used one 15-ounce can of chickpeas to cut down the prep time and make this super convenient, but you can certainly use home cooked chickpeas if you prefer (more info below).
Smashed chickpea topping ingredients: Garlic, spring onions, chopped tomatoes, cumin, and Aleppo pepper bring the "wow" factor and plenty of warm flavor to the chickpeas.
Hard-boiled eggs: I've already said that this is a protein-rich vegetarian recipe, but to take it up a notch, I like to slice up some boiled eggs and layer them on top of the smashed chickpeas. Want to keep this chickpea recipe vegan? Just leave out the eggs!
Fresh parsley: A little fresh Italian parsley for garnish adds a pop of bright color and a slight peppery bite.
What are chickpeas?
I always have chickpeas in my pantry, both canned and dried (there are many ways to use chickpeas aside from the all-essential hummus)! Also known as garbanzo beans, these mild, nutty legumes are my go-to if I need to make a quick nutritious, filling meal or a high protein breakfast that doesn't take too much work. According to the USDA, they're a plant-based protein powerhouse with about 20g of protein per 3.5 ounces. That's almost as much protein as an equal amount of chicken! Chickpeas are also high in fiber!
In this recipe, I take a shortcut and use canned chickpeas. Rinse them under cold water, and give them a good shake to get rid of any excess moisture. Be careful – water from wet chickpeas can splatter when combined with oil in a hot skillet. So I recommend using a splatter guard when making this recipe or drying your chickpeas on a towel before you toss them in the pan.

But if you would prefer, you can definitely cook the chickpeas from scratch. You'll need about ½ cup dried chickpeas or 1 ½ cups of cooked chickpeas to replace canned chickpeas here. Note that chickpeas need to be soaked before cooking, and they can take up to 2 hours to become tender when boiled on the stove. So just be sure to budget enough time if you plan to go this route.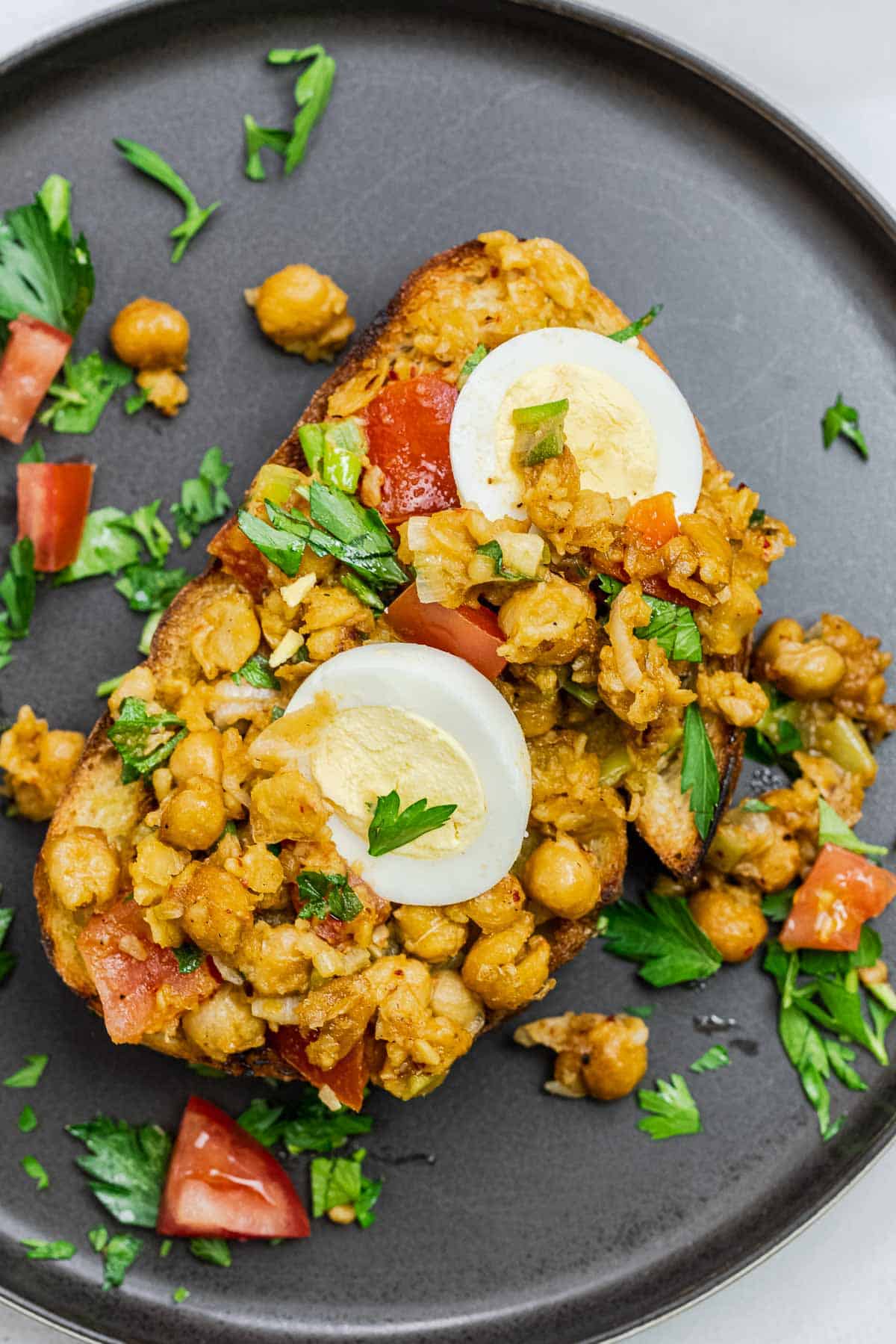 How to make chickpea toast
Toast or grill the bread. Slice up some Tuscan bread or another hearty bread of choice into thick pieces (about ½-inch in thickness or so) and give them a quick drizzle of extra virgin olive oil onto one side of the bread (the side facing you). Heat your cast iron skillet on medium-high, and when the skillet is hot, add the bread in, oiled side down. Allow it to toast for about 1 minute, until the bottom becomes a nice golden-brown. Do the same on the other side of the bread.

Make the smashed chickpeas. First off, grab a splatter guard (one of my favorite tools). Water from the rinsed chickpeas will splatter when combined with the oil in the hot skillet. Chickpeas also have a tendency to pop, especially if the skillet is too hot. So be sure to use a splatter guard to avoid possible injuries. (You'll use the same skillet that you used to toast the bread.) It might also be a good idea to take the skillet off the heat for a few minutes to allow it to cool slightly.
Add 2 tablespoons olive oil to the skillet and heat until shimmering. Then add 1 15-ounce can chickpeas (make sure they are drained and rinsed thoroughly), 2 minced garlic cloves, 2 trimmed and chopped spring onions, and 1 chopped vine-ripened tomato. Season with kosher salt to taste, and 1 teaspoon each Aleppo pepper and cumin. Cook for 3 to 5 minutes until the mixture is warmed through. Stir occasionally to prevent sticking. Turn off the heat and smash the chickpeas with the back of a fork or a potato masher.



Assemble the chickpea toast. Spoon equal amounts of the smashed chickpeas onto the slices of toast, and add a couple of slices of hard-boiled eggs. Garnish with some fresh flat-leaf parsley, and a light drizzle of olive oil, if you like. Serve warm or at room temperature.
Make ahead tips
To work ahead, you can make the smashed chickpea mixture in advance, so all you need to do is quickly reheat it and toast the bread. I also sometimes double the ingredients for the chickpea mash so I can have enough leftovers for the next day.
Swaps and substitutions
Missing a few ingredients? No problem! This easy vegetarian toast recipe lends itself well to variations. Here are some ideas for how you can substitute ingredients:
White beans are a good swap for chickpeas here! Cannellini beans, butter beans, navy beans, or great northern beans all make a delicious smashed topping to pile onto toast. Pinto beans are also a tasty alternative.
Try pita bread instead. If you don't want to use hearty, crusty bread, you can stuff the smashed chickpeas into a warmed pita, perhaps with a drizzle of tahini sauce to round out all the flavor. While I like the contrast in texture between crusty toasted bread and soft smashed chickpeas, pita also makes a tasty sandwich. Tuck in some lettuce leaves, a little sliced red onion, and pack it in your lunch.
Use spices that you have on hand. I love the combination of earthy cumin and tangy, spicy Aleppo-style pepper on chickpeas, but their mild flavor actually makes them easy to spice with what you prefer. For more color, use sweet paprika. For warmth, sprinkle on a little turmeric. For a little smokiness, use smoked paprika. And for heat that packs a punch, add cayenne pepper or red pepper flakes.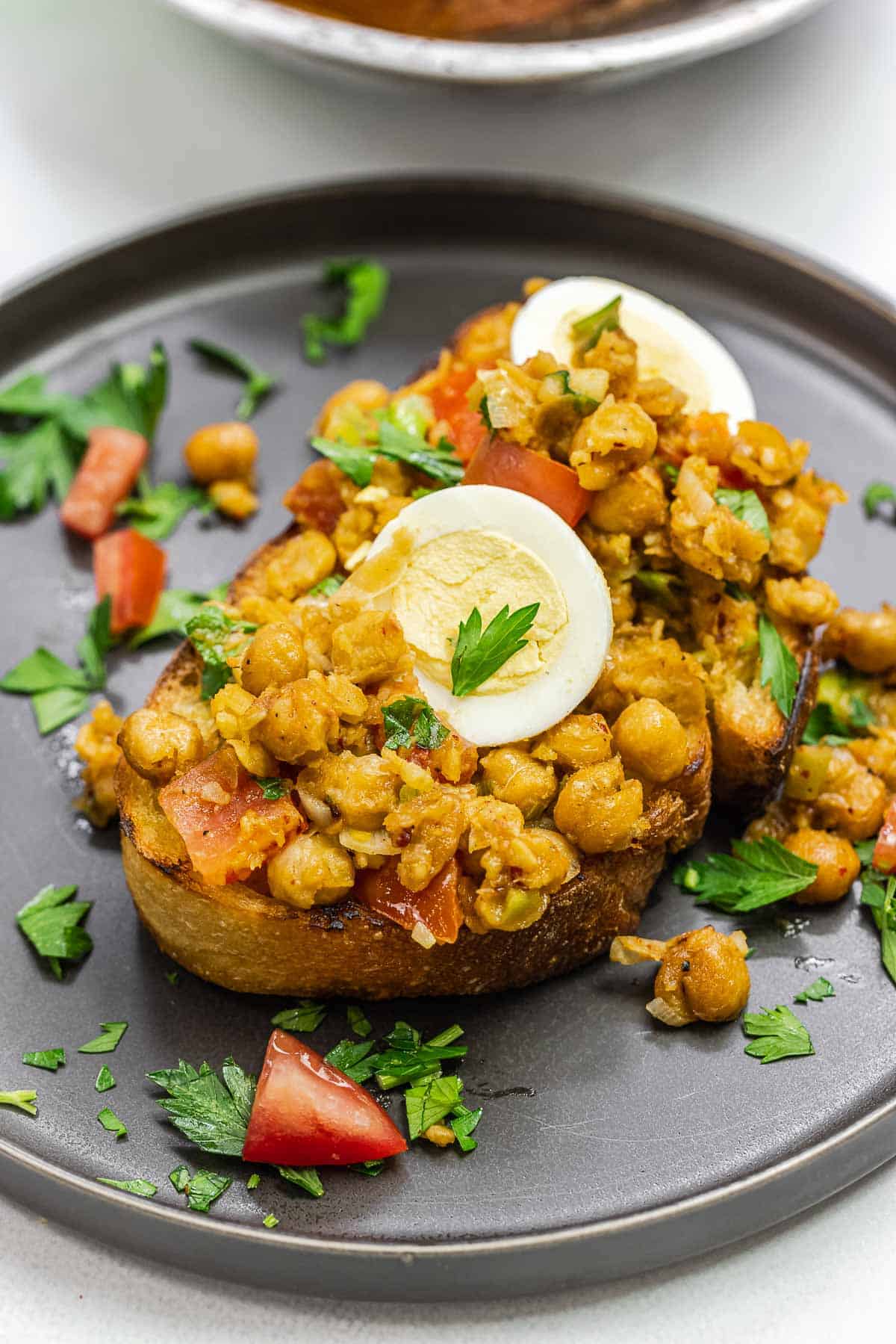 How to store and reheat leftovers
In my house, 4 slices of bread and 1 can of chickpeas are gone in one sitting! But if you have leftovers of the chickpea spread, simply store it in an airtight container in the refrigerator for up to 4 days.
To reheat, add the smashed chickpeas to a skillet set to medium heat. If they've dried out in the fridge, add a little water and a drizzle of olive oil to loosen them up. While they reheat, toast more bread. Top the bread with the chickpea smash, drizzle more EVOO, and enjoy!
More chickpea recipes
Browse all Mediterranean recipes.

Visit Our Shop.
Vegetarian Smashed Chickpea Toast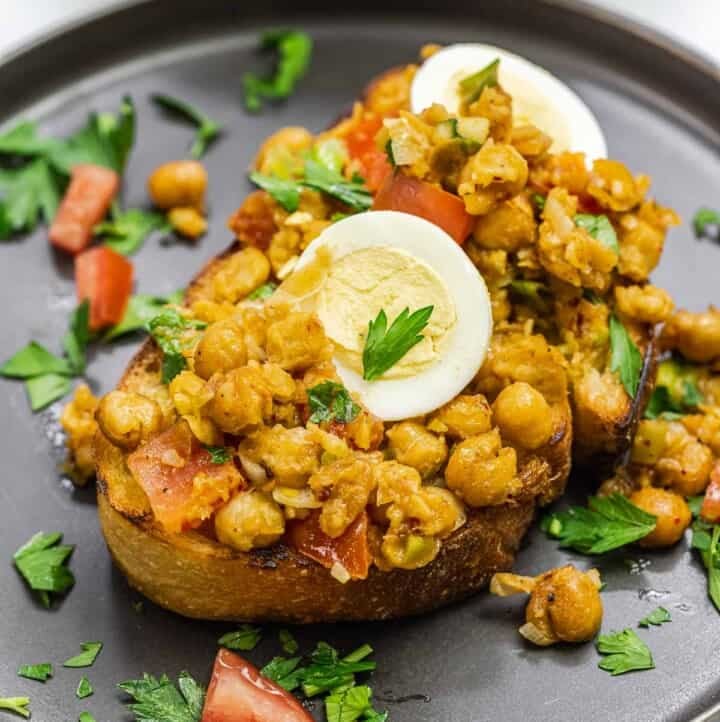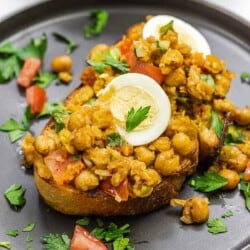 Easy vegetarian chickpea toast ready in 10 minutes or less! This protein-packed meal is perfect for busy weeknights. I used canned chickpeas for a shortcut and to make this super convenient, but feel free to cook chickpeas from scratch if you'd prefer! For a vegan option, skip the eggs!
Ingredients
4

slices

Tuscan country bread,

about ½-inch in thickness (or similar hearty bread)

Extra virgin olive oil to drizzle on bread

1

15-ounce can chickpeas,

drained and rinsed

1 to 2

garlic cloves,

minced

1 to 2

spring onions,

white and green parts, trimmed and chopped

1

vine-ripened tomato,

chopped

Kosher salt,

to taste

1

teaspoon

ground cumin

1

teaspoon

Aleppo pepper

2

hard-boiled eggs,

peeled and sliced

Fresh parsley for garnish
Instructions
Set a cast iron skillet or griddle over medium-high heat. Drizzle a little extra virgin olive oil over the bread slices. When the skillet is hot, arrange the bread in it (oiled side down).

Let the bread toast in the skillet for about a minute or until the bottom turns a nice golden-brown color. Drizzle a little more extra virgin olive oil on the top part of the bread and flip it over. Allow the bread to toast on the second side for about a minute or so. (You may need to toast the bread in batches, depending on the size of your skillet). Transfer the bread to a plate.

Remove it from the heat for about 2 minutes and allow it to cool slightly before adding the chickpeas (otherwise, the chickpeas will pop all over the place).

When the skillet is ready, return the skillet to a burner set over medium heat. Add about 2 tablespoons extra virgin olive oil.

When the oil is shimmering, add the chickpeas, garlic, onions, and chopped tomato. Season with a good dash of kosher salt, the cumin, and Aleppo pepper. Cook, stirring occasionally until warmed through (about 3 to 5 minutes). Carefully taste and adjust seasoning to your liking.

Turn the heat off and, using the back of a fork or a potato masher, gently smash the chickpeas.

Top the toasted bread with the smashed chickpeas and add a slice or two of the hardboiled eggs on top. Finish with a little parsley and a drizzle of extra virgin olive oil. Enjoy warm or at room temperature.
Notes
What bread should I use? I used Tuscan country bread, but you can use whatever bread you like. Sourdough, rye, white sandwich bread, whole wheat bread, etc. would all be great!
Vegan option: Skip the eggs to keep this recipe vegan.
Make ahead tips: You can make the smashed chickpeas a night in advance and store them in an airtight container in the refrigerator.
How to store and reheat leftovers: Store leftover smashed chickpeas in an airtight container in the fridge. To reheat, just pop the chickpeas on the stove in a skillet. If they've dried out a bit, loosen them up with a little water and olive oil.
Visit our Shop to browse quality Mediterranean ingredients including extra virgin olive oils, organic spices, and more.
Nutrition
Calories:
126.6
kcal
Carbohydrates:
15.7
g
Protein:
6.7
g
Fat:
4.2
g
Saturated Fat:
1
g
Polyunsaturated Fat:
0.9
g
Monounsaturated Fat:
1.3
g
Trans Fat:
0.01
g
Cholesterol:
93.3
mg
Sodium:
175.3
mg
Potassium:
174.2
mg
Fiber:
1.8
g
Sugar:
2.8
g
Vitamin A:
571.3
IU
Vitamin C:
5.1
mg
Calcium:
60.5
mg
Iron:
1.9
mg