This quick avocado hummus recipe will surprise your taste buds in the best way possible! Chickpeas and ripe avocados get an extra creamy kick thanks to my favorite tahini and one secret ingredient, Greek yogurt. You can play around with flavor, but I like a combination of fresh garlic, cumin, and a pinch of cayenne. A splash of lime juice brings everything together!
You can stop here, or make my bonus salsa verde recipe to go along!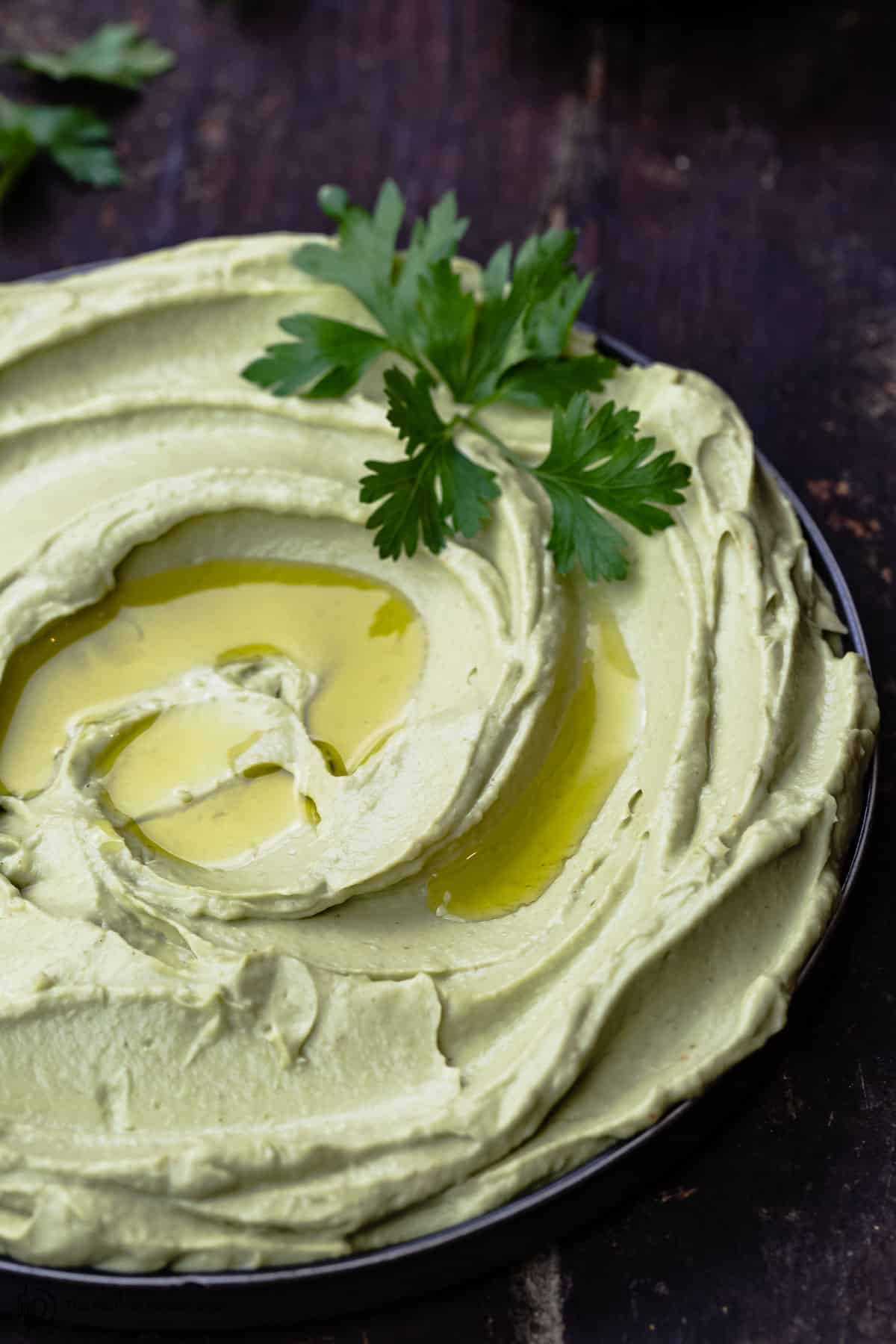 For the Love of Hummus!
It's no secret how much I adore hummus! You can say, it's in my Mediterranean blood 😉
If you ever show up at my house, announced or not, there is no escaping a bowl of classic homemade hummus--plain with nothing else added but a drizzle of good extra virgin olive oil.
On occasion, though, I'll defy the purist in me and add a little twist to my hummus dip like: roasted garlic hummus; roasted red pepper hummus; and today's epic avocado hummus because, sometimes, we want an epic avocado dip that's not necessarily guacamole.
How to make avocado hummus
This avocado and chickpea hummus will surprise your taste buds in the best way possible. It's important to choose perfectly ripe avocados for this dip, but with a little tahini and, my sneaky secret ingredient (Greek Yogurt), it gets an extra boost of creamy goodness!
And because both the chickpeas and avocados are neutral in flavor, you can totally play things up with your favorite aromatics and spices. For me, a couple garlic cloves and a splash of lime juice are a must. And for spices, I went simple with a big pinch of cumin and cayenne, although Aleppo pepper makes an amazing addition, if you have it!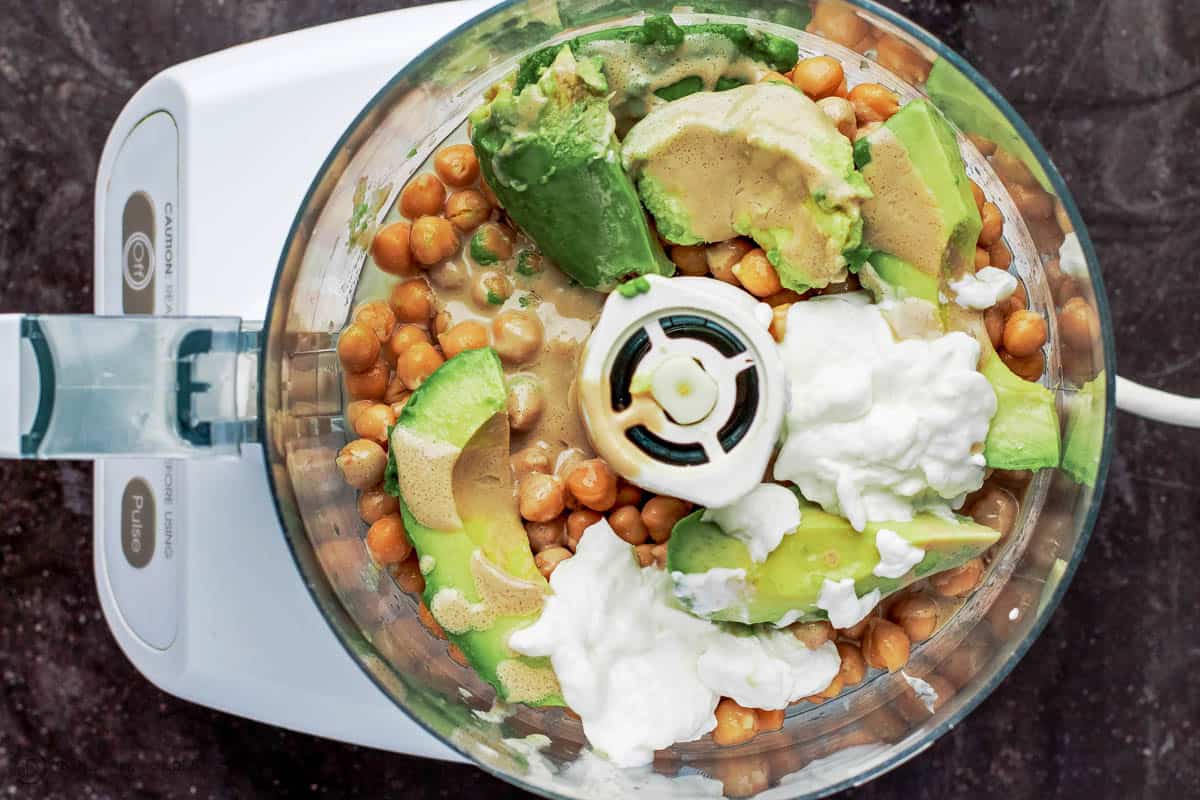 Here is how I make it:
Add your chickpeas (1 15-oz can with a bit of the can juice), avocados (2 ripe avocados, peeled and pitted), tahini (3 tablespoons), and Greek yogurt (2 tablespoons) to the bowl of a food processor fitted with a blade.
Add the flavor makers: 2 fresh garlic cloves (sliced, if you like), lime juice (juice of ½ lime or more to your liking), 1 teaspoon ground cumin and a pinch of cayenne (start with ½ teaspoon and add more if you like a more spicy avocado hummus), and a good pinch of kosher salt to your liking.
Run the food processor until everything is well-combined into a creamy dip. Taste and adjust seasoning to your liking.
Before serving, add a nice drizzle of quality extra virgin olive oil!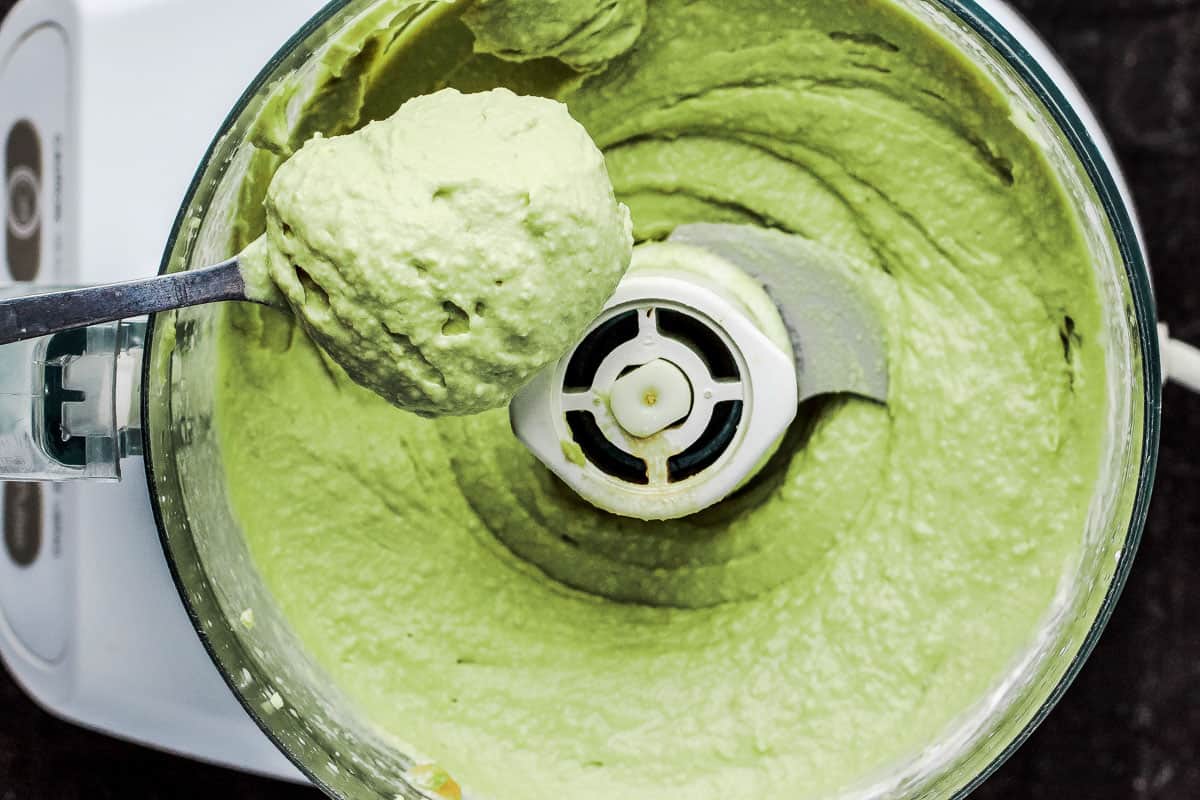 Two more tips for an even creamier dip
The addition of Greek yogurt along with ripe avocados is a great start with this creamy dip. If you have the time and you want your avocado hummus to be even more creamy, you can do two things with your chickpeas (totally optional, though):
If using canned chickpeas as I do here, cook them in their juice with more water for about 15 to 20 minutes or so.
Peel the chickpeas. I simply rub the chickpeas between my hands under running water and that helps remove the peel
You can also start with dry chickpeas and cook them completely from scratch (use my earlier hummus recipe to guide you through this step).
Does avocado hummus turn brown?
Obviously one of the challenges when using avocados is the fact that they turn brown when exposed to air (or more preciously, when exposed to oxygen). And since avocados are a main ingredient in this hummus dip, you can expect some change in color if you make it in advance. A couple of things do help:
Use a bit more lime juice. I love the bright taste the lime juice adds, but it can also help preserve some of the beautiful green color.
To chill the avocado hummus dip for a bit, cover it tightly, pressing plastic wrap directly on the surface of the dip to prevent air exposure.
Ways to serve it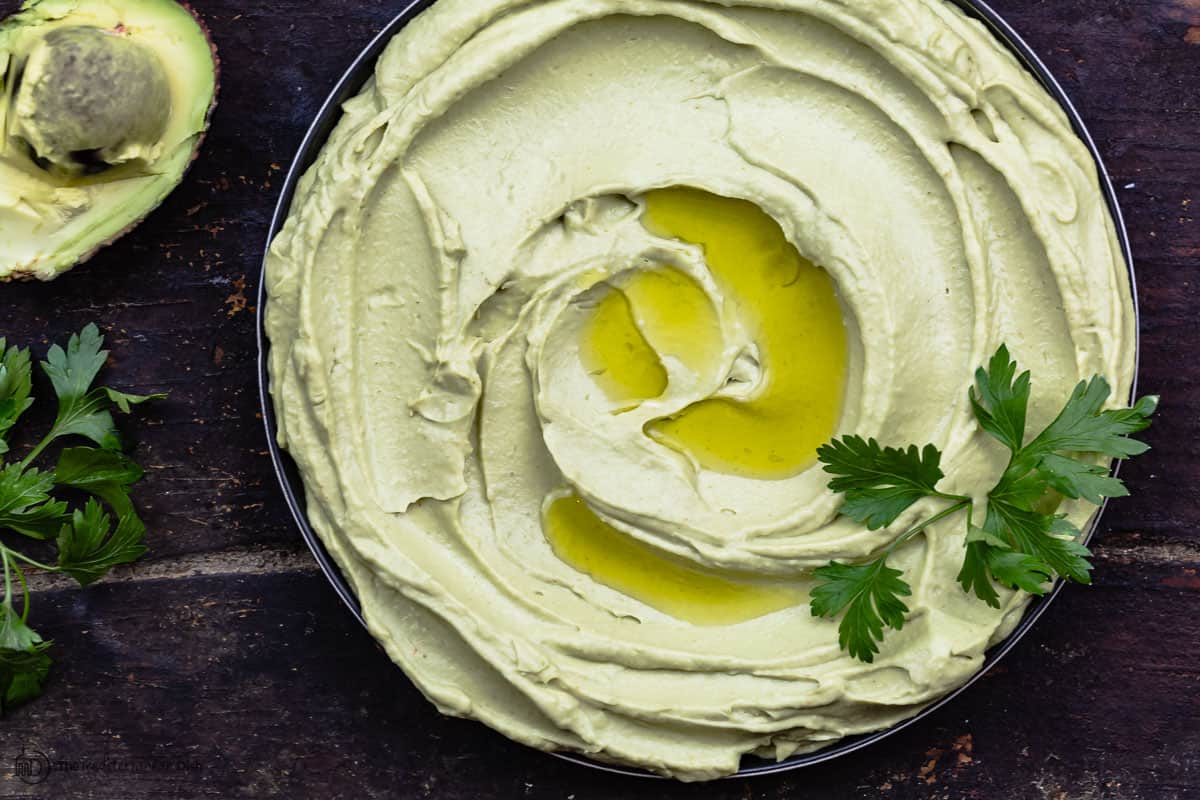 Bonus: Salsa Verde
I promised you a bonus recipe for salsa verde that I occasionally serve alongside this avocado hummus because they just go so well together.
The salsa verde will take 5 tomatiolls (or 2 green tomatoes), 1 small red onions, a big handful of fresh cilantro, and jalapeno peppers to your taste.
Clean out your food processor and add the salsa ingredients and give them a few pulses with a little lime juice, extra virgin olive oil and some kosher salt.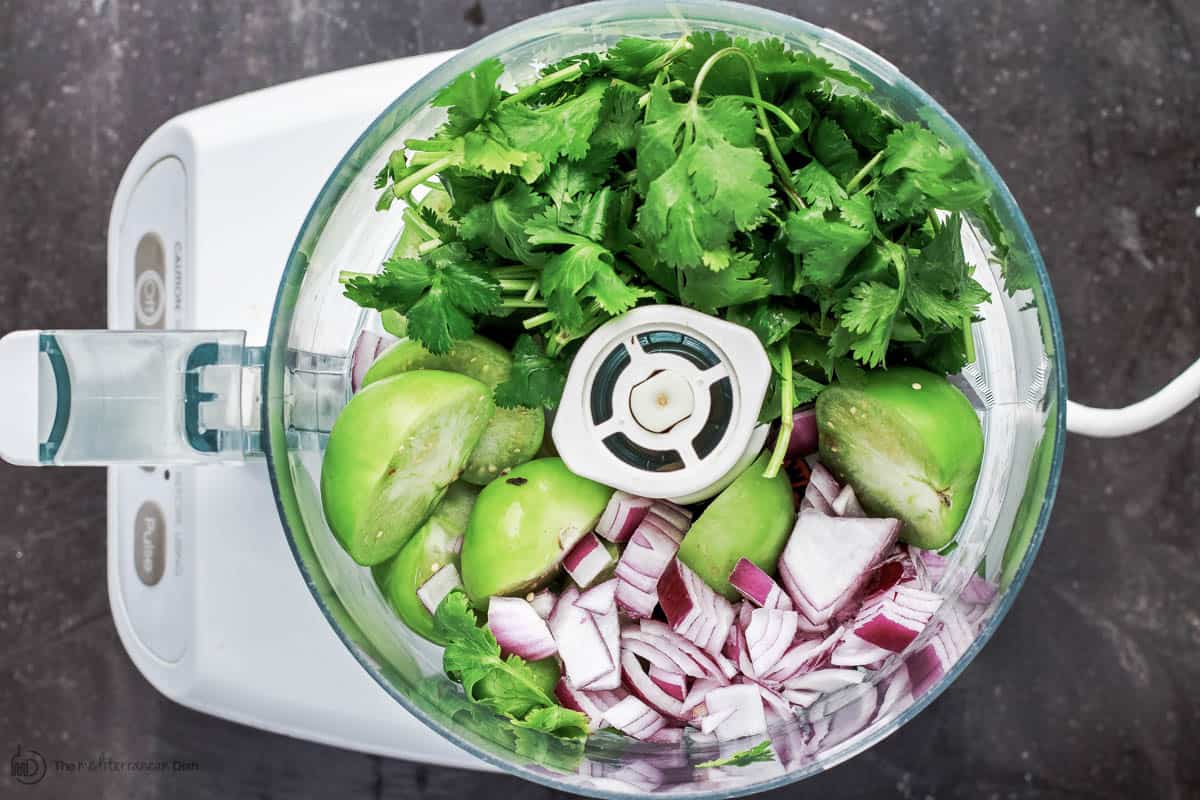 Leftovers
I prefer to make and serve avocado hummus on the same day, but if you have any leftovers, you can refrigerate for up to 2 nights. Follow my earlier tip and wrap the dip tightly with plastic wrap, pressing the wrap directly on the surface of the dip to minimize exposure to air. It may still change color a bit.
The salsa verde will keep well in the fridge for 1 night. Store it separately in an air-tight container.
More Recipes to Try:
Mediterranean Grilled Chicken with Yogurt Sauce
50+ Top Mediterranean diet recipes. For all recipes, visit us here. JOIN MY FREE E-MAIL LIST HERE.
Print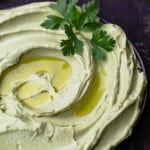 Avocado Hummus Recipe
---
Author:

Suzy Karadsheh

Total Time:

20 mins

Yield:

serves up to 8

Diet:

Vegetarian
Description
This creamy avocado hummus packs flavor from garlic, lime juice, cumin and a pinch of caynne. Perfect with just a drizzle of good extra virgin olive oil. But if you want to go the extra step, jazz things up by adding the slasa verde on top or next to it. Bring on the chips! Be sure to read the recipe notes.
---
For Avocado Hummus
1

to

2

garlic cloves

15

-oz can chickpeas, drained (or roughly

2 cups

cooked chickpeas)

2

medium ripe avocados, roughly chopped

2 tbsp

Greek Yogurt (omit if vegan)

3 tbsp

tahini
salt

1 tsp

ground cumin

½ tsp

cayenne pepper (or Aleppo pepper), more to your liking

½

lime, juice of, more to your liking
Liquid from canned chickpeas, if needed
---
Instructions
In a large food processor, fitted with a blade, add the hummus ingredients (garlic, chickpeas, avocados, Greek yogurt, tahini, salt, cumin, cayenne and lime juice). Run the food processor to blend until the hummus mixture is smooth.
Test, and if it's too thick, add a very little bit of the chickpeas canning liquid. Run the processor again until you achieve the desired creamy consistency. Adjust seasoning as needed.
Transfer the avocado hummus to a serving dish and cover tightly with plastic wrap (if you press the plastic warp well, it will help prevent air from changing the color of the avocado hummus). Chill a few minutes before serving. Uncover and smooth the surface of the hummus and drizzle a bit of extra virgin olive oil. Garnish with fresh parsley or another herb if you like.
Enjoy with pita bread or pita chips.
Notes
Bonus Salsa Verde Recipe: clean the food procoessor. Add 5 cut up tomatillos (or 2 green tomatoes), a large handful of cilantro, 1 small and roughly chopped red onion, 1 jalapeno pepper, roughly cut, 1 garlic clove, lime juice and a drizzle of extra virgin olive oil. Season with a bit of kosher salt. Pulse the food processor a few times to blend.
For even more creamy avocado Hummus: This is completely optional, but you can work on the chickpeas a bit for an even creamier finish. Boil the canned chickpeas in their juices with a bit more water for 15 minutes or so. Peel the chickpeas by rubbing handfuls under running water (see how I do this in my earlier hummus tutorial).
Tip for Leftovers: Store leftover avocado hummus, tightly wrapped, in the fridge for 2 nights. Salsa verde can also be stored in the fridge separately for 1 night.
Visit Our Shop to browse quality Mediterranean ingredients including spices and extra virgin olive oil used in this recipe.
Prep Time:

20 mins

Category:

Appetizer

Method:

Blended

Cuisine:

Mediterranean
*This post first appeared on The Mediterranean Dish in 2015 and has been revised with new photos and information for readers' benefit.