A green smoothie recipe that's fresh, creamy, and minty? Yes, please! This vegan green smoothie packs a punch with more than three servings of fruit and vegetables and no added sugar, yet still tastes like a special treat.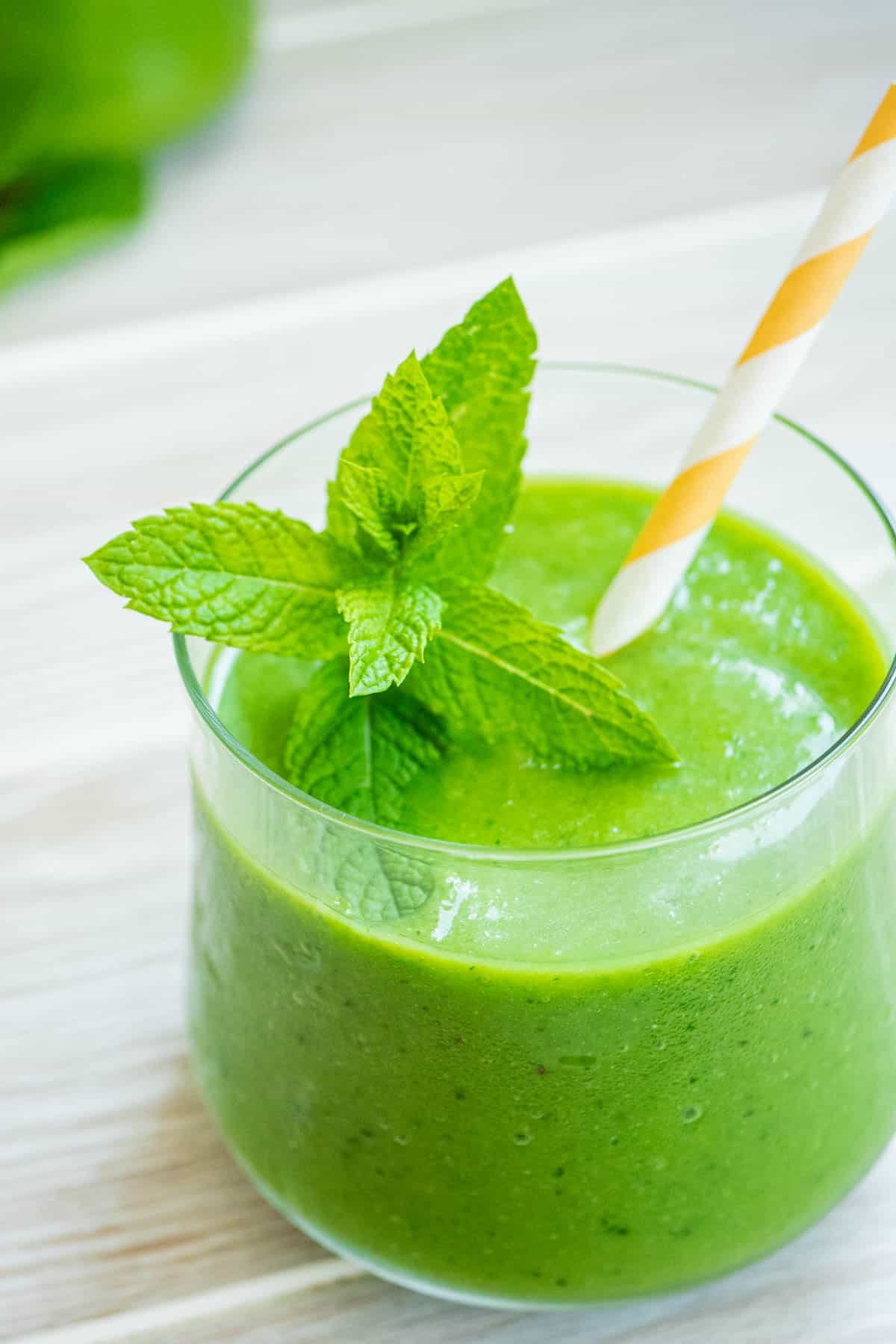 This green smoothie recipe with nutrient-rich spinach balances tart and sweet flavors for a refreshing morning wake-up call or much-needed afternoon boost.
Wondering how a smoothie can be creamy and yet dairy-free? Frozen bananas and avocado do the heavy lifting, giving this healthy smoothie a luxurious creaminess with no dairy necessary.
Plus, they both add a richness that makes it satisfying enough for a morning breakfast, perhaps with a boiled egg and cucumber and tomato salad on the side. Yes, salad for breakfast is part of the Mediterranean morning!
Table of Contents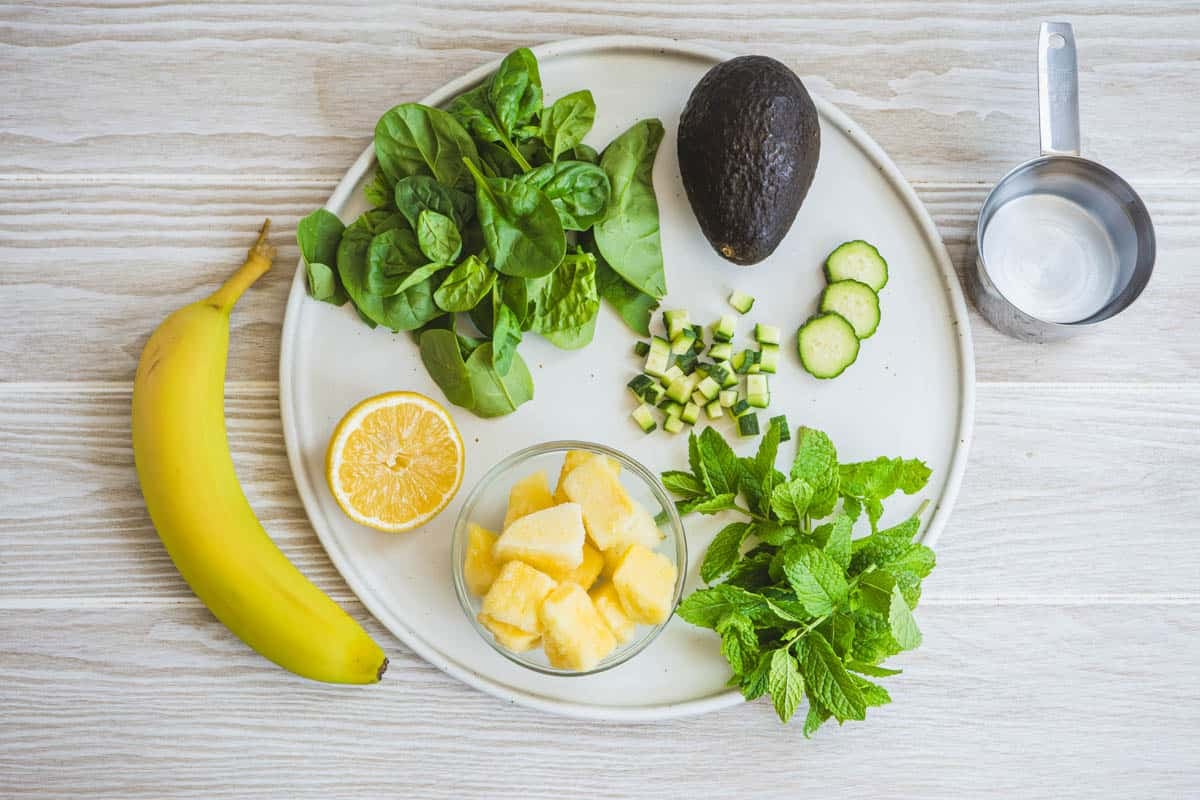 What You'll Need
If you've ever grown mint in the garden, you know it can become abundant quickly. I'm always trying to find new ways to use it, and fresh in this green smoothie recipe is my current favorite. You'll also need:
Spinach: Packed with healthy vitamins and minerals. Mature spinach or baby spinach both work well, just be sure to remove any tough stems.
Coconut water: Keeps this smoothie nice and light–just be sure to look for all natural coconut water with no added sugar. You can substitute with filtered water or use unsweetened almond milk for a heartier smoothie.
Avocado: Rich in vitamins, avocado also adds creaminess and body to the smoothie.
Cucumber: Adds a cooling quality. Opt for English or Persian cucumbers as they tend to be less bitter.
Banana: Adds body and balances the tartness.
Pineapple: The pineapple's sweet, tart juice overpowers the vegetal flavor of the spinach and makes this smoothie super refreshing.
Mint: A major flavor-booster, mint makes this smoothie extra refreshing. Spearmint is most common but there are so many interesting varieties to choose from, especially in farmers markets. I grow Moroccan mint in my garden, which has a sweeter and stronger flavor. You also can use peppermint but keep in mind that it has a much stronger flavor and you will not need as much.
Lemon juice: A squeeze of fresh juice ties all the sweet and bright flavors together. You can add more or less to taste.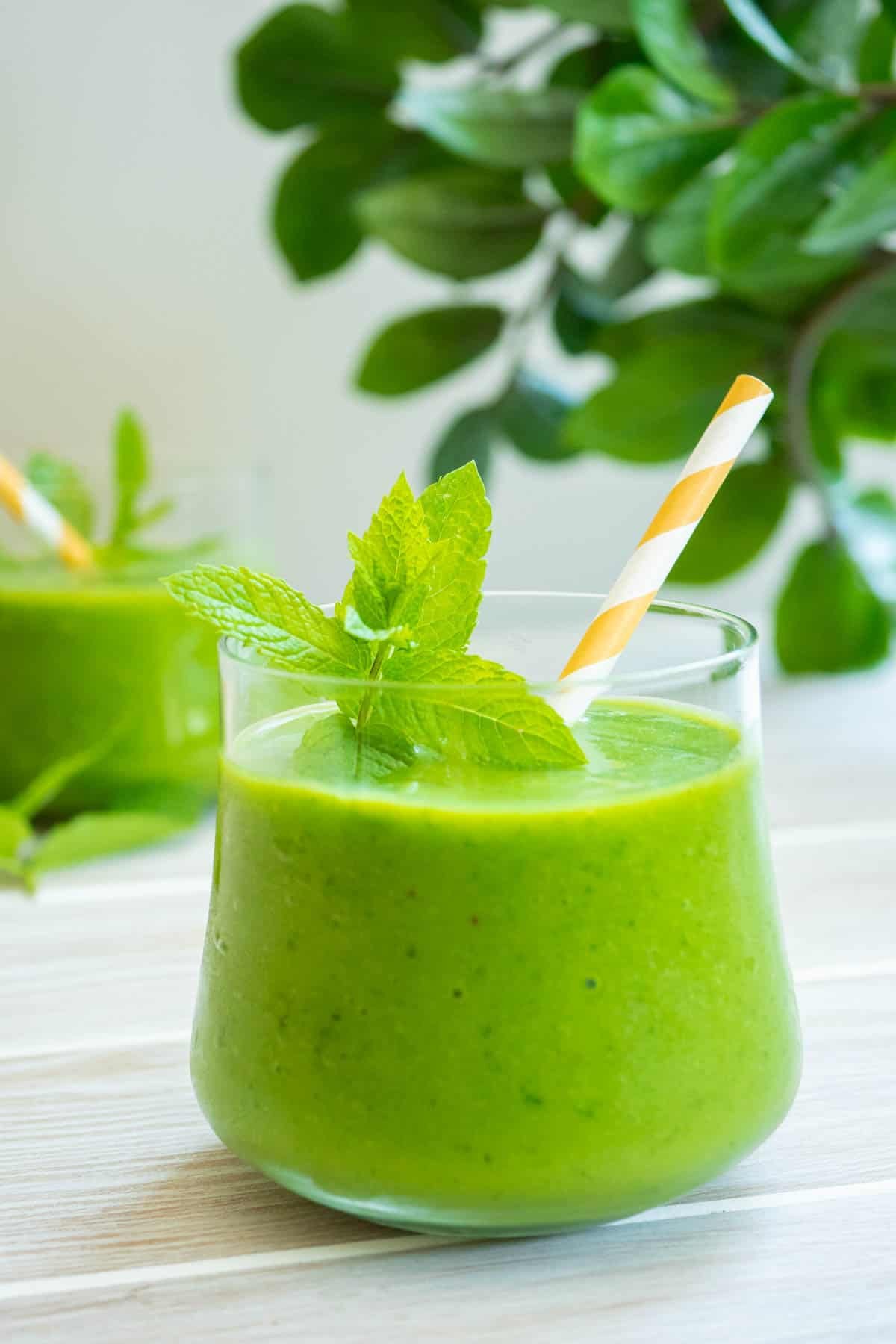 How to Make this Green Smoothie Recipe
This green smoothie recipe couldn't be easier: all you have to do is blend! If you don't have frozen items on hand, lower the amount of liquid and add in some ice to make it nice and cold.
Fill the blender: In a blender, add 1 cup spinach leaves, 1 cup of coconut water (filtered water or almond milk), ½ an avocado. Remove the seeds and chop enough cucumber to yield ½ cup. Add, along with ⅓ cup of frozen banana slices, ¾ cup of frozen pineapple pineapple chunks, and 3 tablespoons of chopped mint leaves. Squeeze in 1 tablespoon of lemon juice.
Blend and serve: Blend until you've reached your desired consistency, 30 to 45 seconds. Pour into a serving glass and enjoy immediately.
Tips for this Green Smoothie Recipe
This green smoothie recipe is quick and easy, but here are a few of extra tips to make it extra delicious.
Adjust the consistency to your liking. This recipe uses a blend of fresh and frozen fruit and vegetables for a smooth consistency. For a thicker smoothie, substitute more frozen items like frozen chopped spinach and frozen avocado chunks. If you like a lighter, more liquid consistency, use more fresh chopped fruit and vegetables.
Always chop mint before adding it to the blender. I know, chopping first might seem like a chore, but it ensures you have consistently tiny pieces throughout your smoothie and don't end up with a tough leaf stuck between your teeth.
Too much mint will turn your smoothie bitter. If you're a big mint-lover, always start small and add more to taste.
Optional Additions
I love a little zing in my green smoothies, and also the ability to add in extras like protein on any given day. Here are my favorite ways to give this green smoothie recipe a little boost:
Add spice: Grate in 1 teaspoon of fresh ginger to give this smoothie a kick.
Add protein: The avocado has natural protein, but ¼ cup of cauliflower rice or 1-2 scoops of vanilla protein powder will make this smoothie even more filling.
Add kale: Substitute all or half of the spinach with kale for higher vitamin C, K, and A levels.
Other healthy boosters: Add 1-2 scoops of collagen,1 tablespoon of ground flax seed, and/or 1 tablespoon of whole chia seeds before blending.
What to Serve with this Green Smoothie
I love this green smoothie as a healthy way to start my morning or as an afternoon snack. Depending on your appetite, this smoothie may be enough to satiate you on its own.
That said, if you're looking for a fuller meal, you have the vegetables covered. Look for savory, protein-packed recipes that will balance the bright, sweet, creamy smoothie. 15-Minute Mediterranean Breakfast Bowls, soft scrambled eggs, or even hummus and pita all come to mind.
Or, turn this recipe into a breakfast bowl topped with homemade granola and a drizzle of Greek honey. For more ideas, check out our guide to the ultimate Mediterranean breakfast.
More Healthy Drink Recipes

Browse all Mediterranean recipes.
Visit Our Shop
Get The Mediterranean Dish Cookbook
More than 120 recipes for bright and flavorful Mediterranean diet-inspired meals.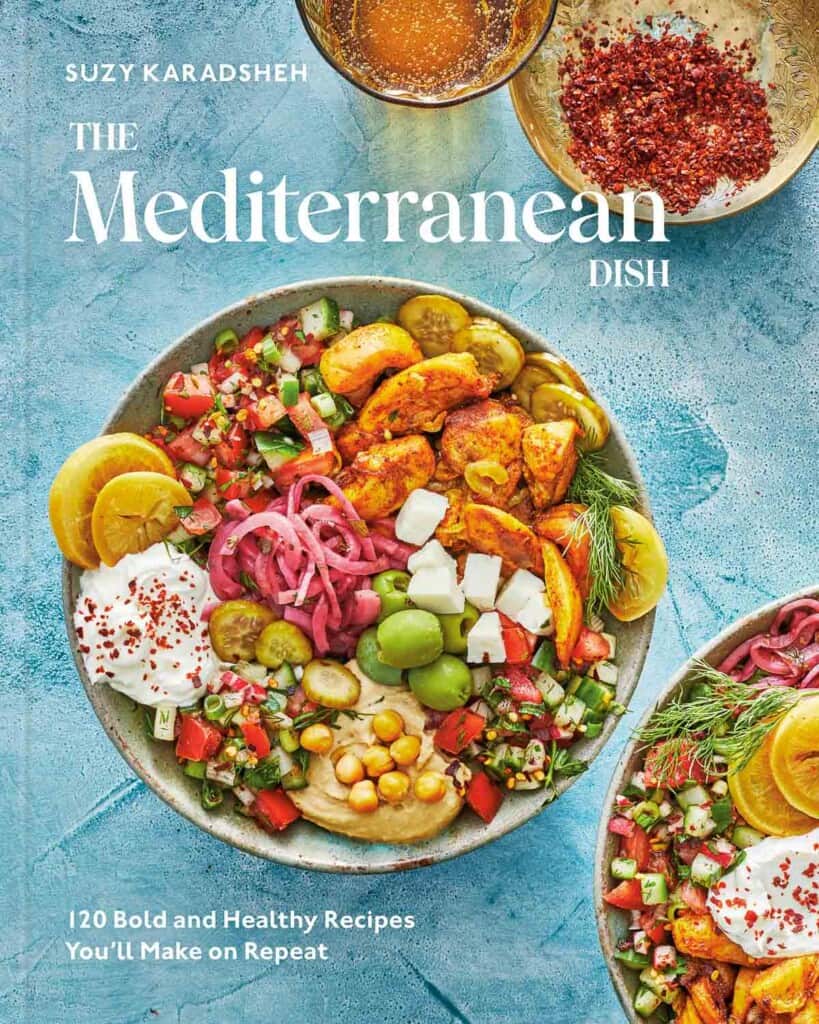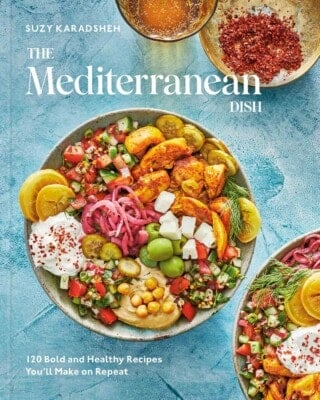 Green Smoothie with Mint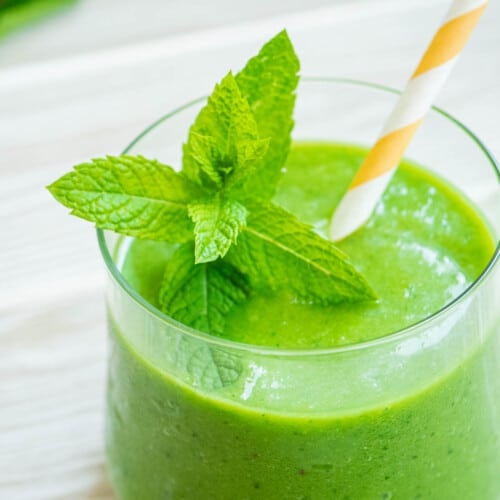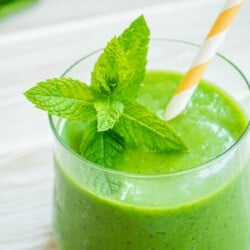 This green smoothie recipe is vegan and all about freshness, with spinach adding a nutritional boost, avocado and banana adding creamy richness, and mint and cucumber giving a refreshing, cooling quality. With over three servings of fruit and vegetables and no added sugar, this smoothie is the perfect addition to your healthy breakfast rotation.
Ingredients
1

cup

spinach leaves,

tough stems removed

1

cup

coconut water,

water, or unsweetened almond milk

½

avocado

½

cup

chopped cucumber,

peeled and seeds removed

⅓

cup

frozen banana slices

¾

cup

frozen pineapple chunks

3

tablespoons

finely chopped mint leaves

1

tablespoon

fresh lemon juice
Instructions
Blend: In a blender, add the spinach, liquid of choice, avocado, cucumber, banana, pineapple, mint, and lemon juice. Blend until desired consistency is reached, 30 to 45 seconds.

Serve: Pour into a serving glass and enjoy immediately.
Notes
To freeze bananas, first remove them from their peel. Slice into chunks and freeze in a plastic bag.
If you don't have the frozen ingredients on hand, lower the amount of liquid and add in a handful of ice to make the smoothie nice and cold.
Visit our shop to browse quality Mediterranean ingredients including olive oils, honey, jams and spices.
Nutrition
Calories:
341.5
kcal
Carbohydrates:
50.9
g
Protein:
6.8
g
Fat:
16
g
Saturated Fat:
2.7
g
Polyunsaturated Fat:
2.1
g
Monounsaturated Fat:
9.9
g
Sodium:
290.6
mg
Potassium:
1760
mg
Fiber:
14.8
g
Sugar:
26.6
g
Vitamin A:
3749.6
IU
Vitamin C:
100.4
mg
Calcium:
164.6
mg
Iron:
3.5
mg