This mango smoothie is made with just four ingredients and no added sugar. It's perfect for a quick and easy breakfast or any time you're craving a sweet treat.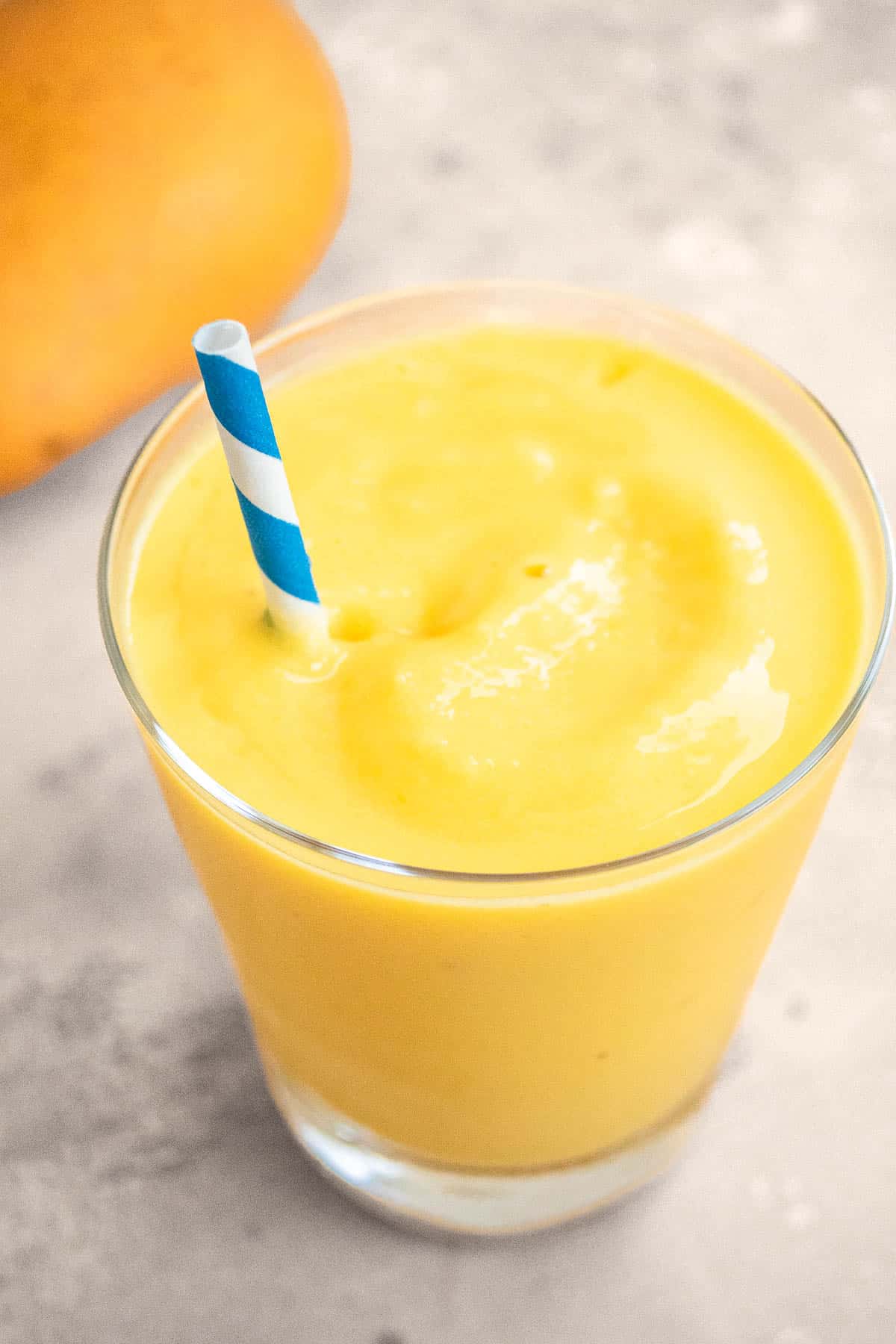 This mango smoothie recipe is simple: just blend a handful of fresh fruits and a few scoops of yogurt until it's smooth and rich. That's it!

Like my green smoothie with mint, it's one of my favorite ways to wake up in the morning, on its own or as a mango smoothie bowl topped with homemade granola and a drizzle of Greek honey. This version, though, with its sweet, slightly tropical flavor and luxurious creaminess, is just as fitting for a healthy dessert.
Save time by using pre-frozen ingredients and get a smoothie in your hands in under 5 minutes. While it's nutritious on its own, this mango smoothie recipe also provides a great base for adding extras, from increasing your fiber, to protein, to even your daily serving of vegetables.
Table of Contents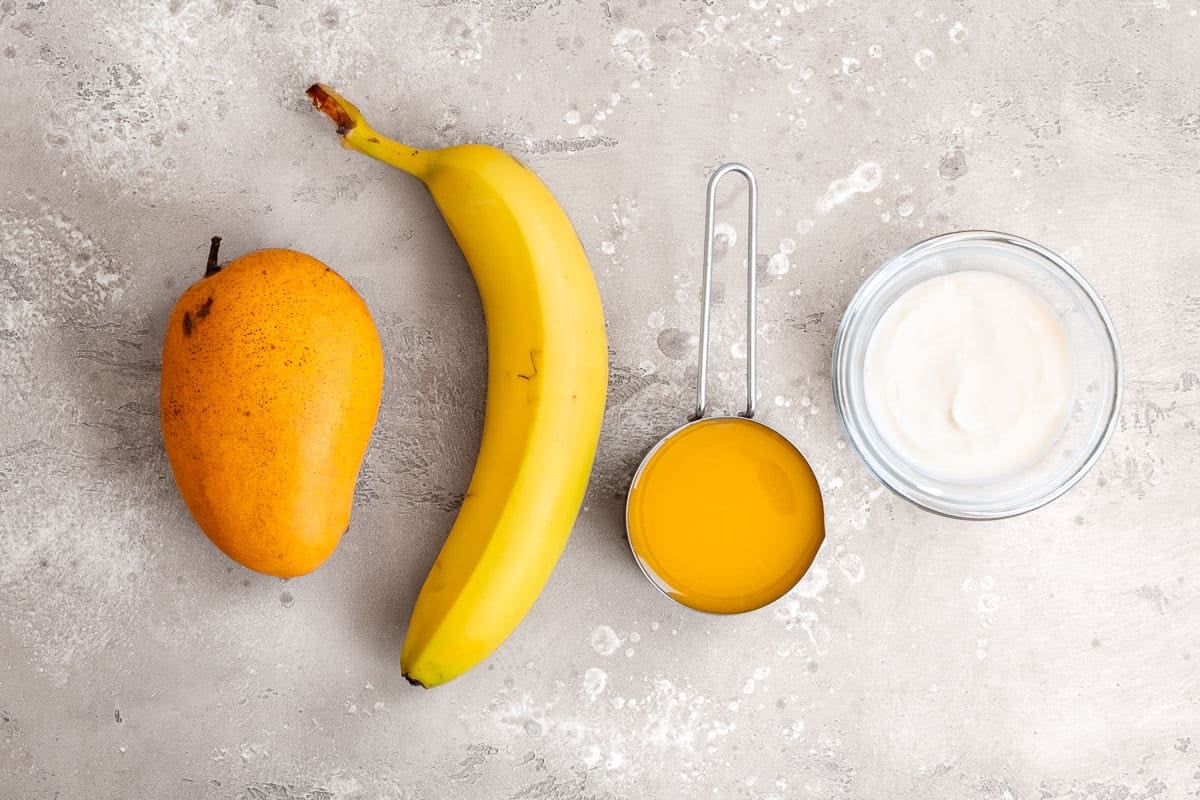 Mango Smoothie Ingredients
This mango smoothie feels like it should be a dessert, as it's sweet and creamy and blends together like an ice cream, but it's just fruit and yogurt! You'll need:
Frozen fruit: Find frozen mango and bananas in the freezer aisle to save time, or freeze from fresh for the best flavor.
Orange juice: Fresh is best, as always, but you can save time by buying pre-squeezed. Just make sure it's 100% juice with no added sugar so it's not too sweet.
Yogurt: Use plain whole milk or plant-based yogurt. Read the label to ensure there's no added sugar to prevent making your smoothie too sweet. Greek yogurt is a great option for added protein. This smoothie recipe boasts about 8 grams of protein if you use Greek yogurt (versus 3 from standard), according to the USDA.
How to Make a Mango Smoothie
When it comes to breakfast simple is best. And while you can enjoy this anytime of day, we make smoothies for breakfast in my family. This mango smoothie recipe doesn't have any bells or whistles: all you need to do is blend. To make it:
Blend. In a blender, add 1 cup of frozen mango chunks, ½ cup of frozen banana slices, 3 tablespoons of yogurt, and ½ cup of orange juice. Blend until it's smooth. You can add a splash of water or juice to thin if you'd like a runnier smoothie.
Serve. Pour into 1 large or 2 small glasses and enjoy.
Tips for this Mango Smoothie Recipe
I love the convenience of pre-cut frozen fruits from my local market. Frozen fruit also has the benefit of blending together to form an icy-cold smoothie that feels like I'm indulging in sorbet or ice cream for breakfast. A couple of things to keep in mind:
Use frozen fruit within 6 months. Frozen fruit that has been hanging around too long in a freezer whose temperature has fluctuated is vulnerable to the dreaded freezer burn. Besides a lot of annoying ice crystals that need to be knocked off before using (or you'll just be watering down your smoothie), the quality of the fruit can also be degraded. Make sure to use a bag of frozen fruit that's been in the freezer for less than 6 months.
Fresh versus frozen fruit: Fresh fruit is also delicious, but you'll need to add ice to get a more smoothie-like consistency. If you take one more step and "freeze from fresh" yourself, that freshness will carry over into the frozen fruit and can sometimes give a more pleasant consistency and fresher taste to the final smoothie.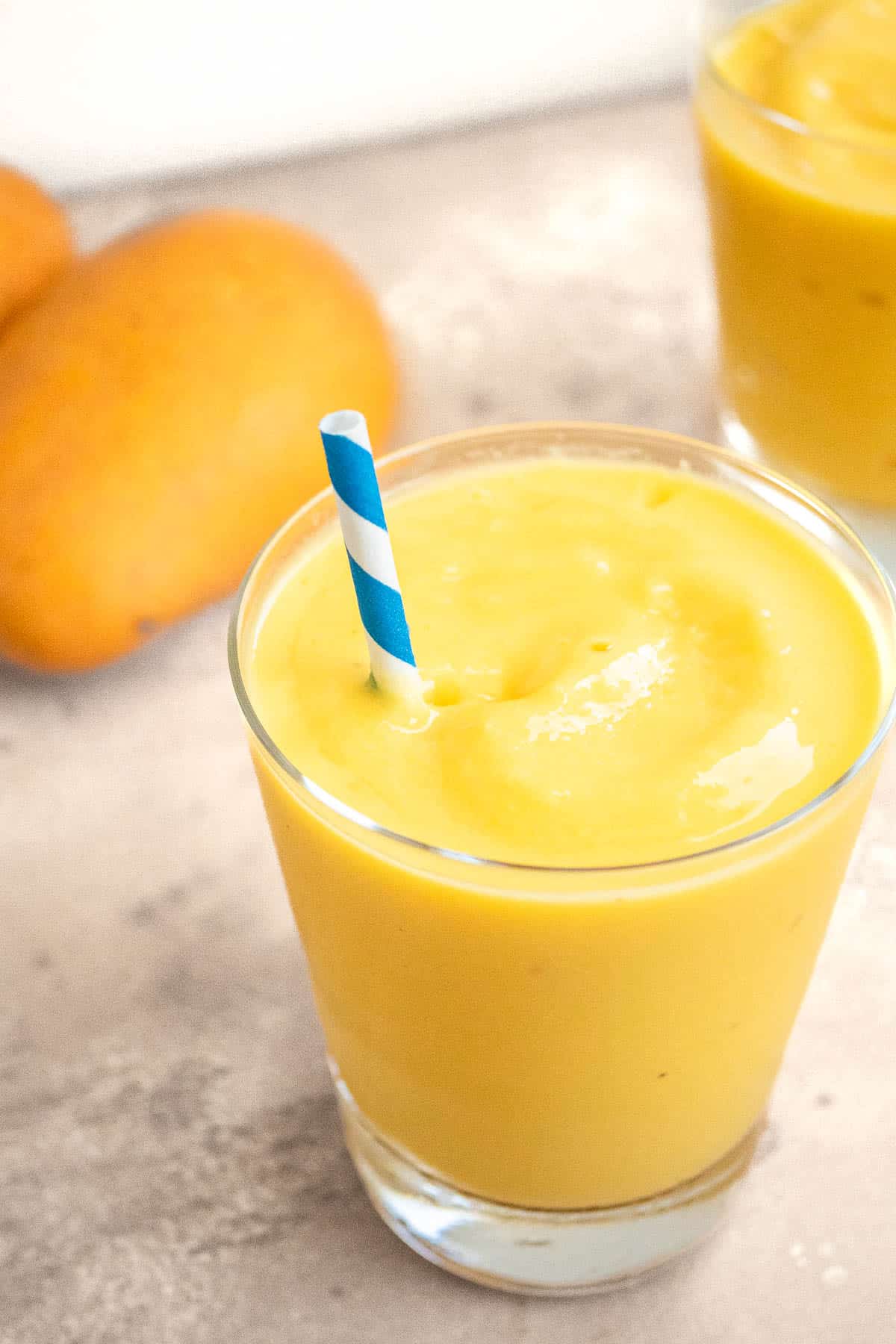 How to Freeze Fruit for Smoothies
Freezing the fruit yourself, rather than buying fruit from the freezer aisle, ensures a fresher tasting smoothie. To freeze the mango and bananas yourself:
Peel and chop the fresh fruit into 1-inch pieces.
Spread the slices evenly on a parchment-lined baking sheet. Freeze for at least 4 hours or overnight. You can then use in a smoothie immediately, or place in a freezer-safe container or resealable bag for later use.
Freeze for up to 3 months.
Optional Additions
The great thing about smoothies is that they can pack a lot into one serving. Looking to add fiber or an extra serving of vegetables? Try a few of these add-ins below:
1 tablespoon ground flax seed
1 tablespoon whole chia seeds
1-2 scoops of your favorite protein powder (I like vanilla here)
1-2 scoops of collagen
¼ cup cauliflower rice (gluten-free vegan protein)
¼ cup frozen pineapple chunks for a more tropical smoothie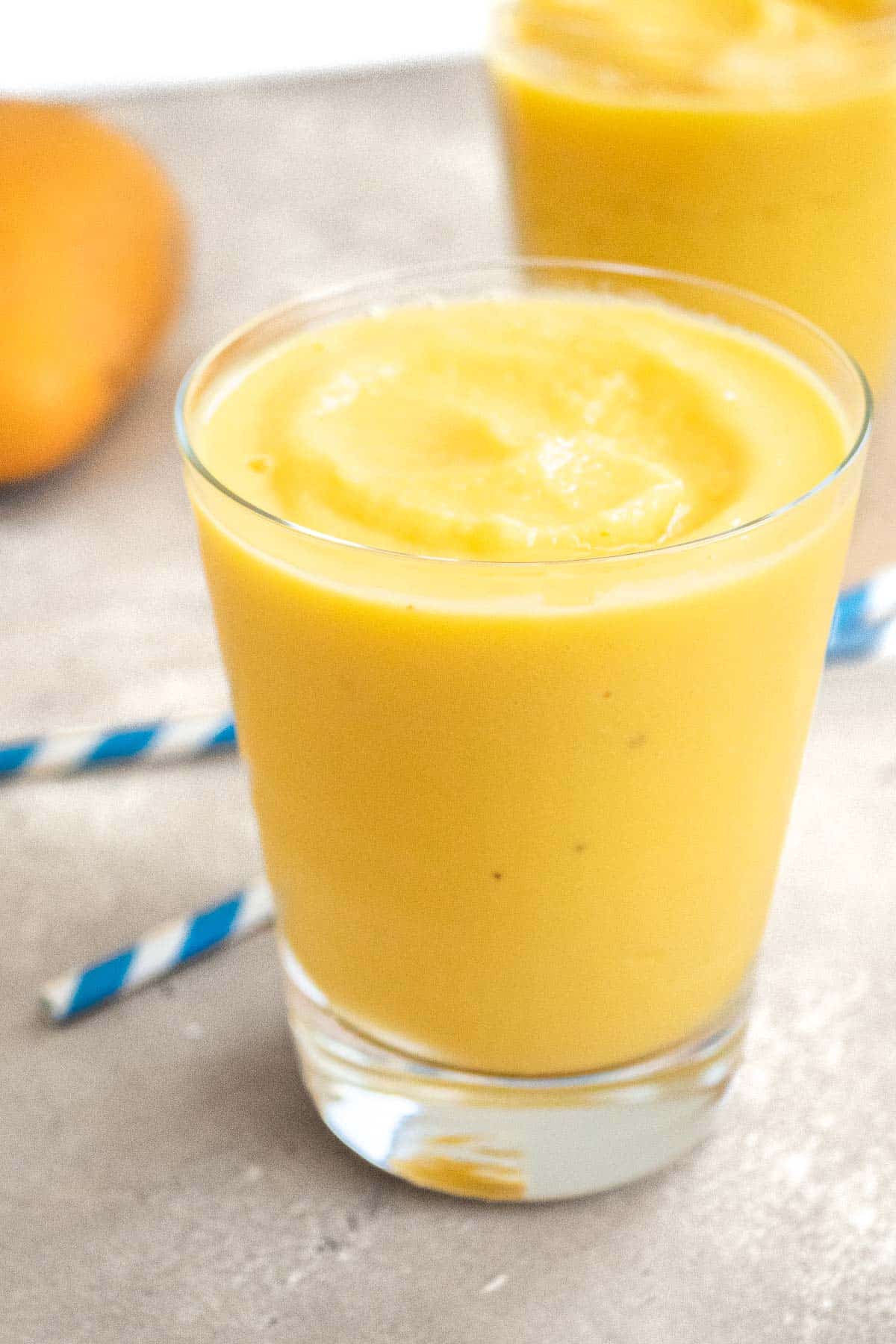 What to Serve with this Mango Smoothie
With creamy and protein-rich yogurt, this mango smoothie may be enough to satisfy a snack craving or light breakfast all on its own, particularly if you add protein powder or cauliflower rice.
For a fuller meal, serve with savory snacks like fried eggs and hummus with simit sesame bread. Or, turn this recipe into a breakfast bowl topped with homemade granola and a drizzle of Greek honey. For more ideas, check out our guide to the ultimate Mediterranean breakfast.
You'll Also Like: Healthy Breakfast Recipes
Mediterranean Diet Recipes
Mediterranean Diet Recipes
Browse all Mediterranean recipes.
Visit Our Shop
Get The Mediterranean Dish Cookbook
More than 120 recipes for bright and flavorful Mediterranean diet-inspired meals.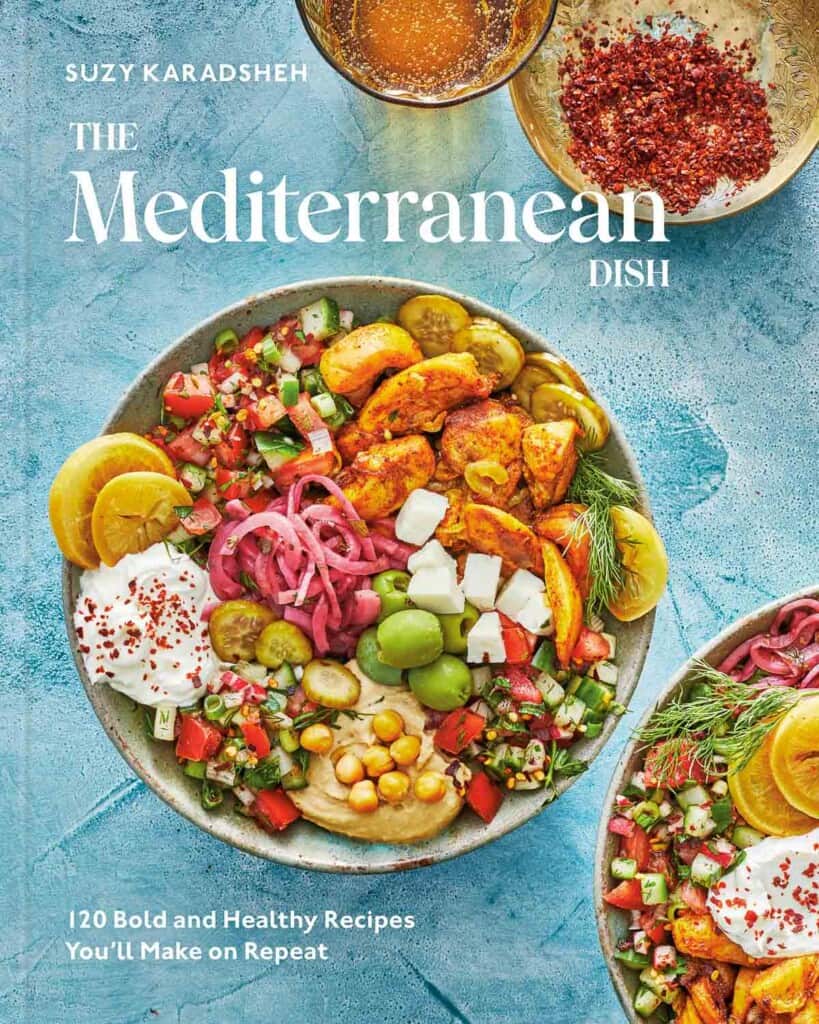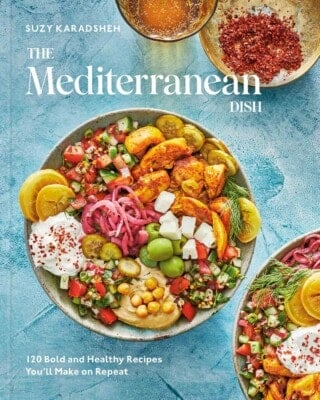 Mango Smoothie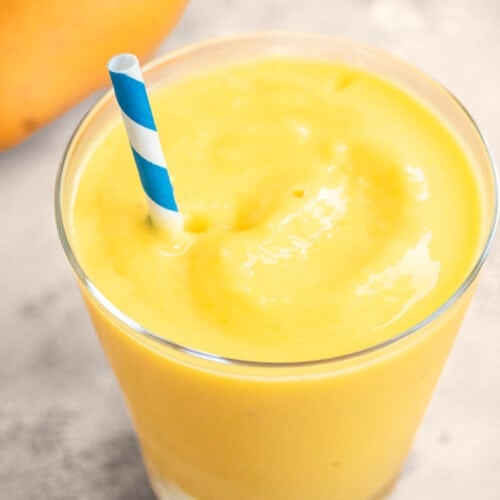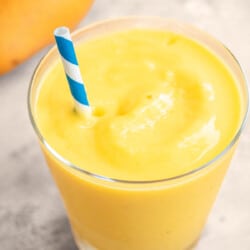 This creamy mango smoothie boasts no added sugar yet still feels like a special treat. Make for a quick breakfast, healthy dessert, or afternoon pick-me-up.
Ingredients
1

cup

frozen mango chunks

½

cup

frozen banana slices

½

cup

orange juice

3

tablespoons

plain yogurt

(whole milk Greek or plant-based)
Instructions
Blend. Add the mango, banana, yogurt, and orange juice to a blender and blend until your desired consistency is achieved, adding more water or juice to thin as necessary.

Serve. Pour into 1 large or 2 small glasses and enjoy.
Notes
If you don't have the frozen ingredients on hand, add in a handful of ice to make the smoothie nice and cold.
Visit our shop to browse quality Mediterranean ingredients including olive oils, honey, jams and spices.
Nutrition
Calories:
258.2
kcal
Carbohydrates:
57.5
g
Protein:
5.1
g
Fat:
3.1
g
Saturated Fat:
1.5
g
Polyunsaturated Fat:
0.3
g
Monounsaturated Fat:
0.8
g
Cholesterol:
7.8
mg
Sodium:
31.2
mg
Potassium:
886.7
mg
Fiber:
4.8
g
Sugar:
45
g
Vitamin A:
2140.7
IU
Vitamin C:
128.9
mg
Calcium:
108.1
mg
Iron:
0.7
mg