This Mediterranean-style citrus avocado dip will surprise your taste buds in the best way possible! So fresh, bright, and flavor-packed, and you'll love the satisfying chunky texture. Rich avocados, combined with bright oranges, fresh herbs, feta and more. Healthy, satisfying, Gluten free. Be sure to watch the video below for how to make this easy avocado dip!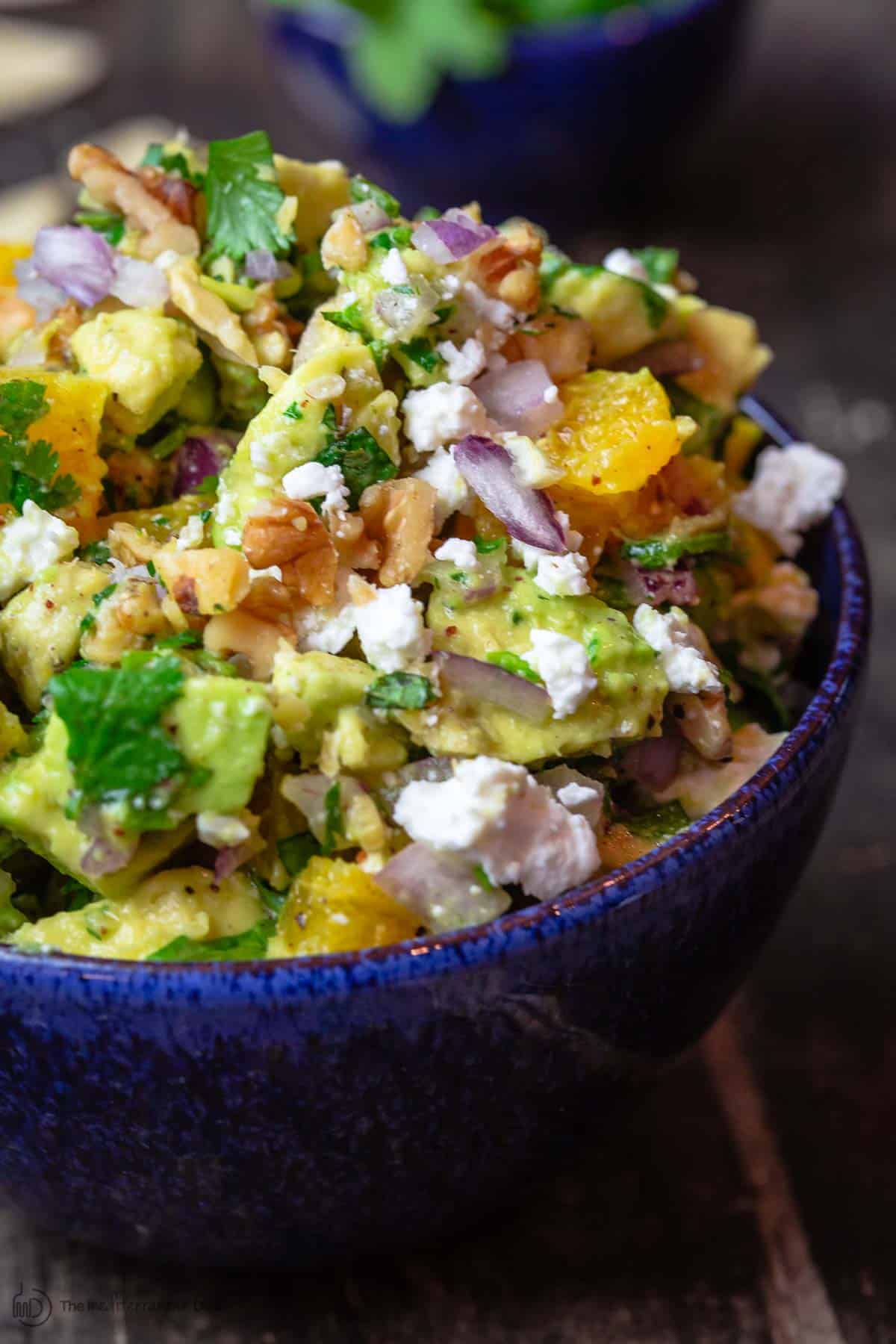 As I write this post, I'm experiencing a little guilt--like I'm cheating on my hummus and Baba Ganoush or something! But this epic citrus avocado dip deserves a place here, and I'm excited to share it with you!
Avocado Dip Recipe with a Mediterranean Twist
The name tells it all: citrus avocado dip recipe. Sharing the spotlight are two star ingredients, avocados and oranges. A bit of a surprising combination, but flawless in every way. One is rich and velvety, and the other bright and juicy. If you ask me, they play off each other so perfectly.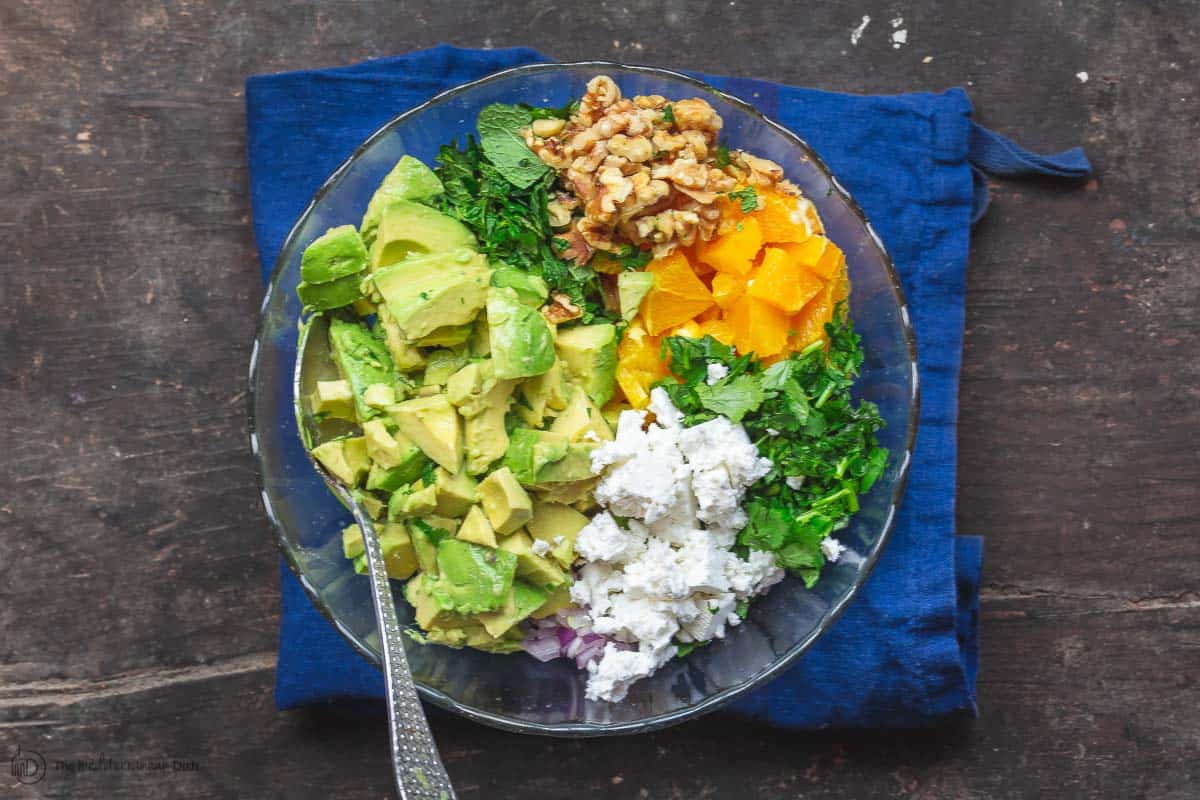 Oranges were my first hint at a Mediterranean twist here, but adding even more life and punch is a generous amount of fresh herbs: cilantro and mint. A bit of crumbled feta makes every thing better, in my opinion. Totally optional, but I think chopped walnut hearts add great texture and depth.
The seasoning here is simple, a bit of salt, pepper, tangy sumac and a pinch of cayenne. A splash of lime juice and a generous drizzle of rich Early Harvest extra virgin olive oil seal the deal for me!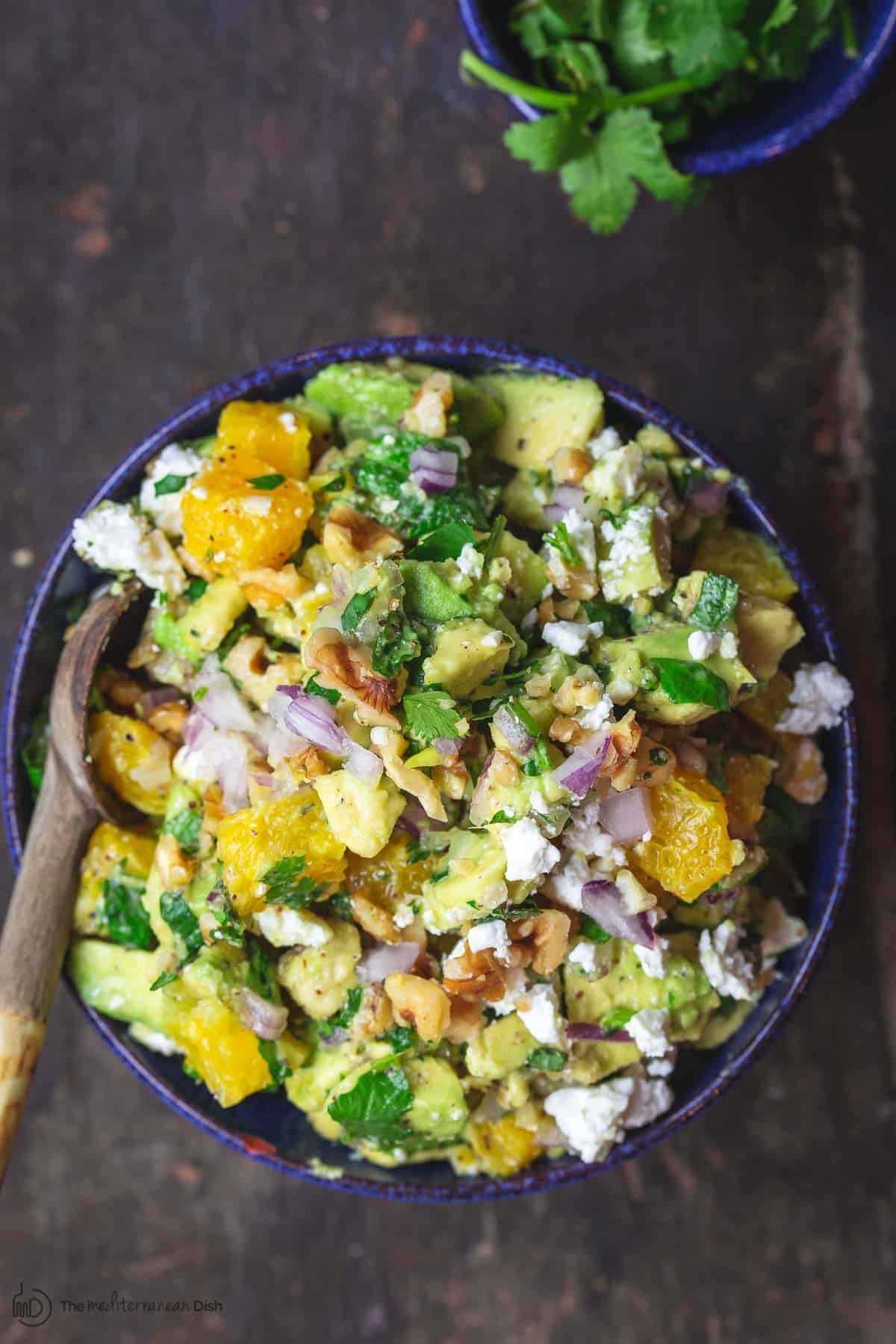 Ways to Serve This Dip
I love how versatile this avocado dip is. There would be nothing wrong at all with serving it the classic way--with your favorite chips or crostini as part of Mezze. But this satisfying dip would be just as welcomed piled on top of warm toast (similar idea to this), or as a fun side to a crispy Mediterranean trout or lemon chicken.
How long will this Avocado Dip Keep?
Although we barley ever have leftovers when I make this dip, this avocado dip will keep well for 1 to 2 days if properly refrigerated in a tight-lid glass container. As you know, like apples, avocados do turn brown because of oxidization. And after a couple of days in the fridge, if you notice a substantial puddle of brown liquid and the layers below the surface of the dip have lost their vibrant green hue, it's time to throw it out.
Watch the Video for How to Make this Avocado Dip Recipe:
More Recipes to Try
Briam: Traditional Greek Roasted Vegetables
Blackened Salmon with Pomegranate Salsa
NEVER MISS A RECIPE! JOIN MY FREE E-MAIL LIST HERE TO RECEIVE NEW RECIPES, WEEKLY MEDITERRANEAN DINNER PLANS, AND MY FREE E-COOKBOOK WITH 15 HEALTHY RECIPES TO TRY!
SHOP OUR ONLINE STORE FOR QUALITY OLIVE OILS, ALL-NATURAL SPICES AND MORE.
Print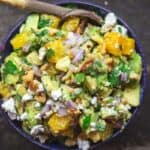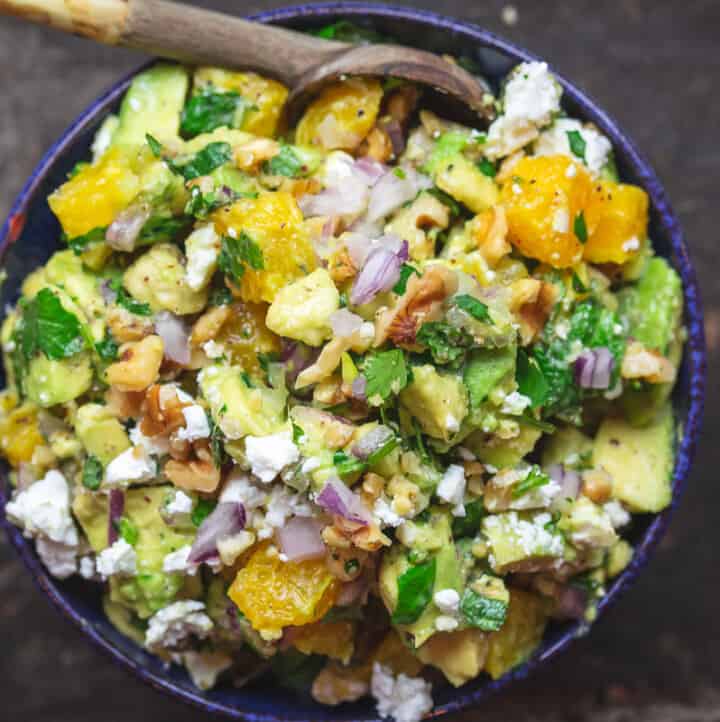 Chunky Citrus Avocado Dip
---
Description
This chunky citrus avocado dip borrows a bit of a Mediterranean twist that will surprise your taste buds in the best way possible. Bright and packed with flavor, and you will love the texture. This dip is so versatile, be sure to see how I serve it.
---
2

Navel oranges, peeled and diced

2

large avocados (or

3

smaller avocados), pitted, peeled and diced

½ cup

/ 60 g chopped red onions

½ cup

chopped cilantro

½ cup

/ 7 g chopped fresh mint

½ cup

/400 g walnut hearts, chopped
Salt and pepper

¾ tsp

Sumac
Cayenne
Juice of

1

lime
Generous drizzle Early Harvest Greek extra virgin olive oil

1 ¾ oz

/ 49 g crumbled feta cheese
---
Instructions
Place oranges, avocado, red onions, fresh herbs, and walnuts in one large bowl. Season with salt, pepper, sumac and pinch of cayenne.
Add lime juice and a generous drizzle of Early Harvest EVOO. Toss gently to combine. Add feta cheese on top. Serve with your favorite healthy chips.
Notes
Cook's Tip: If you are preparing this for a party and want to work a little bit ahead, you can prep some of the ingredients except the avocados. Peel and chop avocados and add them to the bowl with the remaining ingredients just before you need to serve them. Then dress everything up with the spices, lime juice and EVOO and mix.
Ideas for Serving This Dip: I love how versatile this avocado dip is. There would be nothing wrong at all with serving it the classic way--with your favorite chips or crostini as part of Mezze. But this satisfying dip would be just as welcomed piled on top of warm toast (similar idea to this), or as a fun side to a crispy Mediterranean trout or lemon chicken.
Tip for Storing Leftovers: this avocado dip will keep well for 1 to 2 days if properly refrigerated in a tight-lid glass container. As you know, like apples, avocados do turn brown because of oxidization. And after a couple of days in the fridge, if you notice a substantial puddle of brown liquid and the layers below the surface of the dip have lost their vibrant green hue, it's time to throw it out.
Recommended for this Recipe: Sumac spice and Early Harvest Greek extra virgin olive oil (from organically grown and processed Koroneiki olives)
Visit our store here
Prep Time:

15 mins

Category:

Appetizers

Method:

Mixing

Cuisine:

Mediterranean
Keywords: Avocado Dip, Mediterranean Dip, Healthy Party Dip