This Mediterranean-style savory oatmeal recipe with egg and vegetables gives you nutritious, flavor-packed breakfast bowls in about 20 minutes! Hearty oats are the perfect bed for sweet potatoes, tomatoes, and eggs with a little creamy feta, and a sprinkle of za'atar!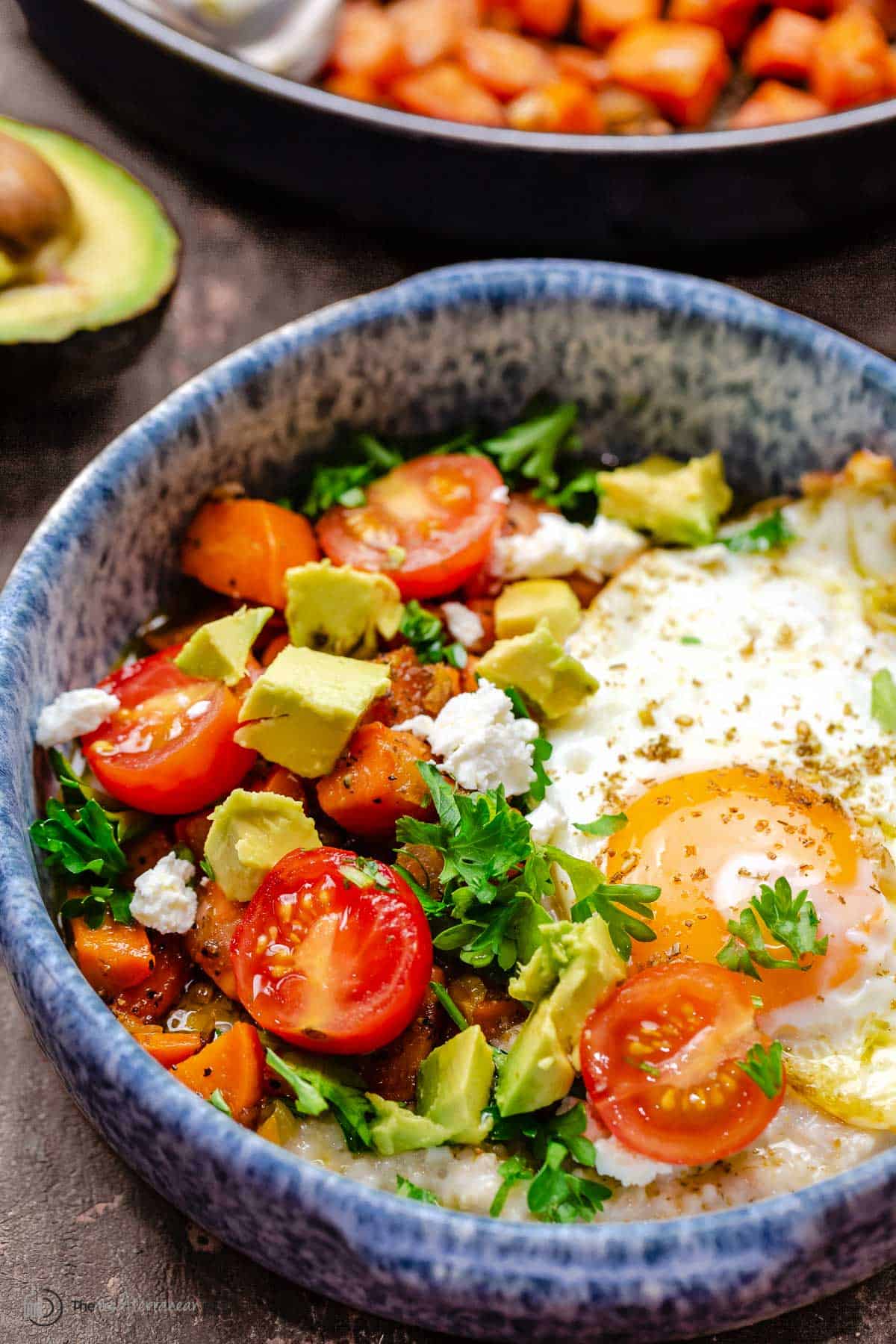 Mediterranean-style savory oatmeal for breakfast!
I'm not opposed to a warm bowl of oatmeal, doused in milk and sprinkled with brown sugar. But for something different and more satisfying, I turn to savory oatmeal.
This is another satisfying breakfast bowl recipe—although good for any time of the day, really— that begins with quick steel-cut oats, topped with sweet potatoes, avocados, tomatoes, and an egg (cooked any way want).
With fiber from the oats, sweet potatoes, and tomatoes, and protein from the eggs, plus healthy fats from creamy avocado and extra virgin olive oil, this is truly a breakfast of champions.

The finishing touches of fresh parsley, feta, and earthy za'atar give these bowls a distinct Mediterranean flavor. You can try these bowls with other spices as well (I just made them again with a pinch of my new favorite blend, baharat)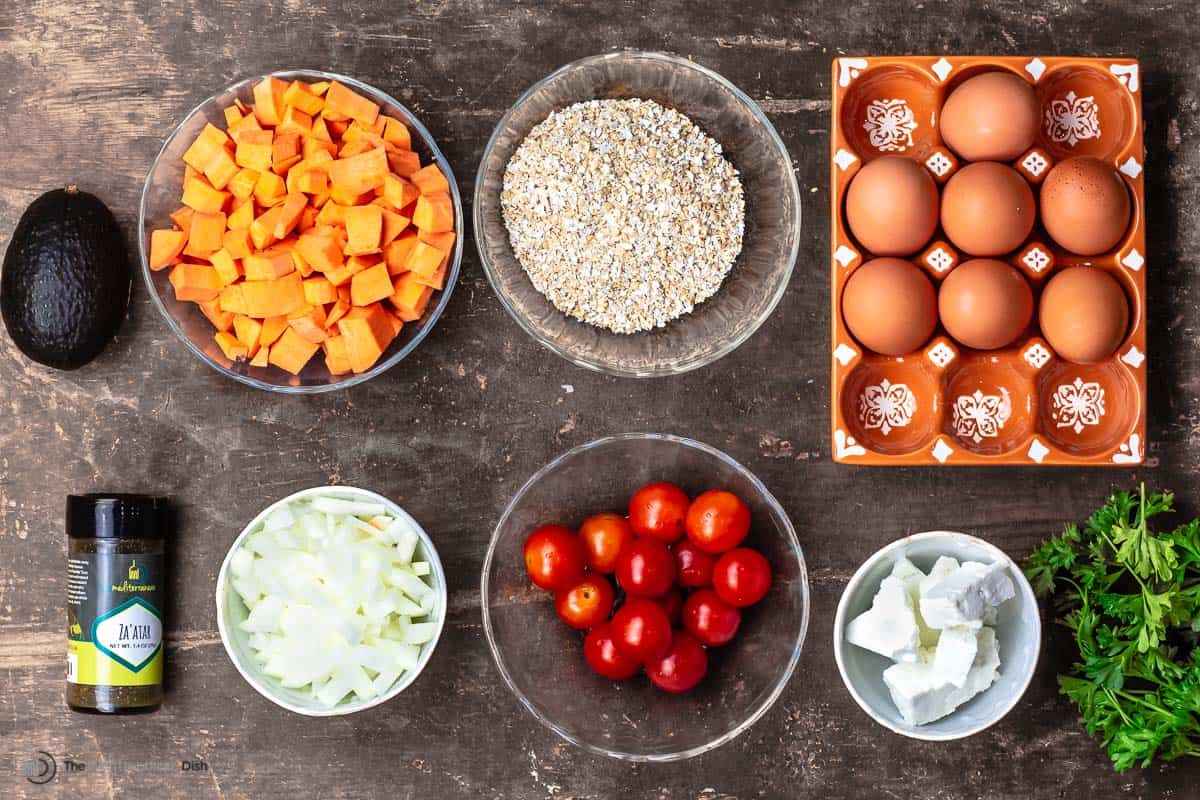 Ingredients: what you'll need for this savory oats recipe
For a quick, satisfying breakfast, you can't go wrong with a simple bed of oats loaded with delicious toppings! Here's what you'll need to make these breakfast bowls:
Oatmeal. I used quick-cooking steel-cut oats, which take about 5 minutes to cook. You can use any oatmeal options you like, just follow the package instructions.
Vegetables and fresh produce: Sweet potatoes (about 1 pound cut into small ½-inch cubes), yellow onion, cherry tomatoes, fresh parsley (for garnish). If you have a ripe avocado, peel and cut it into small cubes.
Cheese. My go-to is feta!I don't recommend buying pre-crumbled feta cheese, as it is usually quite dry. Instead, buy blocks of creamy feta in the brine and crumble some to your liking.
Spices and Seasonings for savory oats: Kosher salt and a sprinkle of citrusy, earthy, za'atar. But you can put different spices in your oatmeal, since it is neutral-tasting. For example, if you need a little spicy kick, you can add cayenne or Aleppo pepper. Other warm spices like cumin, coriander, or even baharat, my favorite new blend, will work in savory oats as well. Feel free to use your favorite seasoning instead!
Extra virgin olive oil. I recommend our Spanish Hojiblanca EVOO for this recipe.
How to make savory oatmeal with egg
Here is how to make these easy savory oats bowls (printer-friendly recipe below):
Cook the sweet potatoes. Heat a couple tablespoons extra virgin olive oil over medium-high heat in a large non-stick skillet. Once the oil is shimmering slightly, add 1 sweet potato (chopped into ½-inch cubes for faster cooking) and 1 chopped yellow onion, and season with kosher salt and black pepper. Cook uncovered for 5 minutes, tossing occasionally to encourage even browning. Cover and cook for another 5 to 7 minutes (or until the sweet potatoes are tender).



Cook the oats. Start cooking the oats after you start the sweet potatoes, because the oats will cook very quickly. Prepare 1 cup of rolled or quick-cooking steel-cut oats according to package instructions. Mine required 2 cups of water and just 5 minutes to cook. Once the oats are ready, season with kosher salt.



Cook the eggs according to your preference. I like frying my eggs sunny side up in a generous amount of good EVOO, but scrambled eggs, boiled eggs, or poached eggs would work great as well!
Assemble the savory oatmeal bowls. Start your bowl off with a base of cooked oatmeal. Spoon in some of the sweet potato and onion mixture, a bit of cubed avocado (don't forget to squeeze some lemon juice onto the avocado to prevent browning), and slide on your cooked egg. Add some halved cherry tomatoes, a sprinkle of chopped fresh parsley, freshly crumbled feta, and a dash of za'atar (or your preferred seasoning). Enjoy!


Variations: How to change up oatmeal bowls
Savory oat bowls lend themselves well to a variety of toppings, in part because oats have a very mild flavor and are easily complemented by stronger flavors. Oat bowls are also a great way to use up leftovers! Just start with a bed of cooked oats and go from there. Here are some ideas for more savory oatmeal bowls:
Use different oats: You can use rolled oats or other quick-cooking oats instead. If you have time, you could also use regular steel-cut oats. Keep in mind that regular steel-cut oats take anywhere from 20 to 30 minutes to cook. (Tip: If you are gluten-free, be sure to buy oats clearly labeled "gluten-free". While oats are naturally gluten-free, cross-contamination often occurs with gluten-containing grains. So if a product is labeled gluten-free, it has been kept away from other grains that contain gluten.)
Swap out the sweet potatoes: I like sweet potatoes with my savory oatmeal because of their bright color and mild natural sweetness, butyou can use basically any kind of potato. Or, if you want a lower-carb bowl, omit the potatoes altogether.
Use other vegetables or produce you have on hand: Sauteed kale, baby spinach, mushrooms, or cubed zucchini all make options that would pair well with oats, and would also add a bit of heft and a lot of nutrition. If you have made some roasted vegetables like my lemony broccoli and have some leftovers, use those instead of cooking veggies from scratch.
Change the protein: Have leftover ground beef or chicken? Skip the eggs and use that instead! Finishing up meals that are already cooked is also an easy way to save time making these oatmeal bowls. I've used leftover chicken shawarma and crumbled-up meatballs instead of eggs with great success! For a vegan option, add some crispy roasted chickpeas on your oats for a dose of plant-based protein and some crunch.
Play with the seasoning: I chose za'atar in this recipe because the subtle nuttiness and citrus undertones add Mediterranean flair to these oatmeal porridge bowls. But you can use whatever seasoning you like! You could use sumac for puckery sourness, a sprinkle of ground cumin for earthy warmth, or Aleppo-style pepper for mild heat. My new favorite blend is baharat, and it is all sorts of warm flavors!
Make the savory oatmeal bowls plant-based: Simply omit the egg and cheese, and use more vegetables for heft (spinach, kale, and mushrooms would be delicious). You can also add a dollop of creamy hummus for plant-based protein.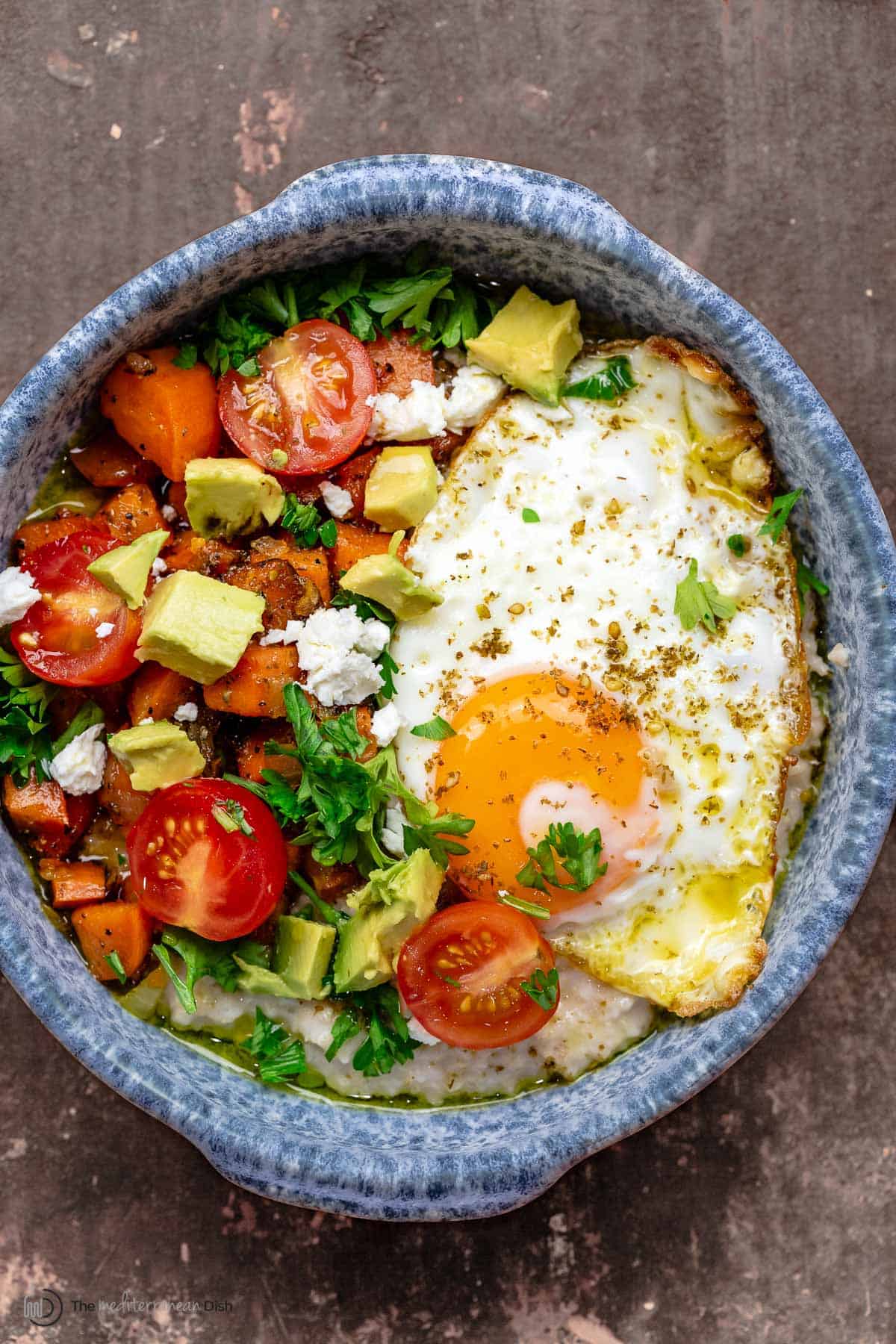 Make-ahead tips
To save time on a busy weekday morning, you can prepare most of the ingredients (except the eggs) ahead of time.
Cook the sweet potatoes ahead of time (1 or 2 nights in advance) and save them in a tight-lid container in the fridge. Better yet, if you have some cooked vegetables, use them here instead of cooking from scratch (I often use my leftover roasted sweet potatoes in these bowls).
Cook the oatmeal 1 or 2 nights ahead and store it in the fridge. Oatmeal will harden a bit in the fridge, so you will need to add some liquid to it when reheating (tips below).
When you're ready to eat, all that's left to do is cook your egg, crumble your feta, and assemble the savory oatmeal bowl.
Leftovers and storage
Store all leftovers in the refrigerator in separate airtight containers. Cooked oatmeal and the sweet potatoes will keep for 3 to 5 days.
Sweet potatoes can be reheated in a saucepan over medium heat.
To reheat oats, spoon them into a small saucepan and add a little water to help loosen them up. Warm over low to medium-low heat, adding more liquid if necessary, until the oats have returned to their previous creamy consistency. If you are a fan of overnight oats, these will work, too! Simply reheat them the same way as described above.
Featured in this recipe:
Extra virgin olive oil: Spanish Hojiblanca EVOO
Spice blends: Za'atar or baharat
More Mediterranean-style breakfast ideas
Hungry for more? Here are all our Mediterranean Recipes!

Visit Our Shop
Easy Savory Oatmeal Bowls Recipe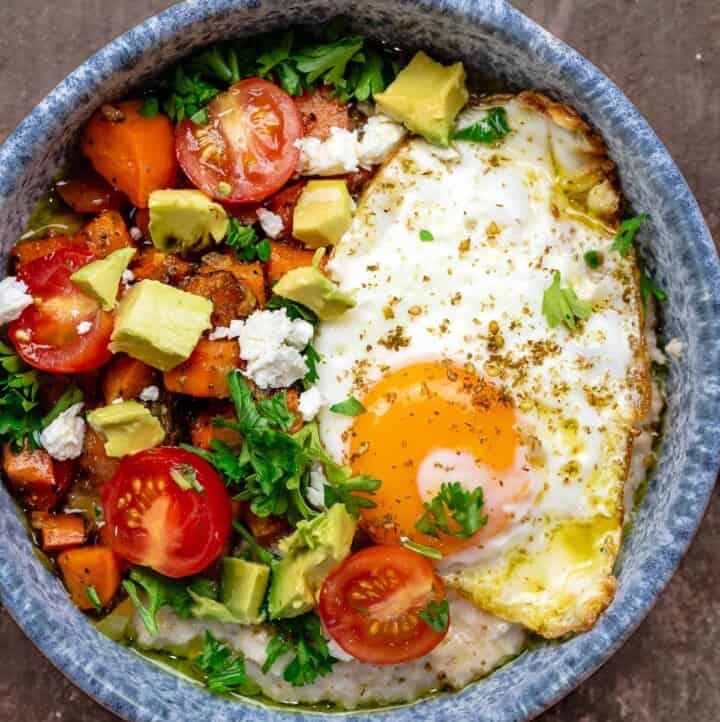 These Mediterranean-style savory oatmeal gives you nutritious, flavor-packed breakfast bowls in about 20 minutes! Change up the toppings with different vegetables and protein, and use your favorite seasoning to finish the bowls. I love za'atar here, but baharat, one of my new favorite blends is also worth a try!
Ingredients
1

medium yellow onion,

chopped

1

sweet potato,

about 1 pound, peeled and chopped into ½-inch cubes

Kosher salt and black pepper

1

cup

quick-cooking steel-cut oats

4

eggs

1

avocado, optional,

cut into small cubes

1

cup

cherry tomatoes,

halved

½

cup

chopped fresh parsley

Feta cheese,

crumbled

Za'atar

2

tablespoon

extra virgin olive oil
Instructions
In a large non-stick skillet, heat about 2 tablespoons extra virgin olive oil. Add the sweet potatoes and onions. Season with kosher salt and black pepper. Cook over medium-high heat for 5 minutes, tossing occasionally. Cover and allow the potatoes to cook another 5 to 7 minutes or until tender.

While the potatoes are cooking, prepare your quick-cooking steel cut oatmeal according to the package (mine took 2 cups of boiling water and about 5 minutes to cook), stirring occasionally. Season with kosher salt.

Cook the eggs to your liking. I like frying my eggs sunny side up in a bit of extra virgin olive oil.

Assemble the savory oats bowls. Spoon some cooked oats in the bowl. Add in the sweet potatoes, cubed avocado, and cooked egg. Finish with a handful of tomatoes, parsley, feta, and a sprinkle of za'atar or seasoning of your choice. Serve immediately.
Notes
Make-ahead tips:

Cook the sweet potatoes ahead of time (1 or 2 nights in advance) and save them in a tight-lid container in the fridge. Better yet, if you have some cooked vegetables, use them here instead of cooking from scratch (I often use my leftover roasted sweet potatoes in these bowls).
Cook the oatmeal 1 or 2 nights ahead and store it in the fridge. Oatmeal will harden a bit in the fridge, so you will need to add some liquid to it when reheating (tips below).
When you're ready to eat, all that's left to do is cook your egg, crumble your feta, and assemble the savory oatmeal bowl.

Leftovers and storage

Store all leftovers in the refrigerator in separate airtight containers. Cooked oatmeal and the sweet potatoes will keep for 3 to 5 days.
Sweet potatoes can be reheated in a saucepan over medium heat.
To reheat oats, spoon them into a small saucepan and add a little water to help loosen them up. Warm over low to medium-low heat, adding more liquid if necessary, until the oats have returned to their previous creamy consistency. If you are a fan of overnight oats, these will work, too! Simply reheat them the same way as described above.

Visit Our Shop for quality Mediterranean ingredients including extra virgin olive oils, and spices (like the za'atar or baharat you can use in this recipe)
Nutrition
Calories:
348.2
kcal
Carbohydrates:
42.6
g
Protein:
13.7
g
Fat:
14.1
g
Saturated Fat:
2.8
g
Polyunsaturated Fat:
1.6
g
Monounsaturated Fat:
6.7
g
Trans Fat:
0.1
g
Cholesterol:
163.7
mg
Sodium:
248.4
mg
Potassium:
414.1
mg
Fiber:
7.1
g
Sugar:
4.7
g
Vitamin A:
9067.8
IU
Vitamin C:
21.9
mg
Calcium:
82.5
mg
Iron:
3.6
mg