This Mediterranean-style trout recipe is another weeknight favorite! Served with a light arugula salad and Greek Tzatziki sauce.  See the step-by-step and suggestions for other Mediterranean sides! 
In Port Said, one of Egypt's Mediterranean cities, Samak Makli (pan-seared fish) is something of a recurring dinner in most homes.
This trout recipe is reminiscent of one from my mom's Port Saidi kitchen. A quick weeknight dinner that she enjoyed making after long work days.
First, the trout is spiced with a simple spice mixture of garlic powder, ground coriander, and sweet paprika; then lightly dredged in flour and pan-seared until the flesh of the trout is opaque and firm.
What to serve with this trout recipe?
The finishing touch to this trout recipe is typically a simple squeeze of lime juice; we do this while the fish is still warm. But one of my favorite things to add is Tzatziki sauce (Greek yogurt and cucumber sauce).
Because it takes only six minutes to pan-sear the fish, it's best to prepare any salads or sides before. A simple arugula salad tossed in lime juice and olive oil is perfect. You can also add sides like Lebanese rice and this Mediterranean chickpea salad for a fuller meal.
Print
Mediterranean Pan Seared Trout Recipe with Tzatziki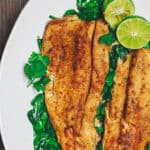 Author:

The Mediterranean Dish

Prep Time:

15 mins

Cook Time:

6 mins

Total Time:

21 minutes

Yield:

4-6
Ingredients
16-oz baby arugula (or a mix of baby arugula and baby spinach)
1/2 lime, juice of
Olive oil, keep available for later
Salt and Pepper, keep available for later
1 1/2 tsp ground coriander
1 tsp garlic powder
1 tsp sweet paprika
2 1/2 lb trout fillet (or butterflied trout fillet as in the pictures)
2 tbsp unsalted butter
1/2 cup all-purpose flour, more if needed
Lime wedges, for serving
Tomato wedges, for serving (optional)
Sliced red onions, for serving (optional)
Instructions
Make the Tzatziki (Greek Yogurt Sauce) according to this recipe. Cover and refrigerate for now.
Make the arugula salad. Place the baby arugula (or arugula and spinach mixture) in a bowl. Add the lime juice, olive oil, and season lightly with salt and pepper. Toss. Set aside.
Make the spice mix by combining the coriander, garlic powder, sweet paprika in a small bowl.
Now, pat the trout fillets dry. Sprinkle with salt and black pepper on both sides, then season with the spice mix also on both sides.
Dredge the trout fillets in the flour, and shake off any excess.
In a largecast iron skillet, heat the unsalted butter and 2 tbsp olive oil over medium-high heat. Sear the trout fillets for 3 minutes on each side (start with skin-side down, and use a spatula to very carefully flip the fish fillets over). Remove the trout fillets from the pan, then place it on a tray lined with paper towel to absorb any excess oil. Keep warm.
Arrange the arugula salad on a platter and top with the pan-seared trout. Squeeze a little lime juice on top of the trout.Add tomato wedges and red onions to the platter, if you like.
Step-by-step photos for this trout recipe: 
Make the Tzatziki sauce using this recipe. Cover and refrigerate until ready to serve.
Pat trout fillets dry. Season.
Dredge in flour. Shake off excess flour.
Heat butter and olive oil in cast iron skillet. Sear the trout for 3 minutes or so on each side. Start with skin-side down. Don't crowd the pan; you can do this in stages.
Remove the fish from the pan. It's best to place it on a tray lined with paper towel so that it drains any excess oil. Keep the fish warm until ready to serve.
Here it's served on top of the arugula salad (arugula, lime juice, olive oil, salt and pepper). Squeeze a bit of lime juice over the trout. Enjoy with the tzatziki sauce and other sides (see side suggestions in the recipe notes!)