Perfectly creamy, fluffy loaded baked potato with crispy skin! And you'll love the tasty Mediterranean toppings like Greek tzatziki sauce, tomatoes, and olives. Don't miss my tips below!

Who doesn't love a perfectly fluffy baked potato with crispy skin? Loaded with toppings? Even better in my book!
The humble potato is a staple ingredient in most pantries. Oven-baked potatoes are easy to make with just a brush of good extra virgin olive oil and a sprinkle of kosher salt—the perfect side dish next to my easy chicken and mushrooms, pan-seared salmon, or even a big Greek salad.
I always have potatoes on hand and when all else fails, I know I can count on a loaded baked potato dinner. Baked potatoes can easily become the centerpiece of a fun vegetarian meal as well – baked potato bar anyone?
Admittedly, the whole concept of a loaded baked potato bar is somewhat new to me. It is something I first learned–and fell in love with– during my college years in Michigan.
Loaded Baked Potato with a Mediterranean Twist
These loaded baked potatoes get a special healthified Mediterranean makeover.
I use russet potatoes here. Extra virgin olive oil and oregano are mixed into the potato filling and Mediterranean favorites like Greek Tzatziki sauce, tomatoes, olives, parsley, and feta are piled on top.
The flavors are fresh, bright, tangy, and vibrant--an exciting change from the typical heavy toppings like bacon and sour cream.
So, what are the best potatoes to use for baking? Not sure how to cook them for the best texture? Let's walk through those answers below!
Which kind of potatoes are good to bake?
It seems that you can bake any potato you find. However, with a loaded baked potato recipe like this one, I always like to use large russet potatoes.
Russet potatoes are large and a hearty with a perfectly starchy, snow interior that turns nice and fluffy when baked.
Plus, because of their sturdy skins, russets will hold up well, making the perfect vessel to hold all the tasty toppings!
Should I use foil to wrap my potatoes for baking?
To foil or not to foil...There is debate around this, and it is a personal preference for the most part. Do you like
If you're looking for soft skin, you can wrap the potatoes in foil to bake. The foil wrap will trap the steam so you are left with soft skin and not a crispy exterior.
Plus, since a potato is 90% water, the foil wrap traps a lot of the water inside of the potato as well, giving you a soggy and mushy potato inside.
I like my potato skins to be a bit crispy, so I forgo the foil wrap method. Letting the hot air from the oven circulate around the potato will crisp up that skin nicely and allow water to escape from the potato. You are left with a fluffier less wet potato inside and a delicious crispy skin!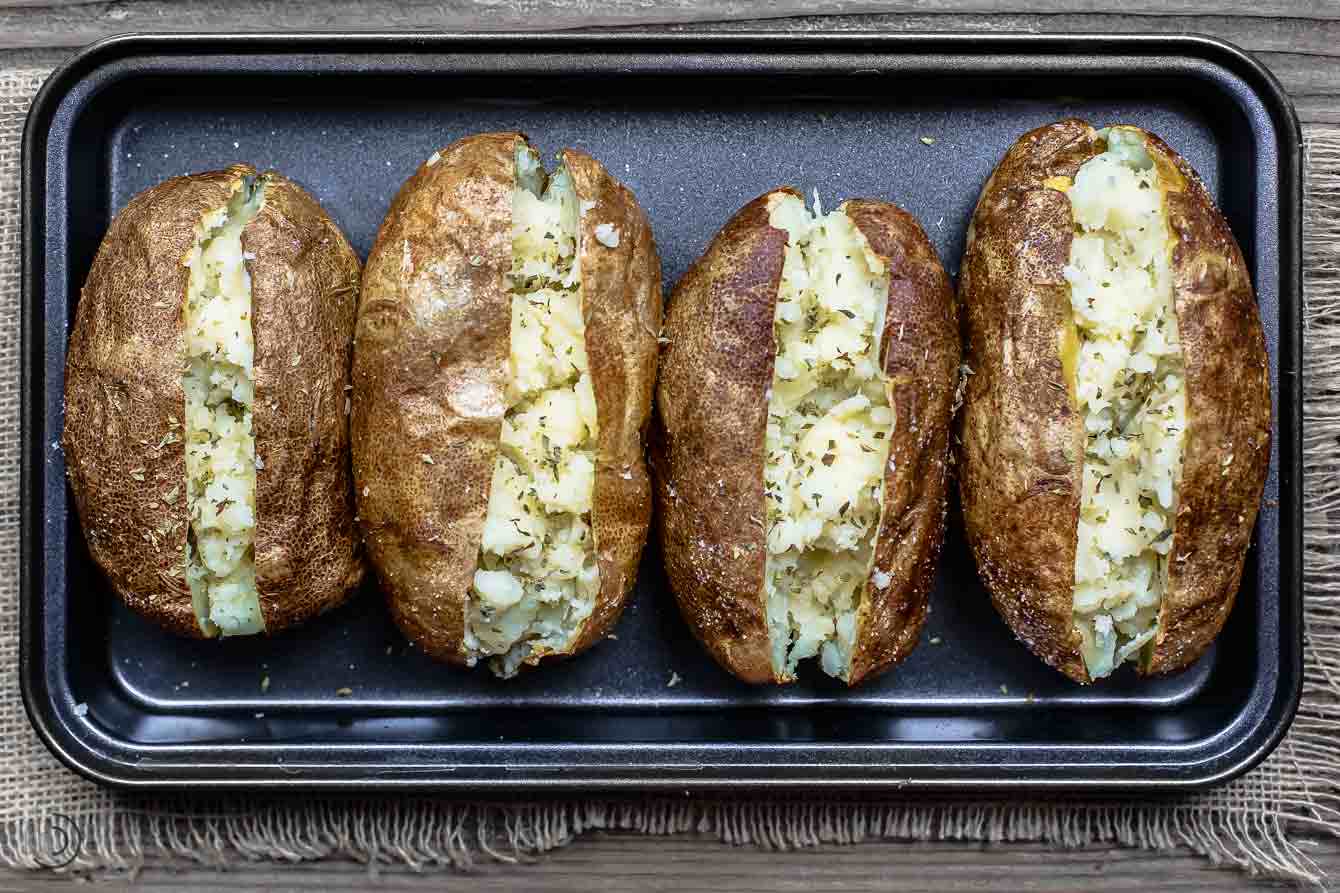 Baked potato toppings
There is an endless amount of toppings you can add to your loaded baked potatoes! It's fun to play around with a variety of ingredients and flavor combos while keeping it healthy!
I love adding bold, fresh toppings to my baked potatoes, with a Mediterranean flair, of course!
Here are a few topping ideas, starting with ones used in this recipe:
Homemade Greek Tzatziki Sauce Recipe: Super thick and creamy, garlicky, tangy, and the perfect healthy substitution for sour cream…plus loads more flavor!
Chopped fresh parsley flakes: Adds a fresh peppery bite and adds a pretty pop of color.
Diced tomato: Fresh tomatoes add a slight acidity to these loaded potatoes and are a staple Mediterranean veggie.
Chopped pitted Greek olives: Briny, salty, and bursting with flavor.
Crumbled feta cheese: Adds another layer of salty, cheesy goodness – everything is truly better with feta
Chickpeas or chickpea salad
Fresh herbs (dill, cilantro, green onions, chives)
Diced avocado
Plain Greek yogurt
How to bake a potato in the oven:
Step 1: Wash and scrub your potatoesYou will not be peeling these potatoes, so make sure they are washed and scrubbed of any dirt. Dry the potatoes completely with a towel.
Step 2: Poke with a fork
Take a fork and poke holes in the potatoes all the way around. Approximately 5-6 times depending on the size of your potatoes. This helps steam release from the inside of the potato as they bake so they don't explode in your oven.
Step 3: Brush with olive oil and season potatoes
Rub the potatoes with your hands or use a brush to rub olive oil all over the potatoes. Season with kosher salt and pepper. Place the seasoned potatoes on a baking sheet and make sure they aren't touching.
Step 4: Bake
Baked in a 375 degree F heated-oven for 1 hour or until potatoes are super soft and fork-tender and the skin is nice and crisp. (this can take up to 75 minutes). To check if your potatoes are cooked properly, insert a fork in the middle of a potato, it should go in without much resistance.
A few Tips
1. To achieve perfectly crisp skin, oil the skin lightly with olive oil and season with salt. It helps to flavor the bland potato and ensures it gets crisp.
2. For a creamy flesh, bake the potatoes in a moderately heated oven. In this baked potato recipe, I set my oven to 375 degrees F and baked the potatoes for 1 whole hour. It yields a fluffy potato inside and crispy skin.
3. Make sure your oven is fully preheated before putting in the potatoes. This helps make sure the potatoes cook properly and evenly.
4. Go the extra mile to ensure the potato flesh is fluffy and well-seasoned. As you'll see in the recipe below, once the potatoes are cool enough to handle, scoop the flesh out into a bowl, add a little olive oil and season. Then, scoop the potato flesh back and fill up the skins. This packs loads more flavor.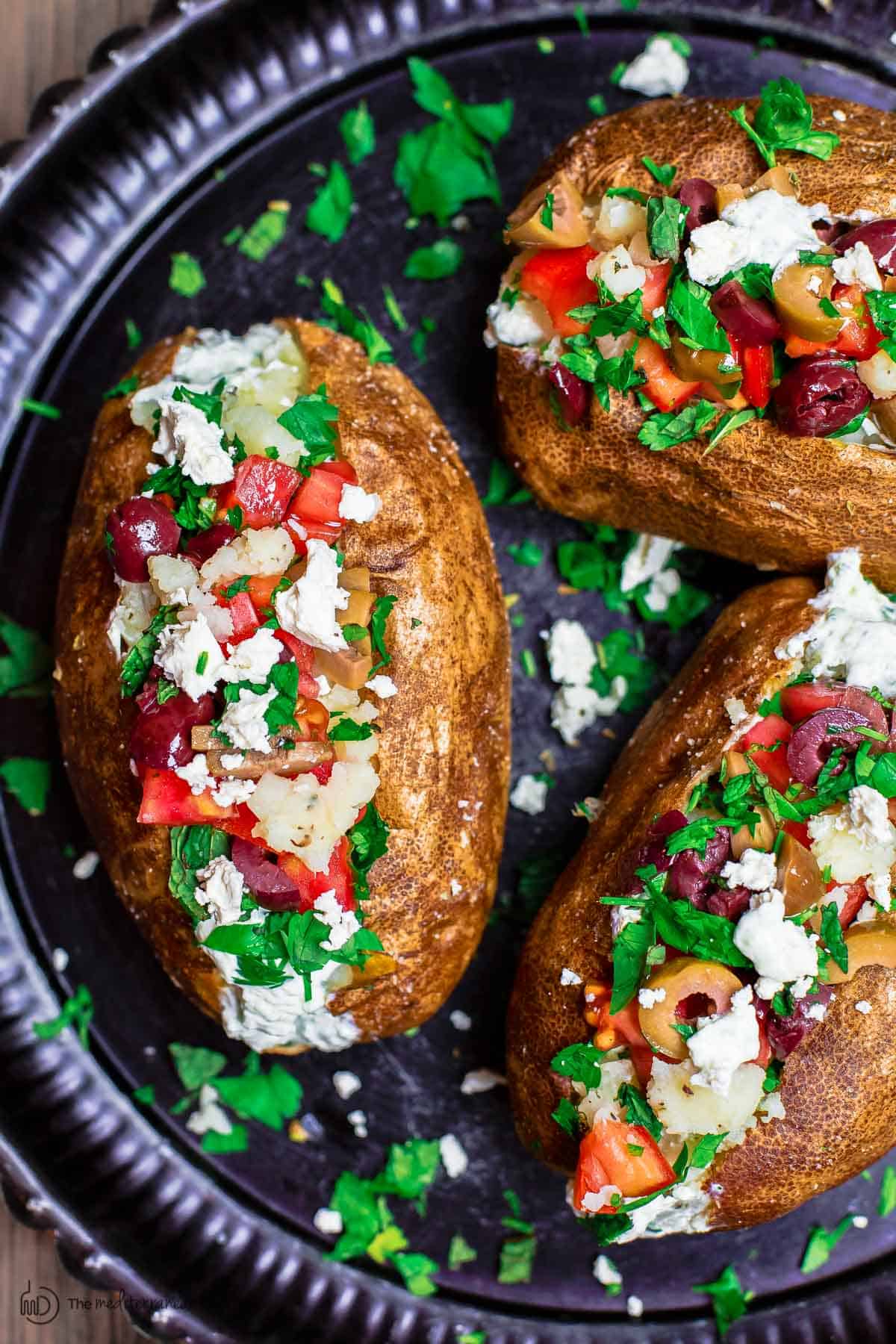 Can you make baked potato in the microwave?
Here's the thing, you can make baked potatoes in the microwave, but it is not my preference. And here is why:
When you cook a potato in the microwave, it is not going to turn out like a potato cooked slowly in the oven.
Microwaved potatoes cook quickly at very high temps. Since potatoes have lots of water, the water will evaporate fast, leaving you with a potato that's kinda dry and mushy at the same time.
The skin of the potato also tends to become tough and gets shriveled up. And when you are making a loaded baked potato, you want integrity to the potato so the potato can hold up to all those amazing toppings!
More recipes to try
Mediterranean sweet potato stew
Healthy Egg Salad, Mediterranean-style
For all recipes, visit us here. And be sure to view our collection of Mediterranean diet recipes.
NEVER MISS A RECIPE! JOIN MY FREE E-MAIL LIST HERE.
SHOP OUR ONLINE STORE FOR QUALITY OLIVE OILS, ALL-NATURAL SPICES AND MORE.
Print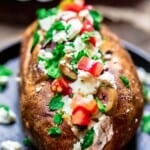 Mediterranean Loaded Baked Potato Recipe
---
Description
The perfect loaded baked potato, fluffy and creamy on the inside with crispy skin and packed with flavor from toppings like Greek Tzatziki sauce, olives, tomatoes, and feta!
---
4

large russet potatoes
Extra virgin olive oil (I used Private Reserve Greek EVOO)
Kosher salt
Black pepper

1

-

2

teaspoon dried oregano
For the Toppings
Greek Tzatziki Sauce (I use this recipe)

½ cup

chopped fresh parsley flakes

1

large tomato, diced

½ cup

chopped pitted Greek olives
Crumbled feta cheese
---
Instructions
Preheat the oven to 375 degrees F.
Wash and scrub the potatoes clean. Dry completely.
Poke holes all over the potato using a fork – about 5 to 6 times. Rub the potatoes with olive oil and sprinkle with kosher salt, and prick them in several places with the tines of a fork. Arrange the potatoes on a baking sheet, and bake for 1 hour or until potatoes are super soft and fork-tender and the skin is nice and crisp (can take up to 75 minutes).
While the potatoes are baking, make the Tzatziki sauce according to this recipe, if using, and prepare the remaining toppings.
When the potatoes are ready, remove from the oven and set aside to rest for 5 minutes. Slice each open wide, and scoop the potato flesh out into a bowl. Add 1 tablespoon olive oil, salt and pepper, and dried oregano. Mash with a fork.
Now, scoop the mashed potatoes back into the skins. Using your hands, reshape the potatoes if needed, then top with the Tzatziki sauce and the remaining Mediterranean toppings to your liking. Enjoy!
Notes
Cook's Tip: Ovens do vary a bit, so your baked potatoes may take anywhere from 1 hour to 75 minutes. You want them to be nice and soft on the inside and for the skin to crisp up nicely. To test, poke a potato in the thickest part with a fork.
Visit our Online Shop to browse quality Mediterranean ingredients including extra virgin olive oils and spices!
Prep Time:

10 minutes

Cook Time:

1 hour

Category:

Sides

Method:

Baked

Cuisine:

Mediterranean
Keywords: Baked potato recipe, easy baked potato, loaded baked potato
*This post first appeared on The Mediterranean Dish in 2017 and has been recently updated with new information and media for reader's benefit