Succulent. Fall off-the-bone-tender. Baked Cornish Hen Recipe... And the Mediterranean garlic spice rub makes all the difference! Give each person their own, or split the hens in half to feed a crowd.
Be sure to grab all my tips for how to cook Cornish hens and what to serve along for a special Mediterranean-style dinner.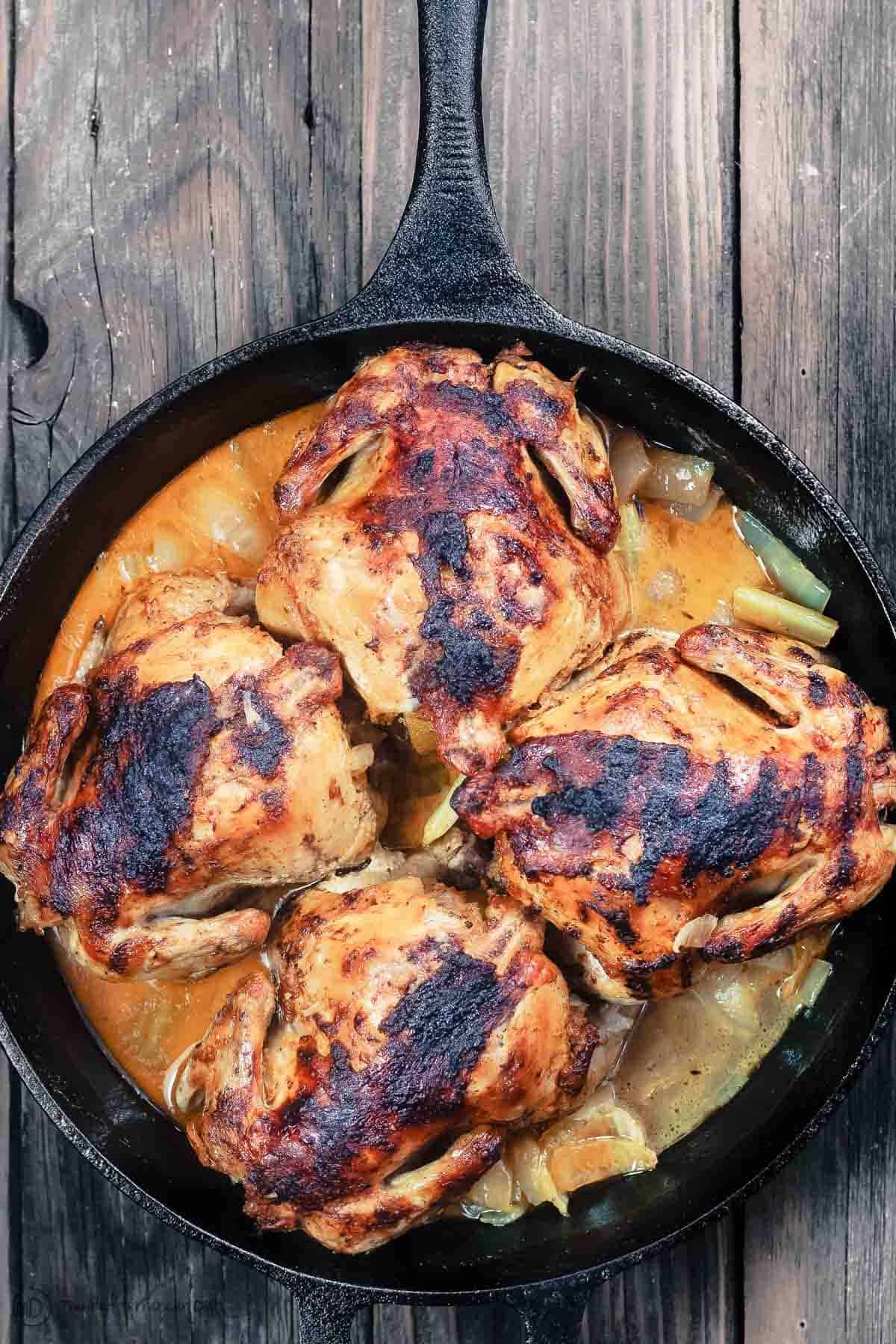 Who doesn't love their own personal roasted chicken?! That's the beauty of the lesser-known and underappreciated Cornish hen.
Cornish hens may not be your first choice for a weeknight meal or even a holiday meal, but that doesn't mean you shouldn't consider it! As a bonus, with my tasty Mediterranean garlic spice rub--made with loads of fresh garlic, warn spices, and a splash of bright lime juice--this Cornish hen recipe makes a very special meal without breaking the bank!
What is a Cornish Hen? How is it different from Chicken?
The short answer is that a Cornish hen, also known as Rock hen, is basically a smaller breed of chicken. However, the flavor and meat of a Cornish hen differ from a chicken in that it tends to be more tender with a milder flavor compared to its larger cousins.
Cornish hens have fewer calories and fat than larger chickens, so they make a bit of a healthier option but without compromising taste.
Each Cornish hen weighs about 1-1.5 pounds, perfect as a serving for one person or split in half when served with some of my beloved sides. I love pairing this easy baked Cornish hen recipe with my Cinnamon Roasted Sweet Potatoes; Italian Oven Roasted Vegetables; or brussels sprouts...Lots more ideas below!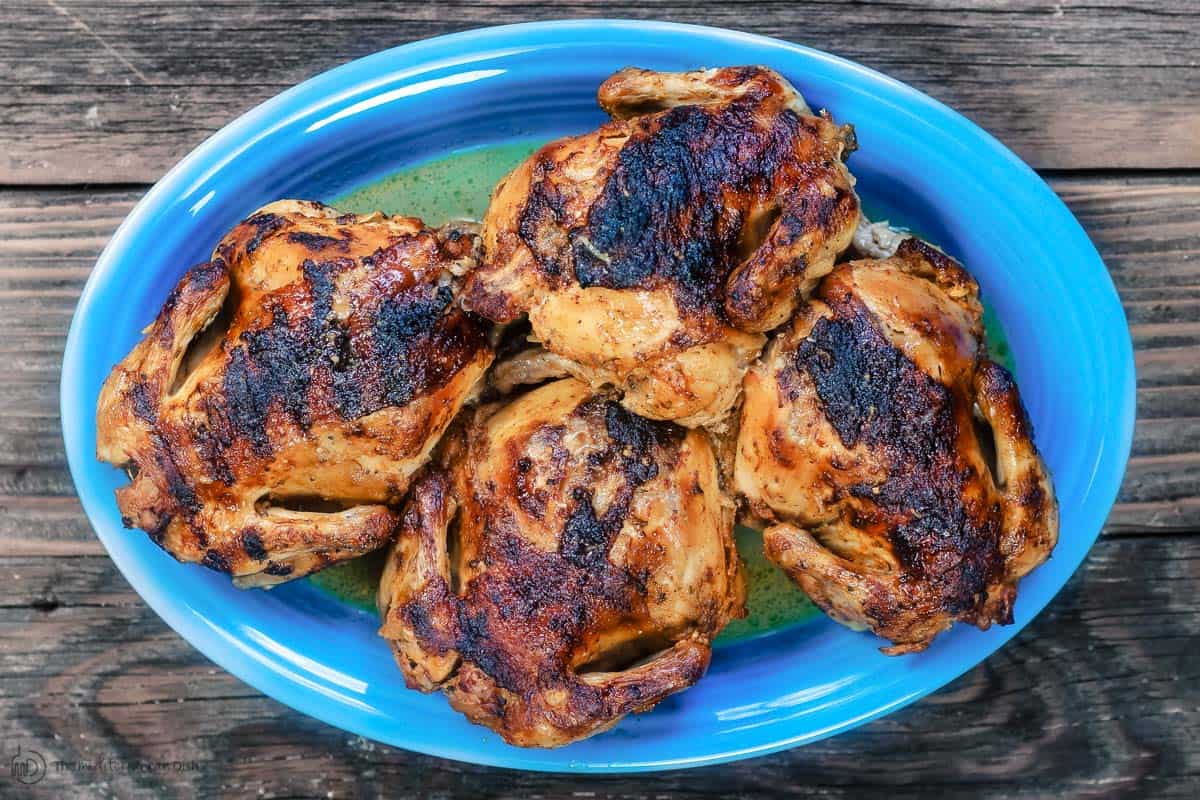 Cornish Hen's Perfect Match: A Zesty Mediterranean Spice Rub (paste)
Cornish hens are great on their own with a splash of olive oil and a dusting of salt and pepper, but the garlic spice rub? It's gold, my friends!
Actually, it's more of a paste than a rub. But let's take a moment to talk about how much garlic it contains...a lot of garlic. Do not fret...this is one of those recipes where you really want to go overboard with it because it truly does make a huge difference in flavor.
This spice rub doesn't stop at copious amounts of garlic. In fact, it has other aromatics that take it well over the edge into "unbelievably good" territory...
- Sweet paprika gives a depth of flavor and that beautiful roasty color to the baked Cornish hens.
- Allspice gives a complex flavor of warmth and heartiness, and thyme brings that earthy and familiar flavor found in classic rotisserie chickens.
- Nutmeg acts as the silent star in this rub, giving it an extra layer of warmth without overpowering. Actually, in most Mediterranean cooking, nutmeg is used as that background note that is just subtle enough to make a difference without anyone being able to pinpoint the exact flavor.
- And, of course, the zesty lime juice brings a bright pop of freshness and amplifies the intensity of the other flavors. Lime juice acts also as a tenderizer to the Cornish hen, helping it to be fall-off-the-bone tender once baked.
Tips on How to Cook Cornish Game Hens
1) For quicker cooking, you can spatchcock the Cornish Hen. Spatchcocking means cutting the chicken along the backbone and flattening it onto the cooking surface (you can see my full tutorial on how to spatchock chicken here.)
2) For Maximum Flavor, Don't be Shy with the Spice Rub. Apply it where it will make a difference. Add the spice rub under the skin, in the cavity, on top of the skin, and everywhere in between (see my step photos below.)
As mentioned previously, Cornish hens are smaller, and spices infuse easier into the meat. Coating every inch of your Cornish hens with the spice rub ensures each bite is just as incredible as the last.
3) If you like some color and crisp, do a bit of searing before baking. We add chicken broth to the baking pan to create enough steam and cook the hens to tender perfection, searing (or browning) first, helps provide color and a bit of crisp.
4) Keep a closer eye on your Cornish hens while cooking. Smaller birds mean less cooking time, so keep a close eye when cooking on higher temperatures to make sure they stay juicy.
5) Be prepared to fall in love with this recipe 🙂 Cornish hens are amazing on their own, but I promise the Mediterranean spice rub really takes it over the edge.
Here is the Step-by-Step for today's Baked Cornish Hen Recipe:
- Preheat oven to 425 degrees F. Chop your onions and celery etc. in the meantime
- Make the spice rub/paste. Place the garlic, spices, lemon juice and olive oil in the bowl of a large food processor fitted with a blade. Blend until you reach a nice "pasty" consistency.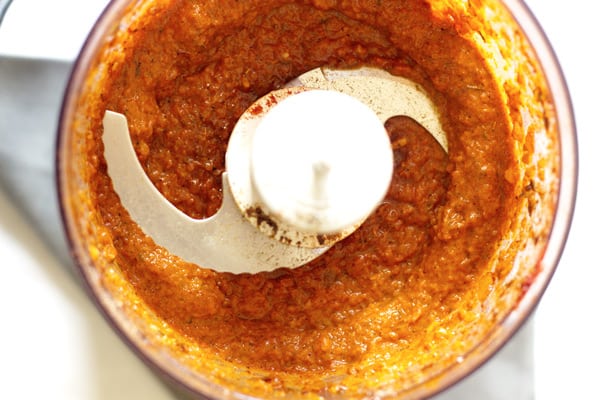 - Now, generously apply the spice rub to each of the Cornish hens (and remember, for best results, apply under skin and in cavities)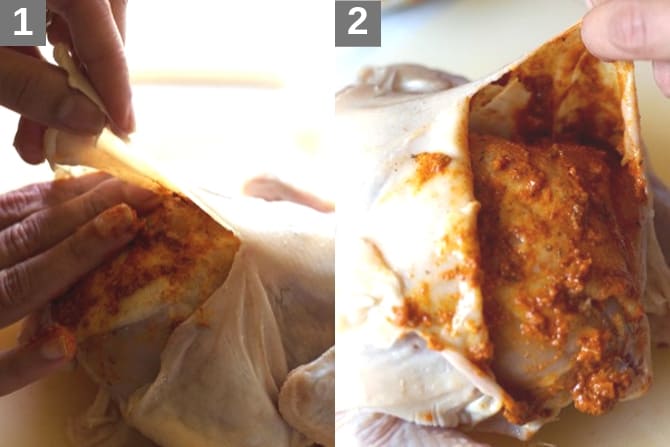 -In a lightly oiled cast iron skillet, brown each of the hens on all sides (this helps get the skins crispy)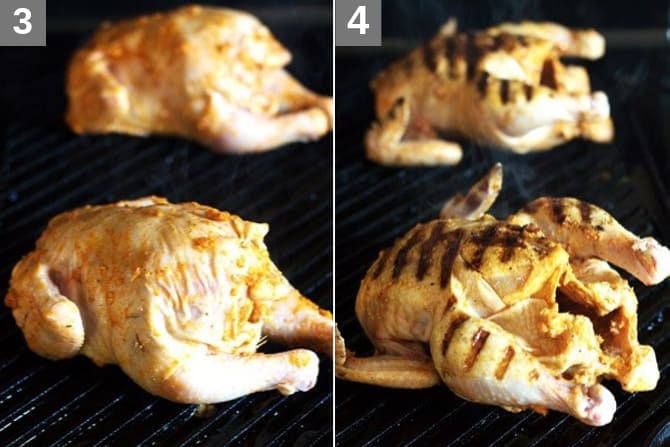 - Allow the Cornish hens to cool briefly so you're able to handle them. Stuff cavities with chopped onions and celery.
- Arrange hens in a cast iron skillet or baking dish. Add 2 cups broth and bake for 1 hour or until the hens are cooked through and juices run clean, basting every 15 minutes with the broth. When ready, remove from oven and cover loosely with aluminum foil for 15 minutes before serving. Transfer to a serving platter.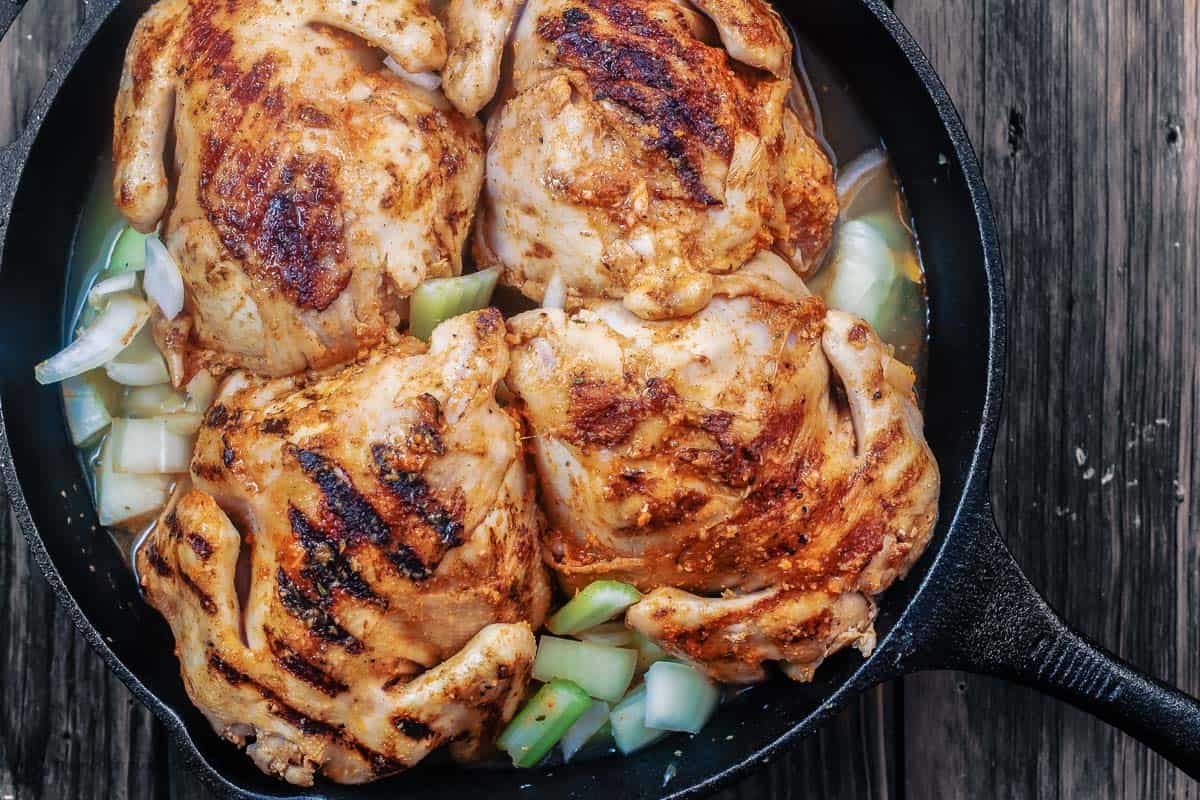 Leftovers?
Bring baked Cornish hen leftovers to room temperature. Store in airtight containers in the fridge for up to 3 days.
What To Serve Along?
Serve with sides like Italian roasted veggies, cinnamon roasted sweet potatoes, simple roasted carrots, or even Lebanese hashweh rice. For a complimentary salad, try roasted beet and kale salad or this bright fattoush salad
More Chicken Recipes to Try:
Avgolemono: Greek Lemon Chicken Soup
Rosemary Roast Chicken and Vegetables
Browse our collection of Greek recipes or top Mediterranean diet recipes.
Or all Mediterranean recipes. JOIN MY FREE E-MAIL LIST for weekly meal plans and more!
Print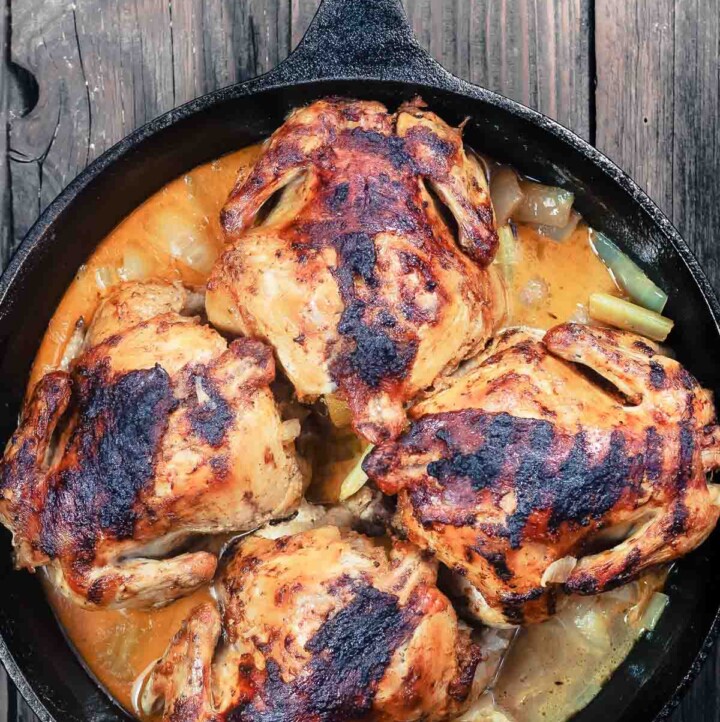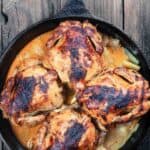 Cornish Hen Recipe with Mediterranean Garlic Spice Rub
---
Author:

Suzy Karadsheh

Prep Time:

20 mins

Cook Time:

1 hour 15 mins

Total Time:

1 hour 35 minutes

Yield:

4

hens

1

x
Description
You'll love this baked Cornish hen recipe! Fall off-the-bone-tender cornish hens, bathed in a tasty Mediterranean garlic spice. Be sure to see suggested sides and salads!
---
2

celery sticks, cleaned and chopped in large pieces

1

large sweet onion, roughly chopped

1

lime or lemon, juice of

4

Cornish hens (roughly

1

lb to

1.5

lb each)

2 cup

chicken broth
For the Spice Rub
15

-

20

garlic cloves
Salt

2 ½ teaspoon

hot or sweet paprika

1 ½ teaspoon

ground allspice

1 ½ teaspoon

dried thyme

1 teaspoon

ground black pepper

½ teaspoon

nutmeg

1

lemon or lime, juice of

2 tablespoon

Private Reserve Greek extra virgin olive oil
---
Instructions
Preheat the oven to 425 degrees F.
Combine the garlic spice rub ingredients in food processor. Run the processor until you achieve a pasty spice mixture or rub.
Now to each of the hens, apply the spice rub generously on the outside and in the cavities. Lift the skins and apply the spice rub underneath (this is the key to flavor).
Heat a lightly-oiled cast iron grill or skillet. Turn the the heat to medium-high and brown each of the hens on all sides. Set the hens aside momentarily to cool.
Once the hens are cool enough to handle, stuff each hen's cavity with the chopped onions and celery. Now squeeze juice of one lime or lemon on the hens. Add all the used lime or lemon halves in with the onion and celery stuffing. Sprinkle each hen lightly with a dash of seasoned salt, if you like.
Place the spiced hens in a large cast iron skillet or a roasting pan. Add two cups of good chicken broth.
Bake in the 425 degrees F heated-oven for 1 hour to 1 hour and 15 minutes or until the hen juices run clean, basting every 15 minutes with the broth. Remove from the oven and cover loosely with foil for 15 minutes before serving.
Enjoy with sides like roasted Greek potatoes and fattoush salad.
Category:

Entree

Cuisine:

Mediterranean
Keywords: Cornish Hen Recipe, How to Cook Cornish Hen, Baked Cornish Hen
*This post first appeared on The Mediterranean Dish in December of 2015 and has recently been updated with new information and media for readers' benefit. Enjoy!