This turmeric roasted carrots recipe is a simple side dish that wins every time!  Whole roasted carrots prepared the Mediterranean way–with extra virgin olive oil, lime juice, garlic, and spices like turmeric and cinnamon. Vegan and Gluten Free. 
Today's roasted carrots recipe almost begs us to forget what we know about cooking carrots. No slicing. No cutting into pieces. No boiling. We're going for whole roasted carrots, which make a wonderful statement on the dinner table (especially the colorful variety) with half the effort!
When roasted, the warmth and sweetness of carrots comes through nicely.  A little fat of sorts plus a pinch of salt and pepper may be all you need. My fat of choice here is obviously extra virgin olive oil, which will help our bodies absorb more of the vitamin A from the carrots.
To add flavor and amp up the health benefits, I chose to toss the carrots in some ground turmeric, cinnamon, and coriander. I like to finish my roasted carrots up with a squeeze of lime juice and fresh herbs, a little Mediterranean trick that brightens this dish up just right.
Print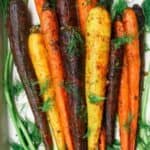 Turmeric Roasted Carrots Recipe
---
Author:

Prep Time:

5 mins

Cook Time:

45 mins

Total Time:

50 minutes

Yield:

Serves 6
Ingredients
3 lb whole carrots, peeled
Private Reserve Greek Extra Virgin Olive Oil
1 tsp ground turmeric
1 tsp ground cinnamon
1/2 tsp ground coriander
Salt and pepper
3 garlic cloves, minced
1/2 lime, juice of
Fresh dill or parsley for garnish
---
Instructions
Preheat the oven to 400 degrees F.
Arrange the peeled carrots in a single layer on a large lightly-oiled baking sheet.
Add 2-3 tbsp olive oil. Add the spices, salt and pepper, and minced garlic. Toss to combine.
Bake in the 400 degrees F heated-oven for 40-45 minutes or until the carrots are fork-tender and caramelized or browned in some parts.
Remove from the oven. Arrange on a serving platter and add the lime juice and fresh dill or parsley for garnish. Enjoy!
More Recipes to Try:
Roasted Butternut Squash and Cauliflower Salad
Rosemary Roasted Chicken with Carrots and Potatoes
Disclaimer: This post may contain affiliate links. As an Amazon affiliate, I receive a small credit when you make an Amazon purchase within 24 hours of clicking a link provided here. If you are looking for a specific product, feel free to browse Amazon via this link. Thank you!