No dry and boring chicken breasts here! This skillet chicken and mushroom recipe is your ticket to a tasty weeknight meal in just over 20 minutes. Made with simply seasoned chicken breast cutlets and a light mushroom sauce with garlic, and green onions.
Be sure to read through for tips, step-by-step instructions, and some fun ways to serve it!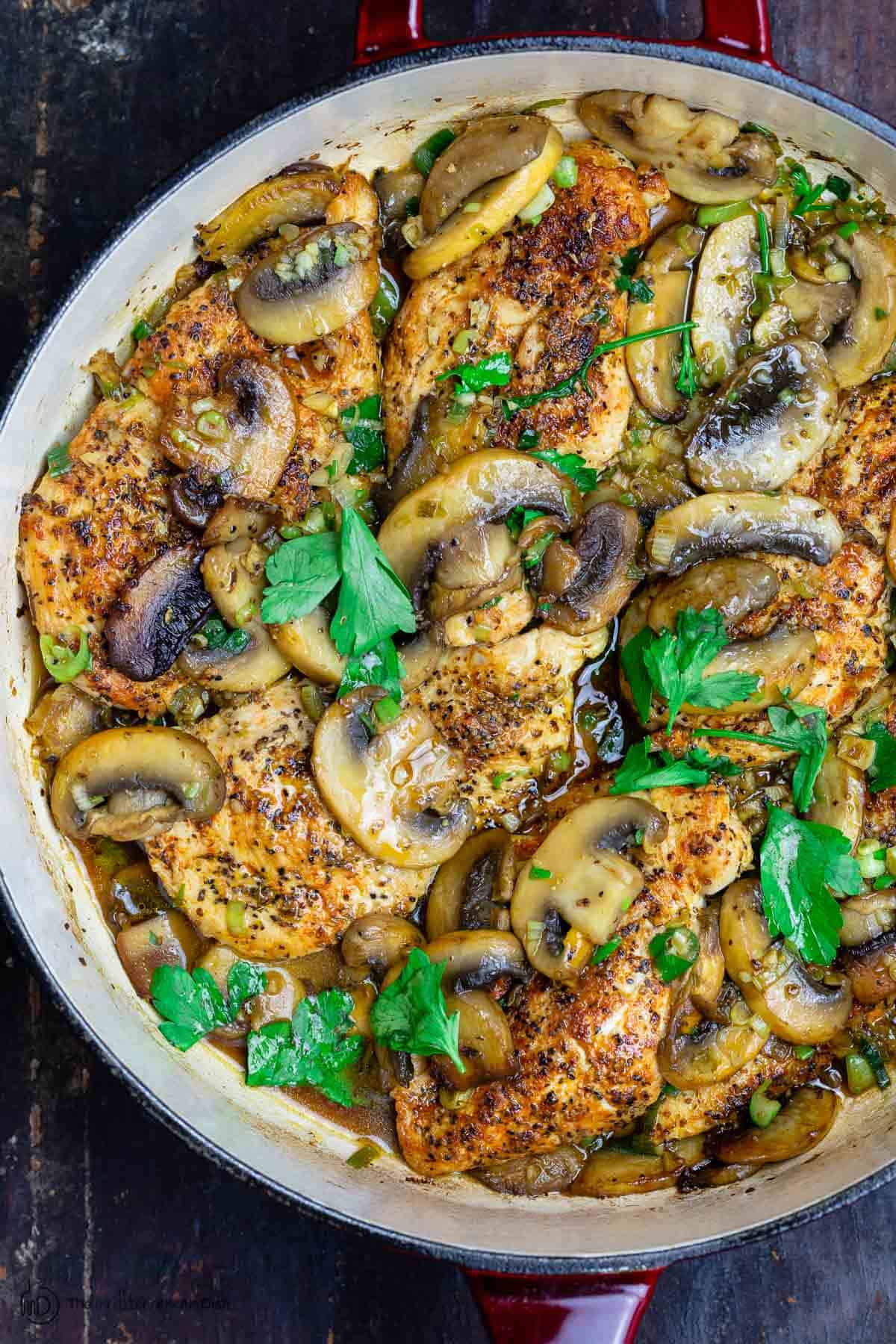 Boneless chicken breasts are a protein staple in most households because they are convenient and relatively quick to cook, plus you can dress them up in many ways!
I'm all for a tasty Italian chicken bake, a lemony chicken piccata, or a quick skillet Mediterranean chicken, topped with feta and olives. Heck, you can turn chicken breast-- leftover from last night's rotisserie chicken dinner-- into a mean Greek Avgolemono soup in less than 30 minutes!
This healthy chicken and mushroom recipe is another way you can turn a couple of chicken breast halves into a great weeknight meal filled with the most delicious flavors! I like to jazz up chicken breast for a quick weeknight meal.
Chicken breast cutlets cooked in extra virgin olive oil, then covered in a light and flavor-packed mushroom and garlic sauce (no cream involved.)
Let's dig more into this...
Chicken and Mushroom Skillet
This mushroom chicken is cooked in extra virgin olive oil, and we skip the heavy cream in favor of a lighter sauce that's still slightly buttery and satisfying.
The gist: First, we turn boneless chicken breasts into thinner cutlets for quicker, more even cooking. Then we give them a quick seasoning involving some Mediterranean favorites--oregano, paprika, and coriander. And we pan-sear them in quailty extra virgin olive oil (I used Private Reserve Greek EVOO.)
The chicken cutlets are then nestled in a brothy, slightly buttery mushroom sauce that's simply flavored with chopped green onions and garlic- two ingredients with mega flavor-boosting capacity. And of course, the star ingredient, sauteed mushrooms (don't use canned mushrooms here, you want the earthy flavors of fresh mushrooms in the sauce.)
That's really all there is to this tasty chicken and mushroom recipe. If you'd like, you can even add a handful of spinach or baby kale to wilt slightly at the end for added greens.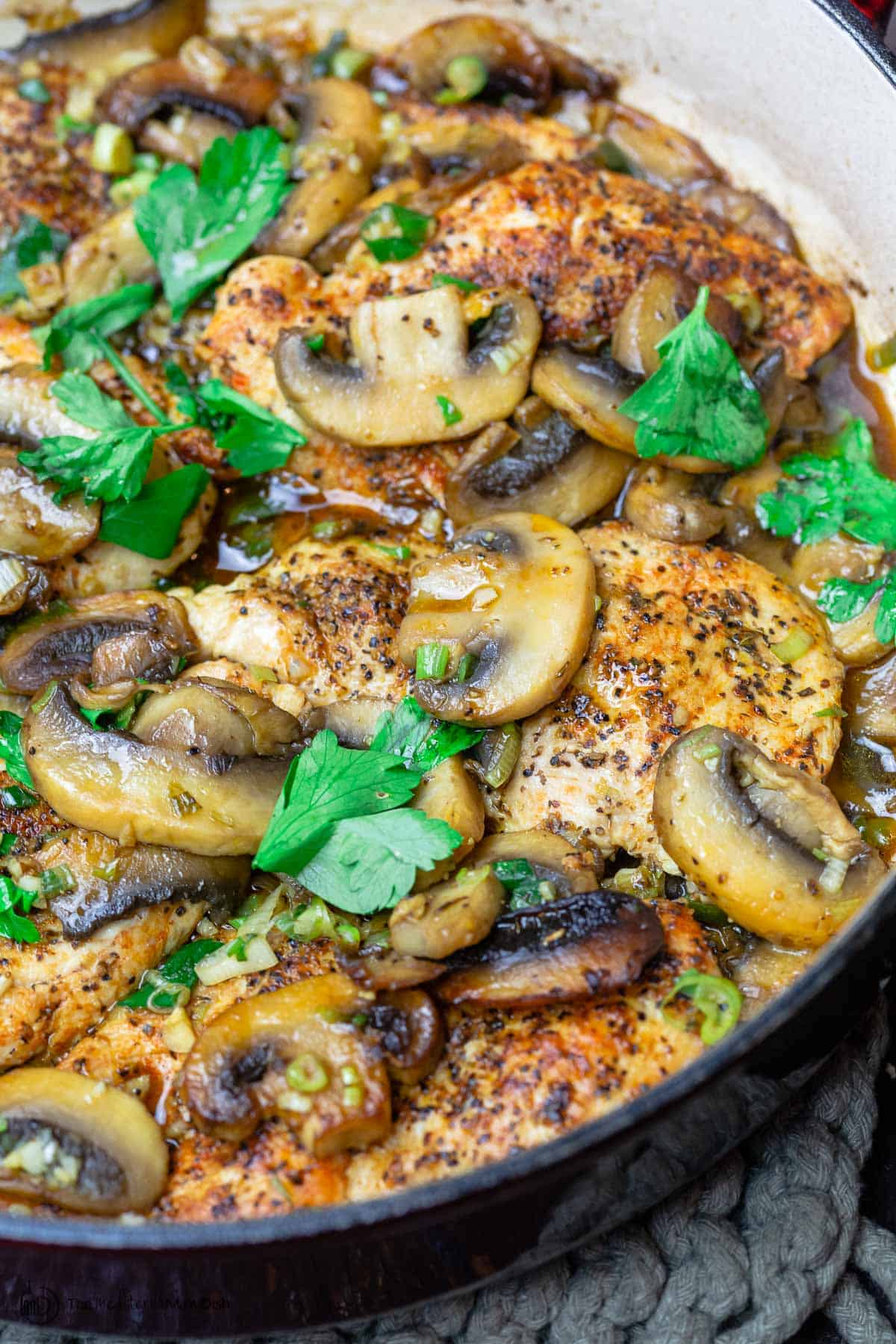 Ingredients
You probably noticed this recipe really has two main components: chicken and mushroom sauce. Let's walk through what ingredients are involved:
For the chicken
- Boneless skinless chicken breasts: This is a healthier, lean option that is quick to cook. You'll typically find chicken breast halves in packages of two can be thick and uneven, which is why we slice them in half horizontally. You arrive at nice thin cutlets that cook evenly and quickly while remaining nice and juicy.
- Spice mixture: Aside from salt and pepper, a trio of Mediterranean spices--oregano, paprika, and coriander--flavor the chicken. With every bite, you'll get hints of earthy, warm and slightly herby.
For the mushroom sauce
- Fresh mushrooms: I do not recommend using canned mushrooms here; you need the beautiful, earthy flavors of fresh mushrooms to release when they hit the pan to cook with a little unsalted butter or ghee. You'll need 12 ounces of fresh mushrooms, any kind you like, sliced.
- Chicken broth: Instead of heavy cream, which is used in most mushroom chicken recipes, chicken broth acts as the saucy component here. 2 minced garlic cloves and 3 fresh green onions are added for flavor. And as the broth cooks, it will reduce some, turning into a slightly butter and flavorful sauce.
- Garnish (optional): For some freshness and a bright green pop and the end, garnish with fresh parsley.
How to Make Chicken and Mushroom Recipe: Step-by-Step
Important: Before you begin step 1, preheat your oven to 200 degrees F to keep cooked chicken warm while you work on the sauce. Step 1: Cut chicken breasts into thinner cutlets and season
Place a boneless, skinless chicken breast on a cutting board. Hold it flat with the palm of your non-knife hand. Using a sharp chef's knife, carefully slice the chicken breast horizontally splitting it into two even, thinner pieces.
Pat the chicken cutlets with a towel and season with salt and pepper. Then apply your spice mixture of oregano, paprika and coriander to both sides.
Step 2: Cook chicken breasts in batches
In a large pan with about 2 tablespoons of Private Reserve Greek extra virgin olive oil, heat the oil until shimmering but not smoking.
Cook chicken for 3-4 minutes on one side, flip, and cook for another 3 or so minutes. Cook in batches so you don't overcrowd the pan. Once the chicken is cooked, transfer the pieces to an oven-safe dish and keep in the warm oven for now.
Tip – to test if the chicken is done, you can cut into the middle of the breast with a thin knife to make sure there's not a pink center.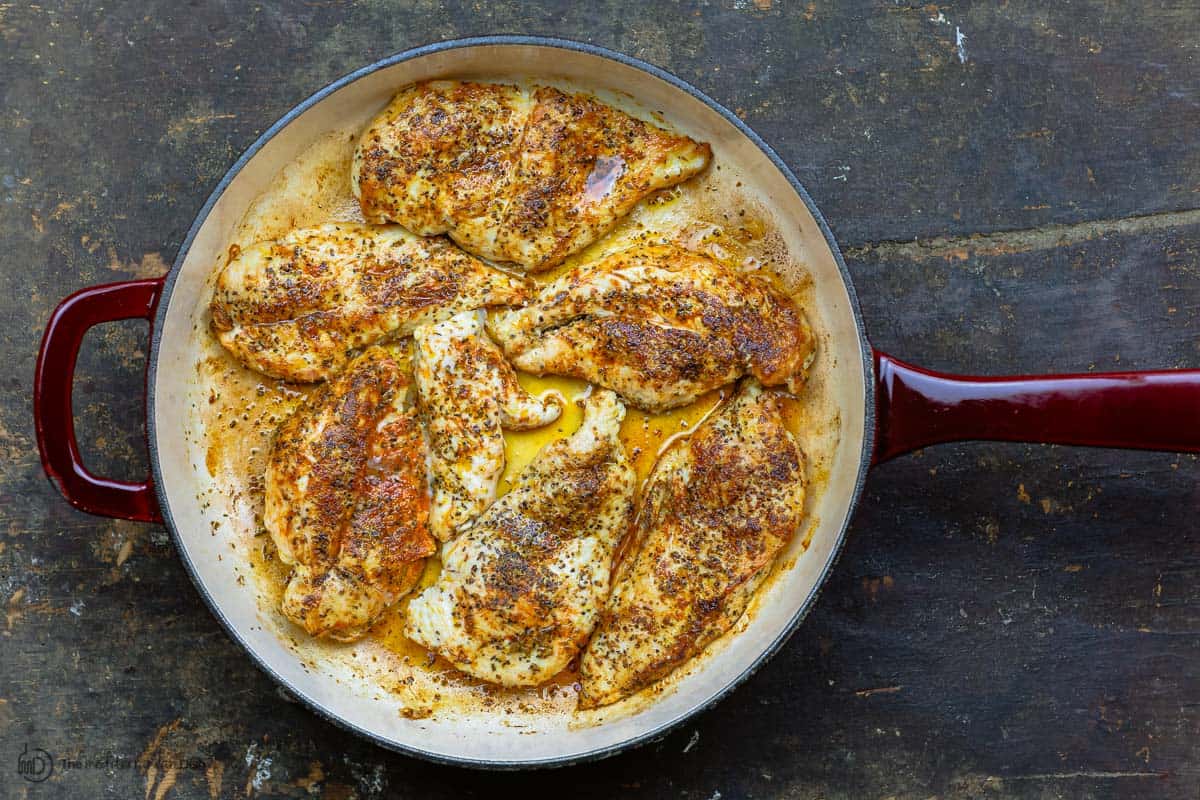 Step 4: Make the mushroom sauce
In the same large skillet, add ghee or unsalted butter (whichever you have on hand) along with a drizzle of extra virgin olive oil. Cook sliced fresh mushrooms for 5 minutes or so until they turn color.
Add in the chicken broth, garlic, and green onions. Season with just a bit of kosher salt and pepper to taste. Bring the sauce to a boil so the flavors come together, and the sauce thickens just a bit.
Tip – when you add the broth to the skillet, be sure to scrape up any browned bits of chicken and mushrooms from the bottom of the pan. There is so much flavor there!
Step 5: Combine chicken and mushroom sauce
Take your chicken out of the oven and nestle the pieces into the bubbling sauce. Spoon the sauce over the chicken breasts to coat. Remove from heat and serve.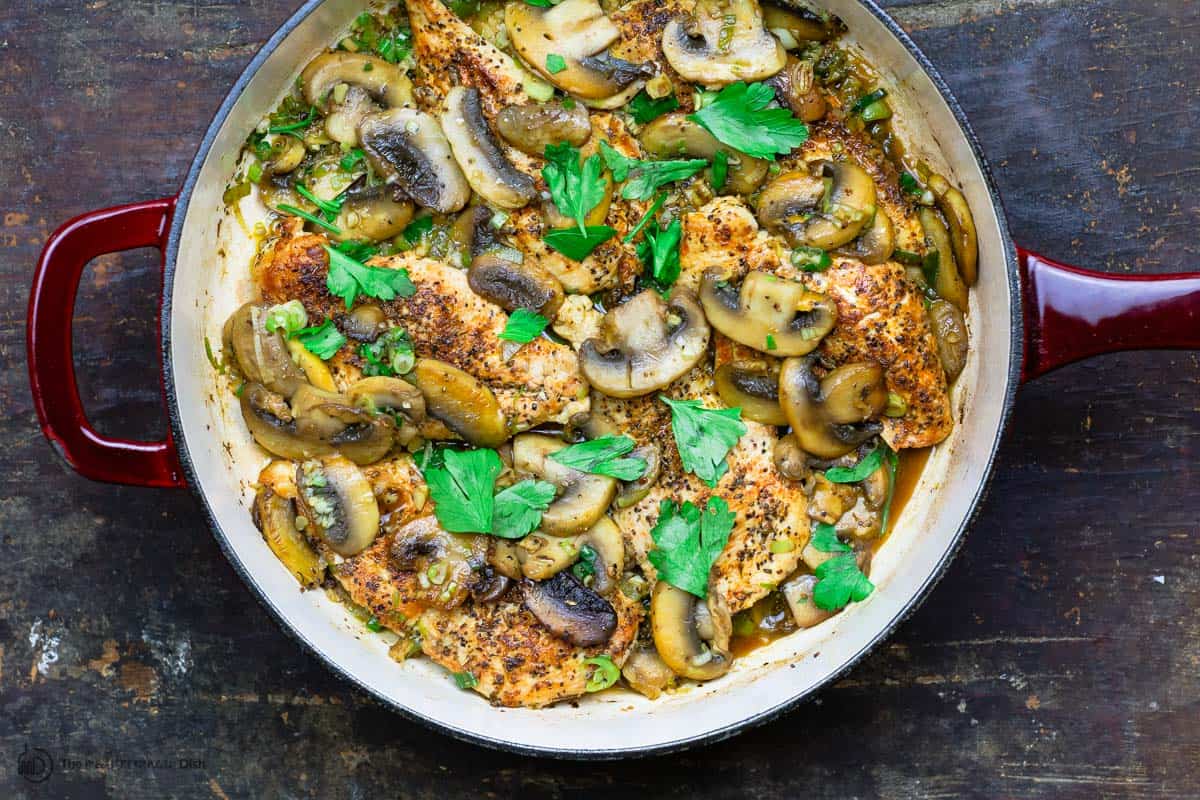 Can I use chicken thighs instead?
If you don't have chicken breasts on hand, you can can absolutely use chicken thighs. Chicken thighs are a great substitute and have tons of flavor and always stay nice and juicy.
Chicken thighs are smaller than breasts, and you do not need to slice them into halves as we've done with the breasts.
What to serve along mushroom chicken?
Serving this mushroom chicken could not be simpler. It is great with your favorite grain, a simple olive oil pasta, or rice of your choice. Greek Lemon Rice or Lebanese Rice with Vermicelli would be a tasty pairing!
You can totally keep this dish low-carb as well and serve it along with a bright and hearty salad like a chickpea salad, Mediterranean Avocado Salad, or a Traditional Greek Salad.
Leftovers?
This chicken and mushroom recipe is super easy to store and also reheat when you're ready. Refrigerate in an airtight container for up to 3 days. And because there is no cream involved, you can also freeze leftovers for use at a later time. Thaw in the fridge overnight before reheating.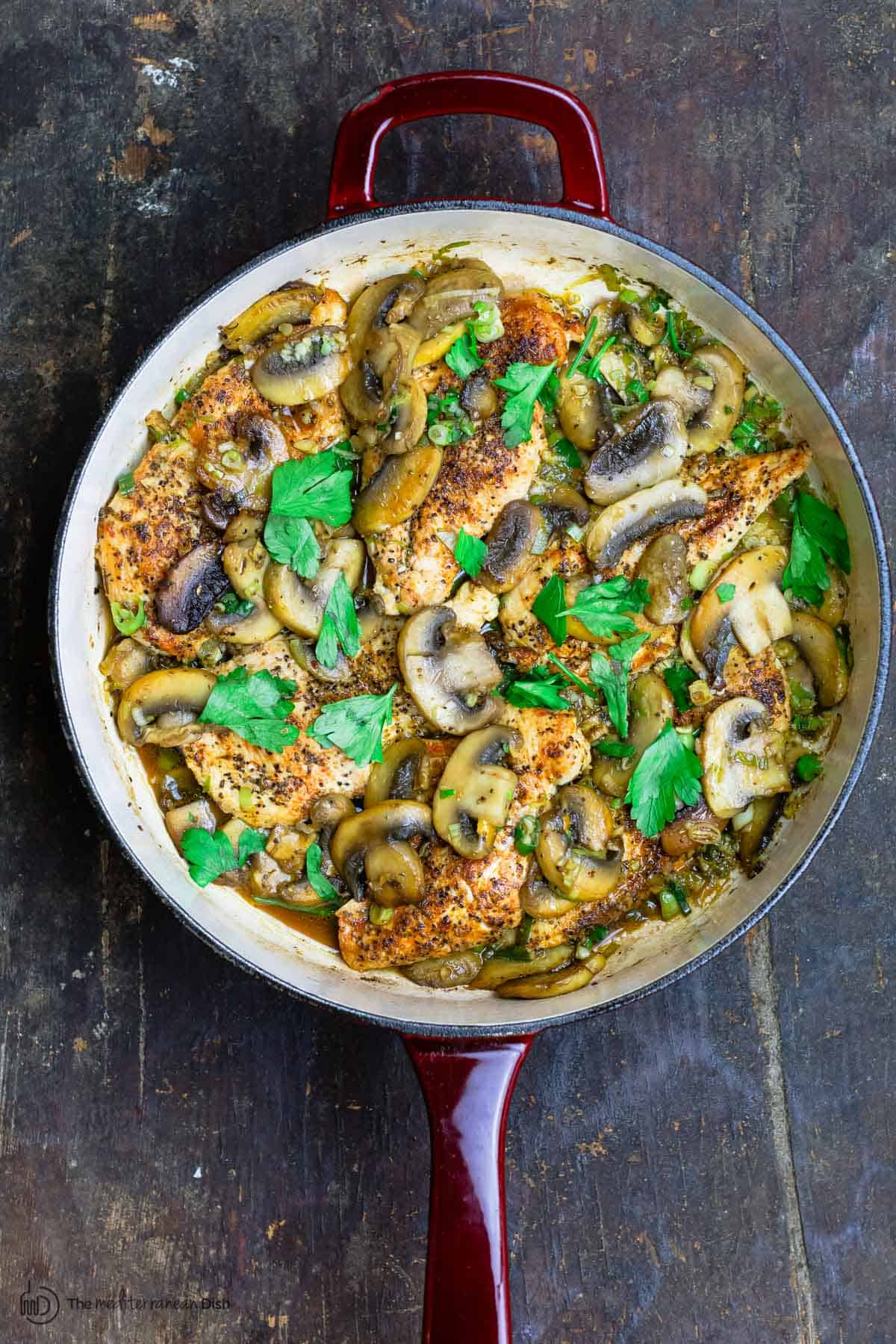 What is the best way to reheat chicken?
For this mushroom chicken, the best way to reheat it is to return to a medium heated pan. Add the sauce and chicken to the pan and warm through. Don't let it bubble for too long so the thicken doesn't turn tough. You may also need to drizzle in a bit more chicken broth so you have more liquid to help warm the chicken through.
Craving more? Check out more easy chicken recipes here.
For all recipes, visit us here. And be sure to view our collection of Mediterranean diet recipes.
NEVER MISS A RECIPE! JOIN MY FREE E-MAIL LIST HERE.
SHOP OUR ONLINE STORE FOR QUALITY OLIVE OILS, ALL-NATURAL SPICES AND MORE.
Print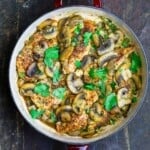 Easy Chicken and Mushroom Recipe
---
Author:

Suzy

Prep Time:

10 mins

Cook Time:

11 minutes

Total Time:

21 minutes

Yield:

Serves

4

to

5

1

x
For chicken
1 ½

lb (700g) boneless skinless chicken breasts
Kosher salt and black pepper

1 teaspoon

oregano

1 teaspoon

paprika

1 teaspoon

coriander

2 tablespoon

extra virgin olive oil (I used Private Reserve Greek EVOO)
For Mushroom Sauce
1 tablespoon

ghee or unsalted butter

12 oz

fresh large mushrooms, sliced

½ cup

chicken broth

3

green onions, chopped

2

garlic cloves, minced
Salt and Pepper
Parsley for garnish
---
Instructions
Heat oven to 200 degrees F. You will use it to keep the chicken warm.
Cut chicken breasts in halves the horizontal way to make thinner chicken cutlets. Pat dry and season with salt and pepper. Combine oregano, paprika, and coriander in a small bowl. Season the chicken with the spice mixture on both sides.
In a large skillet heat 2 tablespoon extra virgin olive oil until shimmering but not smoking. Add the chicken cutlets and cook for 3 to 4 minutes on one side, then turn over and cook for another 3 minutes or so. To check for doneness, cut into a piece with a thin-bladed knife and take a peek. Transfer the chicken to an ovenproof platter and put it in the oven.
In the same skillet, now add a tiny bit more extra virgin olive oil. Add ghee and melt. Sautee the mushrooms for 5 minutes. Add broth, green onions, garlic, salt and pepper. Bring to a boil.
Add the chicken back to the pan, spoon some of the sauce on top. Serve immediately.
Notes
Leftovers storage tips: Refrigerate in an airtight container for up to 3 days. And because there is no cream involved, you can also freeze leftovers for use at a later time. Thaw in the fridge overnight before reheating.
Reheating tips: Reheat in a skillet over medium heat until warmed through; add a little more chicken broth (and you may cover slightly.) Do not heat for too long or chicken may toughen and dry out.
Visit our Online Shop to browse quality Mediterranean ingredients including olive oils and spices used in this recipe
Category:

Entree

Method:

Pan Seared

Cuisine:

Italian
Keywords: Mushroom chicken, chicken and mushroom recipe, healthy chicken and mushroom