True to the Mediterranean diet, this Chickpea Salad Recipe with Za'atar and fried Eggplant is a  vibrant and satisfying "poor man's" food.  I could have easily called it, loaded fried eggplant! 
Growing up, my family vacationed in Alexandria, Egypt's second largest city and probably my favorite spot on the Mediterranean.
Alexandria's busy streets are home to vendors and small food joints, many of which dedicated to the daily grub of falafel and fava beans, along with an extensive menu of filling "peasant" salads and sides. And that's where the inspiration of today's chickpea salad came frome–Alexandria.
This Mediterranean chickpea salad with za'atar and eggplant is a simple "poor man's" dish of chickpeas, chopped vegetables, and fresh herbs, next to (or on top of) rounds of fried eggplant. Here's another way to describe it: loaded fried eggplant, Mediterranean style!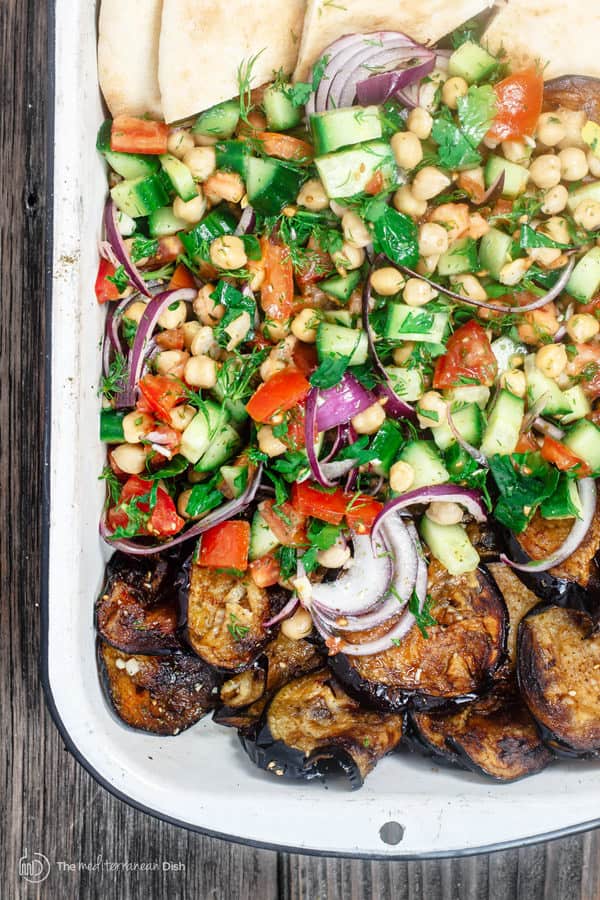 I dressed the chickpea salad and fried eggplant with two of my favorite things: a generous sprinkle of Za'atar and a garlic-vinaigrette. If you like a little kick, feel free to add some cayenne or crushed red peppers.
This Mediterranean chickpea salad makes for a good starter to your meal. Because it is so filling, you can simply add chicken breast or fish to complete the meal. But, for a vegetarian dinner, my family regularly enjoys this chickpea salad with pita bread and other small plates like roasted red pepper hummus, baba ganoush, and of course, falafel.
Here is the recipe, and be sure to scroll down for the step-by-step tutorial with photos. Enjoy! 
Print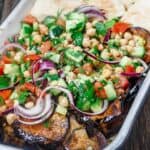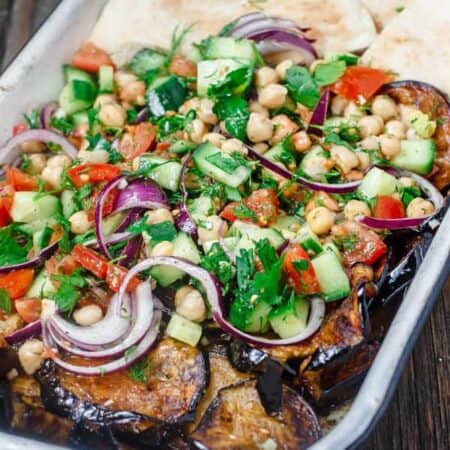 Mediterranean Chickpea Salad with Za'atar Fried Eggplant
---
Author:

Prep Time:

20 mins

Cook Time:

10 mins

Total Time:

30 minutes

Yield:

4

Category:

Salad

Cuisine:

Mediterranean
---
---
Here is the Step-by-Step tutorial for this chickpea salad with fried eggplant:
Place the sliced eggplant on a large tray and sprinkle generously with salt. Let it sit for 30 minutes, (The eggplant will "sweat out" its bitterness as it sits.)
Now line another large tray or baking sheet with a paper bag topped with paper towel and place it near the stove.
Pat the eggplant dry. Fill a large skillet about half way with canola oil. Heat on medium-high until the oil begins to gently bubble. Now, fry the eggplant in the hot oil (do this in batches and do not crowd the skillet). When the eggplant slices turn golden brown on one side, turn over. Remove the eggplant slices with a slotted spatula and arrange them on the paper towel-lined tray to drain and cool. Once cooled, assemble the eggplant on a sided serving dish. Sprinkle with 1 tbsp of Za'atar. [If you prefer to roast the eggplant instead, check the recipe notes above for instructions]

In a medium mixing bowl, combine the tomatoes, cucumbers, chickpeas, red onions, parsley and dill. Add the remaining Za'atar, and mix gently.
In a small bowl, whisk together the dressing ingredients.
Drizzle 2 tbsp of the salad dressing over the fried eggplant; pour the remaining dressing over the chickpea salad and mix.
Finally, add the chickpea salad to the serving dish with the fried eggplant. Serve with pita bread.
More chickpea recipes:
Israeli Couscous Recipe with Chickpeas and Artichokes
Orzo with Tomato Braised Zucchini and Chickpeas 
Disclaimer: As an Amazon Affiliate, I receive a small credit when you make an Amazon purchase within 24 hours of clicking a link provided here. Please know, I only recommend quality products that are priced competitively or may be hard to find elsewhere. If you are looking for a product not highlighted here today, please browse Amazon via this link. Thank you for your support.