My family's secret Mediterranean chickpea salad is loaded with crunchy veggies, fresh herbs, and a tangy garlic and lime dressing! A Mediterranean diet recipe that's a winner every time
This salad is so hearty and satisfying that it can stand alone as it's own vegan meal with a side of roasted or fried eggplant. You can serve it with chicken, salmon or any entree of your choice. Read through for important tips and watch the video for how to make below!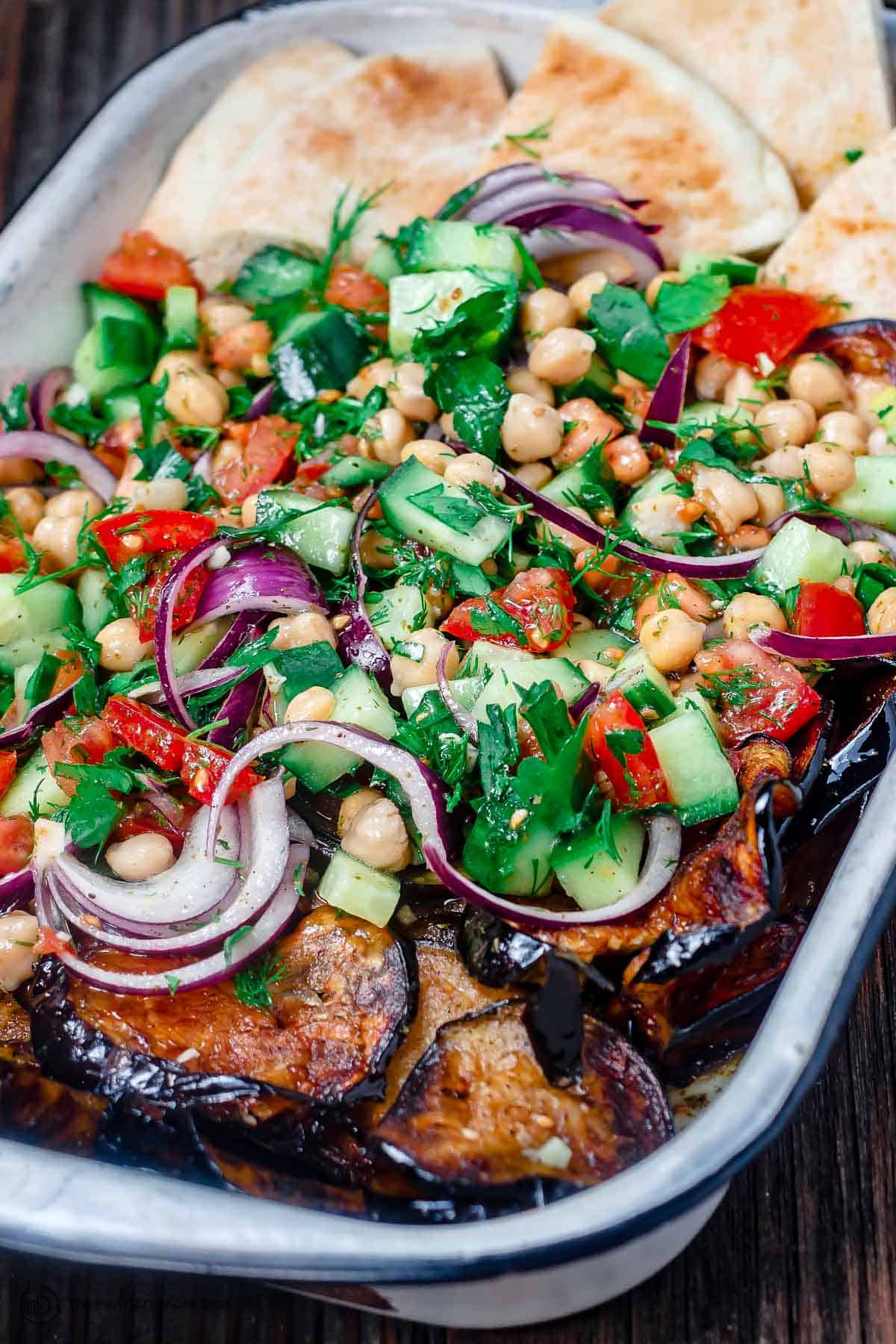 Mediterranean Chickpea Salad
Growing up, my family vacationed in Alexandria, Egypt's second-largest city and probably my favorite spot on the Mediterranean.
Alexandria's busy streets are home to vendors and small food joints, many of which dedicated to the daily grub of falafel and fava beans, along with an extensive menu of filling "peasant" salads and sides.
And that's where the inspiration of today's chickpea salad came from –Alexandria. A simple, nutritious salad that is bursting with flavor and tastes as Mediterranean as can be.
Chickpeas, crunchy chopped veggies, fresh herbs like dill and parsley, and a dash of za'atar to a serious punch and make this salad hearty and satisfying, it can stand alone as a meal!
But, I'll often pair this vegan chickpea salad with roasted or fried eggplant. The eggplant is optional, and you don't have to make it, but think it adds a little something special.
The only way this salad gets any better is dressing it with the tangy garlic and lime dressing!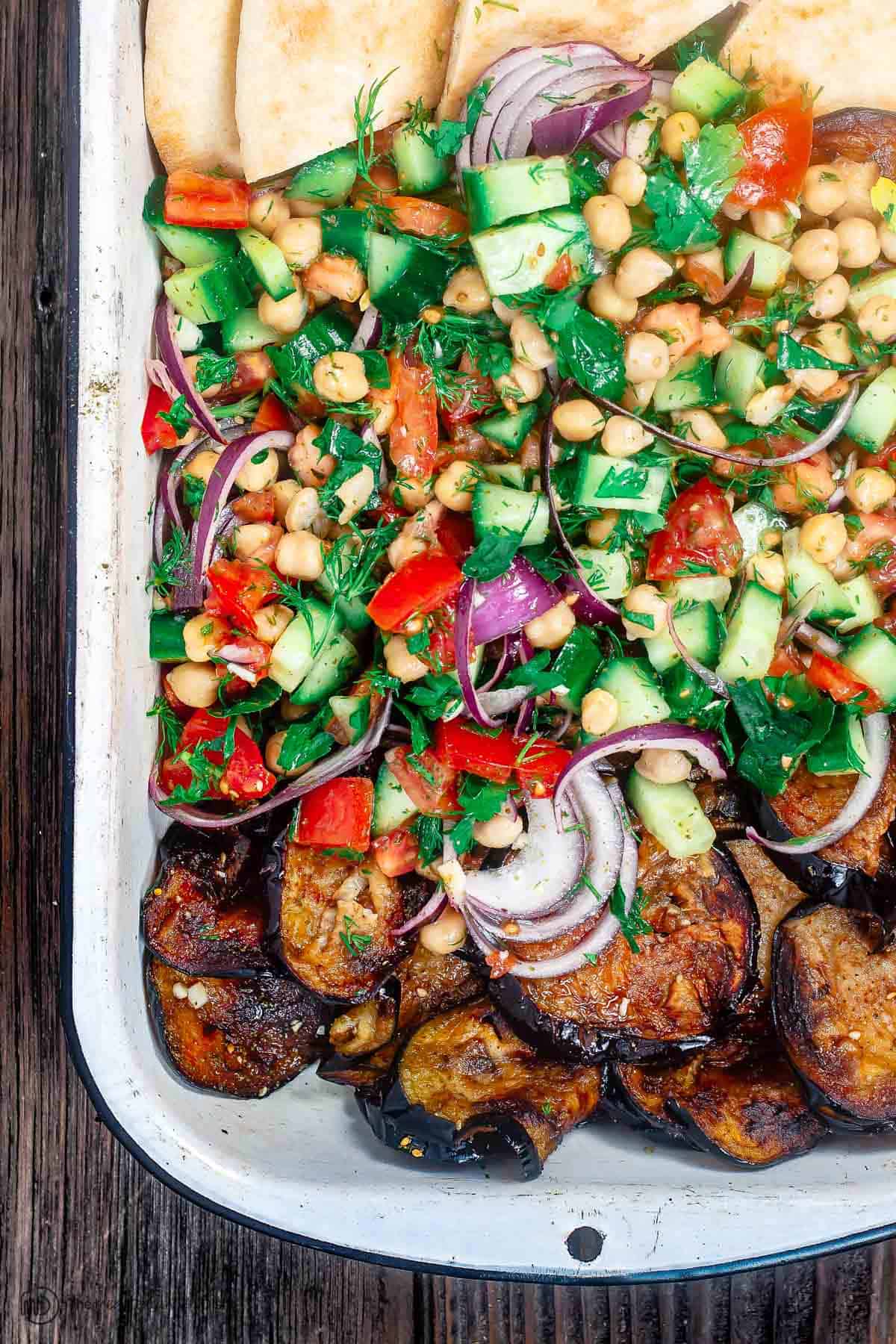 Ingredients
The great thing about this chickpea salad is it is made from simple, fresh ingredients. Here's what's in it:
1. Chickpeas – Chickpeas are the base of the salad and replace traditional lettuce or greens. This star ingredient is nutty, meaty, and protein-packed. It is what gives this salad its bulk. I simply use chickpeas from a can here to save time
2. Fresh Vegetables – Roma tomatoes and English cucumbers are diced, so they are a similar size to the chickpeas. This makes is easy to eat all in one bite. The red onions are thinly sliced into half-moons and give the salad a burst of flavor.
3. Fresh herbs – Dill and parsley are the key herbs here. Dill is loaded with a bright lemony flavor and parsley is earthy and peppery. I think dill can be the most underutilized herb, but the dill truly makes this salad come alive.
4. Spices – Za'atar is the spice mixture of choice for this chickpea salad. It is made of wild thyme and toasted sesame seeds – nutty, earthy, and slightly citrusy. It's sprinkled on the salad and the eggplant, if you're adding that, and it really does add depth and elevate the flavor.
5. Chickpea salad dressing – Since we have so many bold flavors happening, all we need is a light and simple dressing made from fresh minced garlic, lime juice, salt, pepper, and a high-quality extra virgin olive oil. I choose to use Early Harvest EVOO. Extremely tasty, but won't overpower the salad.
6. Eggplant (optional) – Eggplant can be roasted in the oven or gently fried in oil to add a little something extra to this salad. Crispy on the edges, and creamy on the inside, eggplant can be a great addition next to this bright salad.
How to Make Chickpea Salad: Step-by-step
This vegan chickpea salad recipe is prepared Mediterranean-style and has two main components: the chickpea salad and the eggplant (eggplant is optional, as mentioned earlier.)
Step 1 Prepare eggplant (Optional)
If you are adding eggplant next to the chickpea salad, start by slicing and salting the eggplant. Leave it alone for 20 to 30 minutes to draw out moisture and bitterness.
Pat eggplant dry and fry in extra virgin olive oil over medium/medium-high heat (or roast according to this recipe.) If frying, it's a good idea to let the eggplant rest over some paper towels to drain excess oil. Give the a sprinkle of Za'atar.
Tip: you can make the eggplant portion of this salad one night ahead. Cool completely and store in the fridge until ready to use.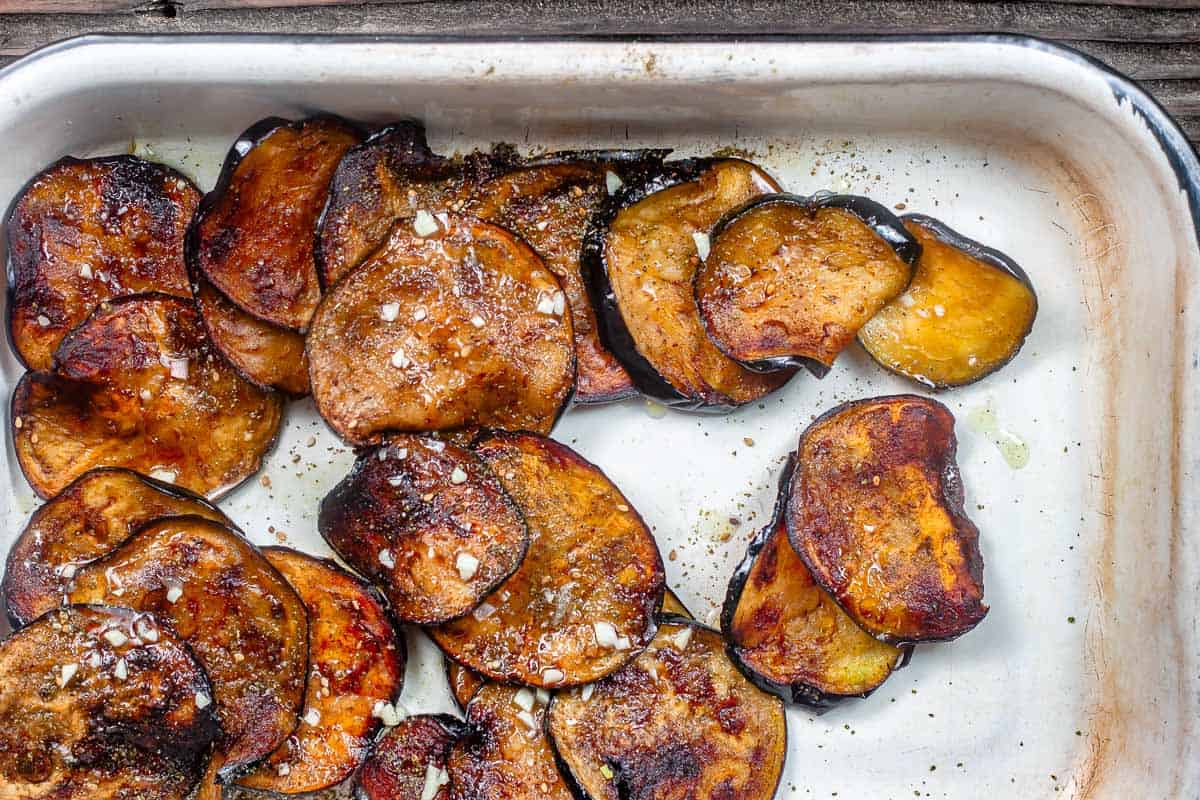 Step 2: Prepare salad
Chop up the cucumbers, tomatoes, and red onions. Add them to a salad bowl, then add fresh parsley and dill. Add the remaining za'atar (hold salt and pepper as they are added in the dressing, you can always adjust the seasoning later.)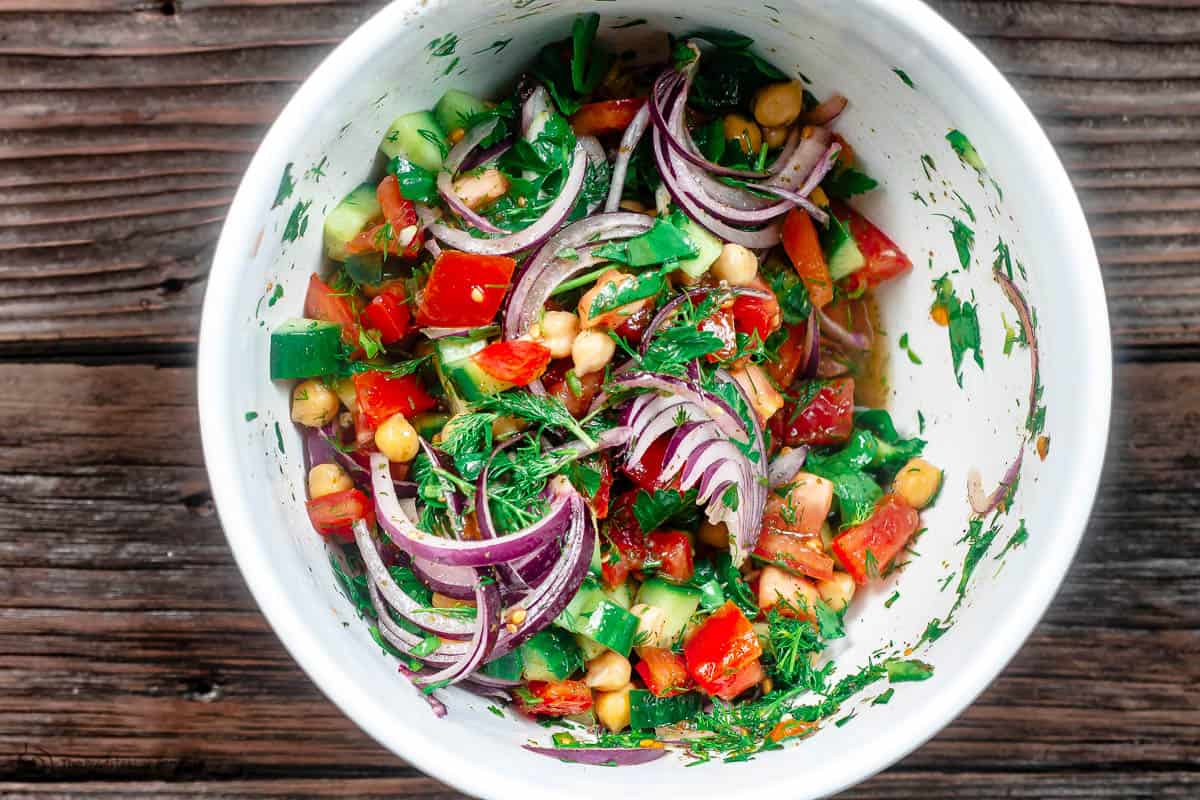 And make the garlic-lime dressing and drizzle some over the eggplant and the rest on the salad, and toss well.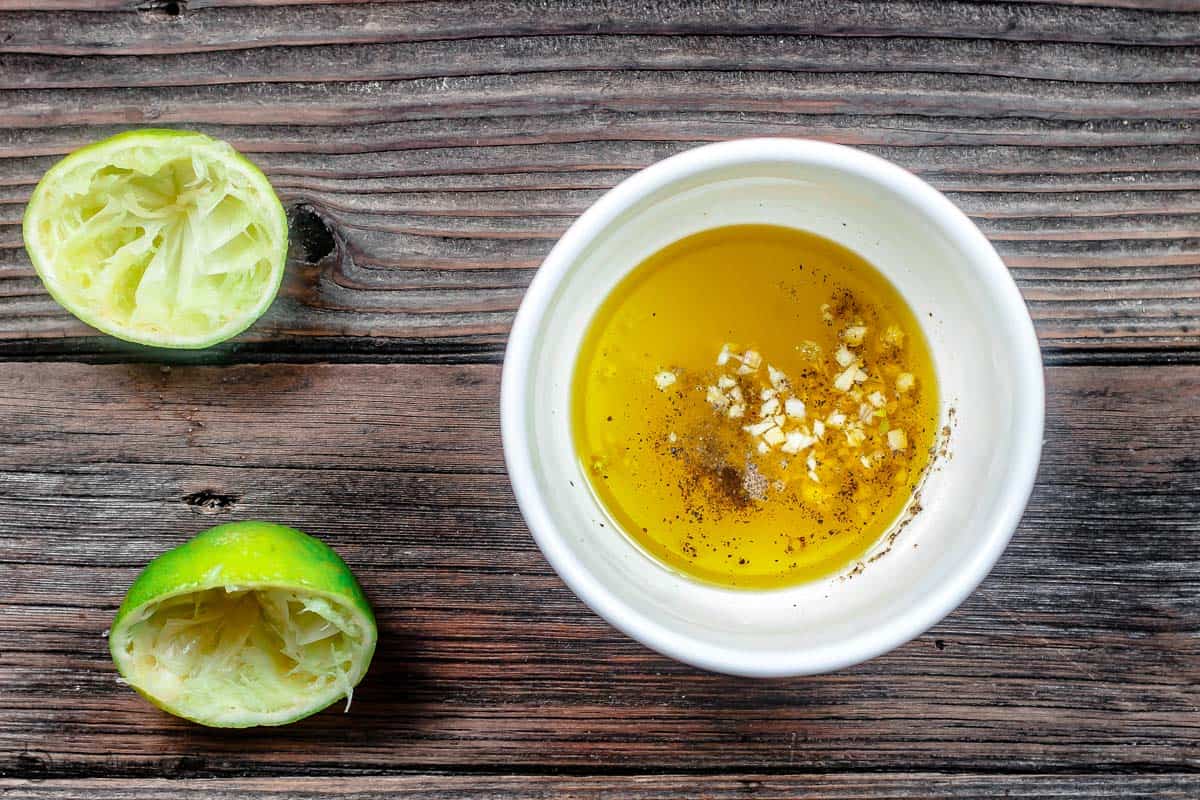 For a fun way to serve it, add the salad and eggplant slices on a nice big platter.
A Few Tips
There are a few important tips for making the BEST Mediterranean chickpea salad. This simple salad is pretty hard to mess up, but these are just a few simple tips I have for you.
1. Drain and rinse chickpeas well. Since we are using canned chickpeas in this recipe, to get the best flavor from your canned chickpeas, make sure you drain and rinse them well. Placing them in a colander and running water over them for a minute in the sink will wash away the salty and sometimes metallic tasting liquid. You will be left with a much better tasting chickpea.
2. Two ways to prepare the eggplant (if using.) Although the eggplant is altogether optional, if you do choose to include it, there are 2 ways to prepare it. As with this recipe, I choose to fry the eggplant on the stovetop.
But you can also bake or roast in the oven heated at 400 degrees F for a slightly healthier version. It requires less oil and may be easier for you.
3. Store chickpea salad and eggplant separately. If making ahead or if you have leftovers, best to keep the chickpea salad and the cooked eggplant in separate containers in the fridge so the eggplant does not get too soggy.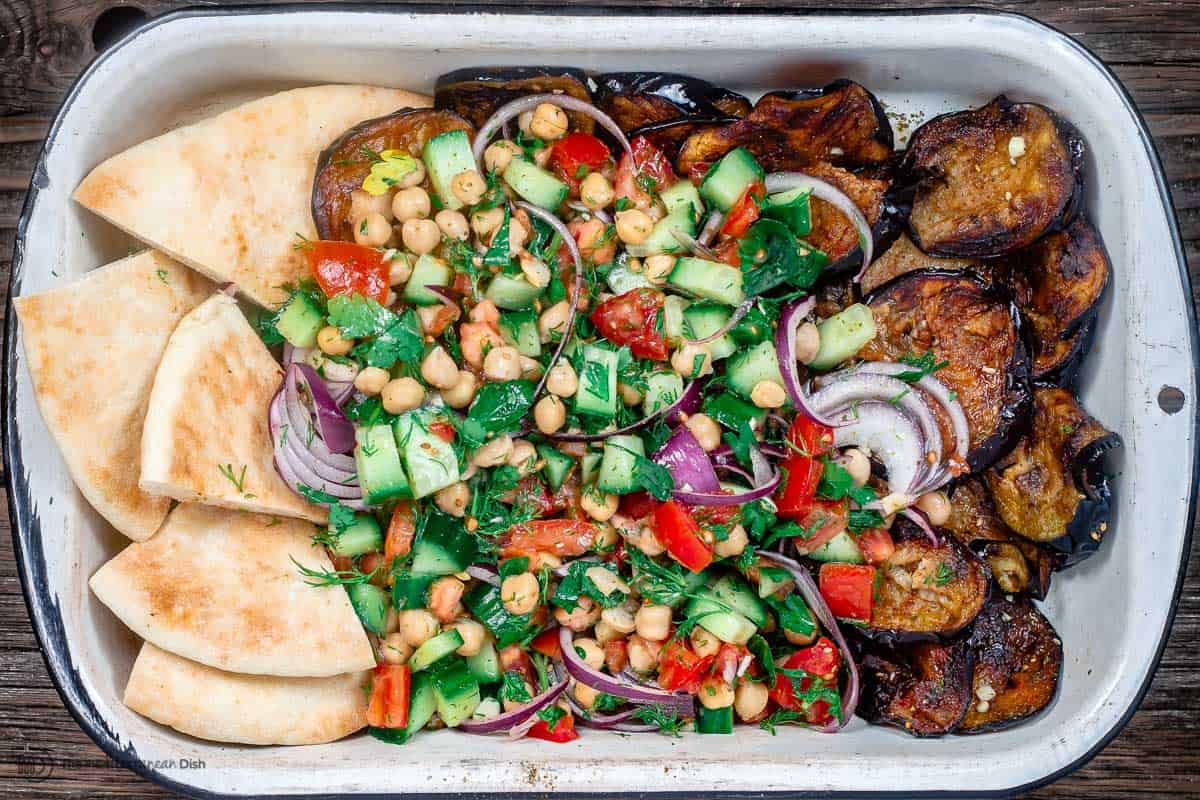 Are Garbanzo Beans the Same as Chickpeas?
Yes, chickpeas and garbanzo beans are the same things, even though they sound unrelated. However, chickpeas are not beans, they are actually considered legumes – a type of seed or pod from a plant. Just a little fun fact for the day.
Chickpeas have been a popular and loved ingredient in the Middle East for over 10,000 years. Can you believe that? The name differences vary from language and culture. Garbanzo beans are the Spanish term while chickpeas are the common English term.
Are Canned Chickpeas Healthy?
There are lots of benefits of canned chickpeas and they ARE healthy. Canned chickpeas are quick and easy because they are already cooked. No overnight soaking required. Just drain and they are ready to go.
Canned chickpeas contain just as much protein, carbs, and healthy fat as dry chickpeas. They have lots of vitamins A, C, and E, lots of fiber, and important minerals like iron and potassium.
Tip: If you want to get the healthiest and safest canned chickpeas possible, look for low-sodium or no-sodium varieties, to ensure you're not consuming too much salt. Canned chickpeas can contain pretty high levels of sodium. Finding an organic option that is packaged in a BPA-free can also make sure you're not consuming unsafe chemicals that can leave from aluminum cans.
Can you prepare this salad ahead? And how long will it last?
Making this simple chickpea salad ahead of time or for those who want to meal prep could not be easier.
If you want the eggplant component, you can cook the eggplant one evening in advance. Cool completely and save in the fridge in it's own container.
Prepare the chickpea salad. And if you plan to eat it the next day, you can add the dressing as well. But I find it best to add the dressing later, especially if you are using the salad for lunch a couple of days in a row.
You can portion out the Mediterranean chickpea salad into meal prep containers and store in the fridge for 3 or so days.
How to Serve Chickpea Salad
This is a wonderful stand-alone vegetarian meal, particularly with the added eggplant.
For a fun vegetarian dinner, my family will eat this salad with sides like roasted garlic hummus, baba ghanoush, and falafel. It is such a crowd pleaser and so much fun to eat. You can pile up your pita with all your favorite toppings and it makes such a delicious bite.
You can also eat the chickpea salad as a starter to your meal or make it a healthy side dish that pairs well with chicken, salmon kabobs, or even chicken shawarma.
Watch the video to see how I make it:
You may also like
Mediterranean Fresh Bean Salad
Black Bean and Corn Salad by Joe Yonan
For all recipes, visit us here. And be sure to view our collection of Mediterranean diet recipes.
NEVER MISS A RECIPE! JOIN MY FREE E-MAIL LIST HERE.
SHOP OUR ONLINE STORE FOR QUALITY OLIVE OILS, ALL-NATURAL SPICES AND MORE.
Print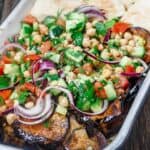 Mediterranean Chickpea Salad
---
Description
My family's secret Mediterranean chickpea salad is loaded with crunchy veggies, fresh herbs, and a tangy garlic and lime dressing! A Mediterranean diet recipe that's a winner every time
Tips and video provided up in the post.
---
1

large eggplant, thinly sliced (no more than

¼

inch in thickness)
Salt
oil for frying, preferably extra virgin olive oil

1 cup

cooked or canned chickpeas, drained

3 tbsp

Za'atar spice, divided

3

Roma tomatoes, diced

½

English cucumber, diced

1

small red onion, sliced in ½ moons

1 cup

chopped parsley

1 cup

chopped dill
For the Garlic Vinaigrette:
1

-

2

garlic cloves, minced

1

large lime, juice of
Salt+Pepper
---
Instructions
Prepare Eggplant (optional) Place the sliced eggplant on a large tray and sprinkle generously with salt. Let it sit for 30 minutes (the eggplant will "sweat out" its bitterness as it sits.) Now line another large tray or baking sheet with a paper bag topped with paper towel and place it near the stove.
Cook Eggplant (optional). Pat the eggplant dry. Heat 4 to 5 tablespoon extra virgin olive oil over medium/medium-high heat until shimmering but not smoking. Fry the eggplant in the oil in batches (do this carefully and do not crowd the skillet). When the eggplant slices turn golden brown on one side, turn over and fry on the other side. Remove the eggplant slices with a slotted spatula and arrange them on the paper towel-lined tray to drain and cool.
Once cooled, assemble the eggplant on a serving dish. Sprinkle with 1 tablespoon of Za'atar.
Prepare chickpea salad. In a medium mixing bowl, combine the tomatoes, cucumbers, chickpeas, red onions, parsley and dill. Add the remaining Za'atar, and mix gently.
Prepare the dressing. In a small bowl, whisk together the dressing. Drizzle 2 tablespoon of the salad dressing over the fried eggplant; pour the remaining dressing over the chickpea salad and mix.
Add the chickpea salad to the serving dish with the eggplant.
Notes
What to Serve it With: This salad will serve up to 6 people as a starter to a meal, or 3 to 4 people as a main course with eggplant or your favorite chicken, salmon, or your favorite fish or meat.
Eggplant roasting instructions: If you prefer to bake the eggplant instead, arrange the eggplant slices in a single layer on a lightly oiled baking sheet. Drizzle generously with oil/olive oil, and roast for 20 mins or so in a 400 degrees F heated oven. Turn over half-way through.
Recommended for this Recipe our all-natural Za'atar, and Early Harvest extra virgin olive oil for an exquisite salad dressing.
Visit our online shop to browse quality Mediterranean ingredients.
Prep Time:

20 mins

Cook Time:

10 mins

Category:

Salad

Method:

Tossed

Cuisine:

Mediterranean
Keywords: Mediterranean chickpea salad, chickpea salad