This quick grilled swordfish recipe takes on a delicious Mediterranean twist thanks to a simple olive oil marinade with fresh garlic and a trio of warm spices.
It takes 15 minutes to marinate the fish and about 8 minutes to grill it to juicy perfection. Serve it with a big salad or a simple side and call it dinner!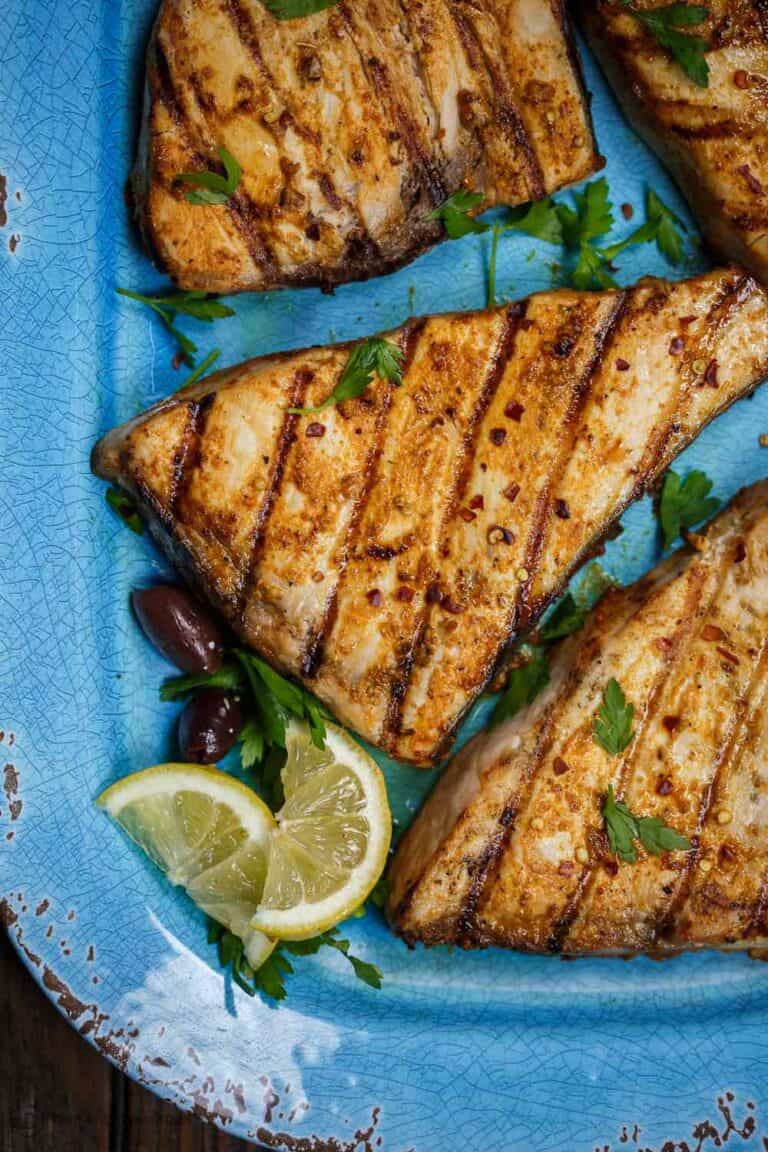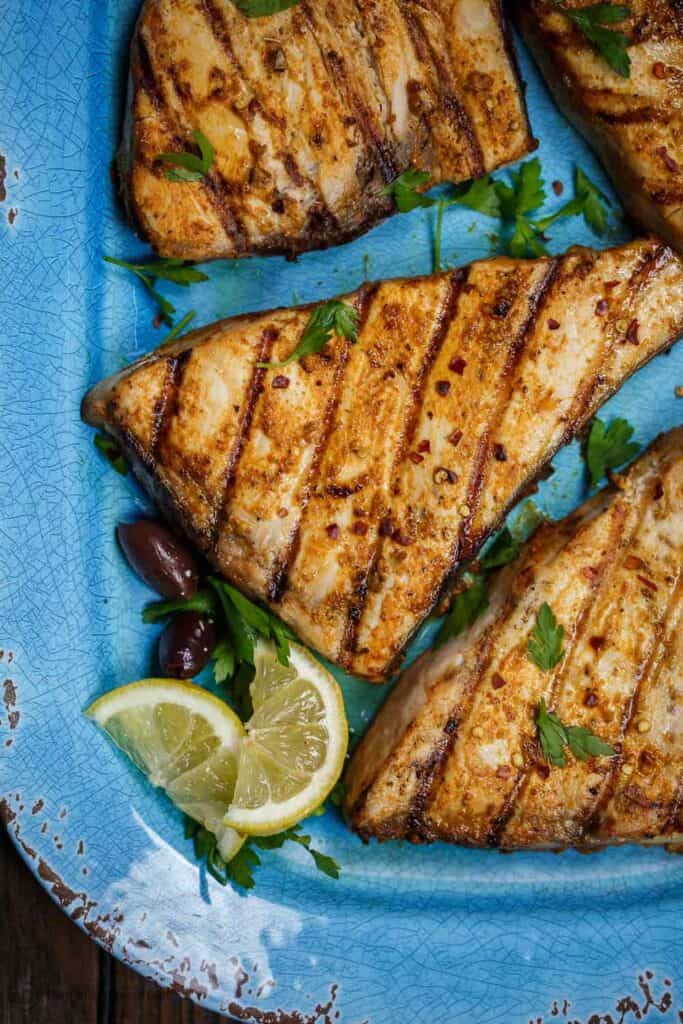 Swordfish
Swordfish is a mild-tasting white fish with a meaty and firm texture. It's found in Atlantic, Pacific and Mediterranean waters.
This meaty fish is protein-rich and a great source of B12, zinc, and Omega 3.
You'll find it sold in white steaks, typically about 1 inch in thickness. When buying swordfish, make sure that the reddish areas on the fish steak are actually red and not brown (if they're brown, the fish is old).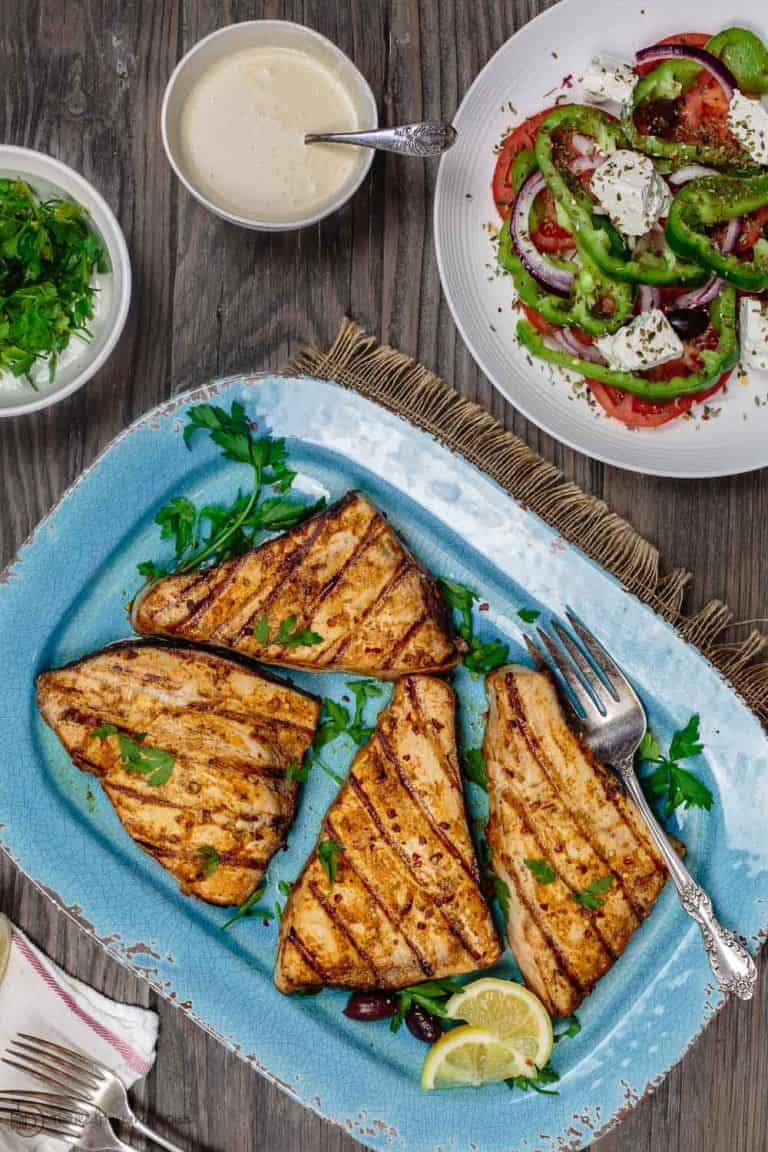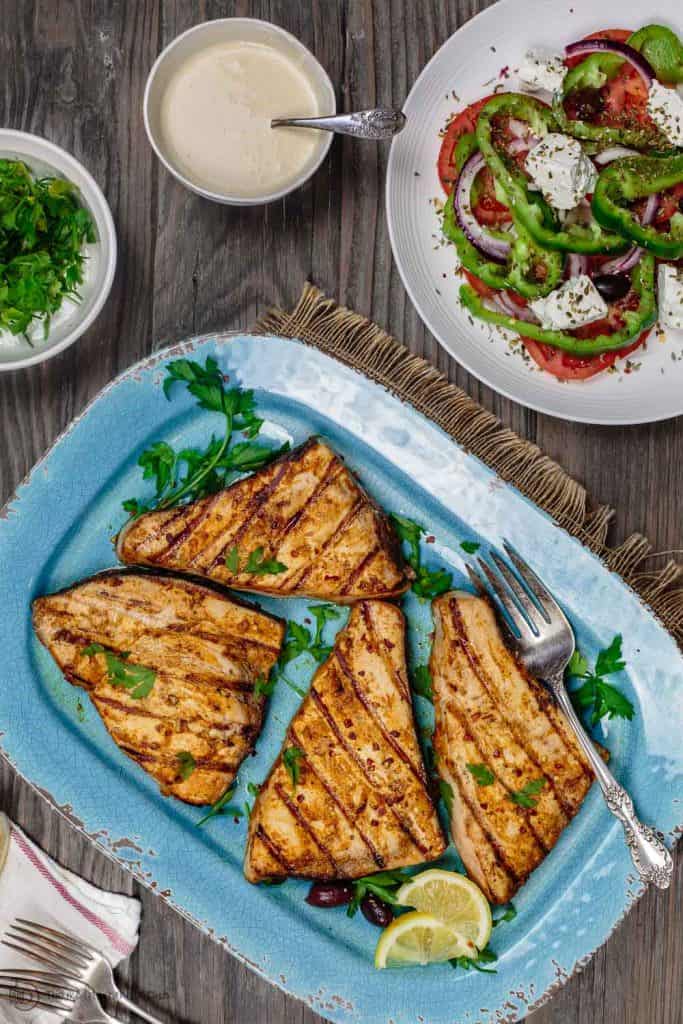 How to cook swordfish?
Swordfish is quite meaty and firm which makes it great for fish stew, pan-searing, or grilling as a whole steak or even skewering for fish kabobs!
This wonderful fish will hold up to the grill where other delicate fish might fall apart. And because of it's texture and mild taste, it's perfect with the addition of flavorful marinades or sauces.
I'm using a gas grill for this recipe but you can use a charcoal grill or even an indoor griddle. Whichever method you choose to cook your swordfish, the key is not to overcook it.
For grilled swordfish, some say, treat swordfish as you would cook a rare steak, using high heat to sear on one side for about 5 to 6 minutes, then turning the fish over to cook for another 3 minutes or so for a 1-inch steak. (This may vary slightly).
How do you know if swordfish is done?
Feeling the swordfish steak on the outside doesn't help you determine for sure if it's ready. This is because it's a firm fish and will feel just as hard at medium as it would at medium-well.
For a juicy grilled swordfish steak, the fish would be well-browned on one side (that's the side you present when serving) and slightly light pink on the inside, but don't worry, it will cook through by the time it gets to the table. And it should flake easily with the touch of a fork while retaining firmness.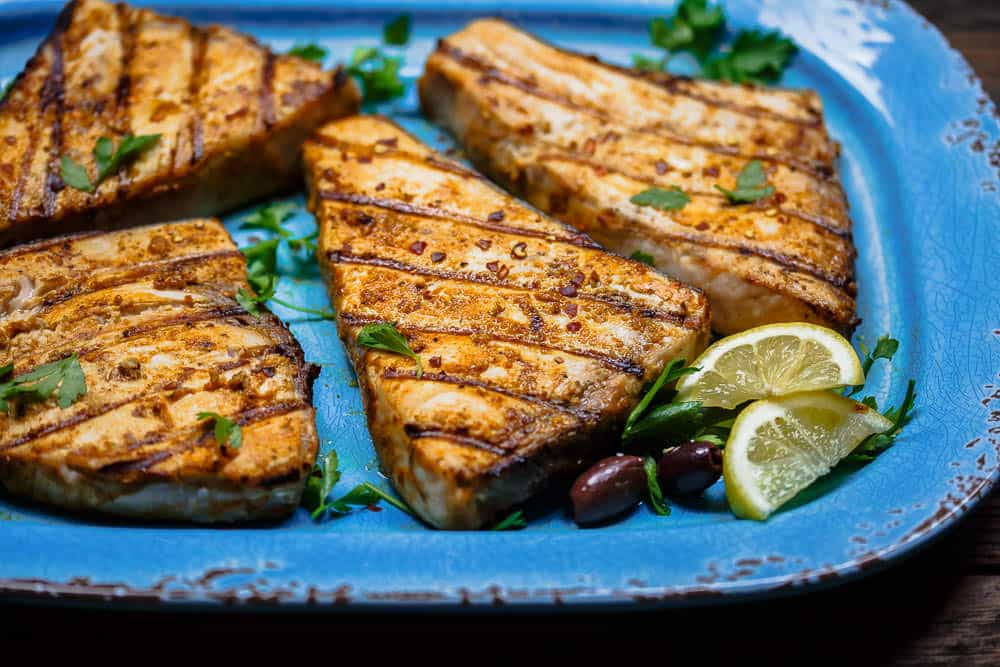 The marinade. How long should you marinate swordfish?
To give my grilled swordfish recipe a Mediterranean twist, I'm employing a bold olive oil-based swordfish marinade with some of my favorite flavors!
What's in the swordfish marinade?
Garlic: anywhere from 6 to 12 garlic cloves. (I typically go heavier on fresh garlic than most people, opting for 12 garlic cloves. But because we're adding a bit of lemon juice, the garlic is tamed a bit).
Extra virgin olive oil: a good ⅓ cup of quality extra virgin olive oil (you can find the Greek olive oils I use at our online shop here).
Lemon juice: about 2 tablespoons of fresh lemon juice
Spices: a trio of warm ground spices- 1 teaspoon coriander, ¾ teaspoon cumin, and ½ to 1 teaspoon of sweet paprika. A dash of kosher salt and black pepper in addition
Now, how long to marinate this fish? In this recipe, you don't need to marinate the fish for too long. 15 minutes or so at room temperature while the grill is heating should do it.
In general, you can marinate swordfish for longer if the acid content is small, in which case you can cover and refrigerate it for 1 hour.
Grilled swordfish recipe: step-by-step
Time needed: 23 minutes
How to make this grilled swordfish recipe (print-friendly recipe below)
Make the marinade

In the small bowl of a food processor fitted with a blade, add the garlic cloves, extra virgin olive oil, lemon juice, coriander, cumin, paprika, kosher salt, and black pepper. Run the processor for a few minutes until you arrive at a smooth marinade.

Marinate the fish

Pat the swordfish steaks dry and place in a glass dish. Pour the marinade over and be sure to cover the fish with it on both sides. Set aside to marinate while you heat the grill (about 15 minutes or so)

Grill on high heat

When ready, grill the fish steaks on high heat for 5 minutes on one side, then turn over once and grill on the other side for 3 minutes or so (you can do this on gas grill or an indoor griddle).
The fish should flake easily, while maintain firmness. You will likely see a bit of pink on the inside, but by the time it gets to the table, it will have cooked through)

Serve

Off the grill, I like to hit the fish up quickly with a splash of fresh lemon juice. Garnish with fresh parsley and red pepper flakes, if you like heat, and serve!
What to Serve along with this Grilled Swordfish?
For a light meal, I like to serve grilled swordfish with a bright and substantial salad like Greek salad, bean salad, or Mediterranean potato salad.
Sides like couscous, skordalia, or Greek green beans will also go well with swordfish. And a little drizzle of Tahini sauce never hurts!
Check out our collection of Mediterranean diet recipes. For all recipes, visit us here.
JOIN MY FREE E-MAIL LIST HERE.
SHOP OUR ONLINE STORE FOR QUALITY OLIVE OILS, ALL-NATURAL SPICES AND MORE.
Print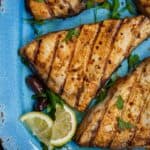 Grilled Swordfish Recipe with a Mediterranean Twist
---
Author:

Suzy Karadsheh

Total Time:

23 minutes

Yield:

serves 4

Diet:

Low Calorie
Description
Easy grilled swordfish recipe that utilizes a delicious Mediterranean marinade with cumin, fresh garlic cloves and more. But you don't even need to leave it in the marinade too long! Just a few minutes while your grill is heating!
---
6

to

12

garlic cloves, peeled

⅓ cup

extra virgin olive oil

2 tbsp

fresh lemon juice, more for later

1 tsp

coriander

¾ tsp

cumin

½

to

1

teaspoon sweet Spanish paprika

¾ tsp

salt

½ tsp

freshly ground black pepper

4

swordfish steaks, about

5

to

6

ounces each, from sustainable sources
Crushed red pepper, optional
---
Instructions
In a food processor, blend the garlic, lemon juice, olive oil, spices, salt and pepper for about three minutes or until well-combined forming a thick and smooth marinade.
Pat the swordfish steaks dry and place them in a pan (or a dish with sides to it) and apply the marinade generously on both sides and set aside for 15 minutes or so while you heat the grill.
Preheat a gas grill on high (be sure to oil the grates before using). When ready, grill the fish steaks on high heat for 5 to 6 minutes on one side, turn over once and grill on the other side for 3 minutes or so (the fish should flake easily, while maintain firmness. You will likely see a bit of pink on the inside, but it should cook through by the time it gets to the table).
Finish with a splash of fresh lemon juice and a sprinkle of crushed red pepper flakes if you like heat. Enjoy!
Notes
Cook's tip: Prepare any sides or salads before you get to the fish; it goes fast
Cook's tip: You may need to adjust the grilling time depending on the thickness of the swordfish steaks. Fish is ready when it easily flakes at the touch of a fork.
Visit our online shop to browse quality Mediterranean ingredients including extra virgin olive oil and all-natural and organic spices used in this recipe.
Prep Time:

15 mins

Cook Time:

8 mins

Category:

Fish and Seafood

Method:

Grilled

Cuisine:

Mediterranean
Keywords: Grilled Swordfish Recipe, Swordfish, How to Cook Swordfish
*This post first appeared on The Mediterranean Dish in 2015 and has been recently updated with new information and media for readers' benefit. Enjoy!