Homemade salmon burger recipe with a Mediterranean twist. Light, moist, salmon burgers seasoned Mediterranean-style and served with fresh lemony arugula and Greek Tzatziki sauce. 
This post is brought to you in partnership with FlatOut Flatbread. All opinions are my own.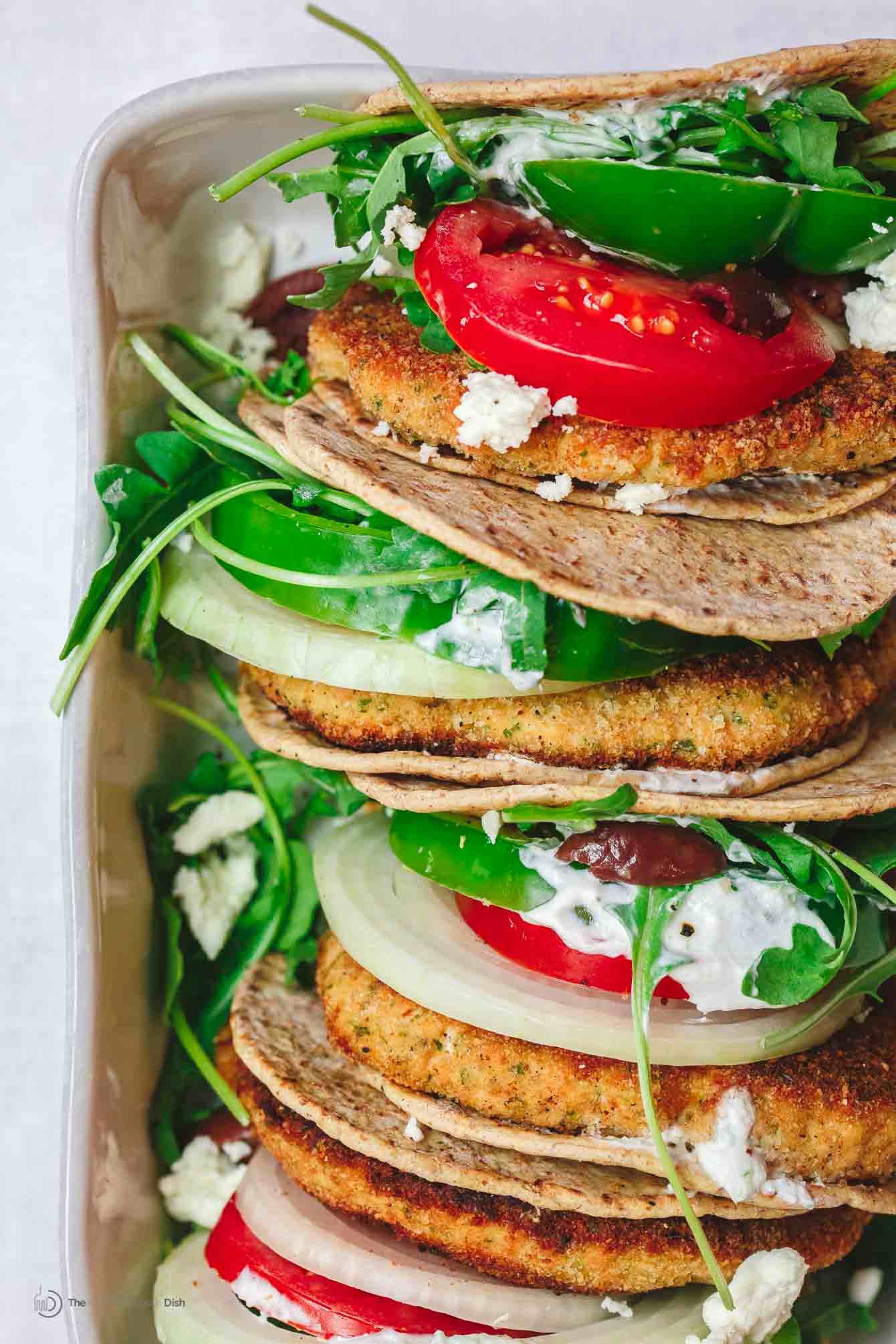 Salmon burgers are one of those items that I often avoid on restaurant menus. Between dried out salmon discs, and flavorless, crumbly messes, my few experiences with restaurant salmon burgers have been less than enchanting. Have you been there?
In doing some research and testing of my own, my goal was moist salmon burgers with a crunchy exterior and an interior packed with Mediterranean flavors.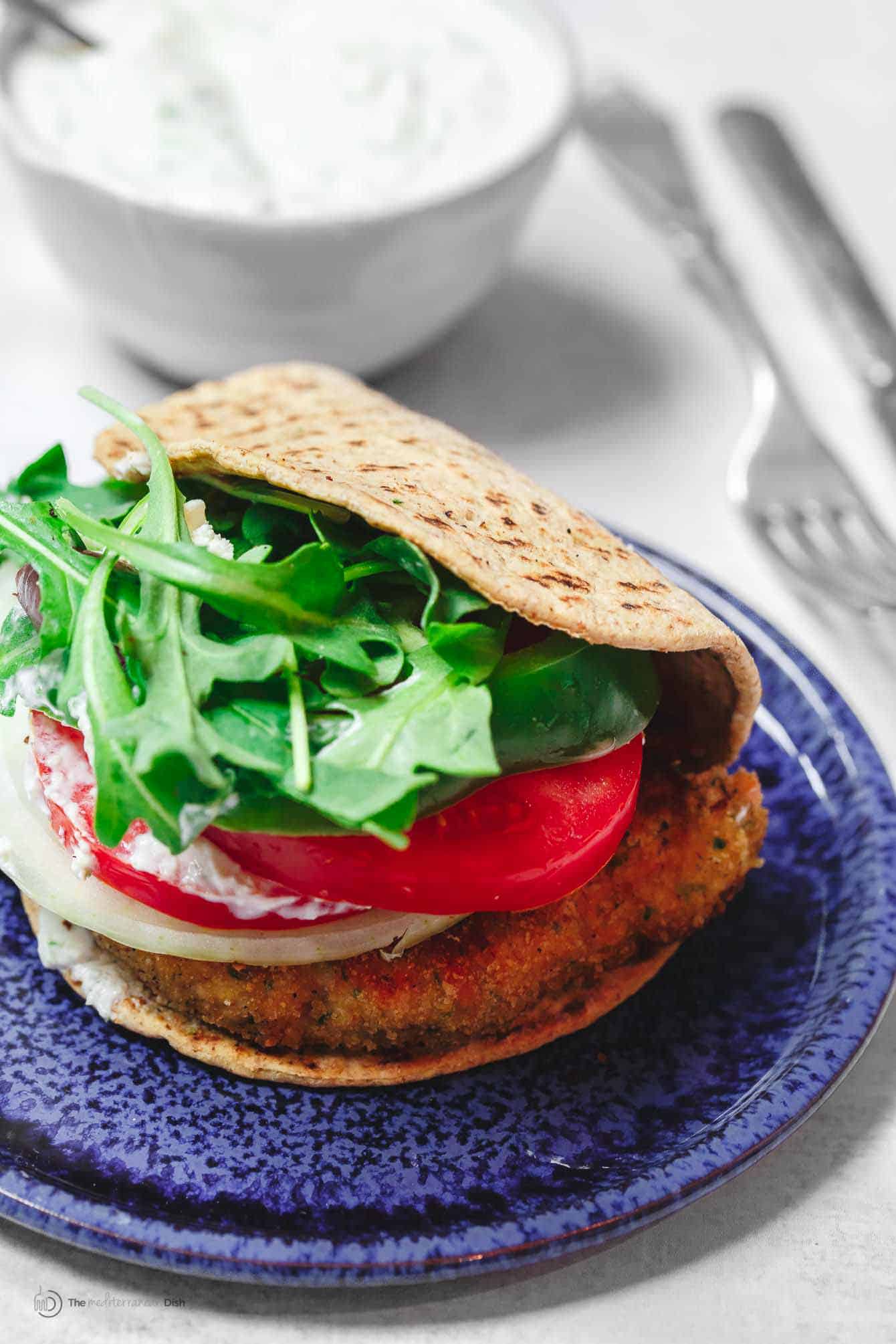 I've come to this satisfying Mediterranean salmon burger recipe, served on low-calorie FlatOut FoldIt Artisan Bread.
Tips for this salmon burger recipe
First, avoid over-grinding the salmon mixture. I chose to finely grind only a small part of the salmon into a paste to help bind the rest. Then, I added the remaining salmon chunks, spices, and Dijon, pulsing only a few times until roughly chopped. The resulting coarse mixture retains more moisture when cooking.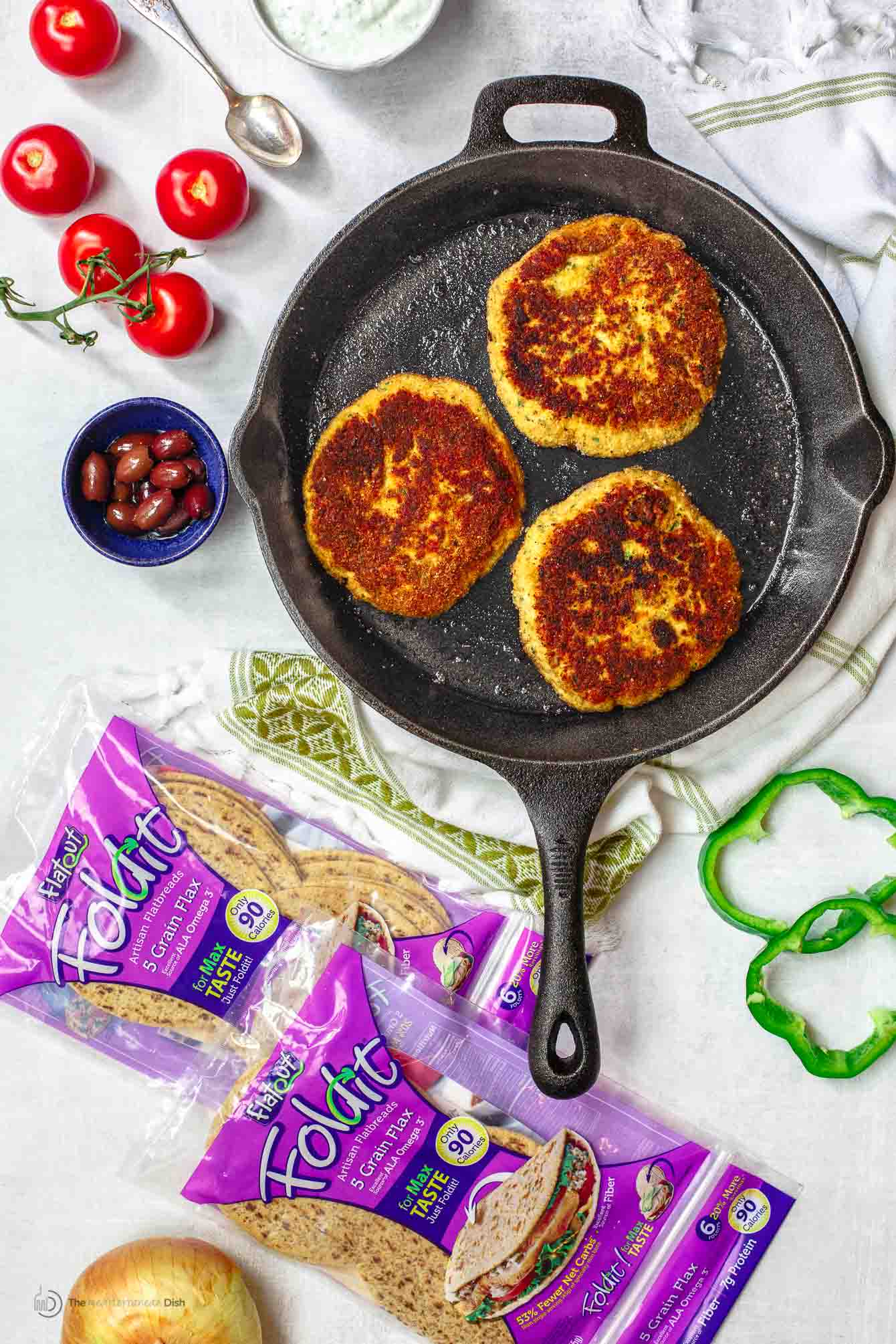 At the outset, fresh parsley and shallots added great flavor while contributing moisture. Instinctively, I added a few spices including tangy sumac and ground coriander, which are natural pairings with fish.
Finally, rather than adding breadcrumbs into the salmon mixture (which would have absorbed moisture and resulted in more dense salmon burgers), I opted to lightly coat the already mixed patties with the breadcrumbs to create a crusty exterior.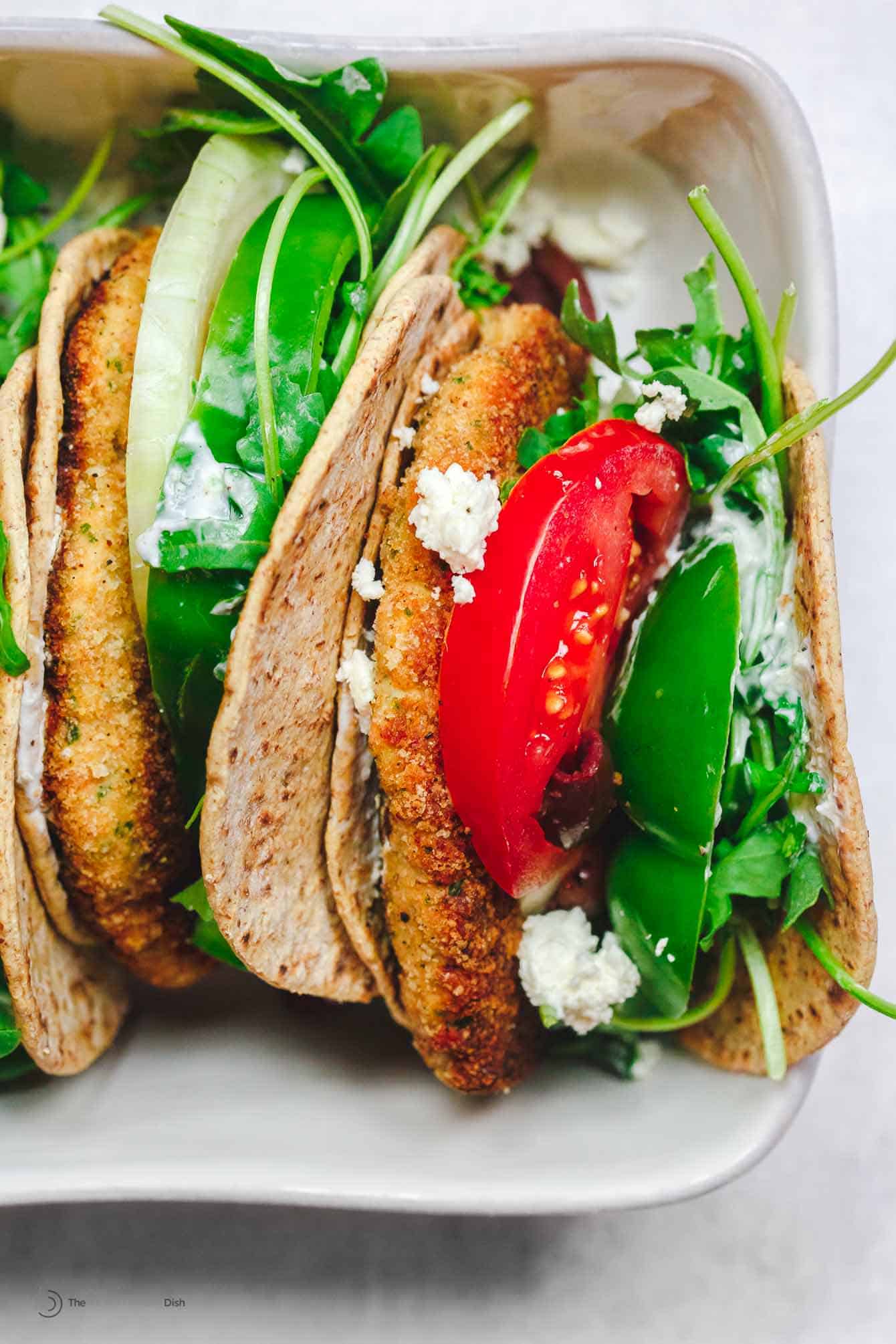 Keeping the meal light, I ditched the usual bun in favor of healthier FlatOut Foldit Artisian Flatbread; only 90 calories and 43% less carbs than sliced bread! I chose the 5-Grain Flax Seed to capitalize on the Omega-3 goodness. And I just have to say, no one missed the dense burger buns!
The choice of sauce was obvious, homemade Greek Tzatziki rather than ketchup or mayo. Equally important to the Mediterranean theme here are fresh baby arugula tossed in EVOO and lemon juice, and, of course, olives, and feta!
Print
Mediterranean Salmon Burger Recipe
---
Author:

Prep Time:

10 mins

Cook Time:

8 mins

Total Time:

18 minutes

Yield:

4

1

x
Scale
Ingredients
Toppings
1

Homemade Tztaziki Sauce Recipe

1

onion (yellow or red), sliced into rounds

1

steak tomato, sliced into rounds

1

green pepper, cored, sliced into rounds

2 cup

s baby arugula, tossed in 1 tbsp lemon juice and 1 tbsp extra virgin olive oil, salt and pepper
Crumbled feta cheese
Pitted Kalamata olives, halved
---
Instructions
Place about 1/4 of the salmon chunks in the bowl of a large food processor. Add parsley and shallots. Blend until a sticky paste forms.
Now add the rest of the salmon, salt, spices and Dijon. Pulse a few times just until the fish is combined with the past (do NOT pulse too much, be careful not to make the mixture too fine).  Transfer the salmon mixture to a non-reactive bowl or container. Cover and refrigerate for 30 minutes to 1 hour to set.
While the salmon chills, prepare the toppings. Make the Greek Tzatziki Sauce according to this recipe. 
When ready, remove the salmon mixture from the fridge. Divide the mixture into four equal portions. Roll each portion into a large ball, then flatten into a 1-inch thick patty.
Spread the bread crumbs on a tray. Place each salmon patty into the bread crumbs and coat on both sides. Transfer each coated salmon patty onto a baking sheet topped with parchment paper.
In a large heavy skillet like this one, heat extra virgin olive oil on medium-high. Carefully lower the salmon patties into hot oil. Cook, turning once or twice until lightly browned (about 8 minutes). Salmon is ready when internal temperature reads between 115 degrees F to 120 degrees F.
Set cooked salmon burgers onto paper towel to drain; sprinkle lightly with salt.
Assemble into FlatOut Foldit Flatbread. Smear desired amount of Tzatziki Sauce on the top and bottom half of the Foldit Flatbread. Set a salmon burger on the bottom half and add the toppings. Enjoy!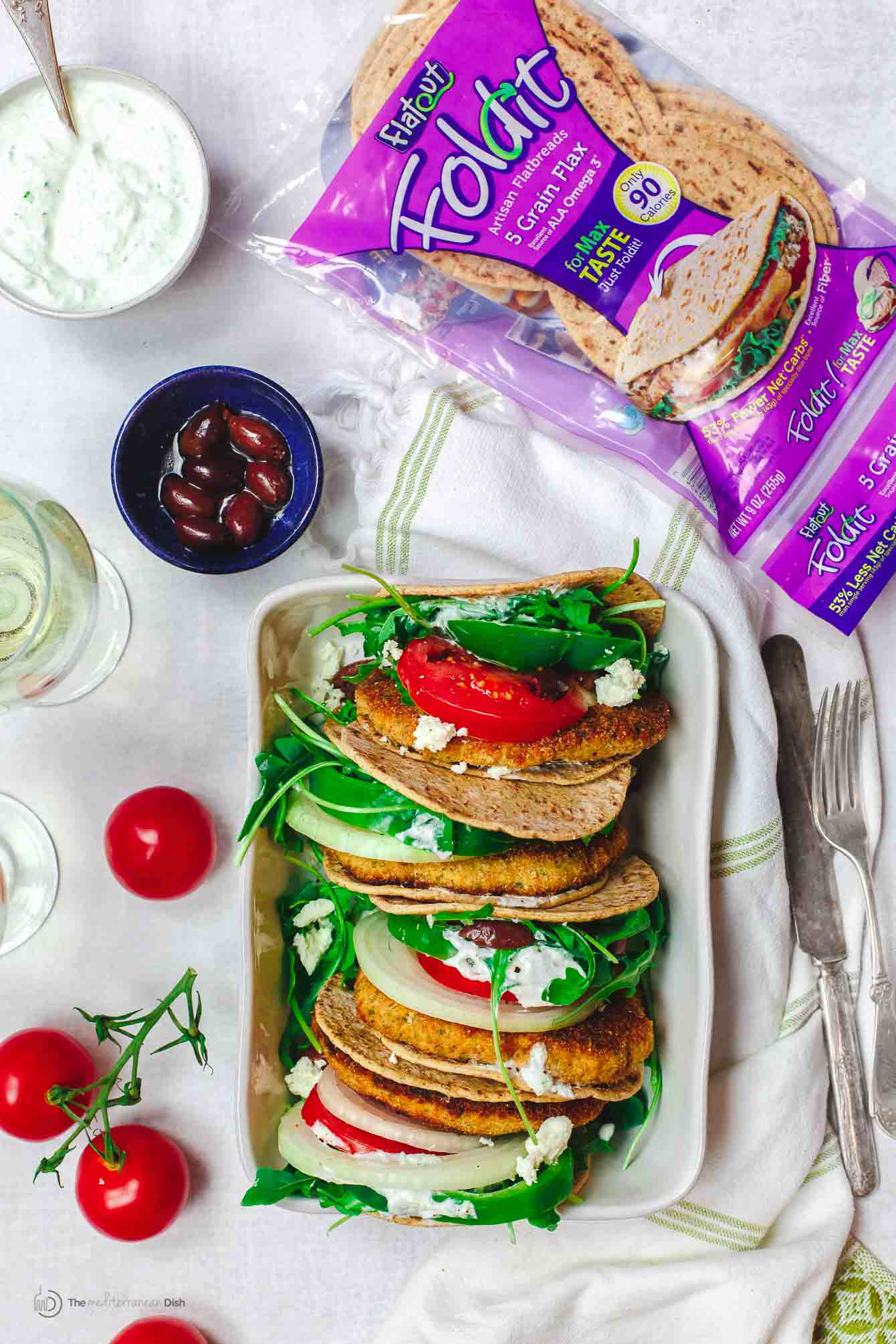 This post is brought to you in partnership with FlatOut FlatBread. To find delicious, healthy FlatOut FlatBread products near you, check the store locator. 
Other Recipes To Try
Mediterranean Oven Baked Salmon and Veggies in Foil
Baked Salmon with Garlic Cilantro Sauce