Never have a dry salmon burger again! Thanks to a few simple tips, you can make super JUICY, flavor-packed salmon burgers every single time!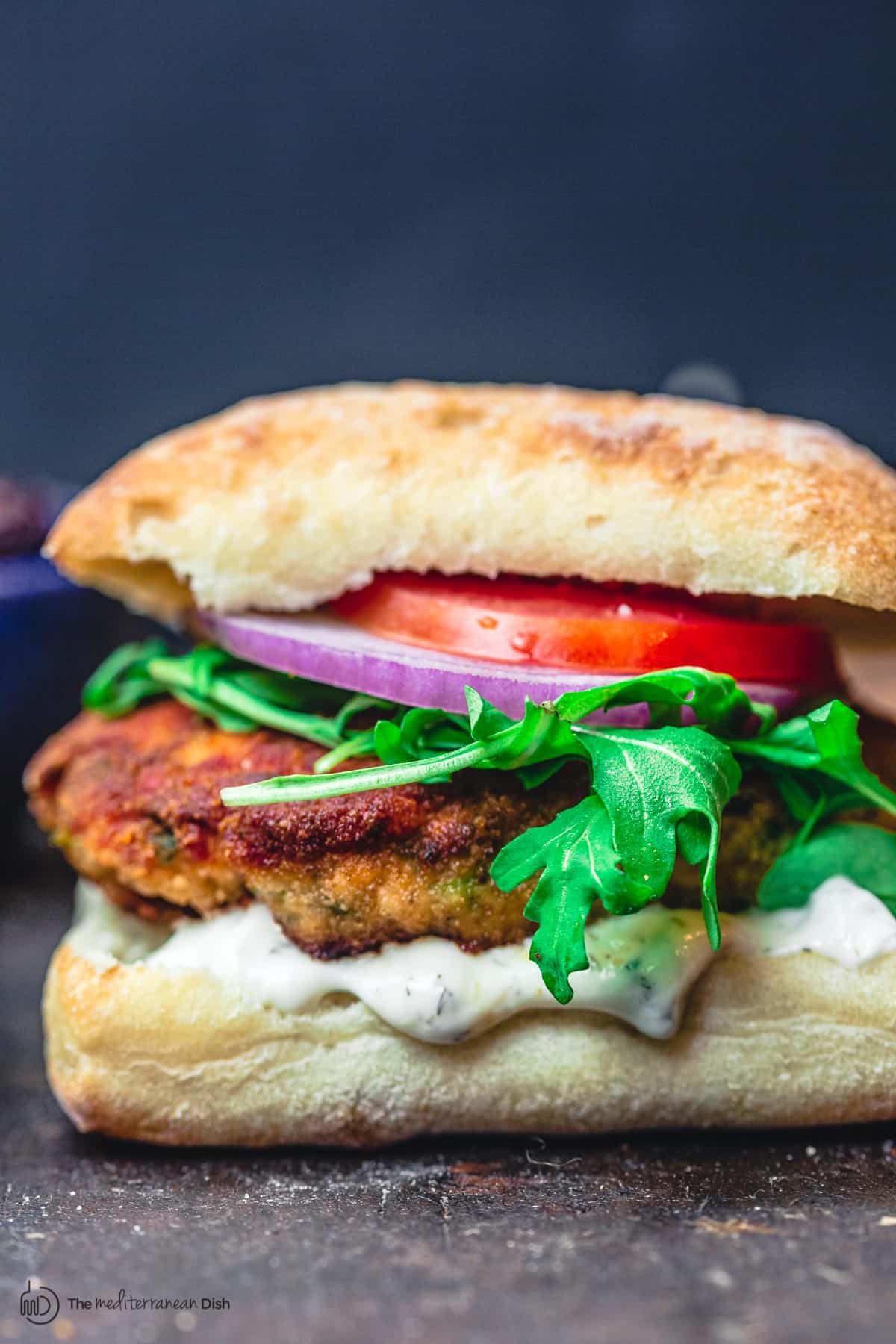 Fresh Salmon Patties, Mediterranean-Style!
Salmon burgers are one of those items I avoid ordering at restaurants. Between dried out salmon discs that resemble hockey pucks, and flavorless, crumbly messes, my few experiences have been less than exciting. After some research and lots of testing, I learned a few techniques to create juicy salmon burgers every time!
And as far as flavor, there is plenty of it in this salmon burger recipe! First, the salmon mixture is infused with a combination of minced green onions, fresh herbs, and spices (coriander, tangy sumac, and paprika). And once cooked, the burgers are immediately finished with a splash of fresh lemon juice.
And if you're looking for a lower carb option, you can totally skip the bun, and serve the salmon burgers on top of the arugula and veggies with a dollop of tztaziki on top (my friend Lauren does that in our video below!)
Let me share a few tips first. And be sure to review the steps and watch the video tutorial below.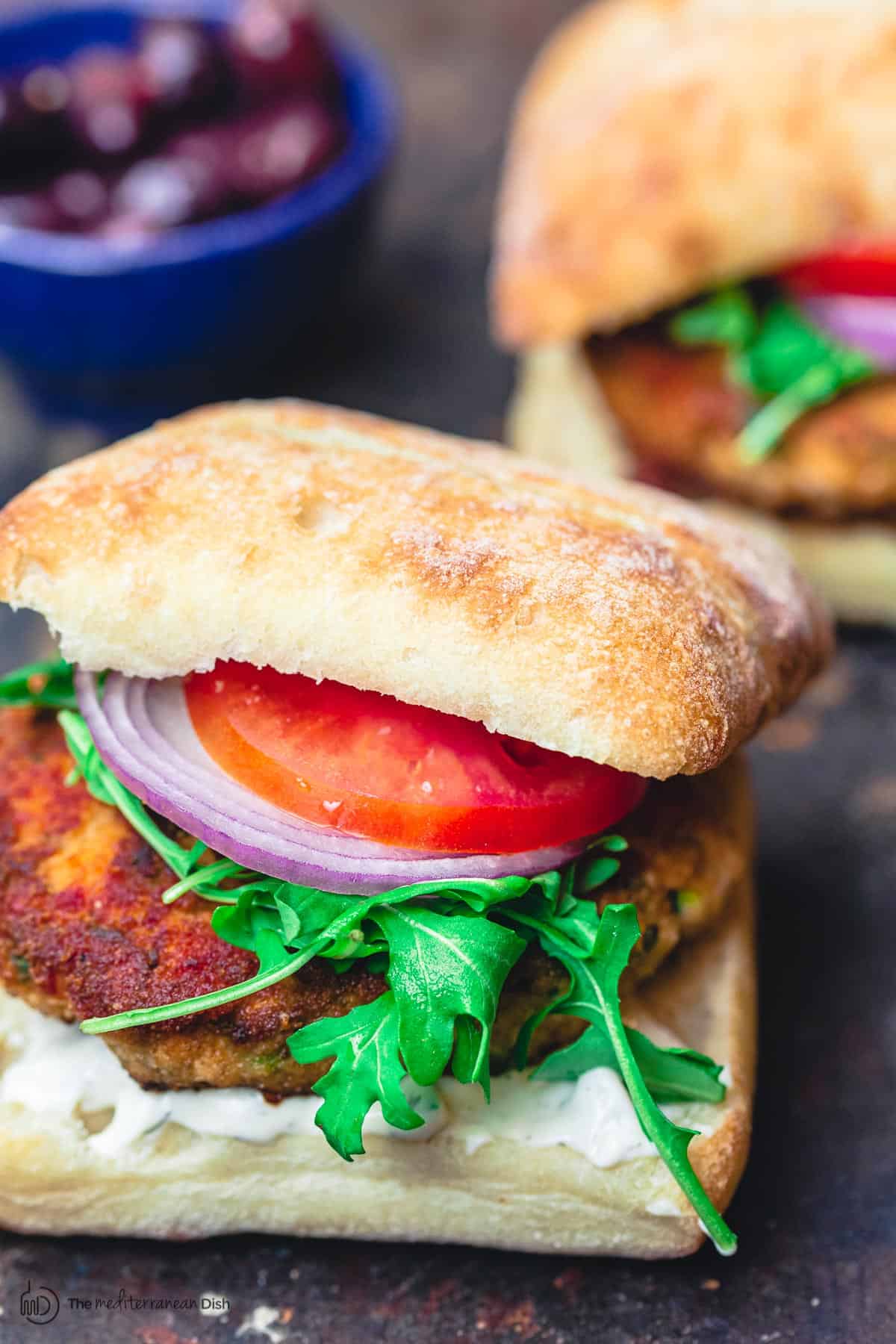 What are salmon burgers made of?
As the name implies, salmon patties are made of boneless, skinless salmon fillets--fresh, never canned--plus any number of herbs and seasonings. For this recipe, you'll need 1 ½ pounds salmon fillets, Dijon mustard, minced green onions, chopped parsley, and a combination of Mediterranean spices including coriander, sumac, and sweet paprika. You'll need Italian breadcrumbs to coat the salmon burgers later on. And to cook, some good extra virgin olive oil.
5 Important Tips for Juicy Salmon Burgers from Scratch!
Avoid grinding the salmon too finely. To create the best texture for juicy salmon burger, grind the salmon in two stages. First, take a small portion of the salmon (about ¼ of it), add a bit of Dijon mustard and grind in the food processor until you have a paste (this is your binding agent.) Remove the salmon paste from the processor to make room for the rest. Next, coarsely chop the rest of the salmon in the food processor. This time, use the pulse function of your food processor a couple of times or until you see the salmon turning into small bits that are about ¼
inch or so in size. You are looking for some texture which will help the salmon burgers retain moisture during cooking.



Do NOT add bread crumbs to the salmon burger mixture, THIS WILL DRY IT OUT! I learned this the hard way, but adding the bread crumbs off the bat to the salmon mixture along with the herbs and spices tends to absorb moisture, making the salmon as dry as bad meatloaf (no one likes that!) Instead, use the bread crumbs at the very end to coat the raw salmon patties before cooking. This way, you can get the benefit of a beautiful crust on the outside, while keeping the salmon nice and moist on the inside.
Chill the salmon mixture for about 30 minutes before cooking. This will making forming the salmon burger patties, and more importantly, will prevent them from falling apart when cooking.
Form the ground salmon mixture into thicker burger patties. For a nice juicy salmon burger, it's important to avoid patting them down too much that they become too thin (they will dry out). Instead, gently form into thicker patties that are about 1 inch or so.


Avoid overcooking salmon burger. When cooking salmon, no matter the method (baked, grilled, or pan seared), it is important to make sure you don't over-cook it. It will take about 5 minutes, give or take, to cook your salmon burgers on the stovetop, depending on their size. The salmon patties should be golden brown on the outside and pink on the inside.
How to cook salmon burgers?
The best way to cook salmon patties or burgers is by searing them in a skillet with a bit of extra virgin olive oil. They cook quickly, and they turn out juicy and delicious every time. Here is how to make this salmon burger recipe:
Roughly Grind Skinless Fresh Salmon Fillet. First, in a food processor fitted with a blade, grind ¼ of the salmon (about 6 oz) with Dijon mustard to form a paste which will act as a binder. Transfer to a bowl. Now, place the rest of the salmon in the food processor and pulse only 2 to 3 times or until salmon turns into small chunks that are about ¼ inch in size. This batch of salmon needs to have texture (avoid turning it to a paste.) Transfer to the same serving bowl along with the salmon/Dijon paste from the first step.



Make the Salmon Burger Mixture. To the roughly ground salmon, add minced green onions, chopped parsley, a good pinch of kosher salt, and spices ( I used coriander, sumac, paprika, black pepper). Mix with a spoon until everything is well-combined. Don't overwork the mixture.

Chill! Cover the salmon mixture and chill for 30 minutes or so in the fridge.



Form 1-inch Thick Salmon Patties and Coat with Breadcrumbs. Once the salmon mixture has been chilled, divide it into 4 equal parts and form salmon patties that are thick enough (about 1-inch in thickness). Then coat the patties lightly on both sides with the breadcrumbs.

Pan-Fry the Salmon Patties in Extra Virgin Olive Oil Over Medium-High Heat for 2 to 3 minutes on each side until the outside is crisp and golden brown and the inside is pink and easily flaky. As soon as you remove the patties from the heat, hit them up with fresh lemon juice for best flavor!



How do you know when salmon burgers are done?
In your skillet over medium-high heat, salmon patties will cook in about 5 minutes or so, depending on how thick they are. Salmon burgers are done when you see a nice golden crust on the outside, and the inside should be pink. Your salmon is cooked when it flakes easily at the touch of a fork. And remember, it will continue to cook even after you pull it off the heat, so if your salmon patties are close but not quite cooked to your liking, you can cover them in the skillet briefly with a piece of foil and allow them a couple minutes to finish cooking.

Serve them on a bun or not!
To serve your salmon patties, you have some options:
Serve them in burger buns! And for toppings, add Tzataziki sauce, fresh peppery arugula, tomatoes and onions. Or, you can also load up your salmon patty with my bright Mediterranean-style coleslaw!
Serve them over a salad. Just add your salmon patty to your favorite salad, anything from this avocado salad, arugula salad, fattoush, or even Greek salad will work. Check out this salmon salad option, you can easily use these burgers to make it.
Serve them with your favorite grain! I like farro a lot with salmon, this farro salad makes a good option to serve these salmon patties with.
More salmon recipes to try
Browse our top Mediterranean diet recipes or all Mediterranean recipes.
Juicy Mediterranean-Style Salmon Burgers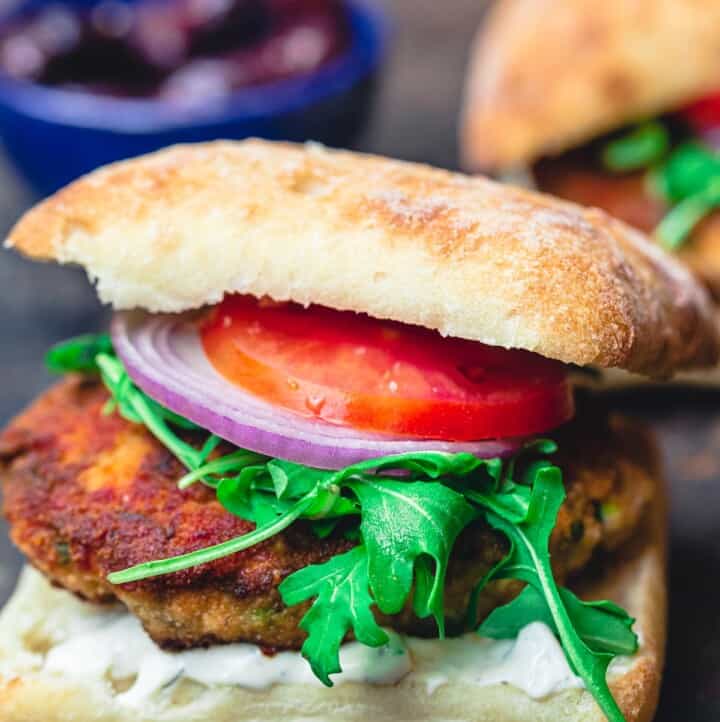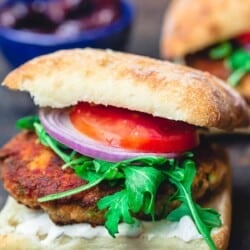 Never have a dry salmon burger again! Thanks to a few simple tips, you can make super JUICY, flavor-packed salmon burgers every single time!My salmon burgers recipe takes on a bit of a Mediterranean twist--fresh herbs, spices and a splash of lemon juice. Serve it with arugula, tomatoes and homemade Tzatziki sauce!
Ingredients
1 ½

lb

skinless salmon fillet,

cut into chunks

2

teaspoon

Dijon mustard

2-3

tablespoon

minced green onions

1

cup

chopped fresh parsley

1

teaspoon

ground coriander

1

teaspoon

ground sumac

½

teaspoon

sweet paprika

½

teaspoon

black pepper

Kosher Salt

Italian breadcrumbs for coating,

about ⅓ cup or so

¼

cup

extra virgin olive oil

1

lemon
Salmon Burger Toppings
Tzatziki Sauce,

find the recipe here

6

oz

baby arugula

more to your liking

1

red onion,

sliced
To serve
Bread of of your choice,

optional, I often use whole wheat buns or Italian ciabatta rolls
Instructions
Place about ¼ of the salmon in the bowl of a large food processor. Add mustard. Run processor until the mixture is pasty. Transfer to a bowl.

Place the rest of the salmon in the food processor, and pulse just a couple times until coarsely chopped into ¼-inch pieces (do not over process this second batch of salmon, it should not get too fine or pasty, it should still have some texture.) Transfer to the same bowl.

Now add the minced green onions, parsley, and spices (coriander, sumac, paprika, black pepper). Season with kosher salt. Mix well until the mixture is combined. Cover and chill in the fridge for about ½ hour.

While the salmon chills, prepare the toppings. Make the Greek Tzatziki Sauce according to

this recipe

. Prepare the arugula, sliced tomatoes, and the remaining toppings and buns to serve.

When ready, take salmon mixture out of the fridge. Divide into 4 equal parts. Form into 1-inch think patties.

Place bread crumbs on a plate. Place each patty in the breadcrumbs plate and press to coat on one side, turn over and press on the other side to coat. Place the breaded salmon patties on a sheet pan lined with parchment paper.

Cook salmon patties. Heat about 3 tablespoon extra virgin olive oil over medium-high heat until shimmering but not smoking. Lower each of the patties carefully and cook, for 2 to 4 minutes, turning over once, until lightly browned on both sides and medium-rare within), (adjust heat as necessary during cooking to keep things sizzling and cooking well but without scorching the bread crumbs.) (minimum internal temp should be 115 to 120°F on an instant-read thermometer for medium-rare.)

Set cooked salmon burgers onto paper towel to drain any excess oil; sprinkle lightly with Kosher salt if you like. Add a squeeze of fresh lemon juice on top.

Assemble in prepared buns. Spread the buns with a bit of tzatziki sauce. Add the salmon, then layer on the arugula, tomato and onion slices…enjoy!
Notes
Chill the salmon mixture: Allow 30 minutes of inactive time for the salmon burger mixture to chill in the fridge. This is important as it will make forming the salmon patties easier and it will keep them from falling apart as you cook them.
Add the breadcrumbs at the end only to coat the salmon patties: Do not mix the breadcrumbs in with the salmon mixture, they will absorb moisture and turn your salmon dry. Use the breadcrumbs only to coat the salmon patties before cooking.
Do NOT overcook the salmon patties: You're looking for the salmon burgers to form a nice golden crust on the outside, while the inside is tender and not dry.
Nutrition facts are a best estimate for the salmon patties only.
For a low carb option: ditch the bun, and turn the arugula and veggies into a quick salad (toss it with lemon juice and some Greek extra virgin olive oil!) Or try another salad like avocado salad, or easy 3-ingredient Mediterranean salad or Shirazi salad (two similar salads that are fresh and tasty!)
Visit our Online Shop to browse quality Mediterranean ingredients including olive oils and spices used in this recipe.
Nutrition
Calories:
137.1
kcal
Carbohydrates:
4.2
g
Protein:
1
g
Fat:
13.9
g
Saturated Fat:
1.9
g
Sodium:
38
mg
Potassium:
139.3
mg
Fiber:
1.7
g
Sugar:
0.9
g
Vitamin A:
1395.8
IU
Vitamin C:
34.4
mg
Calcium:
34.5
mg
Iron:
1.4
mg
*This post originally appeared on The Mediterranean Dish in 2017 and has been recently updated with new information and media for readers' benefit. Enjoy!