There is no interesting tale behind this couscous recipe. Truth is, it came together on a whim when I opened my pantry and found a few Mediterranean staples–a can of chickpeas, artichoke hearts, and a box of pearl couscous.  But, this accidental couscous salad is every bit satisfying and bright, now a regular on the menu.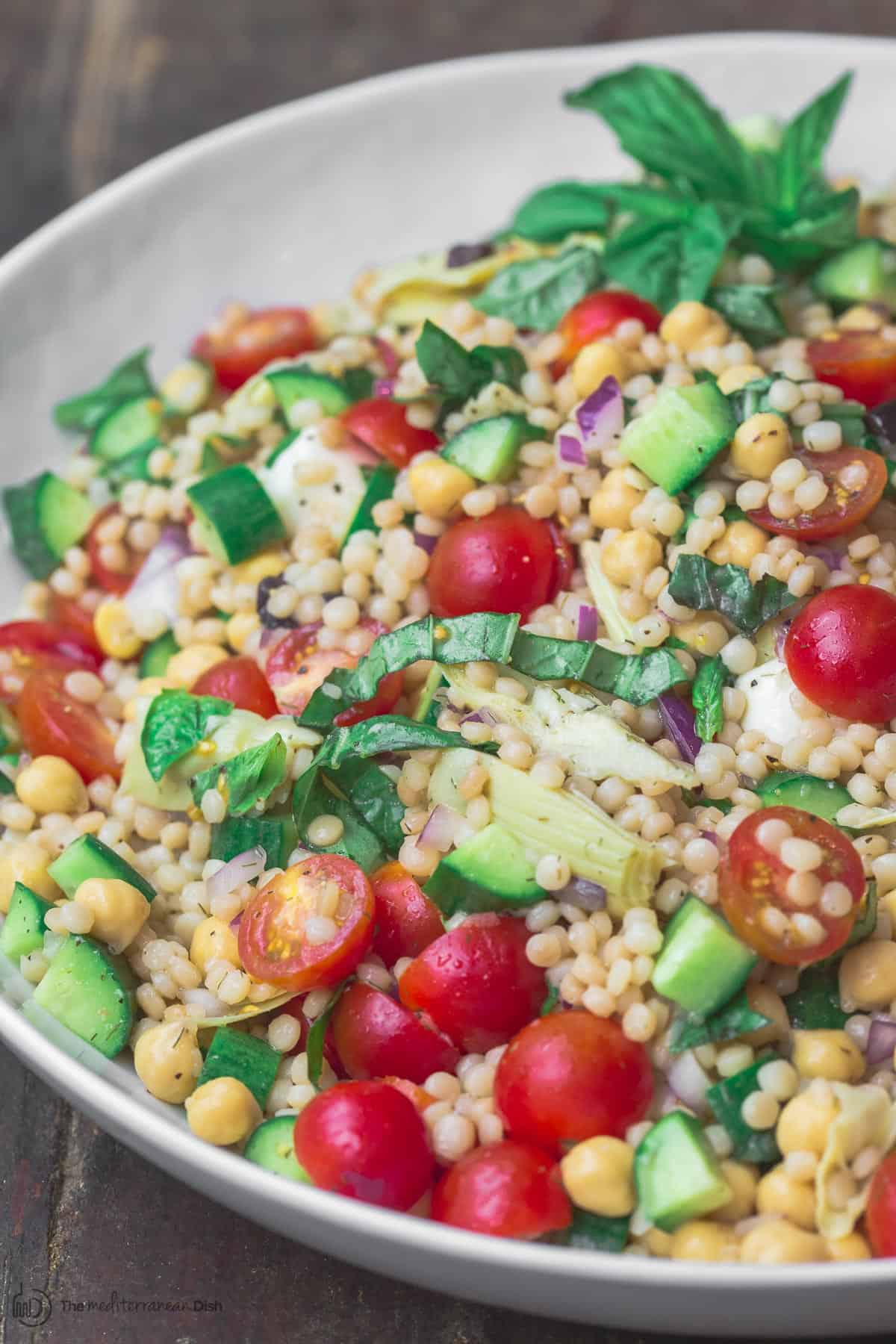 Pearl couscous is more commonly known here in the US as Israeli couscous.
Without getting too technical here, Israeli couscous is not an ancient food like it's cousin couscous. The similarity is that both are made of semolina flour (or whole-wheat flour, depending on the brand). But, with Israeli couscous a dough is formed with added water, then machine-extruded to form tiny beads or pearls, which are then toasted dry in ovens.
VIDEO TUTORIALS
For our purpose here, think of pearl couscous or Israeli couscous as tiny pasta shaped into small pearls.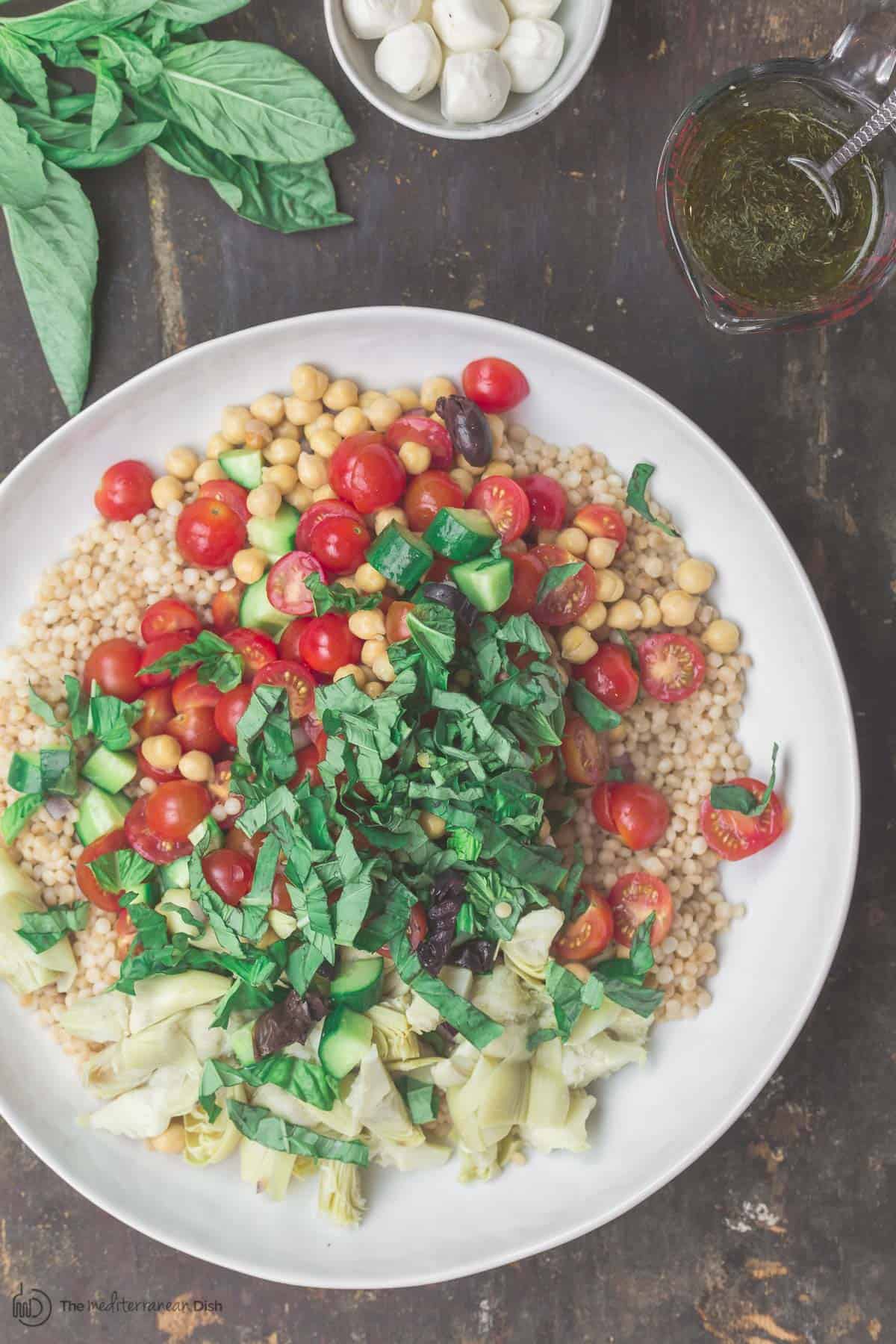 Tips for this couscous recipe
An important first step to this couscous recipe is toasting the couscous in excellent extra virgin olive oil–I use our Private Reserve oil–before adding boiling water to cook. This small step is the first way to impart more flavor onto the tiny pearls.
For the best Mediterranean couscous salad, I like to add a mix of colorful fresh ingredients–chopped veggies and herbs–along with other Mediterranean favorites like kalamata olives, marinated artichoke hearts, and cheese. I use fresh baby mozzarella balls here, keeping with the theme of tiny round things. But feta cheese works great in this salad. A humble can of chickpeas provides protein.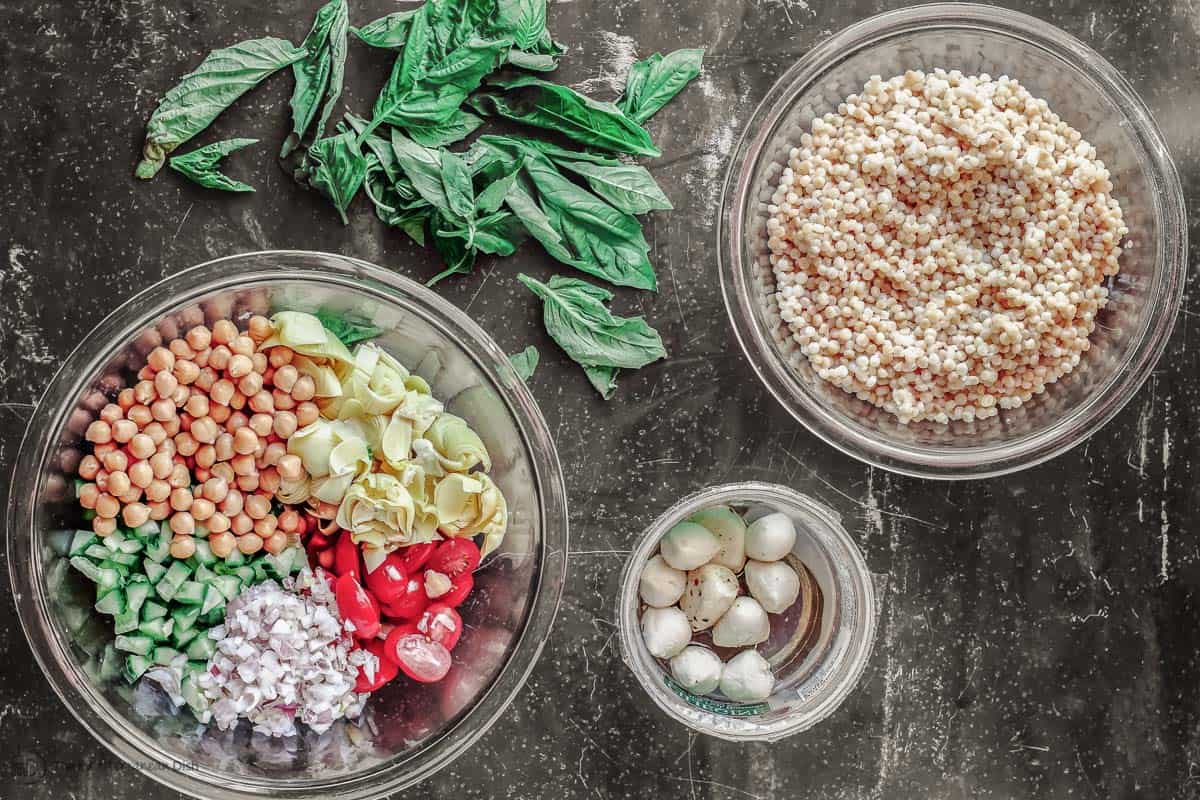 Dress the salad with the zesty dill vinaigrette, and if you're not in a rush to eat it, let it sit for a few minutes so flavors develop.
What to serve this couscous salad with?
I often serve this salad with grilled chicken, salmon, or even lamb!
Print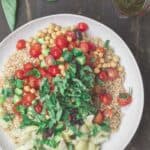 Mediterranean Pearl Couscous Recipe with Chopped Vegetables, Chickpeas, and Artichokes
---
Author:

Prep Time:

15 mins

Cook Time:

10 mins

Total Time:

25 minutes

Yield:

6

Category:

Salad

Cuisine:

Mediterranean
Ingredients
For the Lemon-Dill Vinaigrette
1 large lemon, juice of
1 tsp dill weed
1 tsp garlic powder
salt and pepper
For the Israeli Couscous
2 cups Pearl Couscous (Israeli Couscous)
Private Reserve extra virgin olive oil
Water
2 cups grape tomatoes, halved
1/3 cup finely chopped red onions
1/2 English cucumber, finely chopped
15 oz can chickpeas
14 oz can good quality artichoke hearts, roughly chopped if needed
1/2 cup good pitted kalamta olives
15-20 fresh basil leaves, roughly chopped or torn; more for garnish
3 oz fresh baby mozzarella (or feta cheese), optional
---
Instructions
To make the lemon-dill vinaigrette, place the vinaigrette ingredients in a bowl. Whisk together to combine. Set aside briefly.
In a medium-sized heavy pot, heat two tablespoons of olive oil. Saute the couscous in the olive oil briefly until golden brown. Add 3 cups of boiling water (or the amount instructed on the package), and cook according to package. When ready, drain in a colander. Set aside in a bowl to cool.
In a large mixing bowl, combine the remaining ingredients minus the basil and mozzarella. Then add the couscous and the basil and mix together gently.
Now, give the lemon-dill vinaigrette a quick whisk and add it to the couscous salad. Mix again to combine. Test and adjust salt, if needed.
Finally mix in the mozzarella cheese. Garnish with more fresh basil. Enjoy!
More Recipes to Try
20-minute spicy couscous with shrimp and chorizo 
Easy Greek Chicken and Potato Dinner
*This post originally appeared on The Mediterranean Dish in 2015. It's been updated with new information for your benefit.