A few simple tips make this the best Italian pasta salad recipe ever! Extra satisfying and loaded with crunch, color and flavor. And you'll love the easy and light homemade Italian dressing that brings it all together.
This pasta salad is great to serve a crowd, and leftovers will hold up for a few days!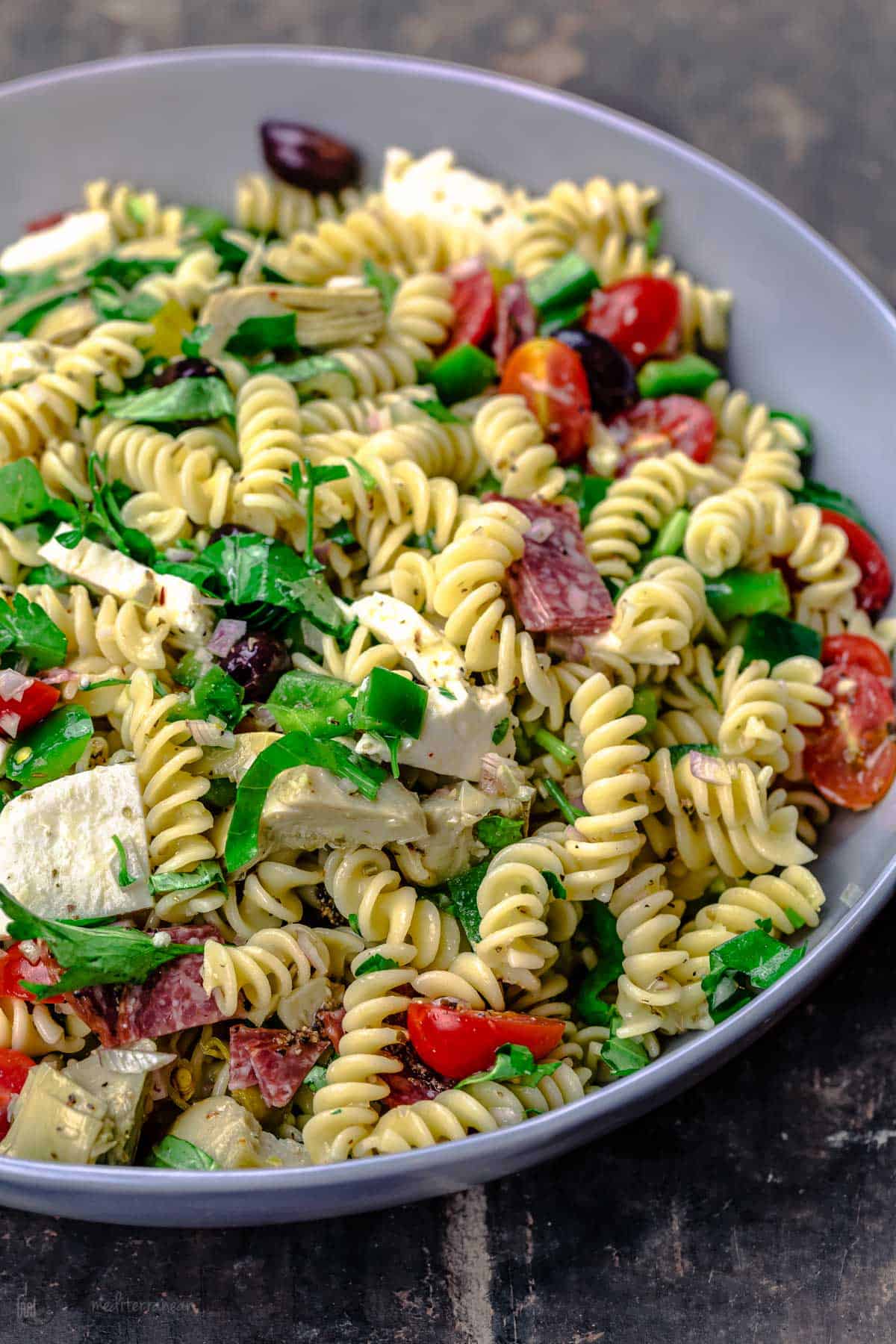 Cold pasta salad with Italian dressing is one of the dishes I make year-round. Like any good pasta salad–our Greek-style pasta salad included–it's the perfect side to feed a little crowd or for lunch prep: you can make it in advance and it only gets better the next day.
Crunchy veggies, fresh herbs, rustic old-world salami, tangy olives, and mozzarella, all tossed with some curly pasta and a bright Italian dressing. What's not to love?! And if you want a cold salad on the creamier side, why not try my Asian-inspired noodle salad with Mediterranean-style tahini dressing?
And keep in mind that not all pasta salads are created equal. A few things make all the difference...
What kind of pasta is good for pasta salad?
When making Italian pasta salad, opt for short pasta with some texture. What you're looking for are twists and turns, or nooks and crannies, that will grab and hold on to flavor so every single bite is delicious!
In this recipe, I used fussili pasta but farfalle, rotini, and cavatappi also make good choices. Tube pasta like penne is great for recipes that call for sauces like pesto, and will also work here. But avoid using pasta altogether like spaghetti or fettuccine; all that tasty Italian dressing will just drop to the bottom and leave you with something far less exciting to eat. Trust me!
And for those of you who are following a strict Mediterranean diet, look for whole wheat short pasta, which is the the more compatible option for you.
More important tips
Use dried pasta over fresh pasta. Dried pasta holds up much better than fresh in this case — it won't tear so easily, and leftovers will keep well in the fridge. Not to mention it's the cheaper, more convenient option.
Salt your pasta water well. While cooking, add more salt to the water than you would normally because you want the pasta to be well seasoned.
Cook a little past al dente. The reason is that pasta gets hard and chewy as it cools so cooking it a tiny bit longer will keep it moist and tender. Just don't overcook because you still need it to be strong as the foundation of the dish.
Do not rinse the pasta after cooking with cold water! Instead, quickly and loosely drain it in a large colander and set it aside to cool down just a bit (you still want it somewhat warm). The starch from the cooking water helps the dressing to adhere to your pasta. Also, rinsing the pasta will cool it too much and prevent the absorption of the delicious Italian dressing and all the flavors!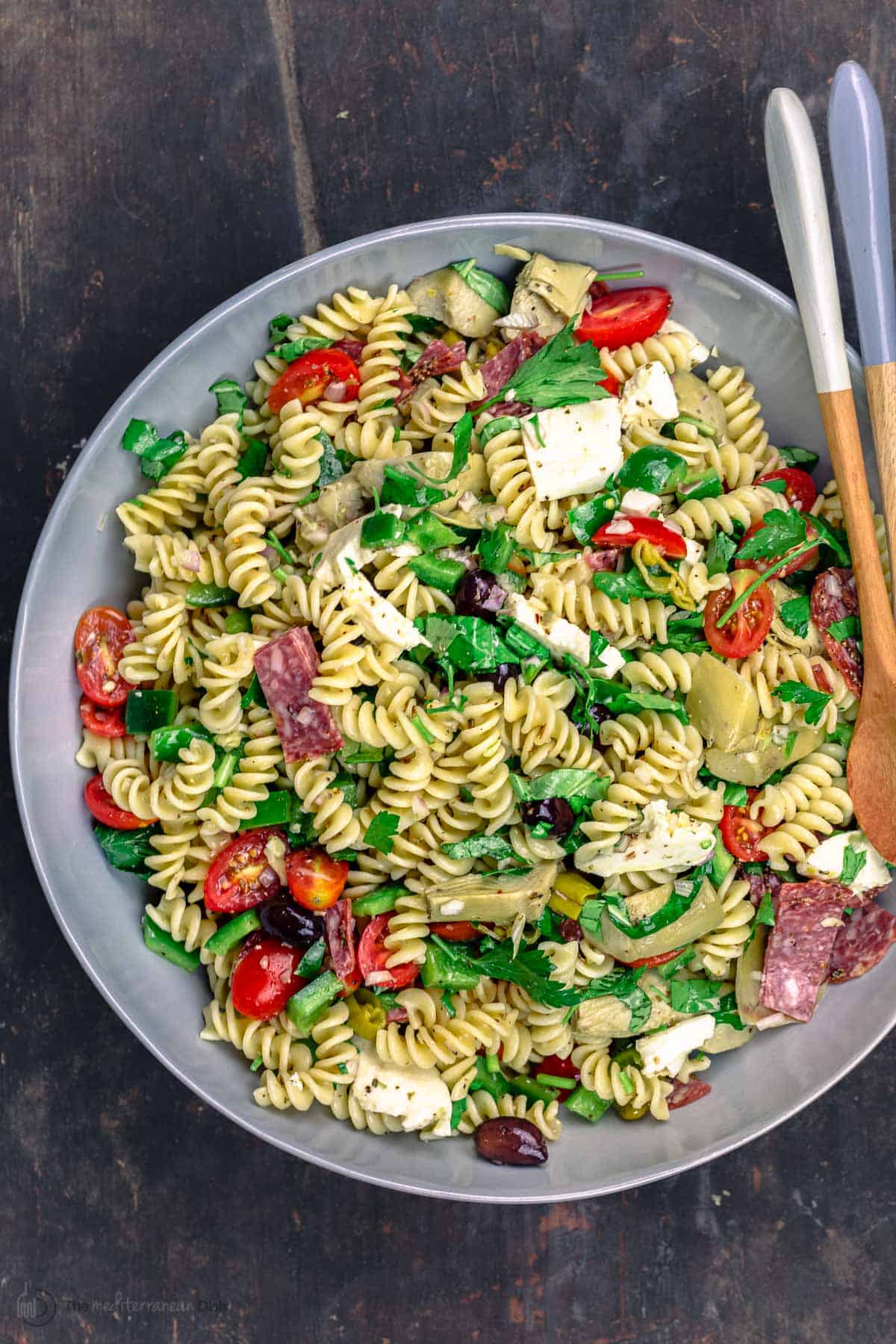 What goes in pasta salad?
To me, the components of a good pasta salad hit the right balance of texture and flavor … Here is what I used:
Curly Pasta. I use fusilli but any kind of short to medium pasta with some texture will work, such as rotini, farfalle, cavatappi, rotelle, shells, or gemelli. Like I said earlier, just make sure it has some texture and shape that will grab on and hold the flavors and goodness!
Fresh vegetables for crunch and color. I love bell peppers in this recipe and any color will work. Also, I use shallots, which are a milder flavored onion (but if you don't have that, red onions will work). Grape tomatoes are my go-to red choice; you can throw them in whole, but I like to cut them in halves to release a bit of their juices.
Marinated vegetables for extra tang! Pepperoncini, artichoke hearts, and olives are all well-used in Italian cooking and they add just the right amount of tang and boldness here. You can also try some sun-dried tomatoes or banana peppers, if you can't find pepperoncini.
Fresh mozzarella. The soft, creamy texture conforms to the diverse shapes around it, enhancing each savory bite with a bit of welcome cheese. You can use a big piece and tear it up or a few small snack-size mozzarella balls, whatever is available.
Fresh herbs. For fresh seasoning, I like to use basil and parsley, both bold, aromatic herbs that provide a sweet and earthy taste to this pasta salad recipe. I like to roughly chop the herbs to release their oils.
Italian meats. Now, I only used a little bit of peppery salami in this recipe, but if you like a bit more meat in your salad, add any combination of pepperoni, capicola, hot ham capicola, or even prosciutto. Italian pasta salad is also delicious sans meat!
Pasta salad dressing
So, I talk a lot about balance because I believe it's the key to making a delicious, irresistible dish. Because we are using some heavier, full-flavored mix-ins (artichokes, salami, pepperoncini, garlic …) it makes sense that the pasta salad dressing should be light. This way, the flavors don't compete but rather complement each other.
This homemade Italian salad dressing is light and zesty, made with pantry-friendly ingredients like: some good extra virgin olive oil, white wine vinegar, fresh garlic, dried oregano, crushed red pepper flakes, and a good dash of kosher salt and black pepper.
You can make the salad dressing one night in advance and stored in a mason jar in the fridge.
For best flavor: pour the dressing on when the pasta is still somewhat warm, so, remember what I said earlier, don't rinse the pasta in cold water! Many recipes will tell you this is fine to do since a pasta salad is typically served cold, BUT when you add the dressing while the pasta is warm and starchy, it will absorb more of the flavor and that is exactly what we want in each bite!
How do you make pasta salad from scratch?
This cold pasta salad could not be easier to make. It literally takes three main steps:
Cook the pasta
Follow the package instructions to cook the pasta to al dante (but as I said earlier, going a little past al dante is okay and can help keep the pasta salad moist). Don't forget to salt your water well. Drain and set aside to let it cool down. Remember, do not rinse it with cold water!



Mix the pasta with the rest
In a large bowl, mix the pasta with the tomatoes (whole or halved!), chopped veggies, artichoke hearts, olives, pepperoncini, salami, mozzarella, and fresh herbs.



Next, in a separate smaller bowl or measuring cup, mix the dressing ingredients together and pour over the pasta. Toss to coat.
Make-ahead tips
This easy Italian pasta salad can be prepped a day in advance which makes it perfect for entertaining purposes. Chop up all the herbs, veggies, and meat ahead of time, then prepare the Italian dressing and store in a mason jar until you're ready to assemble!
Storage
Italian pasta salad can be stored for 4 to 5 days, if stored properly. And, if you think you're going to have leftovers, make some extra dressing to refresh the pasta salad since the majority of the dressing will have already absorbed into the pasta.
Can you freeze pasta salad?
You can freeze pasta salad for up to 3 months. If you made it with the dressing separately, freeze it in separate containers. Otherwise, it is okay to freeze it all mixed up in a single container as well.
To thaw, leave the container out on the counter and it should be ready to eat within a couple hours or leave it in the refrigerator overnight.
What goes well with pasta salad?
This satisfying Italian pasta salad can stand as its own meal, and I often eat it for lunch. And it's a no brainer for the next BBQ. But it makes a great side for dinner next to other mains like:
Other pasta salad recipes
Hungry for more? Check out my collection of Italian recipes, or browse more Mediterranean recipes!
Italian Pasta Salad Recipe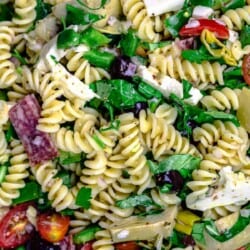 This is one satisfying and flavor-packed cold pasta salad with crunchy veggies, fresh herbs, rustic old-world salami, tangy olives, and mozzarella. A zesty Italian dressing brings it all together.
Ingredients
¾

lb

pasta,

(I recommend fusilli or rotini pasta)

Kosher salt

1

pint

cherry tomatoes

halved

1

bell pepper

any color, cored and chopped

1

shallot

chopped

1

cup

marinated artichoke hearts

6 ounces

¼

cup

pitted kalamata olives

6

pepperoncini,

chopped

6 to 8

ounces

salami,

sliced into bite size pieces

6

ounces

mozzarella cheese,

torn (or mozzarella cheese balls)

½

cup

packed chopped fresh parsley

½

cup

packed chopped fresh basil leaves
Dressing
¼

cup

olive oil

2

tablespoons

white wine vinegar

2

garlic cloves,

minced

1

teaspoon

dried oregano

½ to 1

teaspoon

crushed red pepper flakes

Kosher salt and black pepper
Instructions
Cook the pasta in boiling water according to package instructions until the pasta is cooked to al dante (don't forget to salt your water). Drain

In a large bowl, mix the pasta with the tomatoes, chopped veggies, artichoke hearts, olives, pepperoncini, salami, mozzarella, and fresh herbs.

In a small bowl or measuring cup, mix the dressing ingredients together.

Pour the dressing over the pasta and toss to coat.
Notes
This recipe makes roughly 12 cups of pasta salad, so it's a great side dish for a crowd.
Leftovers will keep well in the fridge (in a tight lid container) for up to 4 days.
Visit Our Shop to browse quality Mediterranean ingredients including olive oils and spices
Nutrition
Calories:
292.3
kcal
Carbohydrates:
31.1
g
Protein:
13.2
g
Saturated Fat:
4.6
g
Cholesterol:
26.9
mg
Sodium:
748.4
mg
Potassium:
331.2
mg
Fiber:
2.7
g
Vitamin A:
1238.5
IU
Vitamin C:
39.5
mg
Calcium:
117.8
mg
Iron:
1.6
mg