Italian seasoning is a versatile blend of dried herbs like rosemary, basil, oregano and more. It's easy to make and customize to your tastes. Add it to pasta sauces, season chicken, stir it into soups or sprinkle it over your favorite Italian sub. Quick, easy, and so much better than the blends at the store!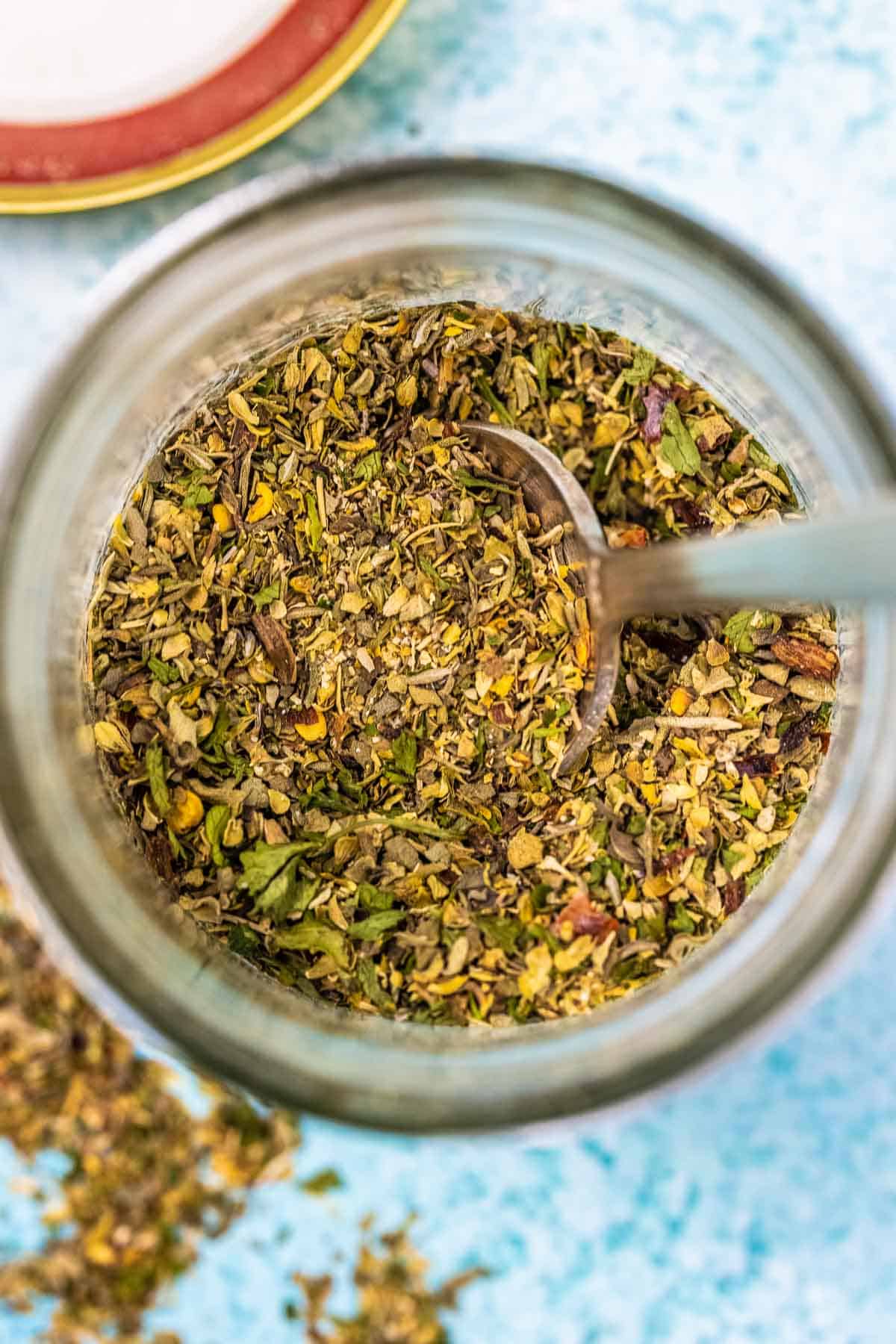 Easy seasoning blend!
I'm always looking for ways to make dinner easier. Enter my homemade Italian seasoning, perfect for so many Italian recipes, like stuffed portobello mushrooms, pasta sauce, pizza, baked chicken, or even sprinkled onto tomato bruschetta!
Having spice blends at the ready makes weeknight cooking easy! Instead of spending ages hunting through your spice rack for the right combination of herbs, simply grab a jar of this boldly flavored homemade Italian seasoning.
Homemade Italian seasoning is easy to make, and it's a good way to consolidate and use up the last little bit in your jars of dried herbs and spices. It's also easy to store and can last up to 6 months. To make Italian seasoning at home, simply combine dried herbs like parsley, oregano, rosemary and other spices in a small bowl or a mason jar, then seal the jar and keep it away from light and heat.
Table of Contents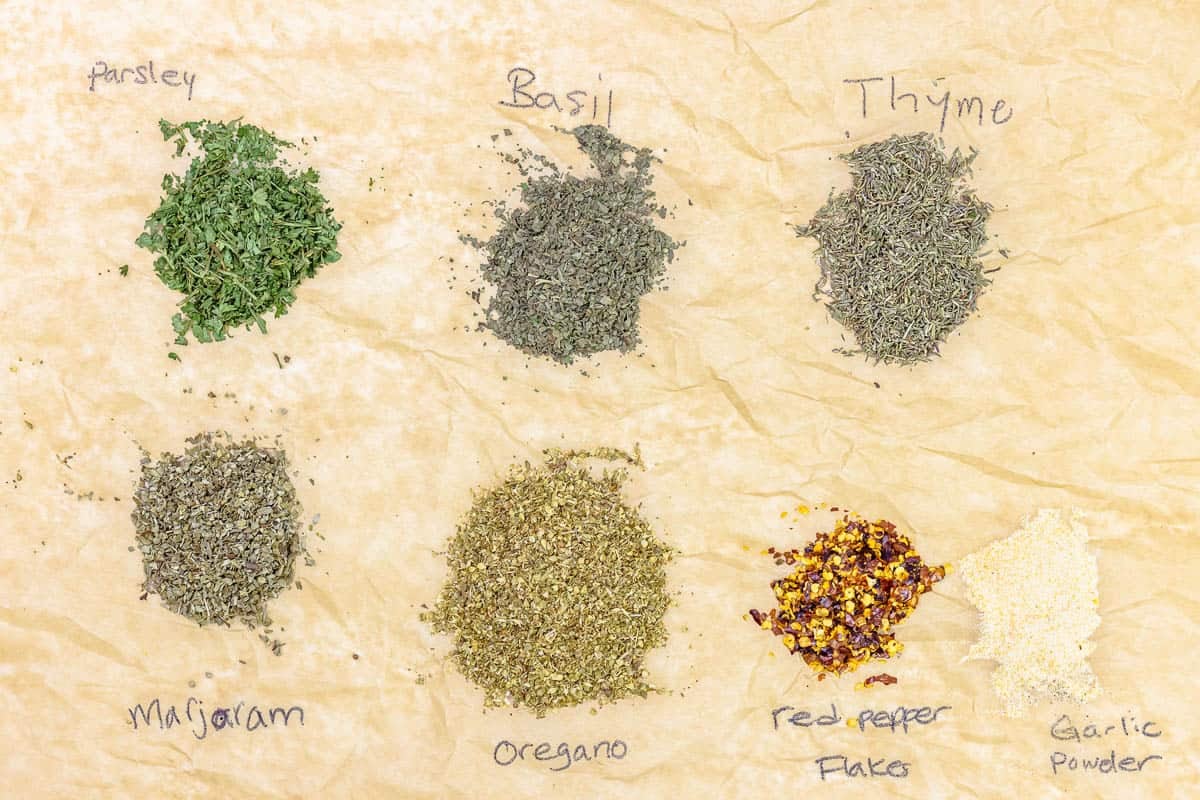 What is in Italian seasoning?
To make this recipe super affordable, I buy everything in bulk from grocery stores, health food stores, or online.

I used the traditional dried herbs here, but I also added 2 optional ingredients that I think make this Italian seasoning blend extra special and extra flavorful. Here's everything you'll need to make it:
Dried basil: Basil has a distinct flavor, with hints of anise and mint.
Dried thyme: Thyme is a robust, earthy herb.
Dried rosemary: Dried rosemary tastes piney and peppery.
Dried marjoram: Similar to oregano, marjoram is a bit more delicate and also a little sweeter.
Dried parsley: Dried parsley is much more subtle than its fresh counterpart, but still adds some earthiness and a bit of pepperiness.
Dried oregano: Strong and pungent, oregano is quite a spicy dried herb.
Red pepper flakes (optional): I love red pepper flakes for a nice kick. I only use a teaspoon, so the blend does not become too spicy. Rather, the heat is very mild, and complements the other herbs.
Garlic powder (optional): Everyone knows how I feel about garlic in all its forms! So, of course, I'm using it in this blend! Garlic powder is sweet and savory, lacking the sharp taste of raw fresh garlic. It plays well with the earthy dried herbs in this recipe.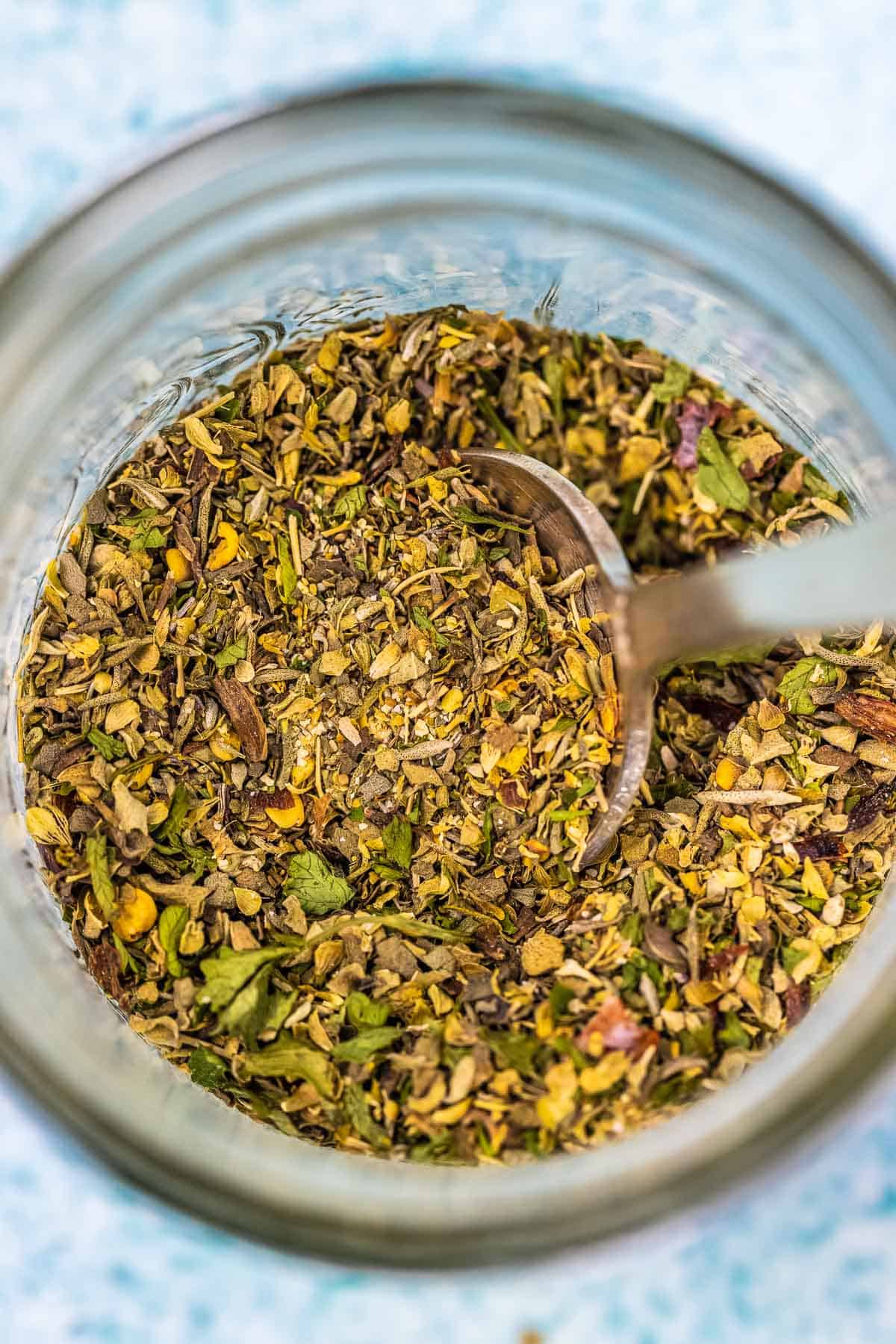 How to make Italian seasoning
Making Italian seasoning could not be easier! Simply gather all the ingredients and mix them together in a small bowl. I like using either a fork or a little whisk to really get everything mixed well.

Then, carefully pour everything into a small glass jar. I prefer glass to plastic here. Plastic retains odors, and you might not be able to use the container for anything else if you decide to use plastic for this seasoning!

This recipe yields about ½ cup of Italian seasoning, so keep that in mind when finding a jar or container.
Tip: Glass or plastic to store spice blends?
Glass jars are the best!
Plastic containers absorb odors especially when ingredients are stored in them for a long time, which makes plastic more suitable for last night's leftovers and glass better for long-term spice storage.
How to use homemade Italian seasoning
Italian seasoning is one of those "do it all" blends that can add wonderful flavor to so many things! Don't feel like you can only use it in Italian recipes, either: It's great in any dish that could use some oomph. Here are some ideas for how to use it:
How to store homemade Italian Seasoning
Spice blends with dried herbs stay fresh for a long time! I'm talking several months! To ensure your Italian seasoning lasts as long as possible, store it in a glass jar with a tight lid for up to 6 months.

Keep it away from light and heat, so a dark pantry or cupboard is ideal. I know, though, that having spices within reach on the kitchen counter is super convenient. If you decide to do this, try to keep the blend as far away from the stove as possible so it maintains its flavor and aroma for longer.

You'll know when your blend has reached the end of its life when it no longer has the pungent, mouth-watering aromas that you should notice the instant you open up the jar.
Feel like cooking? Try these great recipes!
Browse All Mediterranean Recipes.

Visit Our Shop.
Homemade Italian Seasoning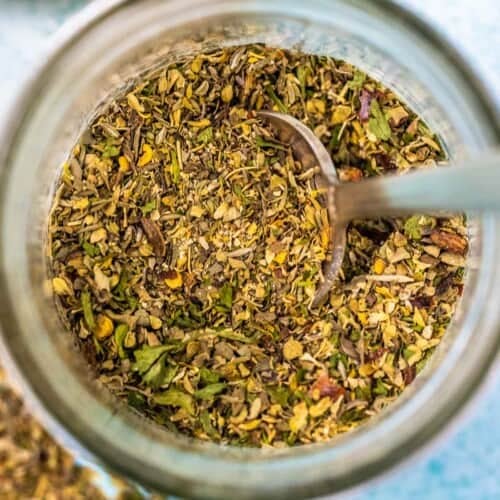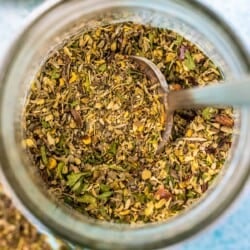 This homemade Italian seasoning is SO easy, you'll wonder why you ever bought it at the store. Learn what's in Italian seasoning and how to make it! No need to use this spice blend exclusively in Italian recipes, either. It adds oomph to whatever it touches! This recipe yields about ½ cup Italian seasoning, or 8 tablespoons. You can double the recipe to make more.
Ingredients
1

tablespoon

dried basil

1

tablespoon

dried thyme

1

tablespoon

dried rosemary

1

tablespoon

dried marjoram

1

tablespoon

dried parsley

2

tablespoons

dried oregano

1

teaspoon

red pepper flakes,

optional

1

teaspoon

garlic powder,

optional
Instructions
In a small mixing bowl, combine the dried herbs including basil, thyme, rosemary, marjoram, parsley, and oregano. Add red pepper flakes, and garlic powder if using. Mix to combine.

Transfer the homemade Italian seasoning to a jar and tightly close the lid.
Notes
How to use Italian seasoning: So many options here! Try it in pasta sauce, on garlic bread, with chicken, or with fish!
How to store homemade Italian seasoning: Store in a glass jar in a dry, dark place (like an unheated pantry). It will keep for about 6 months.
Visit Our Shop for quality Mediterranean ingredients including extra virgin olive oils and spices.
Nutrition
Calories:
10
kcal
Carbohydrates:
2.3
g
Protein:
0.5
g
Fat:
0.2
g
Saturated Fat:
0.1
g
Polyunsaturated Fat:
0.1
g
Monounsaturated Fat:
0.04
g
Sodium:
6.7
mg
Potassium:
55.2
mg
Fiber:
1.3
g
Sugar:
0.1
g
Vitamin A:
150.9
IU
Vitamin C:
0.9
mg
Calcium:
52.8
mg
Iron:
1.9
mg