You don't need a special pizza oven for that perfect brick-oven pizza crust. Grilled pizza is easy to make at home using a high-heated grill and a little technique! And you'll love the fresh, flavor-packed toppings of sweet tomatoes, mozzarella, basil, and buttery Pearls Sliced Black Ripe Olives.
This post is sponsored by Pearls Olives. All opinions are my own.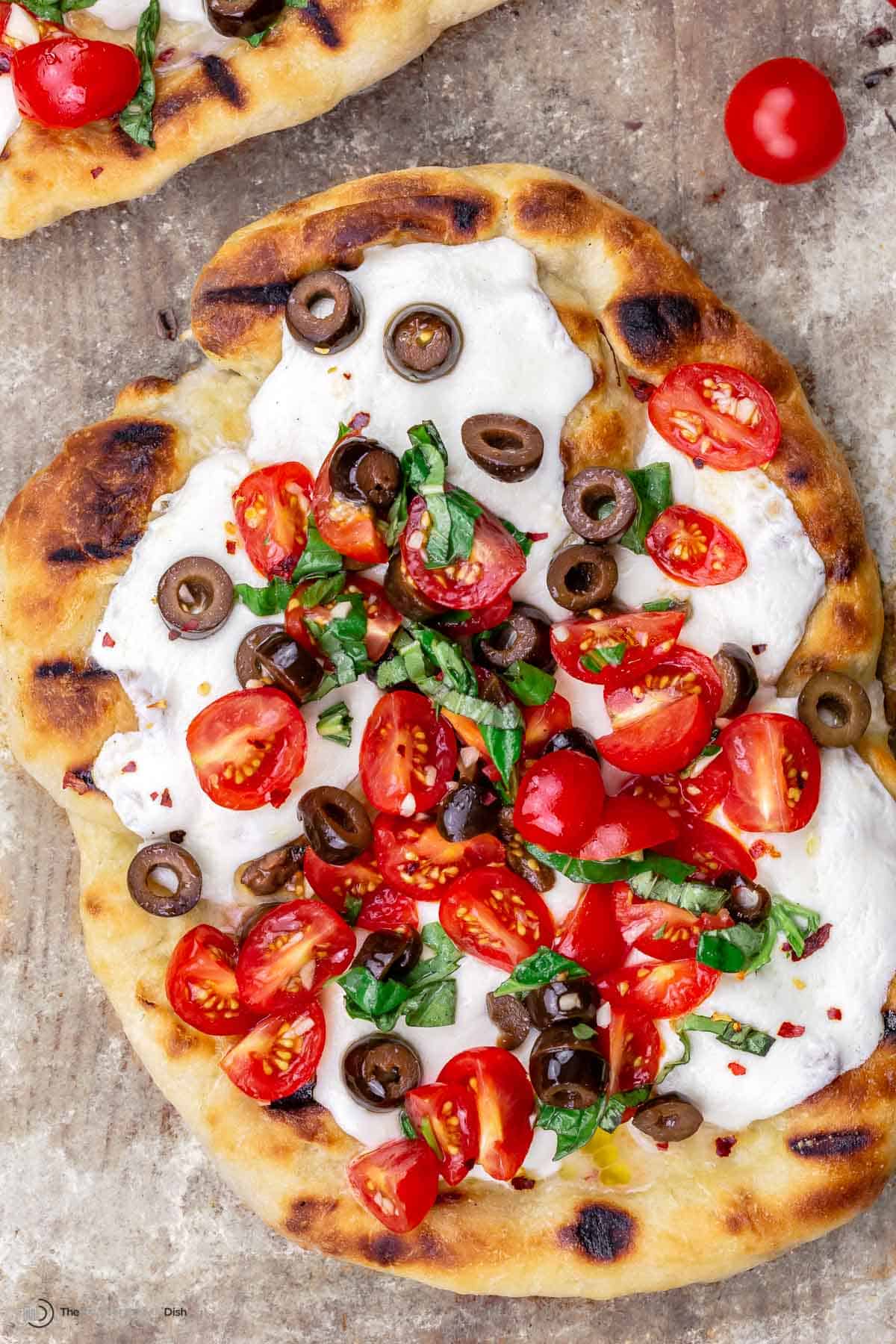 Grilled pizza is a summer favorite around here, and it is one of the easiest things to do on your grill, no special pizza oven required!
This homemade pizza recipe is a bit of a spin off classic pizza margherita, which my family loves. But for an extra fresh and flavorful twist, I tossed ripe grape tomatoes with basil, garlic, my go-to Pearls Sliced Black Ripe Olives, and a generous drizzle of extra virgin olive oil to create a delicious, fresh mixture to top my pizza dough.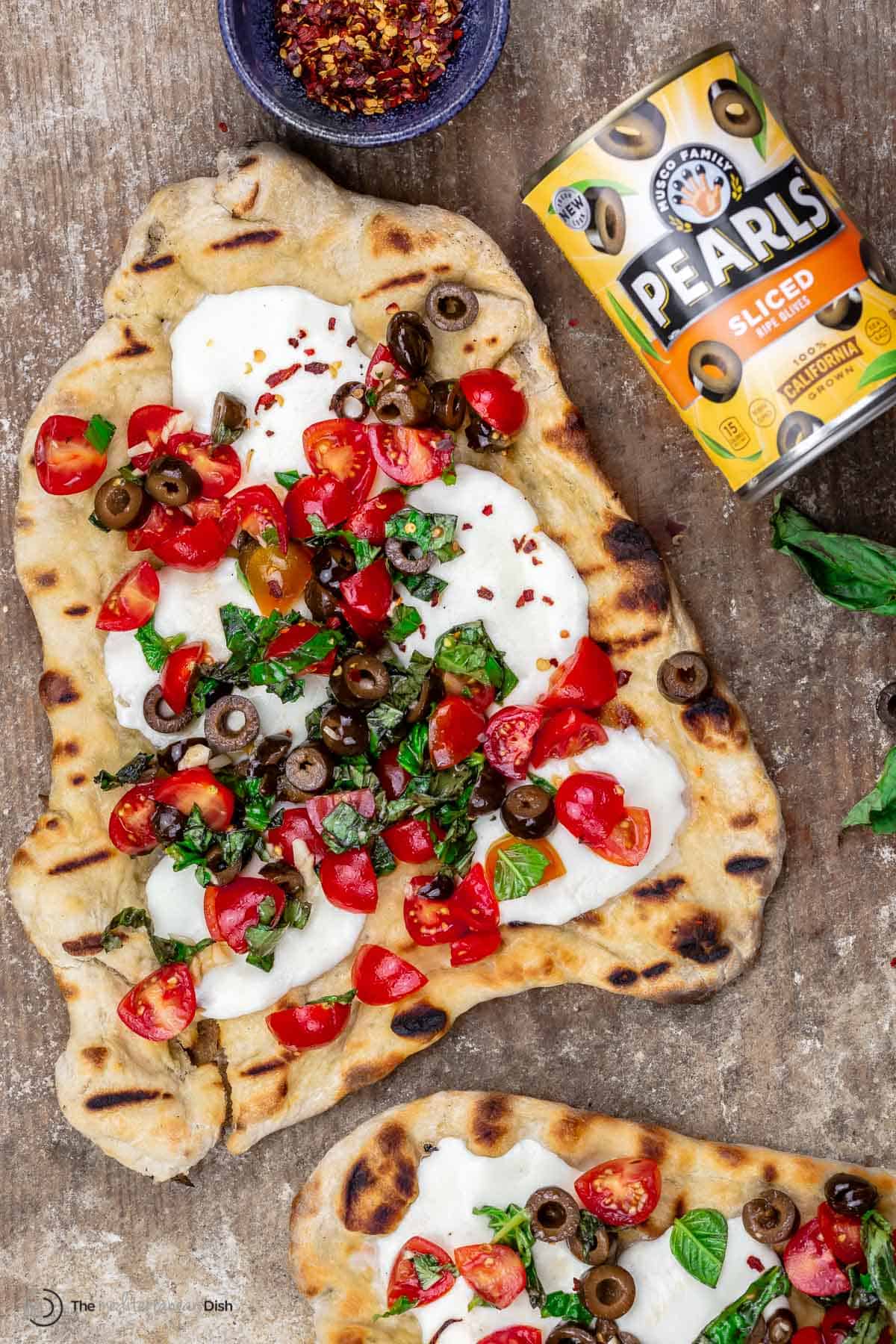 If you haven't made your own pizza on the gas grill before, this is the recipe to try. I'm sharing all the tips and tricks you need for perfect results every time.
How to Grill Pizza
You do not need a pizza stone to make grilled pizza on your gas or charcoal grill. All you need is a high-heated grill, and when you close the grill with its lid, it can somewhat mimic a wood fire oven for a perfect grilled dough! A few tips
Use pizza dough at room temperature. Whether you prepare your own pizza dough ahead of time or buy it from your local bakery or supermarket, if the dough has been refrigerated, leave it out on the kitchen counter (covered in its package) until it reaches room temperature (this can take an hour, but follow the package instructions for store-bought dough). This step will help loosen the dough and make it easier to shape.
Prepare the grill. Make sure the grates are cleaned and properly oiled (you don't want your pizza dough to stick to the grates).



Use high heat. Cover the grill and heat to high for a good 10 minutes. The grill needs to be properly heated before you grill your pizza.

Grill the dough first directly on the hot grill, covered. Brush the stretched pizza dough with olive oil before grilling.Your pizza dough will take a couple of minutes on each side (a total of 4 minutes) to cook and develop beautiful char marks.



Add toppings and return the pizza to the grill briefly, this time use a sheet pan. In this case, I only added a bit of olive oil and slices of fresh mozzarella cheese, and once the pizza was finished and the cheese was fully melted, I added my fresh toppings. Pro Tip: Using a sheet pan to return the pizza to the grill is the way to ensure your pizza is grilled perfectly without burning the bottom.
The pizza toppings
Now, technique is important, but one of the things I love most about homemade pizza is that I get to use fresh, quality ingredients and flavors that my family loves. And for the perfect summer pizza, I am turning to a few simple and bright Mediterranean favorites:
Pearls Sliced Black Ripe Olives. No prep needed, these delicious, buttery-tasting olives are already sliced, which makes them a breeze to use here.
Grape tomatoes or sweet cherry tomatoes, halved or quartered, depending on the size of the tomatoes.
Fresh basil leaves, torn.
Fresh mozzarella, sliced. Pat the cheese dry on both sides before using.
Extra virgin olive oil, a drizzle to brush the pizza and to toss my fresh toppings together!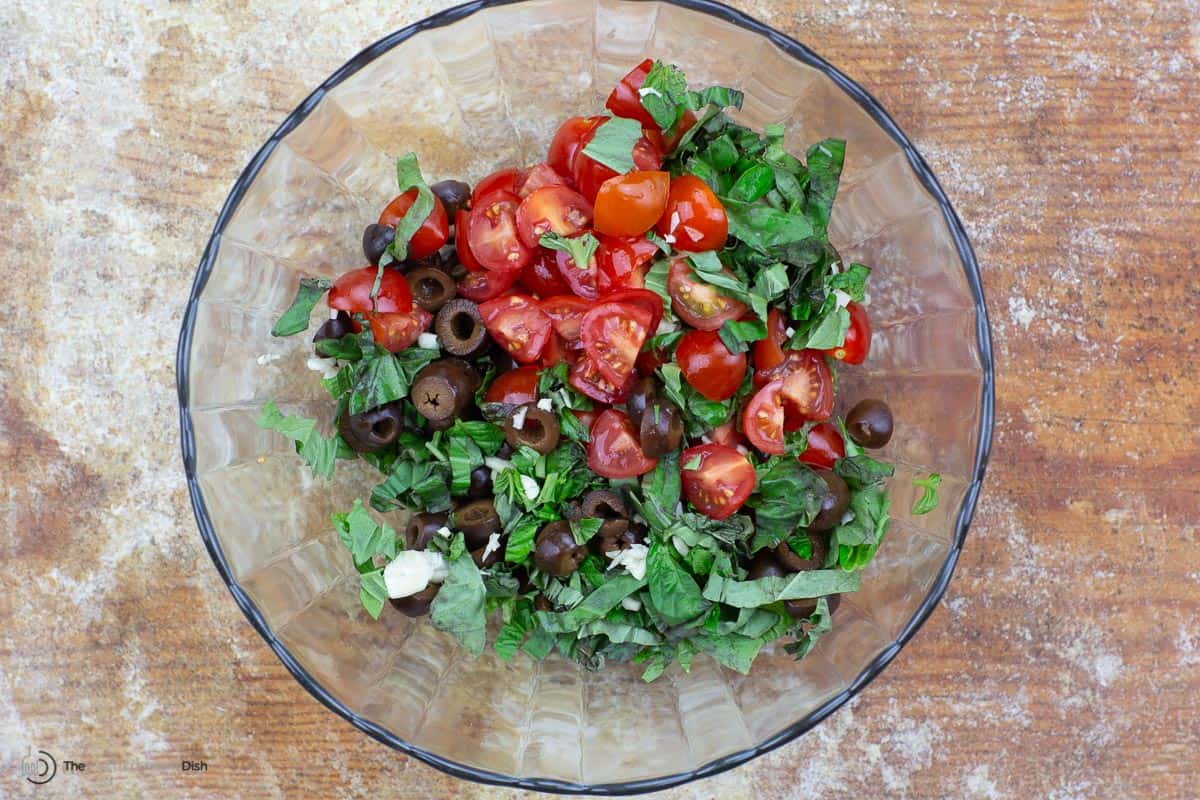 Pearls Olives
Olives are a staple in the Mediterranean pantry. You'll find me using them in all sorts of ways from mezze platters, to pasta, pizza, and even to top my skillet chicken and baked fish!
That's why, it's important to me that I use delicious quality olives to enhance flavor and add more excitement to my dishes. And I'm so excited to have found Pearls Black Ripe Olives which are 100% grown and packed in sunny California, picked at the peak of freshness; you can truly taste the difference. These versatile olives are an easy addition to mealtime, and my girls enjoy Pearls Olives To-Go Cups for a snack!
And I love the fact that Pearls takes care of the earth, running a 99% zero waste facility and recycling more than 2 billion gallons of water!
To learn more or to find Pearls Olives at a supermarket near you, head to olives.com.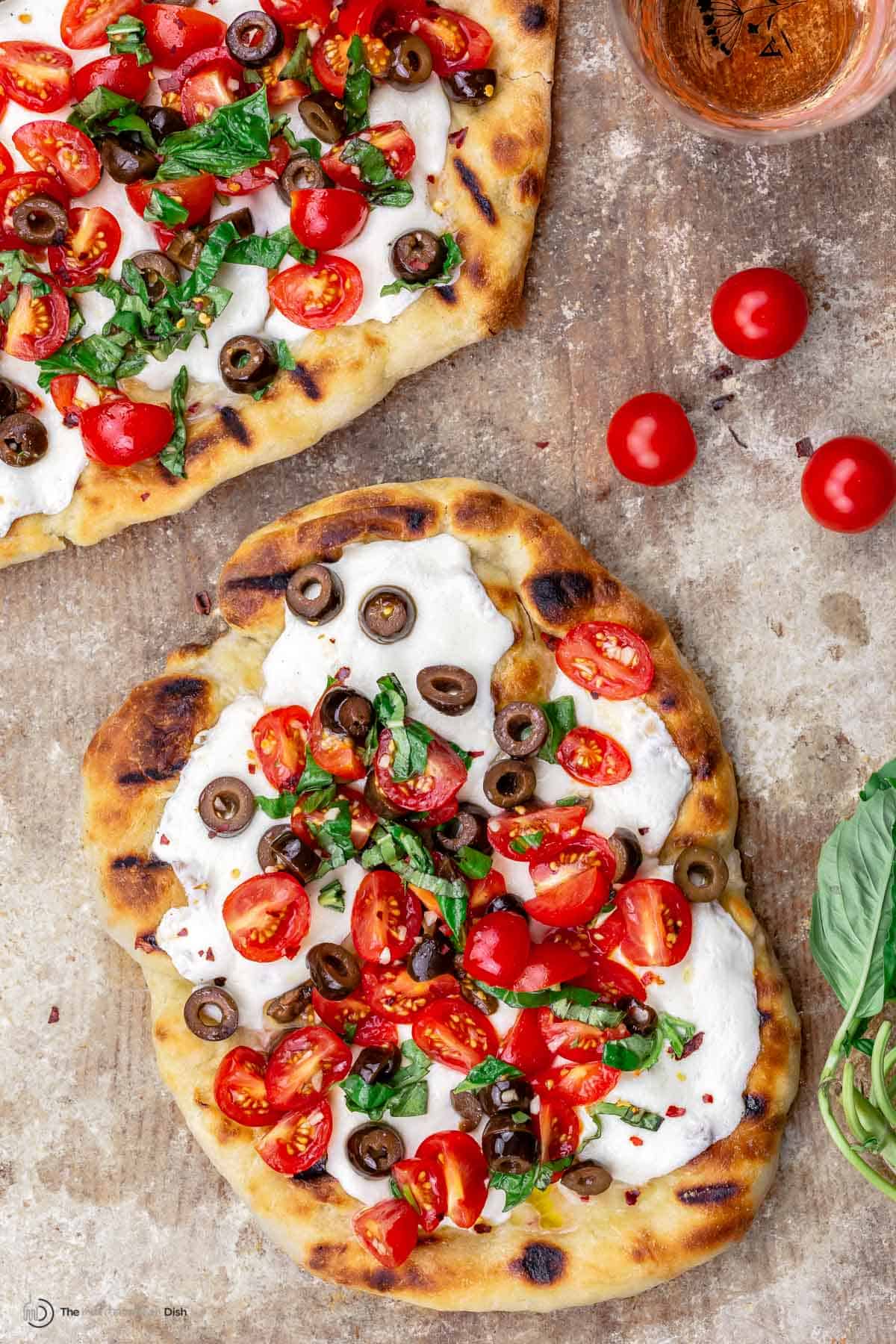 Similar recipes to try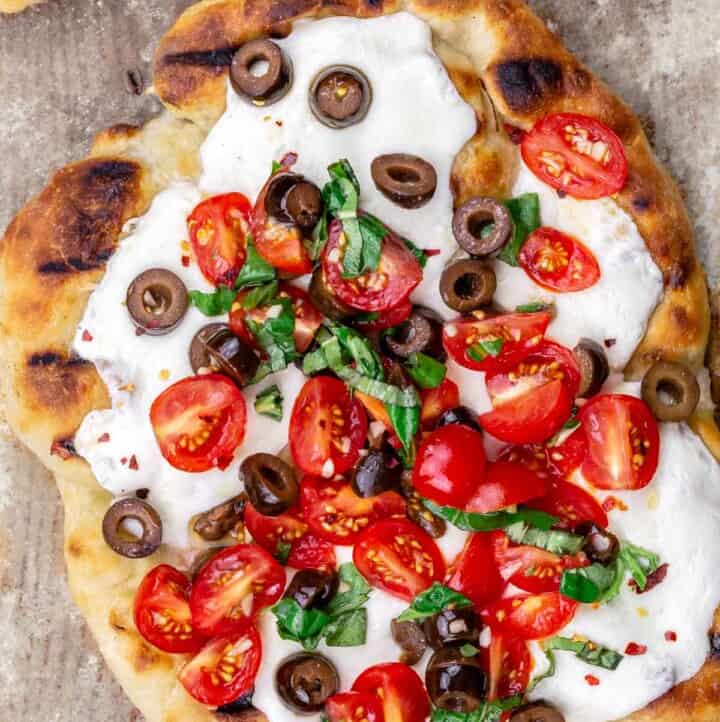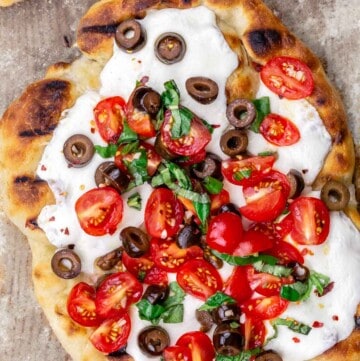 Tomato Mozzarella Grilled Pizza
This grilled pizza recipe with tomatoes, mozzarella and olives is packed with flavor and comes together in 15 minutes using your gas grill. You do not need a pizza stone or pizza oven to make it!
Ingredients
1

pound

fresh pizza dough,

store-bought or homemade, at room temperature

10

ounces

grape tomatoes,

cut into halves or quarters if large

1

cup

packed fresh basil leaves,

10 to 15 leaves

⅔

cup

Pearls California Sliced Ripe Olives,

find them at your grocery store near you via olives.com

1

large garlic clove,

minced

6 to 8

ounces

fresh mozzarella,

sliced

Kosher Salt

Crushed red pepper flakes
Instructions
If your dough had been refrigerated, allow it tosit at room temperature for 1 hour.

Prepare a gas or charcoal grill and set it on high heat.

Prepare the fresh tomato, basil, and olives mixture. Slice the tomatoes into quarters and place them in a large colander. Add a good pinch of kosher salt and toss. Set the colander in a clean sink or over a bowl to drain for a few minutes. Transfer the tomatoes to a clean, dry bowl and add the basil, Pearls California Sliced Black Olives, and minced garlic. Add a drizzle of olive oil and toss to combine. Set aside for now (if more liquid is released, be sure to drain it before using this mixture on the pizza).

On a clean floured surface, divide the dough into two equal pieces and shape them into 2 pizzas. Let the dough sit for 5 minutes and then reshape to make sure each pizza is as large as you'd like it.

Place the shaped pizza dough on a lightly floured pizza peel (I used my baking sheet turned over so it's rimless). Brush the top side of the dough with extra virgin olive oil and transfer the pizza, oiled side down, directly onto your heated grill.

Grill for 2 minutes with the lid closed. Brush the other side with olive oil, and using a pair of tongs, flip the dough over and cook for about 2 more minutes (the dough is ready when it turns golden brown with some grill marks on both sides).

Remove the cooked pizza dough from the grill briefly and place it on a sheet pan.

Brush with more olive oil and arrange the mozzarella slices on top. Put the pan with the pizzas on the heated grill until the cheese has melted.

Remove from the grill and spoon the fresh tomato mixture on top. Slice and serve immediately!
Notes
Tip: For best results, budget time for the pizza dough to come to room temperature if it was previously refrigerated. Mine took about 1 hour of rest on the counter before I shaped it.
This recipe makes two smaller pizzas to serve 4 to 5 people for lunch or dinner with your favorite salad, It will serve 6 or more as an appetizer.
Visit Our Shop
Nutrition
Calories:
331.8
kcal
Carbohydrates:
42.2
g
Protein:
14.8
g
Fat:
13.7
g
Saturated Fat:
4.9
g
Cholesterol:
26.9
mg
Sodium:
878.4
mg
Potassium:
184.4
mg
Fiber:
4.5
g
Sugar:
2
g
Vitamin A:
1026.3
IU
Vitamin C:
8.8
mg
Calcium:
196.4
mg