The secret to a delicious, mayo-free pasta salad is a good amount of tang. This Greek pasta salad understands this all too well, with a bright lemony dressing, briny olives and capers, and punchy-meets-creamy feta cheese.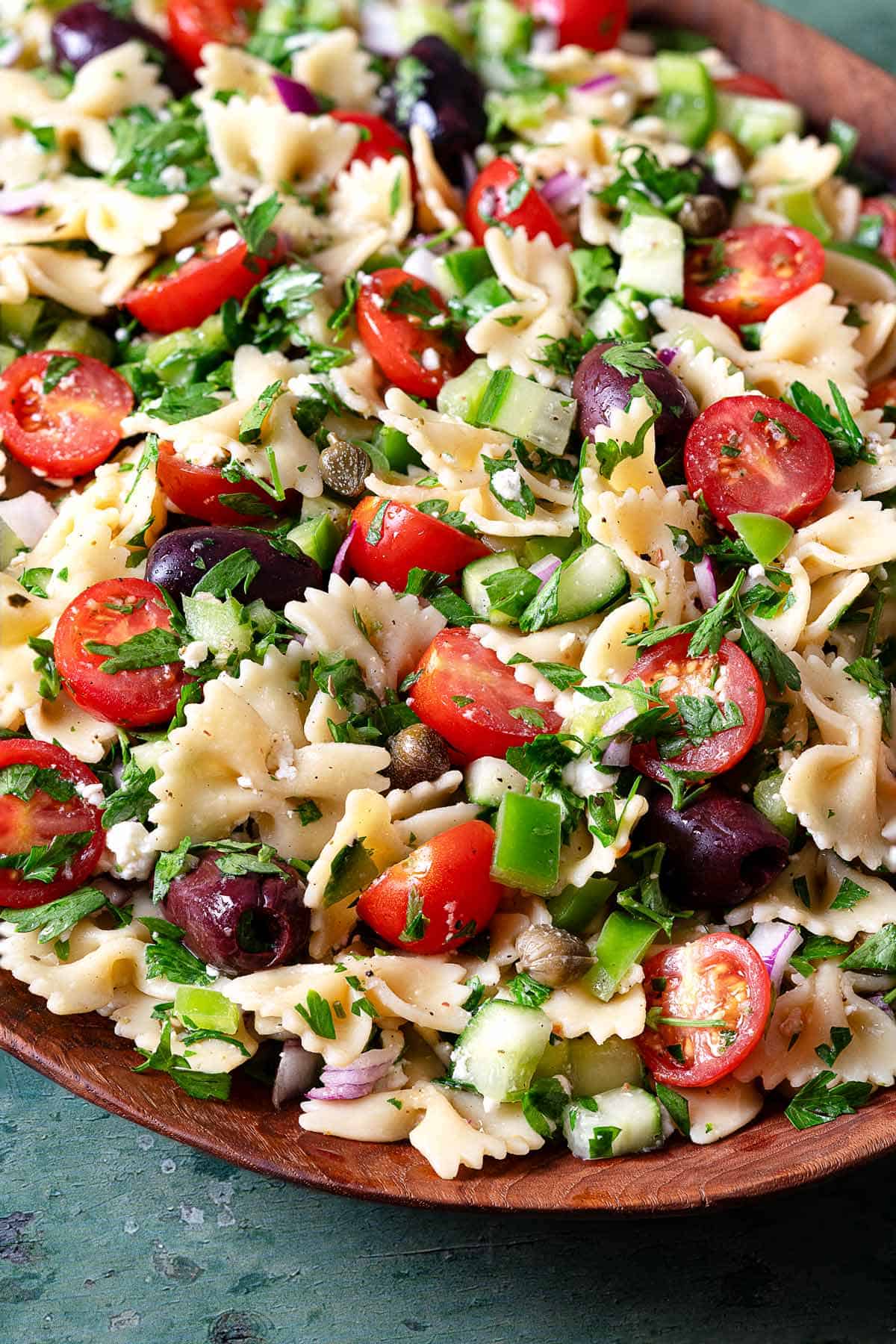 Greek pasta salad keeps it simple in the best way, playing with tried-and-true Mediterranean flavors for a vegetarian side dish that's both light and comforting. It's essentially Greek salad with pasta added, does it get any better?! And, just like my shrimp or Italian pasta salad, this beauty is a fuss-free delight: the pasta soaks up the flavor as it chills, getting even tastier with age.
Plus, this pasta salad recipe shares the unique talent of any good pasta salad: it tastes delicious any which way you serve it. Warm, cold, room temperature, day-old, or brand new–you really can't go wrong!
Springy bowtie pasta is studded with fresh cucumber, bell pepper, and cherry tomatoes for pops of flavor and texture. Shallot adds sweet, oniony goodness, and parsley brings freshness. A classic homemade Greek salad dressing with garlic and dried oregano weaves everything together in a wholly delicious, perfectly simple, and just-bold-enough way. It's a great example of how you don't always have to try hard to make a wow-worthy dish.
Though this Greek pasta salad recipe comes together in less than 20 minutes, it's best when the pasta is given some time to relax and soak it all in. Give it at least 30 minutes to chill in your fridge. Then, wrap it up for your next picnic, or serve alongside simple grilled chicken, pork or lamb for a classic summer treat.
Table of Contents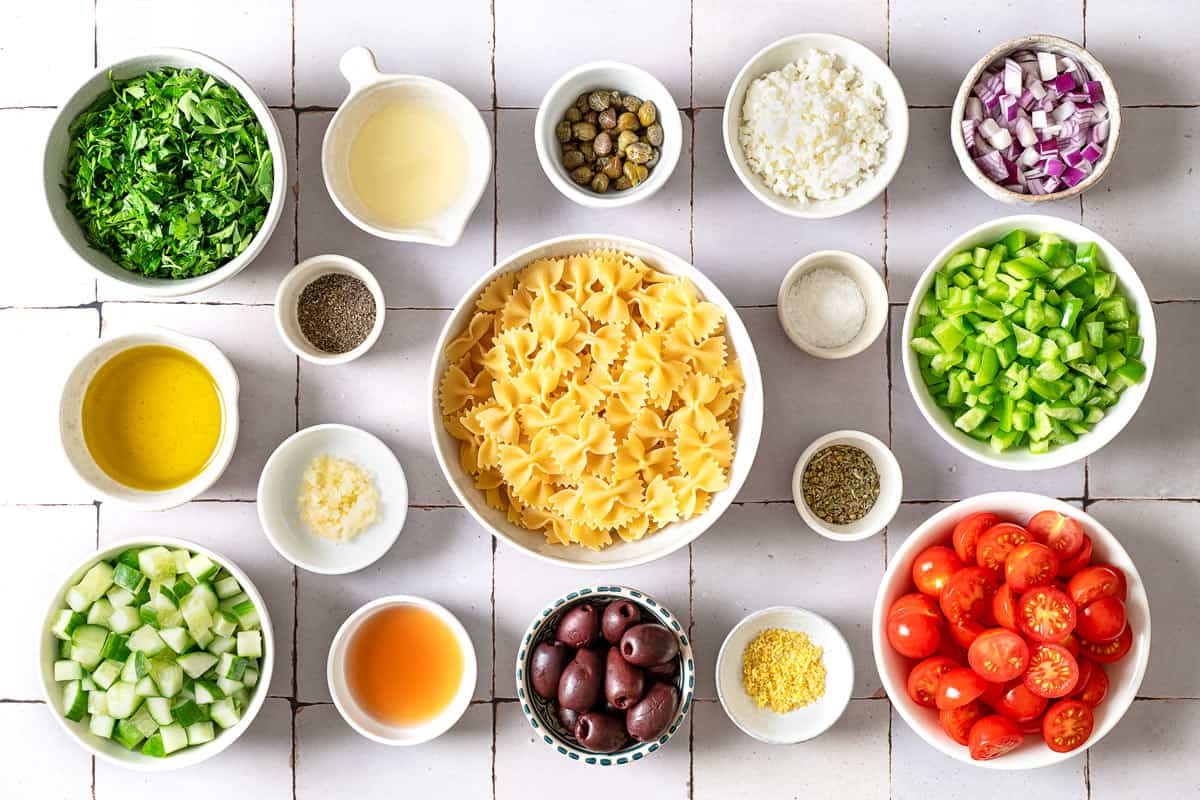 Greek Pasta Salad Ingredients
This Greek pasta salad combines pantry staples and easy-to-source produce for a fresh, light, and effortless vegetarian side dish.
Pasta: Farfalle (bowtie) pasta is a classic shape for pasta salad for good reason. The short pieces match the size of the vegetables and tomatoes, making for a perfect, easy to grab bite. And, the ridges capture all the delicious dressing. If you need to substitute, chose a similar short pasta like rotini or penne.
Cucumber: Invest in the smaller, thinner cucumber varieties like English or Persian if you can. They tend to be much more flavorful than the large American slicing cucumber, with sweeter, more delicate skin. If the big cucumbers are all that's available, make sure you peel off the waxy skin and scoop out the seeds.
Bell pepper: I like grassy green bell peppers for this pasta salad recipe, as the cherry tomatoes bring plenty of sweetness on their own. If you prefer a sweeter variety, like yellow or red, feel free to substitute them.
Cherry tomatoes: Cherry tomatoes add bursts of bright, sweet, fresh summery flavor. Grape tomatoes or even a ripe but firm chopped heirloom tomato would also work well.
Flavor makers: Capers and Kalamata olives bring the brine, shallots add a mild oniony sweetness, and flat leaf (Italian) parsley adds freshness. If you don't have shallot, a small red onion or a couple of green onions also work well.
Feta: Feta cheese really pulls its weight flavor-wise, adding a tangy, creamy, salty punch to this otherwise rather delicate pasta salad. Grab a high quality sheep's milk feta packed in brine, as the pre-crumbled stuff tends to be rubbery. If you're avoiding dairy, feel free to leave it off.
Dressing: The bright dressing is made of my usual suspects. You really can't go wrong with fresh lemon, red wine vinegar, garlic, dried oregano, salt, pepper, and olive oil, particularly with a full-flavored oil like our Greek Koroneiki.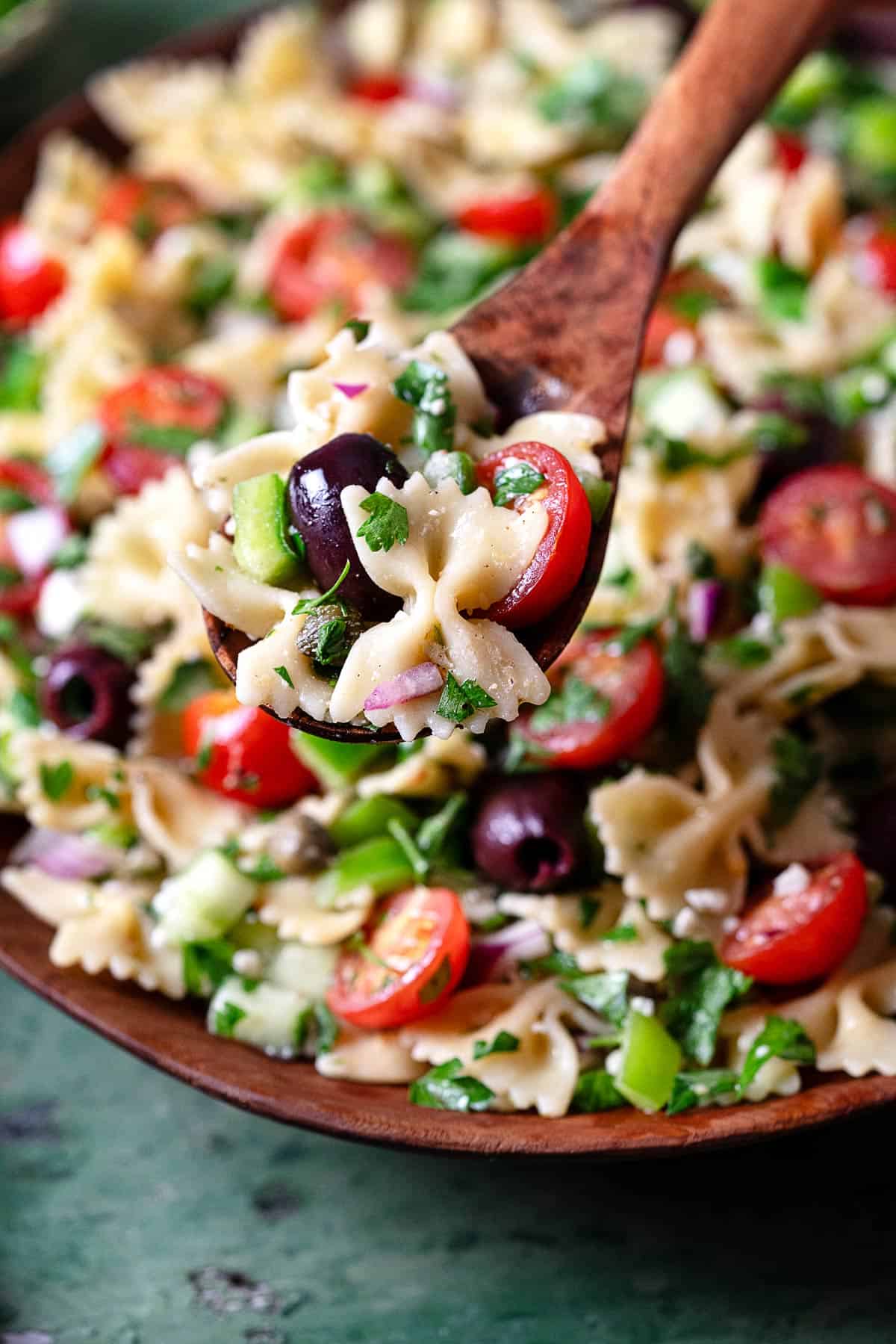 How to Make Greek Pasta Salad
This pasta salad can be served immediately, but like with most Mediterranean mezze it tastes best when you give the ingredients time to get to know each other. Allow at least 30 minutes to chill in your refrigerator if you can.
Cook the pasta: Bring a large pot of water to a boil. Once boiling, add a healthy pinch of salt and 8 ounces of farfalle (bowtie). Cook according to package instructions (about 8 minutes). Drain and set aside to cool.
Make the dressing: In a large bowl, add the juice of one lemon, 1 tablespoon of red wine vinegar, and 2 minced garlic cloves. Season with 1 teaspoon of oregano and a good pinch of salt and pepper. Whisk in about ¼ cup of extra virgin olive oil.
Add the fruits and veggies: To the bowl with the dressing, add the cooked pasta. Add ½ of a diced cucumber, 1 diced bell pepper, and 10 ounces of halved cherry tomatoes. Add in 1-2 chopped shallots, 1 cup of chopped parsley, 2 tablespoons of capers, and ½ cup of pitted Kalamata olives. Toss to coat, then add ⅓ cup of crumbled feta and very gently toss to combine.
Chill: For best flavor, cover and refrigerate for 30 minutes to 24 hours. Just before serving, give the salad a final toss and serve cold or at room temperature.
Ways to Mix it Up
Like just about every pasta salad recipe this Greek pasta salad is made to be versatile. The world-famous workhorse of a dressing goes well with just about any seasonal vegetable you may have on hand. (Greek salad dressing for the win!) Take full advantage of what looks the prettiest at your market. Here are some more ways you can make this Greek pasta salad your own:
Up the herbs. The more herbs the better when it comes to no-mayo pasta salad! Fresh marjoram, dill, and/or mint would keep the Greek flavor while bringing some extra intrigue.
Add fried or preserved lemon. Crispy Fried Lemons or punchy Preserved Lemons would add cheffy flair, texture, flavor, and more in-your-face tang.
Add more antipasti. Play with turning this antipasto platter into a pasta salad. Add roasted red peppers, jarred marinated artichoke hearts, mozzarella cheese, or chopped cured meats.
Make it vegan. This pasta salad is easily a filling vegan recipe. Simply omit the feta and you're good to go!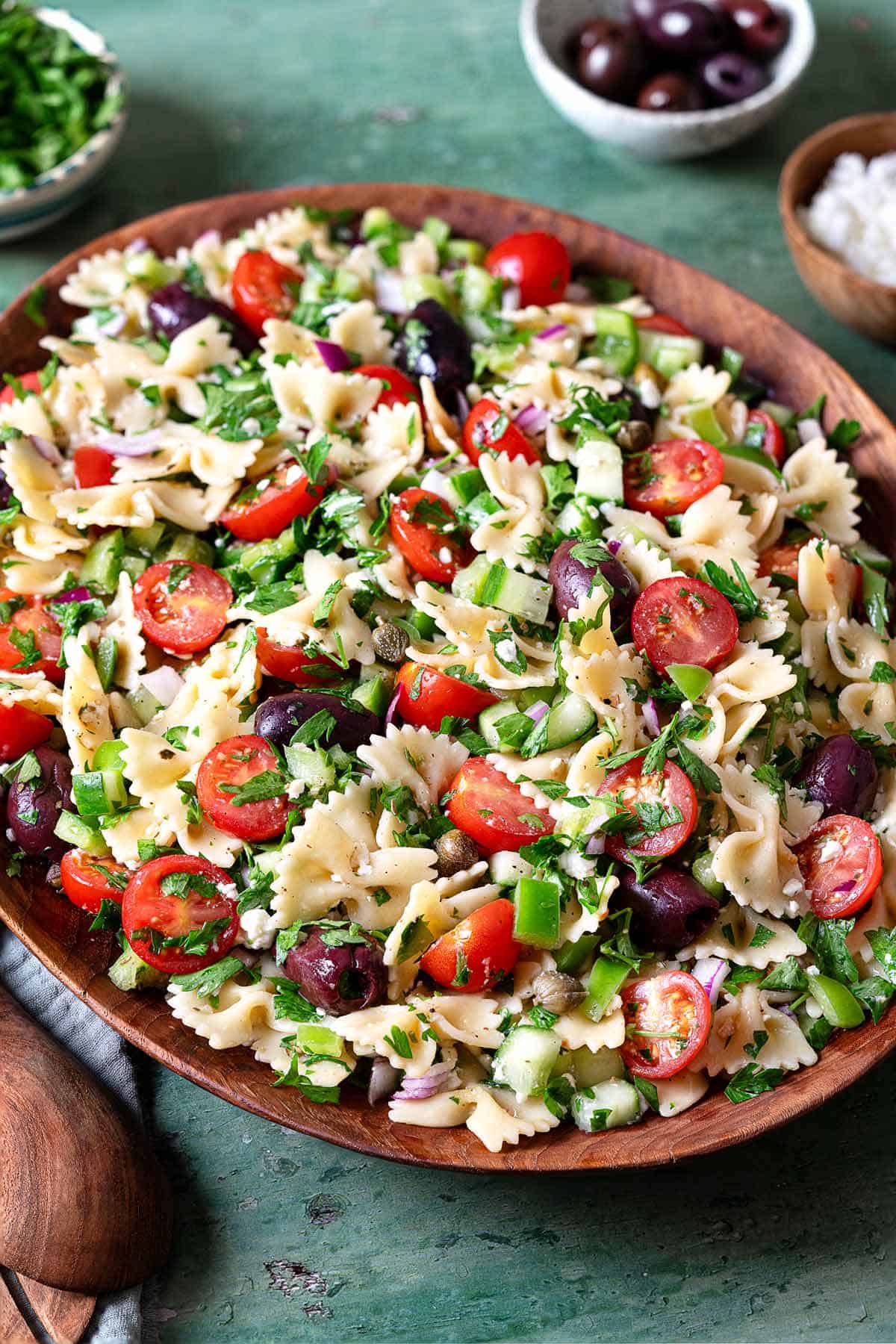 What to Serve with Greek Pasta Salad
This Greek pasta salad recipe is like having a very reliable plus-one. You know: that person you can bring to any party and suddenly they're everyone's new best friend? We all need a great plus-one, just like we all need a great pasta salad recipe!

In other words, this easy side dish plays well with others. Grilled meats like Pork souvlaki and lamb kabobs are an easy match. Swordfish or salmon would be delightful. Or, dial up the vegetables with a hearty vegetarian salad like cucumber radish salad.
Perfect your Picnic with These Recipes
Browse all Mediterranean recipes.
Visit Our Shop.
Bundle and Save
Sample your way through our best selling Extra Virgin Olive Oil, sourced directly from Greece.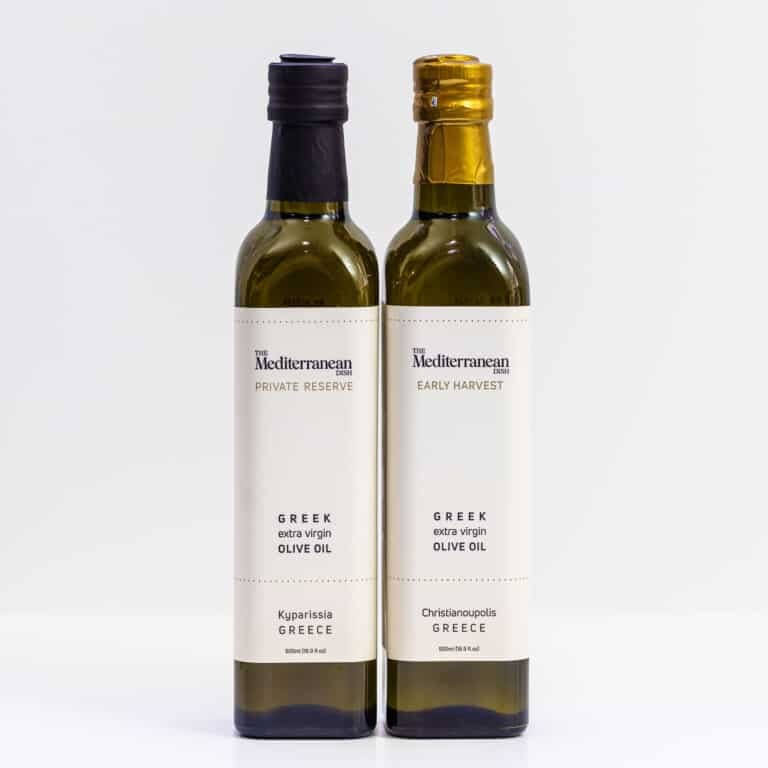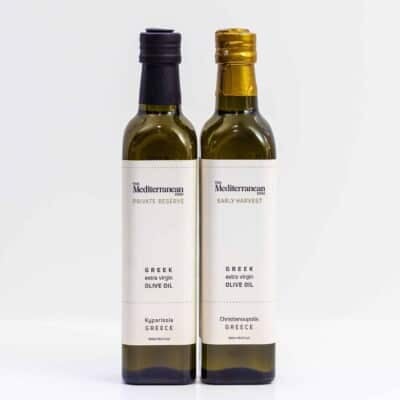 Greek Pasta Salad (No Mayo!)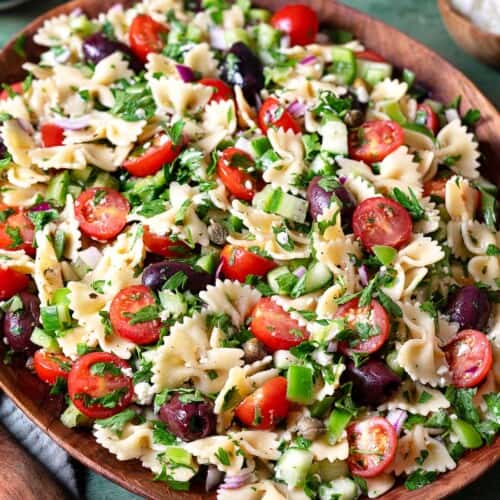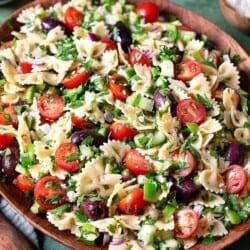 This mayo-free pasta salad is packed with bold Greek flavor and fresh herbs and vegetables. Plus, it gets better with age! Allow yourself at least 30 minutes of time to let the pasta soak up all the delicious flavor. From there, wrap up this Greek pasta salad for a picnic, or serve as a vegetarian main or a side dish alongside grilled meat.
Ingredients
For the Pasta Salad:
8

ounces

farfalle

(bowtie pasta)

½

English cucumber,

chopped

1

green bell pepper,

chopped

10

ounces

cherry tomatoes,

halved

1 to 2

shallots,

chopped (or ⅓ to ½ cup chopped red onion)

1

cup

chopped fresh parsley

2

tablespoons

capers,

drained and rinsed

½

cup

pitted Kalamata olives

⅓

cup

feta cheese,

crumbled, more or less to your liking
For the Greek Salad Dressing:
1

lemon,

zested and juiced

1

tablespoon

red wine vinegar

2

garlic cloves,

minced

1

teaspoon

dried oregano

Kosher salt

Black pepper
Instructions
Cook the pasta: Boil the pasta in salted water according to the package instructions (about 8 minutes). Drain and set aside briefly to cool just a bit.

Make the dressing: In a large bowl, mix the lemon juice and zest, red wine vinegar, garlic, oregano, and a good pinch of kosher salt and black pepper. Whisk to combine, and while whisking, drizzle in about ¼ cup extra virgin olive oil.

Add the veggies: To the bowl with the dressing, add the pasta, cucumber, bell pepper, tomatoes, shallots, parsley, capers, and Kalamata olives. Toss to coat, then add the feta and toss again very gently.

Chill: For best flavor, cover and refrigerate for 30 minutes to 24 hours before serving. Give the salad a final toss and serve cold or at room temperature.
Nutrition
Calories:
315.2
kcal
Carbohydrates:
54.6
g
Protein:
11.7
g
Fat:
6.6
g
Saturated Fat:
2.3
g
Polyunsaturated Fat:
0.7
g
Monounsaturated Fat:
2.7
g
Cholesterol:
11.1
mg
Sodium:
539.7
mg
Potassium:
559.6
mg
Fiber:
5.4
g
Sugar:
6.1
g
Vitamin A:
1899
IU
Vitamin C:
76.6
mg
Calcium:
141.6
mg
Iron:
3.1
mg