What is the secret to juicy, succulent grilled lamb kabobs? A special Mediterranean marinade that flavors and tenderizes the meat, plus a bit of grilling technique for the juiciest ever kebabs! Don't miss my tips and video below.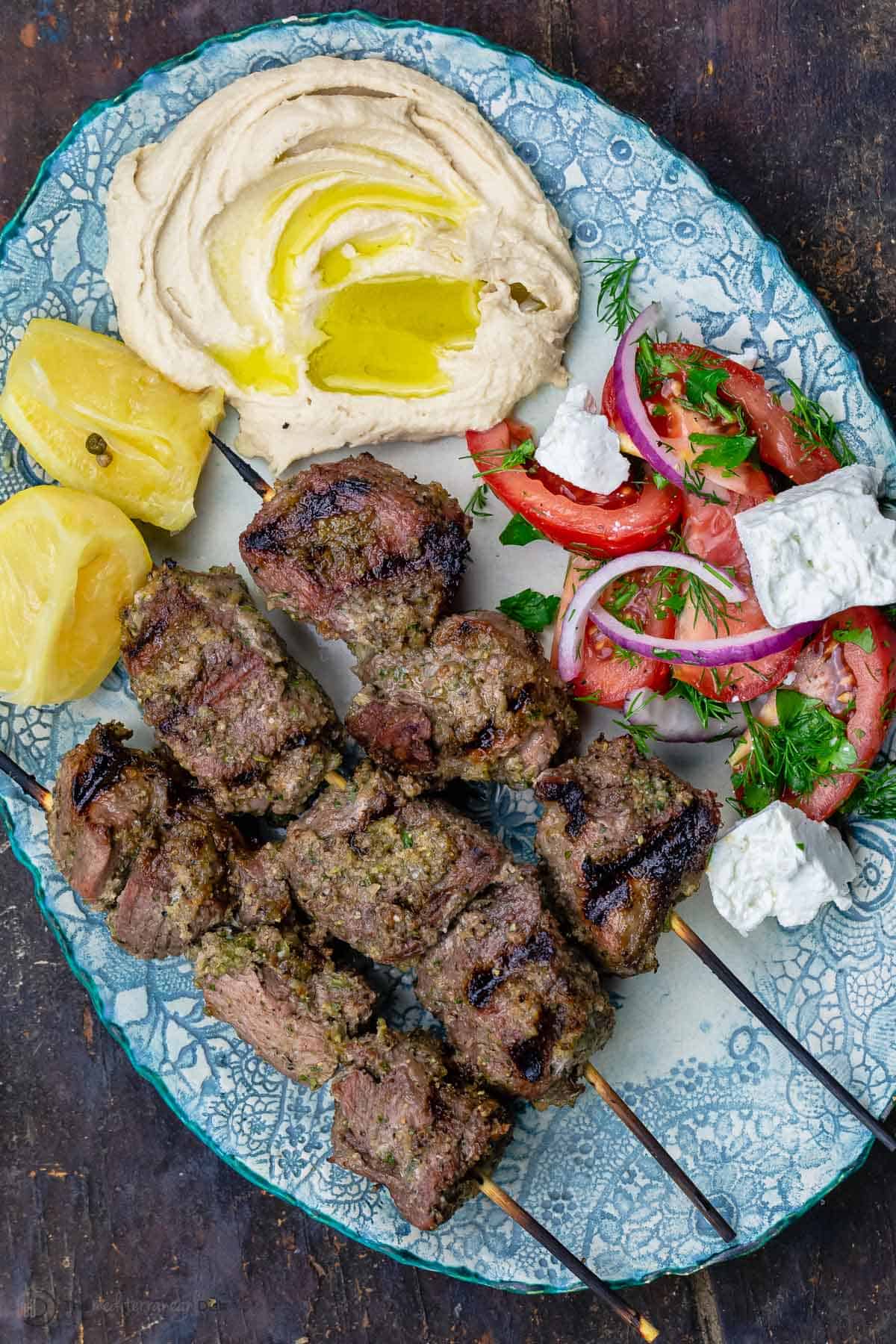 When BBQ season hits, you know we're all about kabobs over here! Just add a salad, your favorite dip, or a little mezze, and dinner is served!
Of all the skewered foods I've shared so far--shrimp, steak, salmon, pork, chicken, and more-- I was shocked to discover that I had not yet shared my favorite lamb kabobs recipe. Let me tell you, you are in for a treat! And you'll want to use the bold marinade with onions, garlic, and trio of warm spices all the time!
Let's get right to discussing all things lamb skewers...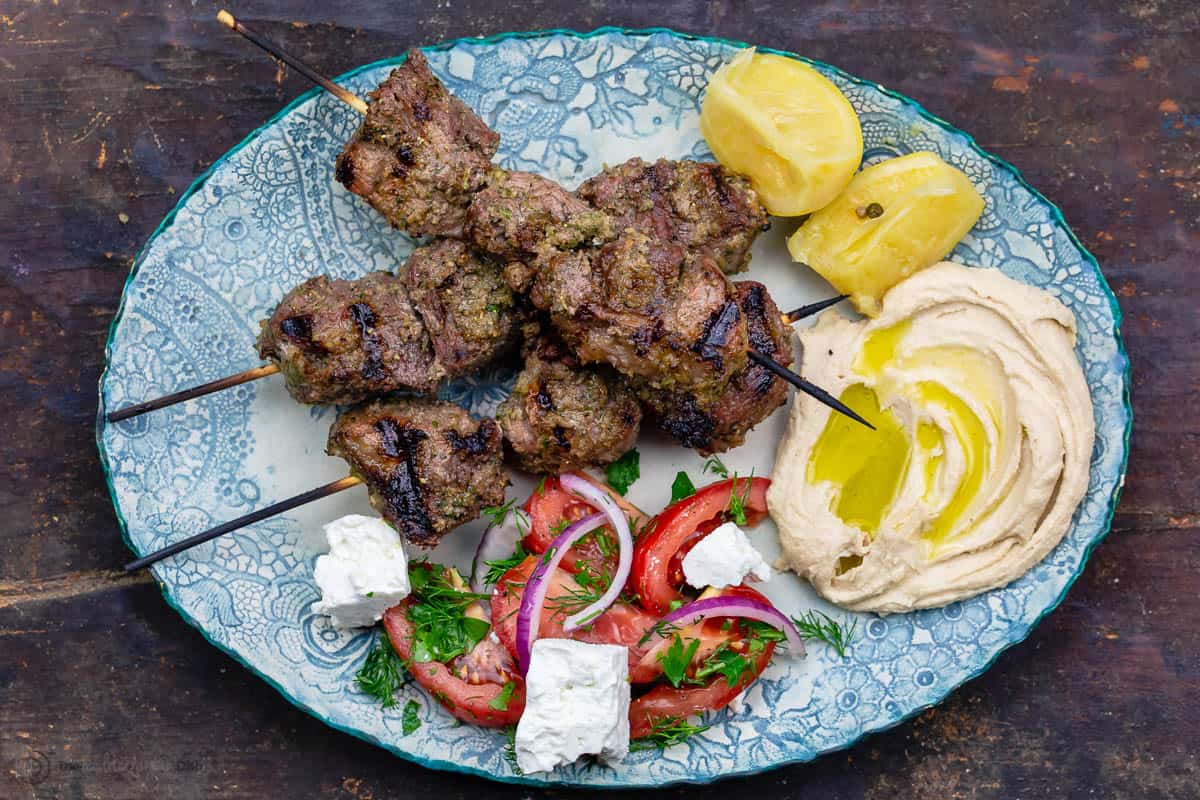 What cut of lamb is best for kabobs?
First, best lamb cuts that are ideal for shish kebab? When it comes to kabobs, you want to select meat that is tender but also on the leaner side--a little bit of fat, but not too much (you can trim excess fat). I typically use boneless leg of lamb, but here are three cuts of lamb that will work well for grilled kabobs:
Lamb tenderloin
Also known as lamb loin fillet comes from the underside of the shortloin. This is a superior, very tender cut with delicate flavor and virtually no fat or connective tissue. If you can find it, and you do not mind paying the price, the loin is great for quick grilling and ideal for kebabs.
Boneless Leg of Lamb
This is what I use in my recipe. The BRT or boneless leg is a versatile cut and readily available in most grocery stores. It has a rich flavor and a little bit of fat but not too much. You can buy the whole boneless leg and trim the outer fat layer with a thin knife, from there, cut it up into 1 to 1 ½-inch cubes for kabobs. (Side note, but it is worth mentioning here, butterflied grilled lamb leg is also a great thing to try).
Lamb shoulder
This part of the animal works hard, so the meat is full of flavor, but it does take a while longer to become tender. If you end up using lamb shoulder, it may be easiest to ask your butcher to trim and cut into cubes for you to make things easier. Also, when using lamb shoulders for kabobs, allow time for marinating. In my recipe below, I suggested 2 hours, but you can go even longer with lamb shoulder (4 to 8 hours), just cover and keep it in the fridge.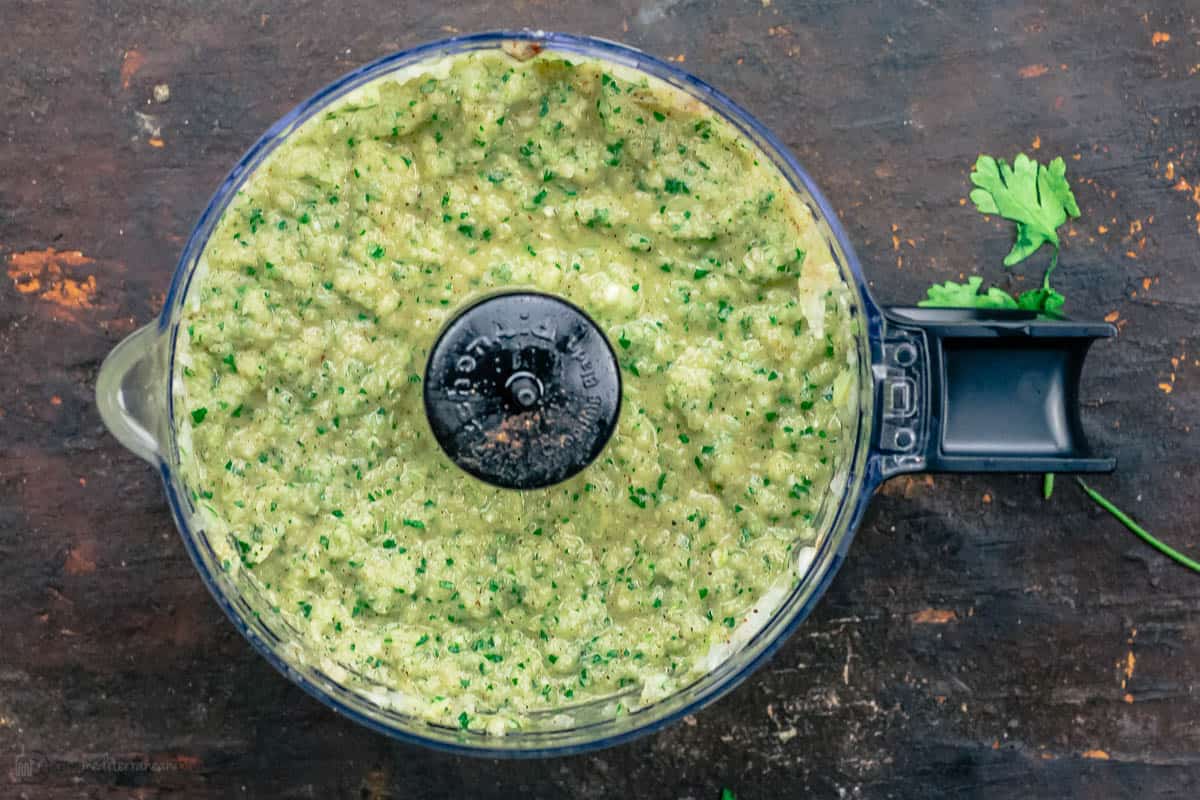 Lamb kabob marinade
When marinating lamb, don't be shy to find flavors that will compliment its rich and bold flavor. But it is equally important to use a marinade that will also help tenderize the meat while imparting flavor. This is especially true if you are using lamb shoulder or boneless leg of lamb as opposed to lamb loin fillet, which, as I just shared, is more tender.
Here is what I use to make the lamb kabob marinade:
Onions. Pureed onions are the magic ingredient in this marinade, they will work to tenderize the meat and enhance its flavor.
Fresh garlic
Spices. Allspice, nutmeg, and cardamom, a trio of warm spices that give the lamb skewers a bold Middle Eastern flavor.
Fresh parsley
Quality extra virgin olive oil, which has the unique ability to help pull the fat-soluble flavors out of some ingredients like garlic and onions and help transfer them into the meat.
Zest and juice of 1 lemon. Not too much acid here, but a bit of acid adds zing and also aids in tenderizing the lamb.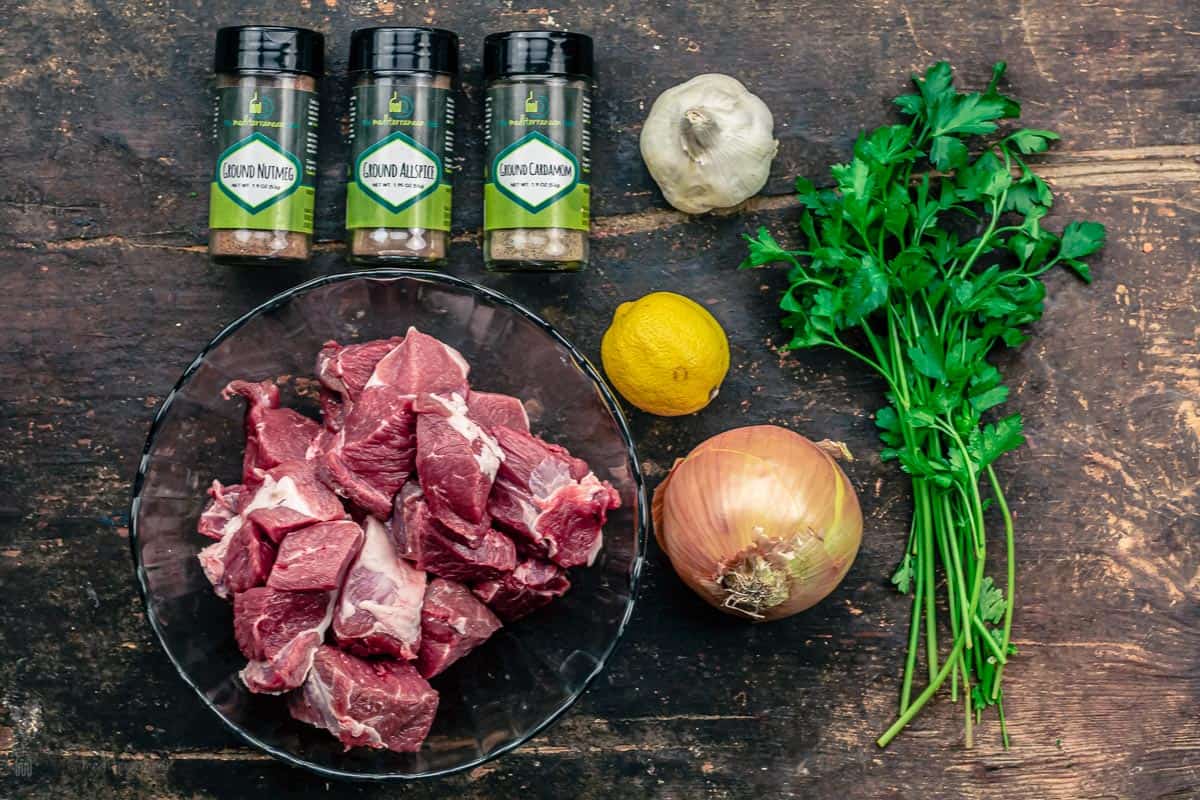 How to cook lamb kabobs?
For those of us who are visual, here is how this recipe goes (complete recipe with ingredient list below):
Trim and cut the lamb
Trim any excess fat off the boneless leg of lamb and cut the meat into 1 to 1 ½-inch skewers. Put the cubed meat in a bowl and season well with kosher salt and black pepper.
Marinate
To make the marinate, combine onion, garlic, spices, fresh parsley, olive oil, lemon juice in a food processor. Blitz until everything is well-incorporated and you have a thick onion marinade. Pour the marinade over the meat. Toss to coat, then cover and refrigerate for a couple hours (if you don't have time, even 30 minutes of marinating time at room temp will help)



Skewer the meat
If you're using bamboo skewers, they need to soak in water for at least 1 hour. Simply thread the meat through the skewers, leaving a little bit of breathing room between the meat pieces (this will help them cook evenly)



Grill
Grill the meat skewers over high heat turning every couple minutes for about 7 to 9 minutes, depending on how well-done you like your lamb (on my grill, 7 minutes produced medium-rare kabobs)
What to serve with them
For the ultimate kabob dinner, first, a dip is a must! I love lamb kabobs with tzatziki, hummus, white bean hummus that's been sprinkled with some dukkah, or even a little toum. Plus, of course, a few warm pita or your favorite flatbread.
Add at least one or two fresh salads such as Mediterranean tomato salad, Greek salad, panzanella, or watermelon salad. You can stop here, or complete the party with sides like oven fries, stuffed zucchini boats, or even eggplant pizza bites. The possibilities are endless!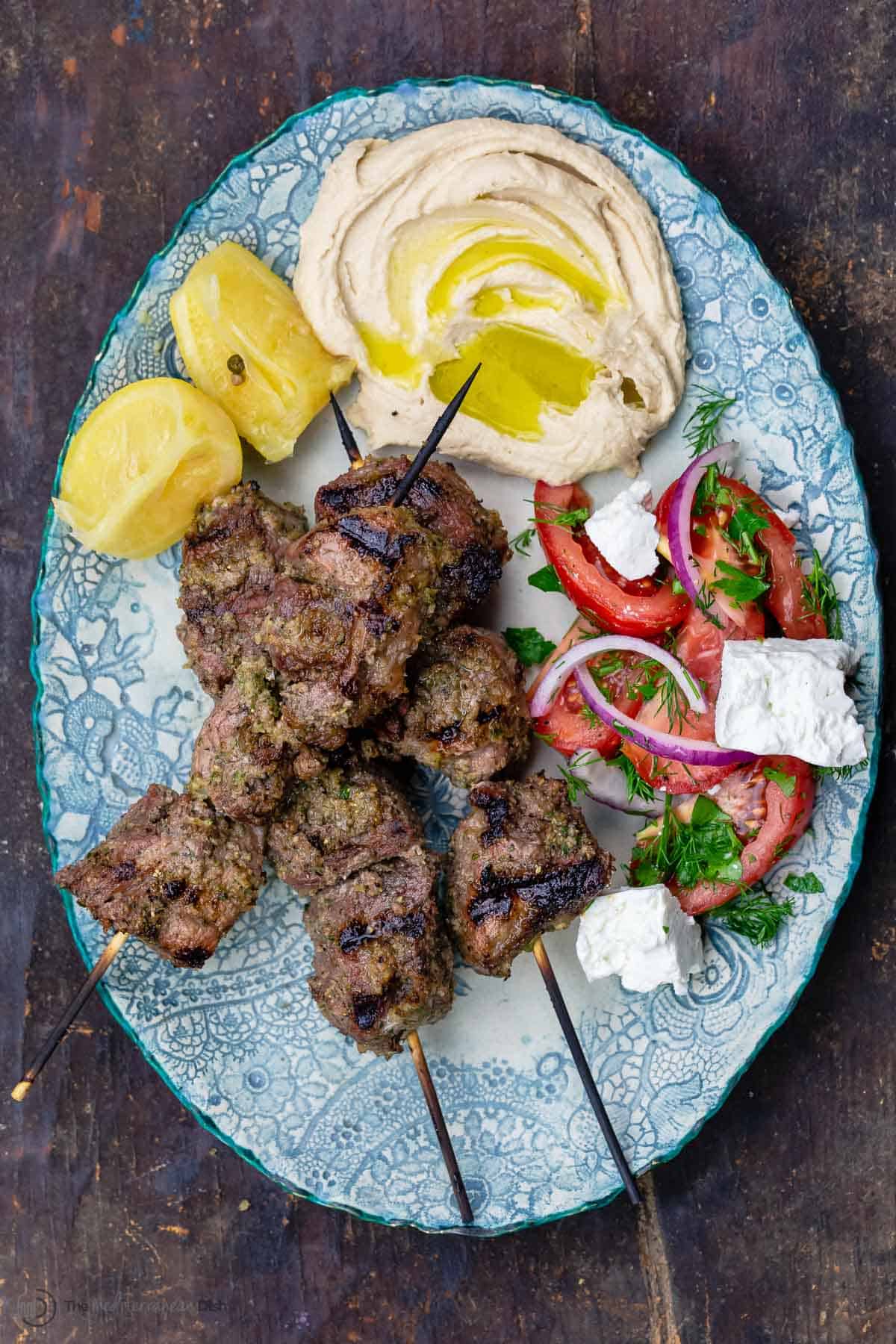 Related recipes to try
Browse all Mediterranean Recipes.
Visit our shop for quality Mediterranean products and ingredients.
Lamb Kabobs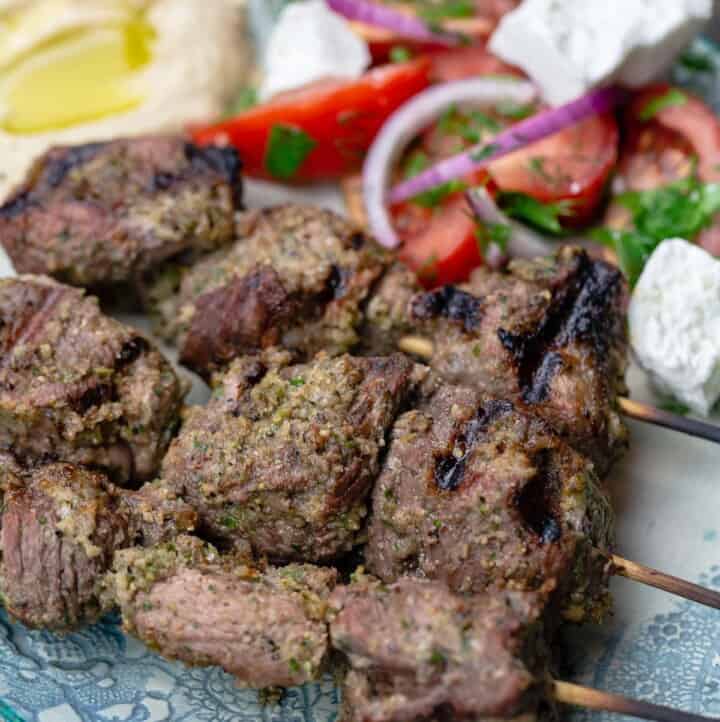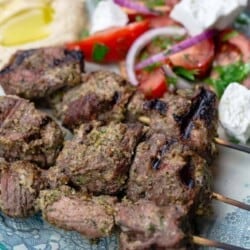 A special Mediterranean marinade that flavors and tenderizes the meat, plus a bit of grilling technique, produce succulent, juicy lamb kabobs every time. Watch the video and read the full post for more tips and information.
Ingredients
1 ½

lb

boneless leg of lamb

Kosher salt and black pepper
Instructions
Cut the lamb into 1 to 1 ½ -inch cubes or pieces and put them in a large bowl. Season with kosher salt and black pepper.

In the bowl of a food processor fitted with a blade, combine the onion, garlic, spices, parsley, olive oil and lemon juice. Cover and run the processor until everything is finely chopped (you should end up with a thick onion marinade).

Pour the onion marinade over the lamb and mix well to make sure all the lamb is well coated with the marinade. Cover and refrigerate for up to 2 hours. (If you do not have time, leave the kabobs to marinate at room temperature for about 30 minutes).

Brush the grates of a gas grill (or an indoor griddle) with oil and heat.

Shake excess marinade off and thread the lamb pieces on some long skewers, allowing a little room between pieces (I used 6 wooden skewers that have been soaked in water).

Assemble the lamb kabobs in one single layer over your heated grill or griddle. Grill over high heat, turning each kabob one-quarter turn every couple minutes, until the meat is browned all over, anywhere from 7 to 9 minutes, depending on how well you like your lamb cooked (7 minutes on my grill produced medium-rare kabobs).
Notes
This recipe uses boneless leg of lamb, but you can also use lamb loin or lamb shoulder meat to make it.
Do not skip the marinating if you can help it, a couple hours in the fridge or even 30 minutes at room will help. If you're using lamb shoulder, the meat will benefit from a longer marinating time in the fridge.
Leftovers can be stored in the fridge for 2 to 3 days.
Visit our shop to browse quality Mediterranean ingredients including extra virgin olive oil, spices, and more!
Nutrition
Calories:
275
kcal
Carbohydrates:
3.6
g
Protein:
23.6
g
Saturated Fat:
3.9
g
Cholesterol:
73.7
mg
Sodium:
274.8
mg
Potassium:
420.3
mg
Fiber:
0.8
g
Sugar:
0.9
g
Vitamin A:
845
IU
Vitamin C:
15.6
mg
Calcium:
36.1
mg
Iron:
2.8
mg