You'll love this tender, flavor-packed chicken kofta recipe made with a tantalizing mixture of ground chicken, fresh herbs & spices. Cook indoors or outdoors! And so many ways to serve it!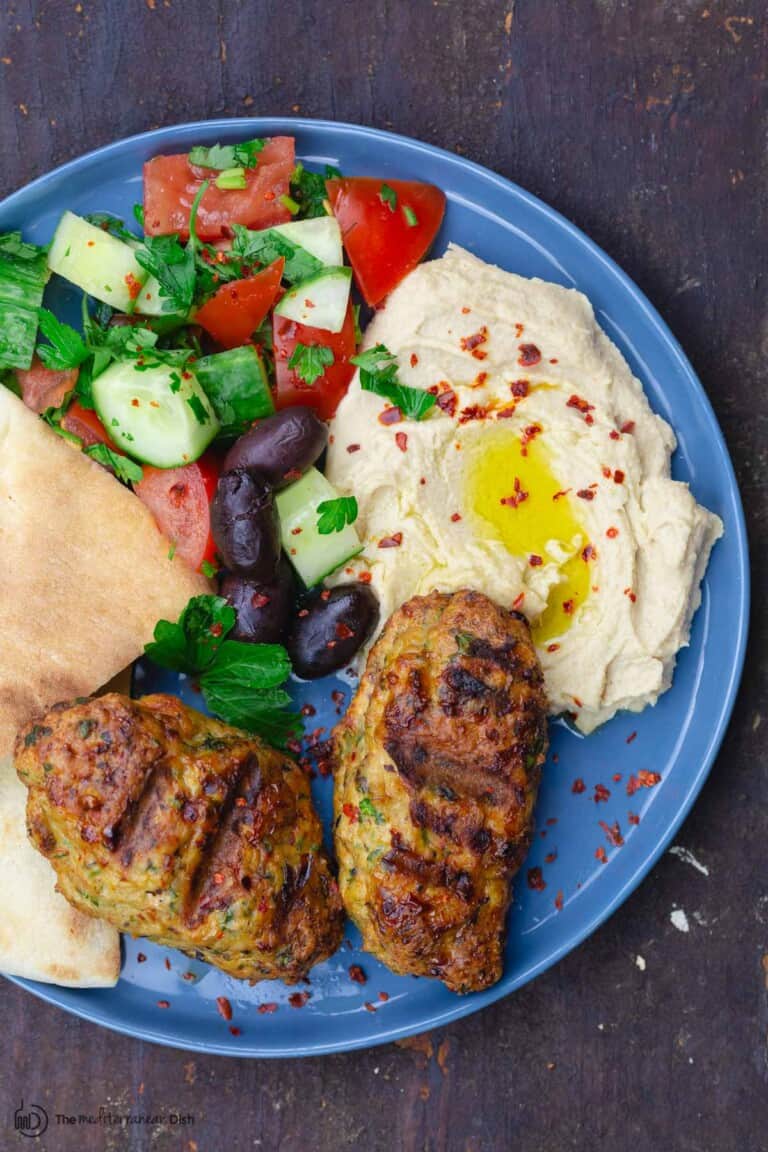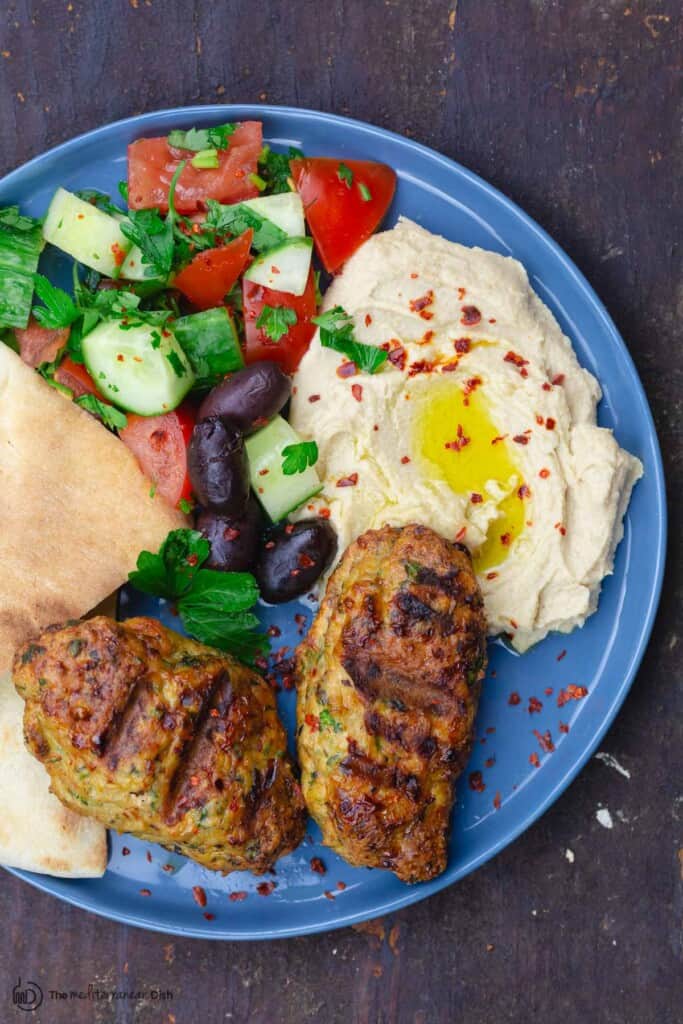 Just last week, a reader wrote to ask if she can make kofta kebabs using chicken instead of ground beef or lamb. Why not?! With a few small tweaks to the original--mainly in the selection of spices and herbs--you can easily make chicken kofta.
You'll love this healthy, flavor-packed grilled chicken kofta, thanks to a combination of fresh parsley, mint, warm spices, onions and garlic. I'm telling you, the mixture for these ground chicken patties (starring a secret spice...Aleppo pepper) is out-of-this world delicious!
This is an easy recipe, and you can prepare the chicken kofta mixture ahead of time, if you need to. Plus the possibilities for how to serve these ground chicken patties are endless!
Chicken Kofta vs. Chicken Kabobs
If you're not familiar with chicken kofta kebabs as opposed to just chicken kabobs, it can be confusing. But there is one simple and quick distinction and it is in the way the chicken is prepared.
Chicken kofta is made of ground chicken that's mixed with other ingredients including onions, garlic fresh herbs and spices, to form a well-seasoned mixture (similar to a chicken meatballs mixture). From there, the mixture is formed into oval chicken patties (which look like logs) or meatballs, depending on how you plan to cook them. For grilling, like in today's recipe, oval patties or formed on skewers of chicken kofta kebabs are best.
Middle Easter chicken kabobs, on the other hand, are like Souvlaki. They're basically skewers of chicken pieces or cubes from boneless chicken breast. Chicken kabobs are seasoned differently than kofta and are typically threaded on a skewer with bell peppers and onions.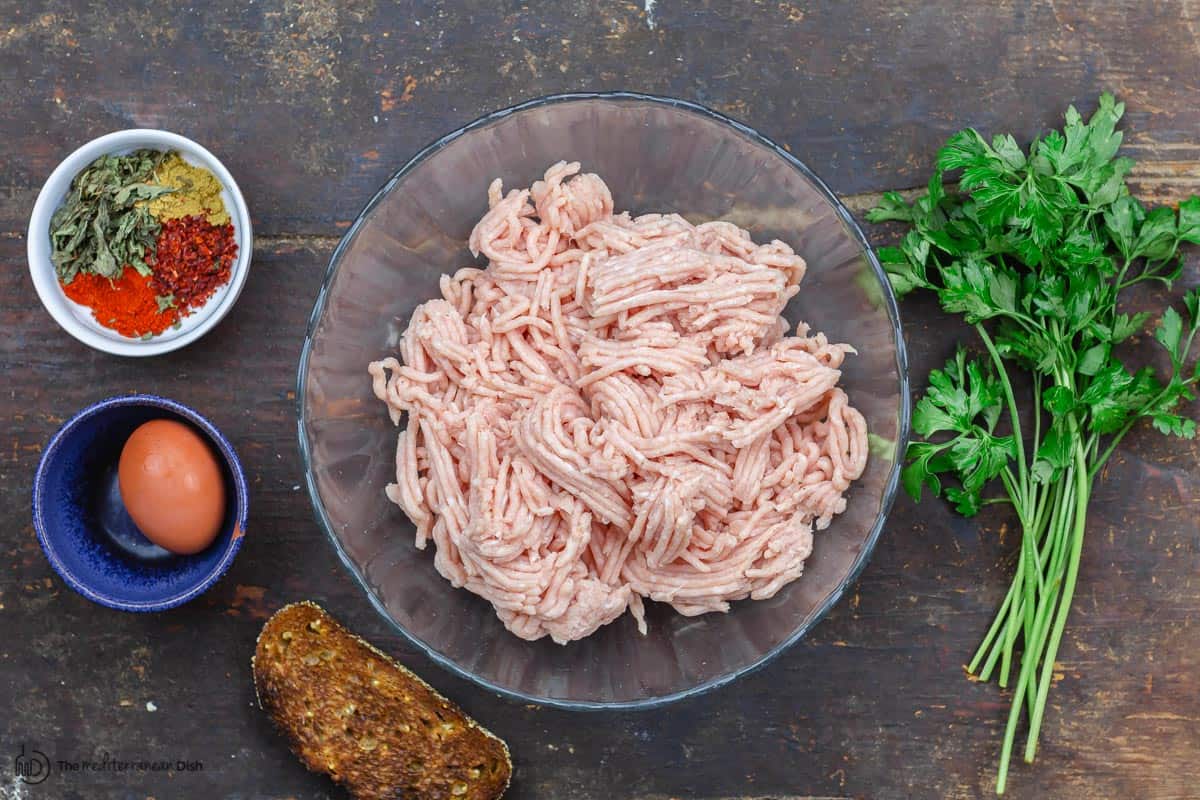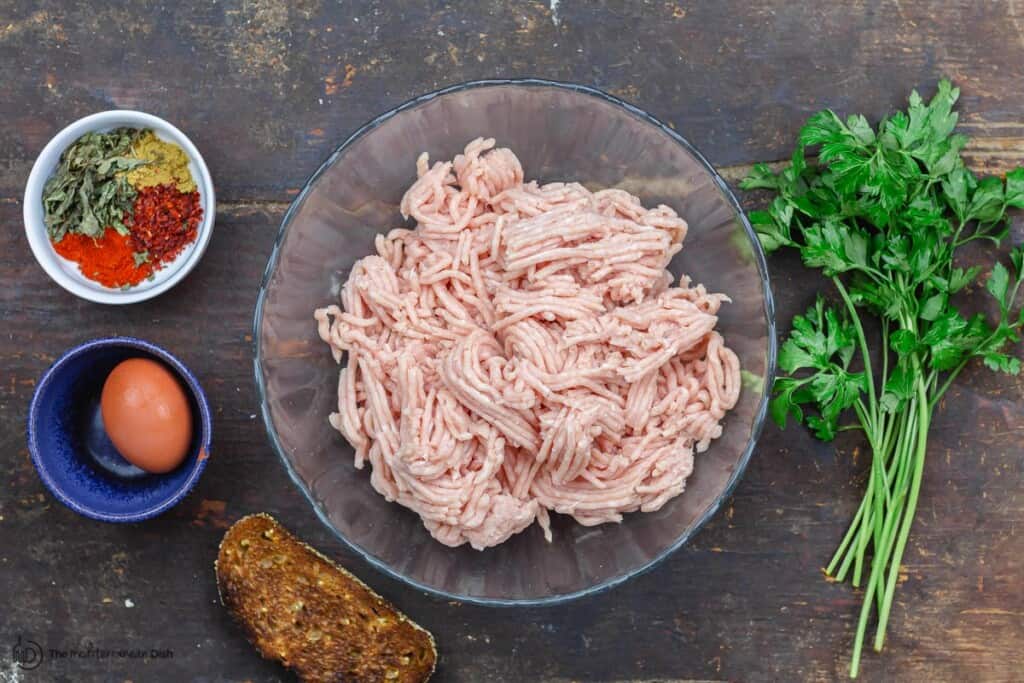 Ingredients: What's in these Kofta?
Ground chicken. 1 ½ pounds of ground chicken (you could also use ground turkey)
Onion and garlic. About ½ cup grated onions (use a box grater) and 1 garlic clove, minced
Fresh parsley and mint. I do more parsley than mint, about ½ cup chopped fresh parsley and 3 tablespoons of chopped fresh spearmint leaves. If you can't find fresh spearmint, you can use 1 teaspoon dry mint flakes. You can also use another fresh herb like dill instead.
Spices & Seasonings. In this recipe, Aleppo-style pepper is the star spice (about 1 ½ teaspoons). Don't worry, Aleppo pepper is not hot, it's a fairly mild pepper with sweeter undertones like the best of sun-dried tomatoes, and it has just enough of a kick. Plus 1 teaspoon ground coriander and ½ teaspoon of sweet paprika. (You can find all these spices at our online shop here). A dash of kosher salt and black pepper to season.
1 egg. The egg is optional, but I feel it does help the ground chicken mixture which has little fat compared to the typical beef and lamb kofta mixture.
Drizzle of extra virgin olive oil to bring the mixture together
My secret ingredient! 1 small piece of sandwich bread (whole wheat bread. Use a smaller piece from the edge of the loaf). The bread is toasted and then soaked in water until mushy (of course you'll want to wring all the water out). Added to the chicken mixture, bread will help hold the mixture together, giving it body and keeping the chicken kofta tender and moist as they grill.
Really the chicken mixture is all there is to this kofta recipe, but I do have just a few tips that will be helpful.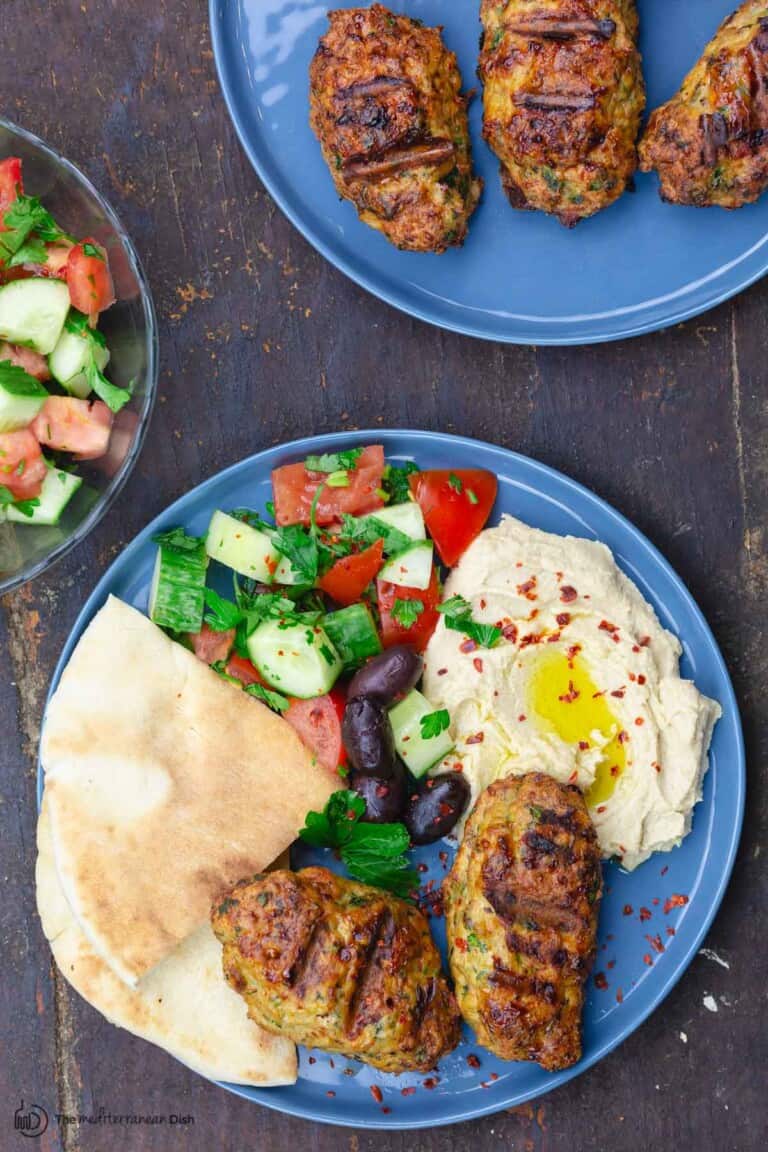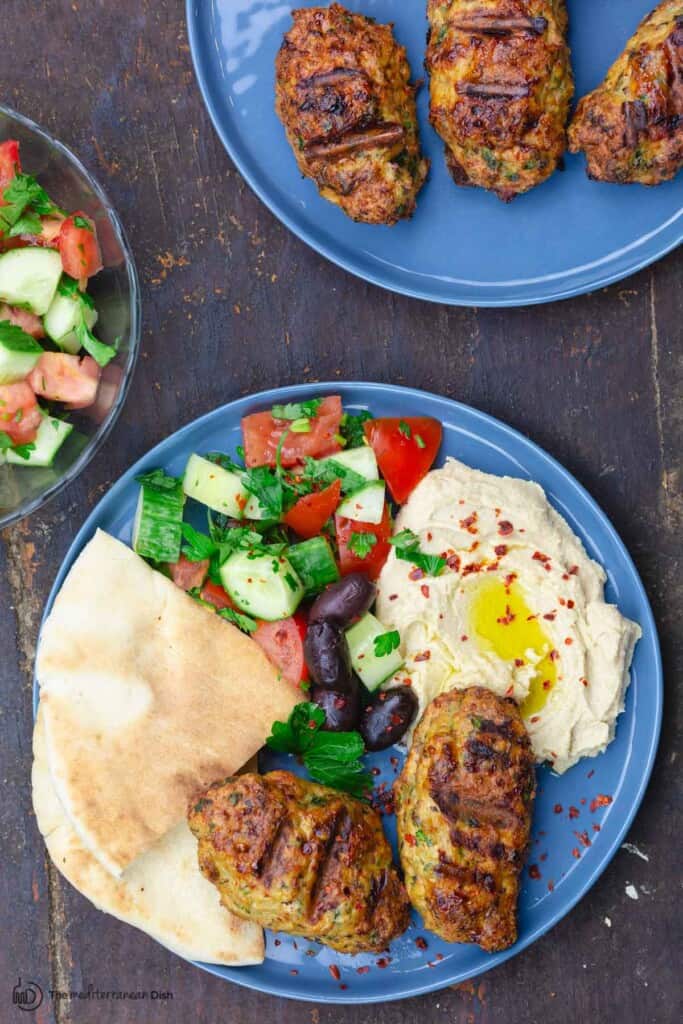 5 Simple Tips
Wet your hands with a bit of water as you form the chicken kofta patties. The chicken mixture will feel like a sticky mess when you are trying to form the oval patties. That's okay!
Chill the chicken kofta patties for a few minutes before grilling. Arrange the raw kofta on a large tray (make sure they're not touching) and chill for a few minutes while your grill is heating. This will help keep them from falling apart when grilled.
Will these chicken kofta be as good on an indoor grill or griddle? Absolutely. You do not have to fire up an outdoor grill if you don't need to.
To make chicken kofta kebabs, use skewers. Instead of forming the chicken mixture into oval patties, take a fistful portion of the meat mixture and mold it on a wooden skewer (previously soaked in water). You'll want to work your hand up and down the skewer to make sure the chicken mixture is fully attached to it.
Grease grill grates or indoor griddle well. You don't want your kofta patties to get stuck or they'll fall apart when you turn them over. Be sure to wipe the grates of a gas grill or your indoor griddle or skillet with a bit of oil, then heat the grill to medium-high.
How to Make Chicken Kofta
Time needed: 38 minutes
Chicken kofta recipe: step-by-step (print-friendly version below)
Make the ground chicken mixture

First, soak a very small piece of sandwich bread in water until super tender, then drain the water and squeeze the bread dry.
Place the bread in a large mixing bowl. Add ground chicken, grated onion, minced garlic, chopped parsley and mint. Add Aleppo-style pepper, coriander, paprika, kosher salt and pepper. Add the egg, if using, and a drizzle of extra virgin olive oil to bring this mixture together.

Form the chicken kofta patties and chill

Take fistfuls of the chicken mixture and form into 8 oval patties that are about 1 to 1 ½ inches thick (try to keep them all equal in size).
Arrange the patties on a tray or a large plate (they should not be touching) and chill for 15 to 20 minutes while the grill is heating (longer if you have the time)

Grill

Grease the grates of your gas grill (or an indoor griddle or skillet) with a bit of oil and preheat to medium-high.
When ready, arrange the chicken kofta on the grill or griddle so that they are far enough apart (you'll want to have enough room to turn them over).
Grill for 4 to 5 minutes on each side or until the chicken is fully cooked. (Use a grill-safe spatula to turn the chicken kofta over halfway through cooking).

Serve immediately!

In my opinion these kofta patties are best hot off the grill. Add a little garnish of Aleppo-style pepper if you like and serve with your favorite Mediterranean sides.
Serve this chicken kofta recipe with...
There are so many fun ways to serve these chicken kofta, here are a few options
You may also enjoy 50+ Top Mediterranean diet recipes. For all recipes, visit us here.
JOIN MY FREE E-MAIL LIST HERE. SHOP OUR ONLINE STORE FOR QUALITY OLIVE OILS, ALL-NATURAL SPICES AND MORE.
Print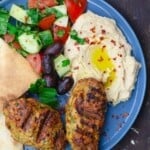 Grilled Chicken Kofta
---
Author:

Suzy Karadsheh

Total Time:

38 minutes

Yield:

Serves

4

(2 kofta patties each)

1

x

Diet:

Low Fat
Description
You'll love this delicious grilled chicken kofta recipe! It has a little heat from the Aleppo pepper and it's loaded with flavor from garlic, fresh herbs and olive oil.
---
1

small piece sliced sandwich bread (I used whole wheat bread. Glu

ten

free bread if needed)

1 ½

lb ground chicken

1

small onion, grated (about

½ cup

grated onion)

1

garlic clove, minced

½ cup

chopped fresh parsley

3 tbsp

chopped fresh mint

1 ½ tsp

Aleppo pepper (mild/sweet pepper flakes), more for later

1 tsp

ground coriander

½ tsp

sweet paprika
Salt and pepper

1

egg (raw)
Drizzle extra virgin olive oil (I used Private Reserve Greek EVOO)
To serve (optional)
---
Instructions
Toast the bread until golden brown. Place it in a small bowl and cover with water. Let it sit until tender then squeeze the bread to wring out all the water (it should fall apart into smaller pieces).
Place the bread in a large mixing bowl. Add the ground chicken, onion, garlic, fresh parsley, mint, spices and a dash of salt and pepper. Add the egg and a drizzle of extra virgin olive oil. Using clean hands, mix the chicken mixture until everything is well combined.
Wet your hand with a tiny bit of water and begin to form the chicken mixture into 8 oval patties that are about 1 to 1 ½-inch in thickness (the chicken mixture may feel a bit sticky, which is fine, but the wet hands should help). Arrange the kofta patties on a tray or large plate and refrigerate for 15 to 20 minutes or so just while the grill is heating.
Grease the grates of a gas grill or an indoor griddle with a little bit of oil and heat to medium-high. Place the kofta on the grill and cook for 4 to 5 minutes per side until fully cooked through (use spatula to carefully turn the kofta over halfway through cooking).
Serve immediately, garnished with another sprinkle of Aleppo pepper or chili pepper flakes and your choice of sides (in this post, I served the kofta with homemade hummus, simple Mediterranean salad, pita bread and some olives).
Notes
Cook's Tip: Aleppo pepper is a fairly mild chili pepper with a little bit of a kick, it has some hints of sweetness that's similar to the best kind of sundried tomatoes. Find it at our online shop here. If you must substitute Aleppo, you may be able to use a combination of Ancho chile powder and red pepper flakes (it will not be exactly the same, however).
Prep Time:

30 minutes

Cook Time:

8 minutes

Category:

Dinner

Method:

Grilled

Cuisine:

Mediterranean
Keywords: Chicken Kofta, Chicken Kafta, Chicken kofta Kebab