Easy grilled shrimp skewers, seasoned Mediterranean-style and marinated in olive oil and lemon juice. A flavor-packed Mediterranean appetizer in minutes! 
For a girl who grew up blocks away from the Mediterranean, I've always had a soft spot for shrimp (and all seafood for that matter).
And these shrimp skewers are one of my favorite ways to serve as an appetizer.
In this quick recipe, the shrimp are seasoned very simply with oregano, sweet paprika, salt and pepper. Here, I rely more on fresh garlic paste and an olive oil-citrus marinade.  And if you have time, it's best to let the shrimp marinate for about 1 hour or so in the fridge.
I make this recipe all year round because it doesn't require an outdoor grill. Most of the time, I use a cast iron grill or skillet like this one. It's important to remember that even large shrimp cooks very quickly. And it's easy to know when the shrimp skewers are ready. Once the shrimp have turned a pearly-pink color and the tails are bright red, as you see in the pictures, they are ready. The shrimp should be firm enough, but not too firm that they become rubbery.
You can turn these shrimp skewers into dinner, if you like. Simply use longer skewers to fit more shrimp, and add a side of Lebanese rice and any Mediterranean salad like fattoush, tabouli or Greek salad for a simple meal.
Print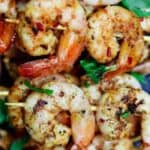 Easy Mediterranean Garlic Shrimp Skewers
---
Author:

Prep Time:

7 mins

Cook Time:

15 mins

Total Time:

22 minutes

Yield:

6
Ingredients
1 1/2 lb large shrimp or prawns, peeled (tails on), deveined
2 tsp garlic paste
1 tbsp dried oregano
1 tsp sweet paprika
Salt and pepper
1/4 cup Private Reserve Extra Virgin Olive Oil
2 lemons, juice of
---
Instructions
Place the shrimp in a large bowl. Add the garlic paste. Season with the oregano, sweet paprika, salt and pepper. Toss to combine. Add the olive oil and lemon juice. Toss again to combine, making sure the shrimp is well coated.
Cover and refrigerate for 1 hour. Meanwhile, soak 12-15 small skewers in water.
Remove from the shrimp from the fridge. Thread 2-3 shrimp on each damp skewer.
Very lightly brush a cast iron griddle or grill skillet like this one with oil. Heat the skillet on medium-high. Grill the shrimp on the griddle for 5-7 minutes, turning over once halfway through.
Place the shrimp skewers on a serving platter. Add a little crushed red pepper and fresh parsley for garnish, if you like. Enjoy!

More Recipes to Try:
Grilled Shrimp with Roasted Garlic Cilantro Sauce
Mediterranean  Baked Shrimp Stew