Easy grilled shrimp kabobs, tossed up in a Mediterranean marinade with garlic and fresh herbs, then quickly grilled for the perfect dinner or appetizer to feed a small crowd.
Be sure to check out my tips and video for how to grill shrimp perfectly every time! No outdoor grill? You can cook these shrimp skewers using an indoor griddle or skillet.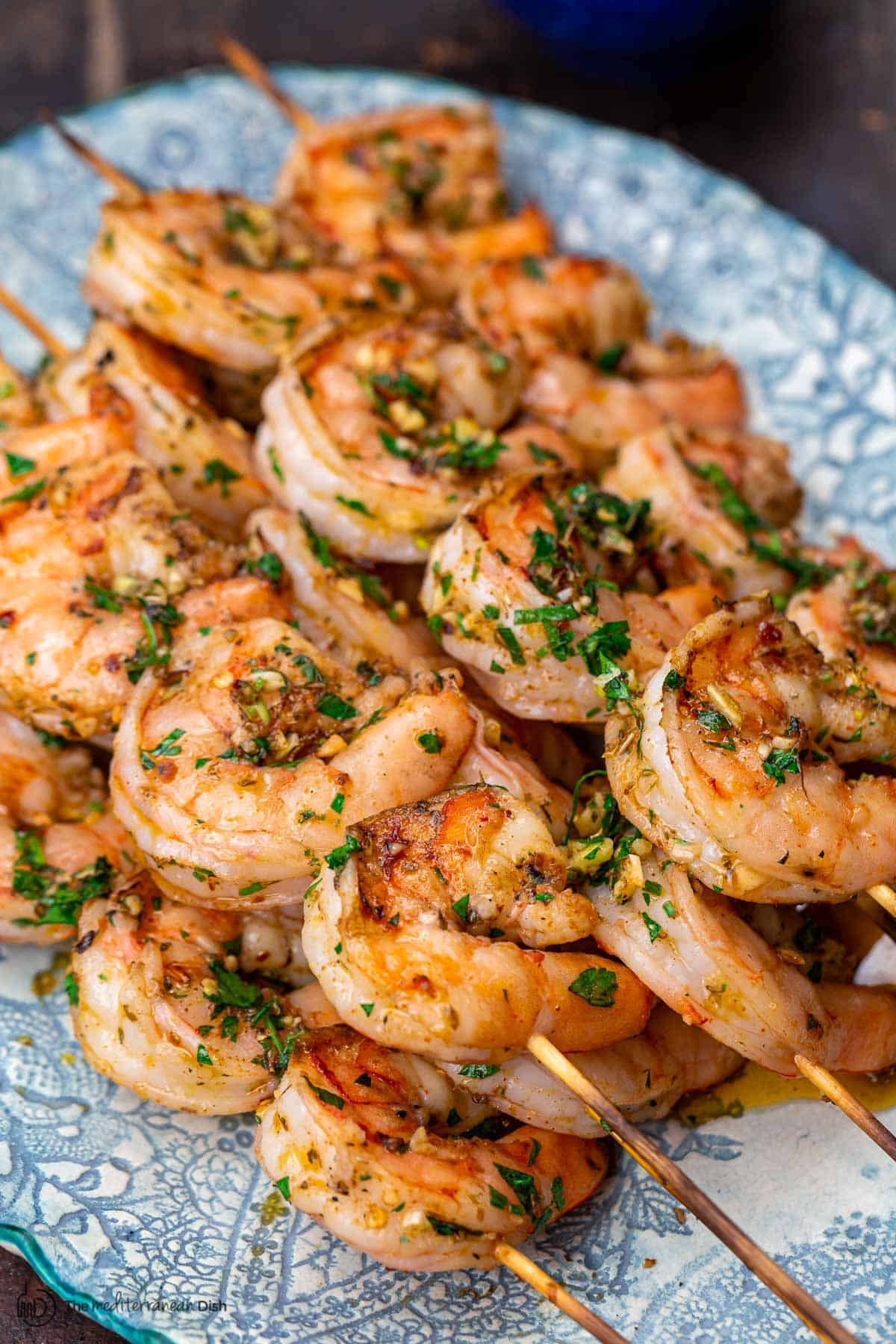 As a girl who grew up on the Mediterranean, I'm a big fan of seafood and really enjoy cooking all sorts of it. For the most part, unless it's paella, I can put together a simple fish dinner like baked cod or fish en papillote in just over 20 minutes.
And I would say the same of shrimp, which I conveniently keep in the freezer for a quick weeknight shrimp pasta or barbecue like today's shrimp kabobs!
These kabobs can double up as an appetizer for a big party or dinner next to your favorite side or salad. And if the weather puts a damper on your plans, you can totally grill them indoors!
Tips for best grilled shrimp
A few simple tips make all the difference in achieving flavor packed and perfectly grilled shrimp.
Start with large shrimp. I usually go with 20/25 shrimp per pound (larger if I can find them). They're meatier and easier to work. Buy easy-to-peel shrimp and peel them yourself, they're cheaper this way and they taste better.
Marinate the shrimp for just a few minutes in a tasty olive-oil based marinade (ideally 30 minutes in the fridge, but even just 10 minutes will help). This is a great way to infuse the shrimp with flavor and keeps them nice and juicy when grilling (more on the shrimp kabob marinade later)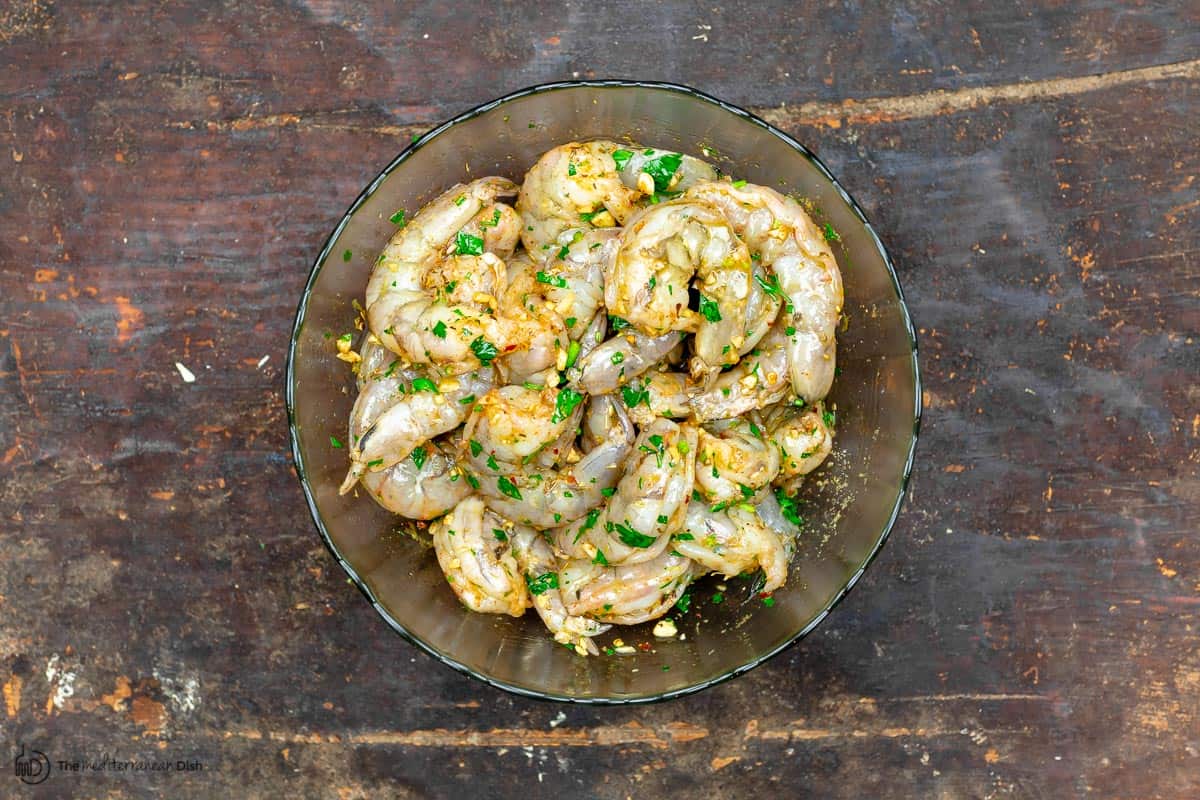 Use Skewers. I've been known to grill shrimp in a skillet without skewers; usually I will only do this in a skillet or griddle. But how do you keep shrimp from falling into the grill or from accidently overcooking? Skewers are your ticket! Threading the shrimp into skewers also makes them so much easier to flip over (I use a pair of tongs to hold and turn over my shrimp). If using bamboo skewers, be sure to soak them in water for 30 minutes to an hour before using.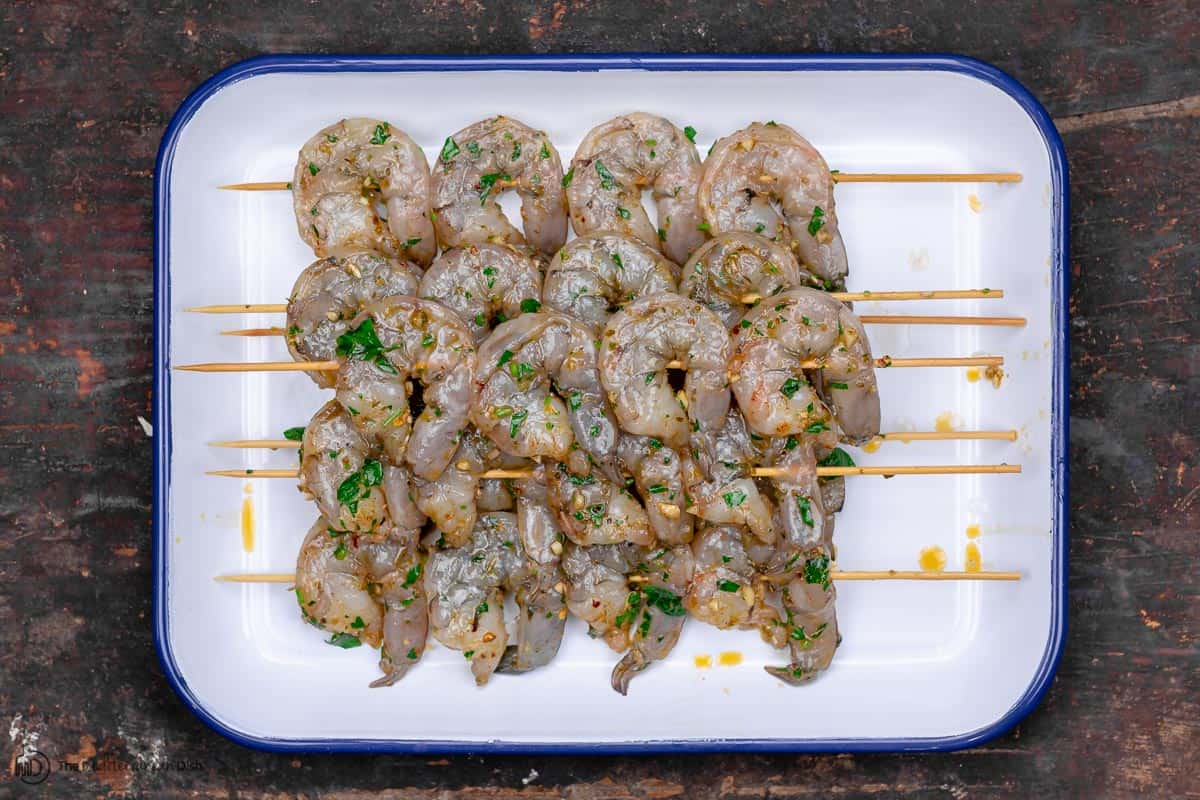 Do not overcook the shrimp. Even the largest of shrimp will grill quickly (anywhere from 5 to 7 minutes).
Grilled shrimp marinade
When it comes to what goes in the marinade for your shrimp kabobs, avoid using citrus as the acid will change the texture of the shrimp. I hold off on adding lemon juice until the shrimp is cooked.
I like to use an olive oil-based marinade (Private Reserve Greek EVOO is great for this) with fresh garlic, lemon zest (not lemon juice) and a few spices and herbs--fresh parsley, dry oregano, paprika, coriander, and a pinch of red pepper flakes (you can change the spices up to your liking).
The olive oil in the marinade will help in three ways:
It will help distribute the flavors from spices and dry herbs evenly all over the shrimp
The fat from the olive oil will also protect the fresh garlic from burning and really enhance its flavor
And, particularly if you're using an outdoor grill, it provides a nice protective coating for the shrimp, keeping them plump and juicy as they develop a little char on the grill
How to cook shrimp kabobs: two ways
I love making these shrimp kebabs all year-round! Although, when the weather is nice, I will often opt for my outdoor grill. Once the shrimp has marinated, thread them on skewers. From there, you can grill them one of two ways:
Outdoor Gas Grill. Heat the grill to high, then lower the heat until it reaches somewhere between 275 and 325 degrees F. Carefully and lightly oil the grates, then arrange the shrimp skewers on the grates. Close the lid and cook the shrimp for 2 to 3 minutes, then turn them over and cook for another 2 to 3 minutes with the lid closed. In my experience, this method produces super juicy grilled shrimp!
Indoor Griddle or Cast Iron Skillet. Heat a dry griddle over medium-high heat until hot but not smoking. Add the shrimp skewers and cook on one side about 3 or 4 minutes. Turn shrimp over and cook another 2 to 3 minutes.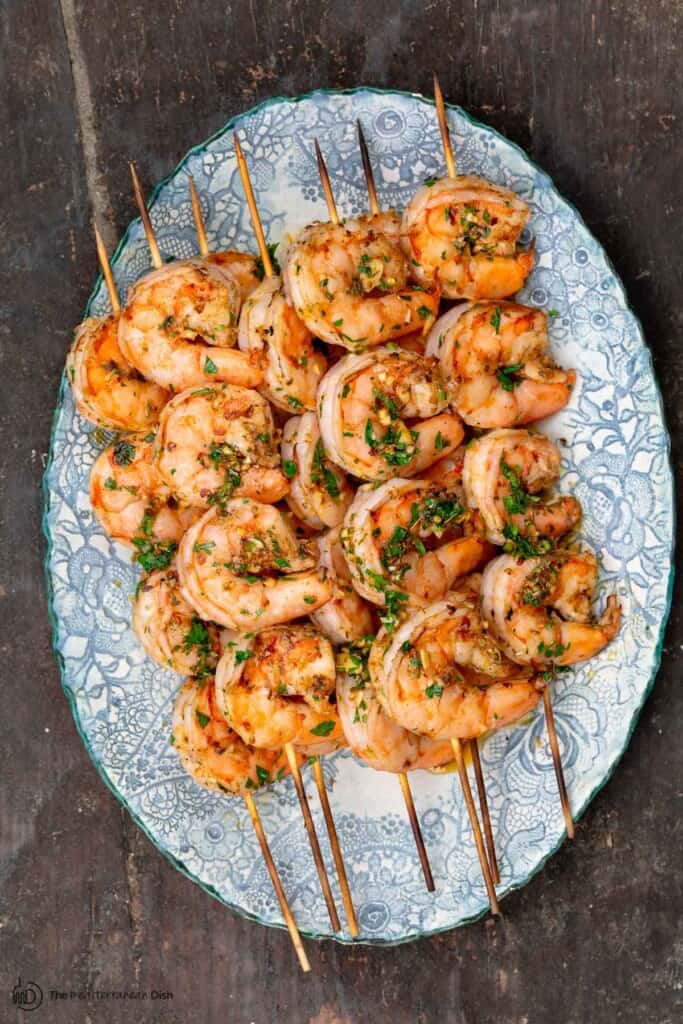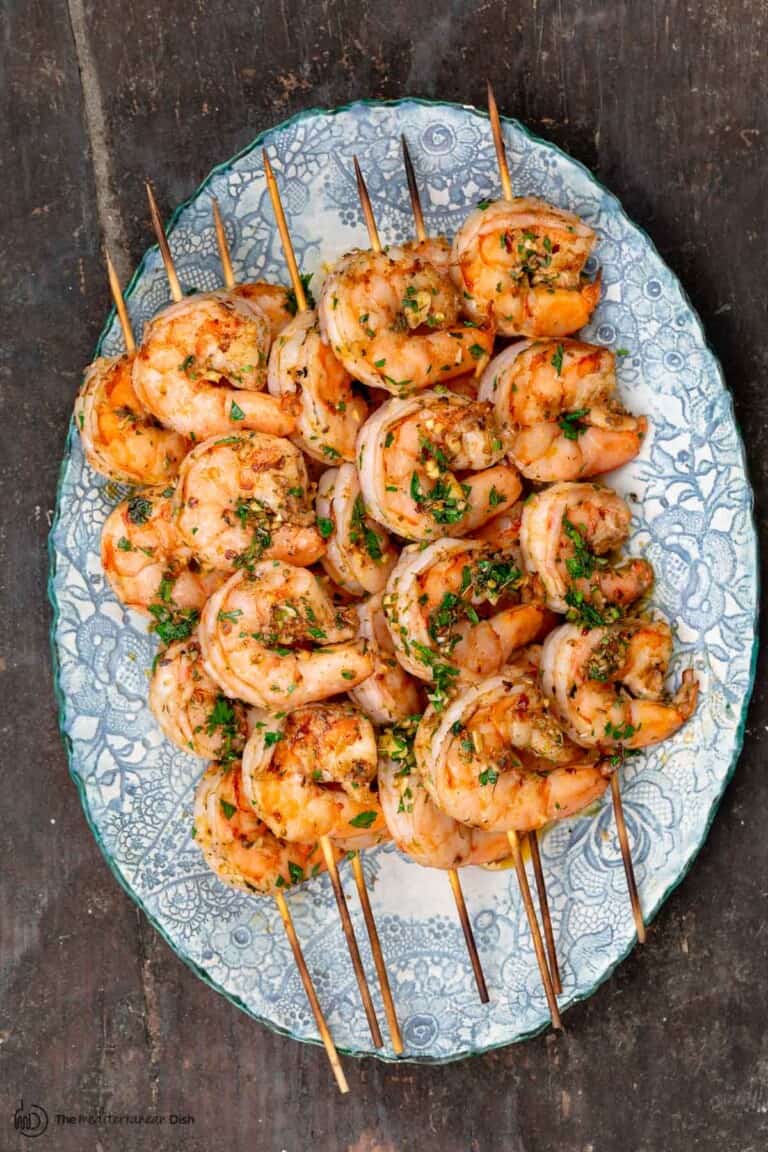 How do I know my shrimp kebabs are ready?
I shared this before with my Greek shrimp recipe, but it applies no matter how you cook your shrimp.
Shrimp is cooked when it's turned from grey and flabby to opaque pink with a bright red tail. And as far as texture, cooked shrimp should be slightly firm in texture with enough crunch with your bite (look for enough resistance to the teeth, but should give way to a gentle bite.)

For more great information about working with shrimp be sure to check out our Guide to Buying and Cooking Shrimp.
Serve it with
You can easily serve these shrimp kabobs as your main dish, on their own, or with a side of Garlic Aioli for dipping. These side dish recipes also go perfectly with shrimp:
You may also enjoy 50+ Top Mediterranean diet recipes. For all recipes, visit us here. JOIN MY FREE E-MAIL LIST HERE.
Mediterranean Grilled Shrimp Kabobs Recipe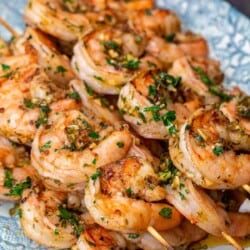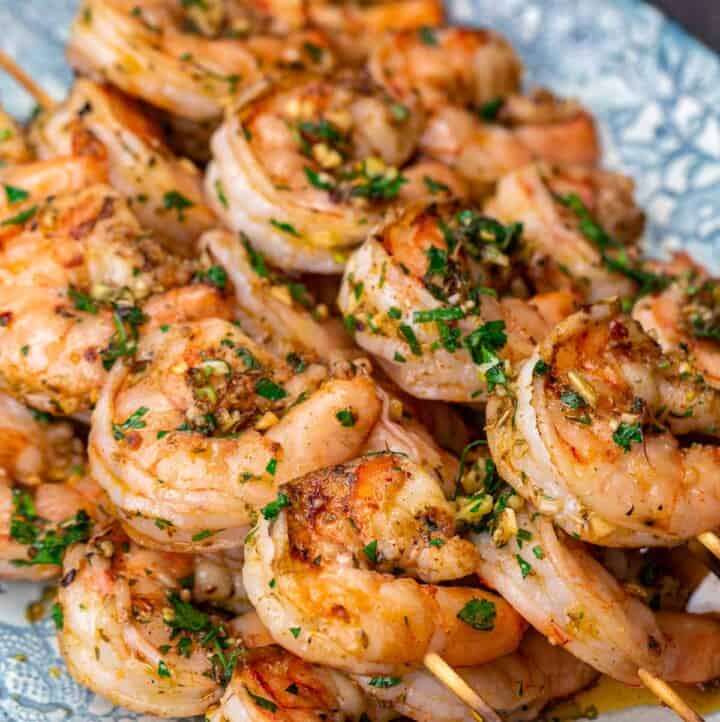 Easy grilled shrimp kabobs, tossed up in a Mediterranean marinade with garlic and fresh herbs, then quickly grilled for a simple weeknight dinner or enjoy as an appetizer to feed a small crowd.
Ingredients
For the Shrimp
2

lb

large shrimp

peeled and deveined

Kosher salt
Instructions
Combine the marinade ingredients in a small bowl. Reserve 2 tablespoon of the marinade in a separate bowl for later.

Pat the shrimp dry and season with kosher salt. Place the shrimp in a large bowl and pour the marinade all over. Toss to combine.

Cover and refrigerate for 20 to 30 minutes (do not go longer).

Thread the shrimp on skewers, about 4 large shrimp per skewer. (If using bamboo skewers they need to be soaked in water for at least 30 minutes first).

To grill on an outdoor gas grill. Preheat a gas grill to high. Then, reduce heat to low (temperature should be somewhere between 275 to 325ºF). Carefully grease the cooking grates. Once the grill reaches the recommended temperature, add the shrimp skewers and close the lid. Cook shrimp for 2 to 3 minutes on each side or until no longer translucent.

To grill on an indoor griddle or cast iron grill. Heat a dry griddle over medium-high heat until hot but not smoking. Add the shrimp skewers and cook on one side about 3 or 4 minutes. Turn shrimp over and cook another 2 to 3 minutes.

Transfer the grilled shrimp skewers to platter and spoon the remaining marinade your reserved earlier over the grilled shrimp skewers. Add a splash of lemon juice. Serve immediately.
Notes
Leftovers: To store leftover grilled shrimp, remove it from the skewers. Store in a tight-lid glass container in the fridge for up to 2 days. You can enjoy it cold as an appetizer or over a salad.
Visit Our Shop to browse quality Mediterranean ingredients including extra virgin olive oils and spices used in this recipe.
Nutrition
Calories:
262.6
kcal
Carbohydrates:
1.2
g
Protein:
31.1
g
Fat:
14.1
g
Saturated Fat:
2
g
Cholesterol:
381
mg
Potassium:
136.6
mg
Fiber:
0.4
g
Sugar:
0.1
g
Vitamin A:
213.6
IU
Vitamin C:
6.8
mg
Calcium:
228.2
mg
Iron:
3.5
mg
*This post originally appeared on The Mediterranean Dish in 2016 and has been recently updated with information and new media for readers' benefit.