All the tips and tricks you need for how to grill vegetables like a pro! These tender, perfectly charred grilled vegetables finished with a zippy Mediterranean dressing will have you coming back for more.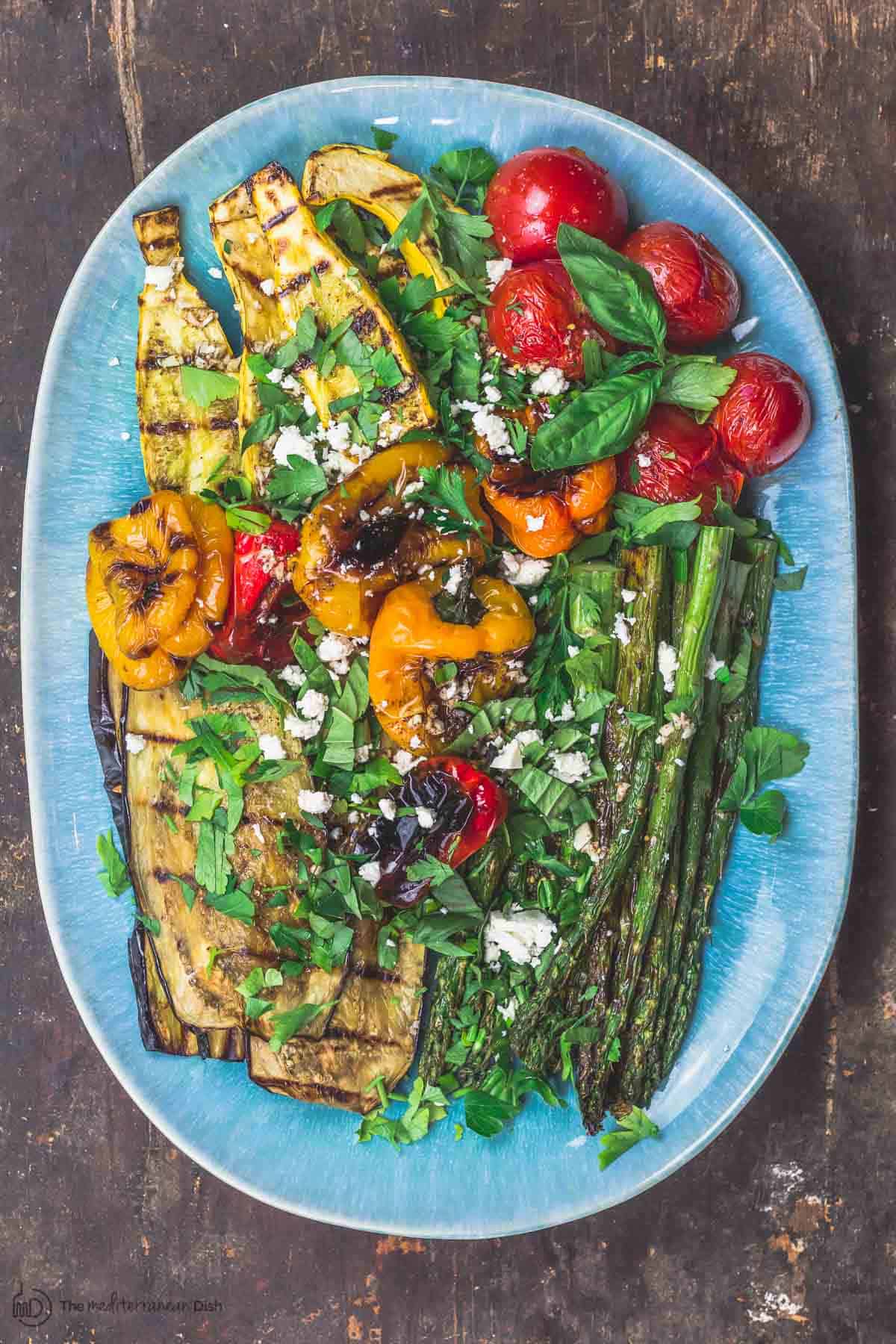 Easy grilled vegetables, Mediterranean-style!
Whenever my husband fires up the grill for chicken kabobs, lamb, or salmon, I survey my fridge drawers for any vegetables to throw along. Eggplant, bell peppers, squash, asparagus, and tomatoes are some of my favorites to cook on the grill. But I have more ideas for you below.
The vegetables are given a quick toss in extra virgin olive oil and just a simple dash of kosher salt before grilling over medium-high heat to coax out their natural sweetness. No grilling basket needed!
I like to finish my veggies off with some za'atar, sumac, fresh herbs, and a lemony dressing or my apple cider vinaigrette once they're grilled. Yes, this is a sort of grilled vegetable salad that is both healthy and delicious!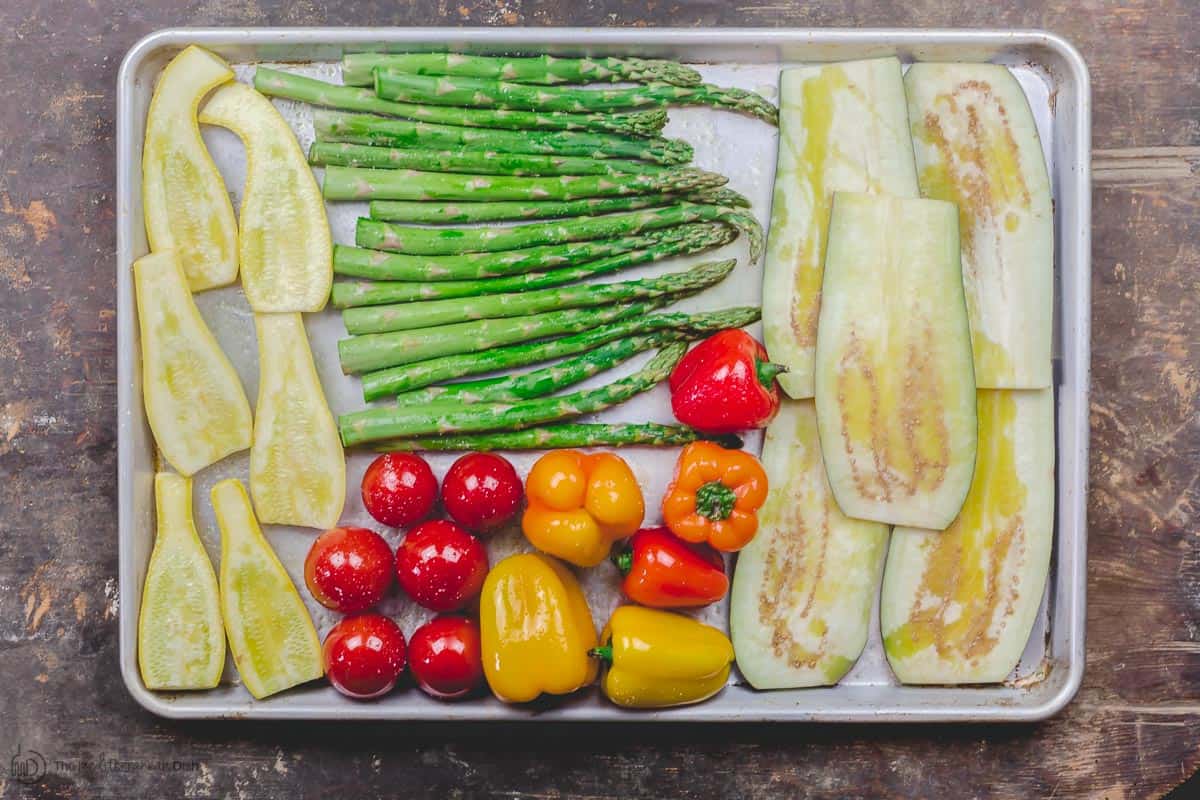 The best vegetables for grilling
I haven't met a grilled vegetable I didn't like! When choosing which vegetables to grill, it's a good idea to consider a variety of colors and textures to add interest. Here are some of the best vegetables to grill:
Corn on the cob: My easy tutorial for how to grill corn takes the guesswork out of the equation.
Lettuce: Yes, you can grill lettuce! In no time at all, a hot grill turns Romaine lettuce smoky, tender, and perfectly charred.
Onions: Cut the onions into thick wedges or slices. Red onions are my favorite to grill, because they are a little milder than yellow onions, and slightly sweeter.
Green beans: A little extra virgin olive oil and kosher salt are all you need to season trimmed green beans before grilling them.
Brussels sprouts:My favorite way to prepare grilled Brussels sprouts is to quickly marinate them, skewer them, and grill them over medium-high heat. A splash of lemon juice and a sprinkle of Parmesan cheese brings it all together.
Mushrooms:I like using large mushrooms like portobellos, and I don't bother cutting them – just grill them whole!
Eggplant: In today's recipe, I slice eggplant thinly lengthwise, but you can also cut them into rounds for the grill.
Zucchini or yellow squash:Zucchini is so versatile on the grill: Slice it into batons, rounds, or lengthwise.
Bell peppers: Grill whole baby bell peppers, or slice larger ones into thick strips. You don't want the pieces to be too small, or they will be finicky to handle on the grill.
Asparagus: Thicker spears work well for the grill, because they cook more evenly and won't get too flimsy when grilled.
Carrots: I've had great results grilling thinner carrots whole, or by cutting larger carrots in half lengthwise.
Potatoes: Slice them into wedges for crispy on the outside, tender on the inside grilled potato wedges!
Tomatoes: I know, I know – tomatoes are technically a fruit, but they deserve an honorable mention here! Whole Campari tomatoes work well on the grill because of their smallish size: larger than cherry tomatoes, but smaller than on-the-vine tomatoes, which means they blister quickly.
How long should you grill vegetables?
The best grilled vegetables should be tender with a nice char. The time it takes to grill vegetables depends largely on the vegetable itself: Is it whole? Is it dense like a potato, or light like asparagus? If it's sliced, how thick are the slices? Lots to consider!
My advice is to watch the vegetables closely and remove them from the grill when they are done to your liking. Keep in mind that not all the veggies will be done at the same time.
Here are the approximate grilling times for the vegetables in this recipe:
Whole baby bell peppers: 15 minutes
Yellow squash and eggplant sliced lengthwise: 8–9 minutes
Asparagus and Campari tomatoes: 5–6 minutes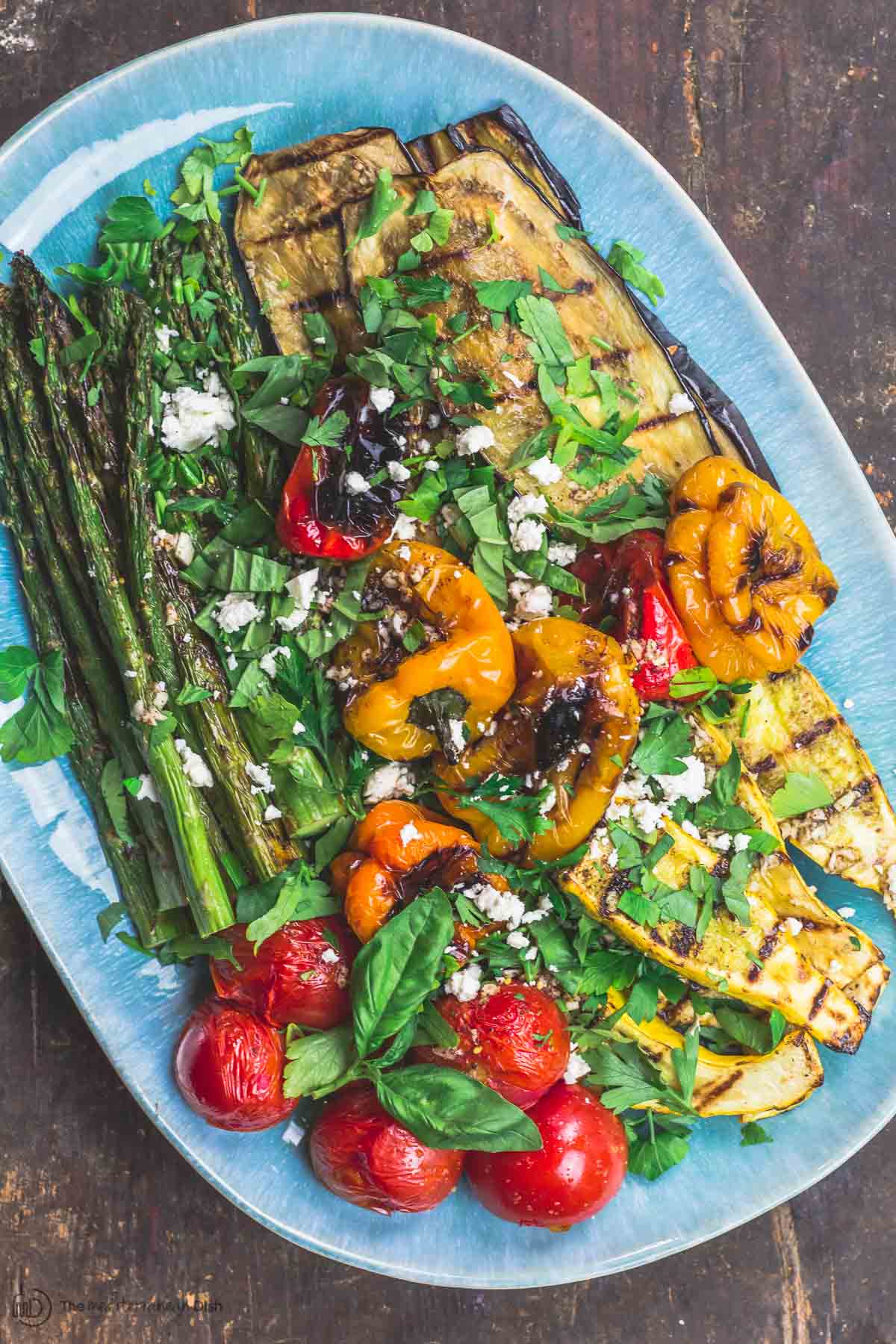 How to season grilled vegetables?
My favorite way to season grilled vegetables is Mediterranean-style, with nutty, citrusy za'atar, tart sumac, and a zesty lemon and olive oil dressing. Plenty of fresh herbs and a little crumbled feta are the perfect finishing touch.
For a more Italian-style twist, add some dried oregano and thyme. Play around with flavors and colors from different herbs and spices until you find what works for you!
When to marinate vegetables for grilling
While you can marinate vegetables before grilling, like I do in these vegetable kabobs, it isn't a must.
I like to simply coat them in extra virgin olive oil with a sprinkle of kosher salt before grilling. And because of the spices, fresh herbs, and lemony dressing I hit them up with after they're grilled, my easy grilled vegetables turn out plenty flavorful without a marinade!
Serve grilled vegetables with
These easy Mediterranean-style vegetable make a suitable side for any grilled protein that sounds good. Heck, you could even skip the meat and serve these vegetables as a colorful vegan main with a little couscous! Really, anything goes! Here are a few of my favorite recipes to pair with grilled vegetables:
How to store leftovers
Leftovers will keep in an airtight container in the refrigerator for up to 4 days. Reheat them over medium heat in a skillet on the stovetop. If they have dried out a bit in the fridge, drizzle a little olive oil in the skillet before reheating the veggies.
More grilling recipes to try
Browse all Mediterranean recipes.

Visit Our Shop.
Best Grilled Vegetables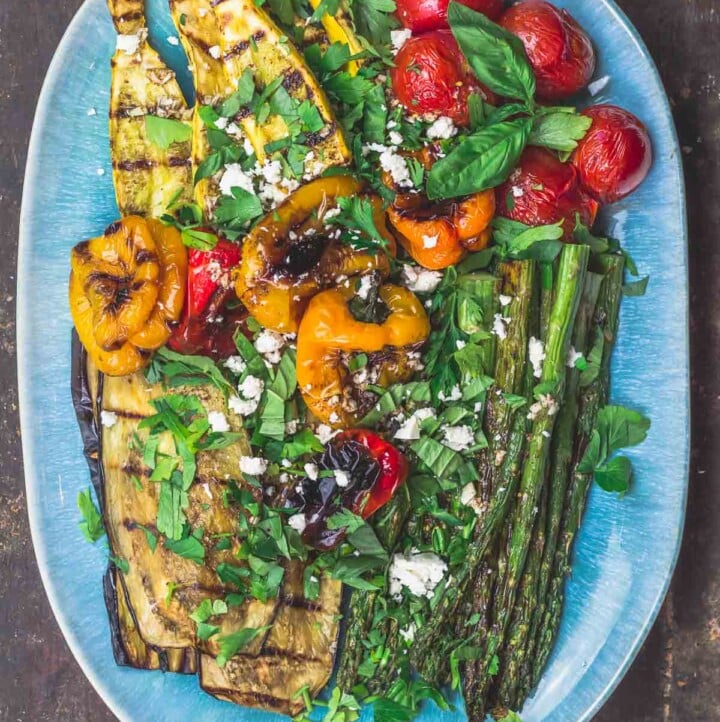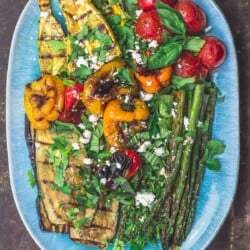 Easy grilled vegetables, prepared Mediterranean-style with earthy spices, fresh herbs, and a bright, zesty dressing! Learn how to grill vegetables like a pro with my easy tips and tricks. Mediterranean grilled vegetables are the perfect side to go along with other grilled favorites, like harissa chicken legs, salmon, and grilled shrimp (plenty more ideas in the post!).
Ingredients
1

eggplant,

14 ounces (404 grams), sliced lengthwise into ½-inch thick slices

kosher salt

6

baby bell peppers,

whole (or 3 large bell peppers, cored and cut into wide strips)

3

yellow squash,

halved lengthwise

1

pound

asparagus

1

teaspoon

za'atar

1

teaspoon

sumac

¼

cup

fresh parsley,

chopped

¼

cup

fresh basil,

chopped

2-3

tablespoons

crumbled feta cheese,

optional (skip to keep it vegan)
Instructions
(Optional) If you have the time, sprinkle eggplant slices with kosher salt and place in a colander for 20 minutes. This will allow the eggplant to sweat out its bitterness. Pat dry with a paper towel.

Oil the grates of your grill. Set the grill temperature to medium-high.

Place the vegetables on a large tray or sheetpan. Drizzle generously with extra virgin olive oil. Sprinkle with kosher salt. Give the vegetables a quick toss to make sure they are well coated with the oil. (Note: if you've already salted the eggplant in optional step #1, do not salt again)

Place vegetables on heated grill and cook until tender. Vegetables will be ready at different points, so watch accordingly or cook in batches: about 15 minutes for whole baby bell peppers; 8 to 9 minutes for yellow squash and eggplant; and 5 to 6 minutes for Campari tomatoes and asparagus. Shift/turn the vegetables occasionally but not too often.

Arrange grilled vegetables on a large platter. Season vegetables with za'atar and sumac.

In a small bowl, whisk together the dressing ingredients then pour all over the vegetables. Top with fresh parsley, basil, and feta (if using). Enjoy!
Notes
Tip for grilling vegetables: Grilling time will vary depending on your grill and how well cooked you like your vegetables. Simply watch until the vegetables are tender and charred to your liking.
For great grill marks: Resist the temptation to shift the vegetables too frequently once they've been placed on the grill.
Eggplant preparation: I started with an optional step here for salting the eggplant. If you do have the time, this step is worth it because it helps the taste and texture of eggplant. While the eggplant sweats out its bitterness, the salt also works to breakdown the spongy texture.
What to serve with grilled vegetables? These grilled vegetables make the perfect side dish next to almost any dish. If you have the grilled fired up, try Mediterranean chicken, grilled salmon, beef shish kabobs, or chicken souvlaki. Add dips like tzatziki and hummus to complete the feast!
Leftovers? Store leftover grilled vegetables in a tight-lid glass container in the fridge for up to 4 days.
Visit our Shop to browse quality Mediterranean ingredients including extra virgin olive oils, organic spices (like the za'atar and sumac used in this recipe), and more.
Nutrition
Calories:
134.4
kcal
Carbohydrates:
14
g
Protein:
5.2
g
Fat:
8.2
g
Saturated Fat:
1.5
g
Polyunsaturated Fat:
1
g
Monounsaturated Fat:
5.2
g
Cholesterol:
2.7
mg
Sodium:
52.6
mg
Potassium:
676.2
mg
Fiber:
6
g
Sugar:
7.9
g
Vitamin A:
1934.3
IU
Vitamin C:
66.8
mg
Calcium:
53.2
mg
Iron:
2.8
mg
* This post has been recently updated with new information and media for readers' benefit.