Grilled romaine lettuce might seem like an unlikely way to build a salad. On the contrary, grilling romaine adds a subtle charred flavor that takes your basic summer salad over the top. Serve this grilled salad recipe family-style, topped with plenty of charred sweet corn, tomatoes, and creamy tahini sauce to go around.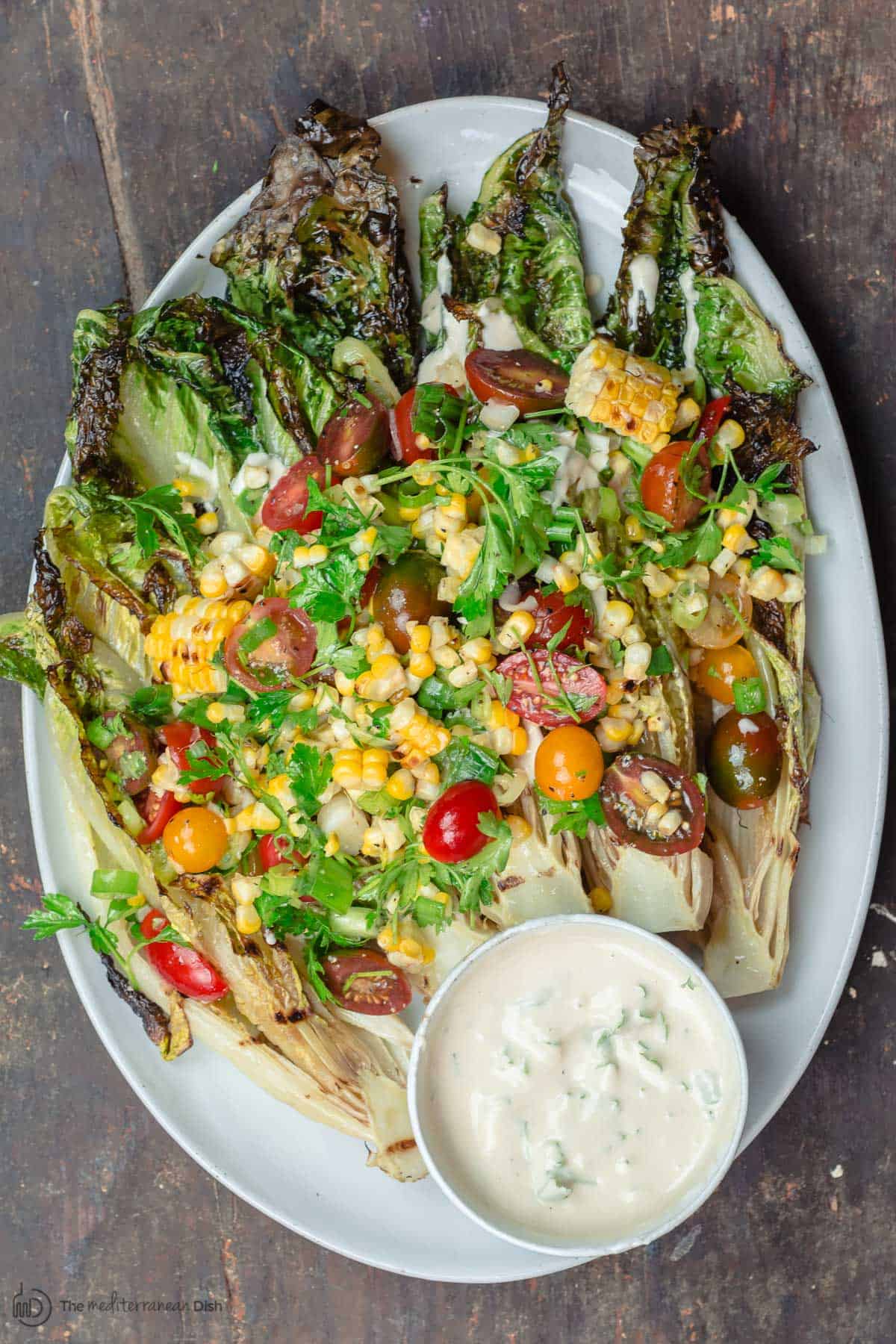 I grew up eating according to the Mediterranean Diet where lively salads and fresh vegetables are always on the table. Though this Grilled Romaine Salad isn't explicitly Mediterranean, it speaks to the core principles of the Mediterranean way of life. It uses whole, fresh vegetables, boasts loads of flavor, and is large enough to share!
Grilled romaine retains its crunchy core, but has a delicate char that gives this salad recipe a grown-up feel. While you can use any dressing, I happen to love tahini almost as much as olive oil, so I finish this salad with a creamy, vegan Tahini Sauce. The tahini sauce gives this salad a little something special and a slightly nutty flavor that always wows my guests. With just a little extra effort, you can transform summer produce into a side dish that will steal the show.
The layers of flavor and texture make for a stunning addition to your summer BBQs. Light up your grill and cool down with a pitcher of 5-Minute Watermelon Sangrias. Then, serve this salad alongside a simple main, like Mediterranean Grilled Swordfish.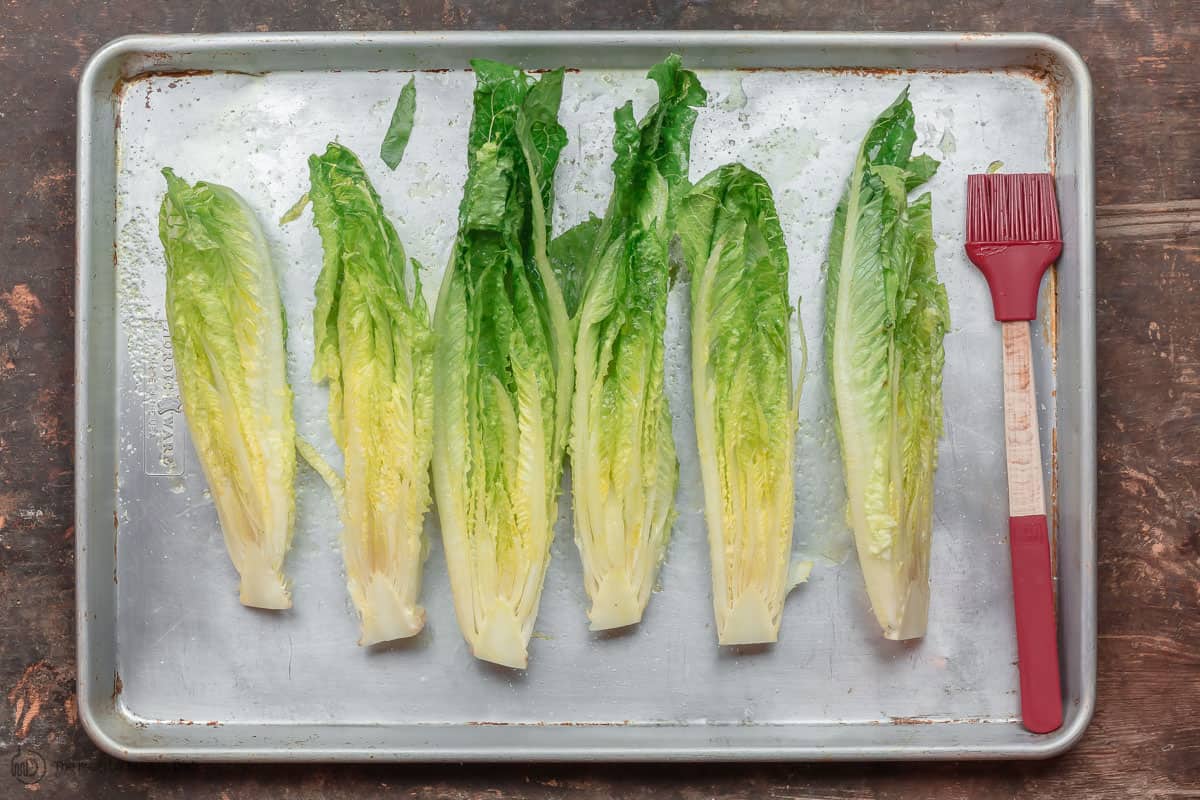 What You Need to Make Grilled Romaine Salad
Most of the ingredients for this Grilled Romaine Salad are readily available. I added optional Mediterranean spices to boost the flavor. They're available at our shop, specialty stores, or you can substitute with what you have on hand.
Homemade Tahini Sauce: Creamy vegan tahini dressing gives this salad an extra rich and savory kick. This sauce, with garlic, salt, citrus, parsley, and tahini, is a go to for both dressings and dips.
Corn on the cob: Fresh corn is firm and heavy. Bright green husks and golden silk (hair-like fibers at the top) are also good signs.
Romaine hearts: The best romaine is firm, bright green, and smells fresh.
Extra virgin olive oil: I love a mildly peppery olive oil for this salad, like our Greek Private Reserve EVOO. You can use any high-quality extra virgin olive oil you have on hand.
Flavor makers: Seasonings include salt, parsley, lemon, sumac, and Aleppo if you like a little heat. You can substitute sumac, a tart Mediterranean spice, with a touch of lemon zest. Aleppo pepper can be swapped with red pepper flakes. Or, you can leave both off.
Grape tomatoes: You can swap grape tomatoes with cherry, heirloom, or Roma tomatoes cut into bite-sized pieces.
Green onions: Also called scallions, green onions are at their freshest and most flavorful in the early summer months.
How to Make Grilled Romaine Salad
Grilling lettuce may seem strange, but it brings out its tenderness, enhances its natural flavor, and imparts a delicate smokiness.
Fire up the grill: Lightly oil your grill grates, griddle, or grill pan and preheat on high.
Make the tahini: Prepare the tahini sauce. For a looser dressing, whisk in a splash of cold water. Add water until it reaches the consistency you like.
Grill the corn: When the grill is hot, grill 2-3 ears of husked corn. Turn until they're nicely charred all over, about 10 minutes in total. Remove from the heat and set aside.
Grill the lettuce: Brush 2 hearts of halved romaine lettuce with extra virgin olive oil on both sides. Grill on each side for 3 minutes, or until softened and charred. Transfer to a large serving platter and turn off your grill.
Shuck the corn: In a large mixing bowl, remove the corn kernels from the cob using a sharp knife.
Mix the salad: Add 2 cups of halved grape tomatoes, 2 sliced green onions, and ½ bunch chopped parsley leaves. Season with 1 teaspoon sumac, 1 teaspoon Aleppo (if using), juice of ½ lemon. Drizzle with olive oil, season with salt, and toss to combine.
Assemble: Spoon the grilled corn and tomato salad mixture on top of the grilled lettuce. Drizzle with tahini sauce. Serve immediately, with the remaining tahini sauce on the side.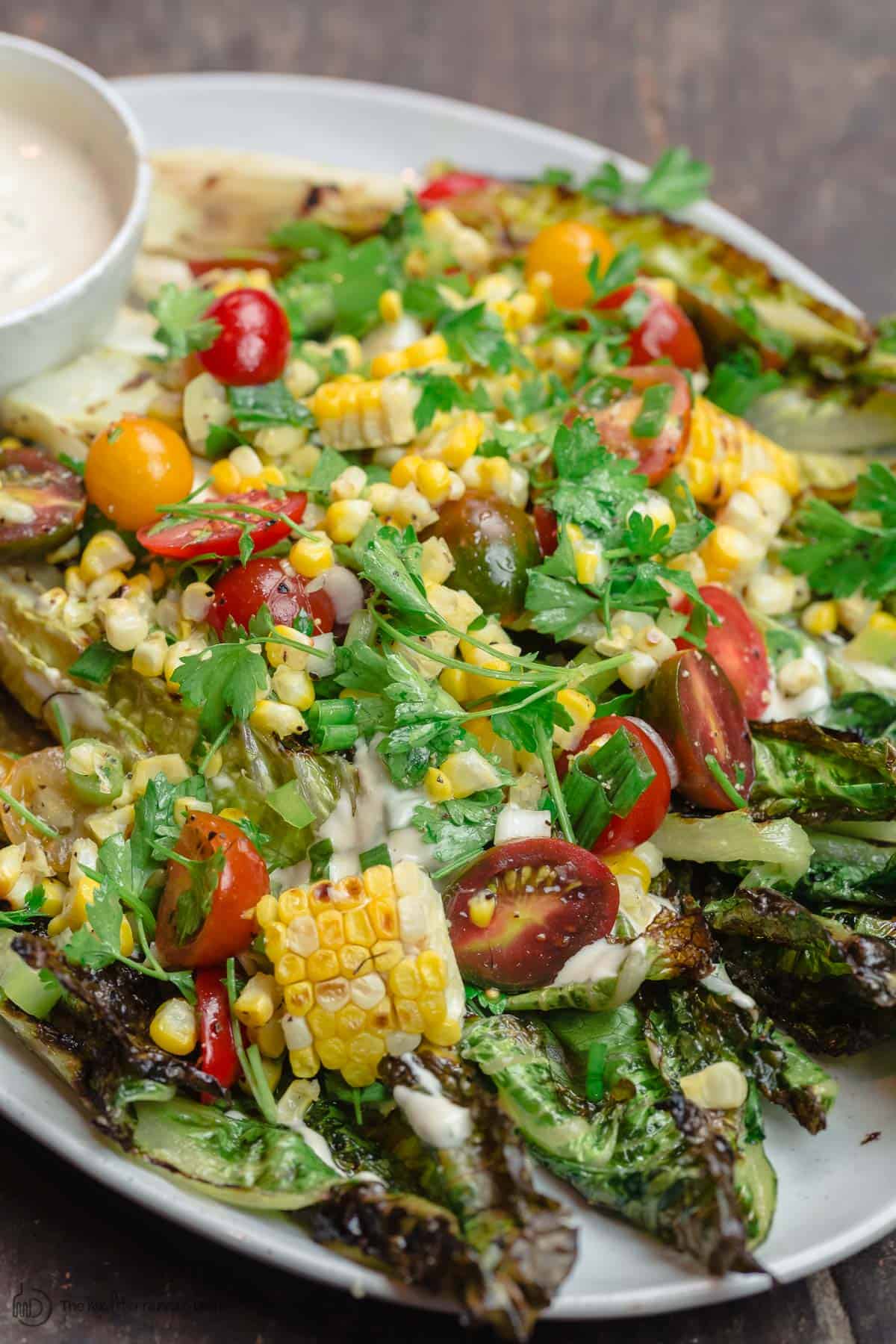 What to Serve with Grilled Romaine Salad
This salad is best served warm (not a sentence I get to write very often). It is also savory and delicious enough to prioritize. Serve as a vegan main dish. Or, add an easy main course that requires little time and attention, like Oven Baked Salmon In Foil.
If you're comfortable with multitasking in front of a grill, serve with other grilled entrees. Try it alongside Grilled Swordfish with a Mediterranean-style marinade or just-spicy-enough Grilled Harissa Chicken.
Other Summer Salad Recipes We Love
Browse all Mediterranean recipes.
Visit Our Shop.
Soom Tahini
Silky-smooth tahini from premium sesame seeds roasted and pressed to perfection.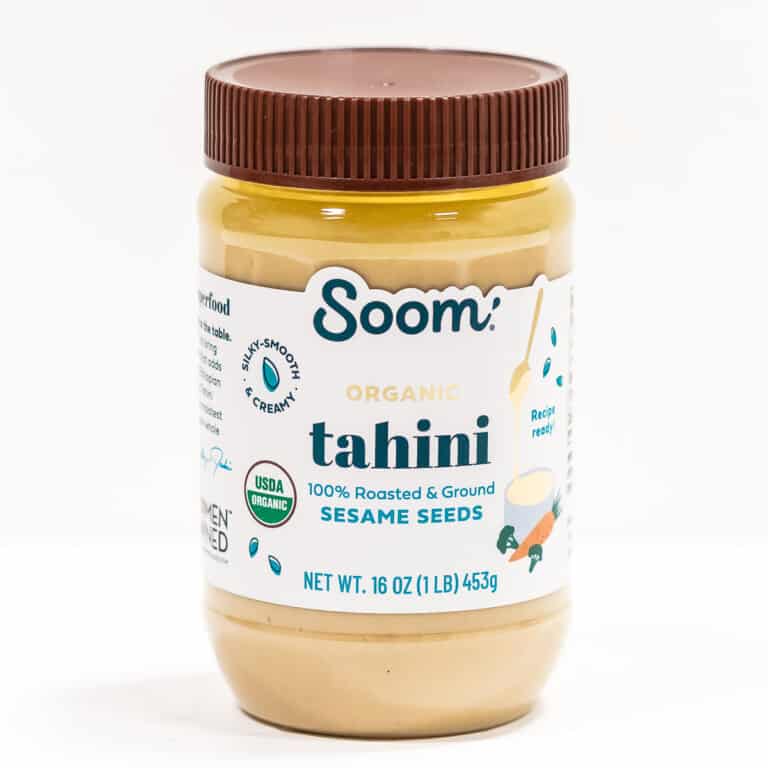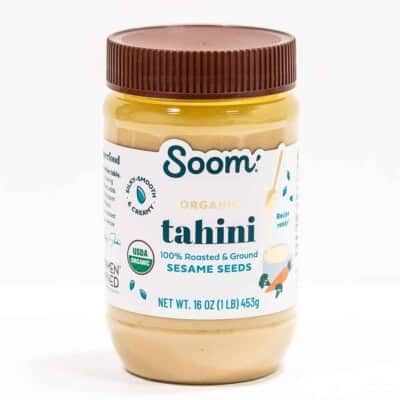 Grilled Romaine Salad with Corn, Tomatoes, and Tahini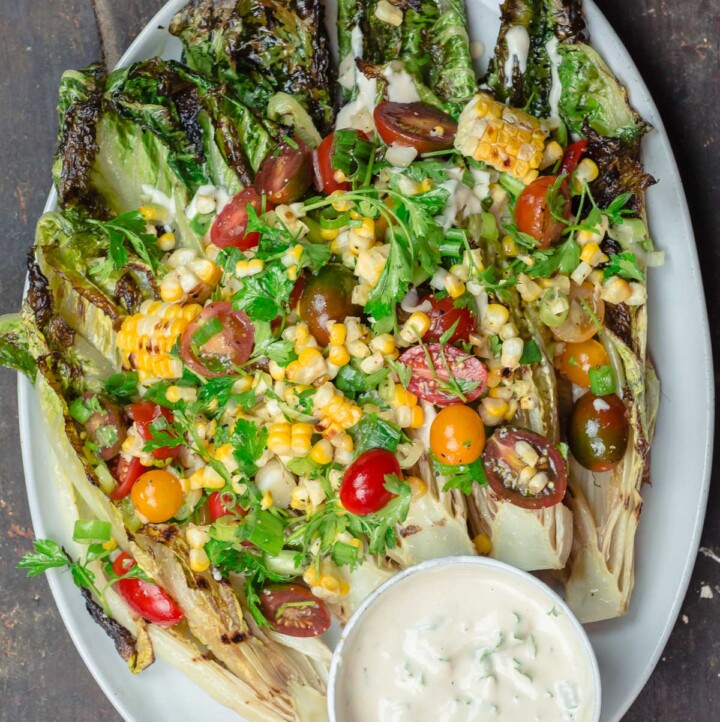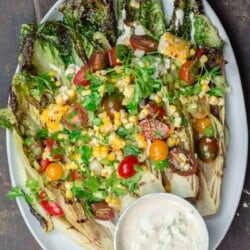 Grilled romaine lettuce with just the right amount of char and crispy edges, makes the base of this beautiful summer salad with a mixture of blistered corn, fresh grape tomatoes, parsley, green onions, and lemon. Don't forget to prep your Tahini Sauce for the perfect finish! Serve as a side at your next BBQ, or top with grilled protein for a full meal.
Ingredients
2 to 3

ears corn on the cob,

husked

3

hearts romaine lettuce,

trimmed and halved lengthwise

Kosher salt

10

ounces

grape tomatoes (2 cups),

halved

2

green onions,

trimmed and chopped (both white and green parts)

½

bunch parsley,

leaves chopped

1

teaspoon

sumac

(optional)

1

teaspoon

Aleppo pepper

(optional)

½

lemon

juiced
Instructions
Fire up the grill: Lightly oil your grill grates. Set the outdoor or stovetop grill to high. (You can also use a large grill pan.)

Make the tahini sauce: Before getting started make the Tahini Sauce. This way the flavors can meld while you prep the rest of the salad. If you want the tahini sauce to be a little more runny like a dressing, add a splash of water and stir well until you get the desired consistency.

Grill the corn: When the grill is hot, place the ears on the griddle, grill grates, or over a flame. Turn until nicely charred, this should only take about 10 minutes total. Remove from heat and set aside.

Grill the lettuce: Brush the Romaine lettuce with extra virgin olive oil on both sides. Arrange the lettuce on the hot grill. Grill on one side for 3 minutes, then using a pair of tongs flip it and grill on the other side for about 3 minutes. The lettuce should soften, but remain crispy at the core, and gain some good char on both sides. Remove from heat and arrange the grilled lettuce on a large serving platter. (Turn the grill off at this point.)

Shuck the corn: In a large mixing bowl, hold one ear of corn standing up. Use a sharp knife to slice down along the cob to release the kernels into the bowl. Repeat with the remaining corn.

Mix the salad: Add the tomatoes, green onions, parsley, sumac, Aleppo pepper (if using), lemon juice and a drizzle of olive oil to the bowl with the corn. Season with salt and toss to combine.

Assemble: Spoon the grilled corn and tomato salad on top of the grilled lettuce. Drizzle with a little tahini sauce. Serve immediately, with the remaining tahini sauce on the side. Enjoy!
Notes
Use the sharpest knife you have to cut off the corn's kernels. As the saying goes, you're more likely to cut yourself on a dull knife than a sharp one!
This salad is best served warm, so try to plan your main to finish at the same time.
Make sure your grill is hot before placing the lettuce on it. Preheating the grill will help ensure that the lettuce cooks evenly and quickly, and prevent sticking.
Visit our shop to browse quality Mediterranean ingredients including olive oils, honey, jams and spices.
Nutrition
Calories:
29.2
kcal
Carbohydrates:
6.4
g
Protein:
1.6
g
Fat:
0.5
g
Saturated Fat:
0.1
g
Polyunsaturated Fat:
0.2
g
Monounsaturated Fat:
0.1
g
Sodium:
22.6
mg
Potassium:
344.4
mg
Fiber:
2.5
g
Sugar:
2.8
g
Vitamin A:
3825.9
IU
Vitamin C:
37.7
mg
Calcium:
43.1
mg
Iron:
1.5
mg