If you haven't tried grilled lettuce before, you are in for a treat! Smoky, perfectly tender grilled lettuce, with just the right amount of char and crispy edges, makes the base of this beautiful summer salad with a mixture of grilled corn, tomatoes, parsley, green onions and a splash of lemon juice. Add a drizzle of tahini sauce for the perfect finish!
You can serve this as a salad or side, but turn it into dinner by adding your favorite protein on top. Chicken shawarma makes a great option, but be sure to grab all the tips and ideas below!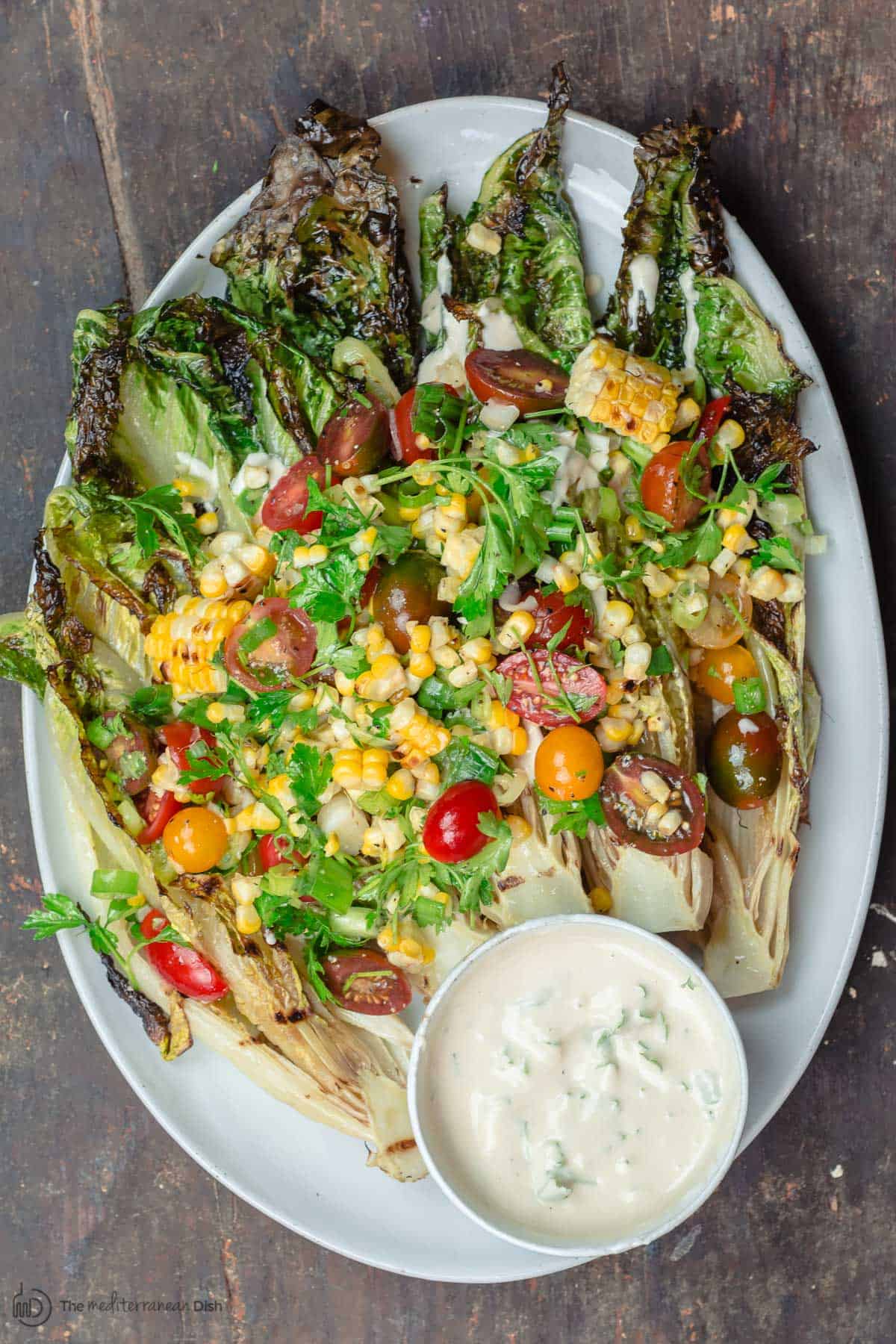 I once heard Bobby Flay say that grilled lettuce is the simplest way to feel like a grill master. And, friends, he was so right!
With very little effort, you can turn a couple heads of Romaine lettuce into something so tasty and extra special--delicate and tender on the outside, but with char and crispiness, especially around the beautifully ruffled edges.
Grilled lettuce is so easy to make, and is absolutely delicious with just a sprinkle of kosher salt and a drizzle of quality extra virgin olive oil. But, in this grilled lettuce salad, it plays an important roll as a bed for a bright mixture of grilled corn and tomatoes, tossed with fresh parsley, chopped green onions and a little lemon juice. The finishing touch for me is tahini sauce.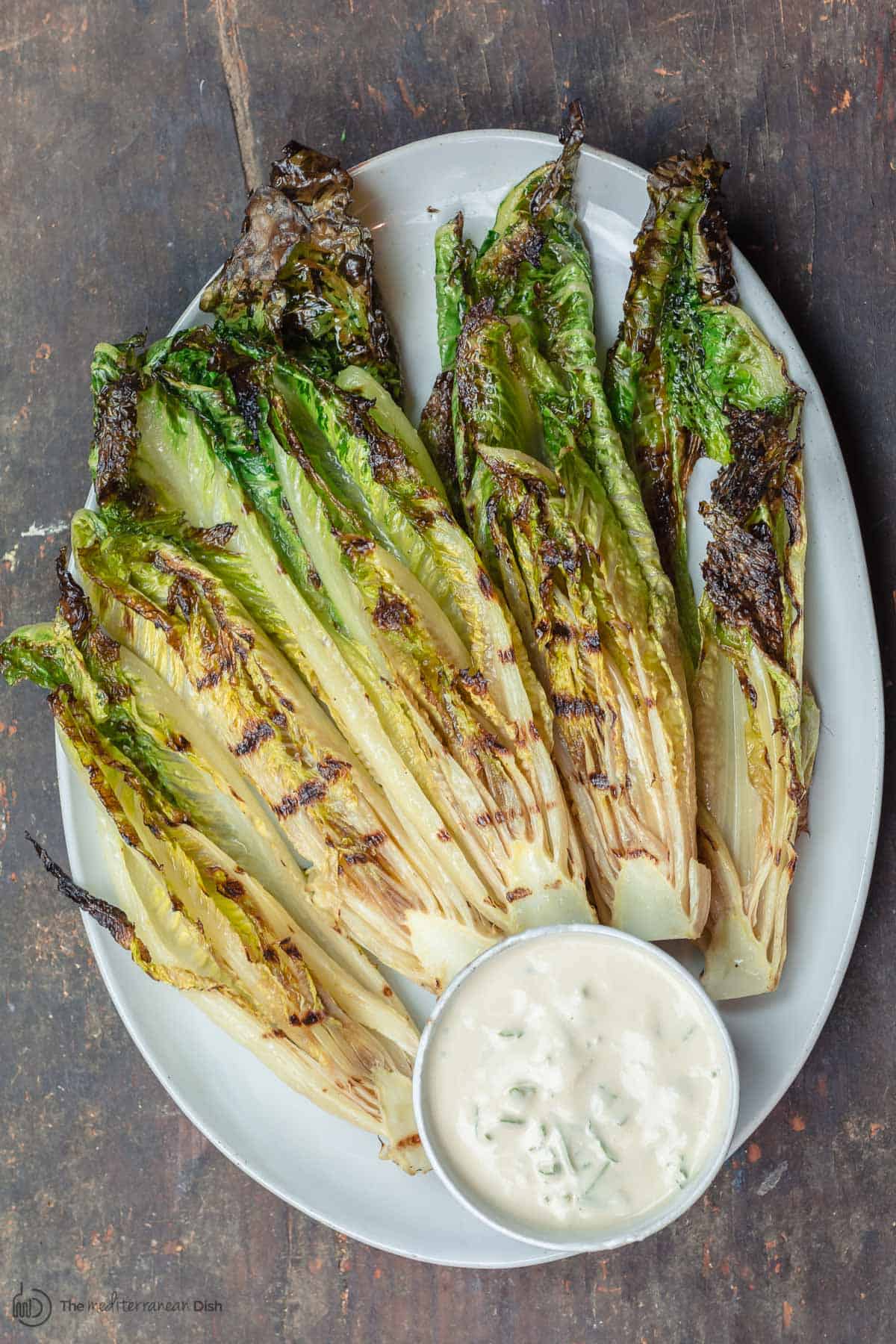 I'm telling you, this grilled salad is summer's glory on one platter! And think about it, grilled vegetables are amazing, why not try grilled lettuce too?!
A few tips for this grilled lettuce salad
1. For this grilled lettuce salad, the most obvious choice is Romaine lettuce. If you thought lettuce isn't a part of the food group people should grill, Romaine lettuce will change your mind. The long and full heads of Romaine lend themselves perfectly to grilling without a ton of effort.
2. Prep the Romaine lettuce for grilling. Remove a couple of the outer leaves if they're wilted or are not to your liking. More importantly, cut each head in half, length-wise, keeping the leaves attached to the core. They need to remain nice and firmly attached for best results.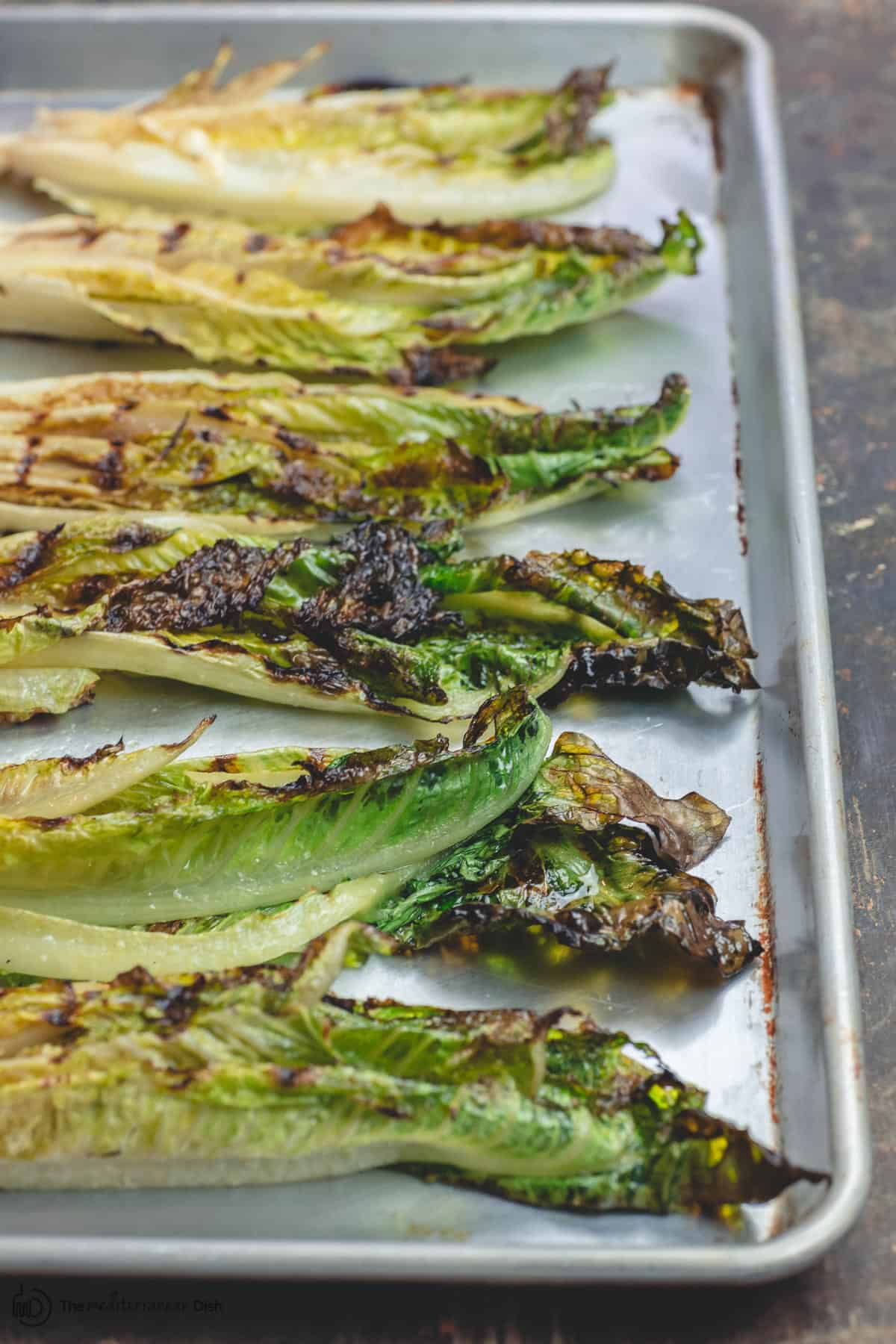 3. And before you throw it on the grill, give your lettuce a good brush of extra virgin olive oil and a sprinkle of salt to impart flavor.
4. This grilled lettuce salad is at its best when the grilled lettuce is still warm. So, be sure to prep the rest of the ingredients--make the tahini sauce, slice up the tomatoes and chop the onions and parsley etc. This way, you're ready to go when the grilled lettuce is ready.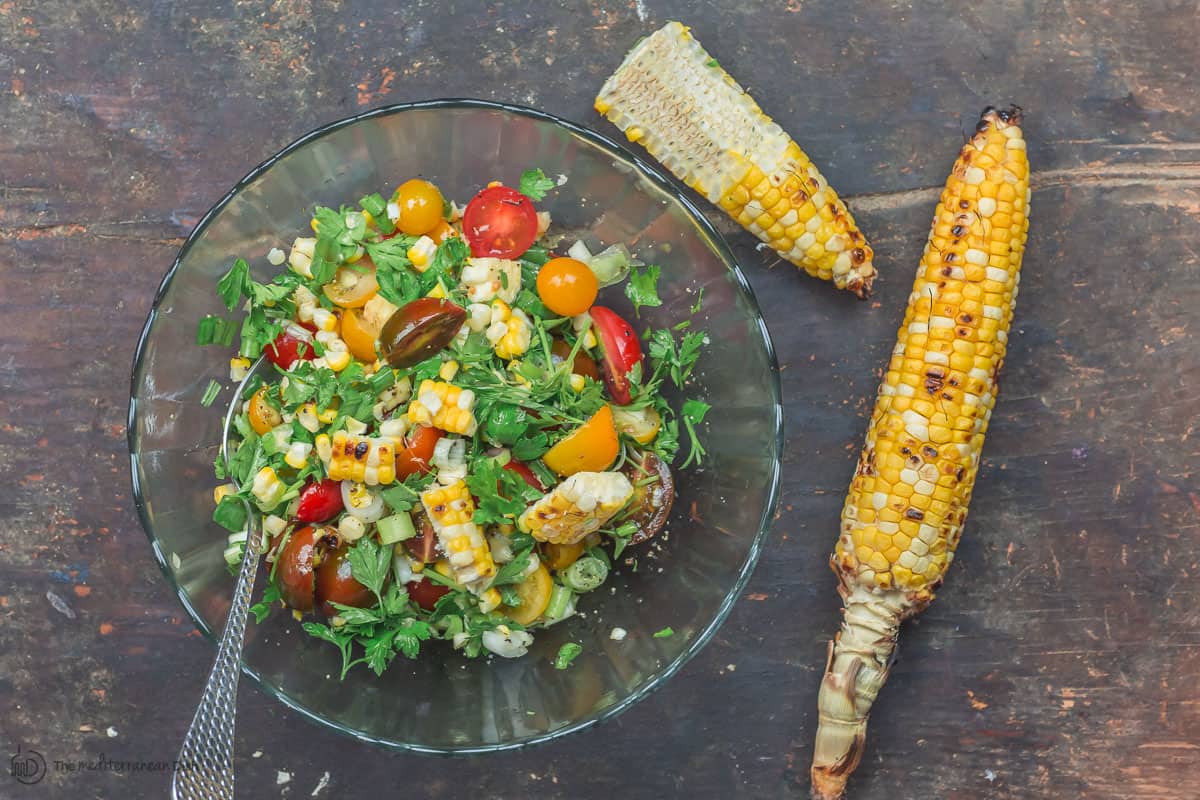 Serve this grilled lettuce salad as lunch or turn it into a tasty dinner!
This summer lettuce salad can stand alone as lunch for 2 or 3 people. But if you add some protein to it, this grilled lettuce salad can turn into a light, wholesome dinner. Bite-sized chicken shawarma is the perfect addition. You can also try: grilled salmon kabobs, easy lemon chicken, kofta kabobs, or even pan-seared trout!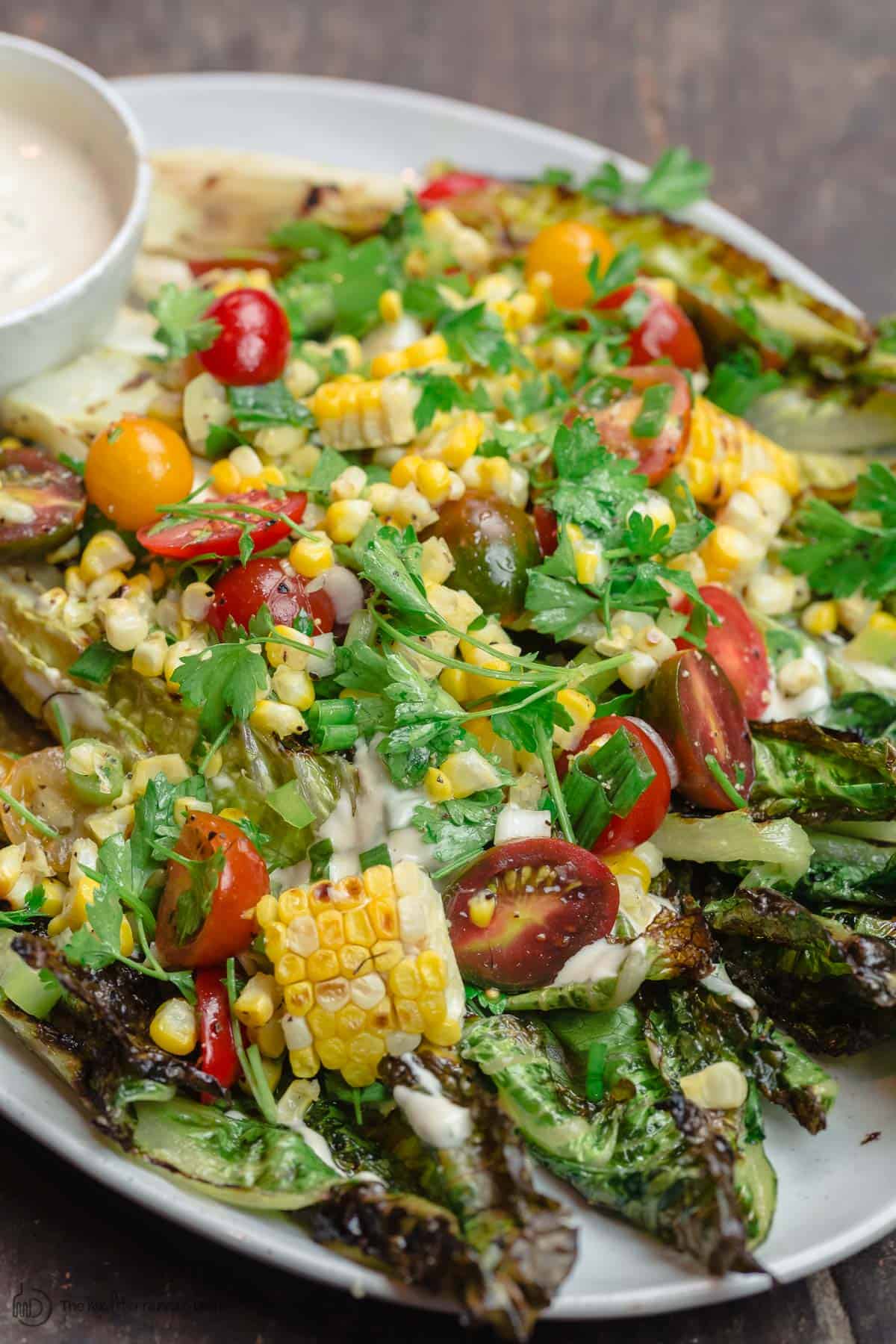 More Recipes to Try
Mediterranean Watermelon Salad
What is Za'atar and How to Use it: Za'atar Recipes
Mediterranean Mustard Potato Salad
NEVER MISS A RECIPE! JOIN MY FREE E-MAIL LIST HERE TO RECEIVE NEW RECIPES, WEEKLY MEDITERRANEAN DINNER PLANS, AND MY FREE E-COOKBOOK WITH 15 HEALTHY RECIPES TO TRY!
SHOP OUR ONLINE STORE FOR QUALITY OLIVE OILS, ALL-NATURAL SPICES AND MORE.
Print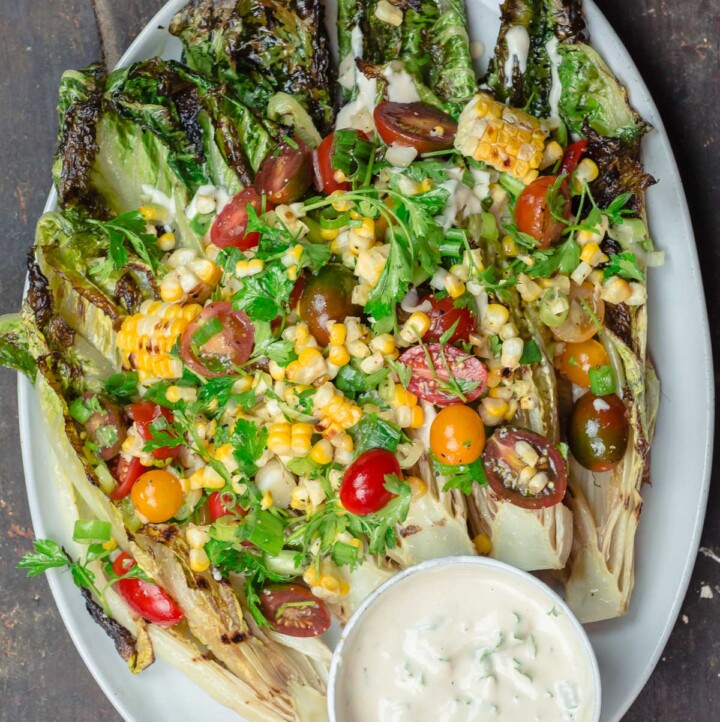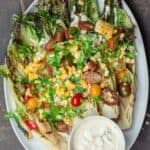 Grilled Lettuce Salad with Corn, Tomatoes and Tahini Dressing
---
Author:

Suzy Karadsheh

Total Time:

20 minutes

Yield:

Serves

4

or more

1

x
Description
The perfect summer salad with grilled romaine lettuce, grilled corn, tomatoes and fresh herbs. Drizzle a little tahini sauce on top. You can easily turn this salad into dinner by adding your favorite protein on top; chicken shawarma is a great option!
---
For Tahini Sauce
For Grilled Lettuce Salad
2

to

3

corn on the cob

3

Romaine lettuce heads, trimmed and cut in halves length-wise
Extra virgin olive oil (I used Greek Private Reserve EVOO)
Kosher salt

2 cups

grape tomatoes, halved

2

green onions, trimmed, and chopped (both white and green parts)
Large handful fresh chopped parsley

1 tsp

sumac (or if you like just a tiny bit of heat, use Aleppo pepper)
Juice of

½

lemon
---
Instructions
Heat and outdoor grill on high, make sure to lightly oil the grates (you can also heat an indoor griddle or large grill pan.)
Prepare tahini sauce according to this recipe. If you want the tahini sauce to be a little more runny like a dressing, add just a little bit of water and stir well until you get the desired consistency.
When grill is hot, arrange the corn on top and cook on high for 10 minutes, turning as each part gets nicely charred. Remove from heat and set aside.
Brush the Romaine lettuce with extra virgin olive oil on both sides. Arrange the lettuce on the hot grill. Grill on one side for 3 minutes or so, turn over, using a pair of tongs, and grill on the other side for another 3 minutes. The lettuce should soften quite a bit and gain some good char on both sides. Remove from heat and arrange the grilled lettuce on a large platter. (Turn grill off at this point)
In large mixing bowl, hold one corncob standing up, and using a sharp knife, slice down along the cob to release the kernels right in the bowl. Repeat with the remaining corn. Then, add the sliced tomatoes, green onions, and parsley to the same bowl. Season with kosher salt, add lemon juice and a drizzle of extra virgin olive oil. Toss to combine.
Spoon the grilled corn and tomato salad mixture on top of the grilled lettuce. Drizzle a little tahini sauce, and serve the remaining tahini sauce in a side bowl. Enjoy!
Notes
Cook's note: This grilled lettuce salad is best when the lettuce is still warm, so be sure to prepare the tahini sauce, slice tomatoes, chop onions etc. ahead of time.
Cook's Note: This makes a great lunch for up to 3 people. Add a little warm pita to go with the tahini sauce and grilled lettuce salad. As a salad or side, it can serve 4 to 6 people.
Prep Time:

10 mins

Cook Time:

10 mins

Category:

Salad

Method:

Grilled

Cuisine:

Mediterranean
Keywords: Grilled Lettuce, Grilled Romaine Lettuce, Lettuce Salad, Summer Salad