Whether you're looking for a beautiful side dish or a vegetarian main, these easy grilled vegetables with a Mediterranean twist will not disappoint! This recipe comes with quick tips for how to grill vegetables and assemble the perfect vegetable platter, loaded with bright Mediterranean flavors from earthy spices, fresh herbs, and a zippy dressing to finish.
Serve it next to our famous Mediterranean grilled chicken or shrimp skewers (more ideas below). And as a main dish, it's great with a side of tzatziki sauce and some warm pita!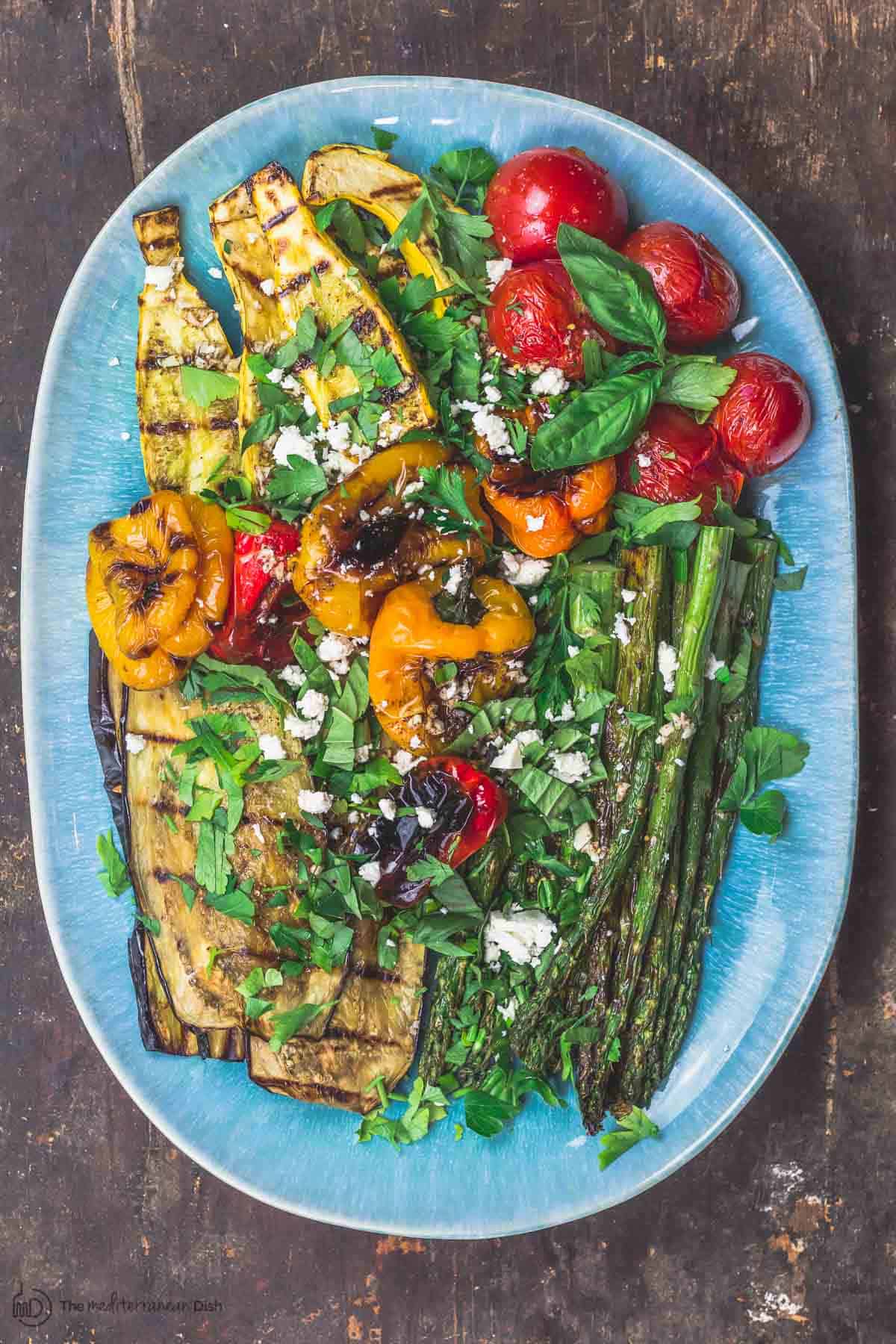 Whenever my husband fires up the grill for any reason--enter grilled chicken kabobs, souvlaki, beef shawarmas, salmon--I survey my fridge drawers for any veggies to throw along. It's a great way to use up any neglected produce, plus, why work so hard on a side?!
On occasion, when I'm being intentional and following my shopping list, I plan a gorgeous grilled vegetables platter like the one you see here. And I'll even go an extra step and jazz it up with some seasonings and a bright, zippy dressing.
This kinda grilled vegetable platter makes a gorgeous centerpiece when entertaining. Heck, I've even served it as a vegetarian main!
Best Vegetables to Grill?
The smoky char of the flame on vegetables is just sublime. And really, are there vegetables that aren't good for grilling? It seems you can grill nearly any vegetable--from corn on the cob to lettuce and green beans. When choosing which vegetables to grill, it's a good idea to consider a variety of colors and textures. Some of my favorite grilled vegetables are what I'm using in this recipe: eggplant, squash or zucchini, bell peppers, and asparagus. These are all easy to prep and you can throw them directly on the grill, no need for grilling baskets.
Tomatoes? Many people do not think about grilling juicy items like tomatoes, but I absolutely love them! I was first introduced to grilled tomatoes at a local Persian restaurant. They would grill them until super soft and nicely charred, then hit them up with a drizzle of awesome extra virgin olive oil and a generous sprinkle of sumac. I do this often now during tomato season.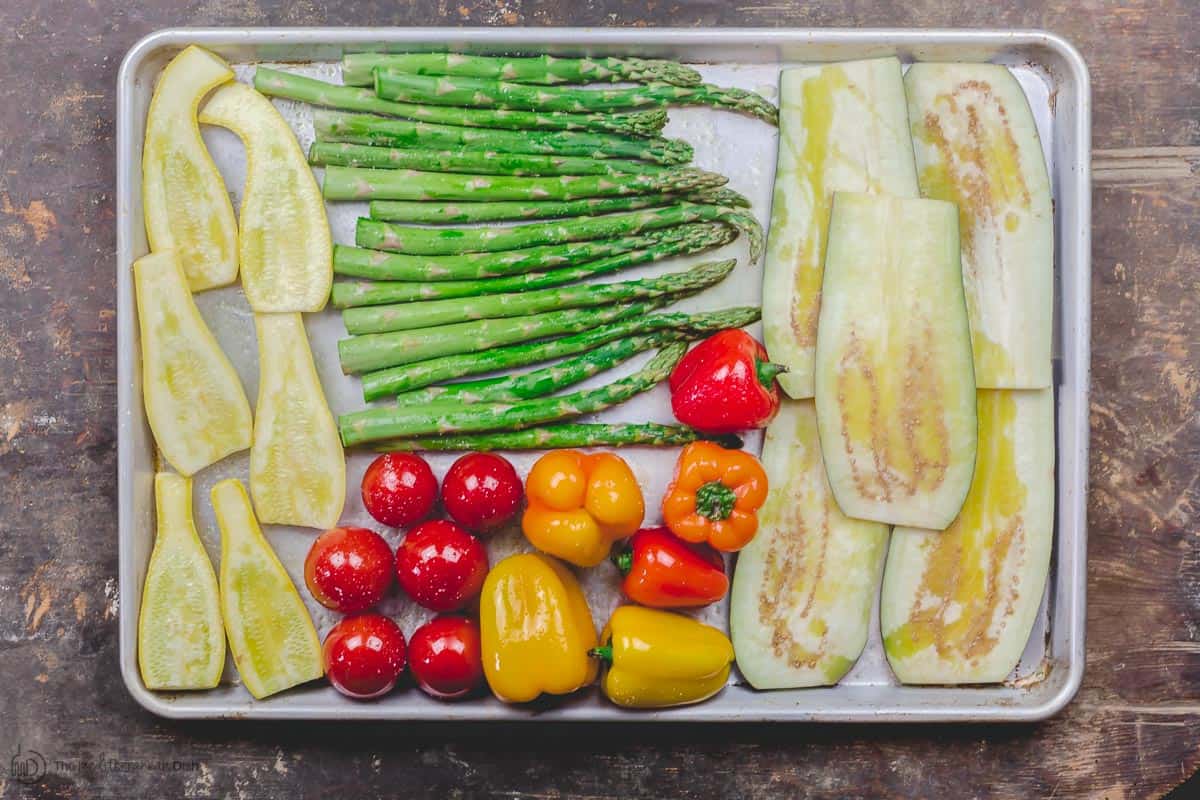 Easy Grilled Vegetables, Mediterranean-Style
This easy grilled vegetable recipe starts with selecting vegetables with a variety of colors and textures--eggplant, bell peppers, squash, asparagus, and tomatoes. The vegetables are given a quick toss in extra virgin olive oil and just a simple dash of salt before grilling over medium-high heat (by the way, you can use an indoor griddle if a gas grill is not available to you.) But I do a couple things that I think take these grilled vegetables to a new level of awesome:
1. For best presentation, do not chop or dice the vegetables, instead, do as I have here and leave what you can whole or slice up in large pieces. Baby bell peppers, asparagus and Campari tomatoes will do just fine left whole. Slice the eggplant lengthwise and simply halve the squash (also lengthwise) to allow more surface for those beautiful grill marks.
2. As soon as we have all the veggies removed from the grill, I like to hit them up with flavor. First, a large pinch of earthy za'atar (wild thyme and sesame seed blend) and another of tangy sumac. Then, a zesty dressing with extra virgin olive oil, lemon and lots of garlic. And the finishing touch, fresh herbs and a little crumbled feta!
You can play with flavoring however you like. I highly recommend the combination of za'atar and sumac, but you can also try more of an Italian twist with some dried oregano or thyme.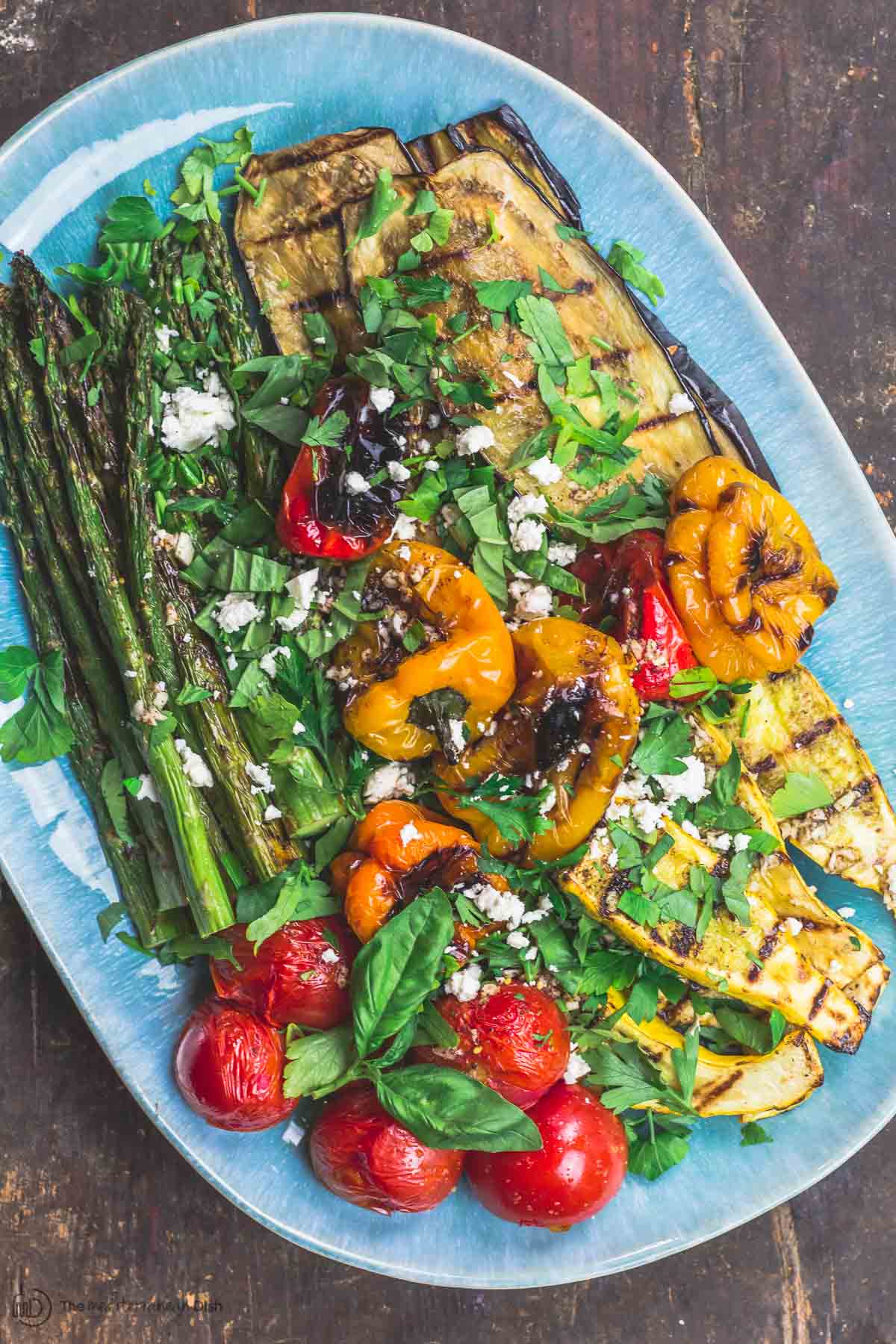 Tips for How to Grill Vegetables
I like my vegetables super tender and well charred, so here are a couple of things to keep in mind for this recipe:
1. Vegetables will be ready at different points. Watch accordingly or cook in batches as you need to. Start with the whole baby bell peppers, they will take about 15 minutes or so; 8 to 9 minutes for yellow squash and eggplant; and 5 to 6 minutes for Campari tomatoes and asparagus. Grilling time will likely vary too depending on your grill, so just watch until the veggies are nice and tender to your liking.
2. I don't always care to get my grill marks perfect, but I sure do love them and love a good char on all my veggies. The key to getting those grill marks is to be patient and don't shift or turn the veggies too often.
More Recipes to Try
Grilled Shrimp with Roasted Garlic Cilantro Sauce
Simple Boiled Potatoes with Garlic and Fresh Herbs
Easy Sauteed Zucchini with Balsamic Glaze
NEVER MISS A RECIPE! JOIN MY FREE E-MAIL LIST HERE TO RECEIVE NEW RECIPES, WEEKLY MEDITERRANEAN DINNER PLANS, AND MY FREE E-COOKBOOK WITH 15 HEALTHY RECIPES TO TRY!
SHOP OUR ONLINE STORE FOR QUALITY OLIVE OILS, ALL-NATURAL SPICES AND MORE.
Print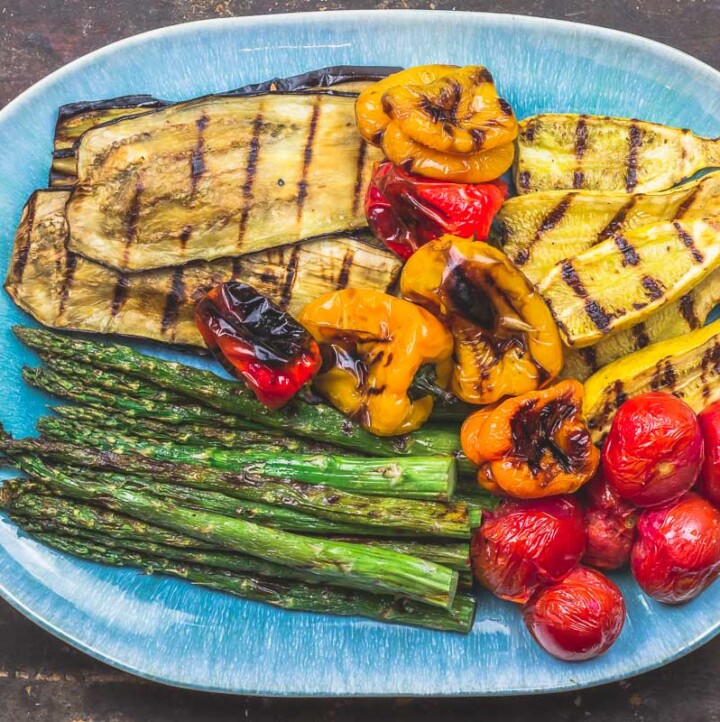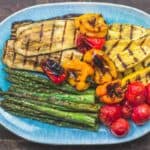 Mediterranean Easy Grilled Vegetables
---
Description
Easy grilled vegetables, prepared Mediterranean style with earthy spices, fresh herbs and a bright, zesty dressing! See tips and suggestions for what to serve along.
---
1

eggplant (14oz/404 g), sliced lengthwise to ½-inch thick slices
Salt

6

baby bell peppers, whole (or

3

large bell peppers, cored and cut into wide strips)

3

yellow squash, halved lengthwise

1

lb asparagus

1 tsp

Za'atar

1 tsp

Sumac
Handful fresh parsley, chopped
Handful fresh basil, chopped
Handful crumbled feta cheese (optional)
For Dressing
3 tbsp

extra virgin olive oil
Juice of

½

large lemon
Small pinch kosher salt

½ tsp

Black pepper
---
Instructions
(Optional) If you have the time, sprinkle eggplant slices with kosher salt and place in a colander for 20 minutes. This will allow the eggplant to sweat out its bitterness. Pat dry with a paper towel.
Heat an outdoor grill over medium-high heat (make sure the grates are oiled.) Or prepare an indoor griddle over medium-high heat.
Place the vegetables on a large tray or sheetpan. Drizzle generously with extra virgin olive oil. Sprinkle with kosher salt. Give the vegetables a quick toss to make sure they are well coated with the oil. (Note: if you've already salted the eggplant in optional step #1, do not salt again)
Place vegetables on heated grill and cook until tender. Vegetables will be ready at different points, so watch accordingly or cook in batches: about 15 minutes for whole baby bell peppers; 8 to 9 minutes for yellow squash and eggplant; and 5 to 6 minutes for Campari tomatoes and asparagus. Shift/turn the vegetables occasionally but not too often.
Arrange grilled vegetables on a large platter. Season vegetables with za'atar and sumac.
In a small bowl, whisk together the dressing ingredients then pour all over the vegetables. Top with fresh parsley, basil and feta. Enjoy!
Notes
Cook's Tip #1: Grilling time will vary depending on your grill and how well cooked you like your vegetables. Simply watch until the vegetables are tender to your liking.
Cook's Tip #2: The key to getting great grill marks is to resist shifting the vegetables too frequently once they've been placed on the grill.
Cook's Tip #3: I started with an optional step here for salting the eggplant. If you do have the time, this step is worth it because it helps the taste and texture of eggplant. While the eggplant sweats out its bitterness, the salt also works to breakdown the spongy texture.
What to Serve This with? These grilled vegetables make the perfect side dish next to almost any dish. If you have the grilled fired up, try Mediterranean chicken, grilled salmon, beef shish kabobs, or chicken souvlaki. Add dips like tzatziki and hummus to complete the feast!
Leftovers? Store leftover grilled vegetables in a tight-lid glass container in the fridge for up to 4 nights or so. Enjoy cold as grilled vegetable salad.
Visit The Mediterranean Dish store for za'atar, sumac and other spices and our Greek olive oils.
Prep Time:

15 minutes

Cook Time:

15 minutes

Category:

Side Dish

Method:

Grilled

Cuisine:

Mediterranean
Keywords: Grilled Vegetables; How to Grill Vegetables; Grilled Vegetable Recipe