Don't miss my tips for these quick, perfectly Grilled Vegetable Kabobs with summer squash, mushrooms, onions, and brussels sprouts! You'll love the bold Mediterranean flavors, thanks to a very simple marinade. Gas grill and oven instructions included.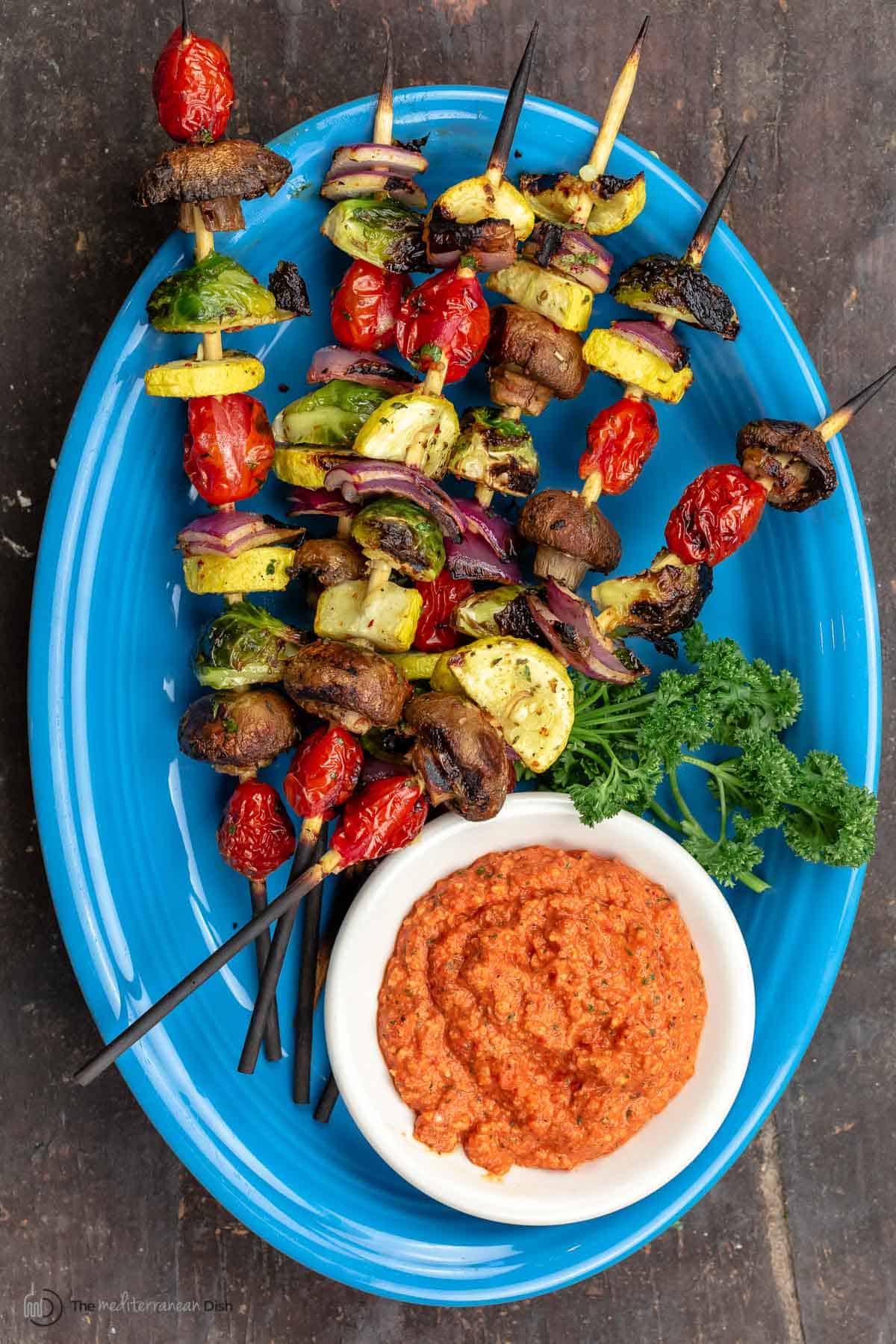 Vegetable skewers for an easy side dish!
Vegetables are a huge part of my lifestyle year-round, but as we head into the warm summer months, we have so many more options to enjoy! I'm game for anything from ratatouille to roasted vegetables, but as it's getting quite warm out, I can't help but throw my veggies on the grill. Not only does it avoid heating up the kitchen, but it adds so much flavor!
Depending on what vegetables I pick up from the farmer's market, it's either my grilled vegetables platter or something like today's marinated vegetable kabobs.
The simple but flavorful Mediterranean-style marinade, combined with the appropriate heat from your grill, will create amazingly delicious kabobs. While you don't want to burn these, they should be slightly charred in a few places before you remove them from the grill. I love to add some freshly made romesco sauce for dipping the veggies as well.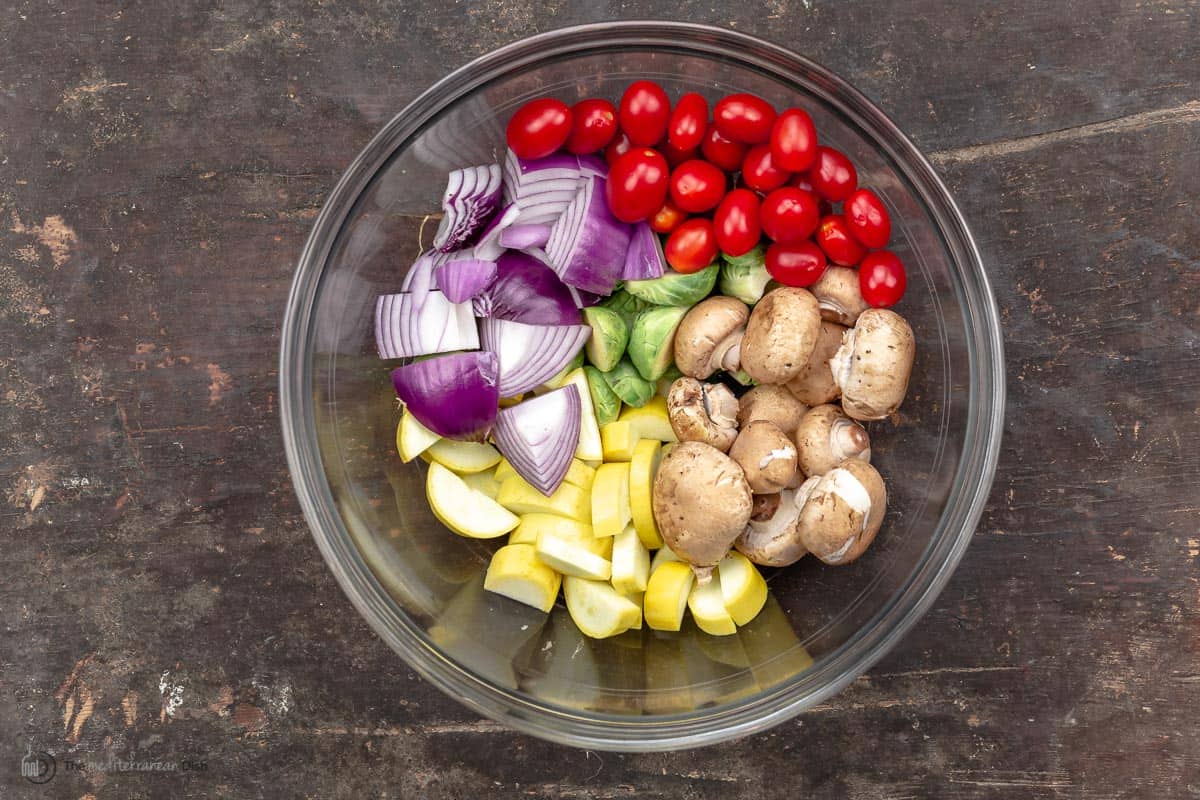 Before we get to the recipe, let me cover a few basics that may be helpful to new cooks.
What are the best vegetables for shish kabobs?
The options for what veggies to skewer and grill are plenty. Aim for a variety of color and for veggies that will hold their shape well. Some of my favorites for kabobs are: bell peppers (any color), zucchini, yellow squash, mushrooms, onions (I like red onions, but yellow onions or shallots are great too), and tomatoes (smaller cherry or grape tomatoes). I've also tried grilled brussels sprouts on skewers and loved them!
If you want to add a little sweetness to your vegetable skewers, you can include grapes, ripe figs, or pineapple. I just kept things simple and went for savory Mediterranean-style vegetable kabobs.
The marinade
Should you marinate vegetables? It's not a must, but marinating your veggies for a few minutes before grilling is a wonderful way to boost their flavor. You can also marinated vegetables overnight in the fridge. In this recipe, the vegetable kabobs marinade combines some Mediterranean favorites, including good extra virgin olive oil, lemon juice, garlic, fresh parsley and dried oregano. If you like a little heat, add a bit of Aleppo pepper or red pepper flakes.
How long to grill vegetable kabobs?
On a medium-heated gas grill, your vegetable kabobs will take about 10 minutes, turning as needed. Keep your heat to medium so that you can cook the vegetables without letting them become scorched or totally blackened. Some grill marks or charred parts are wonderful! Be sure to take the vegetables off the heat when they are just done, this way they do not burn or loose their crunch completely.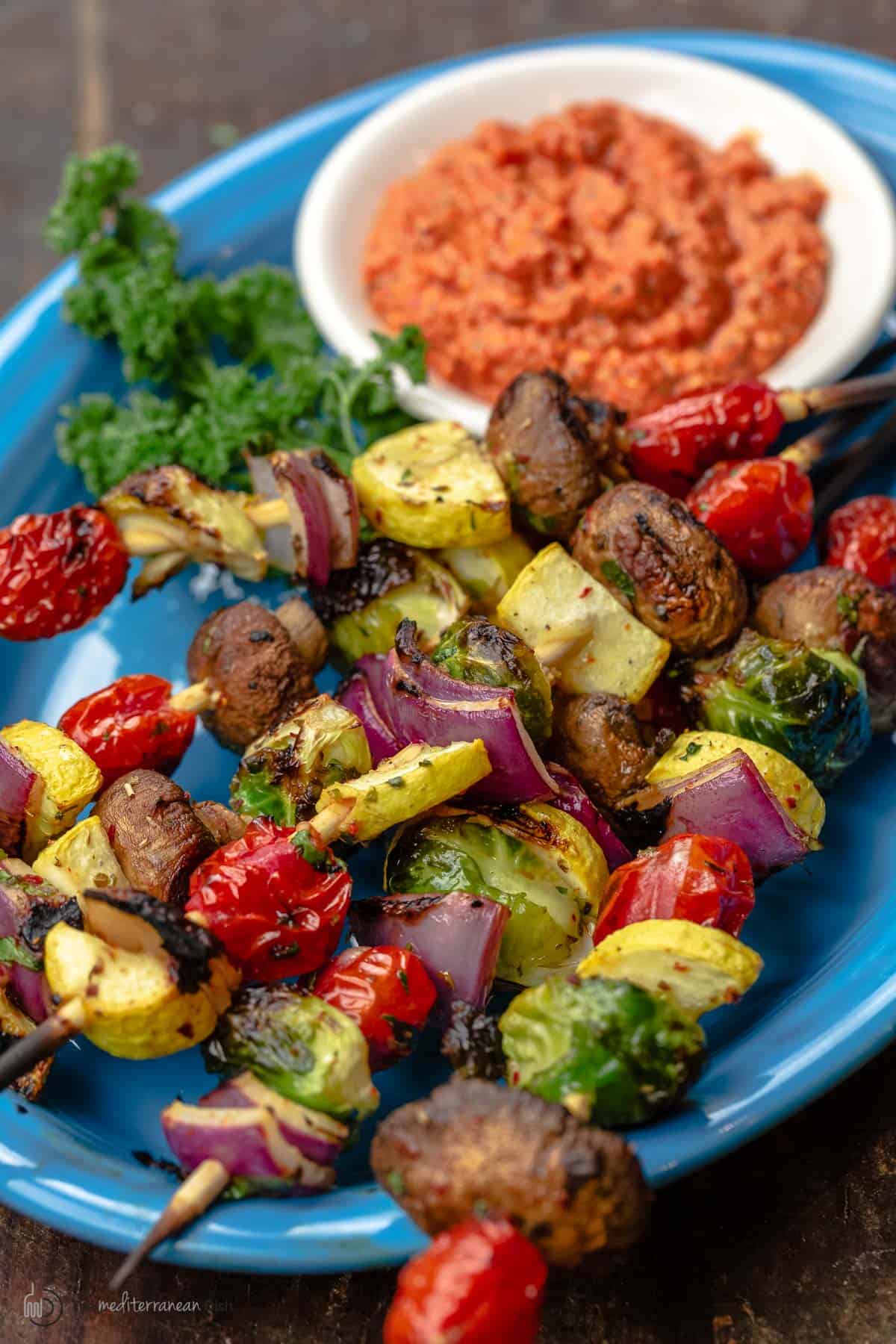 What you'll need for this recipe
These seasoned vegetable skewers are made with fresh vegetables and a handful of seasonings. Quick, easy and flavorful!
Yellow squash or zucchini - You can use whichever you have on hand or prefer.
Baby bella mushrooms - These mushrooms are perfectly sized for sliding on a skewer and stay firm when grilled.
Grape tomatoes - You can also use cherry tomatoes, which are a good size and can also be left whole to slide on your skewers.
Brussels sprouts - Brussels sprouts add a crunch and pop of green to the skewers. It helps to microwave them for a couple minutes before skewering.
Onion - You can use any type of onion, but I like red onion for its sweet flavor.
Garlic - Freshly minced garlic for the marinade.
Seasoning - A combination of fresh parsley, salt, dried oregano and, for heat, Aleppo pepper or red pepper flakes.
Olive oil - Olive oil helps the seasonings stick to the vegetables and helps them char up nicely on the grill. Try Private Reserve Greek EVOO or another olive oil from our collection!
Lemon juice - Freshly squeezed lemon juice adds a pop of bright, fresh flavor to the kabobs.
How to cook vegetable kabobs: Step-by-step
All these grilled vegetable skewers require is a few minutes to marinate and a quick turn on a hot grill. If using bamboo skewers, allow them to soak for 30 minutes to 1 hour in water before using.
Cut the vegetables
You can leave the grape tomatoes and mushrooms whole, but go ahead and cut the onions, squash or zucchini, and brussles sprouts into similar size pieces (I just like to halve the squash and the brussels sprouts, then cut the onion into large square chunks. Microwave the brussels sprouts for a couple minutes to help them soften.

Marinate the vegetables
Put the veggies in large bowl and add about 4 cloves of minced garlic, drizzle with olive oil, lemon juice, season with parsley, oregano, a good pinch of kosher salt, and Aleppo pepper or red pepper flakes for a little heat.



Thread the vegetables on the prepared skewers



Grill the vegetable kabobs. Heat your gas grill to medium heat and grill the veg kabobs for about 10 minutes, turning as needed. Vegetables should be fully cooked and charred in some parts.


Tips for success
For the easiest assembly and perfect flavor, keep these tips in mind.
Marinate the vegetables. If you want your grilled vegetables to have a bolder flavor, just increase the marinating time! They can marinate for several hours in the fridge before grilling.
Use Medium Heat. Setting your grill to medium heat, and making sure to turn the vegetable skewers occasionally, allows the vegetables to cook well without getting too scorched or burned.
Switch up the vegetables. The great thing about these kabobs is that they are versatile and easy to adapt. You can easily change the vegetables used to your favorites or what you have on hand. I recommend choosing vegetables with a variety of textures and flavors. In addition to the ones in the recipe, other vegetables that grill well include eggplant, corn, baby potatoes, or even carrot chunks. Again, vegetables like baby potatoes or carrots could benefit from a minute or two in the microwave before skewering.
Change up the seasonings. You can add other dried herbs as desired, like parsley, rosemary or basil. Or, if you're craving something a bit different, try adding a Middle Eastern twist by using za'atar or sumac in your marinade, or add a Moroccan twist by using Ras El Hanout.
Vegetable kabobs in the oven
If you don't have a grill, you can absolutely cook these veggie skewers in the oven at 400 degrees F. Arrange the skewers on a baking sheet and put them in the heated oven for about 15 minutes, turning over occasionally so that they veggies can char on different sides. Again, if you are using wooden skewers, soak them in water for 30 minutes to 1 hour before using.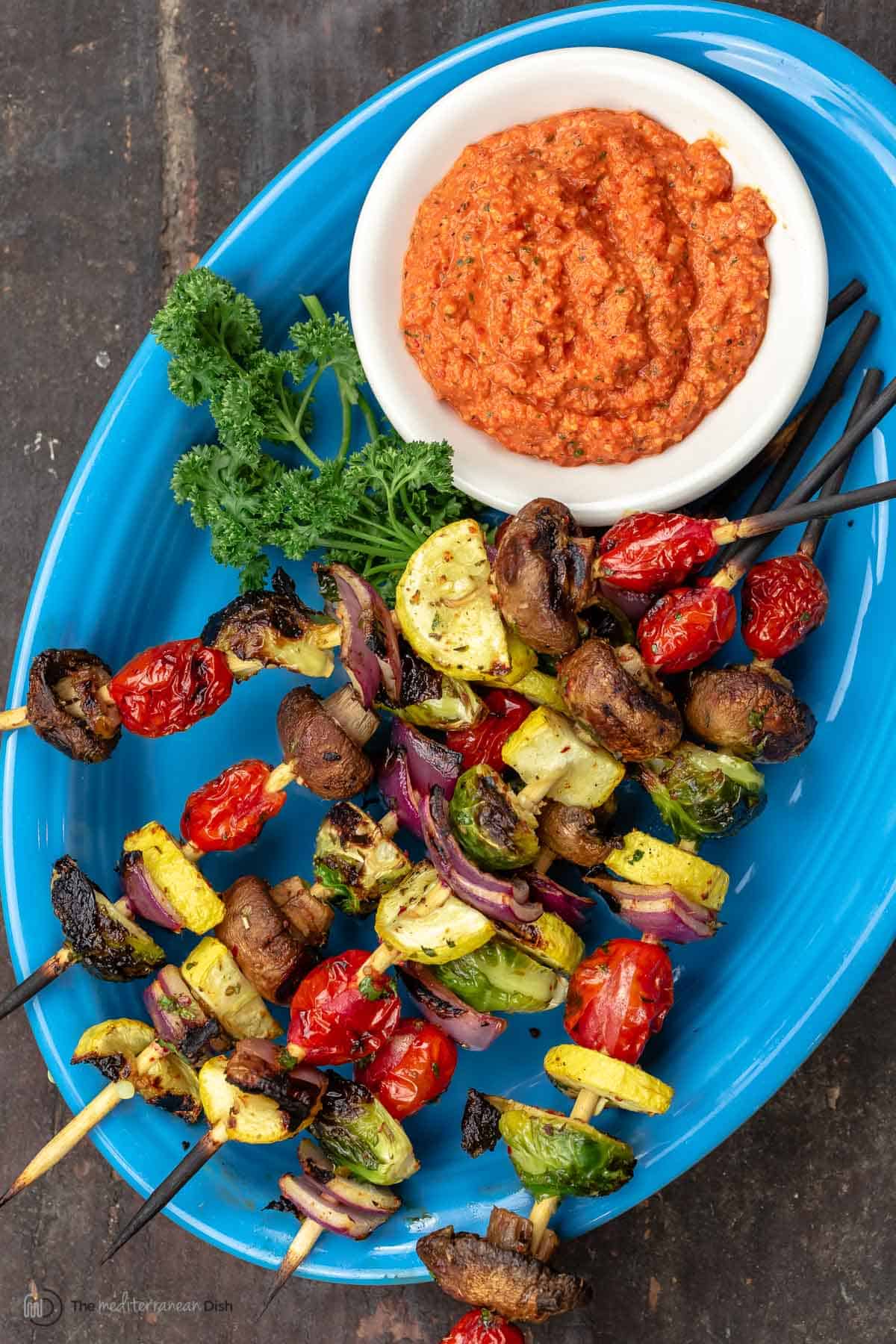 Serving suggestions
These grilled vegetable skewers make an easy side dish to almost any dinner. They're one of my favorite ways to quickly add vegetables to a meal any night of the week!
For a Mediterranean-inspired BBQ, serve them with romesco sauce for dipping and add a grilled protein such as grilled Mediterranean chicken, juicy lamb kabobs, or grilled swordfish. Add your favorite grain or a flavorful rice like spanakorizo (Greek Spinach rice).
If you're looking to keep your meal vegetarian, you can serve these vegetable kabobs as part of a vegetarian bowl with herbed couscous.
How to store leftovers
These grilled veggie kabobs are best when enjoyed immediately after cooking. As some of the vegetables have a high water content, they tend to become soggy after a while. Of course, if you do have leftovers you can store them in an airtight container for a day or two. Enjoy cold or reheat quickly in the microwave or stovetop.
More grilled vegetable recipes:
Hungry for more? Browse my 50+ Top Mediterranean Diet Recipes or all Mediterranean recipes.
Visit Our Shop for quality Mediterranean ingredients.
Grilled Vegetable Kabobs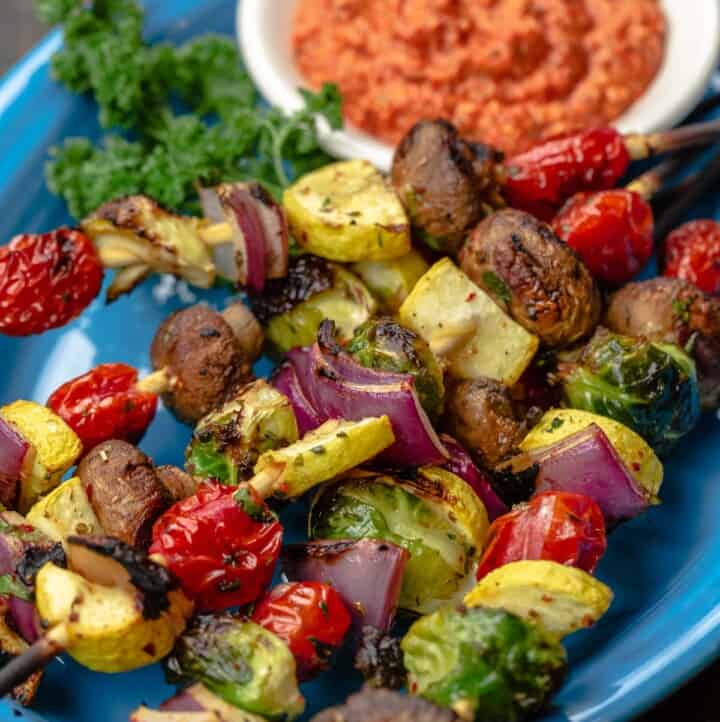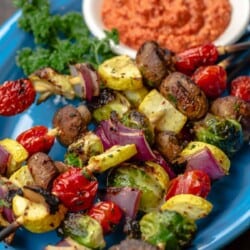 These Grilled Vegetable Kabobs with summer squash, mushrooms, onions, and brussels sprouts are a quick and easy way to add vegetables to any meal. Instructions for how to cook vegetable kabobs on the grill and how to make them in the oven included below. For more flavor, allow the vegetables to marinate in the fridge for a few hours.
Ingredients
1

yellow squash or zucchini, cut into half moons

8

ounces

baby bella mushrooms, trimmed

1

cup

grape tomatoes

6

ounces

brussels sprouts, halved,

(it helps to microwave the brussels briefly so they are a bit softer and will go through the skewers more easily)

1

medium onion, cut into chunks

3-4

garlic cloves, minced

½

cup

chopped fresh parsley

kosher salt

½

teaspoon

dried oregano

½

teaspoon

Aleppo pepper

(or ½ to 1 teaspoon red pepperflakes)

⅓

cup

extra virgin olive oil

juice of two lemons
Instructions
Prepare 8 to 10 skewers (if using bamboo or wooden skewers, soak them in water for at least 30 minutes).

Chop the vegetables and garlic and place them in a large mixing bowl. Add the parsley and season with Kosher salt, oregano and pepper flakes. Add the olive oil and lemon juice. Toss to combine.

Set the vegetables aside for 20 minutes while you heat the grill (Or you can marinate them in the fridge for a few hours until you are ready).
Vegetable Kabobs on the Gas Grill
Heat a gas grill to medium and oil the grates.

Arrange the skewers on the heated grill and cook for 10 minutes, turning as needed, until the vegetables are cooked and charred in some parts.
Vegetable Kabobs in the Oven
Heat your oven to 400 degrees F. Assemble the kabobs on a large sheet pan and roast on the center rack of the oven, turning occasionally, for 15 minutes or until the veggies are cooked through to your liking.
Notes
Serve with Romesco Sauce for dipping.
Leftovers: make sure the vegetables are cool before storing them in the fridge. Slide them off the skewers and keep them in a tight-lid container in the fridge for 2 to 3 days.
Visit Our Shop for quality Mediterranean ingredients including olive oils and spices.
Nutrition
Calories:
146.3
kcal
Carbohydrates:
8.4
g
Protein:
2.9
g
Saturated Fat:
1.7
g
Sodium:
17.8
mg
Potassium:
484
mg
Fiber:
2.6
g
Sugar:
3.5
g
Vitamin A:
959.8
IU
Vitamin C:
41.1
mg
Calcium:
40.5
mg
Iron:
1.2
mg