Made with roasted red peppers, fire-roasted tomatoes, nuts and a handful of seasonings, this Easy Romesco Sauce adds a burst of flavor to any dish. The perfect addition to chicken, fish or grilled veggies, and great for dipping too!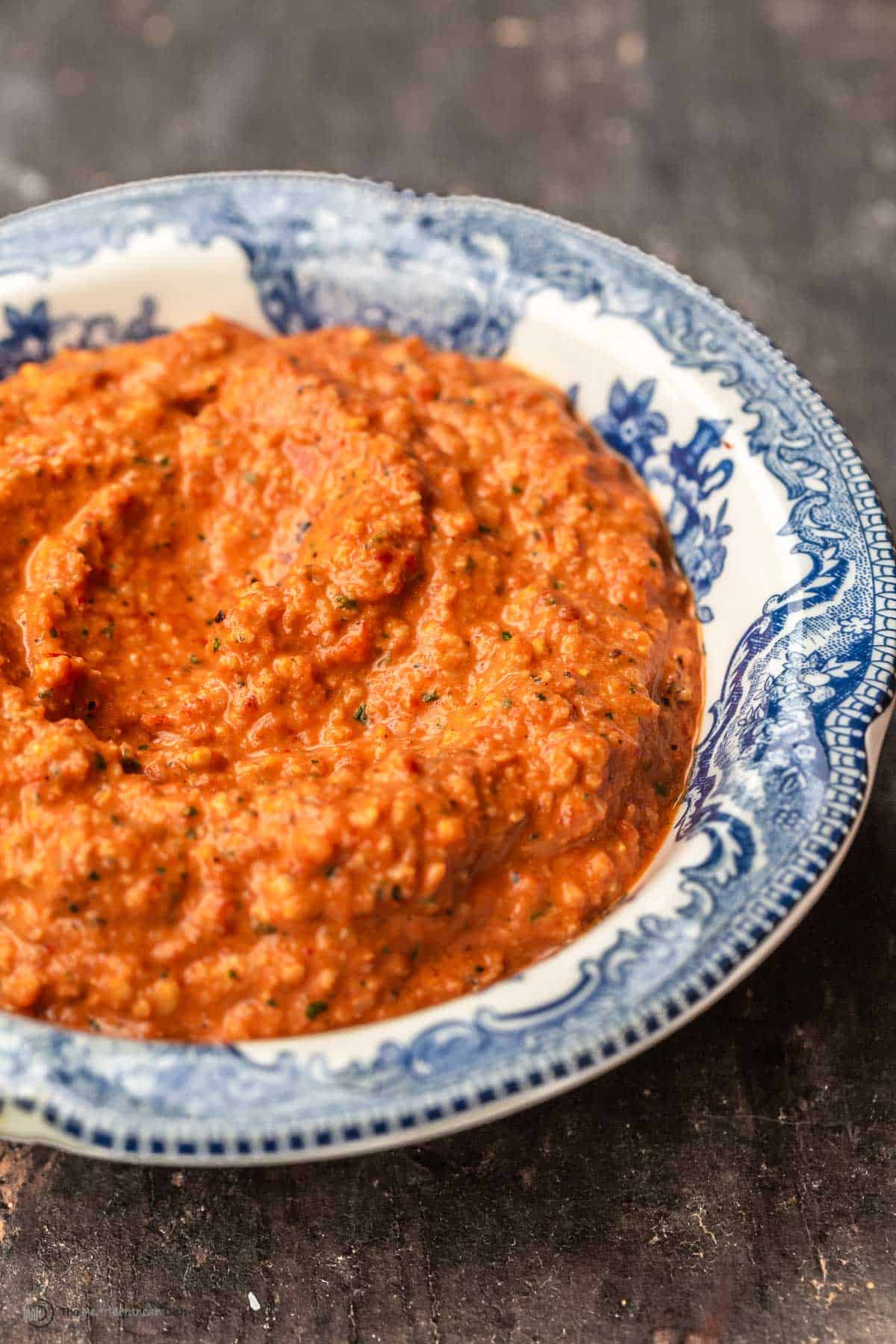 What is romesco sauce?
Romesco sauce (salsa romesco) is a Spanish roasted red pepper sauce, that originated in the Catalan region. It's used as a sauce, dip, or spread to add flavor to a variety of dishes. There are several variations and no one specific way to make romesco sauce. Ingredients you will almost always find in any romesco sauce are: roasted red peppers, garlic, paprika, nuts and vinegar. The type of nuts may vary, from almonds to pine nuts, and seasonings vary from recipe to recipe as well. You'll also usually see fire-roasted tomatoes on the list of ingredients - it's important to use fire-roasted tomatoes as you want a hearty, deep flavor.
Traditionally, romesco sauce was made using a mortar and pestle but a blender or food processor is easier to use and will give you that creamy texture you want!
Romesco was traditionally served with fresh fish--it's said that fishermen in the Tarragon port city originally made romesco as a way of making the day's fresh catch a little more exciting! And I can attest that it totally works as a topping to fish dishes like pan seared salmon or trout.
But it is a versatile sauce or dip to use with other meat, veggies, bread and pasta too! Personally, I'm a huge fan of enjoying it with grilled vegetables or vegetable kabobs for a healthy and flavorful vegetarian meal, but there are so many ways to enjoy it.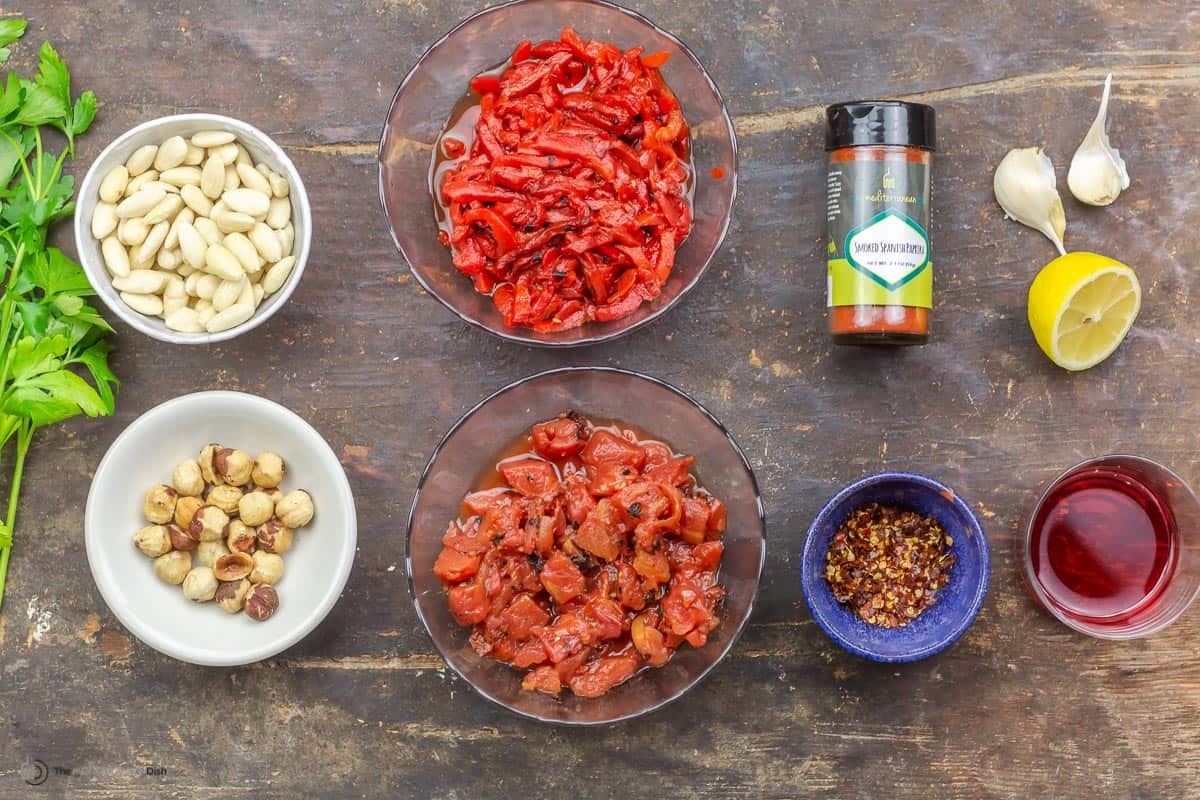 What is this sauce made of?
This 5-minute sauce is made with a base of roasted peppers, fire roasted tomatoes and nuts, with a handful of seasonings and pantry staples you may already have. The end result is a sauce that's bold and hearty with a little zang!
Roasted red peppers - For a shortcut, I used jarred roasted red peppers that's easily found at your grocery store. But if you'd like to roast your own peppers, I've included the steps below.
Fire-roasted tomatoes - Canned fire-roasted tomatoes will add great flavor here
Nuts - I use a combination of almonds and hazelnuts. The almonds are a must but the hazelnuts are optional. If you don't want to use hazelnut, you can certainly replace them with more blanched almonds.
Parsley - I use chopped flat leaf parsley which tends to be more flavorful.
Olive oil - Extra virgin olive oil enhances the richness of this sauce. For a sauce like this one, I typically go for a bolder extra virgin olive oil like Early Harvest, but if you want something more on the mild side, try Private Reserve Greek EVOO or Nabali EVOO (view all our quality olive oils).
Seasonings - A combination of kosher salt, smoked paprika, red pepper flakes, and fresh garlic cloves for a depth of warm flavor.
Lemon juice - Adds brightness and balances out some of the more rich flavors of the sauce.
Sherry vinegar - If you are not able to find sherry vinegar, you can use red wine vinegar instead.
How to make Romesco Sauce:
This might be the easiest of all sauces to make. You can make this roasted red pepper dip in your food processor in less than 5 minutes.
Blend everything. In the bowl of a large food processor fitted with a blade, add the roasted red peppers, fire roasted tomatoes, nuts, parsley, olive oil, lemon juice, sherry vinegar and a good pinch of kosher salt, black pepper, and smoked paprika. Pulse several times until you achieve the desired consistency. If you'll be using it as a dip, you can leave it a little thicker or blend it extra if using it as a sauce.



Taste and adjust. Taste test a bit of the sauce and adjust with more seasonings as necessary.


Tips for success
It's difficult to mess up this roasted red pepper sauce, and you can tailor it to your liking. But here are a few things to keep in mind for the absolute best romesco sauce:
Use high-quality ingredients. This sauce should be the star of the show, so use the best ingredients you can find to make it.
Roast your own peppers. If have the time, you can absolutely roast your own red peppers to step things up a couple notches. To make romesco with fresh red peppers, you'll need 2 red peppers.
Start with less seasonings, and add more. This sauce does have a kick to it, so if you're worried about it being too hot, start with less (or no) paprika or red pepper flakes. You can always add more later!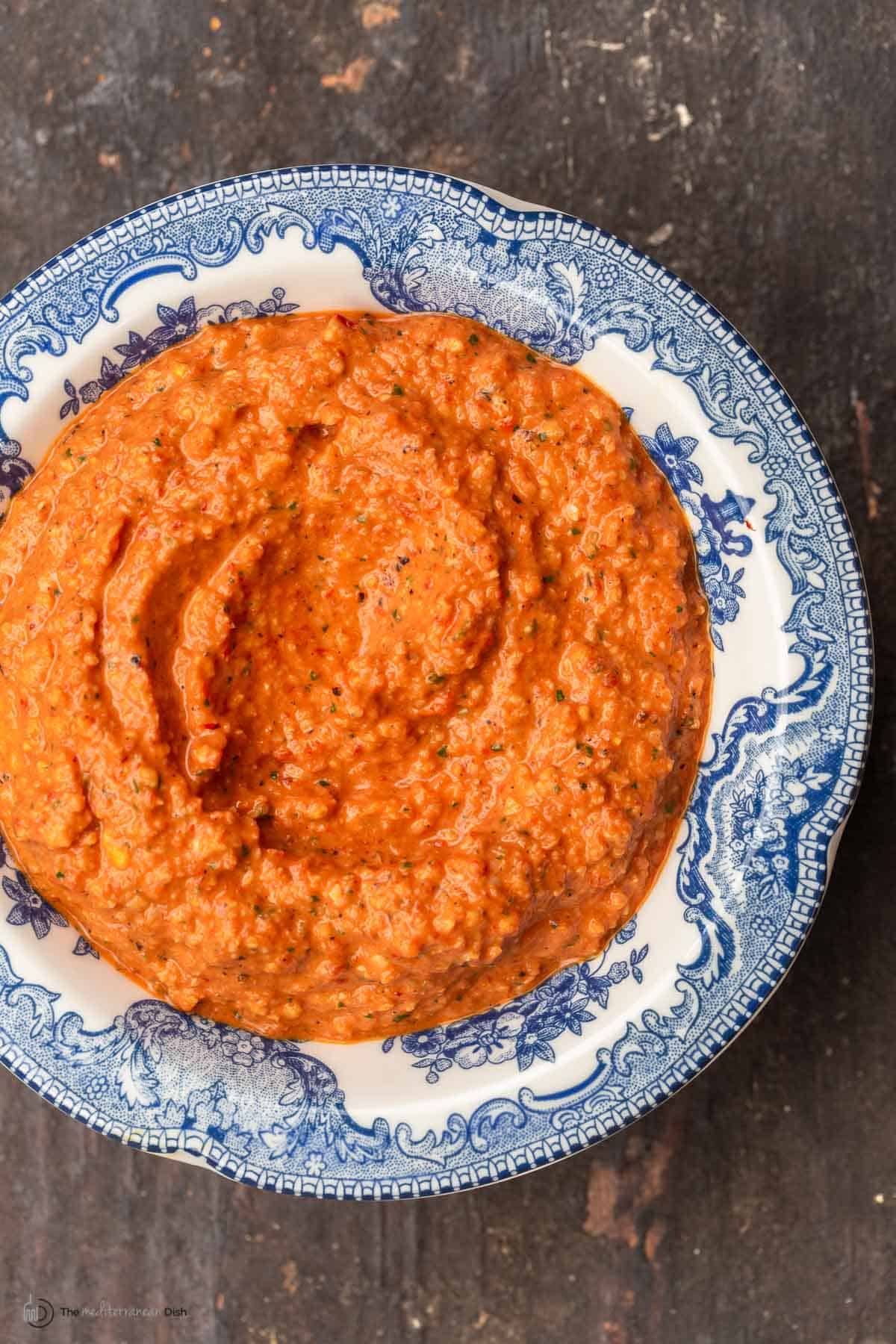 How do you roast red peppers?
To make romesco sauce with fresh red peppers, you'll start with 2 red peppers and a high-heated. I follow the same instructions I use to roast red peppers for muhmmara dip, roasted red pepper hummus, and roasted red pepper pasta. Here is how to roast fresh peppers:
Preheat the oven to 425 degrees F.
Brush the bell peppers with 1 tablespoon of olive oil, and place in a lightly oiled oven-safe pan or cast-iron skillet. Roast the peppers in the 425 degrees F heated oven for 30 minutes or so, turning them over once or twice.
Remove from the oven and place the peppers in a bowl. Cover with plastic wrap for a few minutes. This traps the steam from the roasted peppers, making them easy to peel. When cool enough to handle, simply peel the peppers, remove the seeds and slice the peppers into small strips.
What does romesco sauce go with?
The wonderful thing about this Spanish pepper sauce is that it goes with almost anything! You can use it as a sauce, spread or dip for any number of meats, veggies or breads.
Use it with things like grilled swordfish, grilled chicken, lamb kebab. You can even use it to dip fish sticks or fried calamari.
You can also use it as a dip. It's perfect for dipping some homemade pita bread or fresh veggies like broccoli (crispy roasted broccoli), cauliflower, or carrots. You could even dip some baked zucchini fries in! It's also great with eggs, whether scrambled eggs, a frittata, or a breakfast sandwich.
How to store leftovers
Romesco sauce will store in the fridge for 5-7 days in an airtight container.
This recipe makes enough that you'll likely get several uses out of it, which is great. Leftover sauce is perfect for a healthy snack the next day or you can even add it to your breakfast or a sandwich for lunch.
Can I freeze Romesco sauce?
Romesco sauce freezes well and will last for up to 6 months in the freezer. Just store in an airtight, freezer-safe container. Thaw in the fridge the night before using. Stir well before serving.
More easy sauce recipes:
Hungry for more? Browse my 50+ Top Mediterranean Diet Recipes or all Mediterranean recipes.
Visit Our Shop for quality Mediterranean ingredients.
5-Minute Romesco Sauce Recipe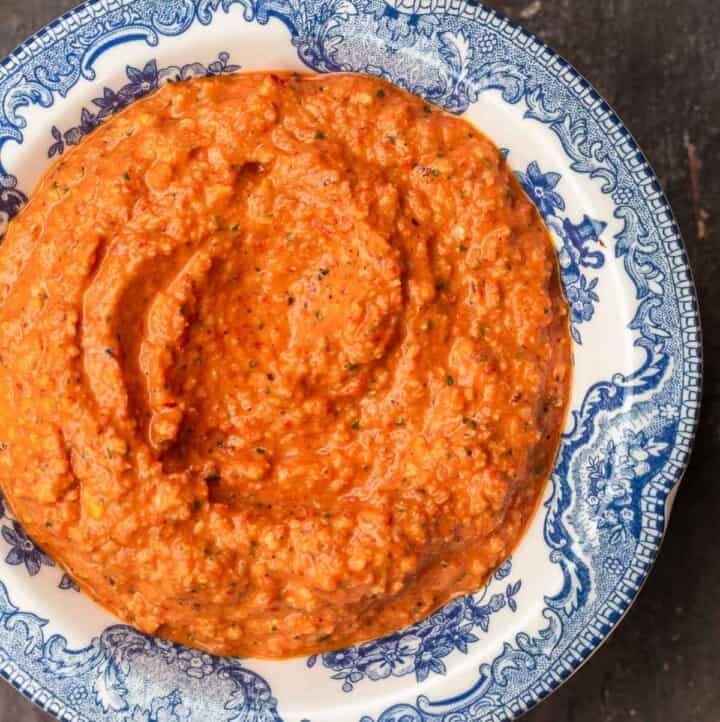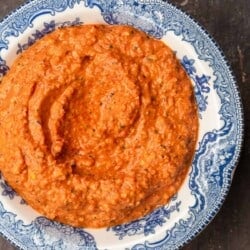 Made with roasted red peppers, fire-roasted tomatoes, nuts and a handful of seasonings, this Easy Romesco Sauce adds a burst of flavor to any dish. The perfect addition to chicken, fish or grilled veggies, and great for dipping too.
Ingredients
12

oz

jarred roasted red peppers,

drained

14

oz

canned fire-roasted tomatoes,

well drained

¾

cup

raw blanched almonds,

toasted

¼

cup

raw blanched hazelnuts, toasted,

optional, you can use 1 cup almonds instead

¼

cup

chopped flat leaf parsley

¼

cup

extra virgin olive oil

1

teaspoon

kosher salt,

more to taste

1

teaspoon

smoked paprika

½ to 1

teaspoon

red pepper flakes

1-2

garlic cloves

chopped

juice of half a lemon

1

teaspoon

sherry vinegar or red wine vinegar
Instructions
Add all the ingredients in the bowl of a food processor fitted with a blade. Blend or pulse to your desired consistency.

Taste and adjust seasoning to your liking.
Notes
This recipe makes 2 or more cups of romesco sauce. Nutrition information is a best estimate for 3 tablespoons per serving.
Leftovers & Storage: store romesco sauce in the fridge in a tight-lid container for up to 5 days. You can also freeze it for up to 6 months. Be sure to use a good freezer-safe container.
To use fresh red peppers: you'll need 2 peppers roasted, roasted in the oven at 425 degrees F, turning over a couple times, until charred and soft (I brush them with a bit of olive oil first). Put them in a bowl and cover until you are able to easily slide the skins off.
Use it with fish, chicken, meat, or vegetables. Read my post of more specific ideas!
Visit Our Shop for quality Mediterranean ingredients including extra virgin olive oils and spices.
Nutrition
Serving:
3
tablespoons
Calories:
132.9
kcal
Carbohydrates:
4.4
g
Protein:
2.9
g
Saturated Fat:
1.3
g
Trans Fat:
0.1
g
Sodium:
298.2
mg
Potassium:
98.3
mg
Fiber:
1.7
g
Sugar:
1.5
g
Vitamin A:
414.6
IU
Vitamin C:
3
mg
Calcium:
41.1
mg
Iron:
0.9
mg