I'm fond of any recipe that can function in multiple ways: snack, appetizer, or a healthier weeknight side. This grilled Brussels sprouts recipe absolutely fits the bill here. Quickly marinated, Mediterranean-style, then perfectly charred, and finished with a sprinkle of Parmesan.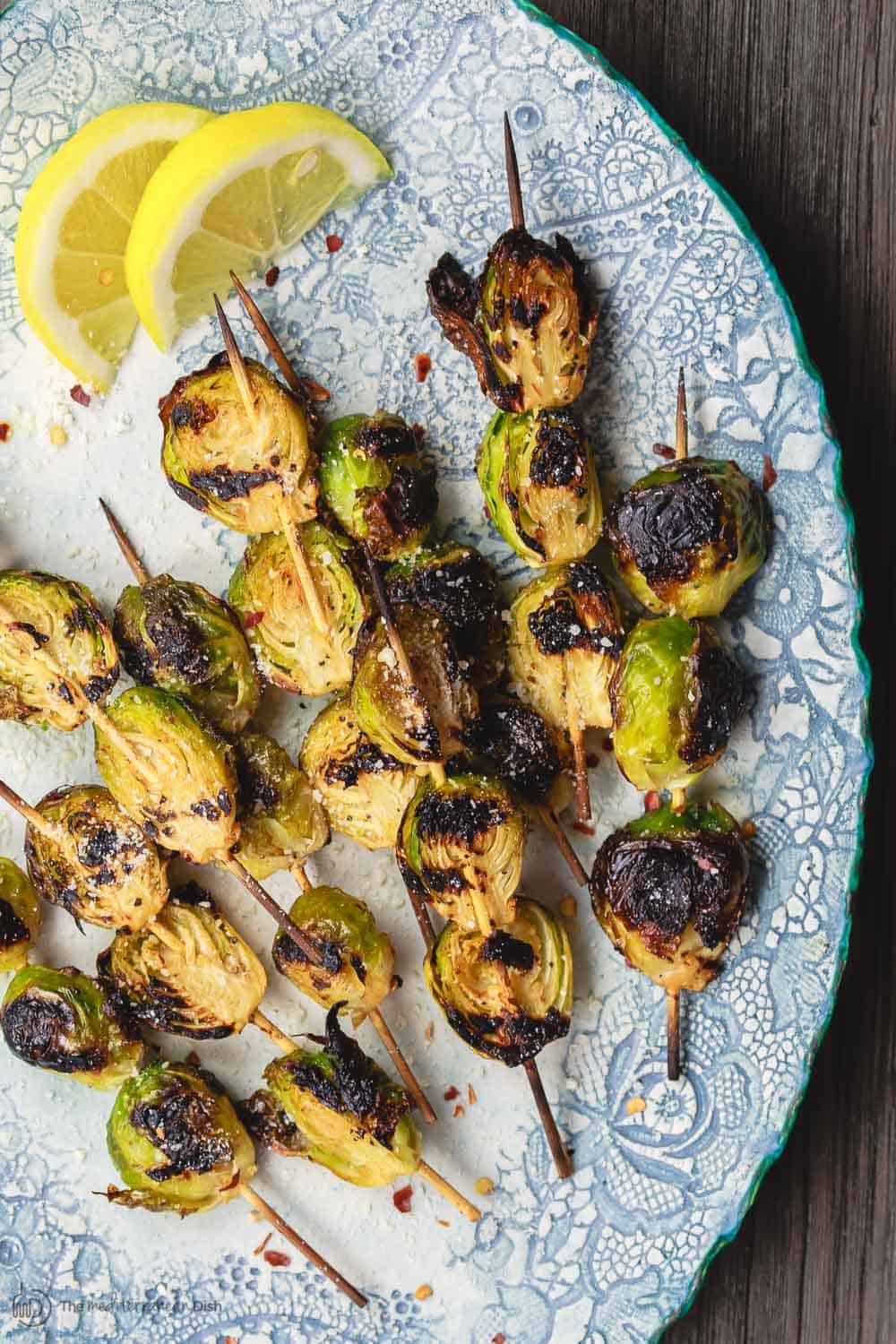 Admittedly, I fell in love with Brussels sprouts more recently as an adult. These baby cabbages are so tasty, simply cooked in extra virgin olive oil with a generous pinch of salt and pepper. On occasion, I'll dress them up-- adding mushrooms, hazelnuts, and even a handful of dried cranberries--for a festive side dish (so good!)
But just when I thought Brussels sprouts couldn't get any better...BAM... grilled Brussels sprouts skewers came in the picture. And y'all, they didn't disappoint.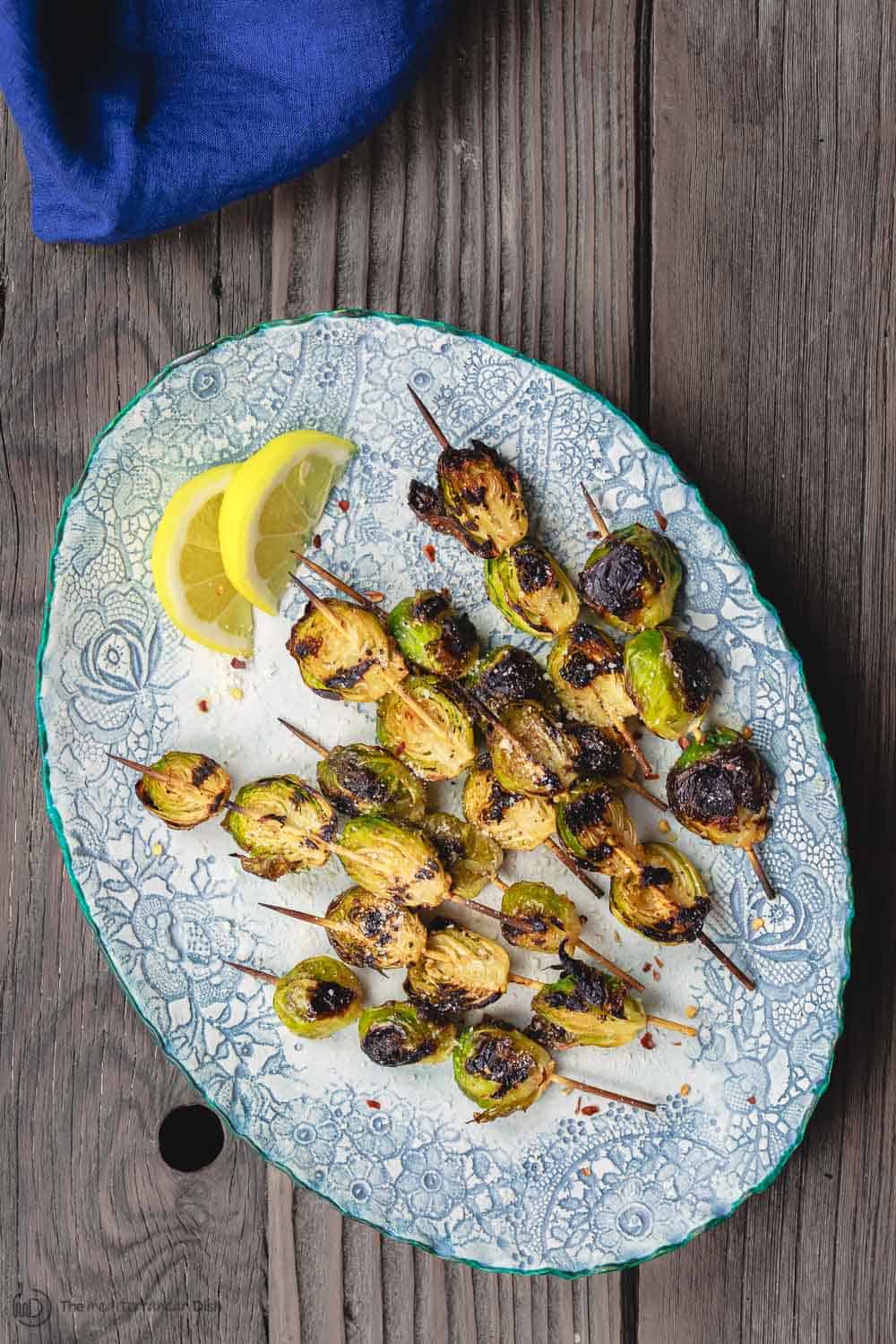 Tips for Grilled Brussels Sprouts
The thing about brussels sprouts is that they're just so much better when perfectly caramelized and extra crispy. So be sure to grill them until nicely charred.
And because I chose to do Brussels sprouts skewers here, it's important to heat up the sprouts in the microwave so that they are soft enough to allow a skewer to pass through.
To impart more flavor, toss the warmed Brussels sprouts in a simple marinade of good extra virgin olive oil, citrus (I chose lemon, but you can do balsamic vinegar), fresh garlic and your spice of choice. I think smoked paprika is the perfect spice, adding a special depth, smokiness, and just enough sweet. And if you don't mind spicy, add a pinch of crushed red peppers.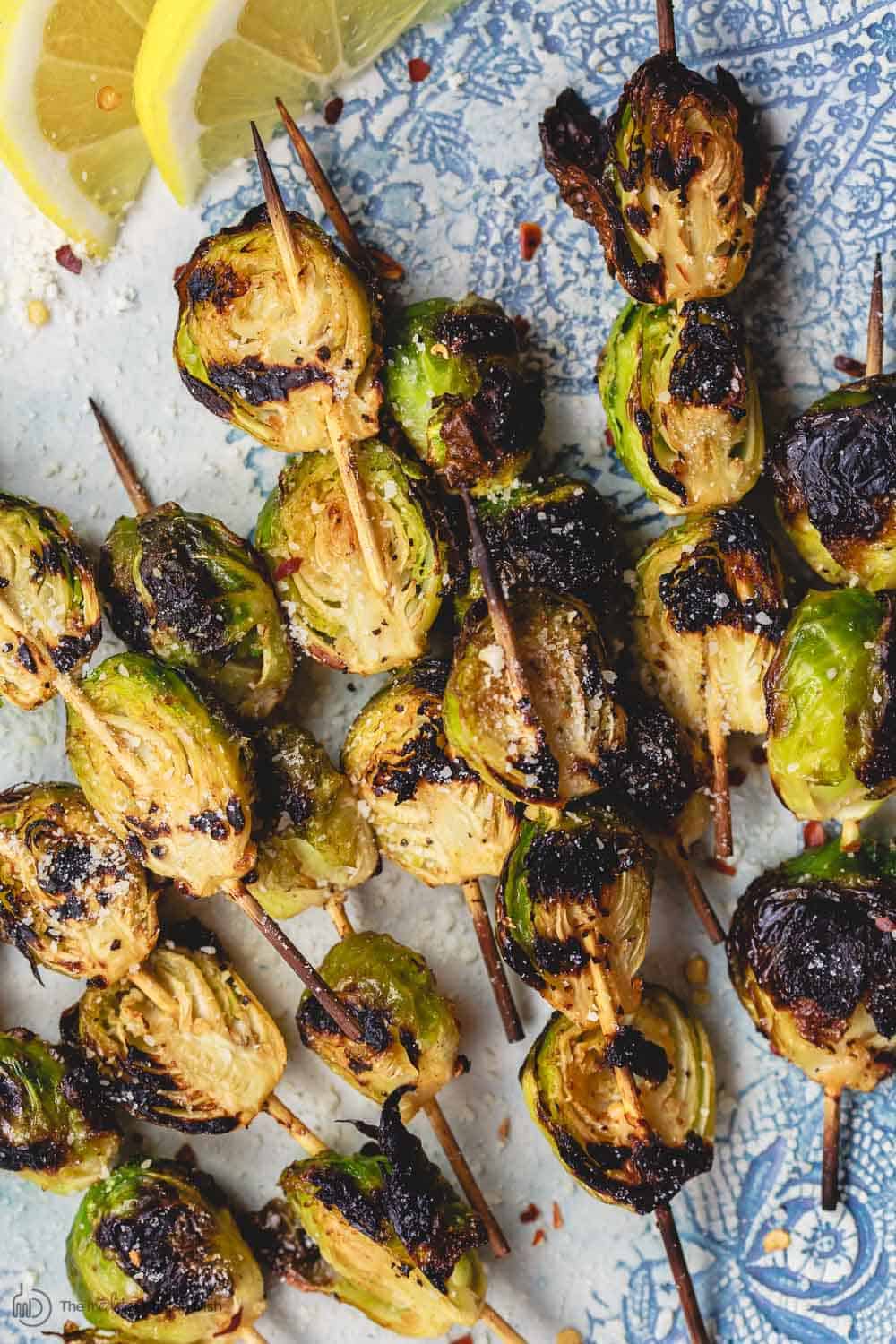 More Brussels Sprouts tips
I mentioned this in an earlier post, you're looking for Brussels sprouts to be at least the size of a quarter, smaller is considered underdeveloped. And of course, look for tight heads with no brown spots or wilted leaves. To avoid molding, wash and prep Brussels sprouts just before using.
Print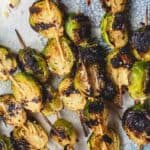 Grilled Brussels Sprouts Skewers
---
Description
Easy, tasty grilled Brussels sprouts recipe. Quickly marinated, Mediterranean-style, then perfectly charred, and finished with a sprinkle of Parmesan. A healthy, gluten free appetizer or side dish.
---
1

lb burssels sprouts, trimmed and halved

3 tbsp

Private Reserve Greek extra virgin olive oil

2 tsp

lemon juice, more for later

1 tbsp

minced garlic
Kosher salt and black pepper

1 tsp

smoked paprika
pinch crushed red pepper, to your liking
grated Parmesan cheese, to your liking
---
Instructions
Soak about 10 small wooden skewers in water for 30 mins or so.
Place brussels sprouts in a mixing bow and heat in microwave for 2 mins. Let cool enough before handling.
To the brussels sprouts add olive oil, lemon juice, and minced garlic. Season with salt, pepper, smoked paprika, and pinch crushed red pepper flakes. Toss to combine.
Now thread 3 to 4 brussels sprouts halves on each skewer (keep the stems facing the same direction).
Heat indoor grill or griddle like this one over medium-high heat (or an outdoor grill over medium heat). Arrange skewers in one layer on heated grill. Cover and cook for 4 mins on one side (or until nicely charred), then, using a pair of tongs, turn skewers over and cook on the other side another 3 to 4 mins or so (covered).
Transfer grilled brussels sprouts skewers to a serving platter. Squeeze a little bit more fresh lemon juice and sprinkle Parmesan cheese. Enjoy!
Notes
Cooking note 1: It's best if you use brussels sprouts that are close in shape and size so that you get even cooking.
Cooking note 2: If you have some of the marinade (EVOO, lemon juice, garlic etc.) left in the mixing bowl
Recommended for this recipe: Our Private Reserve Greek Extra Virgin Olive Oil (from organically grown and processed Greek Koroneiki olives). SAVE! Try our Greek Extra Virgin Olive Oil Bundle.
Recommended for this recipe: All-natural smoked paprika. SAVE! Create your own 6-pack or 3-pack bundle from our all-natural or organic spice collections.
Visit The Mediterranean Dish store here
Prep Time:

10 mins

Cook Time:

8 mins

Category:

Appetizer

Cuisine:

Mediterranean
Keywords: Grilled brussels sprouts recipe, grilled vegetable skewers, grilled brussel sprouts skewers
More Recipes To Try
Mediterranean Bean and Broccoli Pasta
Lebanese Style Cinnamon Meatballs