You'll love this comforting one-pan chicken orzo recipe, prepared Greek-style! Boldly seasoned chicken, nestled in a mixture of tiny orzo pasta with onions, bell peppers, and tomato and baked to tender, creamy perfection. Easy and satisfying.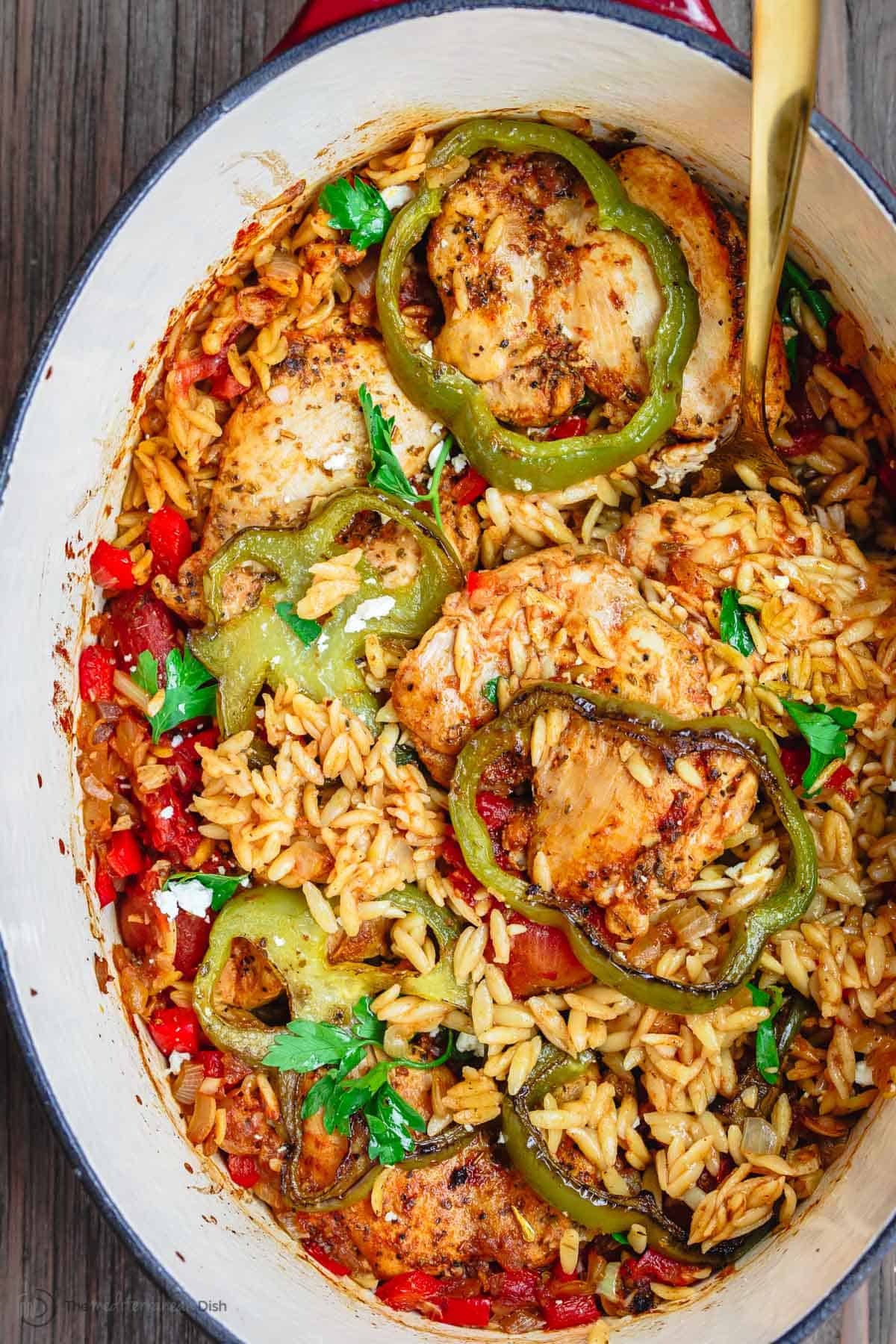 Chicken dinners are always a winner at my house. And luckily, there are so many options from juicy baked chicken thighs, to chicken piccata and grilled souvlaki, which make a lot of during the summer months.
But as a busy home cook, I'm always up for one-pan dinners, and I've been rotating between chicken and rice with warm Middle Eastern flavors and today's bold and comforting Greek-Style chicken orzo, which is my girls' favorite!
Why this chicken orzo bake works!
There is so much I love about this chicken orzo bake! A comforting, one-pot meal to feed a hungry little crowd, that's for sure. But the real draw is in the flavors!
Boneless chicken thighs take on a bold seasoning with dried oregano, paprika, and coriander. Then, the chicken is nestled in a mixture of tiny orzo pasta with aromatics including onions, garlic, tomatoes, and bell peppers. Yes, it is what we call around here, a flavor party!
Once baked in the delicious, flavor-packed tomato broth, the orzo soaks up all the goodness and turns extra plump, and the result is a velvety, creamy chicken orzo! This is all the comfort without the use of any butter or heavy cream.
And for me, a sprinkle of good feta cheese seals the deal on this comforting orzo recipe.
Fewer dishes to clean is never a bad thing, but just be sure to grab something like a large Dutch oven or oven-safe pot to fit all the ingredients.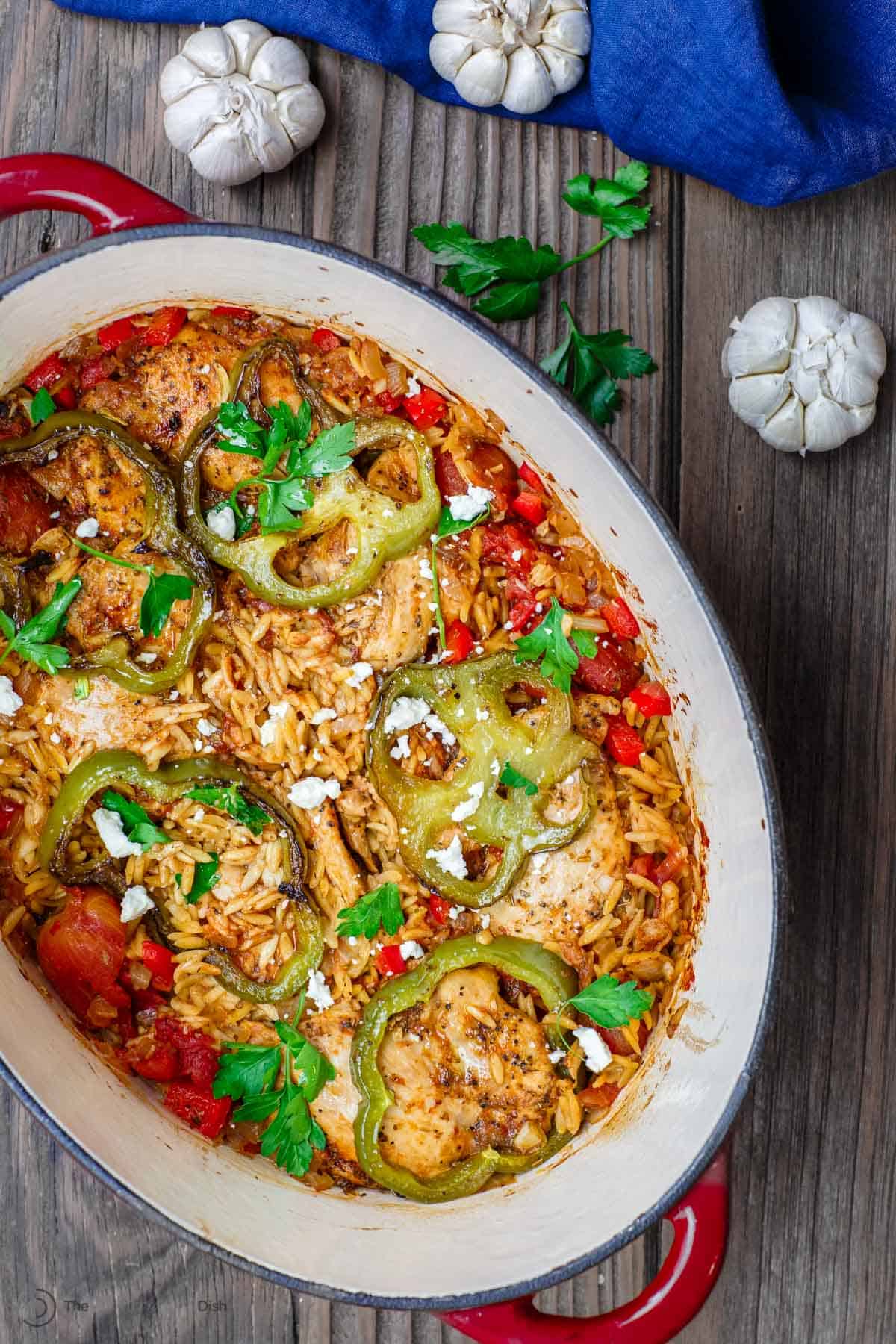 What is orzo?
Orzo is not rice. It is a tiny, short-cut pasta that is shaped like a large grain of rice. Orzo is traditionally made from wheat semolina flour or white flour but you can find whole wheat and gluten-free versions as well (so even my gluten free friends will have a way to make this!)
Orzo pasta is super convenient and quick to cook. That's exactly why I keep it on hand to use in everything from a one-pot orzo with chicken, to shrimp soup, or even a vegetarian main like this orzo recipe tossed with chickpeas and zucchini.
How to cook orzo?
As with any pasta, the typical way to cook orzo is in salted boiling water, and it will take somewhere around 8 minutes or so. If I am making it to use in an orzo salad or just as a plain side or bed for a saucy shrimp recipe, that is how I would cook my orzo. But today's recipe is different.
In something like this Greek orzo recipe with chicken, you do not need to cook the orzo in boiling water first. Instead, dry orzo is baked in the flavorful, tomato broth with the chicken and vegetables all in one pot. It will take about 20 minutes in the oven, and the result is velvety, creamy, extra plump orzo pasta that everyone loves!
How to make chicken and orzo
To make this easy, weeknight orzo recipe, be sure to grab a large Dutch oven or oven-safe pot to fit the chicken, orzo, and vegetables. Here is how it goes:
Season and brown the chicken
Mix together 2 teaspoons oregano and 1 teaspoon each paprika and coriander with a good pinch of kosher salt and black pepper. Then get rub this spice mixture all over the chicken (both sides). Squeeze a lemon all over the chicken and set aside for a few minutes as you work to prepare other things.
In your Dutch oven, heat up some good extra virgin olive oil and brown the chicken on both sides. This will take 8 to 10 minutes or so. Transfer the chicken to a plate so you can use the Dutch oven for the rest.

Sautee the vegetables
Grab 2 bell peppers, any colors you like, and cut them into rings. Throw the peppers in the pot and cook until they gain some color.
Set the peppers aside and throw some chopped onions (2 cups) in the pot. Cook the onions for a bit, then add some minced garlic and cook a little bit longer, tossing regularly



Add the liquid to make a broth for the chicken and orzo
To the pot, add some peeled whole tomatoes from a can (yes, use the tomato juices as well) and add 2 cups of chicken broth. Bring everything to a boil.

Add the orzo and chicken
When the liquid boils, add 2 cups of dry orzo and let that boil a bit. Nestle the chicken into the delicious orzo mixture. Top with those beautiful bell peppers you sautéed earlier.

Bake in 350 degrees F oven for 20 to 25 minutes
Tranfer your pot to the oven. Bake uncovered until the orzo has cooked through and has absorbed the majority of the liquid. When you take it out, cover it and let it sit for 5 minutes until the liquid is fully absrobed.

Finish and serve
For me, a drizzle more extra virgin olive oil, the good stuff, and a sprinkle of feta is the perfect way to finish this dish!
What to serve with it?
When I made this the other night, all I added as a side was my easy Greek salad to carry on the theme. But if you like, you can add a starter or two like Greek baked feta or melitzanosalata with your favorite crusty bread.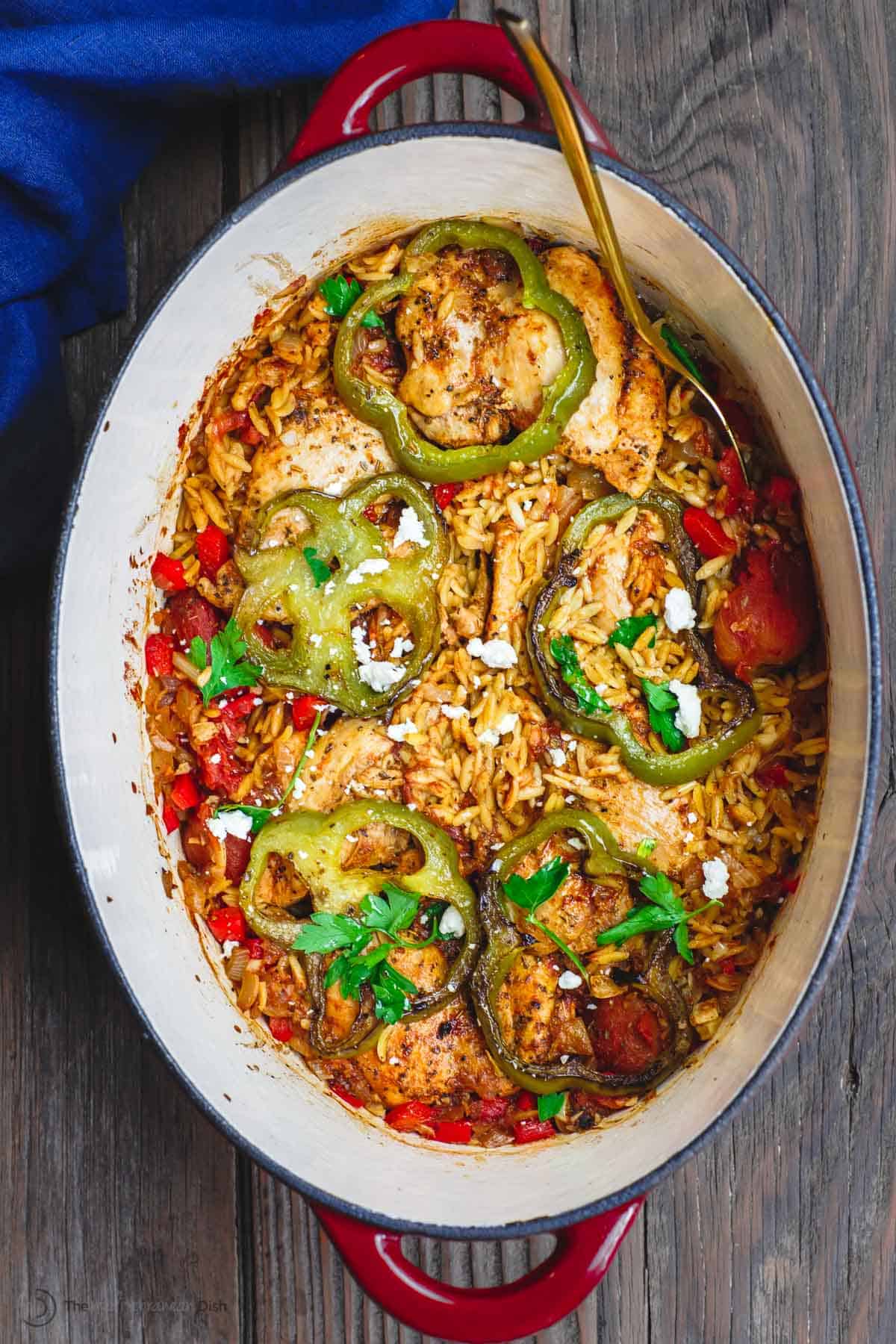 Equipment and special ingredients to make this recipe
Similar recipes to try
Browse more Greek recipes. You may also like our to browse top Mediterranean diet recipes or our Mediterranean recipes archives.
Visit our shop to browse quality Mediterranean ingredients.
Greek-Style Chicken Orzo Recipe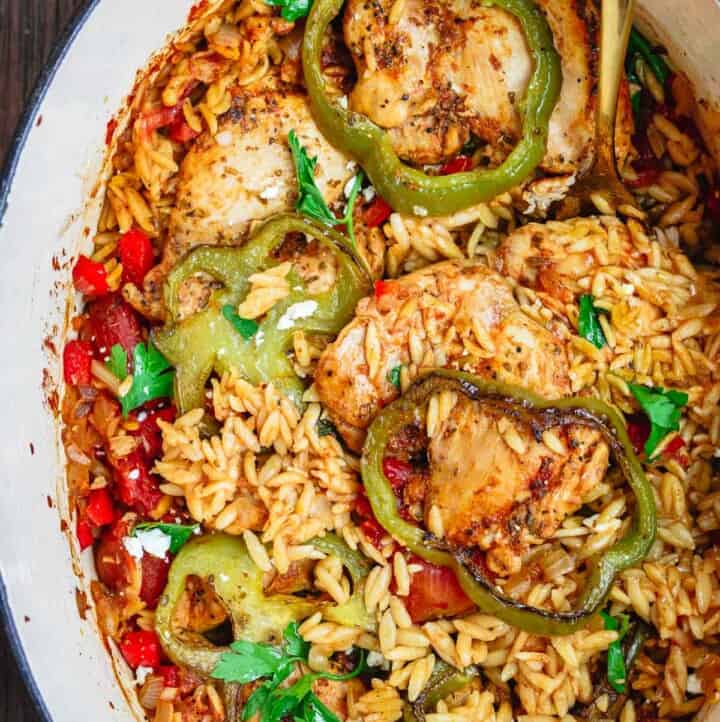 You'll love this comforting one-pan chicken orzo recipe, prepared Greek-style! Boldly seasoned chicken, nestled in a mixture of tiny orzo pasta with onions, bell peppers, and tomato and baked to tender, creamy perfection. Easy and satisfying.
Ingredients
For Chicken
2

teaspoon

dried oregano

1

teaspoon

sweet paprika

1

teaspoon

coriander

1

teaspoon

each kosher salt and black pepper

1.5

lb

boneless skinless chicken thighs

½

lemon,

juice of
For Orzo
2

Bell peppers any color,

cored and sliced into rounds

2

cups

chopped yellow onion

6

garlic cloves,

minced

2

cups

canned peeled plum tomatoes

2

cups

chicken broth

1

teaspoon

dried oregano

1

teaspoon

sweet paprika

Kosher salt and black pepper

Feta cheese for garnish,

optional
Instructions
Heat oven to 350 degrees F.

In a small bowl, combine spices (oregano, paprika, coriander, salt and pepper.)

Pat the chicken dry, and season well with the spices on both sides. Place the seasoned chicken in a large tray or bowl and add lemon juice. Set aside for a few minutes.

In a 5-quart Dutch oven like this one or a large oven-safe pot, heat 2 tablespoon extra virgin olive oil over medium-high until shimmering.

Add the chicken and brown on both sides (about 8 to 10 minutes). Transfer the chicken to a plate for now.

In the same pot, add the bell pepper slices and sear on either side. Remove and place with the chicken for now.

If needed, add another tablespoon of extra virgin olive oil. Add the chopped onions and cook for 5 minutes, stirring regularly, until soft. Add the garlic, and cook another 30 seconds, then add the tomatoes, broth, spices, and a dash of kosher salt and pepper. Bring to a boil then add the orzo pasta.

Nestle the chicken pieces into the orzo mixture, and top with the bell pepper slices.

Transfer the pot to the heated oven oven. Bake, uncovered, for 20 to 25 minutes or until the orzo is fully cooked and has absorbed most of the liquid. Remove from oven, cover and let sit 5 minutes undisturbed (the orzo will absorb any juices.)

Before serving, drizzle a little extra virgin olive oil, and garnish with fresh parsley and feta, if you like.
Notes
For the spices and olive oil used, browse our online shop here.
Leftovers & storage: allow any leftovers to cool completely and store in the fridge in tight-lid containers. If stored properly, leftovers orzo and chicken will keep for 3 days or so.
Nutrition
Calories:
160.6
kcal
Carbohydrates:
5.3
g
Protein:
23
g
Saturated Fat:
1.2
g
Cholesterol:
107.7
mg
Sodium:
584.2
mg
Potassium:
470.1
mg
Fiber:
1.7
g
Sugar:
1.7
g
Vitamin A:
1071.7
IU
Vitamin C:
52.6
mg
Calcium:
43.9
mg
Iron:
1.8
mg
*This post first appeared on The Mediterranean Dish in 2018 and has been updated with new media and information for readers' benefit.