Learn how to grill watermelon and turn it into a special summer appetizer everyone will love! This juicy grilled watermelon recipe is next level delicious thanks to a dash of Aleppo chili pepper flakes and a drizzle of honey-lime sauce. A must-try!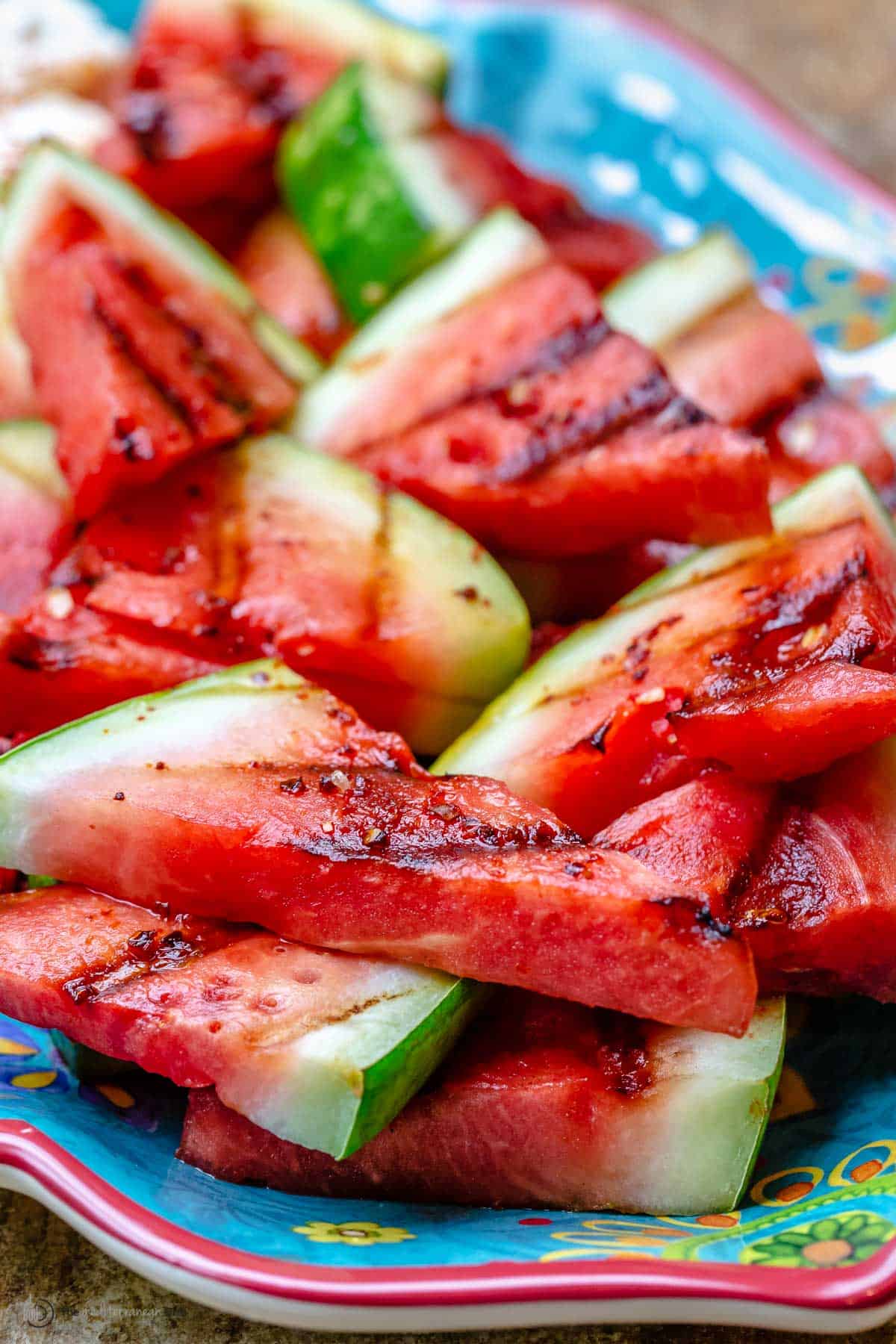 I love fresh, sweet watermelon – especially in this Mediterranean watermelon salad with a bit of salty feta and herbs, or in a refreshing summer cocktail like my watermelon sangria. But did you know you can grill watermelon, too?
Grilled watermelon is delicious immediately off the grill on its own, but I highly recommend you make the honey-lime sauce to drizzle on top! The citrus and the sweet honey enhance the taste of the smoky, warm watermelon. It's a true balance of flavor, with heat, sweet, and citrus all in one–it's the same trick I use for grilled corn and mango.
This grilled watermelon is perfect as a first course, on its own, with a side of whipped feta, or alongside savory Mediterranean appetizers as my guests arrive, like Fatteh Spiced Chickpeas With Crispy Pita And Garlicky Yogurt. Or, serve alongside savory grilled meat, like skirt steak or chicken.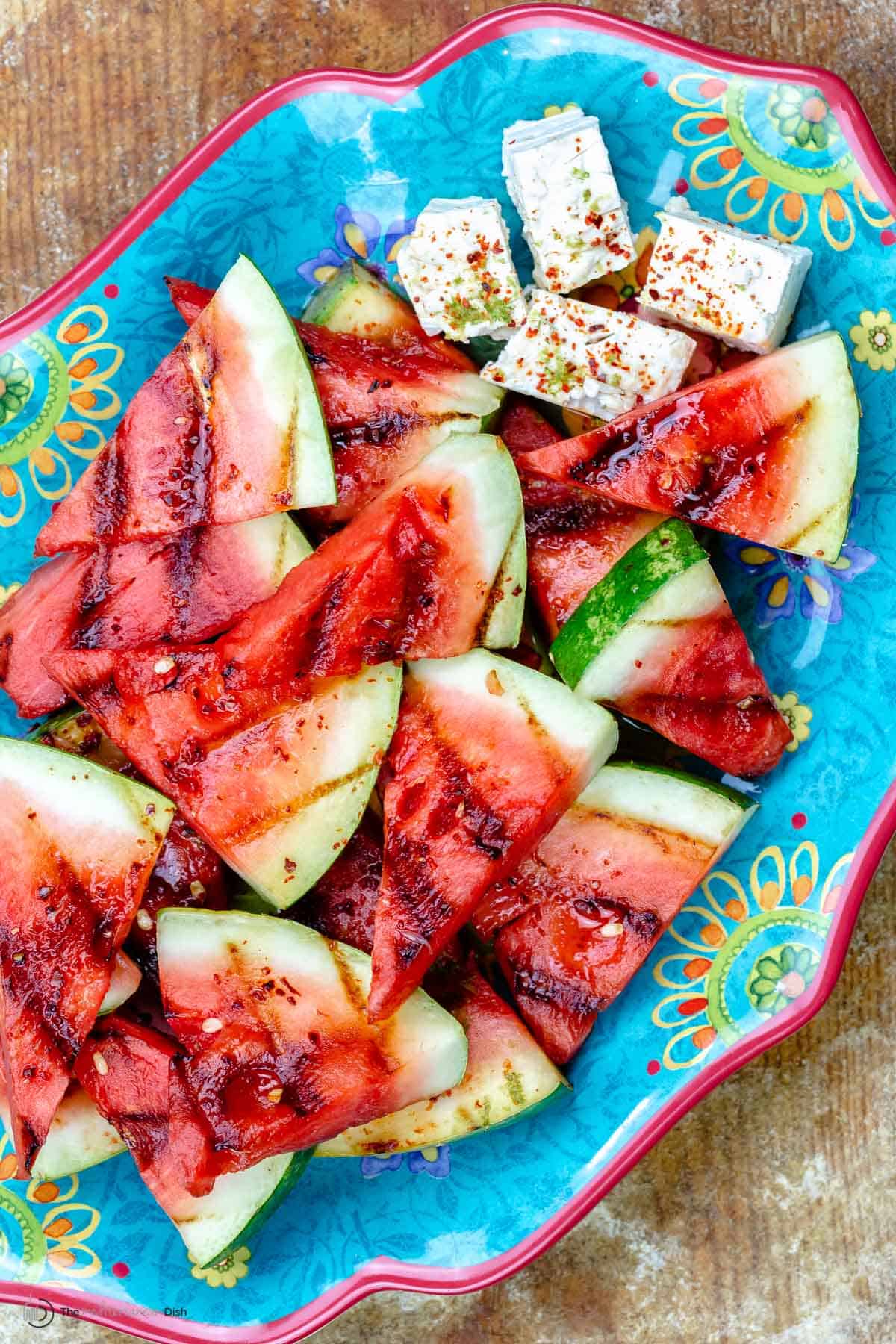 What happens when you grill watermelon?
Grilling watermelon may sound odd, but don't dismiss the idea just yet!

Just like with grilled mango, the grill not only gives it beautiful char marks, it also caramelizes the sweetness and gives it a slightly smoky flavor in just a few minutes!

And as far as the texture, a grilled watermelon will remain juicy but will turn somewhat chewy in a satisfying way. Some even compare it to the texture of meat, and while I wouldn't say that, the texture change is definitely surprising in the best way!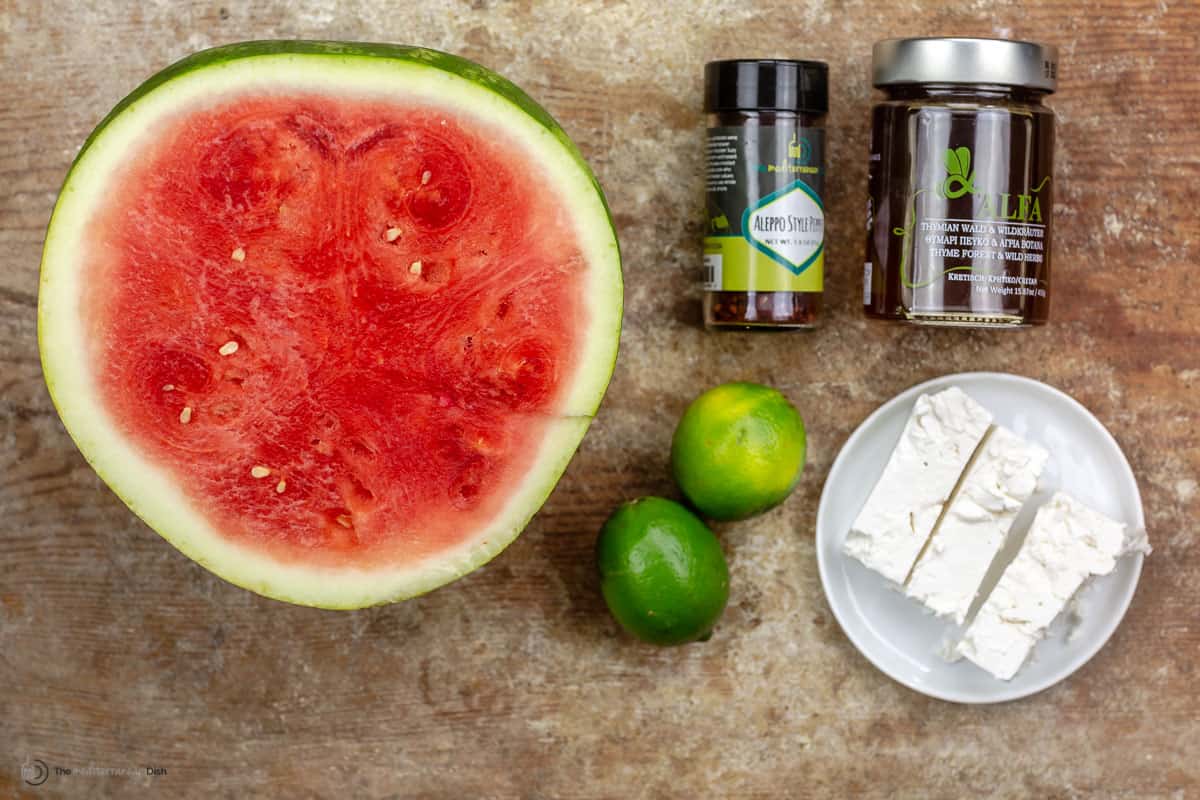 The honey-lime sauce
The sweet, spicy sauce with the perfect tang takes the caramelized watermelon to the next level! Here's what you need for the quick honey-lime sauce:
Honey - To complement the smokiness of the melon and balance the citrus from the lime.
Limes - Both the lime juice and lime zest are used in this recipe to add tang and brightness, as well as to tame the sweetness of the watermelon and honey.
Aleppo pepper - I like the balanced heat of Aleppo pepper with a bit of sweetness to it, but if you don't have it, you can substitute red pepper flakes.
How to cut watermelon for grilling
For grilled watermelon, you want thick triangle-shaped slices with the rind on. This way the melon does not fall apart as it cooks. I have a full tutorial for how to cut a watermelon into wedges in just a few simple steps, but here's the gist:
Wash the watermelon. Be sure to wash the watermelon before slicing since we will be leaving the skin/rind on.
Cut the watermelon in half. Slice the watermelon in half crosswise (across the fattest part of the watermelon).
Cut each half in half. Place the halves flat side down and slice them in half again, so that you now have four watermelon quarters.
Slice each quarter into triangles. Slice the quarters in half once more, to end up with 8 thick watermelon wedges. From there, you can slice them into ½-inch thick triangles. The triangles will be large, so you can slice them down the middle to make smaller wedges that are easier to handle.
How to grill watermelon
Grilled watermelon is quick and easy to make. No outdoor grill? No problem! You can make this recipe on an indoor griddle or cast-iron grill. Here is what you do:
Cut the melon into thick triangles. Slice the watermelon into ½-inch thick triangles, leaving the rind (or skin) attached. (If you're not sure, check out the details above for how to cut watermelon.)



Grill the watermelon. Arrange the melon slices on the grill or griddle in one single layer. Grill over high direct heat for 2 to 3 minutes, until grill marks appear.



Prepare the honey-lime sauce. While the watermelon slices are grilling, whisk together a ¼ cup honey, juice and zest of 2 limes, and a good dash of Aleppo pepper or red pepper flakes. Cover and warm up for no more than 10 seconds in the microwave. If the honey is too thick, put it in a covered jar and then place the jar in a large bowl of very warm water to help loosen it.



Serve. Arrange the grilled watermelon on a plate and drizzle with the chili and honey-lime sauce. Top with a little feta cheese if desired.


Tips for success
Opt for a mini watermelon. A "personal" sized watermelon of 2 ½ pounds will make plenty of grilled watermelon for a small crowd of people. Check out our essential guide on How To Pick A Watermelon for tips on finding the juiciest, ripest watermelons at the store.
Do not overcook the melon! Watermelon cooks quickly on the grill. While you want grill marks or even a tiny bit of charring, you don't want to overcook the watermelon. It can taste burnt and become too mushy if overcooked.
Serving your grilled watermelon
Serve grilled watermelon as an appetizer or a side dish to things like grilled harissa chicken, souvlaki, chicken wings, or grilled fish!
You can even serve it as a dessert! Just add a scoop of vanilla ice cream and a drizzle of some good honey over the grilled watermelon wedges for a quick summertime dessert option.
How to store leftovers
Grilled watermelon slices should be enjoyed warm, straight from the grill. Only grill as much as you think will be eaten immediately, because cooked watermelon does not keep well.
Any leftover fresh watermelon that hasn't been cooked should be tightly wrapped in plastic and put in the refrigerator. It will stay fresh for up to 5 days if stored properly.
More grilling recipes
Browse all Mediterranean recipes.

Visit Our Shop.
How to Grill Watermelon (Easy Grilled Watermelon)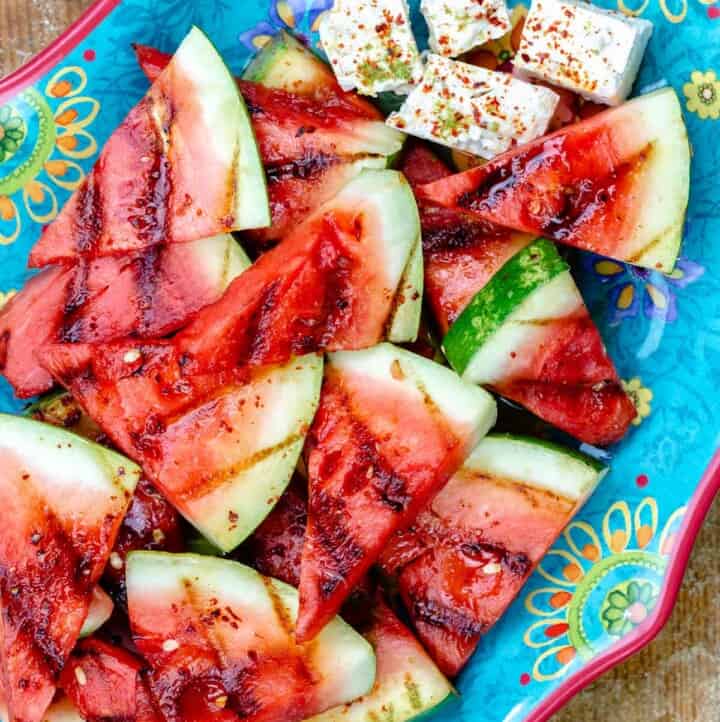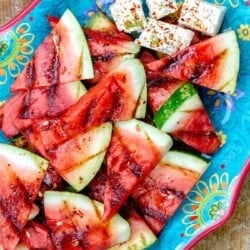 Juicy, charred, and a little smoky, this Grilled Watermelon with Chili and Honey-Lime Sauce is a quick and easy summer dish that will truly stand out! Pro tip: Use a mini watermelon. A "small" 2 ½-pound watermelon will yield plenty of grilled watermelon to feed a small crowd! Serve it as a side with harissa chicken or grilled fish, or as a summery dessert with a scoop of vanilla ice cream and a drizzle of honey.
Ingredients
1

small personal-sized watermelon, about 2 ½ pounds

¼

cup

honey

2

limes,

zested and juiced

2

teaspoons

Aleppo pepper,

or ½ to 1 teaspoons red pepper flakes

blocks of creamy feta for serving,

(optional)
Instructions
Heat an outdoor gas grill or an indoor griddle or cast iron grill to high.

Slice the melon. Wash the melon and trim the ends so that you're able to set the melon flat on your cutting surface. Cut the melon it into two halves, then cut the halves into quarters. From there slice into ½ -inch triangles with the rind on (do not remove the rind/skin).

Grill. Arrange the melon wedges or triangles on the prepared hot grill in one single layer. Grill over high direct heat for about 2 to 3 minutes on each side, watching for some grill marks to appear.

While the melons are on the grill, quickly prepare the chili and honey-lime sauce. In a small microwave safe bowl, combine the honey, lime juice, and Aleppo pepper flakes (or red pepper flakes). Mix with a spoon then warm the mixture in the microwave for just a few seconds (no more than 10 seconds). Or, you can put your honey in a glass jar and cover tightly and leave it in a bowl of warmed water until it has loosened).

Arrange the grilled watermelon.
Notes
If serving as an appetizer, this dish can serve 6 people or so.

If you don't plan on using the entire melon to make this recipe, cover fresh, uncooked melon with plastic wrap and refrigerate for later.

Cut in thick triangles and do not remove the rind! Do not cut the melon slices any thinner than ½ inch, and make sure to leave the skin on which will help keep the melon from falling apart as it cooks.
Serve immediately! Grilled watermelon is best served and enjoyed immediately off the grill, so be sure to have prepared anything else you need before you cook the watermelon.
As a side, this recipe can be served next to things like: harissa chicken, chicken wings, souvlaki, or even grilled fish.
To serve as a dessert, omit the sauce and add a scoop of vanilla ice cream and a drizzle of some good honey (I love this Greek thyme honey).
Visit Our Shop to browse quality Mediterranean ingredients including olive oils, honey, and spices.
Nutrition
Calories:
96.9
kcal
Carbohydrates:
25.7
g
Protein:
1
g
Fat:
0.4
g
Monounsaturated Fat:
0.1
g
Sodium:
13.5
mg
Potassium:
212.5
mg
Fiber:
1.5
g
Sugar:
21.4
g
Vitamin A:
1069.1
IU
Vitamin C:
18.8
mg
Calcium:
21
mg
Iron:
0.7
mg
*This post first appeared on The Mediterranean Dish in 2021 and has been recently updated with new information and media for readers' benefit.