Tender and perfectly charred, this Mediterranean Grilled Eggplant finished with a drizzle of olive oil infused with garlic and jalapeno. This eggplant recipe is great served as side, vegetarian main, or a warm and smoky appetizer with whipped feta and pita bread.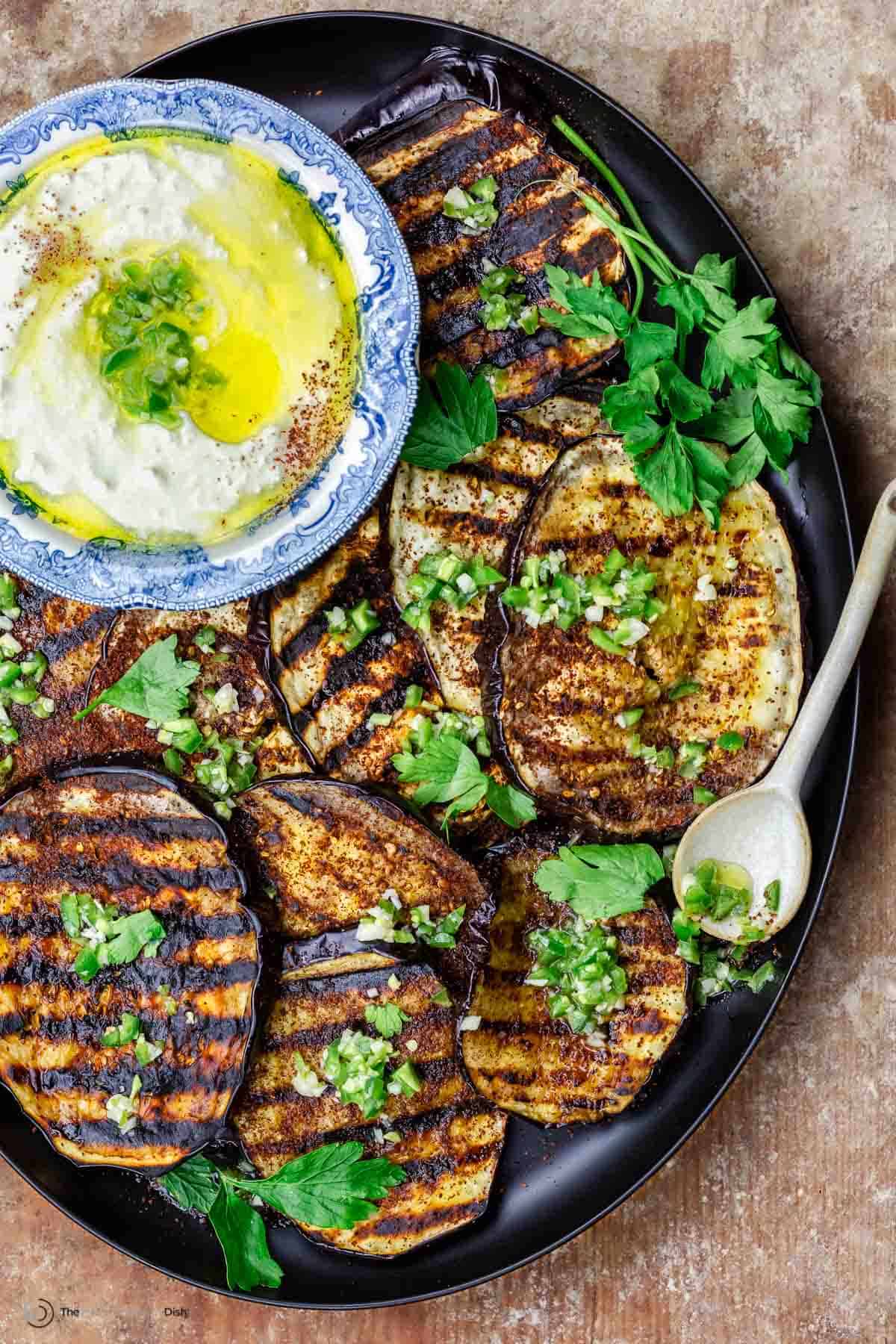 An easy grilled eggplant recipe
Mediterranean Grilled Eggplant is the perfect example of how easy eggplant can be to work with - despite the common belief that it is fussy, bitter, or complicated to work with. In reality, when eggplant is prepared properly it is tender and hearty that you can even use it in place of meat.
I'm all about grilling vegetables, anything from vegetable kabobs to zucchini rounds. Grilling eggplant is no more difficult than grilling other vegetables, especially with this recipe. You do not have to peel eggplant before cooking, and you do not have to soak it either. But I'm a big fan of salting your eggplant (more on this later).
From there, all it takes for the perfect, charred and smoky eggplant is a brush of good extra virgin olive oil and a hot grill or indoor griddle (I'm a fan of cast iron griddles and I use one in my video below)! The sky is the limit when it comes to adding flavor, but I like to top it with my garlicy, jalapeno infused olive oil sauce and serve it Mediterranean-style with my whipped feta and wedges of pita!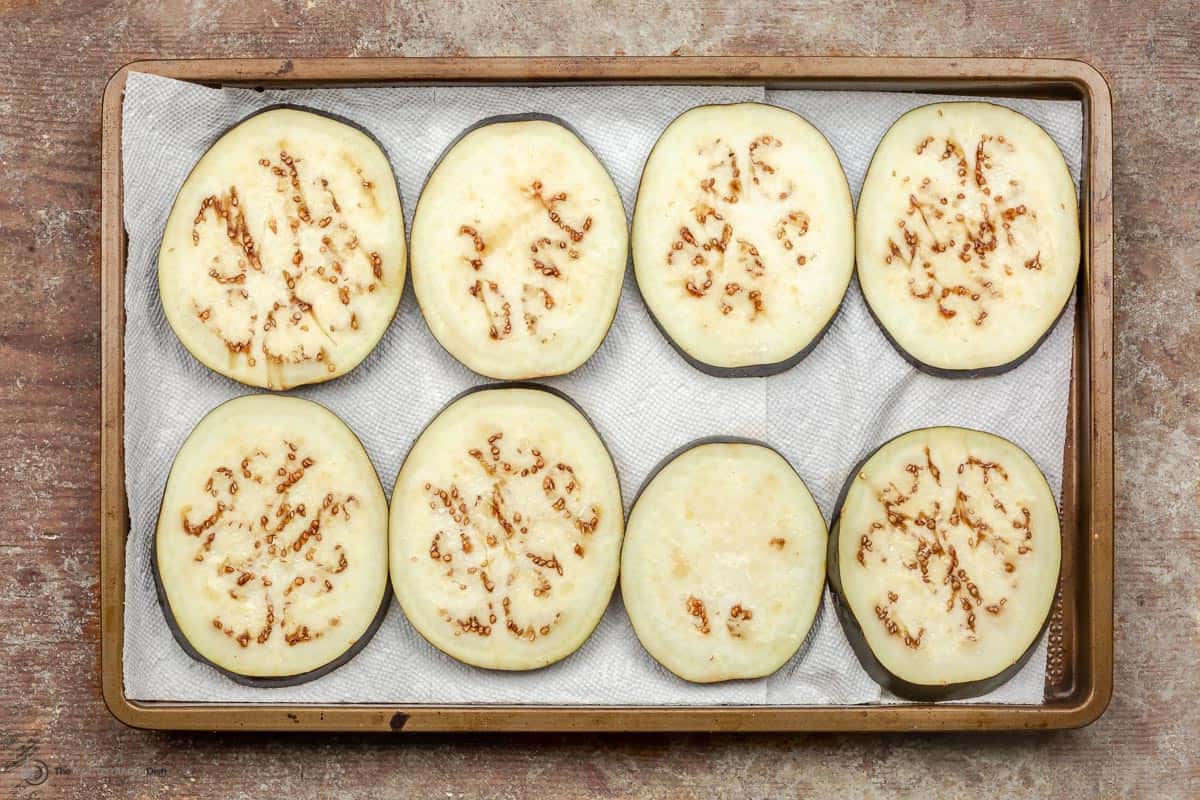 What kind of eggplant is best to use in this recipe?
You can almost grill any kind of eggplant you find. Globe eggplants are the most readily available here in the US, and because they are large and hearty, they lend themselves well to slicing and grilling in this recipe. Rosa bianca eggplants--the ones with the beautiful purple and white markings--are smaller and tend to be less bitter or even white eggplant, and are also great for grilling. You may also be able to try Japanese eggplant or white eggplant, but their shapes are a little more tricky to work with in a grilled eggplant recipe like this one.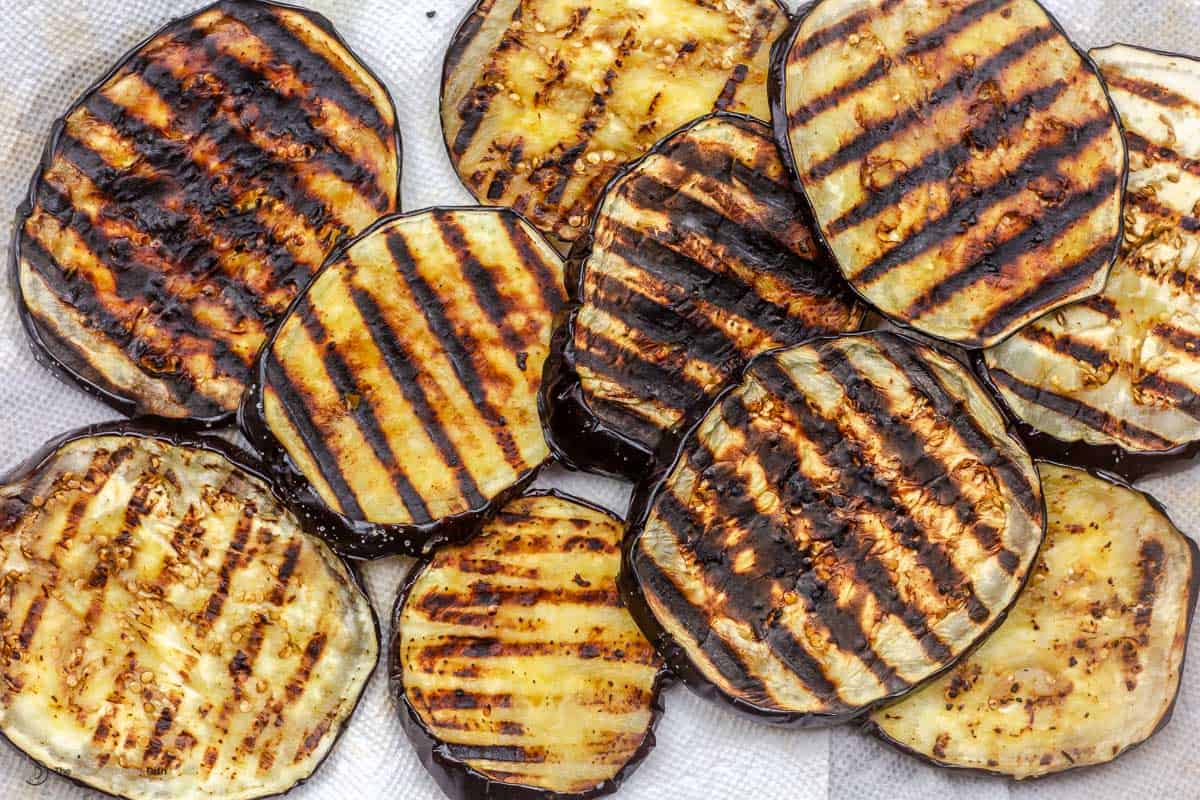 Should I salt eggplant before cooking it?
Unless you're grilling eggplant whole to make Baba Ganoush or Melitzanosalata, two dips I love, you'll want to budget a few extra minutes to salt your eggplant. I do believe salt enhances the flavor and texture. Especially if you run into an older, bitter eggplant with too many seeds. Beads of water will surface when you salt your eggplant slices and allow them to sit for a few minutes. While drawing out moisture, salt helps the eggplant sweat out some bitterness and, at the same time, it breaks down the eggplant's spongy texture, resulting in a more velvety, tender grilled eggplant.
It is an optional step and requires you to budget 20 to 30 extra minutes, but I do it almost every time I work with eggplant. Unless I'm grilling eggplant whole for something like an eggplant dip, whether I'm grilling, roasting, or making something more involved like eggplant parmesan or caponata.
Do not peel eggplant before grilling
Eggplant skin is completely edible and has some nutrition benefits. And in this eggplant recipe, the skin will hold the thin eggplant slices so they won't fall apart while cooking.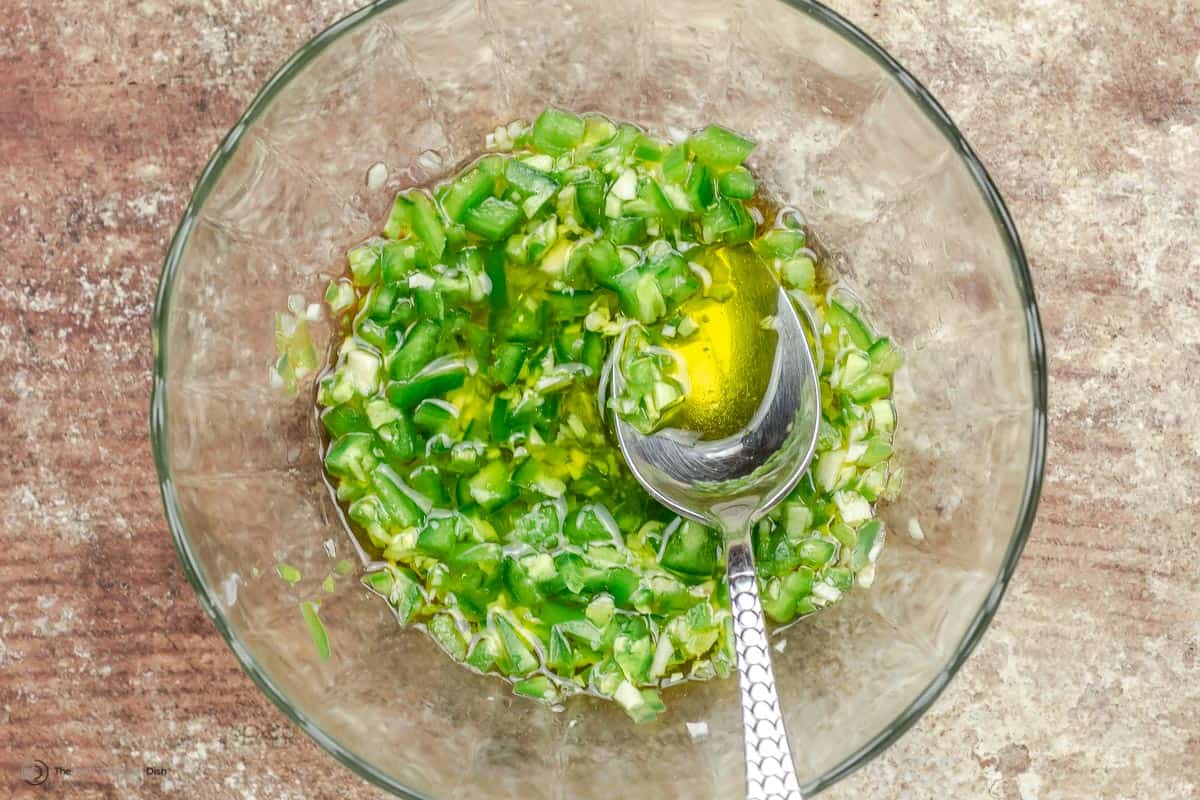 How to grill eggplant (step-by-step)
Here are the basics of how to grill globe eggplant:
Slice. Slice the eggplant into ½-inch rounds.
Salt the eggplant. Generously salt the eggplant on a large tray and let them sit for 20 to 30 minutes. Dry the eggplant and remove excess salt before grilling.
Heat a gas grill or indoor griddle over medium-high heat and lightly oil the grates or surface.
Brush the eggplant slices with olive oil. You'll want to make sure the surface of the eggplant is coated with good olive oil, this will enhance its texture and will lend good flavor.
Grill over medium high heat for 3 to 4 minutes on each side. Cooking time will vary, depending on how thick your eggplant slices are. Watch for them to get tender and for good char marks form. Be sure to remove the eggplant from the grill as soon as it's tender with a few char marks. Leaving it on for too long will lead to a too soft, mushy texture.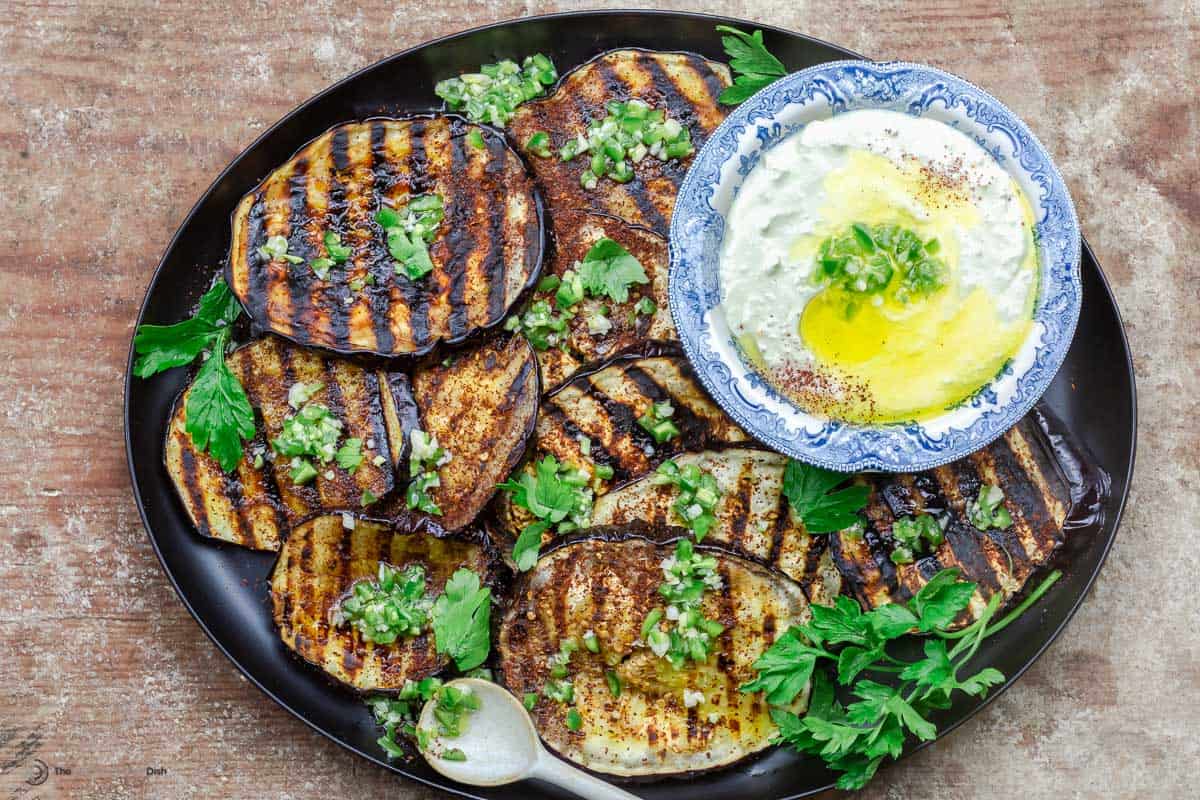 Flavor and serve grilled eggplant immediately!
Given eggplant is hearty and neutral tasting, it will take to any number of flavor combination. I highly recommend season the eggplant hot off the grill. In this recipe, I made a quick sauce with good extra virgin olive oil infused with garlic and jalepeno peppers, which is a hit!
To serve this Mediterranean eggplant recipe, add whipped feta and wedges of warmed pita bread. I love slathering the pita with a bit of whipped feta and then staking my seasoned eggplant on top. The best! Check out the video to see how I do it!
How to store leftovers
Leftover grilled eggplant should be stored in an airtight container in the fridge. Note that it's best when enjoyed fresh but it will last in the fridge for up 3 days. Reheating it will make the texture extra soft, so I recommend enjoying it cold instead. It adds fantastic to add to something like this chickpea salad.
More eggplant recipes:
Browse top Mediterranean diet recipes. Browse all Mediterranean recipes.
Mediterranean Grilled Eggplant with Whipped Feta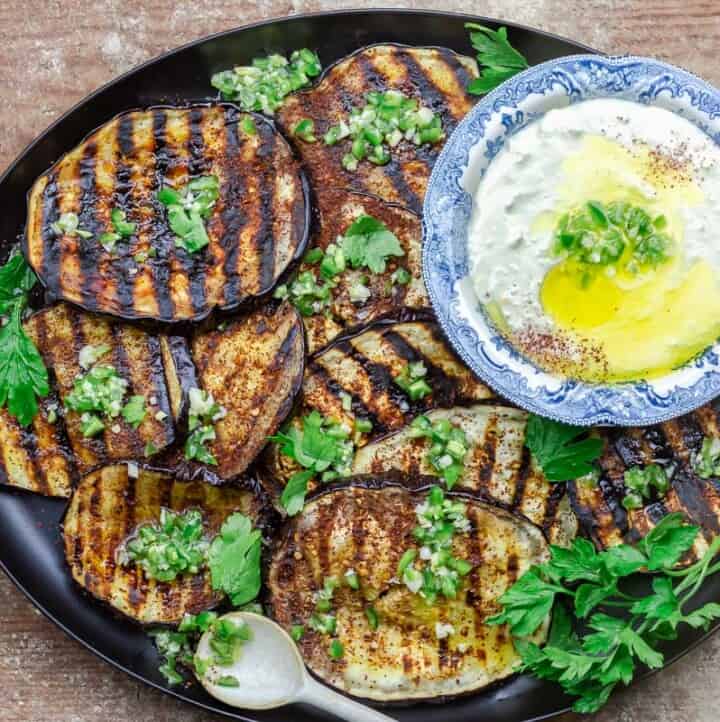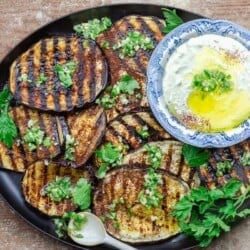 Tender and perfectly charred, this Mediterranean Grilled Eggplant is finished with a drizzle of olive oil infused with garlic and jalapeno. It's a warm and smoky appetizer that's best served Mediterranean-style with whipped feta and pita.
Ingredients
1

globe eggplant,

sliced into ½-inch rounds

Kosher salt
Olive Oil, Garlic, and Jalapeno Sauce
2

garlic cloves,

minced

1

lemon,

juice of

1

jalapeno,

finely chopped, remove ribs and seeds if you need it to be more mild

1 to 2

teaspoons

sumac
Instructions
Slice and salt the eggplant. Lay the eggplant slices on a large tray lined with paper towel. Salt the eggplant generously and let it sit for 20 to 30 minutes while you work on other things. Beads of water will form. Wipe the eggplant dry and remove excess salt before grilling.

Make the garlic, jalapeno and olive oil sauce. In a small bowl, combine 3 tablespoons olive oil with the lemon juice, garlic, and jalapeno. Add a pinch of kosher salt and set aside (the lemon and olive oil will tame the hot peppers and the pungent taste of garlic).

If serving with whipped feta, follow this recipe but you do not need the nuts in this case.

When ready, heat a gas grill or an indoor griddle over medium-high and lightly oil the grates. Make sure the grill is fully heated before adding the eggplant.

Brush the eggplant slices on one side with olive oil.

Arrange the eggplant on the heated grill, oiled side down first. Grill anywhere for 3 to 4 minutes on this side or until some char marks form on the bottom, then turn over and brush the other side of the eggplant with olive oil. Cook for another 3 to 4 minutes or until the eggplant is tender and good char marks have formed on both sides.

Arrange the grilled eggplant on a large platter and immediately season with sumac and drizzle the olive oil and jalapeno mixture all over. Add the plate of feta and warmed pita bread for serving.
Notes
This eggplant recipe is best served immediately off the grill with the olive oil and garlic sauce on top and a side of whipped feta.
Whipped feta can be made one night ahead and saved in the fridge.
Other flavors to add: If you don't want to make the olive oil sauce or the whipped feta, grilled eggplant is great with any number of seasonings. I like to add a dash of za'atar or even dukkah on top.
Leftovers: Store leftovers in the fridge in a tight-lid container for up to 3 days. I don't recommend reheating, you can enjoy it cold or at room temperature with a salad of your choice.
Nutrition information is a best estimate and pertains only to the grilled eggplant with olive oil sauce. The Whipped Feta Recipe can be viewed separately
Visit Our Shop for quality Mediterranean ingredients including extra virgin olive oils and spices.
Nutrition
Calories:
106
kcal
Carbohydrates:
6.6
g
Protein:
1
g
Saturated Fat:
1.3
g
Polyunsaturated Fat:
1
g
Monounsaturated Fat:
6.6
g
Sodium:
2.3
mg
Potassium:
209.5
mg
Fiber:
2.9
g
Sugar:
3.3
g
Vitamin A:
46.8
IU
Vitamin C:
14.3
mg
Calcium:
13.7
mg
Iron:
0.4
mg