This easy Mediterranean orzo salad recipe is loaded with crunchy veggies and fresh herbs and dressed with a light lemony dressing you'll love. Perfect to make ahead for lunch or pair with anything from garlicky baked chicken drumsticks to crispy pan seared salmon (lots more ideas below). Be sure to watch the video below for some great tips!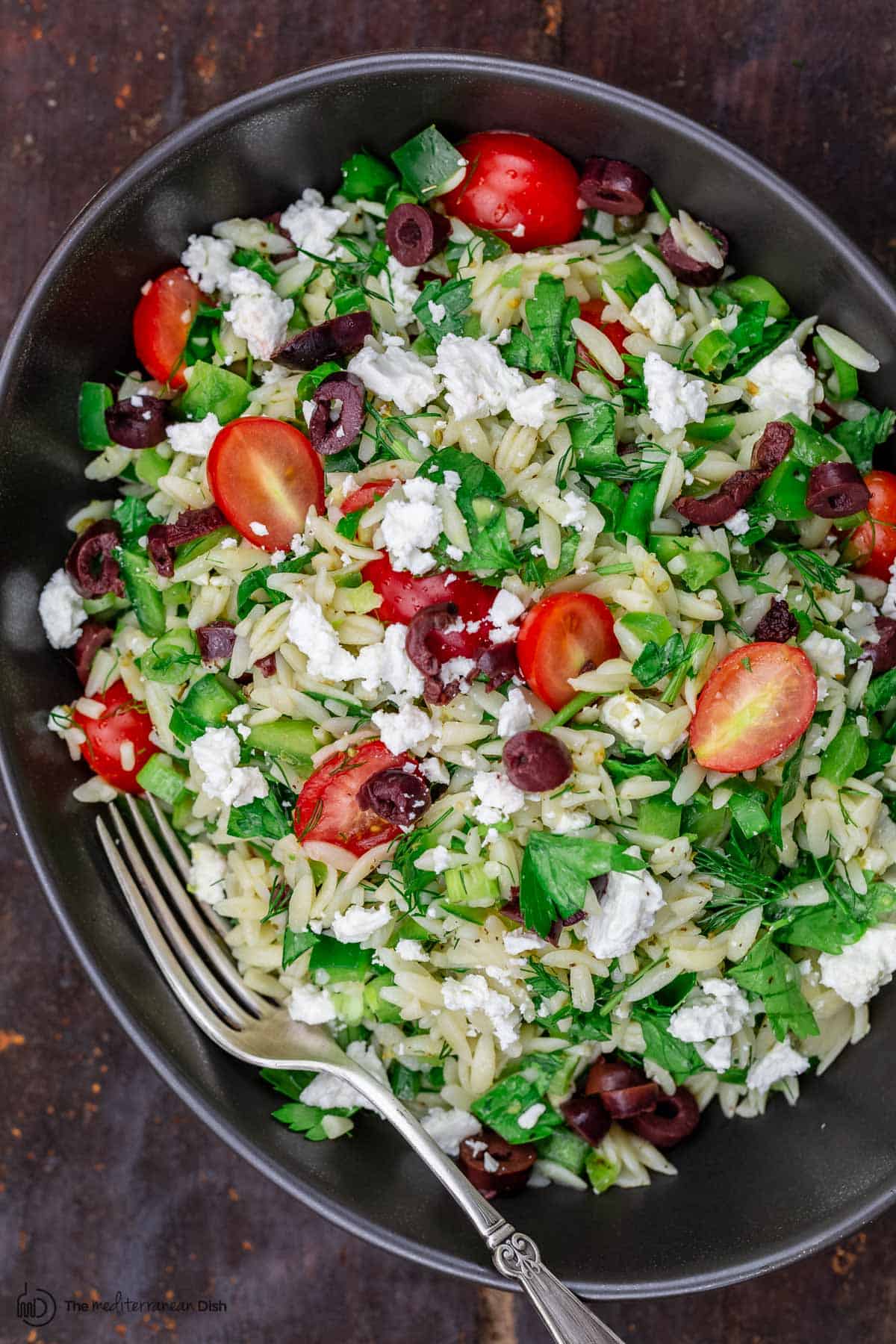 This 20-minute Mediterranean orzo salad recipe is loaded with big flavors like tomatoes, peppers, fresh herbs, creamy feta, briny olives, and tossed in a bold lemony dressing. And I just love how versatile it is as a simple vegetarian lunch or side next to your protein of your choice for a quick and healthy dinner (check out some ideas below). It's a big family favorite all year round, and I can't wait for you to try it!
What is orzo?
Orzo is actually a tiny, short-cut pasta, shaped like a large grain of rice but it is not rice. Orzo is traditionally made from wheat semolina flour or white flour but you can find whole wheat and gluten-free versions as well (so even my gluten free friends will have a way to make this!)
Orzo pasta is super convenient to cook with because it cooks in about half the time that rice does, and you can eat it hot or cold. That's exactly why I keep it on hand to use in everything from today's salad to shrimp soup; as a vegetarian main like this orzo recipe tossed with chickpeas and zucchini; or in a satisfying Greek baked chicken orzo dinner!
How do you cook it? Cook orzo just as you would small pasta. In order to make it that perfect chewy consistency (and to avoid making it mushy!) simply bring a pot of lightly salted water to a boil (the amount of water will depend on how big your package of orzo is), then add the dried orzo pasta. Boil it for roughly 8 to 10 minutes until it has a firm and chewy texture. You'll want to keep stirring the tiny pasta so that it doesn't stick together, but no need to add cooking oil to the pasta water, it will be fine with just the water and salt. Once you've tested the texture, drain the orzo in a colander.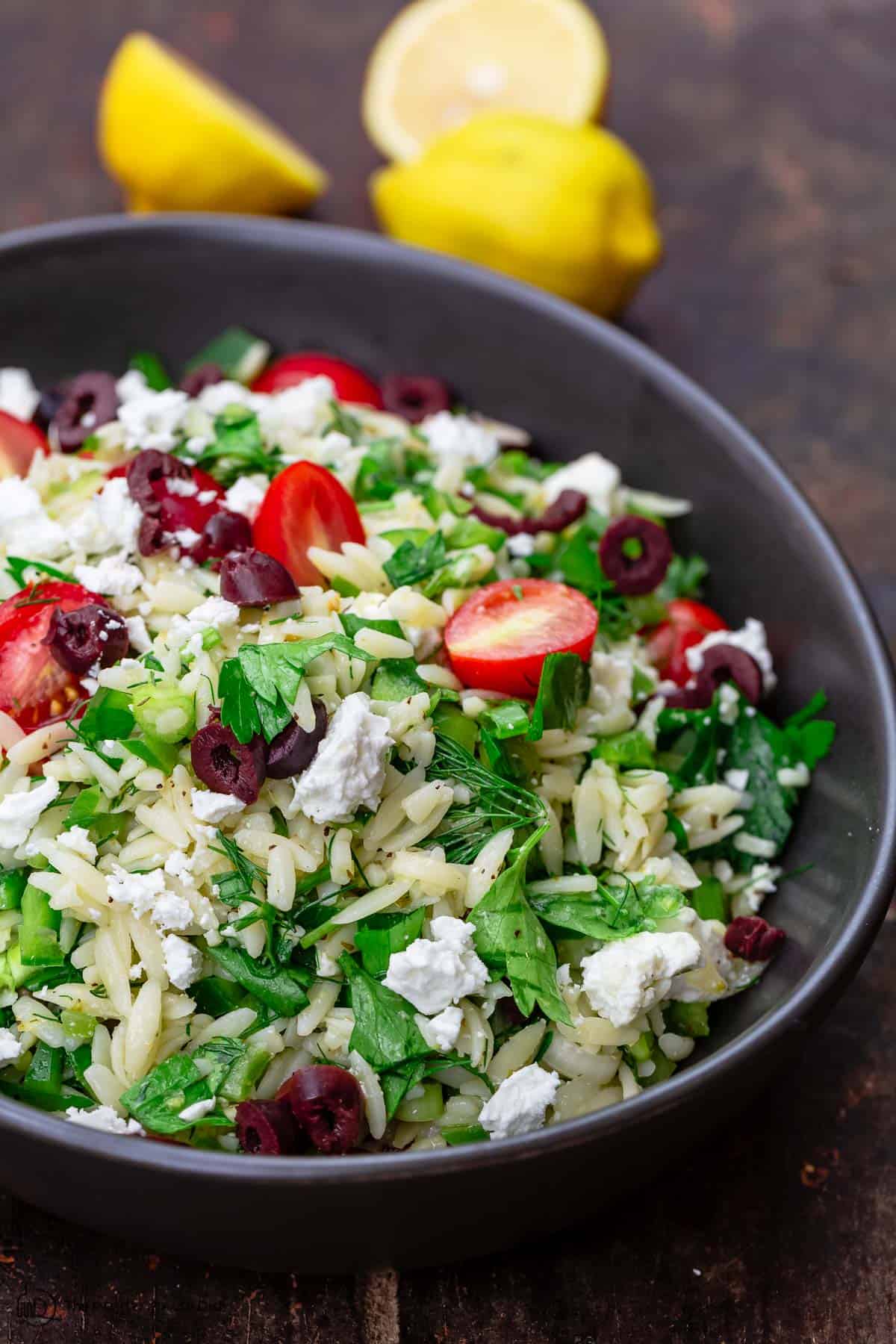 What's in this orzo salad recipe?
These are familiar ingredients that you will find in a Greek orzo salad, together they deliver some big bold flavors that I enjoy year round. Here is what's in it:
Tomatoes: I like using small tomatoes here like grape or cherry tomatoes. Even though they're small, it's a good idea to slice them in half so that they release their juices and add flavor to the salad.
Chopped vegetables: green onions, use both the white and green parts for a more dynamic flavor. You can also add a green bell pepper with the seeds removed and a cucumber. I recommended only using a cucumber if you're serving immediately, otherwise the water content of the cucumber will not sit well in the fridge.
Herbs: I use fresh parsley and dill. They add an earthy flavor that brightens the dish. Dill is grassy with a licorice-like taste and parsley has lots of herbaceous notes. Then I use dried oregano for the lemony dressing.
Kalamata olives and capers: these add texture and a nice briny tang.
Crumbled feta: Use a little or a lot, but a few crumbles of salty feta will seal the deal on this orzo salad!
Mediterranean salad dressing: You guessed it Greek extra virgin olive oil (I like to use Early Harvest EVOO and lots of lemon juice, combined with fresh garlic and a dash of dried oregano.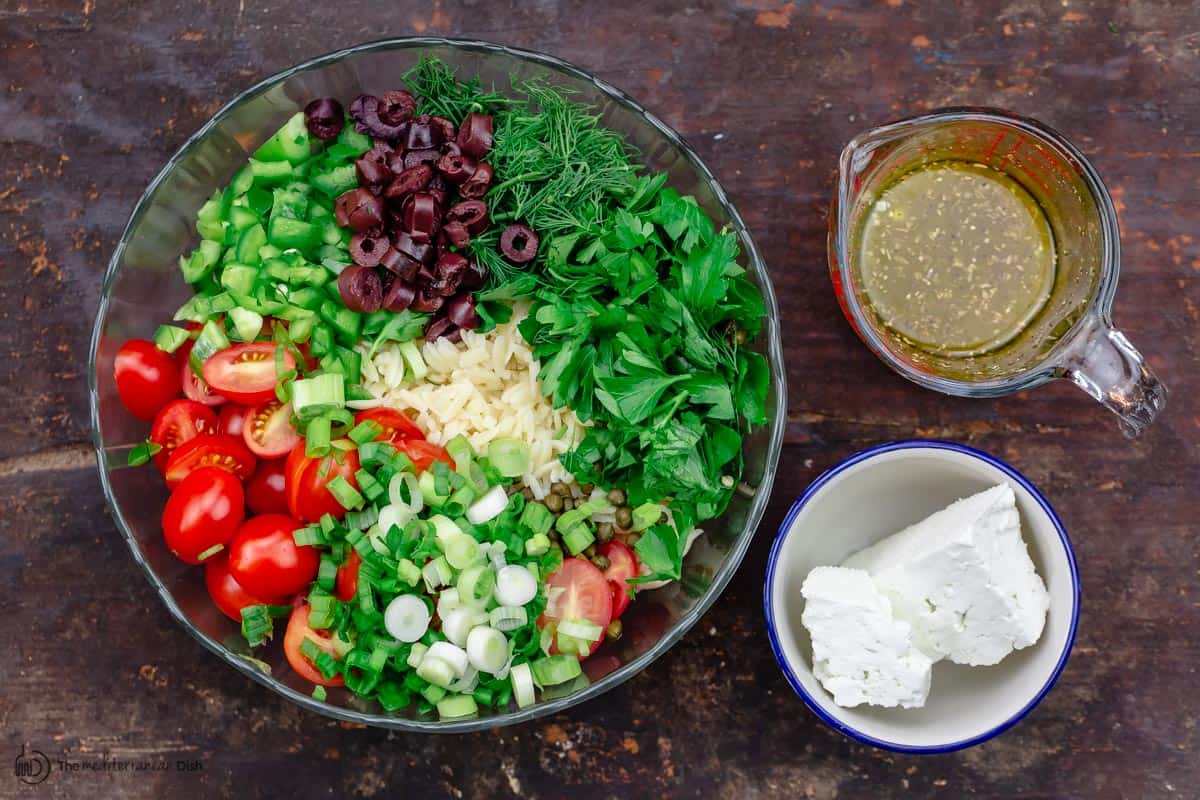 Tips for how to make Mediterranean orzo salad
This is a very easy recipe, that literally takes three steps: cook the orzo; combine with the veggies and fresh herbs; then toss everything with the lemony dressing (because orzo salad with lemon is amazing!) At the end, add the feta cheese. But I have learned a few tips that make all the difference. Here they are:
To save some time, cook the orzo first, meanwhile, work on chopping the rest of the ingredients!
Once the pasta is cooked, drain it well and let it cool briefly.
It's good if the orzo is still a little bit warm when you toss the salad together, this will help it absorb the flavors well.
Chop the tomatoes and veggies into small chunks. The smaller bites will distribute better in the pasta and will create the perfect texture.
Can you use dried herbs instead of fresh? If at all possible, use fresh herbs here (and when it comes to parsley, use some of the stems, they pack huge flavor, it's not just in the leaves). But if you don't have them, use dry herbs. Keep in mind that dried dill maintains flavor well while dried parsley is much more muted and best used as a garnish. If you're swapping dry herbs for fresh, the general rule of thumb is to use ⅓ the amount called for in the recipe. When you're making the lemon dressing, zest the lemon first before squeezing the juice to pack a punch.
For best flavor, mix the orzo salad and allow it a a few minutes to rest so the flavors will meld. Sprinkle with feta and cover and refrigerate until ready to serve.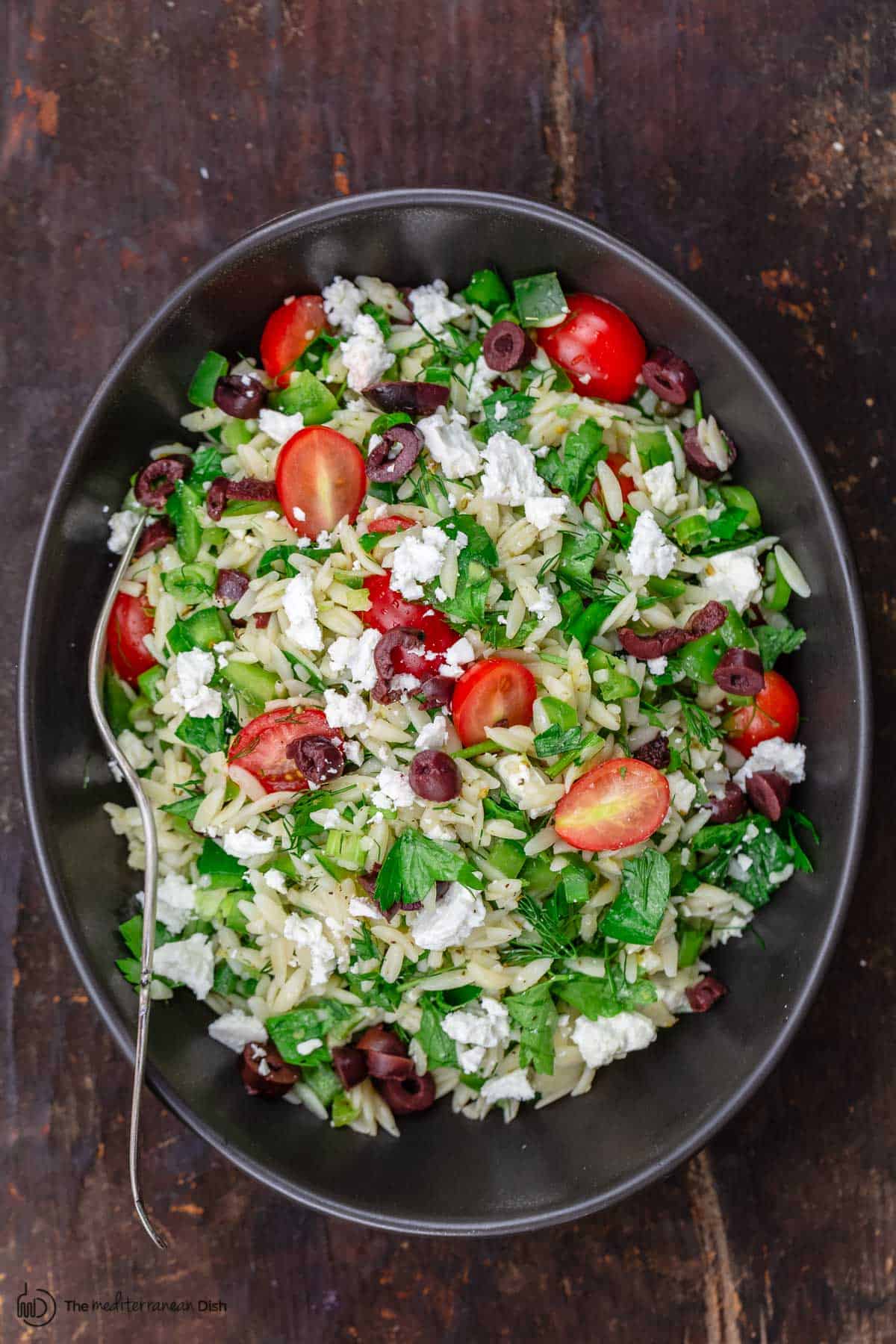 What to serve with it?
My favorite thing about this dish is how versatile it is. I serve this Greek orzo salad year round paired with other Greek recipes. You can also serve it next to your favorite chicken dinner like harissa chicken; baked chicken drumsticks; chicken and mushroom.
It's also great with seafood: lemon garlic salmon; seared scallops, or meat dishes like lamb chops. The possibilities are endless!
Leftover and Storage
If properly stored in the fridge in a tightly closed container, this orzo salad will last 3 to 5 days in the fridge. Keep in mind that if you sprinkle it with feta cheese you'll want to put this dish in the refrigerator within an hour of serving.
You may also like
Craving more? Check out all our Mediterranean recipes. Browse our Top 50 Mediterranean Diet Recipes.
JOIN MY FREE E-MAIL LIST.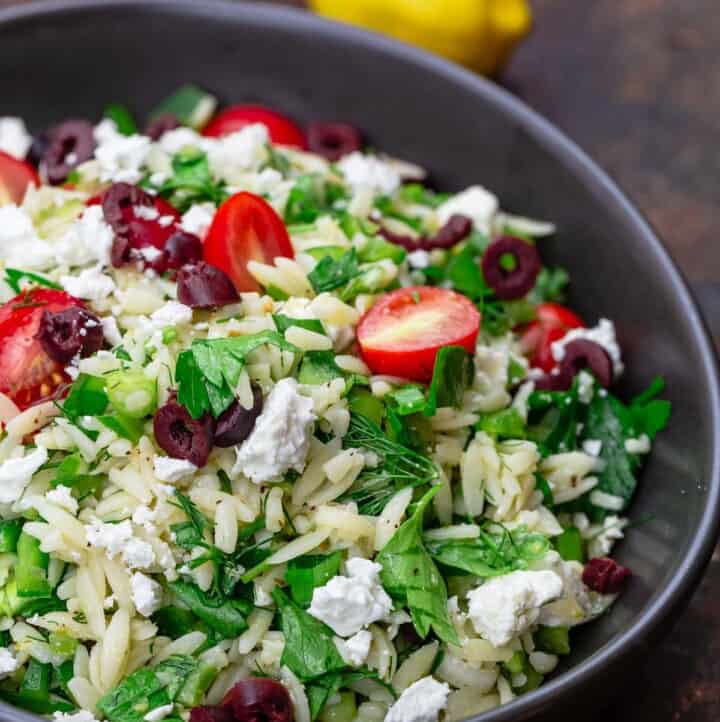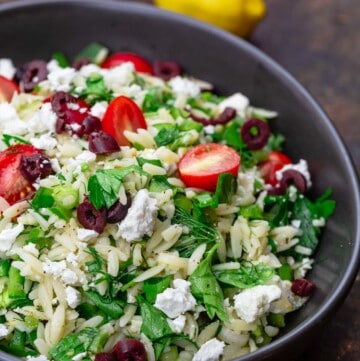 Mediterranean Orzo Salad
You'll love this easy orzo salad loaded with chopped veggies, fresh herbs and other Mediterranean favorites. Tossed in a bold lemony dressing. Allow the salad at least a few minutes for the flavors to meld before serving.
Ingredients
1 ½

cup

dry orzo pasta

1

pint

grape or cherry tomatoes

halved

2

green onions

trimmed and chopped (both white and green parts)

½

green bell pepper

seeds removed, chopped

1

cup

packed chopped fresh parsley

about 1 ½ ounces

½

cup

packed chopped fresh dill

about 0.5 ounces

¼

cup

sliced pitted kalamata olives

about 1 ounce

2

teaspoons

capers

Feta cheese

to your liking
Instructions
Cook the orzo pasta according package instructions (mine took about 8 minutes). Drain and cool briefly.

In a large mixing bowl, combine the grape tomatoes, green onions, bell peppers, parsley, dill, olives and capers (hold the feta for now). Add the orzo pasta.

Make the dressing. In a small bowl, combine the lemon juice, lemon zest, extra virgin olive oil, garlic, oregano and a good pinch of kosher salt and black pepper. Whisk to combine.

Pour the dressing over the salad and toss until well combined and the orzo pasta is well coated with the dressing.

Top with pieces of creamy feta cheese. Cover and refrigerate for a bit before serving.
Notes
For best flavor, mix the orzo salad while the pasta is still somewhat warm so it will absorb as much of the dressing flavors as possible. Cover and refrigerate for a bit before serving to allow flavors to meld.
Visit our online shop to browse quality Mediterranean ingredients including extra virgin olive oils and spices.
Nutrition
Calories:
111.1
kcal
Carbohydrates:
6.9
g
Protein:
1.7
g
Saturated Fat:
1.4
g
Cholesterol:
0.4
mg
Sodium:
39.4
mg
Potassium:
324.4
mg
Fiber:
2.3
g
Vitamin A:
1878.2
IU
Vitamin C:
45.9
mg
Calcium:
42.7
mg
Iron:
1.5
mg