Easy Spinach Tortellini Salad, loaded with with fresh herbs, tomatoes, mozzarella, and olives, and tossed in a simple homemade Italian dressing. Perfect for a little party, or serve it as a side next to chicken or fish. Leftovers will make a great lunch the next day!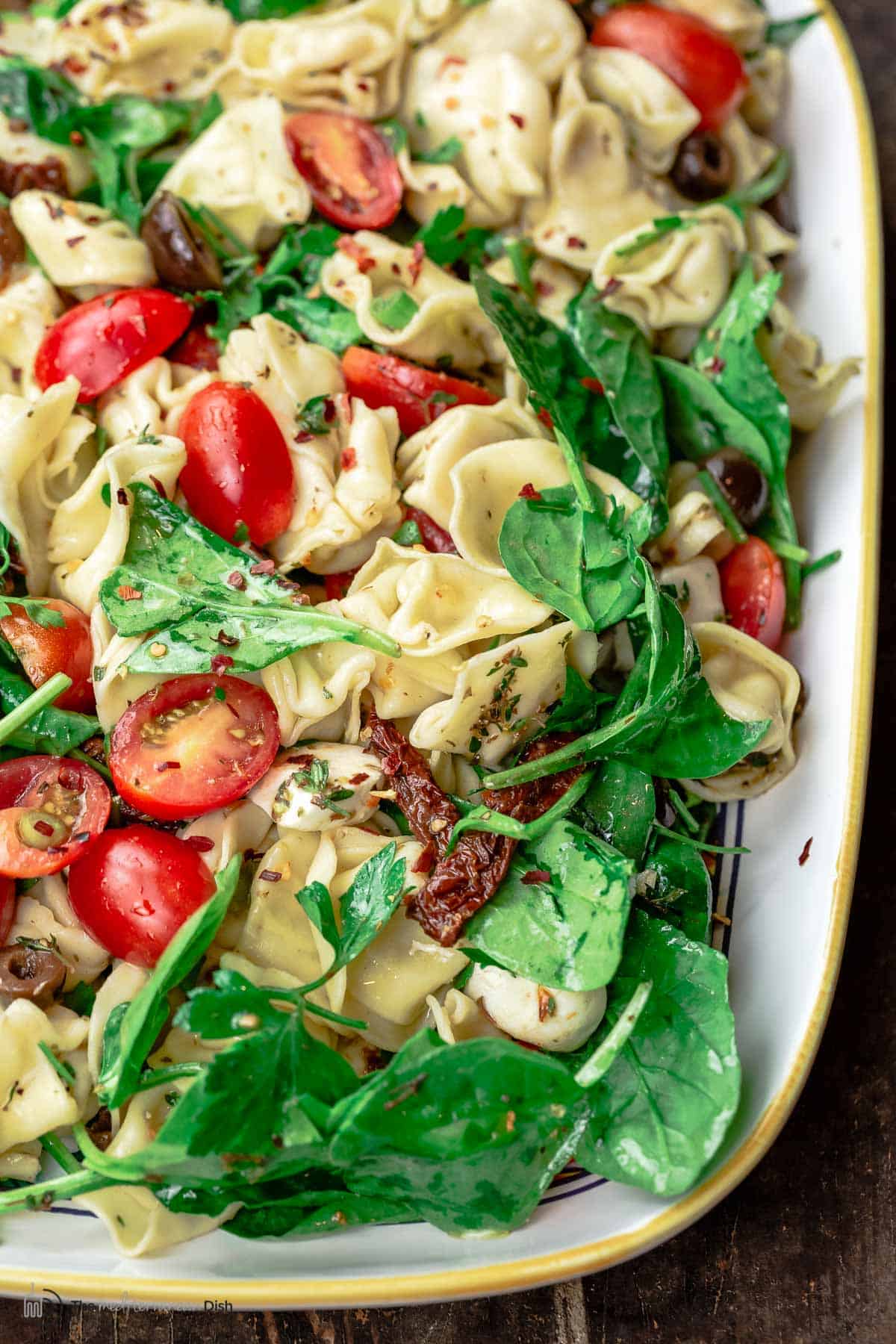 An easy Mediterranean tortellini pasta salad
This spinach tortellini salad is one of my favorites because it's quick and easy to assemble and the leftovers are perfect for lunch the next day! In this recipe, the delicious ricotta-filled pasta is combined with baby spinach, fresh herbs and vegetables, along with other Mediterranean favorites like mozzarella cheese, olives and sundried tomatoes.
I love making my own salad dressings, and since pasta salad is loaded with delicious flavors, a simple homemade Italian dressing is the perfect choice here. The dressing is light and bright made with good Italian extra virgin olive oil and citrus with oregano and fresh thyme.
I kept this salad vegetarian but if you wanted to stir in some meat, go for it - especially if you'll be serving this as a meal on its own!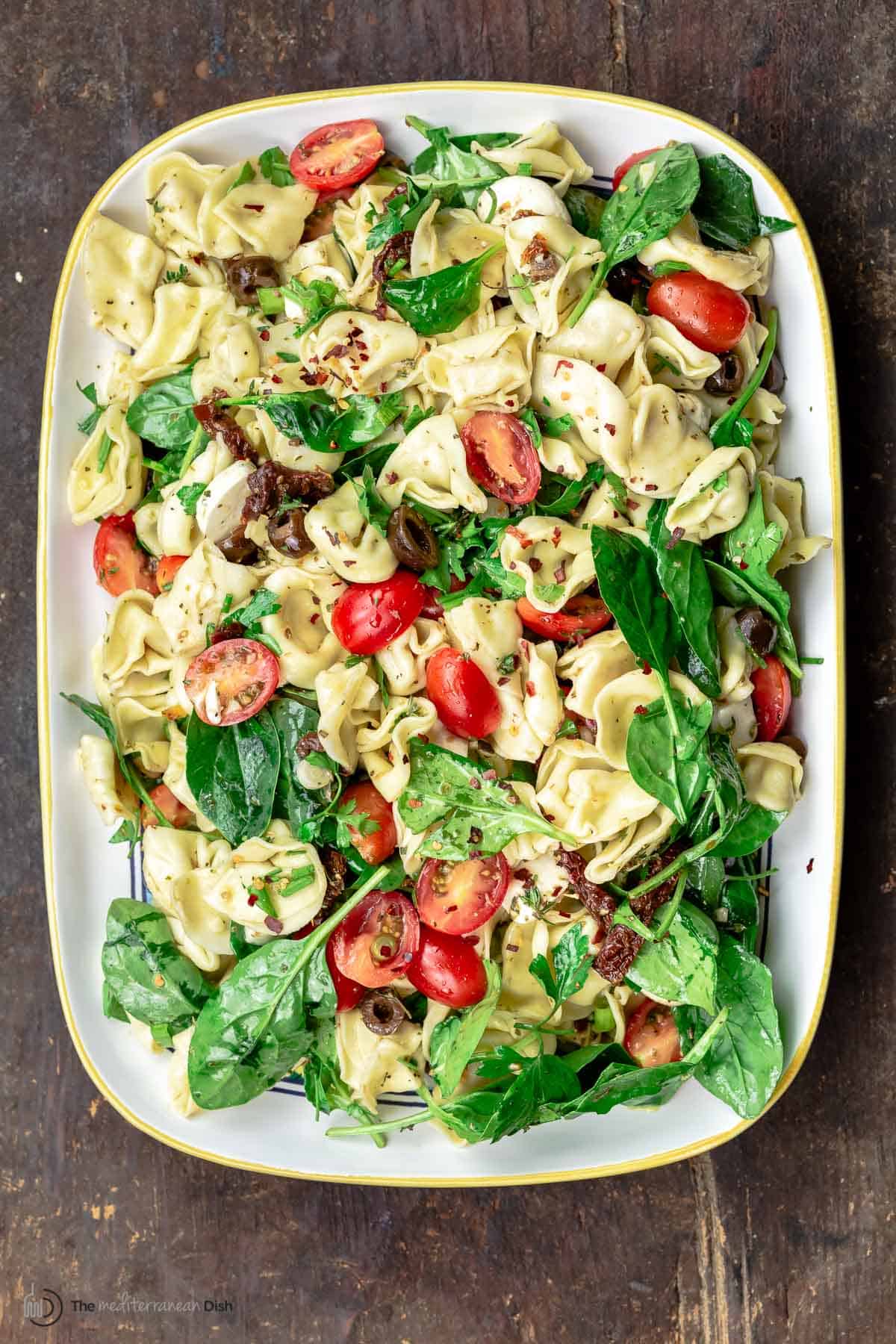 Tortelloni vs. tortellini
It's easy to confuse these two delicious pastas but there is a difference between tortelloni and tortellini. They are both ring-shaped pastas that are stuffed. There is a difference in the traditional fillings used and in the pasta size. Tortelloni are larger in size and are traditionally stuffed with vegetarian ingredients, vs. tortellini which are traditionally stuffed with a meat filling.
In this vegetarian recipe I used ricotta-stuffed pasta, which you can find in the fridge section at the grocery store.
Ingredients for this tortellini salad recipe
Both the salad and the homemade Italian dressing require just a handful of ingredients!
For the salad
Tortelloni pasta- fresh cheese-stuffed tortelloni can be found in the fridge section at your local grocery store.
Baby spinach
Tomatoes - Cherry and grape tomatoes are the perfect size for this salad.
Fresh herbs - Fresh parsley and basil add a fresh flavor to the salad.
Baby mozzarella balls - Already perfectly sized for the salad!
Sundried tomatoes - Look for sundried tomatoes in oil. Drain before adding to the salad.
Olives - You can use any variety of olives that you prefer.
For the dressing
Garlic
Lemon juice - Be sure to use freshly squeezed.
Red wine vinegar - Adds the tangy flavor to the dressing.
Extra virgin olive oil - Use a quality olive oil for the best flavor. Here are my favorites.
Herbs - Fresh thyme and dried oregano are used in the dressing.
Kosher salt and black pepper
How to make spinach tortellini salad with Italian dressing
This salad comes together quickly, with little prep!
Cook the pasta. Use salted boiling water to cook the pasta according to package instructions. This should take only 5 to 7 minutes. Then drain and rinse well in cold water.



Assemble the salad. In a large bowl, combine the tortellini pasta and the other salad ingredients. Toss gently.
Make the homemade Italian dressing. Combine all dressing ingredients in a small bowl. Whisk to combine. Pour over the salad and toss to combine.
Serve. Allow the tortellini salad 30 minutes to rest before serving so that the flavors meld. Transfer to a platter and serve.


Recipe variations
The great thing about simple recipes like this one is that they leave a lot of room to get creative and make it your own. You can easily switch up this tortellini salad by using ingredients you have on hand. Here are a few suggestions:
Add meat like mini pepperoni, salami, or chunks of ham
Use chunks of feta cheese instead of mozzarella cheese
Add in other vegetables, like cucumber, pepperoncinis, or bell peppers
Swap the Italian dressing for my homemade Greek ladolemono dressing or ranch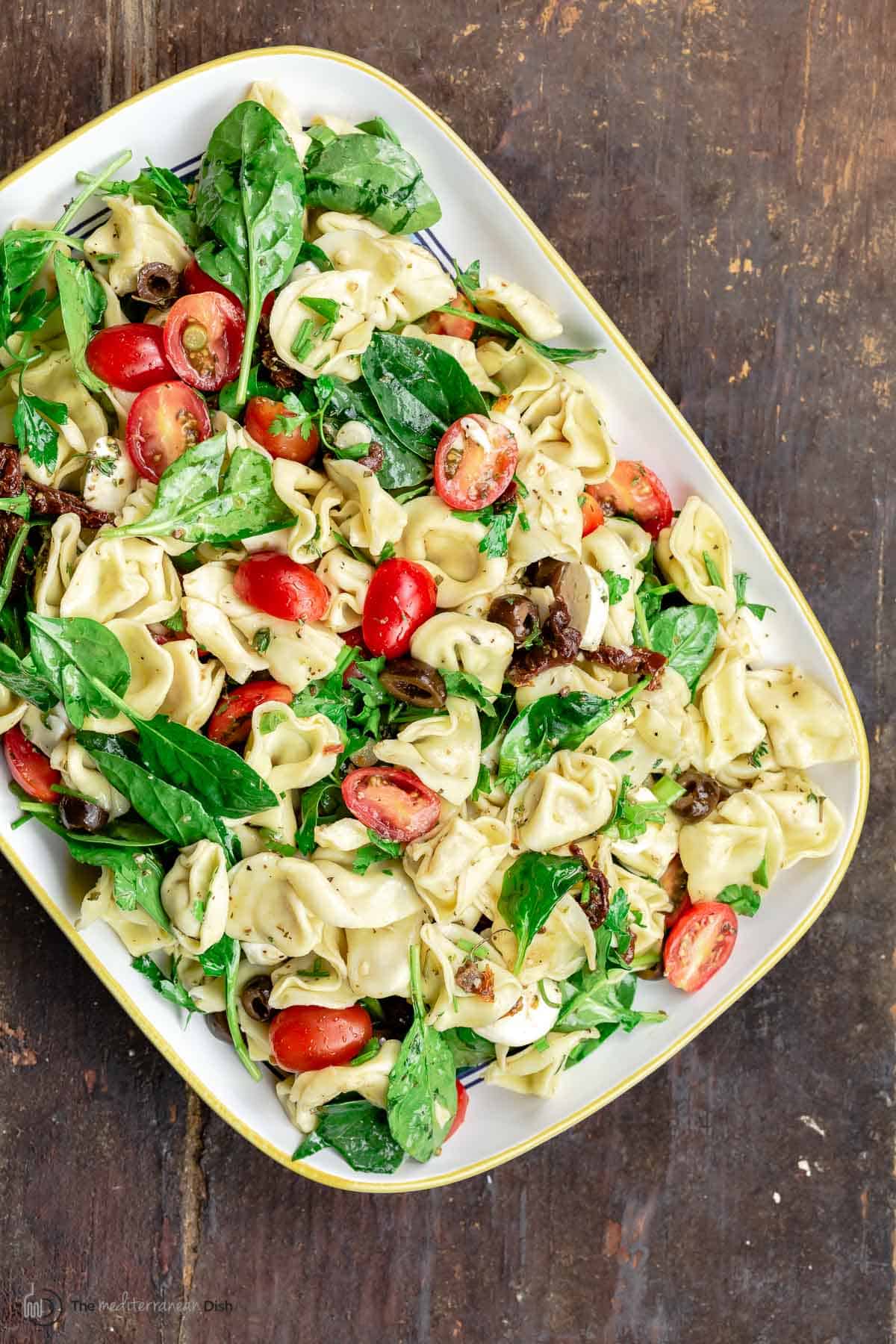 Tips for success
This easy tortellini salad recipe is pretty straightforward but here are a few things to keep in mind.
Pop the tortellini in the fridge. The cold water rinse should cool down the tortellini but if you'd like it even cooler, you can pop tit in the fridge to chill for a few minutes before adding the remaining ingredients.
Use fresh tortellini. For this recipe, you definitely want fresh tortellini from the refrigerated section, not frozen tortellini. There will be a noticeable difference in taste and texture.
Allow the salad to set before serving. For the best flavor, this salad should rest at least 30 minutes after adding the dressing. You can let it sit at room temperature or chill in the fridge.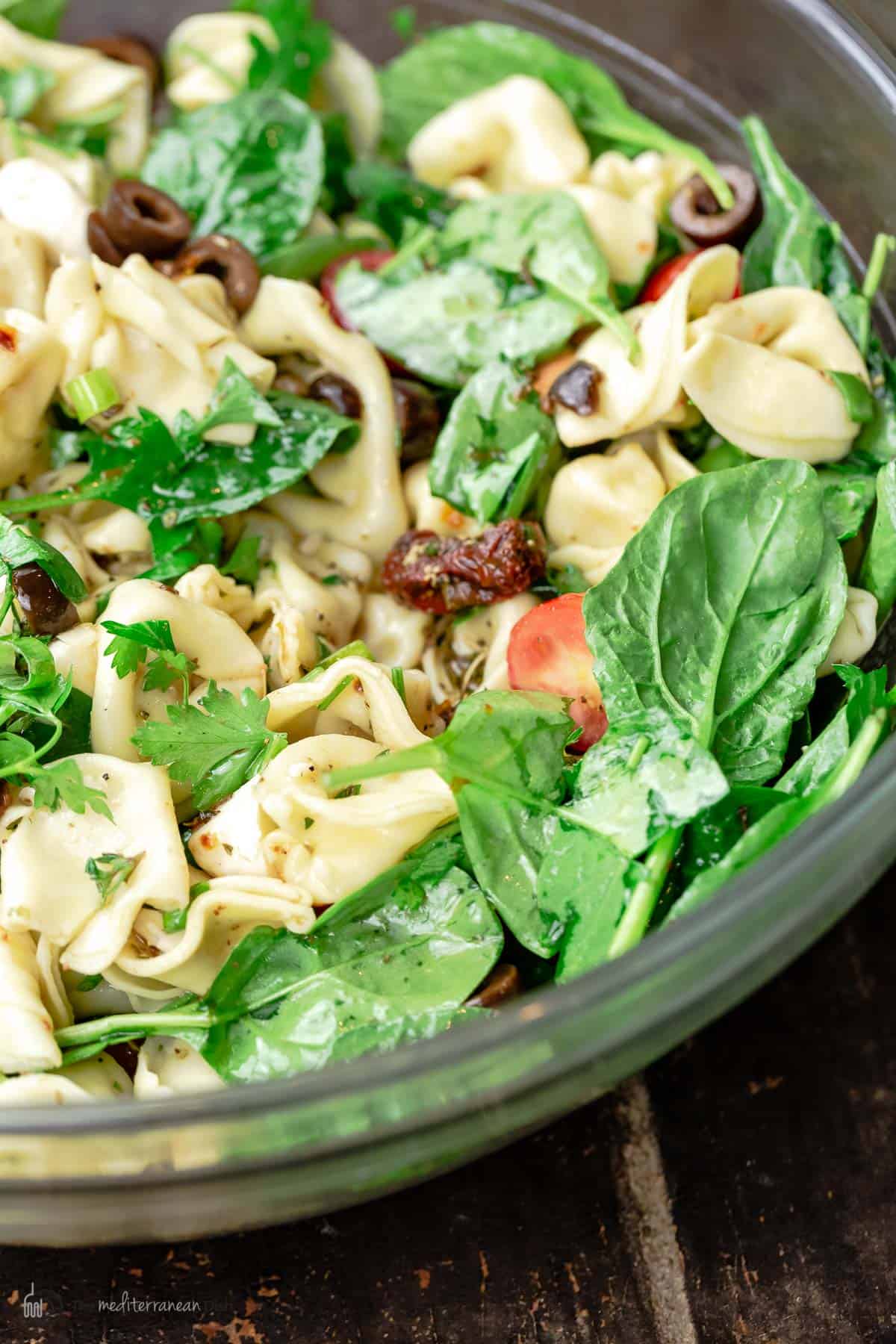 Serving ideas
Tortellini salad is a great dish to serve a little crowd as an alternative to traditional pasta salad. It also works as a side dish with your protein of choice like salmon kabobs, lemon garlic drumsticks, or even lamb burgers.
Leftovers would make a quick and easy lunch the next day!
Can I make this in advance?
Yes, you can easily make this Mediterranean tortellini salad up to a day in advance. Prepare the salad and dressing separately and store them both in the fridge. When you are ready, toss everything together with the dressing and set it aside for a few minutes.
Leftovers and storage
Leftover tortellini salad should be stored in an airtight container in the fridge for up to 3 days. The flavors will continue to develop as the salad sits in the fridge, however, after a couple of days, the pasta and veggies may begin to get soggy from the dressing, so I recommend enjoying it as soon as possible.
More pasta salad recipes:
Featured in this recipe
Visit our shop to browse quality Mediterranean ingredients
Spinach Tortellini Salad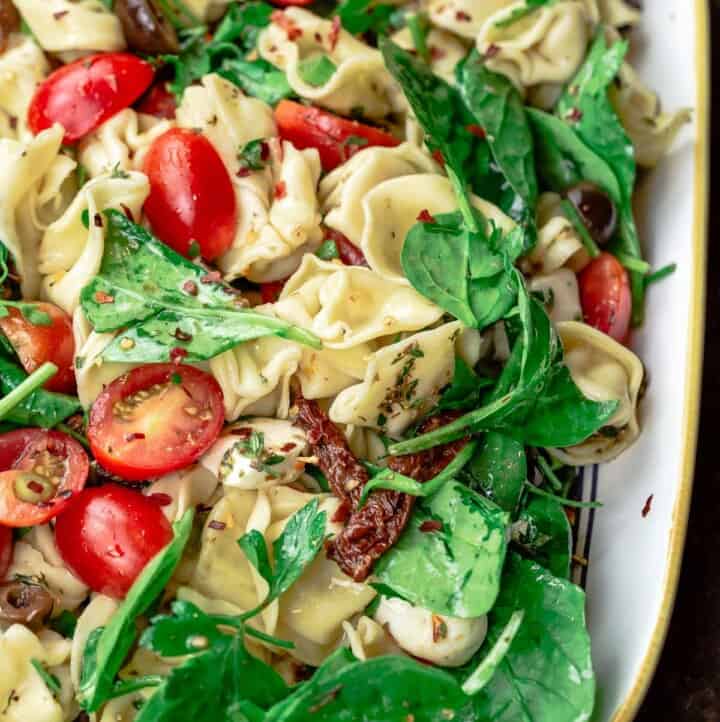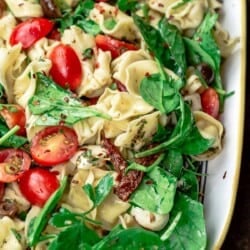 Ingredients
For the Salad
1

pound

fresh tortelloni pasta,

(ricotta-stuffed or cheese-stuffed is good here. You can find it in the fridge section at your grocery store)

2

cups

baby spinach

(packed)

1

cup

cherry tomatoes

(halved)

1

cup

fresh parsley

(chopped)

1

cup

fresh basil

(chopped)

1

cup

baby mozzarella balls

½

cup

sundried tomatoes in oil

(chopped, drained)

½

cup

olives

(sliced, any kind you like)
For the Dressing
2

cloves

garlic

(minced)

1

lemon

(juice of)

2

tablespoons

red wine vinegar

⅓

cup

extra virgin olive oil

1

tablespoon

fresh thyme

1

teaspoon

dried oregano

Kosher salt and black pepper
Instructions
Cook the tortellini pasta in salted boiling water according to package instructions (about 5 to 7 minutes). Drain and rinse in cold water.

Transfer the pasta to a large bowl. Add the rest of the salad ingredients and toss gently.

In a small bowl, combine the garlic, lemon juice, vinegar, olive oil, and herbs. Add a big pinch of kosher salt and black pepper. Whisk to combine.

Pour the dressing over the salad. Toss to combine.

For best flavor, allow the salad to rest for 30 minutes or so for the flavors to meld before serving. Transfer to a platter and serve.
Notes
Serving a smaller party? This tortellini salad recipe will serve a small crowd of 8 people, and leftovers are great the next day. However, you can cut the recipe in half to serve 4.
Leftovers & storage: store the prepared salad in a tight-lid container in the fridge for up to 3 days. The flavors will continue to develop, but after a couple of days, the veggies may welt and get soggy, so I recommend enjoying the salad as soon as you can.
Visit Our Shop to browse quality Mediterranean ingredients including olive oils and spices.
Nutrition
Calories:
378.8
kcal
Carbohydrates:
38.2
g
Protein:
12.9
g
Saturated Fat:
5.5
g
Polyunsaturated Fat:
-2.7
g
Monounsaturated Fat:
8.8
g
Cholesterol:
44.7
mg
Sodium:
828.5
mg
Potassium:
287.4
mg
Fiber:
5
g
Sugar:
3.2
g
Vitamin A:
1923.1
IU
Vitamin C:
32.7
mg
Calcium:
236.1
mg
Iron:
2.3
mg