This Mediterranean bean soup recipe with tomato pesto is one power-packed cozy dinner!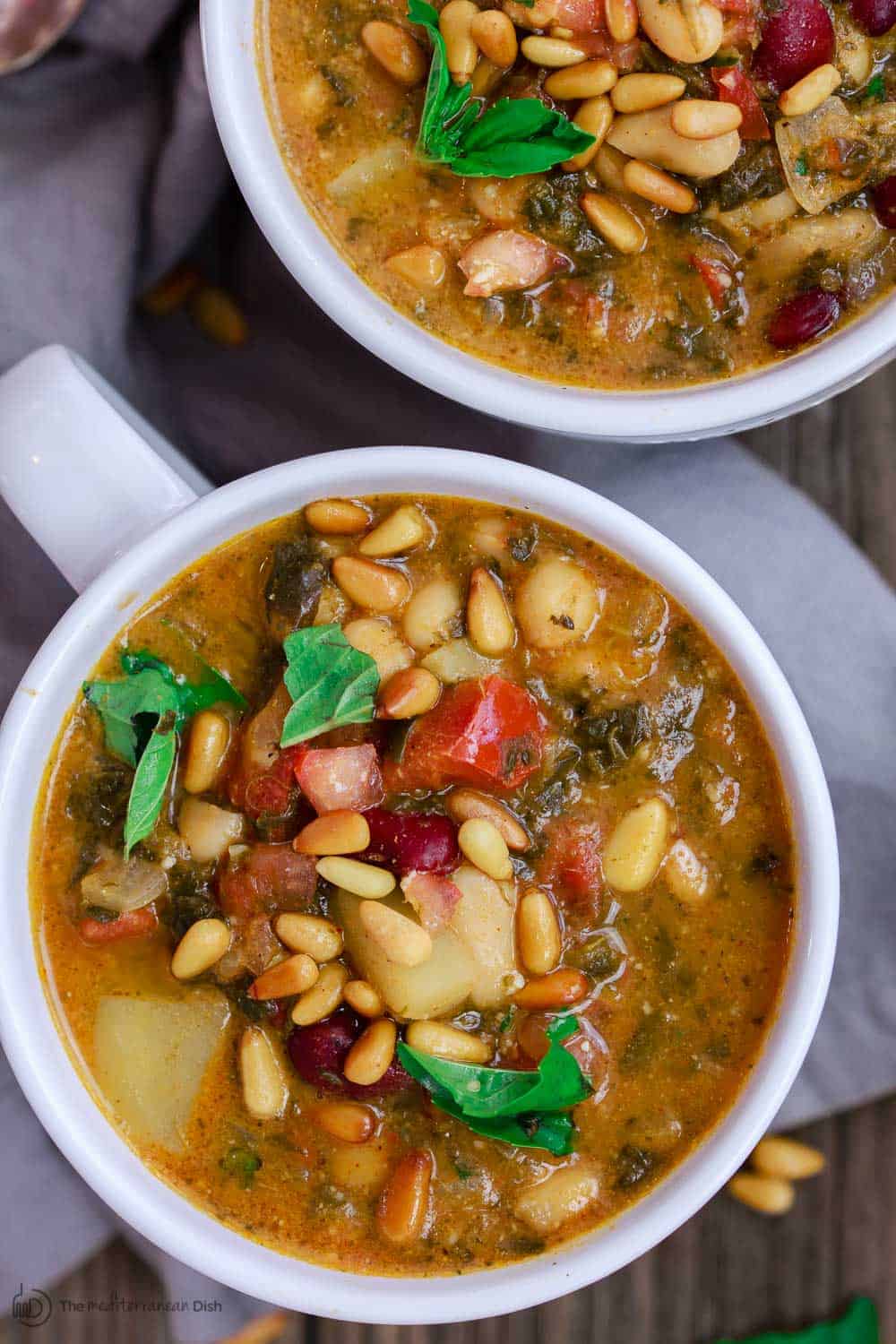 Admittedly, I have had a long and stable love relationship with soup. The warm-your-belly kind of soup that is every bit as satisfying and tasty…plus freeing from the daunting question: "what's for dinner?"
Enter my latest obsession: Mediterranean bean soup recipe with tomato pesto. A truly fabulous fusion of pulses that are available in most pantries—kidney beans, cannellini beans, and chickpeas (or garbanzo beans).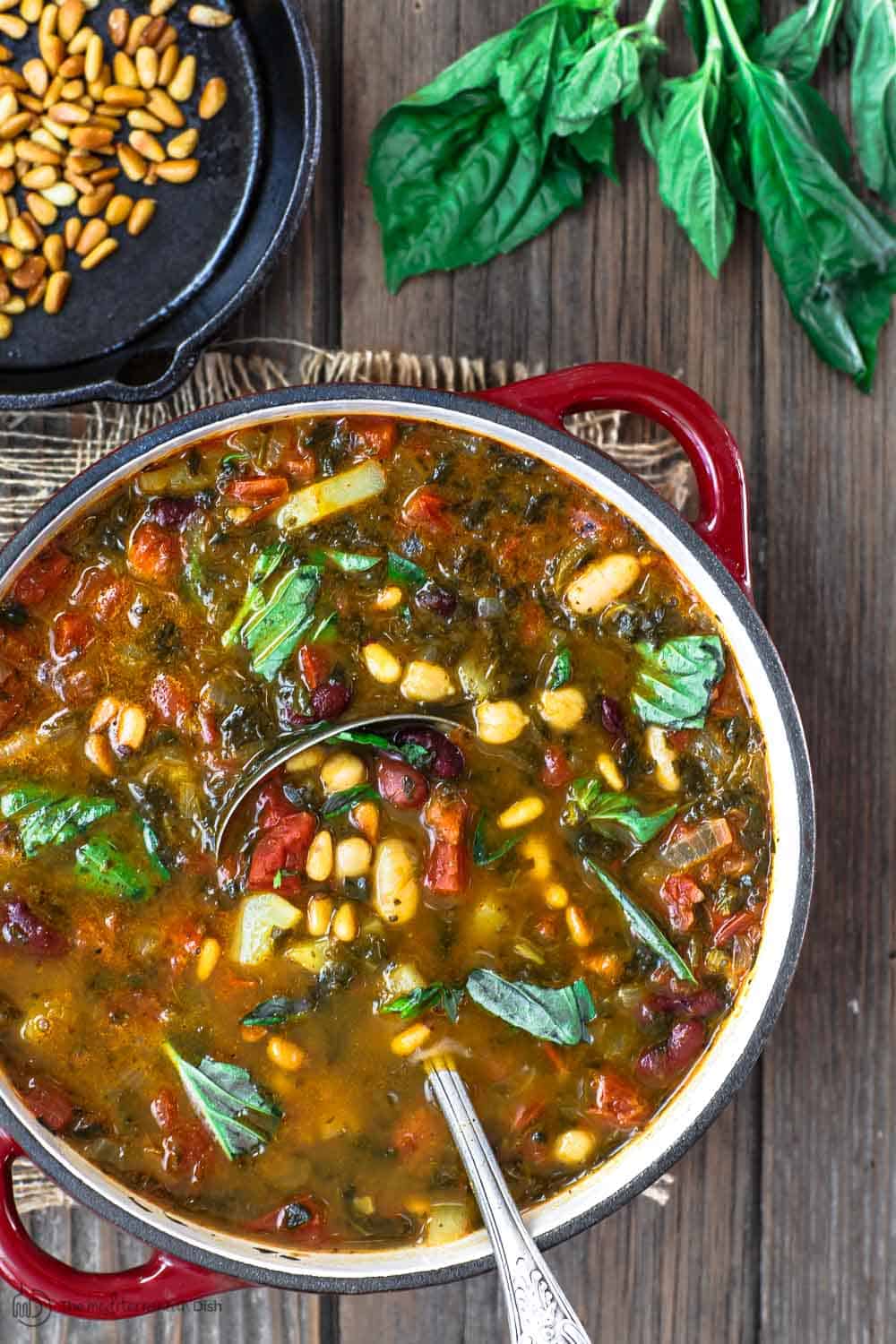 Why this Bean Soup Recipe Works?
If you've underestimated pulses or beans, or wrote them off as boring, this bean soup might just become your gateway drug. Once you try it, you'll want more.
I snuck in here potatoes, spinach, and tomatoes. And aromatics in the form of onions (which are the start of everything wonderful) and warm spices like organic coriander and paprika. But what truly takes this bean soup recipe over the top, and literally smacks you in the face with flavor, is the fresh tomato pesto we stir in at the very end. A MUST!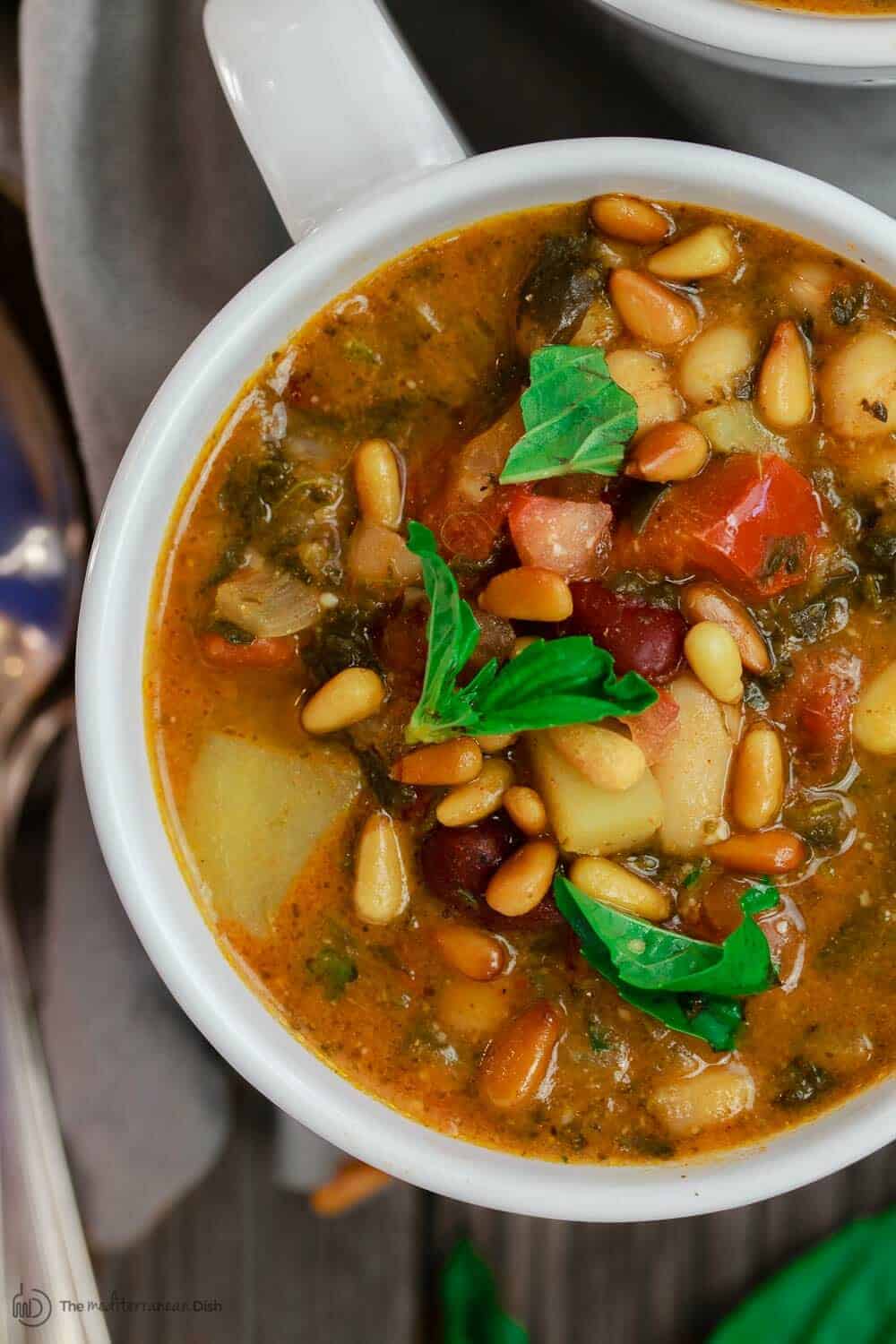 I'm telling you, this bean soup recipe is anything but one-note. But, that's not all.
With three kinds of pulses (beans) in here, this soup packs a ton of plant-based protein (more than 23 grams per serving); fiber; B vitamins; and complex carbohydrates. And with the addition of tomatoes and spinach, a good dose of vitamin C and iron! And yes, good-for-you fat (no apologies here).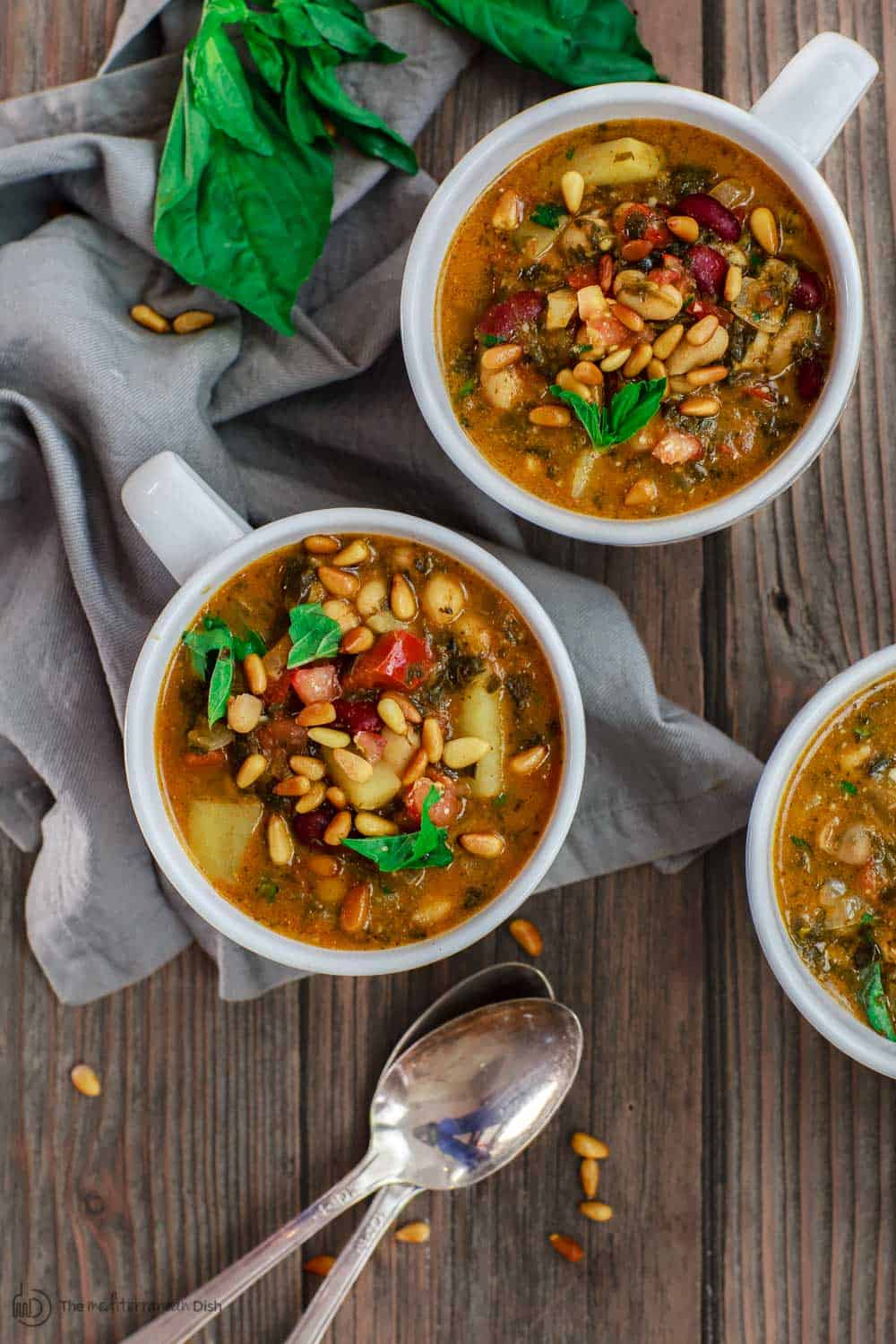 And if you've been following the USDA's recommendation by adding to your diet a ½ cup of pulses 3 times per week (USA Pulses and Pulse Canada call this the Half-Cup Habit), you'll definitely want to add this bean soup to your dinner rotation!
Print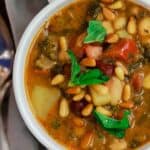 Three Bean Soup with Tomato Pesto
---
Author:

Prep Time:

10 mins

Cook Time:

27 mins

Total Time:

37 minutes

Yield:

6
Ingredients
Private Reserve Greek extra virgin olive oil
1 Large russet potato, peeled, diced into small cubes
1 medium yellow onion, chopped
1 15-oz can diced tomatoes
1 tbsp white vinegar
1 tbsp ground coriander
1 tsp Spanish paprika
Salt and pepper
5 cups low sodium vegetable broth (or broth of your choice)
8-oz frozen spinach, no need to thaw
2 cups cooked red kidney beans (or 1 15-oz can)
2 cups cooked cannellini beans (or 1 15-oz can)
2 cups cooked chickpeas (or 1 15-oz can)
Basil leaves for garnish, optional
1/3 cup toasted pine nuts for garnish, optional
For Tomato Pesto Sauce
2-3 large garlic cloves (you can start with less garlic if you're not sure)
1 1/2 cup diced fresh tomatoes
15-20 large basil leaves
1/2 cup Private Reserve Greek extra virgin olive oil
Salt and pepper
1/3 to 1/2 cup grated Parmesan cheese
---
Instructions
In a large Dutch oven or heavy pot, heat two tbsp of olive oil. Reduce heat to medium and add the diced potatoes and onions. Cook for about 4-5 minutes, tossing regularly.
Add tomatoes, vinegar, spices, salt and pepper. Stir to combine. Cover and cook for another 4 minutes.
Uncover, add vegetable broth and frozen spinach. Raise heat to medium-high and bring to a boil for 4 minutes or so. Add the kidney beans, cannellini beans, and chickpeas. Bring back to a boil, then reduce heat to medium-low. Cover and cook for another 15 to 20 minutes (potatoes should be tender at this point).
While soup is cooking, make the tomato pesto. In the bowl of a food processor fitted with a blade, place garlic and tomatoes. Pulse a few times to combine. Add basil and puree. While processor is running, drizzle in the olive oil a little bit at a time. Transfer the thick tomato pesto to a bowl, and stir in grated Parmesan.
When soup is ready, remove from heat. Stir in the tomato pesto.
Transfer to serving bowl. Top each bowl with a few basil leaves and toasted pine nuts. Enjoy with your favorite crusty bread!
Notes
The fat content in this soup is mainly good-for-you fat from chickpeas and beans, olive oil and nuts…and also from Parmesan cheese. You can reduce the amount of Parmesan cheese or even omit it from the pesto (flavor will still be great).
Recommended for this recipe Our Private Reserve Greek extra virgin olive oil (from organically grown and processed Koroneiki olives). And from our all-natural and organic spice collections ground coriander and Spanish paprika.
SAVE! Try our Ultimate Mediterranean Spice Bundle, or create your own 6-pack or 3-pack of spices from our all-natural and/or organic spice collections!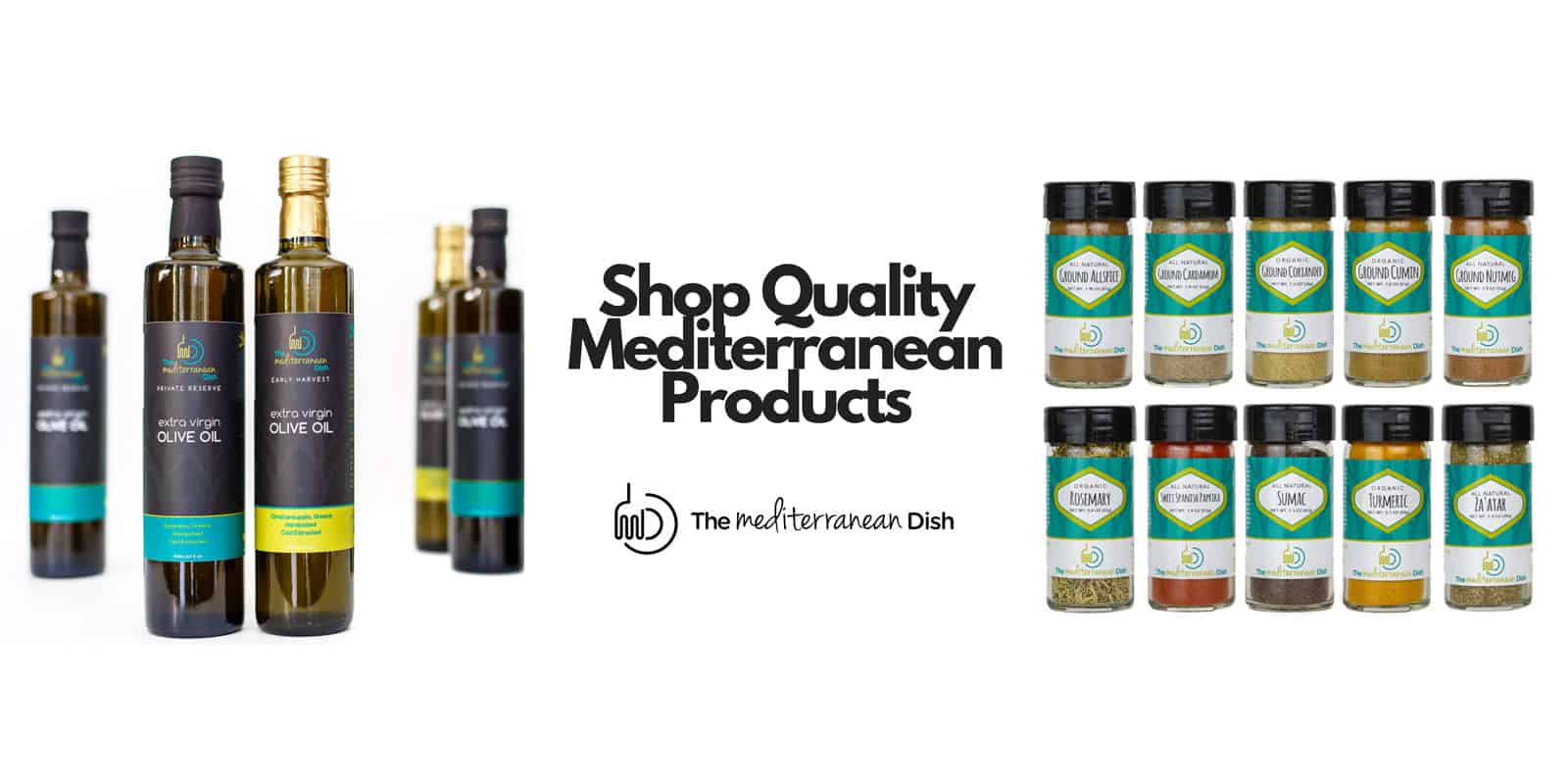 More Recipes to Try
Mediterranean Grain Bowls with Lentils and Chickpeas 
Mediterranean Pan Seared Sea Bass with Bell Pepper Medley