This Mediterranean three bean soup recipe is one power-packed vegetarian and gluten free dinner to feed a hungry crowd! And if you ever thought beans are boring, this delicious, cozy soup, finished with a bold tomato pesto will blow your mind!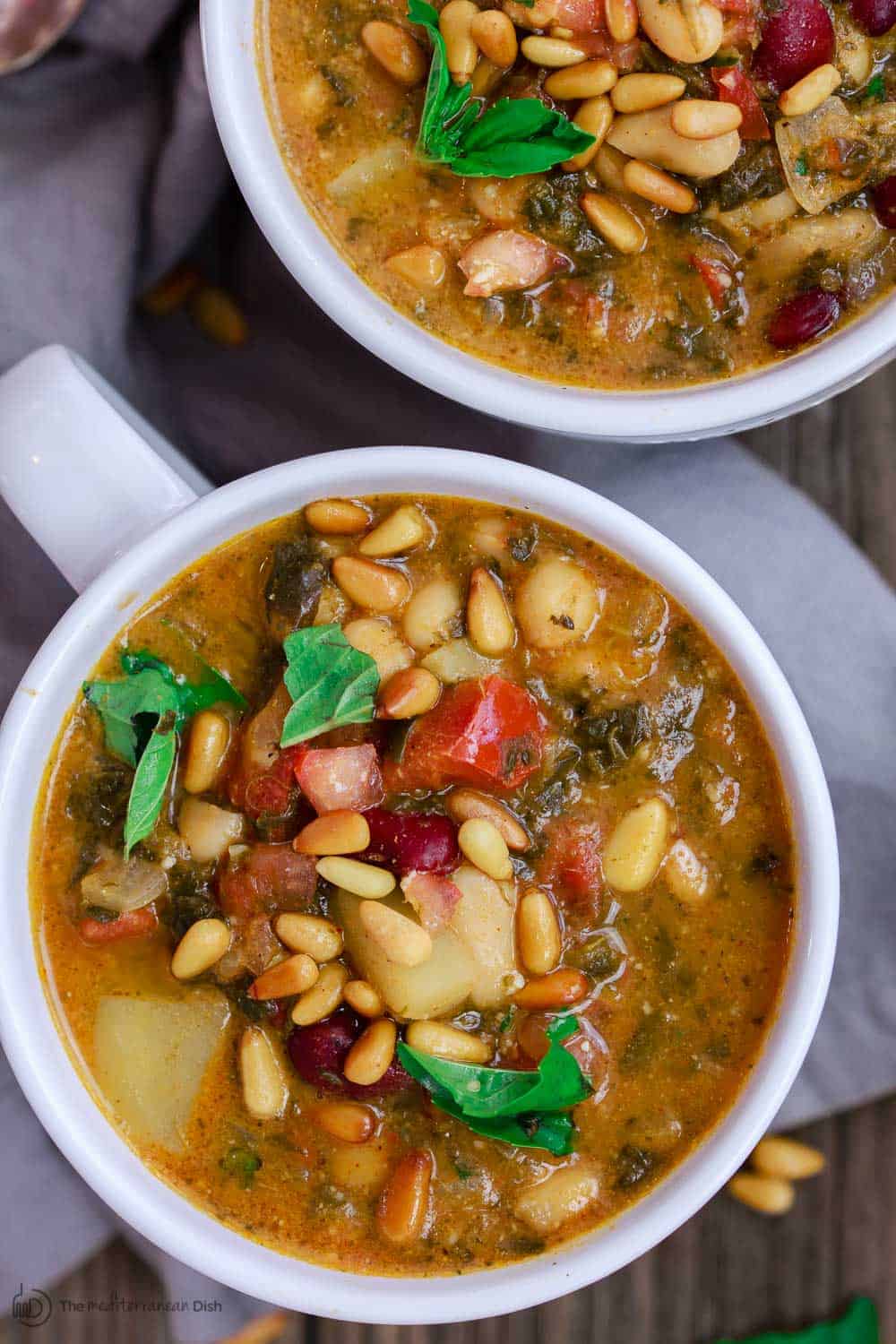 Admittedly, I have had a long and stable love relationship with soup. Whether we're talking a chunky soup like lentil soup with veggies or this Mediterranean fish soup, or something velvety like carrot soup or tomato soup, I'm all over a warm-your-belly pot of goodness.
But my latest soup obsession is this humble bean soup recipe. Three cans of beans and a few vegetables, happily simmer in one pot with some gorgeous aromatics and warm Mediterranean spices. The big finish is a fresh tomato pesto stirred at the end.
Let me just tell you, if you ever thought beans were boring, this easy three bean soup will change your mind!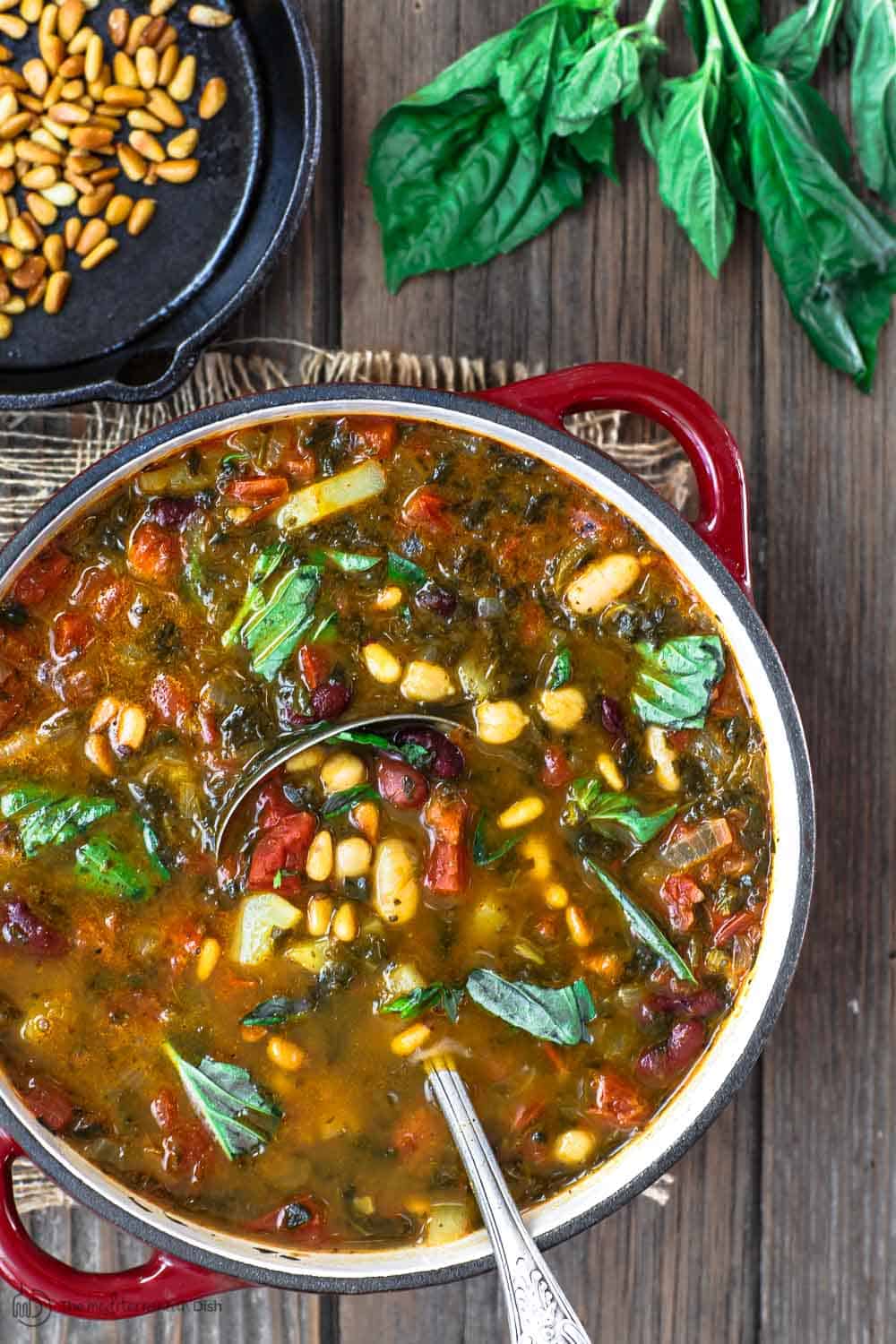 Bean soup ingredients
This soup starts with three humble cans of beans and a few veggies you probably already have on hand. Here is what's in it:
Three Beans: I used canned kidney beans, cannellini beans, and chickpeas. You can change the beans up according to what you have on hand. Black beans and butter beans will also work well here. And if you're wondering if you can make this soup using dry beans instead, you absolutely can. You'll want to soak and cook the beans before using in this soup (instructions for using dry beans below)

Vegetables: Onions, potatoes, spinach, and tomatoes

Spices & Flavor Makers: Ground coriander, paprika, Kosher salt and black pepper. But don't forget a little citrus to wake everything up, just 1 tablespoon of white vinegar

Fresh Tomato Pesto: made of fresh tomatoes, grated Parmesan cheese, garlic, fresh basil, and a drizzle of quality extra virgin olive oil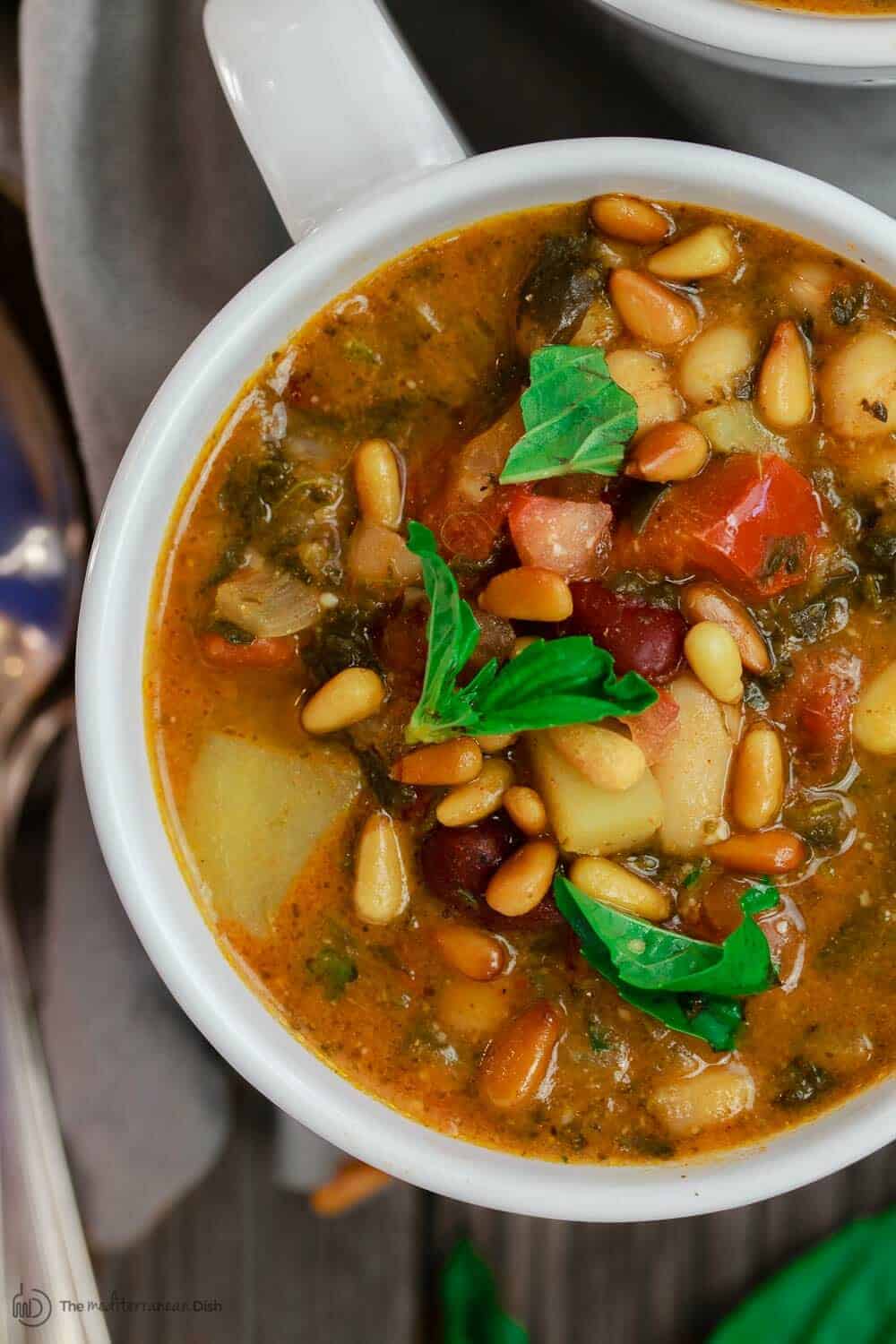 How do you make bean soup?
This soup is fairly simple to make using canned beans, you just need one large heavy pot or Dutch oven. From there, here is what you do:
Sautee the vegetables. Heat up a little bit of extra virgin olive oil and cook the chopped onions and potatoes for a good 5 minutes over medium heat (stir regularly).
Add the canned tomatoes, spices, slat, pepper and a tablespoon of what wine vinegar. Cook for another 4 minutes or so, covered.
Add the liquid, frozen spinach and beans and simmer. I used vegetable broth here but any broth you like will work (about 5 cups). I also used 3 cans of beans: kidney beans, white beans, and chickpeas (if you want to use dry beans, look below for further instructions). Bring back to a boil, then lower the heat to medium-low and cover and cook for a good 20 minutes.
Make the tomato pesto. While the soup is simmering, blitz together some garlic and fresh tomatoes in a food processor. Add in some basil and blitz some more, pouring in a bit of olive oil from the top of the food processor while it's running. Transfer the thick tomato pesto to a bowl, and stir in the grated Parmesan.
Serve. When the soup is finished, remove from the heat and stir in the tomato pesto. Transfer to serving bowls and enjoy!
Is bean soup good for you?
Not only is this soup tasty and satisfying, but as you take a look at the list of ingredients, you'll see how loaded with nutrition it its! a
With three kinds of pulses (beans) in this pot of soup, it packs a ton of plant-based protein (more than 23 grams per serving); fiber; B vitamins; and complex carbohydrates. And with the addition of tomatoes and spinach, a good dose of vitamin C and iron! And yes, there is some good-for-you fat from a bit of extra virgin olive oil among other things (no apologies here).
And if you've been following the USDA's recommendation by adding to your diet a ½ cup of pulses 3 times per week (USA Pulses and Pulse Canada call this the Half-Cup Habit), you'll definitely want to add this bean soup to your dinner rotation!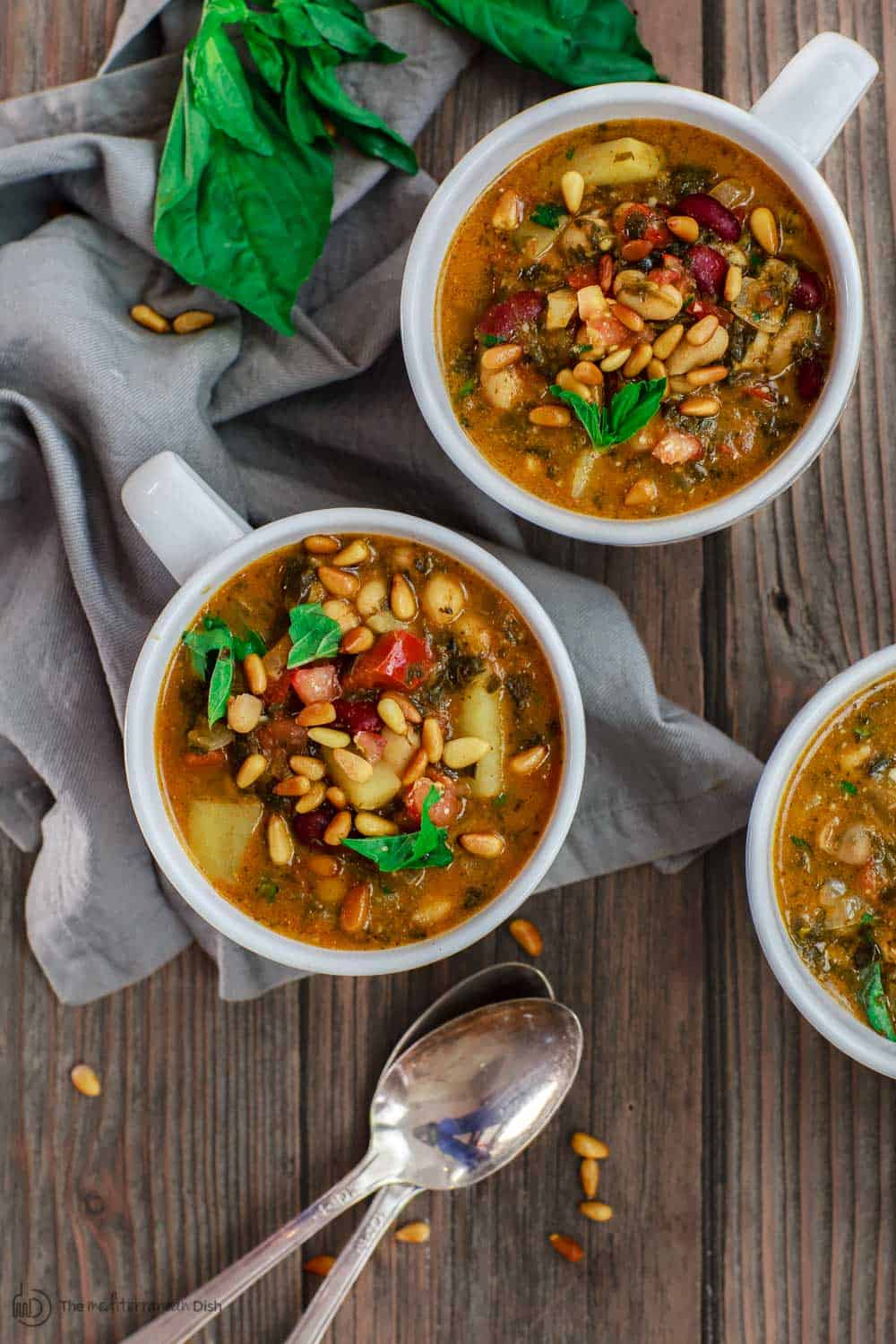 Can I use dry beans instead of canned beans?
Yes, but you'll have a couple of extra steps. And you will need to start at the least the night before you need to make the bean soup recipe.
To make this bean soup with dry beans, you will start with ¾ cups dry beans in place of each 15-ounce can of beans. You must soak each kind of beans in a large bowl with plenty of water (water to cover the beans by 3 inches.) They will nearly triple in size while soaking. Discard soaking water before cooking.
Cook each kind of beans separately. In a cooking pot, add beans and cover with water by 2 inches. Bring to a boil, skim off and discard any foam on the surface. Reduce heat, cover and simmer gently, stirring occasionally, until beans are tender, 1 to 1 ½ hours.
Drain any cooking water and proceed with the bean soup recipe as written. You can also store the cooked beans in the fridge in a tight-lid glass container for 2 days or before making the bean soup (keep in mind, this changes how long you can eat the leftovers if refrigerated. But you can certainly still freeze and use at a later time.)
Can I make this soup ahead?
This bean soup feeds a crowd, and yes, you can make it ahead of time. Cook the bean soup one or two nights in advance but, for best results, do not add the tomato pesto until you are ready to serve. Bring the soup to room temperature before storing in the fridge in a tight-lid container. It will keep well for 2 to 3 days in the fridge.
Make the tomato pesto on the day you plan to serve this soup and stir it in once the soup has been warmed through.
Can you freeze bean soup?
To freeze leftover bean soup, simply store in a freezer-safe glass containers or heavy-duty freezer bags and freeze for 1 to 3 months (we use ours within the first month of freezing). Thaw out in the fridge overnight. Heat over medium heat, stirring regularly.
You may also like
Eggplant Pizza Bites with Spinach and Mushroom
Craving more? Browse our all Soups and Stews, 50+ Top Mediterranean Diet recipes, or all Mediterranean Recipes

Mediterranean Bean Soup Recipe with Tomato Pesto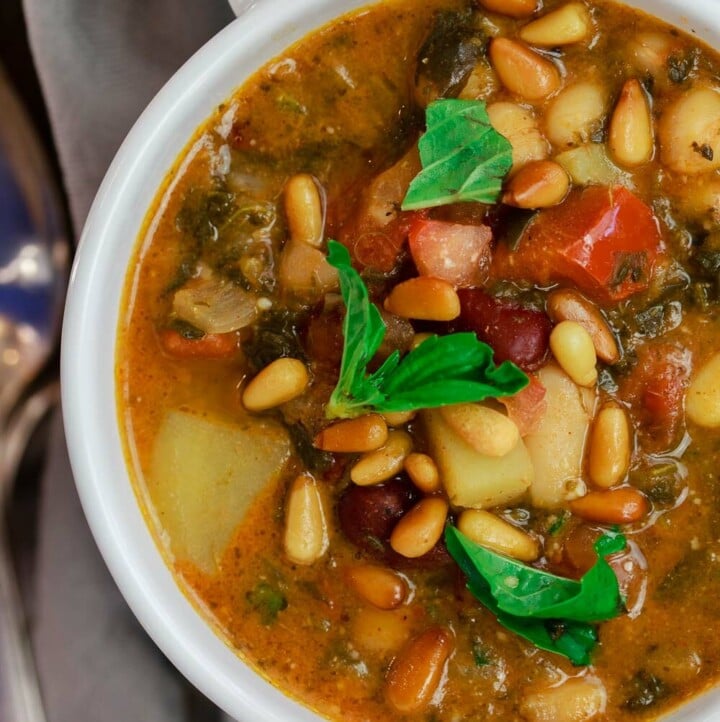 Not your average bean soup recipe! This one pot Mediterranean bean soup is loaded with nutrition, texture and flavor from warm spices, aromatic, and a bright tomato pesto. Vegetarian. Gluten Free. Great to make ahead and freeze (see notes.)
Ingredients
1

Large russet potato

peeled, diced into small cubes

1

medium yellow onion

chopped

1 15-

oz

can diced tomatoes

1

tablespoon

white vinegar

1

tablespoon

ground coriander

1

teaspoon

Spanish paprika

Salt and pepper

5

cups

low sodium vegetable broth,

or broth of your choice

8-

oz

frozen spinach,

no need to thaw

15-

oz

can red kidney beans,

drained and rinsed

15-

oz

can cannellini beans,

drained and rinsed

15-

oz

can chickpeas,

drained

Basil leaves for garnish

optional

⅓

cup

toasted pine nuts for garnish

optional
For Tomato Pesto Sauce
2-3

large garlic cloves,

you can start with less garlic if you're not sure

1 ½

cup

diced fresh tomatoes

15-20

large basil leaves

½

cup

Private Reserve Greek extra virgin olive oil

Salt and pepper

⅓

cup

grated Parmesan cheese
Instructions
In a large Dutch oven or heavy pot, heat two tablespoons of olive oil over medium heat until shimmering but not smoking. Add the diced potatoes and onions. Cook for about 4-5 minutes, tossing regularly.

Add the canned diced tomatoes, vinegar, spices, salt and pepper. Stir to combine. Cover and cook for another 4 minutes.

Uncover, add the vegetable broth and frozen spinach. Raise the heat to medium-high and bring to a boil for 4 minutes or so. Add the kidney beans, cannellini beans, and chickpeas. Bring back to a boil, then reduce heat to medium-low. Cover and cook for another 15 to 20 minutes (potatoes should be tender at this point).

While the soup is cooking, make the tomato pesto. In the bowl of a food processor fitted with a blade, place the garlic and fresh tomatoes. Pulse a few times to combine. Add the basil and puree. While the processor is running, drizzle in the olive oil a little bit at a time. Transfer the thick tomato pesto to a bowl, and stir in the grated Parmesan.

When the soup is ready, remove from heat. Stir in the tomato pesto.

Transfer to serving bowls. Top each bowl with a few basil leaves and toasted pine nuts. Enjoy with your favorite crusty bread!
Notes
Leftovers & Storage: This soup is great to serve a crowd for dinner or you can meal prep it for several lunches. To store leftovers, use glass containers with a tight lid and refrigerate for 2 to 4 days. You can also freeze cooked bean soup in portions. Thaw overnight in the fridge and heat stovetop over medium heat, stirring often.
To Use Dry Beans in Place of Canned: You can make this bean salad using dry beans. Budget enough time to start at the least the night before you need to make the bean soup recipe. To make this bean soup with dry beans, you will start with ¾ cups dry beans in place of each 15-ounce can of beans. You must soak each kind of beans in a large bowl with plenty of water (water to cover the beans by 3 inches.) They will nearly triple in size while soaking. Discard soaking water before cooking.

Cook each kind of beans separately. In a cooking pot, add beans and cover with water by 2 inches. Bring to a boil, skim off and discard any foam on the surface. Reduce heat, cover and simmer gently, stirring occasionally, until beans are tender, 1 to 1 ½ hours.

Drain any cooking water and proceed with the bean soup recipe as written. You can also store the cooked beans in the fridge in a tight-lid glass container for 2 days or before making the bean soup (keep in mind, this changes how long you can eat the leftovers if refrigerated. But you can certainly still freeze and use at a later time.)

Visit Our Shop to browse quality Mediterranean ingredients including extra virgin olive oils and spices used in this recipe
Nutrition
Calories:
366.1
kcal
Carbohydrates:
37.3
g
Protein:
14
g
Fat:
20.2
g
Saturated Fat:
3.1
g
Cholesterol:
3.7
mg
Sodium:
568.1
mg
Potassium:
672.3
mg
Fiber:
11.2
g
Vitamin A:
3792.7
IU
Vitamin C:
14.1
mg
Calcium:
183.2
mg
Iron:
4.5
mg