This nutrition-packed, chunky vegan lentil soup recipe is anything but one-note. Prepared the Mediterranean way with vegetables, warm spices, and fresh herbs, it is the ultimate one-pot-wonder!
Lentils are a permanent on my shopping list! You may think of them as the least sexy ingredient ever, but prepared the Mediterranean way, lentils can make the heartiest, tastiest of meals…and on a budget, I might add!
My earlier spicy spinach and lentil soup is one the most popular recipes on the blog. And I have a hunch, you will like today's chunky vegan lentil soup just as much.
VIDEO TUTORIALS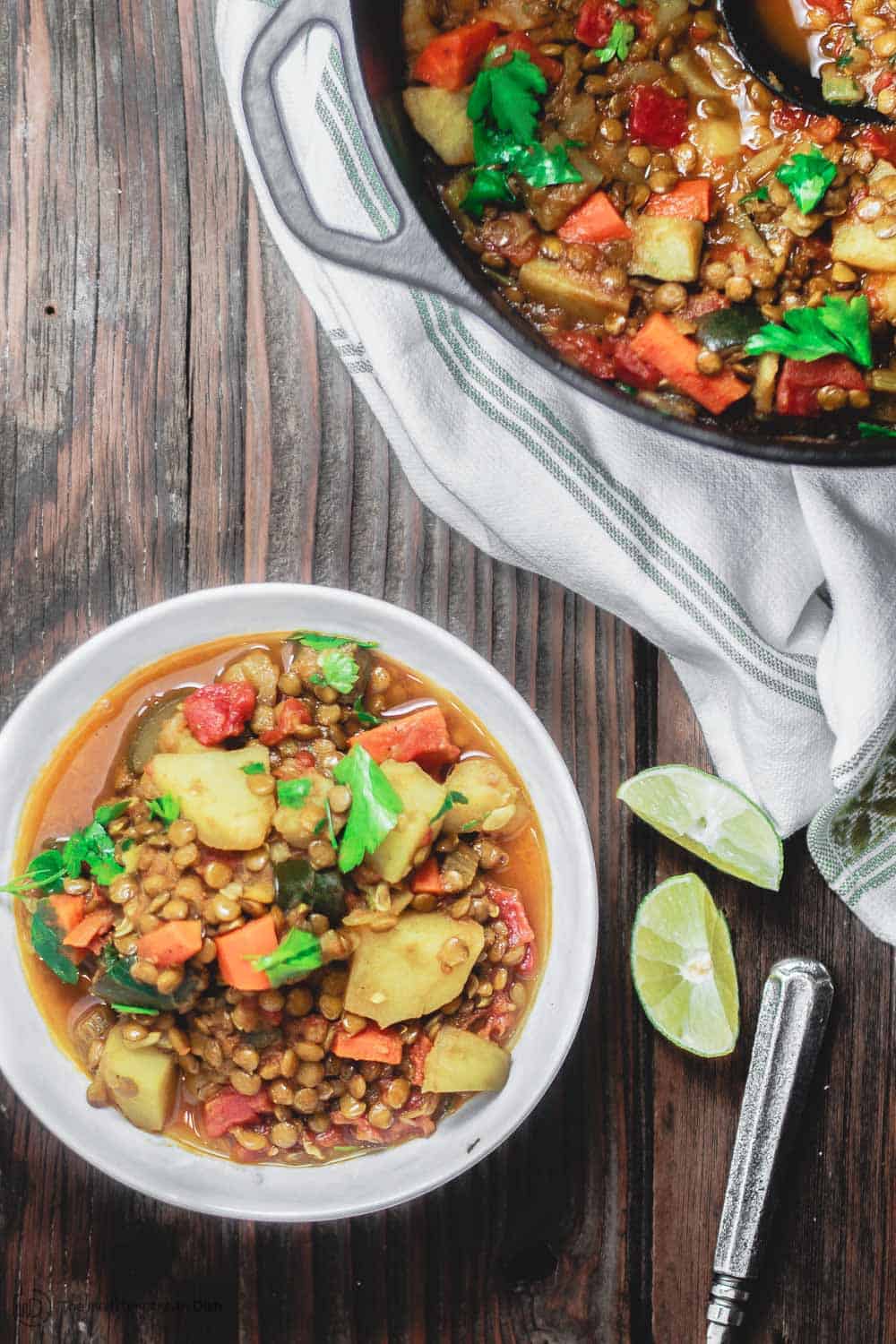 The secret to the best vegan lentil soup recipe
In my book, two simple things make a great lentil soup.
First, flavor. I agree that on their own, lentils can be bland. But, with the help of aromatics and a few warm Mediterranean spices–coriander, cumin, turmeric, and a hint of cinnamon–they can be transformed to flavor heaven! To brighten things up, I like to finish my lentil soup with fresh parsley and a little lemon juice.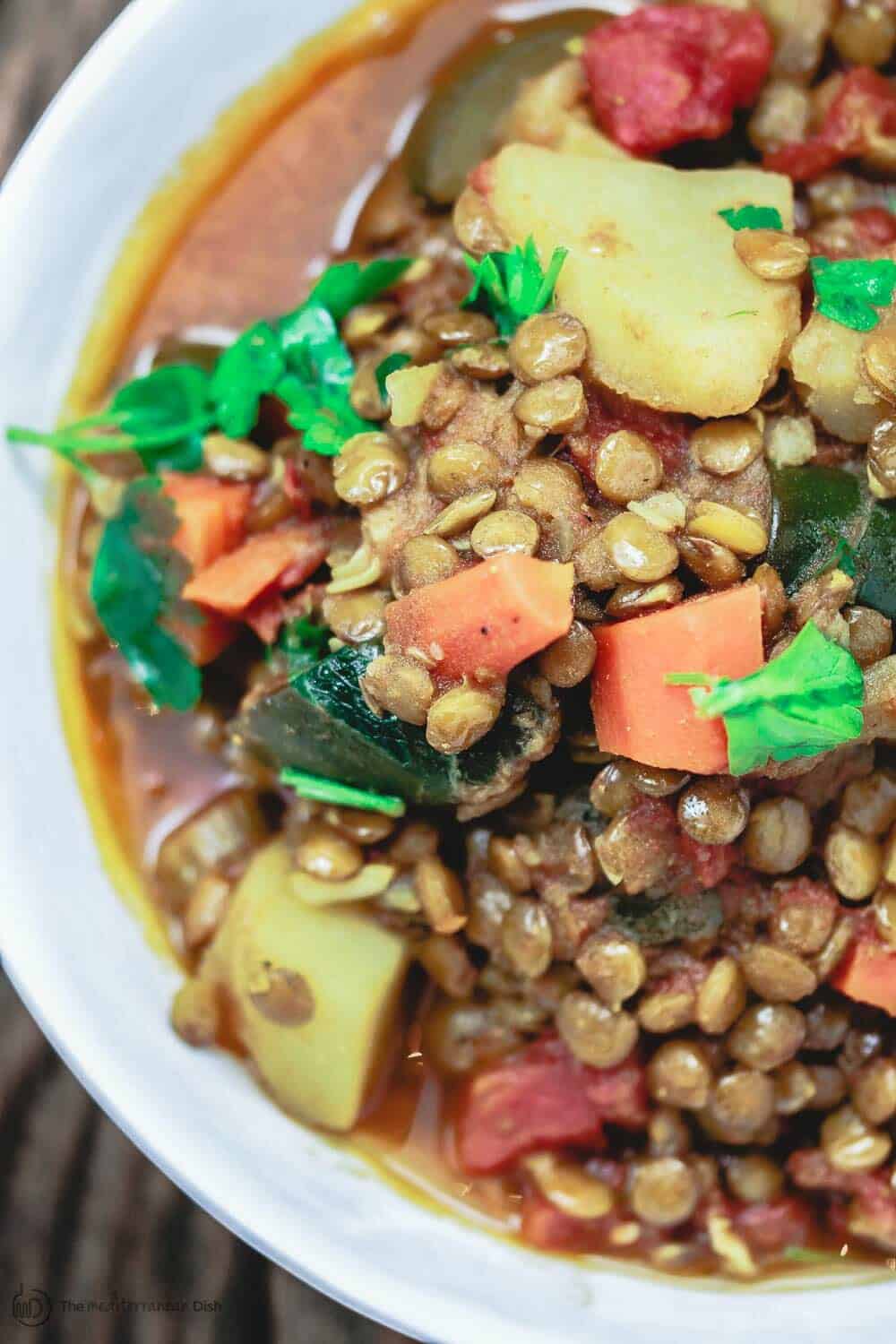 Secondly, texture. I haven't met very many people that enjoy an overcooked, super mushy lentil soup. In this lentil soup recipe, I rely on vegetables like carrots, potatoes, and zucchini, to augment the lentils, adding volume and texture, not to mention extra nutritional value!
A final drizzle of velvety, excellent extra virgin olive oil is a must for me. And to serve, a good crusty bread to sop up all the goodness.
This lentil soup recipe uses green lentils, which are more readily available, but you can certainly use brown or red lentils, if you prefer.
Fast Lentil Facts
This easy lentil soup is really a delicious way to get your lentil intake and cash in their health benefits. Lentils are high in protein and fiber content. Good for your heart, given their folic acid and potassium content. Plus, lentils, as we many legumes can help you maintain a healthy weight and reduce the risk of obesity and diabetes. Read more here.
And for me as a mom, nothing spells success than seeing my family come back for seconds…and thirds. I'm telling you, this lentil soup recipe is a winner!
Print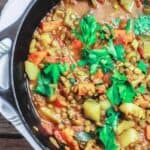 Chunky Vegan Lentil Soup Recipe
---
Author:

Prep Time:

10 mins

Cook Time:

35 mins

Total Time:

45 minutes

Yield:

Serves 6

Category:

Entree

Method:

Stovetop

Cuisine:

Mediterranean
Description
This nutrition-packed, chunky vegan lentil soup recipe is anything but one-note. Prepared the Mediterranean way with vegetables, warm spices, and fresh herbs, it is the ultimate one-pot-wonder!
---
Ingredients
1 ½ cups/ 315 grams green lentils
Private Reserve Greek extra virgin olive oil
1 medium yellow onion, chopped
1 bulk carrot, chopped
2 celery stalks, chopped
1 russet potato, small diced
3 to 4 garlic cloves, chopped
1 zucchini squash, diced
Salt and pepper
1 tsp ground coriander
1 tsp ground cumin
1 tsp turmeric powder
1/2 tsp ground cinnamon
1/2 tsp cayenne pepper (optional)
3 cups/700 grams or so canned diced tomatoes with juice
2 ½ cup water (or low-sodium broth)
1 cup /about 25 grams chopped fresh parsley, stems removed
2 tbsp fresh lime or lemon juice
lime or lemon wedges to serve
Bread to serve
---
Instructions
Place the lentils in a bowl and cover with water. Wash and soak for 10 minutes or so. Drain well.
In a large heavy pot or Dutch Oven, heat 2 tbsp extra virgin olive oil.  Add onions, carrot, celery, and potatoes cook over medium-high heat for 4 to 5 minutes, stirring regularly.
Add garlic and zucchini. Cook another 5 minutes, stirring regularly.
Add lentils, salt and pepper and spices. Toss to combine, then add the tomatoes and water (or low-sodium broth, if you prefer.)
Bring everything to a boil for 5 mins, then reduce heat to low. Cover and let simmer for 20 mins or so until the vegetables are tender and lentils are well cooked (stir occasionally and watch to add water or liquid, if needed.)
Remove from heat and stir in parsley and lime juice (or lemon juice). Transfer to serving bowls and top with a generous drizzle of extra virgin olive oil. Serve hot with your favorite crusty bread.
Keywords: lentil soup, vegan lentil soup, how to make lentil soup, easy lentil soup, lentil soup recipe, vegan lentil soup recipe, Mediterranean lentil soup recipe
More Recipes to Try
11 Mediterranean One Pot Recipes
Turmeric Roasted Cauliflower and Chickpea Stew
Greek Pastitsio (pasta casserole)