This Mediterranean Grain Bowls Recipe with lentils and chickpeas packs great flavors and some powerful nutrition. The perfect weeknight meal! And, I'm sharing my "blueprint" for how to build grain bowls your way!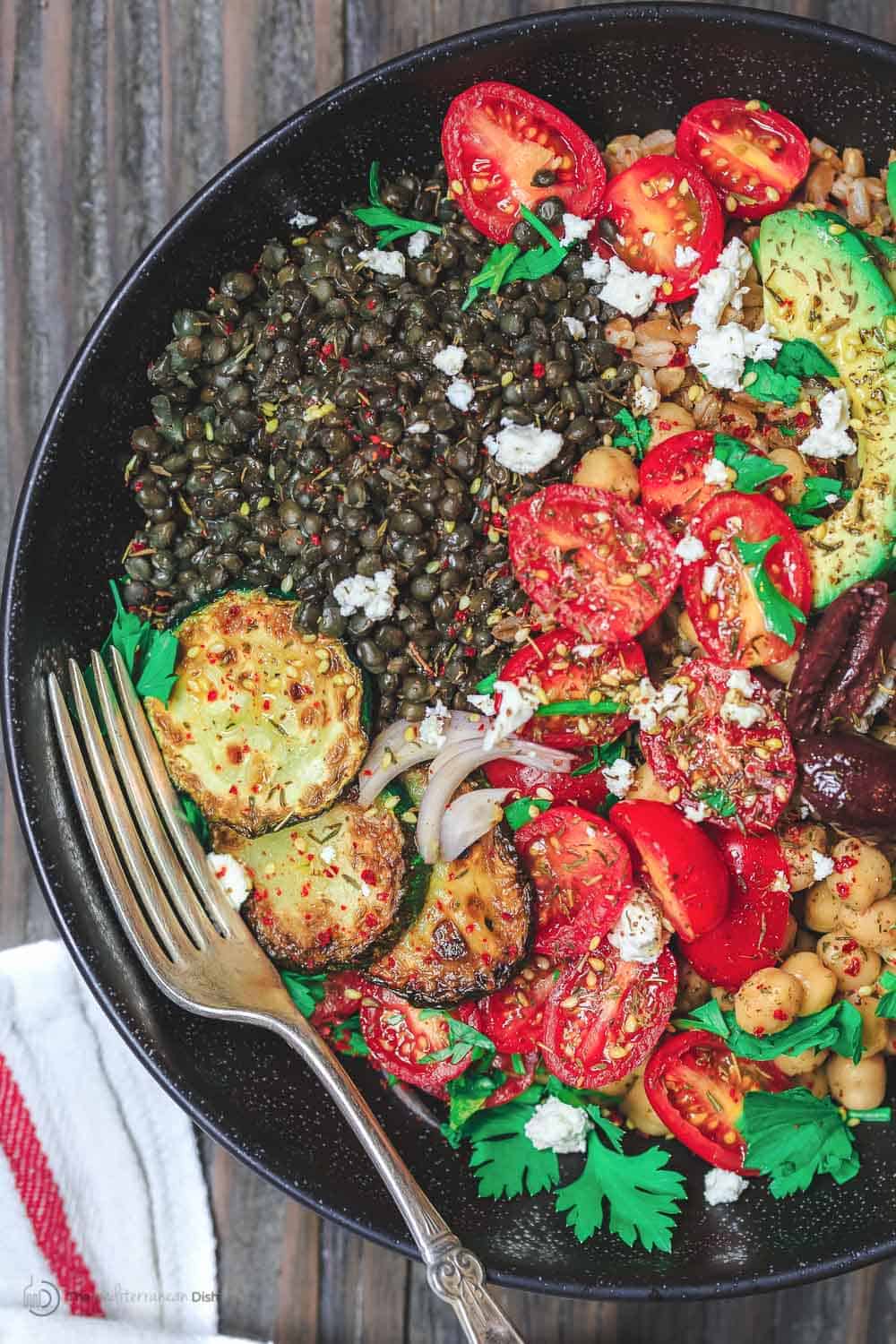 Grain bowls are the perfect way to transform a few humble pantry ingredients into one colorful meal. And because of the variety of ingredients you can pile on, they're a great way to add much-needed nutrition!
There really aren't any big rules around how to build grain bowls. Today's Mediterranean grain bowls recipe is just one example for you.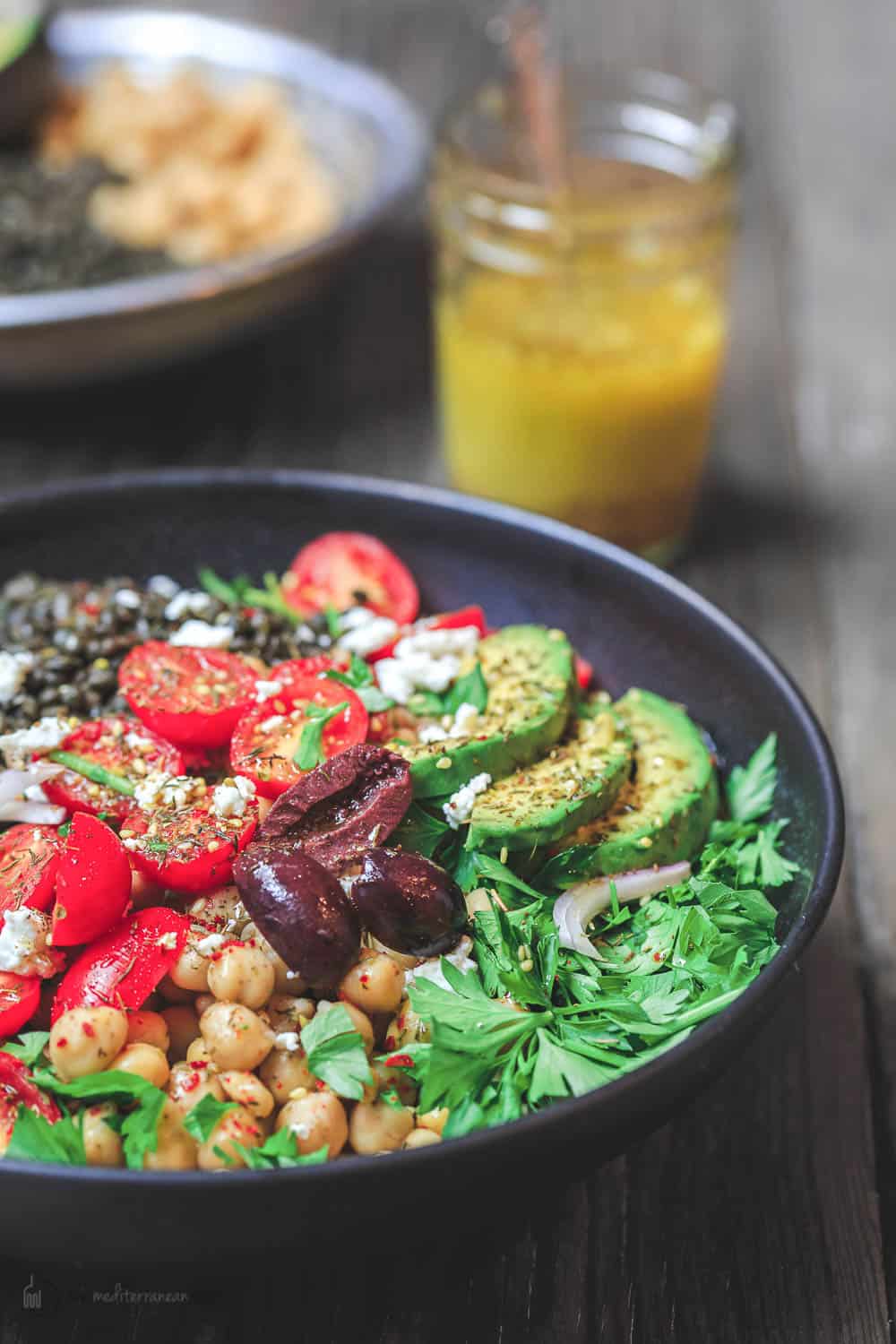 To pack in texture, flavor, and maximum health benefits, I follow a lose "blueprint," which (no surprise here) takes guidance from the Mediterranean diet pyramid.
How to Build Nutrition-Packed Grain Bowls
Start with Your Grain of Choice. I chose farro, a hearty ancient Mediterranean grain with great texture and a slight nutty flavor. Farro here provides volume, and it's also a great source of fiber and iron.
Add Lean Protein. Taking from the very base of the Mediterranean Diet Pyramid, I chose pulses--in this case, lentils and chickpeas (or these crunchy roasted chickpeas)—to supply plant-based protein. Pulses are also rich in complex carbohydrates, fiber and B vitamins.
In this Mediterranean grain bowls recipe, we pack in 1 cup of pulses per bowl! Did you know that the USDA recommends adding 1 ½ cups of pulses per week to your diet? That's only ½ cup of pulses 3 times per week (this is what USA Pulses and Pulse Canada call the Half-Cup Habit. Learn more here.)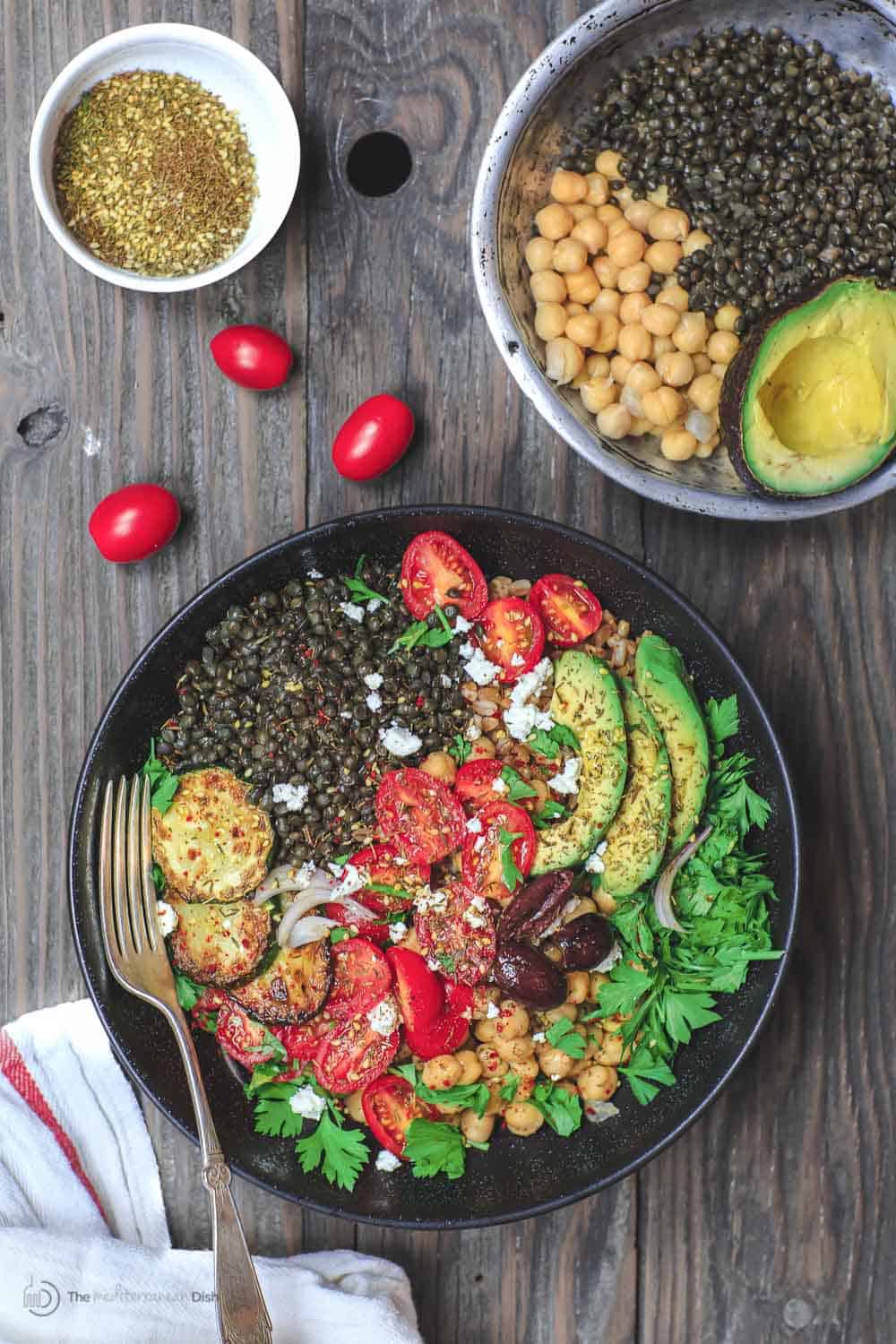 Add Vegetables, Fruits and Greens. Vegetables and greens, especially fresh herbs, bring brightness and life to our nutty grain bowls. You can play around by adding your favorites. Here, I sauteed zucchini and added them along with tomatoes, avocado, shallots, and a healthy dose of fresh parsley.
Add Flavor Makers. In this Mediterranean grain bowls recipe, a lot of the flavor comes from the simple olive oil dressing with lots of citrus, garlic, za'atar, and sumac. Take things up one more notch by adding Kalamata olives (or marinated artichokes) and a sprinkle of feta cheese!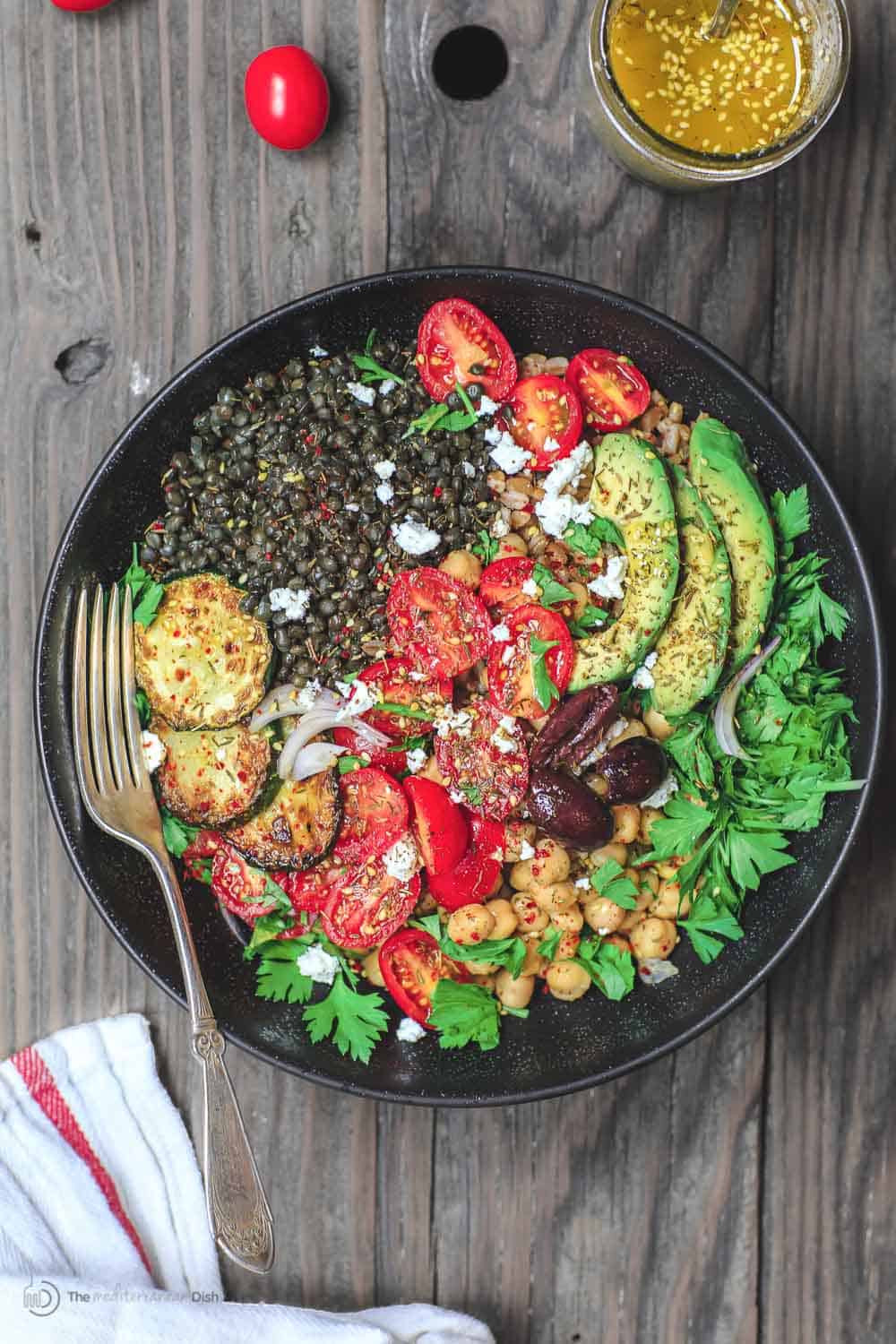 This Mediterranean grain bowls recipe is one delicious way to "reset" and return back to your healthy-eating routine.
Watch How to Make these Mediterranean Grain Bowls
Print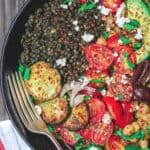 Mediterranean Style Grain Bowls Recipe with lentils and chickpeas
---
Description
Power Grain Bowls, prepared Mediterranean-style! Nutrition and protein-packed thanks to a good dose of lentils and chickpeas. The dressing is an absolute must!
---
Early Harvest extra virgin olive oil
Salt

1

zucchini squash, sliced into rounds

2

to

3

cups cooked farro (from

1 cup

uncooked farro, prepared according to package)

2 cups

cooked brown lentils or from canned lentils, drained and rinsed (see notes for lentil cooking instructions, if needed)

2 cups

cooked chickpeas or from canned chickpeas, drained and rinsed

2 cups

cherry tomatoes, halved

2

shallots, sliced

2

avocados, skin removed, pitted and sliced

1 cup

fresh chopped parsley
Handful pitted kalamata olives
Sprinkle crumbled feta cheese, optional
For the Dressing
---
Instructions
Cook Zucchini. In a non-stick pan or skillet, heat 2tbsp olive oil over medium-high heat until shimmering but not smoking. Add the sliced zucchini and saute on both sides until tender. Remove zucchini with a slotted spoon and place on a paper towel to drain any excess oil. Season lightly with salt.
Prepare dressing. Add the dressing ingredients to a mason jar. Close the lid tightly, and give it a good shake. Set aside for now (but shake again before using).
Assemble grain bowls. Divide the cooked farro, lentils, and chickpeas equally among four dinner bowls (it'll come to ½ cup of each per bowl). Add cooked zucchini, tomatoes, shallots, avocado slices, parsley, and kalamata olives. Season lightly with salt, pepper and more za'atar, if you like. Drizzle a bit of the dressing on top (about 2 tablespoon per bowl). Finish with crumbled feta, if you like.
Serve at room temperature or warm, if farro and pulses were just cooked. It's best to mix the ingredients in each bowl to allow the dressing flavors to infuse. If you have a bit of dressing left, serve it alongside.
Prep Time:

20 mins

Category:

Salad

Cuisine:

Mediterranean
Keywords: grain bowls, lentil salad, healthy Mediterranean salad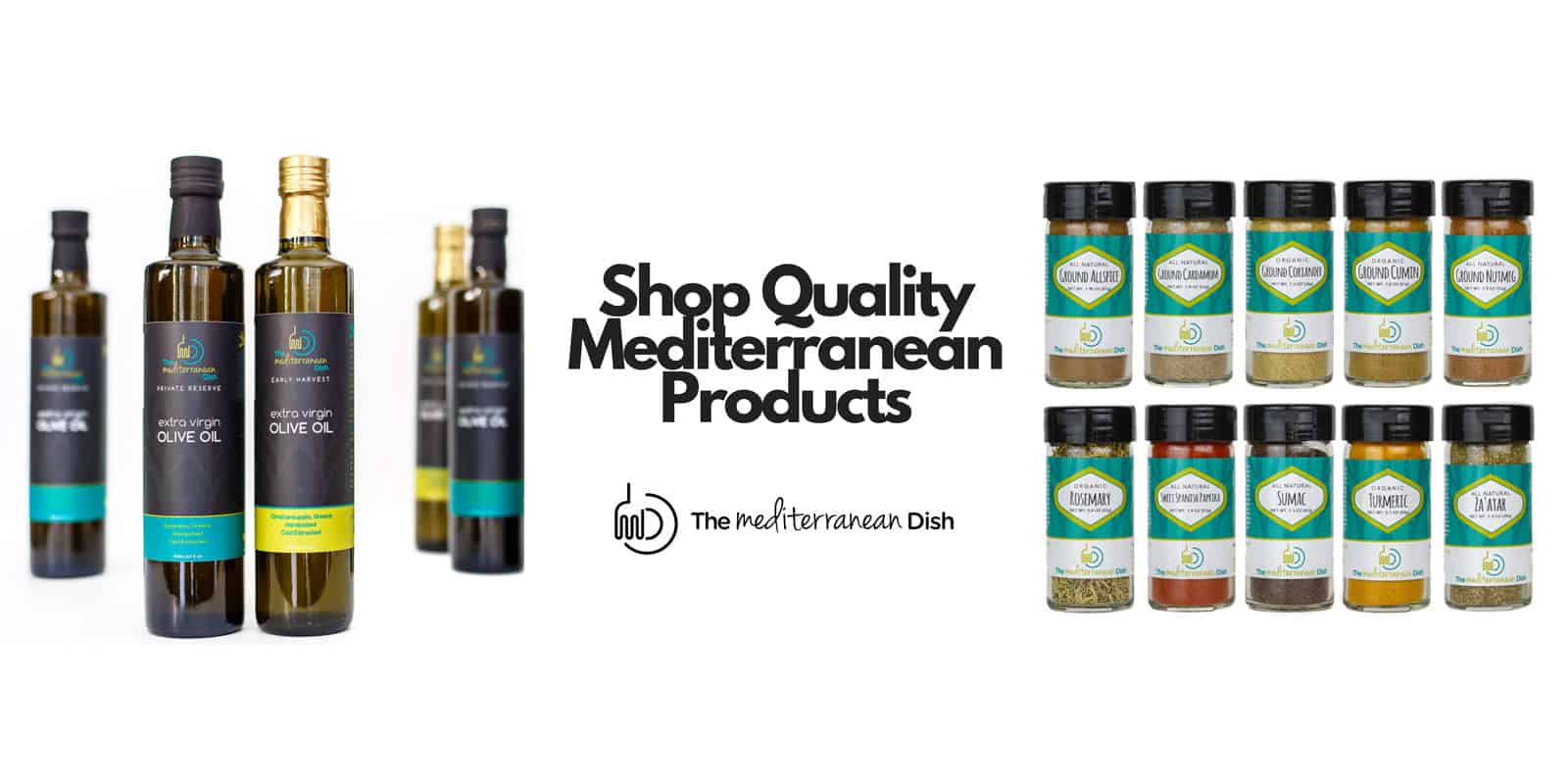 More Recipes to Try
Mediterranean Homemade Vegetable Soup