This hearty, satisfying, nutrition-packed vegan pumpkin soup will surprise your taste buds in the best way possible! Prepared Mediterranean-style with lentils and loads of flavor from onions, garlic, a trio of warm spices, and a splash of lemon juice to wake everything up. And for an extra kick, try my amazing spicy cilantro pesto on top!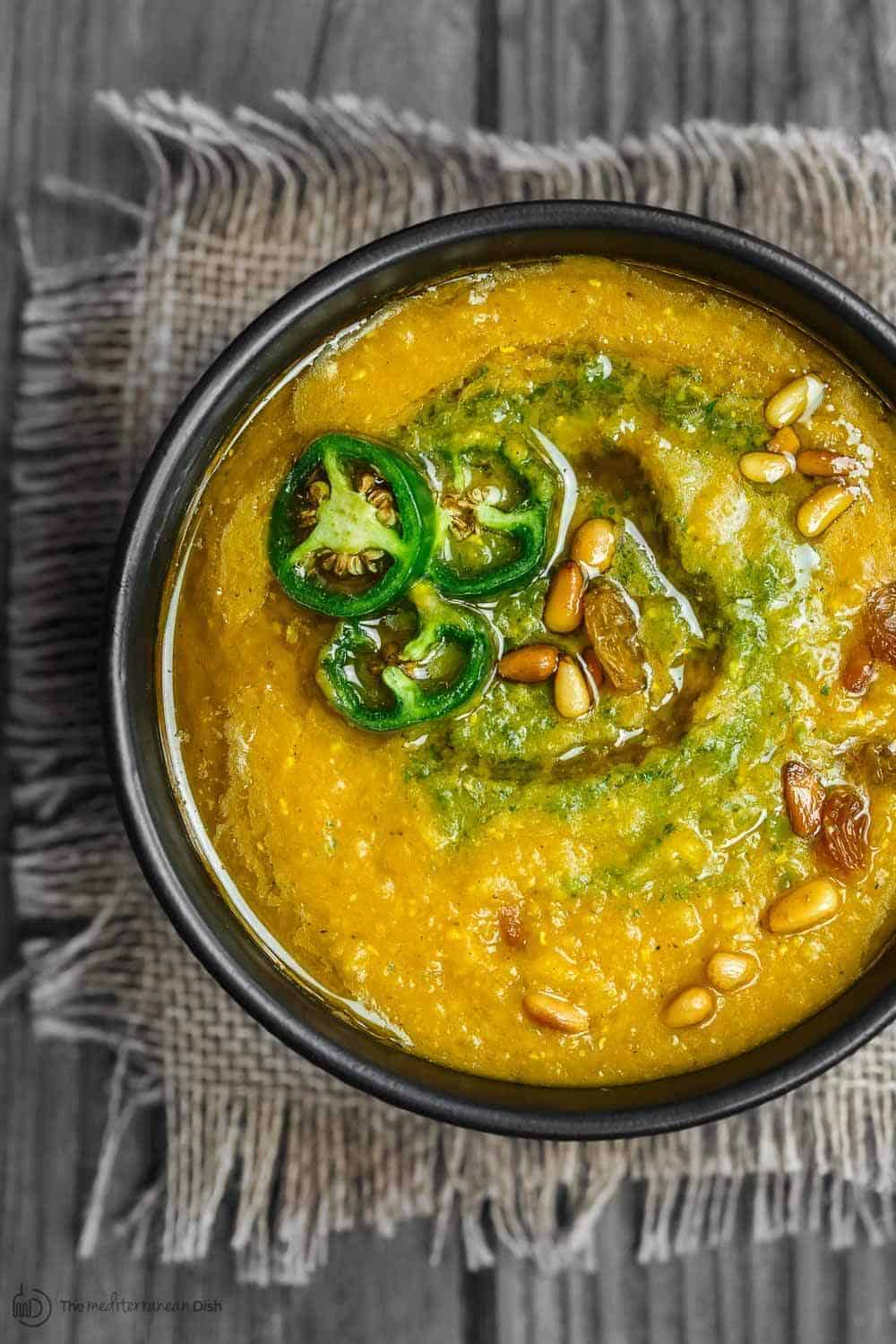 This is probably the smallest of victories to share, but I have found a pumpkin soup I can totally get behind.
And given the season, it's only fitting I share the vegan pumpkin soup recipe that's won my heart!
A super satisfying creamy pumpkin soup, prepared the Mediterranean way, with red lentils, garlic, and a trio of warm good-for-you-spices: coriander, cumin, and turmeric.
This pumpkin soup recipe defies expectations in some wonderful ways.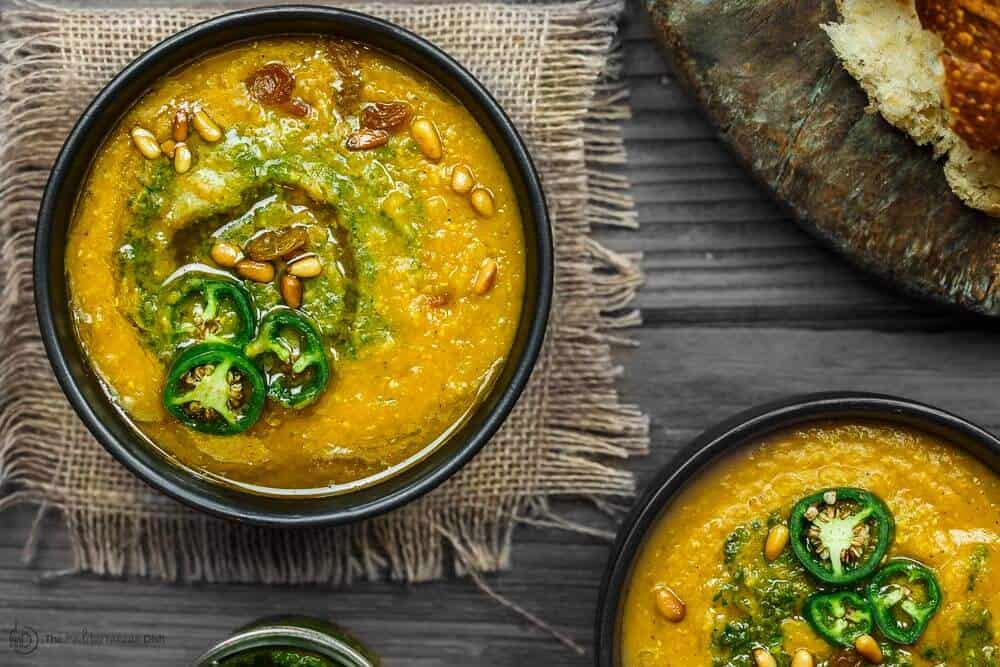 There is so much I love about this vegan pumpkin soup:
1. First, It's Easy! This is not the kind of pumpkin soup that requires carving, cleaning, and roasting a whole pumpkin (although, you totally can if you want.)As much as I enjoy the abundance of cute pumpkin stacks all over the grocery stores, for this kind of weeknight soup, I almost always go for a ready can of quality pumpkin puree. This shortcut makes all the difference for me, particularly on busy nights. And I think it's just as delicious!
2. Hearty, Nutrition-Packed Pumpkin Soup. This is a satisfying, power-house kinda soup. Here, pumpkin provides some great benefits including potassium, vitamin C and fiber. That's not all!
I mentioned earlier, this pumpkin soup is augmented with red lentils, which are quick-cooking split lentils that have a sweet and nutty flavor that really goes well with pumpkin puree. The addition of lentils here makes this soup extra hearty and satisfying, while providing tons of plant-based protein, iron, folate and more fiber!
3. Dairy Free. Gluten Free. Vegan Pumpkin Soup. In case you missed this earlier, this pumpkin soup is completely dairy-free, and no, you do not need to buy dairy substitutions either!
Both pumpkin puree and red lentils have a nice hearty and silky texture, a quick blitz using a food processor--or a stick blender, if you have one--gives this soup the right texture. Quality extra virgin olive oil always adds that bit of luxury I need (I used Private Reserve Greek EVOO.)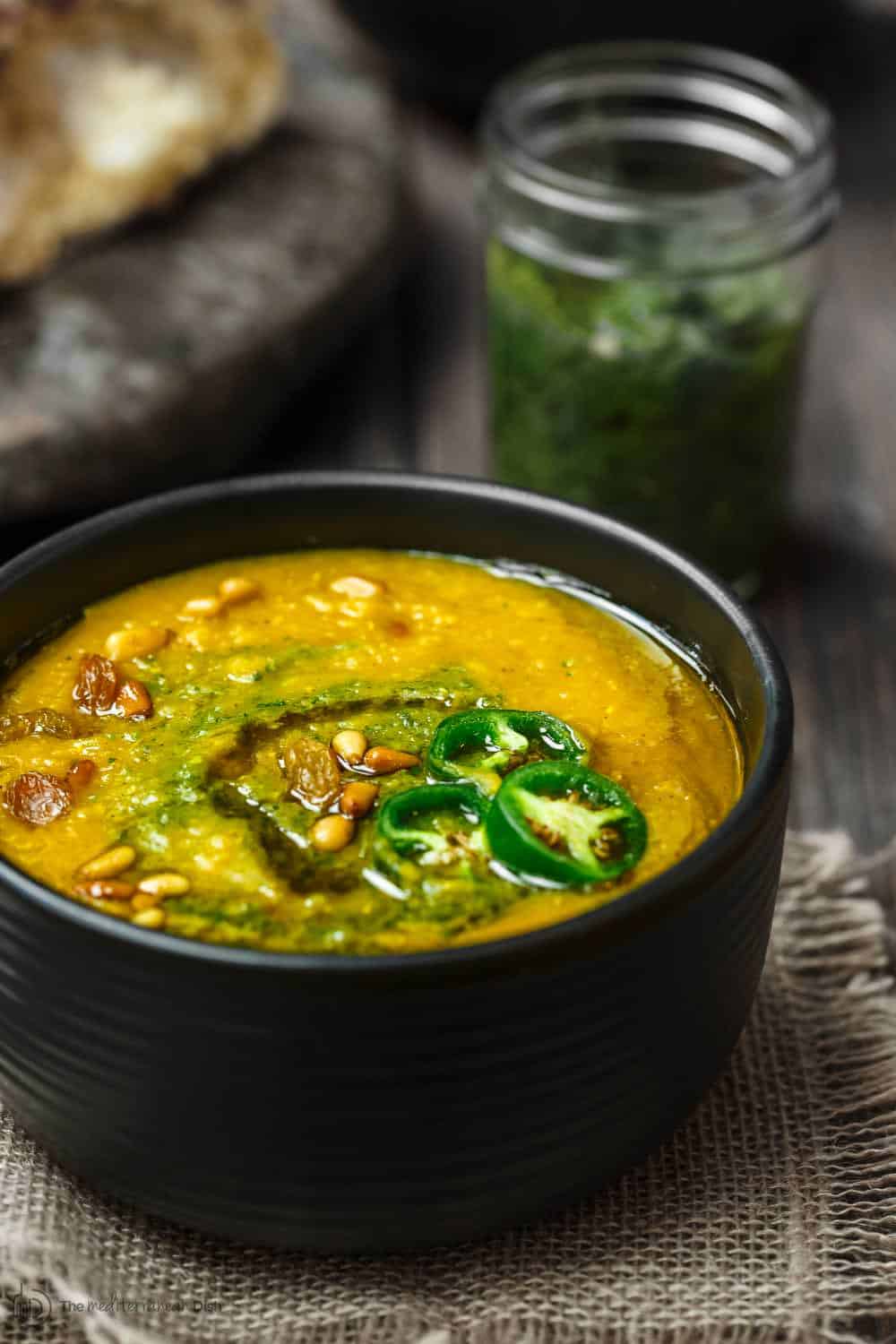 What to add to Pumpkin Soup for Flavor
So, what do you add to pumpkin soup for flavor?
I'm all for sweet pumpkin, if you're going for a pie or a tasty parfait. But when it comes to pumpkin soup, I am all about savory, warm flavors...and maybe even a bit of spicy!
So, the flavor makers for this Mediterranean-style pumpkin soup are:
- Onions and garlic, sauteed in rich, flavorful Greek extra virgin olive oil
- A trio of warm eastern Mediterranean spices--coriander, cumin and turmeric. So much depth of flavor that perfectly compliments the natural sweetness of pumpkin.
- Small handful of gold raisins. This is completely optional. And like I said, I'm not after a sweet pumpkin soup, but 2 to 3 tablespoon of gold raisins add a different dimension without overpowering.
- Splash of fresh lemon juice (from about ½ a lemon). This small final touch is important! Stirred in at the end of cooking, a splash of lemon juice can bring this soup together, completing it with the perfect bright note.
- And, for those who want to spice things up a notch, you can serve the pumpkin soup with a few fresh jalapeno slices on top, or even better, a spoonful of zhoug cilantro pesto (an awesome spicy green sauce made of fresh herbs, garlic, and hot peppers like jalapenos!)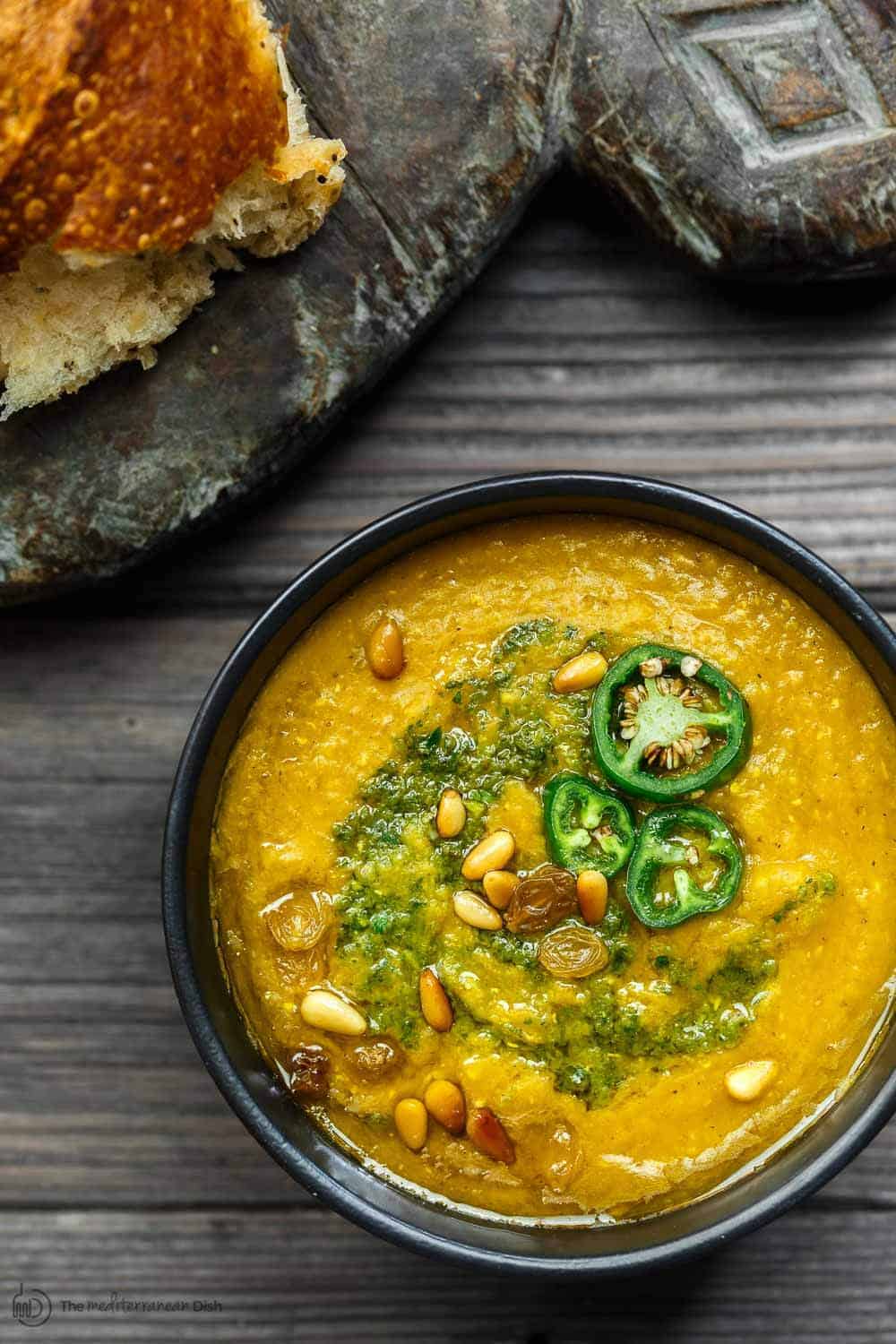 Instruction to Store or Freeze Leftover Pumpkin Soup
Once your pumpkin soup has completely cooled, you can safely store it in the fridge in a tight-lid container for 3 days or so.
And luckily, because this is a dairy-free soup that does not have any heavy cream or such products, you can actually freeze it. To freeze,of course the soup needs to be completely.
Be sure to leave enough space between the soup and the container's lid when filling it (about 1 inch will give the liquid enough room to expand once frozen, but will limit contact with air so you can avoid freezer burn.)
Similar Recipes to Try:
Mediterranean Bean Soup with Tomato Pesto
Greek Braised Eggplant with Chickpeas
Print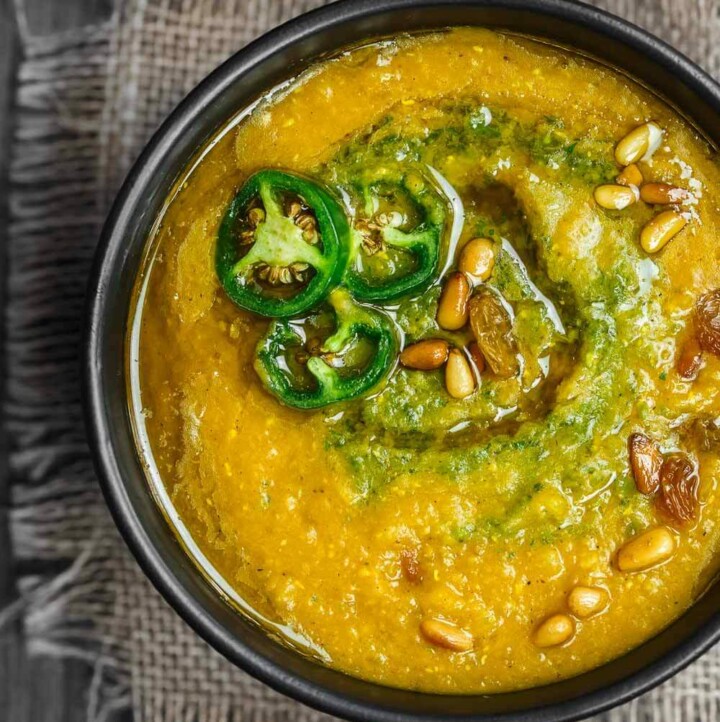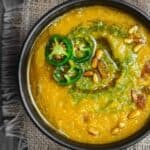 Easy Vegan Pumpkin Soup
---
Description
All-star dairy free, gluten free, vegan pumpkin soup with red lentils, garlic and a trio of warm Mediterranean spices--coriander, cumin, and turmeric. Finished with a bright splash of fresh lemon juice. Ready in 30 minutes!
---
Extra virgin olive oil (I used Private Reserve Greek olive oil)

2

medium yellow onions, chopped

2

garlic cloves, minced

1 tbsp

tomato paste

1 tsp

organic ground coriander

1 tsp

organic ground cumin

½ tsp

organic ground turmeric

1 cup

red lentils

15 oz

can pumpkin puree

3 ½ cups

quality vegetable broth, low-sodium preferred
Salt

2

-

3

tablespoon gold raisins (optional)

½

fresh lemon, juice of
Toppings (optional)
¼ cup

pine nuts, toasted in olive oil
Jalapeno slices for garnish (optional)
---
Instructions
If using, make the zhoug spicy cilantro pesto according to this recipe. Set aside for now or refrigerate.
In a 5-quart heavy pot or Dutch oven like this one, heat 2 extra virgin olive oil over medium-high heat until shimmering but not smoking. Add the onions and cook until golden and translucent, tossing regularly. Stir in garlic, tomato paste, coriander, cumin, turmeric. Lower heat to medium and cook, stirring regularly, until fragrant (4 minutes or so).
Add the lentils, pumpkin puree, broth and a little salt. Stir to combine.
Turn heat to high and bring to a boil for 5 minutes. Then, reduce heat to medium-low, cover only part-way and cook another 20 minutes or until lentils are fully cooked. Occasionally, stir.
Remove from heat to cool a bit. Carefully, transfer the lentil pumpkin soup to the bowl of a large food processor fitted with a blade. Puree. Return to pot over medium heat to warm through, stirring occasionally (add more liquid here if you need it.)
Stir in raisins and fresh lemon juice. Cook another 4 minutes or so, stirring regularly. Taste and adjust salt...add a pinch more if needed. You can also adjust other spices, if you like, carefully add a little more turmeric or coriander (But remember, you've made zhoug pesto to add on top, so don't overdo it)
Divide the lentil pumkin soup into serving bowls. Top each with a teaspoon or so of zhoug spicy cilantro pesto, more raisins, and toasted pine nuts. Garnish with jalapeno slices if you like more heat. Serve hot with a side of warm pita or your favorite crusty bread. Enjoy!
Prep Time:

5 to 7 mins

Cook Time:

25 mins

Category:

Soup

Method:

Stovetop

Cuisine:

Mediterranean
Keywords: Vegan Pumpkin Soup, Dairy Free Pumpkin Soup, Red Lentil Soup, Pumpkin Soup with Canned Pumpkin
*This post first appeared on The Mediterranean Dish in 2017 and has recently been updated with new media and information for readers' benefit. Enjoy!